Nestled in the heart of Bosnia and Herzegovina, Mostar is a charming city with a rich history and captivating culture. Known for its iconic bridge and stunning architecture, Mostar offers travellers an escape from the hustle and bustle of everyday life.
In this article, we'll dive into some of the top reasons why you should visit Mostar and experience all that it has to offer.
"Is Bosnia safe?" We were asked this question frequently after chatting with people about our day in Mostar.  We felt very safe travelling through Bosnia, but we were on a tour.  Our guide did talk about safety and explained that Bosnia was safe to travel through and that tourism was important for the country and that they would like everyone to spread the word.  We are doing just that!
There are many places to visit in Bosnia Herzegovina apart from Mostar.
This post may contain affiliate links. Please see our disclosure for more information. As an Amazon Associate, we earn from qualifying purchases (if applicable).
After spending 3 weeks travelling in the Balkan countries of Montenegro and Croatia we had the opportunity to travel from Dubrovnik to Mostar in Bosnia with Adriatic Explore and Go Dubrovnik. Although it was only a day trip, it left us wanting to see more of this war-torn region. As part of the tour, we had a local Mostar guide for a 50-minute walking tour of the Old City of Mostar.
Our tour was hosted by Adriatic Explore. As always our opinions are our own.
Mostar is in the country of Bosnia Herzegovina in the Balkans. The country has borders with Croatia, Serbia and Montenegro.
Mostar is the 5th largest city in Bosnia Herzegovina and is located on the Neretva River.
In the capable hands of our very safe driver Stefan and our very knowledgeable guide Anastasia, we left Dubrovnik early one morning for the journey through 3 border crossings to Mostar.
Yes, 3 border crossings!
To Travel Too Tip – Don't Make This Mistake!!!
If you are in either Dubrovnik or Split and you want to see either city you will need to take your passport with you as you will have 2 border crossings to go through in each direction. The border crossing takes you into the small 9km long corridor of Bosnia & Herzegovina – Nuem.
To visit Mostar from Dubrovnik or Split your passport is essential!
#1 The Journey to Mostar from Dubrovnik – Neum
Neum's claim to fame is that it is the only seaside resort in Bosnia & Herzegovina. Nestled in the 9km long corridor its second claim to fame is that it has the highest number of sunny days in the year.  For travellers who are seeking a cost-effective place to stay whilst visiting the main cities of Split and Dubrovnik in Croatia, Neum is a good value for money. This is the only access that Bosnia & Herzegovina has to the Adriatic Sea.
Where to stay in Neum

After travelling through the first border crossing we stopped at Hotel Jadran for coffee.  A good 4-star hotel, with great views, a restaurant, supermarket and an indoor pool.
To Travel Too Currency Tip
Bosnia & Herzegovina used Convertible Marks as their currency.  If you are travelling to Mostar you can use Euros and/or Croatian Kuna.
The rate: 1KM = 4 Kuna
1KM = Euro 50 cents
#2 Pocitelj in Bosnia
Pocitelj is a fortified medieval town 30km outside of Mostar.  The natural stone amphitheatre-shaped town complex lies on the left bank of the Neretva River.  The single-room domed mosque was built in the classical Ottoman style in 1563 and restored during the 1970s.  Unfortunately, it was blown up in 1993 during the war and restored in 2002.  The Mosque has special acoustic qualities.
Entrance fee Euros 1.50 per person.
The stone 16m high Clock Tower is believed to have been constructed around the 17th century.
The Fort that dominates the top of the hill overlooking the town was constructed between the 15th and 18th centuries and housed watchmen and guards from the military to protect the town from any advances.  During the war of the 1990s, it suffered little damage.
At the end of the 16th century, the Gavrakanpetanovic house was constructed.  It is a typical example of houses built around this time, this one was named after the Captains of the Town who actually resided there as well.  In its lifetime it has been a cultural hub for artists.
To Travel Too tip
The cobblestoned streets can be quite slippery so care needs to be taken when walking around.
Every publication that you will read or photos that you see of Mostar show the famous Old Bridge – Stari Most.  The original bridge was constructed during the summer and spring months of 1566.  In winter the Neretva River was too high so construction was halted.   The bridge connects the two sides of the city and spans 28 meters across the Neretva River.
The Mostar bridge was destroyed 427 years later on the 9th of November in 1993 during the Bosnian War.  It was bombed for a few days before it collapsed.  70% of the original stone has been used in the reconstruction.
It cost USD15 million to repair, the Opening Ceremony was held on the 23rd July, 2004 and was attended by the President of Turkey and Prince Charles as well as other important dignitaries.
In July 2005 it was added to the UNESCO World Heritage Site.
The Tara Tower contains the Museum where if you go to the 5th floor you will have panoramic views over Mostar.  Inside the Museum there are photos of the history of the Old Bridge as well as a good video on Mostar pre and post-war.
#4 Mostar's Famous Bridge Divers
The Old Bridge is the 'jumping-off point' for the famous young divers of Mostar.
Professional divers jump off the bridge when they have gathered around 30 euros from the tourists.  The Neretva River is extremely cold even in Summer averaging between 8-13 degrees.  They need to shower before jumping to get their body temperature correct and then jump feet first into the freezing water.  The diver's health is very important for this dangerous sport, they have regular blood pressure checks as well as heart and spinal checks.
Over the years many deaths have occurred from 'would-be jumpers'.  If you want to jump you must complete a one-day course first in Mostar.
#5 Mostar's 2nd Famous Bridge – The Crooked Bridge (Kriva Cuprija)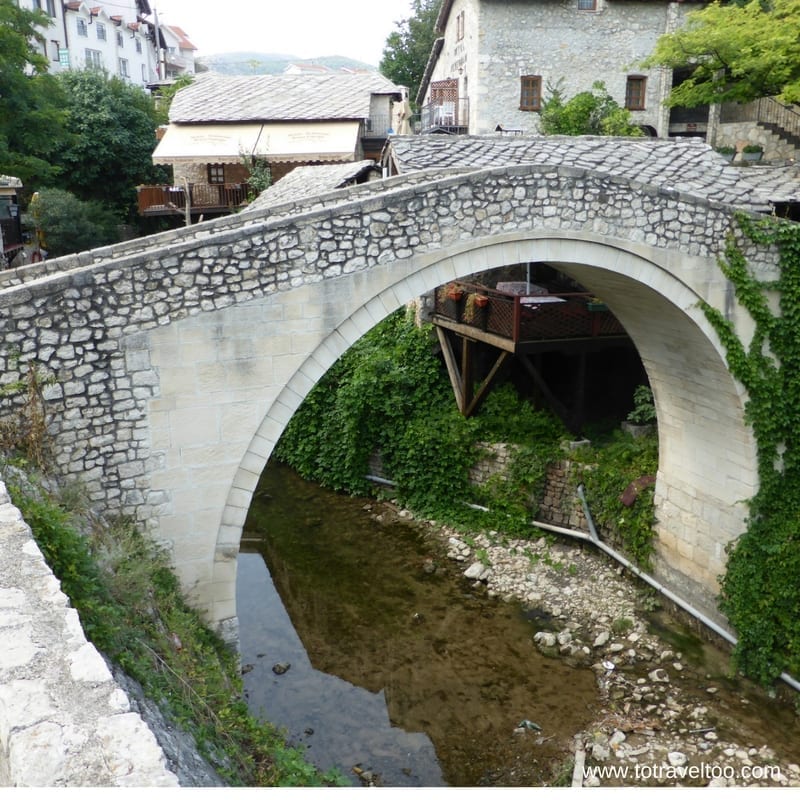 Before the construction of the Old Bridge commenced a smaller bridge known as the Crooked Bridge was built over the Rabobolja Creek just to the right of Neretva River in 1558.  This was a trial attempt if this bridge succeeded then the Old Bridge would be constructed.  Unfortunately during a flood in 2001, the bridge was destroyed.  It has since been rebuilt.
#6 St Peter and Paul Franciscan Church Mostar
The Church was constructed in 1866 with help from the Ottomans.  In 1992 the Church was destroyed in the war and in the year 2000 a new church was built on top of the foundations of the original church.  50,000 volumes from the  Western and Eastern world are housed within the Library as well as paintings from the Italian Masters during the 16th and 17th Centuries.
To Travel Too tip
Do not rely on the opening times of the Church, they open and close when they wish.
#7 Great View from Koski Mehmed Pasa Mosque in Mostar
Constructed in 1617 this Mosque is across the river and for Euros 5 you can climb the narrow staircase of the Minaret for stunning views.  There is an entrance fee of Euros 2 to enter the Mosque.
#8 Mostar Bazaar
Spend some time and wander through the narrow cobblestone streets of the Old City and admire the goods on offer in the Bazaar.  There are coppersmiths, Turkish tea shops, sweets such as Turkish delight, clothes, bags, and ceramics all with an Ottoman feel.
For a 100% sugar hit you should try the traditional Turkish Delight with nuts.  A small piece of Turkish Delight is also served with your cup of Turkish Coffee.
Good to know: As you wander through the Bazaar you will notice that some shops are selling Mostar silk garments – unfortunately, Mostar does not make silk, you will need to check where it is made.
If you are invited into a private home for Turkish Coffee you will need to understand a local custom.  If you are served cold Turkish coffee, it means to drink up quickly, you are either not welcome in the home or the family is in a hurry and need to go out, if you are served hot Turkish Coffee you are welcome and you can stay and enjoy their hospitality.
#9 Mostar's Cuisine
Mostar is famous for its local cuisine, you will be spoiled for choice with the number of restaurants in the Old City.
As we wandered through the Old City, Restaurant Sadrvan caught our attention.  A calming outside courtyard setting, with a fountain and the restaurant was already full of diners at midday, which was a good sign.  After our tour finished we headed back and managed to snap up one of the last remaining tables in the courtyard.  We were not disappointed.
Mostar's cuisine includes grilled trout and grilled meats, a spiral pastry filled with meat, cheese, potato and spinach called "burek" and "cevapi" grilled rolls of meat served in pita bread with onion and cheese.
You must also try Baklava and also enjoy a cup of Turkish Coffee.
#10 Local Water in Mostar
"There is no better thing to do than give a man water to drink".  A local saying in Mostar and one that is related to the many water fountains you will see around the Old City placed every 200-300 meters.  It is pure spring water from the mountains and of course drinkable.
Tours Available To Mostar
Guided Day Trip From Dubrovnik: Mostar & Kravice Waterfalls
Discover a city steeped in history on a guided tour of Mostar
Get the chance to swim under the Kravice waterfalls
Experience different religions and cultures in Bosnia and Herzegovina
Enjoy the beautiful shades of green and untouched nature
Get some free time to explore
You can now take our article with you as you wander Mostar.  For more information click below.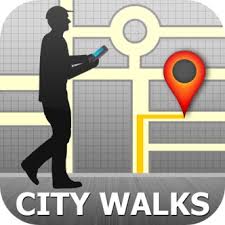 Where to Stay in Mostar
If you decide to visit  Mostar and spend a couple of nights here are some hotel options for you to consider:
Hotel-Restaurant Kriva Cuprija (rated 9.4): Onescukova 23, Mostar, Bosnia and Herzegovina
Facilities:
Heritage Listed Limestone House
Close to Mostar Bridge
Restaurant serving traditional cuisine
Sun terrace
Bar
Family rooms
Guest review: 
Loved everything! You know a place where you feel everything is authentic and breathtaking- now I know a place like that too HOTEL KRIVA CUPRIJA. I am a foodie so I will first refer to the food in the restaurant. The traditional Bosnian dinner is by far the best thing I eat my whole 2 months of travelling around Europe. Everybody who appreciates quality, organic food will adore this dish. Now the breakfast… already miss it. Everything is homemade even the jams, the cakes, the bread. The buffet offers amazing americano coffee. Usually in hotels, you need to pay for additional special coffees, but at this hotel, you have included any kind of coffee. Can you imagine that? You need to try the Bosnian coffee it is amazing!
The second thing I want to refer to is the rooms. Beautiful, clean, authentic. The whole building is out of this world. Some walls are 500 years old. You can feel the history just by looking at this hotel.
Now the location- is perfect! This treasure is surrounded by the old town. The place is alive. The old bridge 1-minute walking distance. And last but the cherry on top is the staff. I really could not believe that this kind of hospitality still exists. I hope everybody appreciates the treatment they give you because I am travelling 2 months and the staff was out of this world. Everybody who travels a lot will know how rare this is. Everything they make is from the heart. They help you find parking, carry your luggage, guide you to the room, show you attractions, and help you with everything. There is no space for any wishes when you are in this hotel because they make them all come true. Thank you for an amazing, memorable stay.

Hotel Villa Nadin (rated 8.9): Gojka Vukovica 102 b, Mostar, Bosnia and Herzegovina
Facilities:
400 metres from the Old Bridge
Restaurant
Bus station 7 minutes away
Outdoor swimming pool
Guest review:
This is a wonderful place to stay if you are planning to visit Mostar City and as well have a relaxed time near the pool. The staff is extremely nice and helpful 🙂 The apartment was super clean and looked almost new. There is really nice garden where you can have coffee or breakfast. The pool adds so much value to this hotel. Table games are available and free to use. The city is less than minute away. There is plenty of interesting antique details across the hotel. All in all, this hotel offers great value for the money.

For more hotel options:

Where to Eat in Mostar
Whether you are on a day trip or spending a few nights in Mostar here are the top 10 restaurants according to travellers reviews in Tripadvisor.

Check out our Youtube video taken in Pocitelj and Mostar.
Further Reading:
Flight Deals to Bosnia Herzegovina
Find the cheapest flights with Skyscanner our go-to when researching and booking flights throughout the world.
We thank Adriatic Explore and Go Dubrovnik for hosting us on the Day Trip to Bosnia from Dubrovnik.  The tour was a learning experience on Bosnia& Herzegovina pre and post-war. Mostar has a special place in our hearts and one that we will definitely return to and at the same time explore the rest of the country.  Our guide in the Old City was informative with a great sense of humour and was a great addition to an already informative tour.  As always, our opinions are our own.
Travel Insurance
We highly recommend that you take out travel insurance when you book and pay for flights, cruises and tours.
Pinterest
Are you on Pinterest? We are at To Travel Too and we have many travel-related boards check us out at Pinterest.  If you enjoyed our article why not pin it to your board?