The historical centre of Queretaro was designated a UNESCO World Heritage Site. Its a shame that we had only 24 hours to enjoy its delights.
What to see and do in Queretaro in 24 hours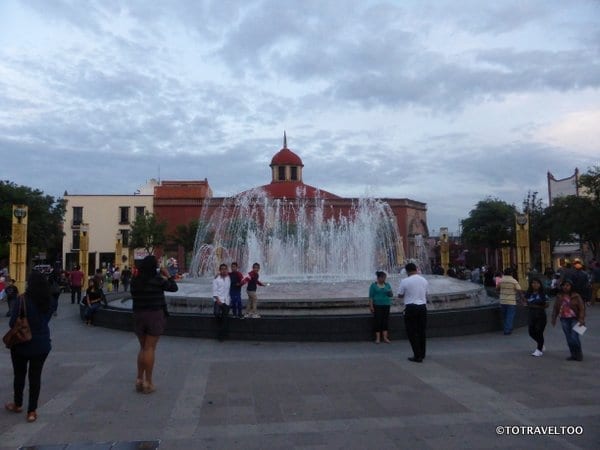 Constitution Square originally was the Franciscan Friars Orchard and later became a marketplace for the locals, the fountain sits above the original water hole. The Square is full of locals day and night and is a major meeting place.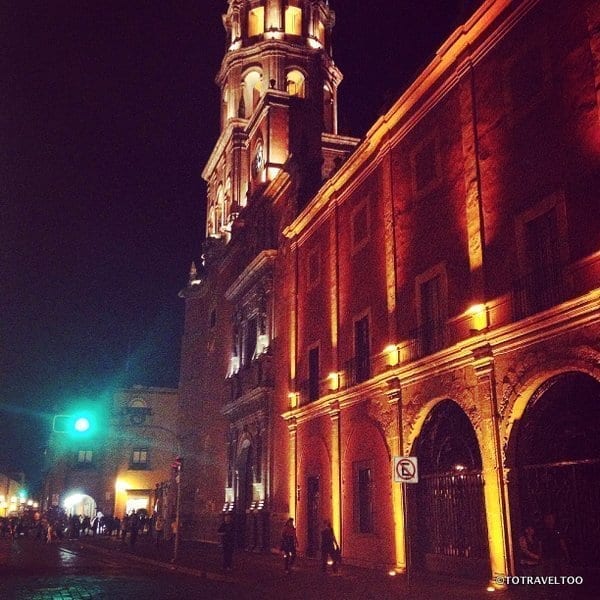 The Cathedral of Queretaro was built between 1786 and 1805 and situated in the Plaza de Armas and is built in the style of Baroque and Neoclassical.  The Cathedral was blessed by Father Miguel Hidalgo, Mexico's famous Father who started the quest for Mexican Independence. You cannot miss the Cathedral at night.
Day time view of the Cathedral of Queretaro.
Frescoes still can be seen on the walls of the 18th Century Temple of Santa Rosa de Viterbo.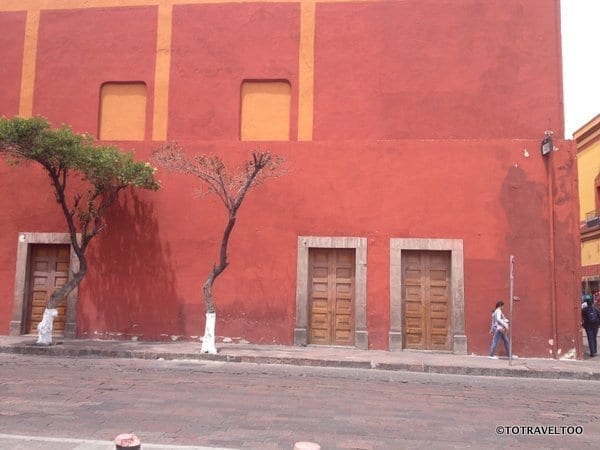 We enjoyed getting lost and wandering through the streets of the Centro Historico area of Queretaro. Just look at these colourful buildings, this is what Mexico is!
The ochre colours change as you wander, plants grow over the top of the buildings and windows, walk slowly and peek  through doorways and open gates for glimpses of Spanish courtyards and fountains.
We stumbled across an open courtyard, venturing in we came across Lemon Tree Cafe, we just had to stop and have lunch. Not sure whether we could find it again.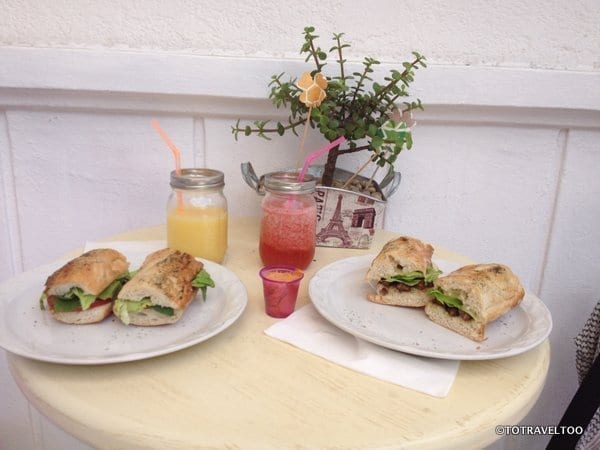 Queretaro, we will be back, there is still so much to see and do there! We will travel your wine and cheese trails, revisit the colonial buildings and dine in the many of your restaurants that you have on offer.  We will get lost again wandering your streets, it will be another adventure for us.
We have some great articles for you to read on our adventures in Mexico.
Thanks for stopping by and welcome to To Travel Too – Australia's top Baby Boomer lifestyle and travel blog, with an international worldwide audience in mind, run by the married couple, freelance writers and full-time travellers Jane and Duncan Dempster-Smith. Come with us as we explore the world. Our two mantras that we live by are 'chase time not money' and 'age is no barrier when it comes to travel'.