Are you planning to visit Queretaro but only have a day? Our guide will help you plan your visit to Queretaro whether you are visiting for 1 day or longer.
We did not give Queretaro enough time to enjoy all that it has to offer. We can always return, can't we and we will!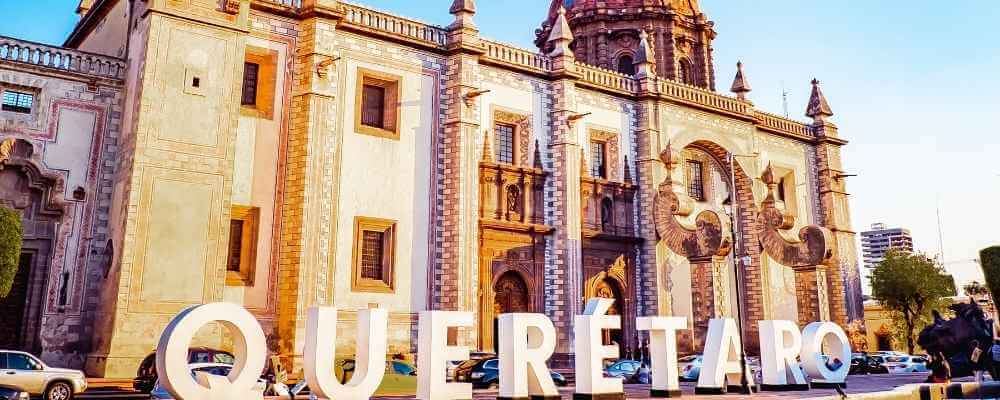 The State of Queretaro is one of the smallest states in Mexico.  The capital Santiago de Querétaro México is such a beautiful city.  There are over 1400 monuments in Queretaro most of them date back to the 17th and 18th centuries, 20 of those are designated religious monuments. It is a world heritage city and Mexico states it to be a "colonial treasure".
As you wander through the historical centre you will be amazed at the beauty. There are fountains, churches and museums to enjoy.  Not to mention the many side streets with local restaurants and bars to enjoy. Queretaro is famous for its wine and cheesemakers,  something that we were surprised to learn about. It has also one of the best climates in Mexico.  No wonder, Queretaro is becoming a city to reckon with and visitor growth is definitely on the way up.
Queretaro has turned out to be one of our favourite cities in Mexico, it will be yours too.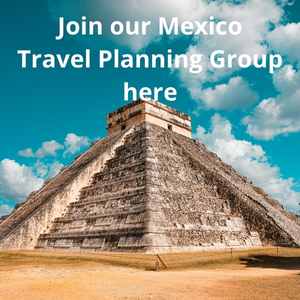 Where is Queretaro in Mexico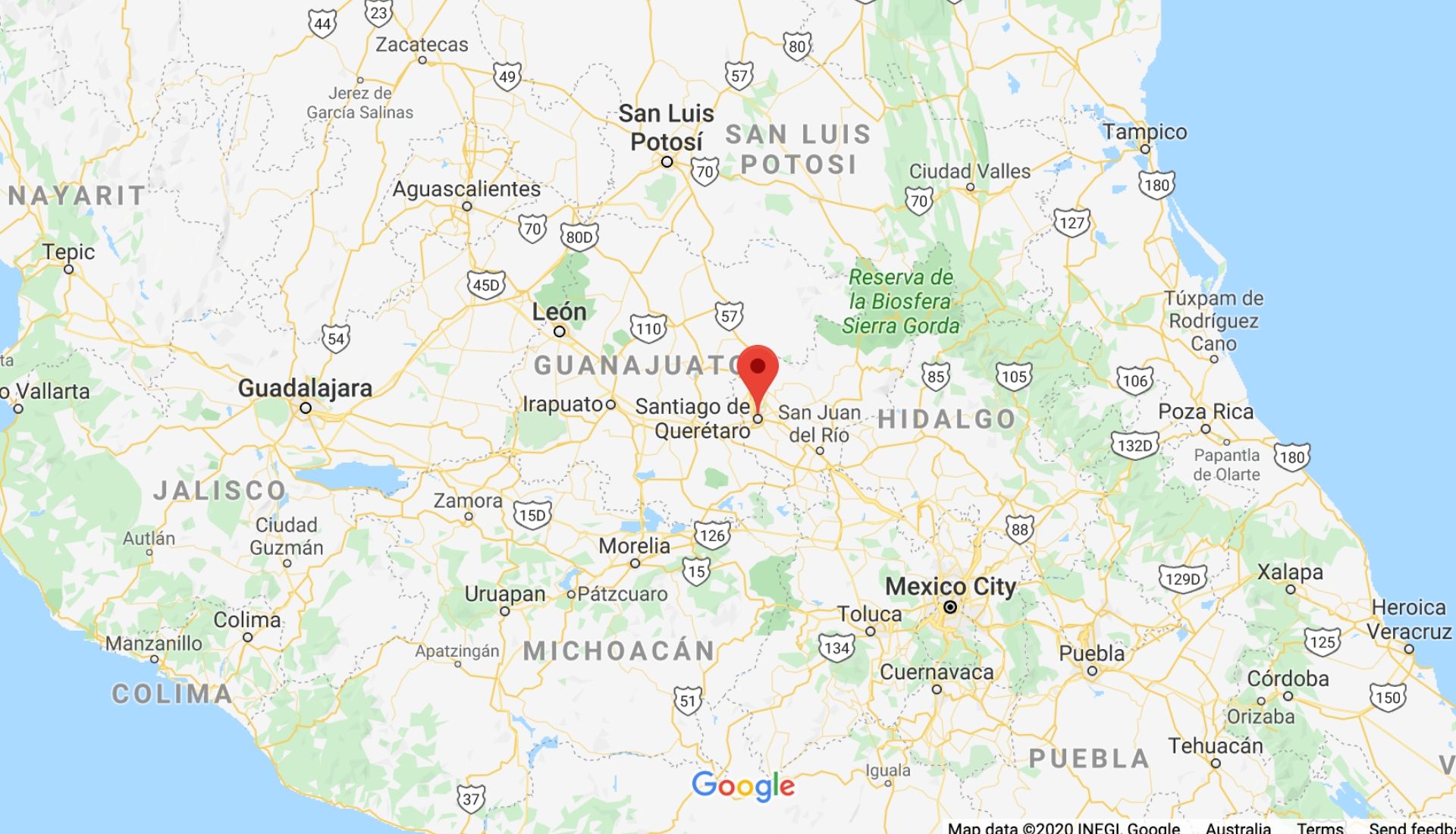 Queretaro is located:
Getting Into Queretaro
Queretaro Airport (QRO) is located 33km from the city.  It can be used as an alternative to flying into Mexico City.
For cheap flights to Queretaro, we would recommend checking both Mexico City and Queretaro.
Check flight availability here.
Bus Travel
We reached Queretaro by bus from Mexico Airport.  Bus travel throughout Mexico is excellent. We travelled with ADO Buses on most of our journeys around Mexico. We found them to be on time, safe, reliable and very comfortable. Their prices were good as well.
For the latest bus schedules and ticket prices click here.
Car Rental
You can rent cars from either Queretaro Airport or Mexico City airport. For more details click here.
Make sure you read the T & C's before you book and you are clear on what you are paying for.
Queretaro Hotels
Where to stay in Queretaro:
Hotel La Casa de La Marquesa is a lavish hotel located at Privado Madero 41 is a historic hotel in Queretaro that offers a restaurant, massage services, free parking and free WiFi.
La Casa features guestrooms that create an atmosphere of distinction and relaxation. The suites offer wooden floors, goose feather-filled cushions and bedspreads, and lush bathrobes. After a day of exploring the area, relax with an in-room massage.
Guest review: "It is hard to fault this hotel. Location, ambience, room, towels, decor… were all exceptional"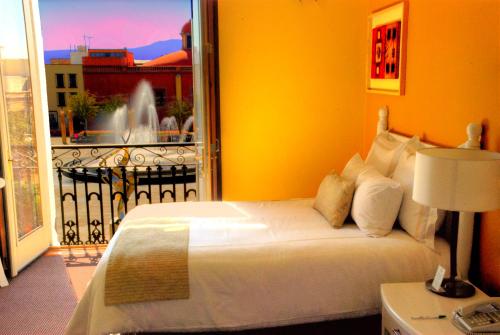 Gran Hotel de Queretaro is a 5-star 42 room hotel located at Juarez Sur #5 in Centro Historico in a 19th-century convent.
Latest Guest Review: "The location is outstanding with views over the square. The room was spacious and the bed was comfortable. The hotel definitely matched its name and was worth what we paid for it. Great restaurant downstairs with excellent food/drink options and views of the square."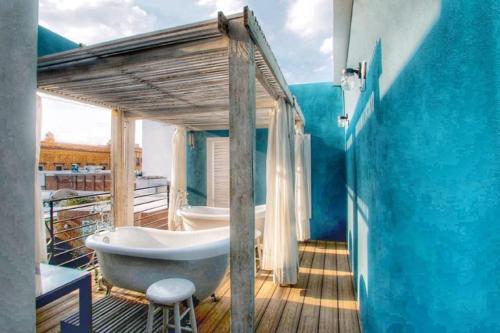 La Casa del Atrio at Calle Ignacio Allende Sur 15 offers guests comfortable lodgings, 3 courtyards where breakfast is served and where you can enjoy evening drinks before dinner.  The hotel is located in a 19th-century Mansion opposite the Museum of Art.
Guest review: "Excellent location, very nice facilities, very helpful and friendly staff. Pet friendly."
For more hotels in Queretaro:
What to do in Santiago de Queretaro Mexico in 24 hours
Queretaro City Map
3 Tours that are available in and around Queretaro
Visit Constitution Square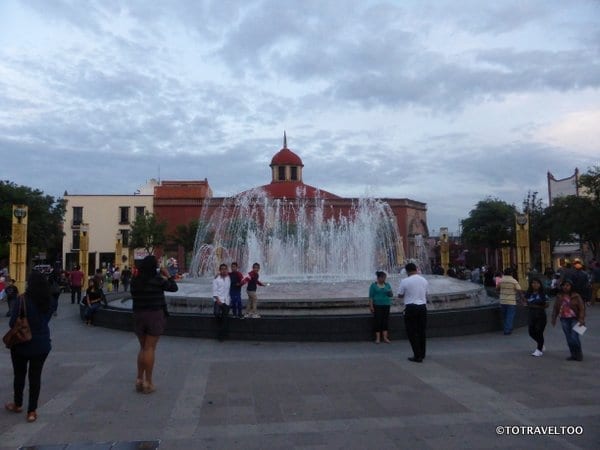 Constitution Square originally was the Franciscan Friars Orchard and later became a marketplace for the locals, the fountain sits above the original water hole. The Square is full of locals day and night and is a major meeting place.
Visit the Cathedral of Queretaro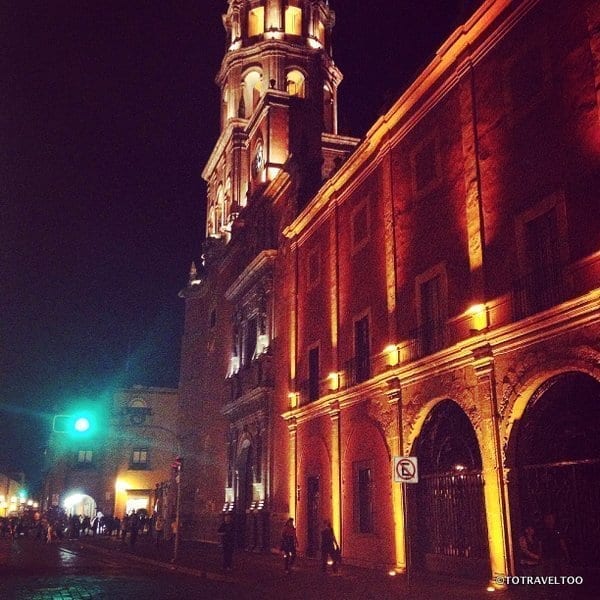 The Cathedral of Queretaro was built between 1786 and 1805 and is situated in the Plaza de Armas and is built in the style of Baroque and Neoclassical.  The Cathedral was blessed by Father Miguel Hidalgo, Mexico's famous Father who started the quest for Mexican Independence. You cannot miss the Cathedral at night when its bright lights shine all over Queretaro. It s such a stunning sight.
Daytime view of the Cathedral of Queretaro.
See The Frescoes on the Walls of the 18th-Century Temple of Santa Rosa de Viterbo
Frescoes still can be seen on the walls of the 18th Century Temple of Santa Rosa de Viterbo.
Get Lost in the Streets of Queretaro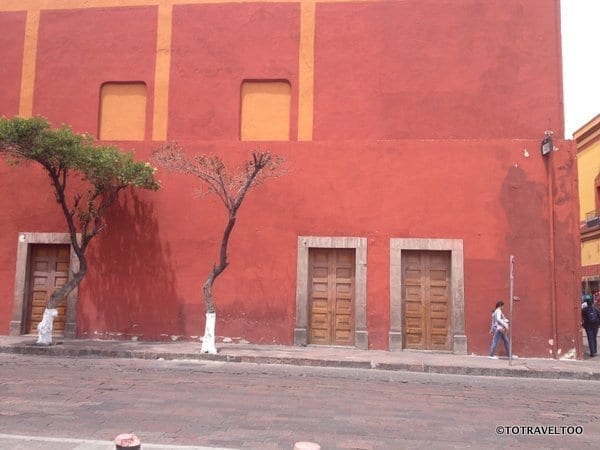 We enjoyed getting lost and wandering through the streets of the Centro Historico area of Queretaro. Just look at these colourful buildings, this is what Mexico is!
The ochre colours change as you wander, plants grow over the top of the buildings and windows, walk slowly and peek through doorways and open gates for glimpses of Spanish courtyards and fountains.
Dine at Lemon Tree Cafe
We stumbled across an open courtyard, venturing in we came across Lemon Tree Cafe, we just had to stop and have lunch.
Address: Calle José Ma. Morelos 74, Centro, 76000 Santiago de Querétaro, Qro., Mexico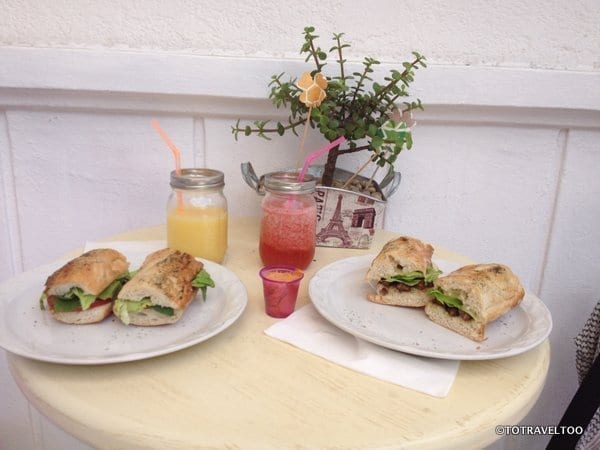 Where to Eat in Queretaro
Hacienda La Laborcilla, Prolongacion Corregidora Norte 911-B1-5 Colonia Parques Residenciales for French Mexican cuisine.
Sonora Grill Juriquilla at Blvd de la Campana 899 – steakhouse with Mexican cuisine.
Santo Mar is located at Carretera Queretaro 70 San Luis Potosi 12401 Felix Osores Sotomayor Antea Lifestyle Centre for seafood and Latin cuisine.
Wines of Queretaro
Queretaro's Bajio region is the #2 wine-growing region of Mexico. Some recommendations on which wineries to visit from Tripadvisor are:
Finca Sala Viva

by Freixenet at Carretera San Juan del Rio. Sparkling wine is the speciality here in one of the oldest wineries in the district.
Vinedos la Redonda located at Carretera San Juan del Rio a Ezequiel Montes Km 33.5, 50 minutes away from Queretaro.
De Cote Casa Vitivinicola at Libramiento Norponiente Km 5 900 Blancas Tunas Ezequiel Montes offers tours of their vineyard and meals available in their restaurant or bistro
Ruta de Vino y Queso
Queretaro has a wine and cheese route.  Queretaro is #1 in sparkling wine production in Mexico and takes #1 position in sheep cheese production as well.
Travel Insurance
We recommend taking out travel insurance as soon as you book your flights and pay deposits on any cruises, tours or hotels.
To Travel Too Travel Shop
Travel smarter and safer with products from our To Travel Too Travel Shop.  If you are looking for the latest luggage, guidebooks or travel accessories we have you covered with over 800 travel products to choose from.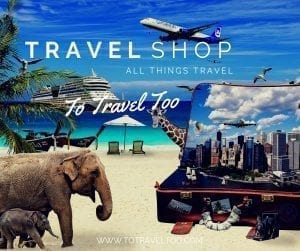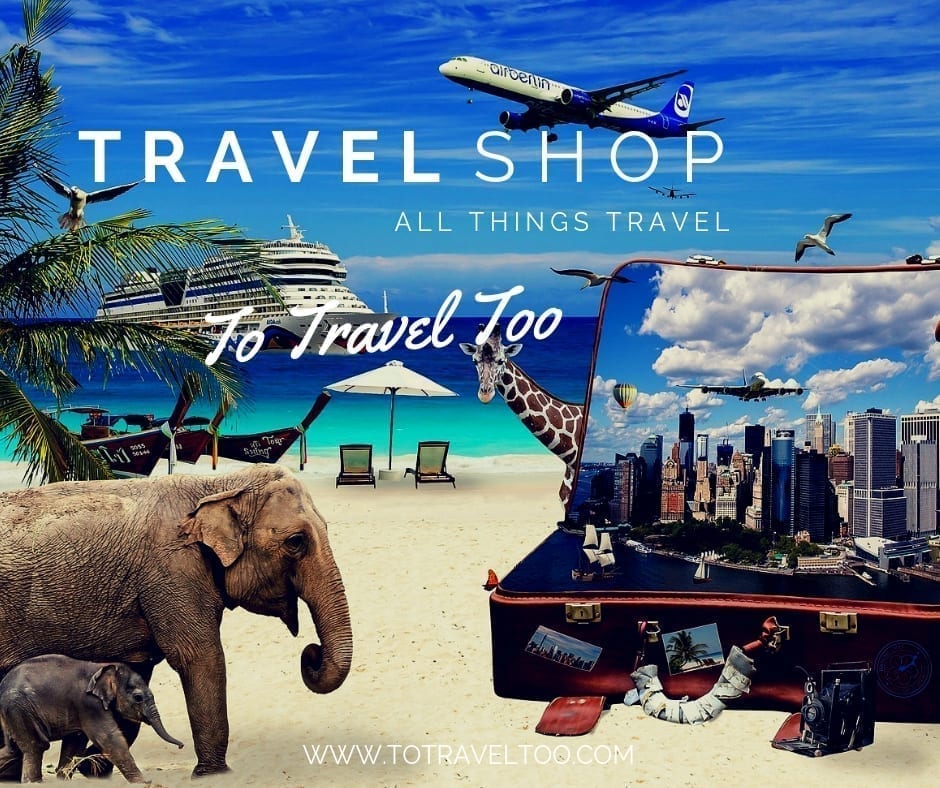 About Us
Do you want to know how we created a life of full-time travel?
We fired the corporate world to live a life of travel. Read our story and how we travel the world long term.
Pinterest
Are you on Pinterest? We are at To Travel Too and we have many travel-related boards check us out at Pinterest.  If you enjoyed our article why not pin it to your board.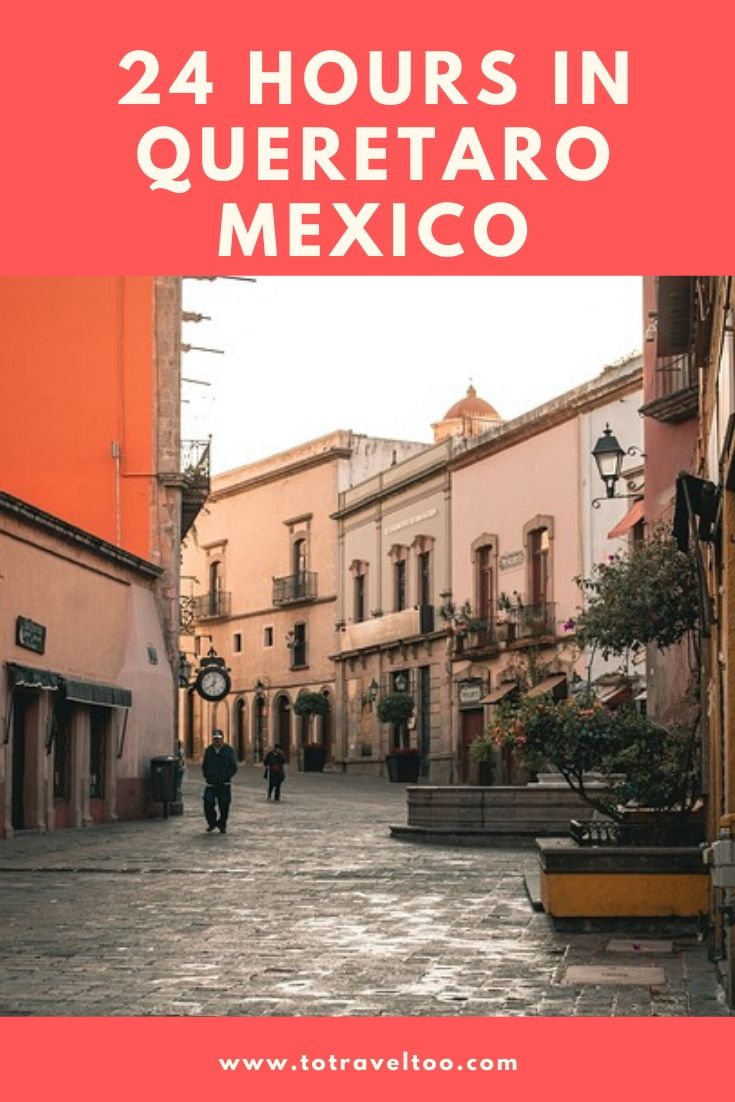 Conclusion
Queretaro, we will be back, there is still so much to see and do there! We will travel your wine and cheese trails, revisit the colonial buildings and dine in the many of the restaurants that you have on offer.  We will get lost again wandering your streets, it will be another adventure for us.
If you have any questions or would like some advice we would love to hear from you. You can reach us via our Facebook page or email us here.
Where to next?