Welcome to Victoria's farm stays!   Nestled amidst rolling green hills, quaint villages, and picturesque landscapes, these unique accommodations offer fun for all the family.
Immerse yourself in the authentic experiences of tending to farm animals, harvesting fresh produce from organic gardens, and indulging in hearty home-cooked meals prepared with love. Whether you're seeking a peaceful retreat or an educational adventure for the whole family, Victorian farm stays promise an unforgettable escape that will leave you yearning for more.
Family farm stays are some of the best holidays you can have. Your children will love the freedom of being on a farm, enjoying the outside, taking walks and petting the farm animals. You will enjoy a well-deserved break away from the hustle and bustle of city life and work
Have you experienced farm stays in Victoria?
Read on for 5 of the best fun-filled Victorian farm stays for families. Some of these are working farm stays where you get to experience actual life down on a full working farm and one is a unique stay on a cherry and fig property in the Yarra Valley. Whichever one you choose a Victorian Farm Stay will be a memorable one for all the family.
This post may contain affiliate links. Please see our disclosure for more information.
Farm Stays Near Melbourne
The accommodation is suitable for 7 guests, 2 bedrooms, 5 beds, 1 bath.
Superhost Lisa
Latest Guest Review:
"This is a real gem of a place. We enjoyed our stay so much with the warm fires, garden, farm animals and nature. Our kids had so much fun. It was a world away from city life and a much-needed recharge. Highly recommended!!!"
Location of Gembrook Farm Stay
Gembrook is located 66km from Melbourne. The 40-acre farm is located a few minutes drive from Gembrook.
Local wineries are 20 minutes away.
The Puffing Billy Train comes into Gembrook twice a day.
Gembrook Farm Stay details:
Queen-sized bed in the main bedroom
2nd bedroom – one double bed and 3 king-size bunk beds
2 large open living areas
Country Kitchen
Wood heater
Bathroom with shower and bath
Deck
4 person Spa
Firepit
Views over paddocks of horses and alpacas
The farm's chickens supply fresh eggs for breakfast, and bacon and cereals are included in the price.
Wildlife includes wallabies, tawny frogmouth owls, wombats, kookaburras, black cockatoos, sulfa-crested cockatoos and sometimes a koala
** Please note there is no Wi-Fi available.
Don't miss out on your next farm stay here check availability now
Farm Stay Yarra Valley
The accommodation is suitable for 4 guests, 2 bedrooms, 2 beds, 1.5 baths
Superhost Brigitte
Latest Guest Review:
"I just want to say a huge thank you to Brigitte and John for the unforgettable and authentic farm stay we had at their beautiful Cherry Orchard. I could not have picked a better place and with better people. Brigitte made my partner the yummiest cake for his 30th birthday! She also made sourdough bread and lots of other delicious homemade treats. My 5-year-old son loves it, and she gifted him a take-home art activity. The cabin was so clean and well-presented. They thought of everything to make the stay homie and welcoming. We can't wait to come to visit again"
Location of Cherry Orchard Cabin
Cherry Orchard Cabin is located on a 30-acre cherry and fig property one hour's drive from Melbourne.
The town of Wandin is only a few minute's drive from Cherry Orchard Cabin. The townships of Olinda, Mt Dandenong, Sassafras, Belgrave, Warburton, Yarra Glen, Seville and Mt Evelyn are all within a 10-20 minute scenic drive. The 160 wineries of Yarra Valley are within 20km.
Cherry Orchard Cabin Farm Stay details:
Fully-equipped kitchen
Open-plan living room with free-standing gas log fire
BBQ
2 bedrooms with Queen-sized beds
Bathroom with shower and separate toilet
Wildlife includes kangaroos, kookaburras and various other birds
Check availability here
Great Farm Stays for Kids
The accommodation is suitable for 5 guests, 2 bedrooms, 4 beds, 1 bath in 2 cottages.
Host: Helen
Latest Guest Review
"Our family had a really fun and relaxed holiday on the farm. The animals are great for kids to interact with, with plenty of walking if you desire. The views from the cottages will never grow old. It is a great place to stay if you want to relax or see some of what the great ocean road has to offer."
Location of Great Ocean Farm Stay in Johanna Victoria
The Farm Stays are located 2 minutes from Johanna Beach and 8 minutes from the nearest town of Lavers Hill.
The property is within driving distance of the major sights along the Great Ocean Road:
12 Apostles – 40 minutes
Otway National Park – 20 minutes
Cape Otway LightHouse – 20 minutes
Otway Fly Treetop walk – 20 minutes
Property details:
Fully equipped kitchen
BBQ
Free wifi
Pet friendly – you will need to check with the owners on booking
great views from farm to the coast
collect eggs from the chicken pen
pick fruit from the orchard
pick herbs and salad from the garden
opportunities to pet and feed the sheep, goats, chickens, farm dogs, donkey, ponies, and if nearby, the Alpacas
farm tour
Check availability here
Farm Stay Hoddles Creek Victoria
A 40-acre farm stay that sleeps 6 in 2 bedrooms and 2 bathrooms
Latest Guest Review
"This beautiful cottage has had so much care and thought put into providing a relaxing, peaceful experience for their guests. It truly is a place to switch off, slow down and to create some great memories.
We loved feeding the cows each morning and the birds were very talkative and entertaining.
I can't recommend this cottage enough, my only regret is that we didn't stay longer! The hosts were absolutely wonderful, Kath is absolutely right about the incredible sunsets"
Location of Hoddles Hideaway
Hoddles Hideaway is located  1 3/4 hour drive from Melbourne between Gembrook and Launching Place.
Property Details
Fully-equipped kitchen
Deck/patio
Hot tub
TV
DVD Player
Meet our friendly sheep alpacas, chooks and cows
Spend the days bushwalking, riding Puffing Billy, grape grazing at local wineries, cycling, even snow playing in winter
Wombats, koalas, lyrebirds, kangaroos and bandicoots
Check availability here
Pet Friendly B & B in Amphitheatre
Sleep  6 in 2 bedrooms – 4 beds and 1 bathroom
Latest Guest Review
"This farm-stay was just what we needed! We were received with a warm welcome. The kids had a wonderful time meeting and feeding the animals. The fresh air and open space was very therapeutic. What a wonderful weekend! Thank you Deb and family for taking care of us!"
Location
1 hour from Ballarat
1 hour from Hall's Gap in the Grampians
1/2 hour from Maryborough or Ararat
Property Details
Fully equipped kitchen
Deck/patio
Continental breakfast provided, free-range eggs, bacon, cereals juice
Laundry outside
A small playground and flying fox
Goats, cows, sheep and horses
rustic fire pit
dog friendly
Check availability here
Conclusion
In conclusion, Farm Stays in Victoria offer a unique and immersive experience for visitors looking to escape the hustle and bustle of city life.
From hands-on activities such as milking cows and collecting eggs to enjoying farm-fresh meals prepared with local produce, these stays provide an opportunity to reconnect with nature and gain a deeper appreciation for the agricultural heritage of the region.
Whether you're seeking a family-friendly retreat or a romantic getaway, Victoria's farm stays offer something for everyone. So why not plan your next vacation on a picturesque farm in Victoria and create lasting memories amidst rolling hills, friendly animals, and warm country hospitality?
Related Reading: Australian travel inspiration for your next staycation
Sydney Byron Bay road trip for families
Flights Deals to Melbourne
Find the cheapest flights with Skyscanner.
Join our Facebook Group – Staycation Australia
Pinterest
Are you on Pinterest? We are at To Travel Too and we have many travel-related boards check us out at Pinterest.  If you enjoyed our article why not pin it to your board to save for later.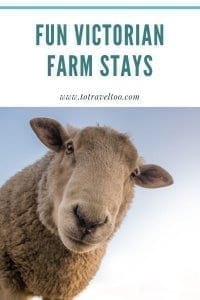 If you have any questions or would like some advice we would love to hear from you. You can reach us via our Facebook page or email us here.
Feel free to share our article with family and friends who would love to experience a Victorian Farm Stay.