If you want to experience the old Asia first-hand, this charming laid-back colonial capital city in Laos has a lot to offer the visitor.
There are more than 5 reasons to visit Vientiane in Laos, one of our favourite Asian countries. Many travellers will only give Vientiane a 24-hour stopover on the way to visit many of the unique destinations that Laos has to offer. We highly recommend spending at least a few days in and around the Laos capital to sample the cuisine, the locally grown Laos coffee, monuments, markets and the riverfront in the evening. Even if you can only spare one day in Vientiane there is still a lot to see and do in that time.
This post may contain affiliate links. Please see our disclosure for more information. As an Amazon Associate, we earn from qualifying purchases (if applicable).
Wondering what to do in Vientiane that includes a full-day tour?
Top Tour: Private Full-Day Tour of Vientiane with Buddha Park & Lunch
Join this Vientiane full-day city tour to discover Wat Si Saket, That Luang, Patuxai Monument, and Buddha Park. Along the way, you'll experience some of Vientiane's taste delicious Lao food.
The small country of Laos shares its borders with Thailand, Cambodia, Vietnam, China and Myanmar.  The Capital is Vientiane situated on the Mekong River. The Laos People are some of the most friendliest we have met in South East Asia.
A Snippet of Laos History
Vientiane has had a turbulent past and the Vietnamese, Khmer, Burmese, Siamese and the French all have had a hand in its history. In 1560 King Setthathirath relocated the capital from Luang Prabang in the north to the present location of Vientiane. In 1893 Laos was passed to French rule and became a protectorate in 1899 and in 1953 it sought independence from France after several successful campaigns led by local independence groups.
Unfortunately, during the Vietnam War, Laos became the most heavily bombed country, many villages were destroyed and thousands were displaced. After the government of Laos introduced market reforms in 1988 Laos has grown rapidly as a nation and tourism is its fastest-growing industry. It is one of the poorest countries in South East Asia but one of the friendliest that we have visited.
Our 5 Reasons To Visit Vientiane in Laos
#1 Monuments
The Victory Monument aka Patuxai Vientiane Laos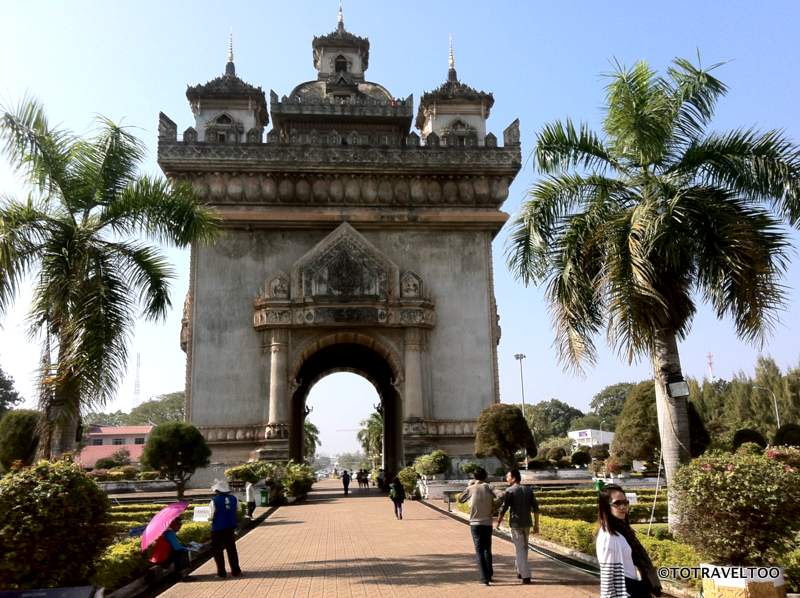 Laos's equivalent to the Arc de Triomphe in Paris, Patuxai or the Victory Monument (as it is also known) stands proudly in the centre of Vientiane. The story goes that in 1968 it was built with cement donated by the US government that was originally designated for the construction of the new airport. The monument is dedicated to those who fought for independence from the French.
For Kip 5,000 (USD$0.60) you can climb to the top of the monument for 360-degree views of Vientiane and the Laos countryside.
That Dam Stupa Vientiane
That Dam Stupa, also known locally as the Black Stupa, stands unloved and overgrown in the centre of a roundabout in Vientiane. The locals still regard it as the city's guardian spirit. Two stories have been handed down over the years, the first is that it was once inhabited by a seven-headed dragon that protected the city from the threat of the Siamese and the second story states that it was once covered in gold which was stripped by the Siamese army in 1828.
Wat Si Saket Vientiane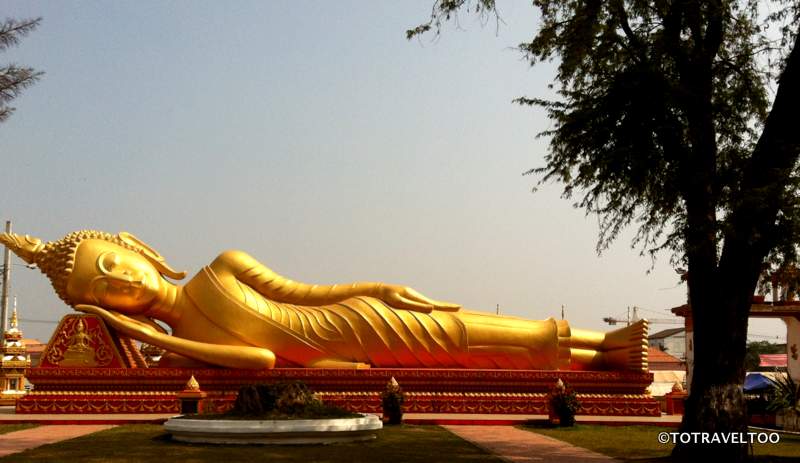 On Lan Xang Road in Vientiane is the Buddhist Wat known as Wat Si Saket. It was built in 1818 in the Siamese architectural style and houses a museum and more than 6,800 Buddha images. The images are made of wood, stone, and bronze and date back from the 16th to 19th Century.
Pha That Luang Vientiane
Pha That Luang is one of the most important Buddhist monuments located in the centre of Vientiane. Standing 44 metres high and covered in over 500kgs of gold leaf it is considered the national symbol of Laos. It is surrounded by 30 small stupas.
Entrance fee: 5,000 Kip (USD0.60)
#2 Vientiane Parks
Buddha Park Vientiane
Nestled on the banks of the Mekong River, with views of Thailand in the distance, Buddha Park is located 25 kilometres from Vientiane. Designed and built by Luang Pu, a yogi-priest shaman in 1958, the park consists of over 200 Buddhist and Hindu sculptures constructed in concrete. It can be hot and thirsty work wandering through the park especially in the middle of the day, treat yourself to a hydrating coconut drink from the local stall within the park. If you are travelling by tuk-tuk from Vientiane be prepared for a bumpy dusty 25-kilometre ride, which should cost you no more than 200,000 kips approximately USD25 return. The entrance fee to the park is 40,000 kip approximately USD2.30.
#3 Laos Local Cuisine in Vientiane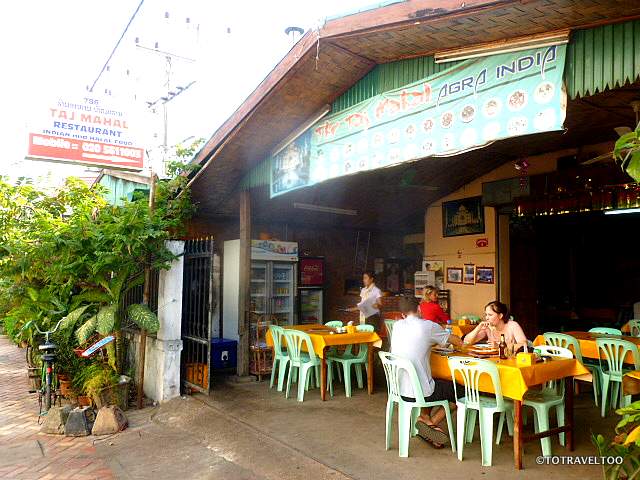 There are many local cafes and restaurants serving locally grown Laos coffee and French-style baguettes throughout Vientiane.
We are lovers of Indian food and spent many nights at the Taj Mahal Indian Restaurant two blocks away from our accommodation. When you see the same locals there night after night you know that you have chosen well. There are many vegetarian options available and the local beer 'Beerlao' was always cold and refreshing.
Along the Riverfront of Vientiane, you will find local food stalls that set up early evening serving up the freshest seafood and meat bbq right in front of you. We chose deep-fried fish at 56,000 kip (USD7.00). The spicy smells from the cooking tease the senses, the view at sunset is glorious and the atmosphere is electric as diners enjoy themselves.
For the top 10 restaurants in Vientiane click our link below.

#4 Vientiane Markets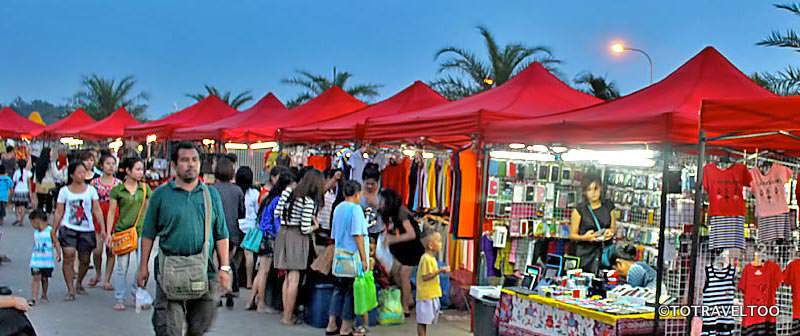 The most famous market in Vientiane is the night market along the Riverfront. It opens at sunset and has a myriad of souvenirs, textiles and clothing. Although you may find goods cheaper in other local markets it is well worth the visit. Whilst you are there you can watch the locals exercising in the coolness of the evening.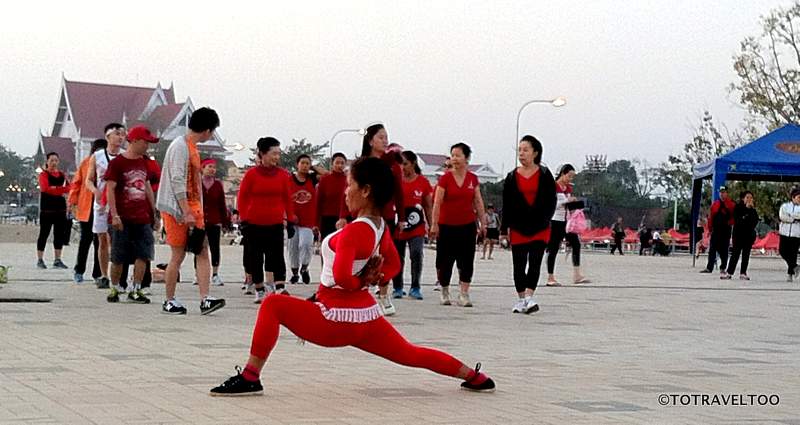 The morning market called Talat Sao is located on the corner of Lan Xang Road and Khu Vieng and is open from 7 am to 4 pm and has lots to offer the visitor from fruit and vegetables to souvenirs, home electronics and an array of food stalls.
#5 COPE Vientiane Laos – try and include COPE in your Vientiane itinerary
During 1964 – 1972 580,000 bombing missions by the US Government dropped over 2 million tons of ordnance in Laos. Most of these bombs were cluster bombs, which break up mid-air sending thousands of bombs scattering over the countryside. 30% of these around 80 million still lay in the farms of Laos waiting to be exploded.
COPE which stands for Cooperative Orthotic and Prosthetic Enterprise ensures that people who have been affected have local free access to a quality nationally managed rehabilitation service which provides arms and legs and Physiotherapy and Occupational Therapy to the victims.
The displays and stories are moving.
Entrance is free. There is a coffee shop on site.
Best  Things To Do In Vientiane
Where To Stay in Vientiane Laos
Some of the best hotels in Vientiane are:
Address: 160 Fangeum Road, Ban Sithaneu, Mueng Sikhot Tabaong Noi 13
Facilities include free wifi, a restaurant and bar.
Latest Guest Review: Amazing location right on the Mekong with beautiful rooftop views. The staff were extremely accommodating and beyond helpful. They even gave me a private ride to the airport when my taxi didn't show up. The manager during my stay went above and beyond to make sure my stay was enjoyable

Address: Chao Anou Road 112 Vat Chan Village Riverfront Vientiane
Facilities include: Free wifi, a spa and wellness centre, a restaurant and a bar.
Latest Guest Review: The location of the hotel is very good, close to the night market / Mekong riverside boulevard and to the other direction close to the main street with restaurants etc. The fit-out of the hotel is beautiful, with lots of local artworks. Chilling out in the 'living room' after a hot day outside is just lovely. And the staff is very helpful and friendly too. The train station pickup was efficient and on time.

3-star hotel Le Charme Vientiane Hotel
Address: 2-12 Francois Nginn Street Mixai Village Vientiane
Facilities include: outdoor pool, fitness centre, free wifi
Guest review: Really friendly staff who went above and beyond. It was my friends birthday and a cake was organised by the manager who really went above and beyond, even managing to find a chocolate cake which was her favourite! Thank you for the best stay.

For more options on where to stay in Vientiane:

Laos Visa
You can get a Laos Visa on arrival for 30 days at Vientiane.  You will need a small photo.  Costs are different depending on the passport you hold.
More details can be found here:
Getting In – Vientiane Laos
Vientiane's Airport is Wattay International Airport located approx 3km from the city.
If you would like a private transfer from the airport to your hotel click here for more details.
How to get around Vientiane?
Tuk tuks are easy to get to travel around Vientiane. A travel tip is to ask your hotel how much it would cost for your journey.
Loca Taxi  – is a local ride-sharing taxi in Laos and it is licensed.
Flight Deals to Vientiane
Find the cheapest flights with Skyscanner our go-to when researching and booking flights throughout the world.
Book Your Bus Tickets Through 12goAsia for travel around Asia
It is easy to travel from Bangkok to Vientiane by bus, we have done this journey twice.
Travel Insurance
We recommend taking out travel insurance as soon as you book your flights and pay deposits on any cruises, tours or hotels.
To Travel Too Travel Shop
Travel smarter and safer with products from our To Travel Too Travel Shop.  If you are looking for the latest luggage, guidebooks or travel accessories we have you covered with over 800 travel products to choose from.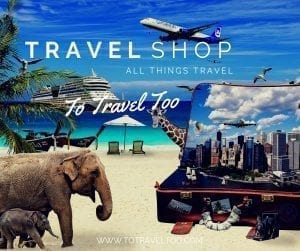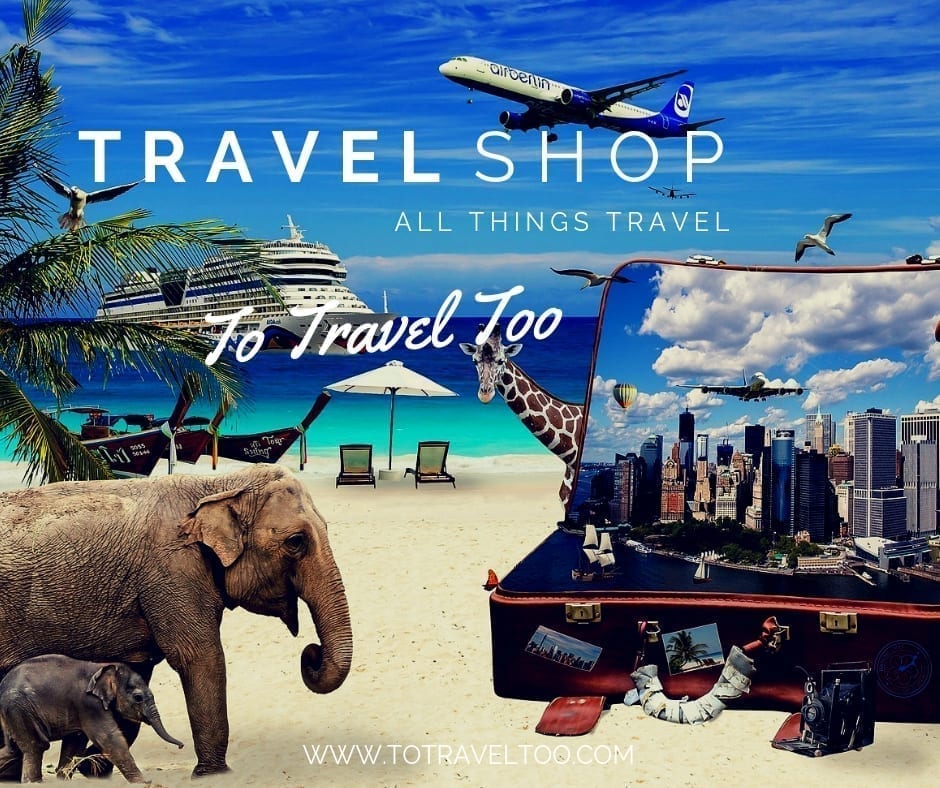 Final Words
We hope you have enjoyed our Vientiane Guide. Let us know what your favourite things to do in Vientiane were, we would love to hear from you.
Pinterest
Are you on Pinterest? We are at To Travel Too and we have many travel-related boards check us out at Pinterest.  If you enjoyed our article why not pin it to your board?
Why not take our article with you as you wander around Vientiane.  Click our City Walk banner for more information.