Morelia, the capital city of Michoacán in Mexico, is a hidden gem waiting to be explored. Known for its rich history and stunning architecture, this enchanting colonial city offers a plethora of activities and attractions that will captivate any visitor. From exploring ancient churches and cathedrals to indulging in delicious local cuisine, there is something for everyone in Morelia. Whether you are an art enthusiast or an adventure seeker, this article will guide you through the top things to do in Morelia, ensuring an unforgettable experience in this vibrant Mexican destination.
Are you planning to visit Morelia? Great choice of a destination in Mexico that is easily reached from Mexico City.
Morelia is off the regular tourist track of Mexico which gives it a charm like no other.  When you next visit Mexico if you can include Morelia on your visit we can highly recommend it. We were knocked over by the quality of the food and the accommodation.  We are huge fans of Mexican food and Morelia did not disappoint. We had previously been staying in San Miguel de Allende.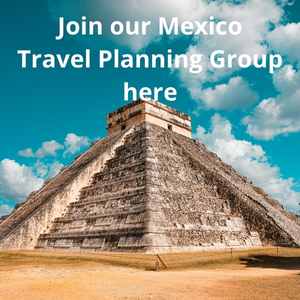 Here is our guide on the top 5 things to do in Morelia Michoacan Mexico. There are more things to do in Morelia, of course, we should have planned our visit better and stayed longer. What we are finding with towns in Mexico is that they are all special in their own way and offer the traveller a diverse and exciting adventure.
Related reading:
What to do in Oaxaca – 11 Things to Do and See in Oaxaca
FAQ's on Visiting Morelia
Is it safe to travel to Morelia by bus?
Buses are an easy way to travel around Mexico.  We travelled by bus from San Miguel de Allende to Morelia about 288 km away.
Click here for the latest schedules and ticket prices.
Is Morelia worth visiting?
Yes, it is. We really enjoyed our stay and definitely would return.  It is a small town and off the tourist path of popular destinations such as Puebla, Guanajuato etc.
How many days should we stay in Morelia?
We would recommend spending 2 nights at least in Morelia, ideally 4 nights.
Is Morelia safe to visit?
Yes, Morelia is safe but like all Mexican towns and cities make sure you are aware of your surroundings and keep your possessions in a safe location.
How do you get to Morelia?
If you are travelling from Mexico City it will take 4 hours by bus.
From San Miguel de Allende the bus journey takes 2.5 hours.
From Guadalajara, the journey will be 3.5 hours.
What is Morelia famous for?
Morelia is famous for its pink stone which was used in the construction of its historical colonial buildings.
We love Mexico so much we even created an e-book – A Mexico Travel Guide.
Our A Mexico Travel Guide is our adventures around Mexico highlighting where to visit, where to stay, where and what to eat and all our tips and tricks. A great guide for anyone planning things to do in Mexico.
This post may contain affiliate links. Please see our disclosure for more information. As an Amazon Associate, we earn from qualifying purchases (if applicable).
Morelia is located approximately 200 miles west of Mexico City.
Morelia is Mexico's hidden gem and the capital of the state of Michoacan.  It is one of Mexico's beautiful UNESCO World Heritage Site and it has become one of our favourite cities in Mexico.
Our 5 Favourite Things to do in Morelia are:
The Centro Historico is dominated by the Morelia Cathedral built in baroque style and covers 2 blocks. During November the Cathedral is the site for the local Day of the Dead celebrations.  It is an incredible sight during the day and then it twinkles at night. It is stated that Morelia's Cathedral is the most beautiful in the state of  Michoacán and one of the most beautiful in the country. We totally agree with this after travelling around many towns throughout Mexico and visiting their Cathedrals.
It took 84 years to build starting its construction in 1660 and finishing in 1744. The Cathedral was built in the Baroque style using the pink stone from the area. You can see the 70m bell towers from miles away.
Address: Av Francisco I. Madero Pte S/N, Centro histórico de Morelia, 58000 Morelia, Mich., Mexico
Pro-Tip
The best time to visit is when there is an organ recital taking place, the organ is magnificent boasting 4600 pipes.
At 20.45 on a Saturday night, the Cathedral is lit up and there is a fireworks display – it is a spectacular sight.
2. Local Cuisine – Where To Eat in Morelia
Mexican food is a delight to the senses at any time but we found that Morelia and its numerous restaurants, cafes and bars topped the list for us.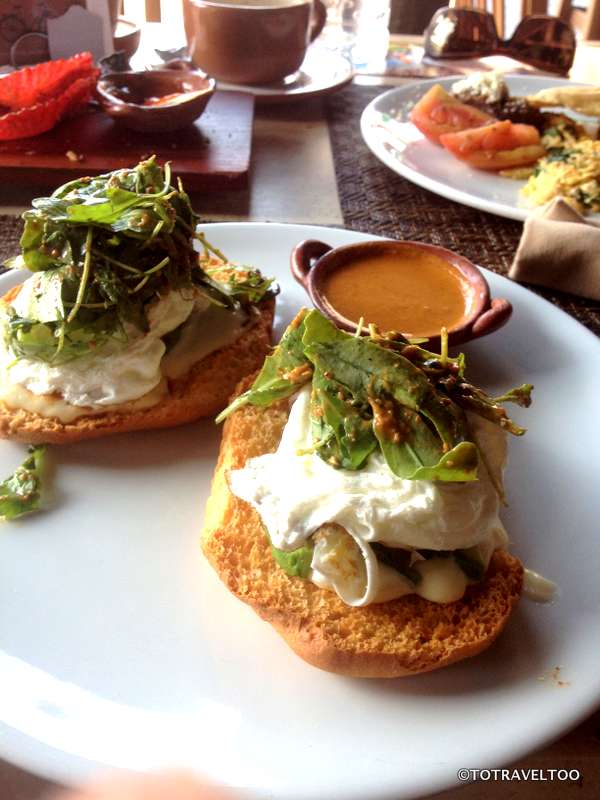 Lu Restaurant is our highly recommended restaurant in Morelia.  Our first experience was Brunch, the service and food were so good that we ended up eating dinner there 3 nights in a row.
Tripadvisor Morelia rates Lu Restaurant in the top #5 restaurants in Morelia. The location is perfect for 'people watching' and the menu is varied and suitable for both meat-eaters and vegetarians.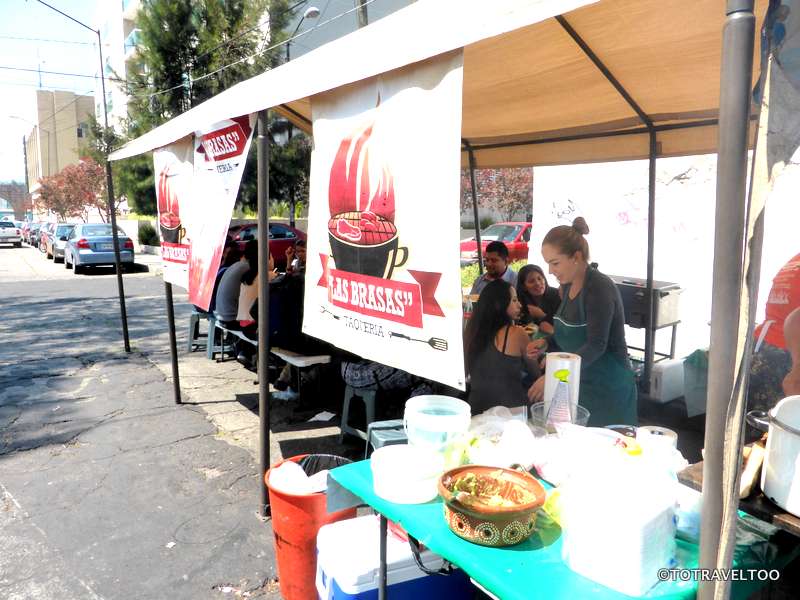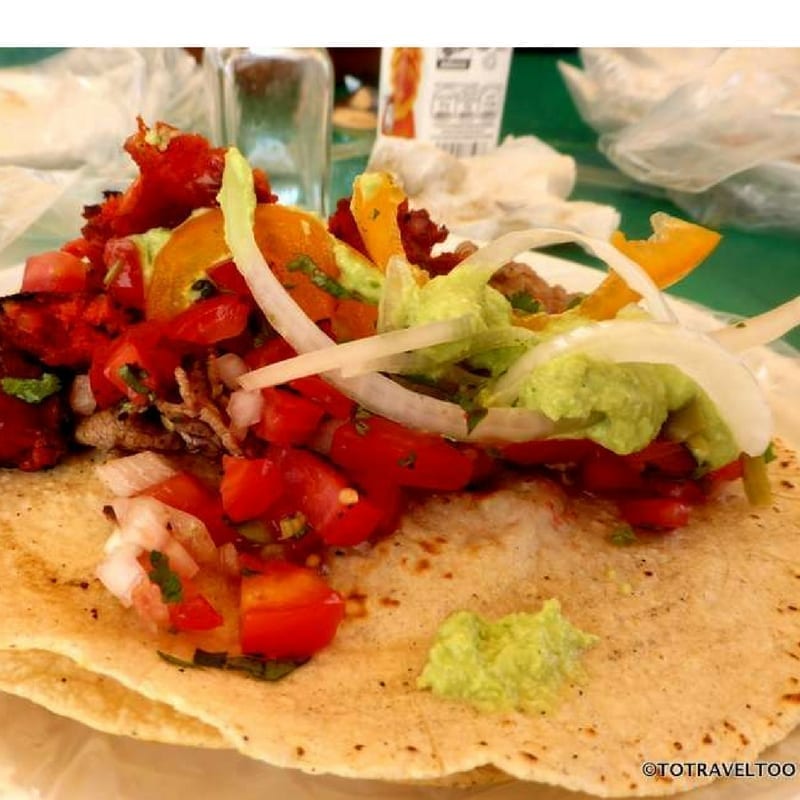 Another favourite is the local fare served up by the crew at Las Brasas De Hospitales.
Be prepared to queue.
Address: 58230, Hospitales 109, Vasco de Quiroga, Morelia, Mich., Mexico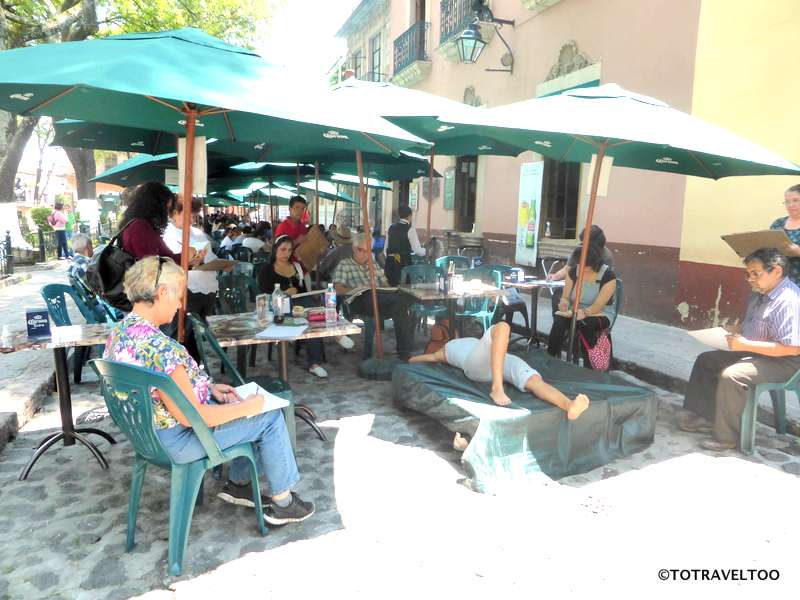 On Sundays ensure you visit the local cafes around the Jardin de las Rosas and whilst you sip a cold beer watch the locals' sketch in one of the many sketching classes.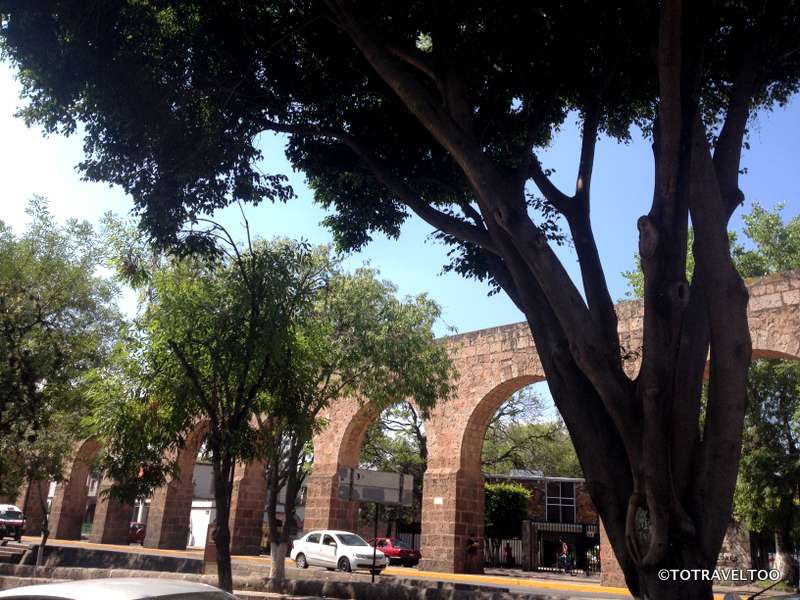 Built in 1785 with 253 arches, and stands 700m high,  the Aqueduct (El Acueducto) runs alongside Cuauhtemoc Park, the largest park in Morelia. The Aqueduct runs for over a mile through Morelia. In 1910 the Aqueduct stopped functioning. Some of the arches are starting to crumble.  You can walk the length of the Aqueduct down Avenida Acueducto.
Pro-Tip
Beware of the traffic when walking the length of the Aqueduct.
Morelos Square and the Equestrian Monument of Morelos. This is the largest square in Morelia.
4. Wander The Streets of Morelia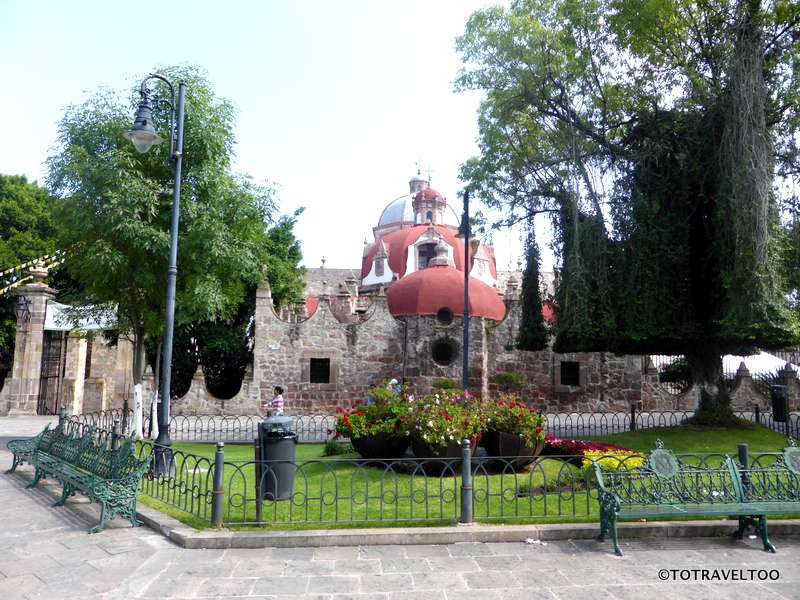 We love wandering around towns, cities and villages as you never know what you come across as you walk down a side street or alleyway.  Morelia has many interesting streets, just get off the beaten track and explore. We found small churches and squares where locals were gathering and chatting.  Local stalls selling freshly made tortillas and small local restaurants and bars.
5.  The Market Place of Morelia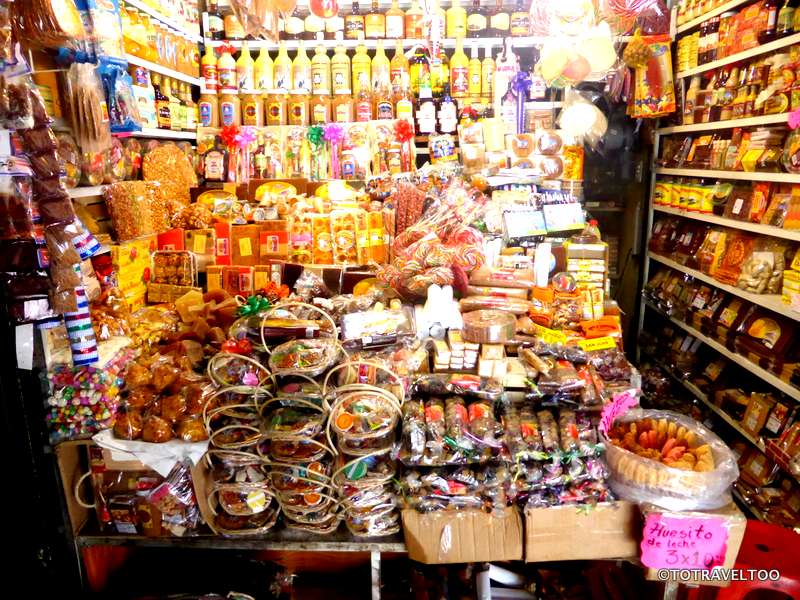 We came across the market as we were wandering around, this market is full of local Mexican sweets, it is a great place to shop if you have a sweet tooth. It is known as the Candy Museum. You can also purchase local crafts and liqueurs.
Address: Centro histórico de Morelia, 58000 Morelia, Michoacán, Mexico
Opening Hours: 0900 – 2100
To Travel Too Tip:
If you are interested in learning Spanish Morelia has some excellent Spanish Language Schools.
Other Things To Do in Morelia Mexico
The Conservatorio de las Rosas was founded in 1743.  It was originally the Dominican Convent of Santa Catalina de Siena.  The grounds are peaceful to wander around.  There are many classical musical events held here throughout the year.
Address: C. de Santiago Tapia Morelia
The Cultural House was originally a Jesuit Monastery. Today, you can take many classes such as painting, writing, dancing etc.  There is a lovely colonial courtyard to walk through and a brilliant bookstore to get lost in.
Address: Av. Morelos Norte 485, esquina con Eduardo Ruiz, Col. Morelia Centro
Opening hours: Monday to Friday 10.00 am to 2.00 pm
Saturday and Sunday from 10.00 am to 6.00 pm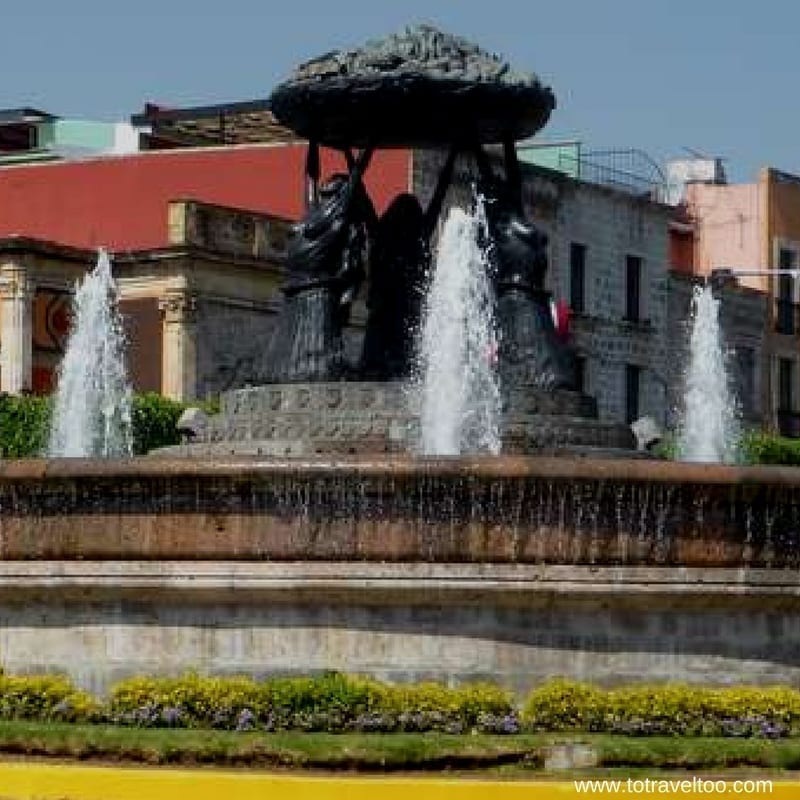 Morelia's most famous fountain that depicts 3 strong Tarascan Indian women holding up agricultural products that they have grown. Around the fountain, you will find lots of small bars and restaurants.  It is a local meeting point, easy to find close to the aqueduct.
Address:  Av Acueducto 890, Centro histórico de Morelia, 58000 Morelia, Mich., Mexico
Hotels in Morelia Mexico
Are you wondering where to stay in Morelia?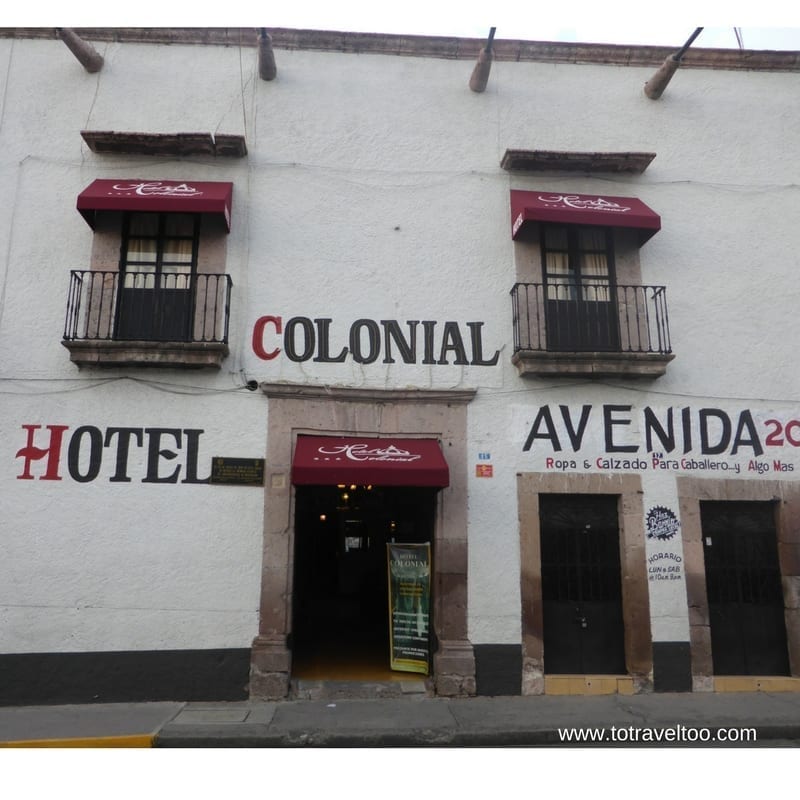 We had an amazing stay at the 3-star Hotel Colonial which was located within walking distance to the centre, 3 minutes from the Cathedral and very comfortable and affordable.
Address: Calle 20 de Noviembre 15 Colonia Centro Morelia.
Latest guest review: The location was great. Streetside is always a little noisy but at least there are no bars. The staff were great. They don't speak English but they tried and I tried to speak Spanish

There are many choices of accommodation to suit your budget and needs, check out the latest prices and availability.
Essential Visitor Information for Travel To Morelia
The Best Time to Visit Morelia
The weather in Morelia Mexico is hot during the months of April, May and June where temperatures can reach in the low 30s Centrigrade.  You can expect the most rain between June and August.
Morelia Airport
Morelia's Airport is located 15 miles from the city centre.
Uber is now available in Morelia.
There are taxis available at the airport, we would recommend prepaying your taxi fare.
Do you need an International Drivers Licence? You can obtain one here online in minutes.
Flight Deals
Find the cheapest flights with Skyscanner our 'go-to' when we are researching and booking our flights.
Bus Travel to Morelia
We travelled to Morelia by Primera Plus from San Miguel de Allende.
For the latest bus schedules and ticket prices click here.
If you enjoyed this article on Mexico be sure to check out our other articles.
Top Things to do in Cabo San Lucas
Things to do in San Miguel de Allende
Download our article for offline use:
You can now download our article and thousands of others for offline use when you visit cities.  Click our link below for more information: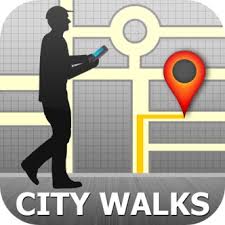 Pinterest
Are you on Pinterest? We are at To Travel Too and we have many travel-related boards check us out at Pinterest.  If you enjoyed our article why not pin it to your board.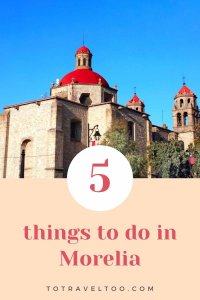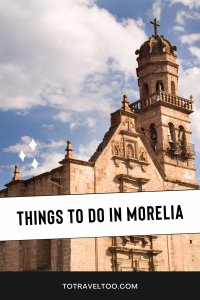 Travel Insurance
World Nomads offers simple and flexible travel insurance. Buy at home or while travelling and claim online from anywhere in the world.
Travel smarter and safer with products from our To Travel Too Travel Shop.  If you are looking for the latest luggage, guidebooks or travel accessories we have you covered with over 800 travel products to choose from.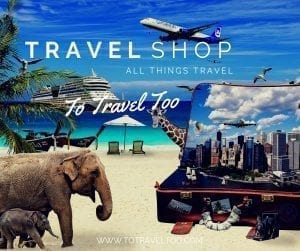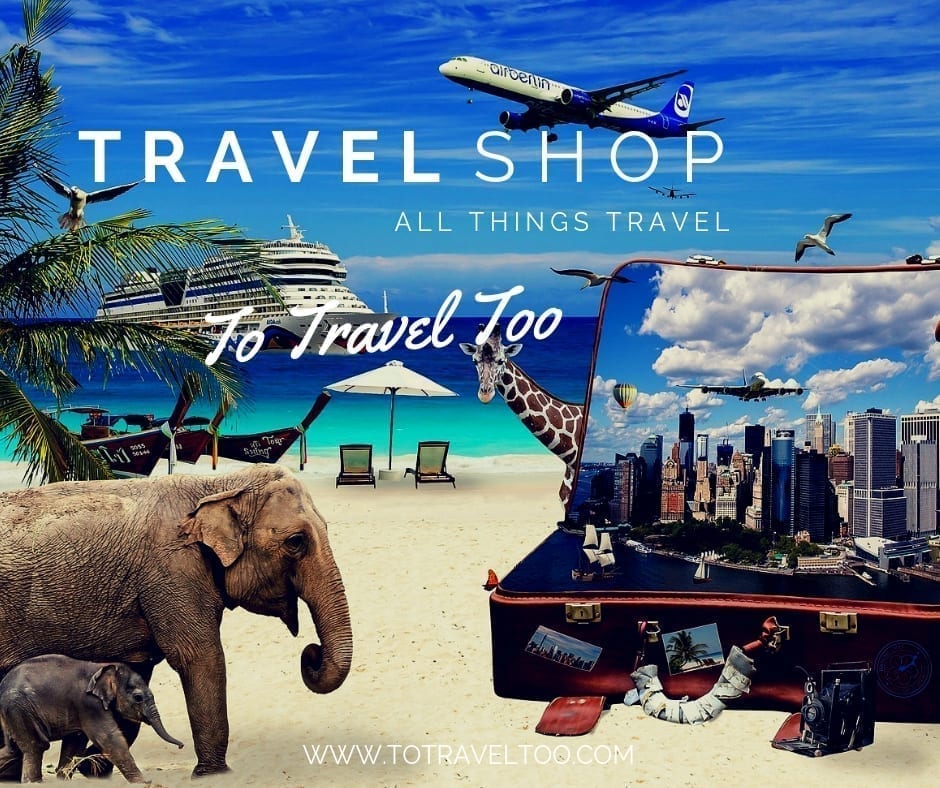 Conclusion
In conclusion, Morelia offers a plethora of unique and captivating attractions that are sure to leave a lasting impression on visitors. From its stunning colonial architecture to its vibrant cultural scene, there is no shortage of things to do and see in this enchanting city. Whether you're exploring the UNESCO World Heritage-listed historic centre, indulging in delicious local cuisine, or immersing yourself in the rich history and traditions of Michoacán, Morelia truly has something for everyone. So why not plan your next adventure to this hidden gem and discover all the wonders it has to offer?
We hope you enjoyed our article on Morelia in Mexico.  We would love to hear from you if you have visited Morelia or if you have any questions on your visit to Morelia please feel free to reach out to us.
Keep up to date regularly with our articles and travel tips on our Facebook page.