The Galapagos Islands had long been on our bucket list.  We knew it was going to be an expensive destination and that we would have to research all options carefully to keep within our budget.
"Galapagos Islands a journey of a lifetime, see wildlife that you won't see anywhere else in the world",  are some of the statements you may read from the many Galapagos tours to this region.  As we were in Ecuador for three months we thought how could we not visit these incredible islands and experience a journey of a lifetime and the unique wildlife that the islands boasted of. We wanted to see the blue-footed boobies, the sea lions and the turtles.
A frequent question we are always asked is what are the best Galapagos Islands to visit with kids? After spending time in the Galapagos Islands we can say that every island has something different to offer whether you are a kid, a couple, solo traveller, or family travels.
(Editor Update 2021)
Read how we ditched the corporate world to live a life of travel.
Where is the Galapagos Islands
The Galapagos Islands belong to the South American country of Ecuador and are located in the Pacific Ocean about 1000 km off the coast.  The archipelago consists of 18 main islands, 3  smaller islands and 107 rocks and islets.
This post may contain affiliate links. Please see our disclosure for more information. As an Amazon Associate, we earn from qualifying purchases (if applicable).
At first glance, it seemed expensive and when we delved deeper into the costs of travelling to the Galapagos Islands and what the options were we became totally confused and it appeared to become even more expensive.  We enquired of others who had travelled there, we asked questions as to how they travelled, did they use Galapagos Islands tours and would they do anything differently next time, what was their experiences, we even inquired on an Ecuador Expat Forum on Facebook, still, confusion reigned.  We knew that our daily travel budget of AUD100 would not make it and we would have to cut back on other areas of travel if we really wanted to travel there.
We ended up spending a week with two nights on San Cristobal Island and then taking a water ferry for USD30 per person across to Santa Cruz Island.
Top Tip
The ferries between the islands are priced between USD25 – 35 per person. We were recommended to take the morning ferries as the crossings can be quite rough in the afternoon. Our very early morning crossing was rough – not sure whether that was a one-off or whether we were given incorrect information. After doing the ferry crossing everyone we spoke to experienced a rough crossing.
Top 5 Things to Do in the Galapagos Islands
#1 Organised Multi-Day Tours of The Galapagos Islands
We use Get Your Guide for tours when we travel around the world. These are the reasons why:
The lowest prices, guaranteed — no booking fees or hidden charges
 Pre-book tickets and skip the line at top attractions with their exclusive inventory of tickets
Stay flexible with easy cancellation up to 24 hours before
Mobile-friendly payment and tickets for booking on the go
Friendly and knowledgeable customer services, available 24/7 in your language
There are many tour operators offering all different types of tours around the Islands.  We opted not to do a cruise as we are not divers nor snorkellers.  We have researched Get Your Guide and have come up with their top tours:
6 Day Galapagos Islands Tour Visiting 4 Islands
On this six-day program you can hike, snorkel, kayak, swim and experience an incredible diversity of wildlife. The highlights of this program include San Cristobal, Santa Cruz, Española and a visit to an uninhabited island. Your 5 nights accommodation is in hotels on the various islands with 4 breakfasts and 4 lunches included. Book your tour here.
5 Day Nature Tour of the Galapagos Islands
Experience the highlights of the Galápagos Islands on a 5-day tour with an English and Spanish-speaking naturalist guide.
Discover the unique flora and fauna of the Galápagos with round-trip transportation from Baltra Island. Benefit from hotel options to suit your budget. Book your tour here
4 Day Galapagos Island Tour
On this 4-day program, you will experience the highlights of the Galapagos Islands. See the amazing range of wildlife that make these islands so special. This is an all-inclusive tour accompanied by an English and Spanish-speaking guide. Book your tour here
#2  Enjoy a One Day Galapagos Island Tour by Yacht
Explore the sights and wildlife in the Galapagos Islands on this full-day yacht tour from Santa Cruz. Visit Tortuga Bay Beach, La Lobería, Canal del Amor, and Playa de los Perros to see sea lions, marine iguanas, reef sharks, and other marine animals. Book your tour here
3.

Meet the locals of San Cristobal in the Galapagos Islands
What we did not expect to see were the local sea lions draped over the seats in the bus shelter.  They spend all day sunning themselves on the rocks around the waterfront.
All along the waterfront, you come across the Blue Footed Boobies mingled with the sea lions.
Sharing the limelight with the blue-footed boobies are the brilliantly coloured red crabs that scattered over the rocks as we drew near.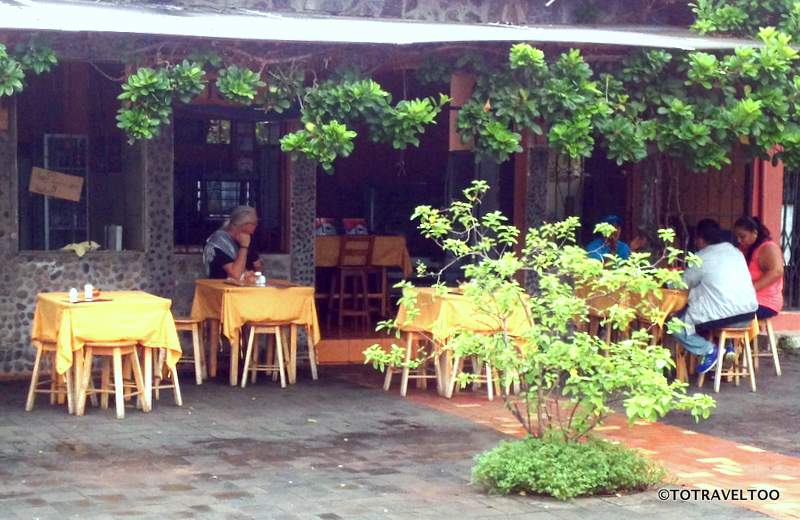 There are places to eat and drink all along the waterfront close to where the ferries and cruise boats come in.
4. Visit Cerro Colorado Galapagos Breeding Centre on the Island of San Cristobal
Visit Cerro Colorado – a Centre that was built for the breeding of the giant tortoises. The informative Visitors Centre explains their programs for the preservation and reproduction of the endemic giant tortoises. You will be able to view the varying stages of tortoises in their growth development.
5.  Dine With The Locals on the Island of Santa Cruz
You can't beat dining with the locals in the Galapagos Islands, especially the native ones.  What more could you ask for on Santa Cruz Island in the Galapagos Islands in Ecuador!
6 nights a week from Monday through to Saturday the fish market comes alive in the evening.  The plastic tables and chairs are set out and by 7 pm there are queues waiting for a table.
This is a true dining experience especially when you dine with sea lions and pelicans. It is a family affair.  The men are responsible for bringing the catches in and the women in the family cook the meals in the evening.  Other family members work the tables and others make the salad, rice and plantains.
You know it is fresh when you see the fisherman bring in their catch during the day at different times.
It can become very busy.  The locals are discerning and know what is the better quality and will wait until the right fish arrives.
For more travel information on Ecuador read our Ecuador Vacation Travel Guide 
Where to Stay on the Galapagos Islands
San Cristobal
On the island of San Cristobal, we stayed at the Posada Turistico Territo now called Hostal Terito. It was basic comfortable accommodation within our budget. The owners collected us from the airport. There are 5 rooms available, a swimming pool and WiFi. It was an easy walk into town.
Address: Jose Vallejo S/N y Gonzalo Morales, Puerto Baquerizo Moreno. Puerto Baquerizo Moreno is the capital of the province of Galapagos and is located on San Cristobal Island.

Santa Cruz Island
On the island of Santa Cruz we stayed at Lava House at Calle Roberto Schiess y 18 de Febrero (in front of Agua Gallardo), Puerto Ayora.
Lava House was a comfortable stay, well located for walking into town and a good breakfast was served. It is a 4 room hotel with pool and WiFi.

If you are looking for an eco-luxury all-inclusive resorts head to Pikaia Lodge in Santa Cruz. Probably the most luxurious accommodation in Santa Cruz the Pikaia Lodge is for that special memorable stay on the island.
For more hotels on the Galapagos Islands

Flights To the Galapagos Islands
You can fly into San Cristobal from Quito or Guayaquil only via Tame, Avianca and LAN.
A $10 traffic control card must be purchased which allows travellers to stay up to 90 days.
A payment of $100 USD for the entry to the Galapagos National Park is required to be paid by all tourists, there is a reduction for children and residents of Ecuador.
In Quito or Guayaquil, your luggage and hand luggage will be inspected.   Species of animals and plants are not allowed in and you will be asked to complete a Legally Binding Declaration Form for Goods of Animal and Vegetation Origin.
Find the cheapest flights with Skyscanner  our go-to when researching and booking flights throughout the world.
To Travel Too Tip for the Galapagos Islands:
If you are booking the airfares to the Galapagos Islands beware there are fares for Ecuadorians and fares for International Travellers on some of the airline websites.  If it looks too good to be true, you have a local airfare and will be asked to pay more for the ticket than you would have normally when checking in.
Read how to save money when travelling.
Can you do Galapagos on a budget?
In summary, if you are a keen scuba diver or snorkeler taking a cruise may be the way to go, but if you are not planning an itinerary similar to ours where you choose the activities that interest you the most could be the way to go. The lay of the land currently is that cruises are allowed to go to certain spots on the islands for activities where day cruises are not allowed and vice versa.  The Ecuadorian Government has just passed a bill allowing large cruise ships to operate smaller vessels themselves for cruise activities around the islands which in fact means that the local operators will suffer as a consequence.
Of course, this depends on the type of accommodation as well that you want to stay in which could range from the cheaper option of hostels to the luxury hotels on the islands.
What we wanted to see on the islands were the Blue Footed Boobies, the Sea Lions, the Tortoises and the marine and land iguanas.  We saw all of these at little cost.
We were chatting to some travellers after arriving in Santa Cruz from San Cristobal and asked them for their recommendations.  The first and most obvious question and one which should always be asked – What do you want to see? Your time on the Galapagos Islands will depend on your answer to this question.
We also chatted to a traveller from our hostel in Santa Cruz who had travelled in from the UK.  It was a once in a lifetime trip for her so it was important that she got the most from her stay.  She eventually booked a cruise in Quito whilst she was there.  The same cruise would have cost her USD3,000 in the UK, in Quito she paid USD2,400 and she felt that she may have been able to reduce the price by booking once she arrived in the Galapagos Islands at around $2,000 but it would all depend on availability.  The agent in Quito was very knowledgeable about the Galagapos Islands and she was very happy with his recommendations.
Pinterest
Are you on Pinterest? We are at To Travel Too and we have many travel-related boards check us out at Pinterest.  If you enjoyed our article why not pin it to your board.
Travel Insurance
We recommend taking out travel insurance as soon as you book your flights and pay deposits on any cruises, tours or hotels.
Travel Shop
Travel smarter and safer with products from our To Travel Too Travel Shop.  If you are looking for the latest luggage, guidebooks or travel accessories we have you covered with over 800 travel products to choose from.