Mexico is a country rich in history, culture, and breathtaking landscapes. Among its many gems are the charming villages of Chamula and Zinacantan, located in the southern state of Chiapas. These two indigenous communities offer visitors a unique glimpse into Mexico's vibrant traditions and way of life. From their mystical churches filled with colourful rituals to their skilled artisans crafting intricate textiles, a visit to Chamula and Zinacantan promises an unforgettable cultural experience that will leave travellers enchanted by the authenticity and beauty found within these hidden corners of Mexico.
All we can say is what an interesting and at times weird visit to the two towns of Chamula and Zinacantan in Mexico was!
San Juan Chamula and Zinacantan are two indigenous towns just outside San Cristobal de Las Casas in Chiapas State in Southern Mexico. The two could not be more different even though they are only 7 km away from one another. When you visit Mexico next and you are close to San Cristobal de Las Casas we recommend that you spend a half day and visit these two best places in Mexico in the state of Chiapas.
If you are like us and love Mexico why not check out our latest travel guide.  We have travelled extensively throughout Mexico and just love the country, the people and the food.  Our guide highlights our adventures, where we travelled to, where to stay and where to eat. USD2.99
Tour to San Juan Chamula and Zinacantan
Learn more about the everyday lives and traditions of the indigenous communities of San Juan Chamula and Zinacantán on a day trip from San Cristóbal de las Casas.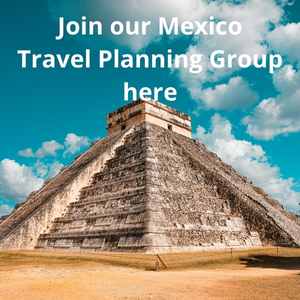 This post may contain affiliate links. Please see our disclosure for more information. As an Amazon Associate, we earn from qualifying purchases (if applicable).
San Juan Chamula and Zinacantan are located just 7 km from San Cristobal de Las Casas in the State of Chiapas in Mexico.
Why are San Juan Chamula and Zinacantan different
they both have their own police force
the villages rule autonomously
they have their own customs
they have their own traditional dress
they have their own holidays and celebrations
San Juan Chamula is a merchant town
Zinacantan is an artisan town
The journey from San Cristobal de Las Casas to San Juan Chamula takes approximately 30 minutes. The road takes you up and over the hills surrounding San Cristobal de Las Casas, past a traditional Mayan mud house (which we were not allowed to take photos of and one which the family is not happy that many minibuses daily stop to view) to our first stop a ruined Mayan Church San Sebastian and Mayan Graveyard.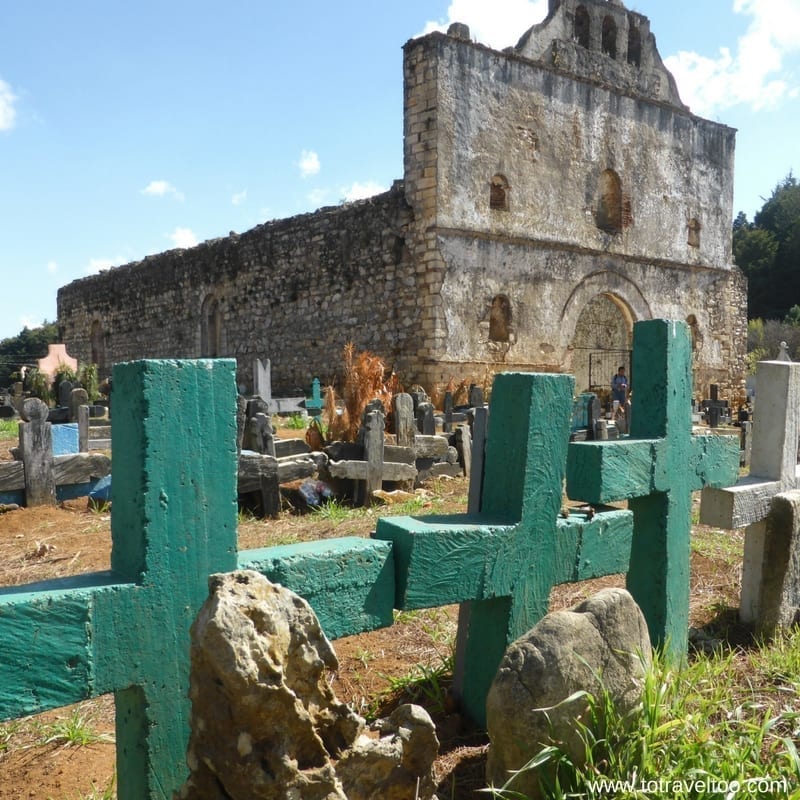 The Church of San Sebastian was originally constructed by the Dominicans in the baroque style in the 17th century.  Unfortunately, it was destroyed over a century ago and this is where the story becomes fascinating.  There are two beliefs.
The first is that the Church was destroyed either during the Revolution of 1910-1921 or later during 1926-1929 during the Cristero War.
The 2nd belief is that it was destroyed by fire.  Anyway, whatever is the true story the locals were not happy that the Saints of the Church allowed the Church to be destroyed.  They took their own revenge, left the Church in ruins and many of the statues that were not damaged were taken to the Church of San Juan just down the road in the village.
Now, the Church of San Juan had its own Saints to worship and they adorned the walls of this unusual Church (more about this later).  The locals placed what was remaining of the Saints into the new Church but placed them in a way that they faced the wall, chopped their hands off and did not dress them in the traditional robes of the Church.
Today, if you enter the Church of San Juan you will note that all statues face the front and if you look closely you will see those who were disgraced still without their hands.
The Mayan Graveyard outside the ruined remains of the San Sebastian Church had different coloured crosses adorning each grave.  White symbolises the death of a child, blue/green symbolises the death of an adult and black symbolises the death of an elder.
Back into our minibus and we headed off to visit the main church in San Juan Chamula – the Church of San Juan.  This is what this tour was all about in essence.  Before we were allowed off the minibus we were warned that no photographs were allowed to be taken in the Church and the locals did not allow photos of themselves to be taken.  I had read prior to coming on the tour that tourists who did not know about the strict rules and had taken photos, had their cameras confiscated and were marched off to the local Police Station.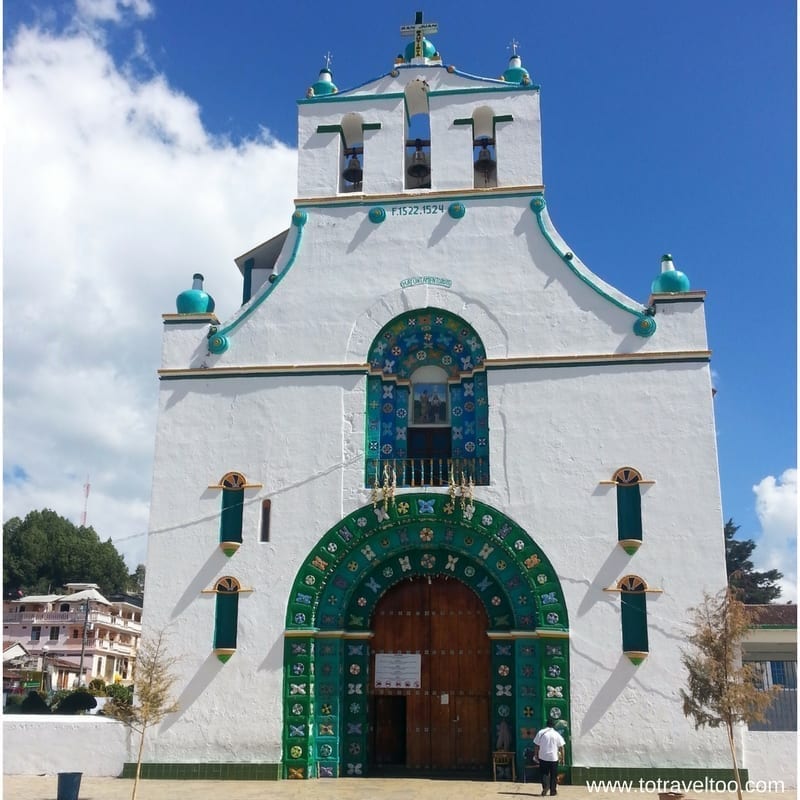 The Church of San Juan is located in a large square.  The Church itself is stunning from the outside, the external front section is decorated in Mayan Flowers, the original glyphs of these flowers can be found in the Palace of Palenque 230km away and they date back to around 1500 years.  They are painted each year.
This is the only Church we have visited that had no pews, the floor was strewn with pine needles and their aroma mingled with the hundreds of candles lit creating a special feeling inside.  We were told to be careful as the pine needles create a slippery floor surface and those wearing long trousers to be careful in case they brush up against the lit candles on the floor.
The statues were lined up on both sides of the wall but we were mesmerised by the ones who were wearing mirrors – apparently, this was to deflect all evil and we missed seeing the ones without hands. We slowly walked around the inside of the Church marvelling at the unusual style – the locals of San Juan Chamula practice a mix of two religions – Mayan and Catholic. The interior reflects both religions. Unfortunately, the Catholic religion was forced on them when the Spaniards arrived, they did try to resist but in the end, they practised both.
Warning: Those who are against the killing of animals may just want to skip this next paragraph or two.
We had timed our visit with the visit of a Curanderos (a medicine man) who was performing a ritual for a local family. There was chanting, an egg, a live chicken, a lethal alcoholic mixture called Pox (pronounced Posh- a kind of local rum) and bottles of Fanta and Coke around the Curanderos and the family who were all seated on the floor in traditional dress. The egg, so we were told, if it was cracked open would be black inside as it has absorbed the negative vibrations from your body and soul.  After the egg has been passed around the body it will be buried so that the dogs cannot eat it and take on the negative sins of the human.
The live chicken, grabbed by its legs, was then passed over the body to absorb the negative sins as its neck was broken in the sacrifice.  This also would be taken away and buried, not to be eaten, as it too would be full of sins.  As all this chanting and sacrificial rites were taking place the family and Curanderos were drinking Pox, even babies take a sip, then cups of Fanta and Coca-Cola were drunk as they needed something sweet after the ceremony.
Outside in the square, we noticed a stone with unusual markings, asking our 81-year-old guide Luis what this was used for, he asked for my pen, checked his watch, and stated it was a sundial and it was telling the correct time.  It was not ancient fairly new, but he was not sure probably around 500 years old, to me I would have thought that was fairly old.
The People of San Juan Chamula
There are 23 ethnic groups in and around San Cristobal de Las Casas.  The people of San Juan Chamula are from the largest indigenous group in Chiapas known as the Tzotil.  They speak their own indigenous language of Tzotil, the second language that is taught is Spanish, although some residents only speak Tzotil. The residents have to belong to the same religion and to the same political party.  If you don't agree with the laws you are expelled from the town.  Outsiders are not allowed to live in San Juan Chamula only those from their own indigenous group.
The women wear a traditional black fluffy skirt made from sheep's wool with a traditional colourful shirt. Their hair is black and long.  The men wear a white poncho and you may notice a machete attached to their belts on some of them.
Sheep are not raised for their meat but the wool is used for the making of their traditional clothes.  If a sheep dies, it is buried.
7km away from San Juan Chamula is the village of Zinacantan.  As you approach the village from the mountain the slopes surrounding the village are full of greenhouses growing flowers of which the village is famous for.  The flowers are grown and sent to Mexico City and other parts of the country.  In English Zinacantan means 'land of bats'. The people from Zinacantan also belong to the indigenous Tzotzil group.
To Travel Too Tip: There is a Tourist Tax for those entering Zinacantan of MXN15 per person.
We were to visit a traditional family home and the local Church.  Again we were warned not to take photos inside the Church or of the local people in the village.  We were allowed to take photos inside the family home as they demonstrated their weaving techniques and the making of tortillas on a traditional comal.
On arrival at the family home, we were treated to a taste of Pox – three different flavours for our group to try.  It was strong, very strong.  We were led out to the back room where a demonstration of weaving took place and an opportunity for the group to purchase some locally produced garments and items, well, some of them were local and some were from Guatemala. If you had too much Pox you may have spent more than what you bargained for.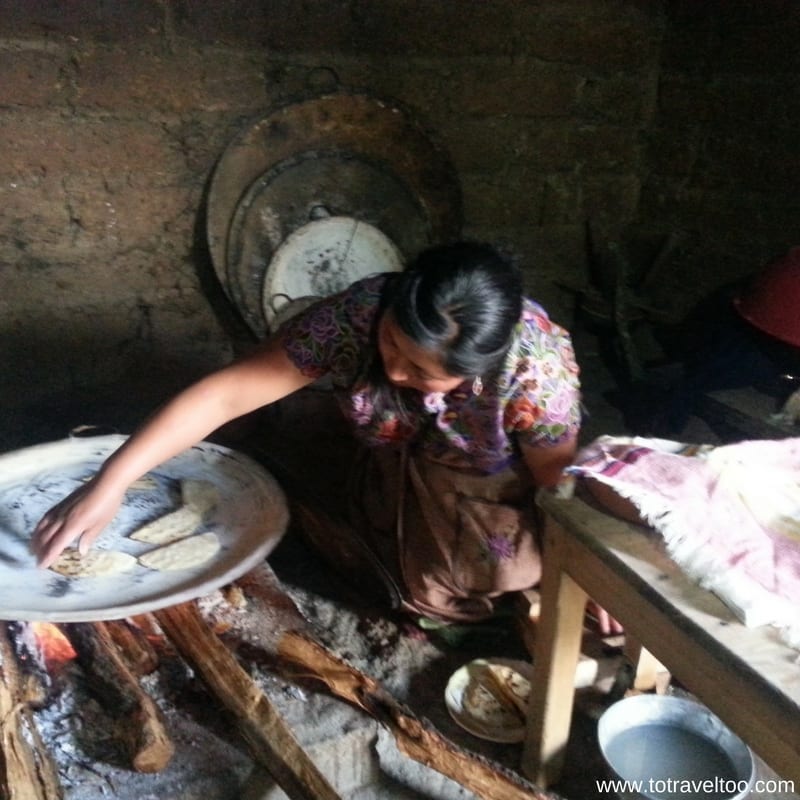 The making of the tortillas on the traditional iron plate called comal was interesting to watch.  Once cooked the tortillas were served up with a variety of sauces and spices.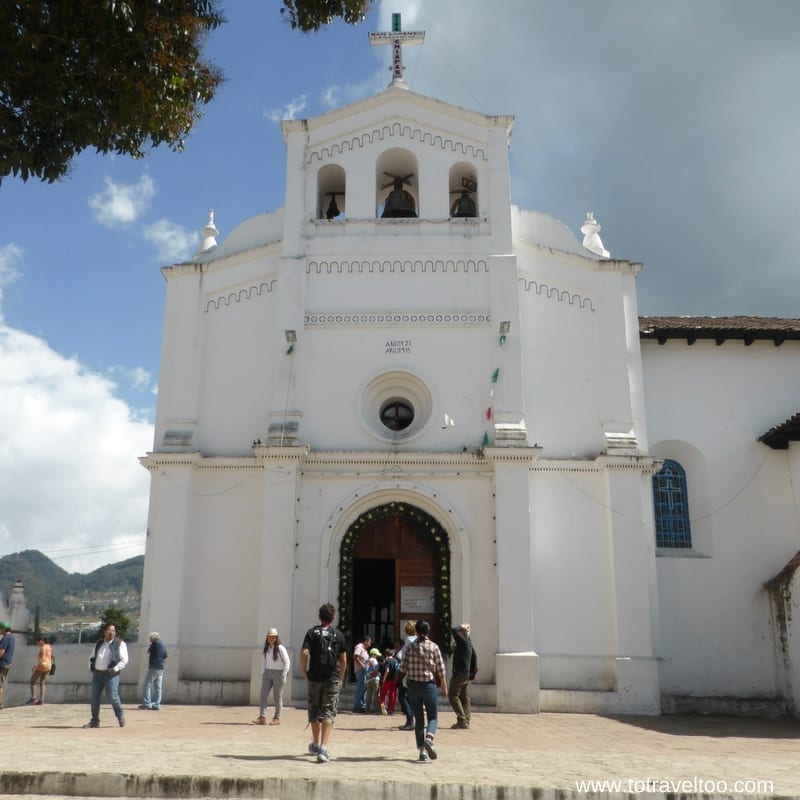 The last visit on our tour was to the Church of San Lorenzo.  Once again we were reminded that photos were forbidden inside the Church which is famous for its floral displays from the local fields.  The Church dates back to 1546 and was constructed by the Dominicans.  As it is 100% Catholic unlike the Church of San Juan in Chamula it celebrates masses and its Patron Saint.
The women of Zinacantan wear pink and purple flower-embroidered clothing and the men wear pink tunics with a ribboned palm hat.  The colours are changed for both men and women every 6 years.
They have strong ethics, education for their children is extremely important to them and they strive to protect their environment through protective forestation methods.
Which Tour Company Did We Use for our visit to Chamula and Zinacantan:
There are many tour companies in San Cristobal de Las Casas offering tours to Chamula and Zinacantan.  We collected 6 brochures in about 20 minutes.  Our decision to use the services of
Jalapeno Tours
was because they were centrally located in the pedestrianized street of Real de Guadalupe, they were the best value, they had employees who spoke very good English who could explain fully the tour and the meeting point for their tours which was just around the corner from them at El Grano Cafe. The tour would be conducted in English.
Our review:  Luis our 81-year-old Tourist Guide was very knowledgeable and conducted the tour in English as well as Spanish. The tour was exactly as it was explained to us.
What to do around San Cristobal de Las Casas
San Cristobal de Las Casas is a good base for visiting San Juan Chamula and Zinacantan as well as taking a day trip to the Sumidero Canyon and Chiapas de Corzo
You can book a tour to Sumidero Canyon and Chiapas de Corzo here. We use Get Your Guide for our tour bookings throughout the world.
Where to Stay in San Cristobal de Las Casas
Where we stayed: Hotel Villas Casa Morada
Address: Avenida Diego Dugelay 45 Barrio El Cerillo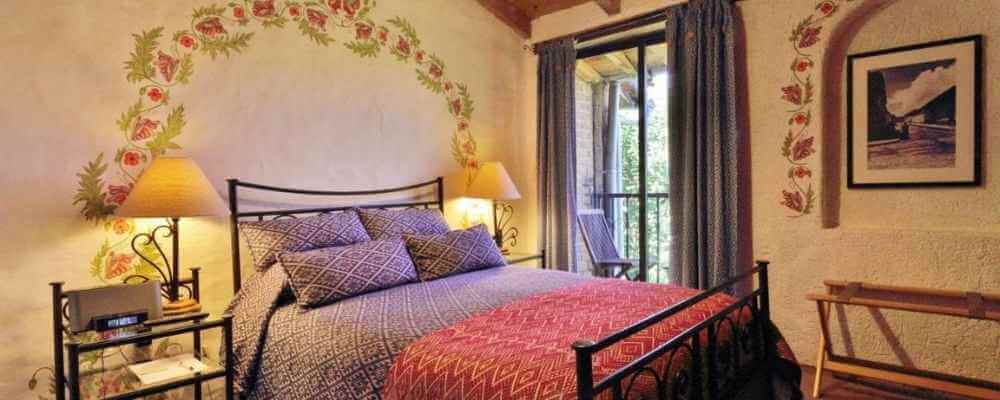 Perfect boutique accommodation with excellent dining options and a great location in the heart of San Cristobal de Las Casas. The 4-star hotel offers an outdoor terrace, as well as each room, comes with a fridge, kitchen and mini-bar.
You can read our review of our stay here

More accommodation in San Cristobal de Las Casas
For more hotels in San Cristobal de Las Casas:
Essential Visitor Information For Visiting San Cristobal de Las Casas in Mexico
Getting In
San Cristobal de Las Casas is the largest town closest to San Juan Chamula and Zinacantan.
The closest airport to San Cristobal de Las Casas is Tuxtla Gutierrez which is about 1 hour 15 minutes drive.
There are local buses from the airport to San Cristobal de Las Casas. We used Busbud to book our bus tickets throughout Mexico. For the latest schedules and prices click here.
You can also hire a car from the airport.
Do you need an International Drivers Licence? You can obtain one here online within minutes.
Flight Deals
Find the cheapest flights with Skyscanner – this is our 'go-to' for researching and booking flights when we travel.
Travel Insurance
World Nomads offers simple and flexible travel insurance. Buy at home or while travelling and claim online from anywhere in the world.
Do You Require a Visa for Mexico
Pinterest
Are you on Pinterest? We are at To Travel Too and we have many travel-related boards check us out at Pinterest.  If you enjoyed our article why not pin it to your board?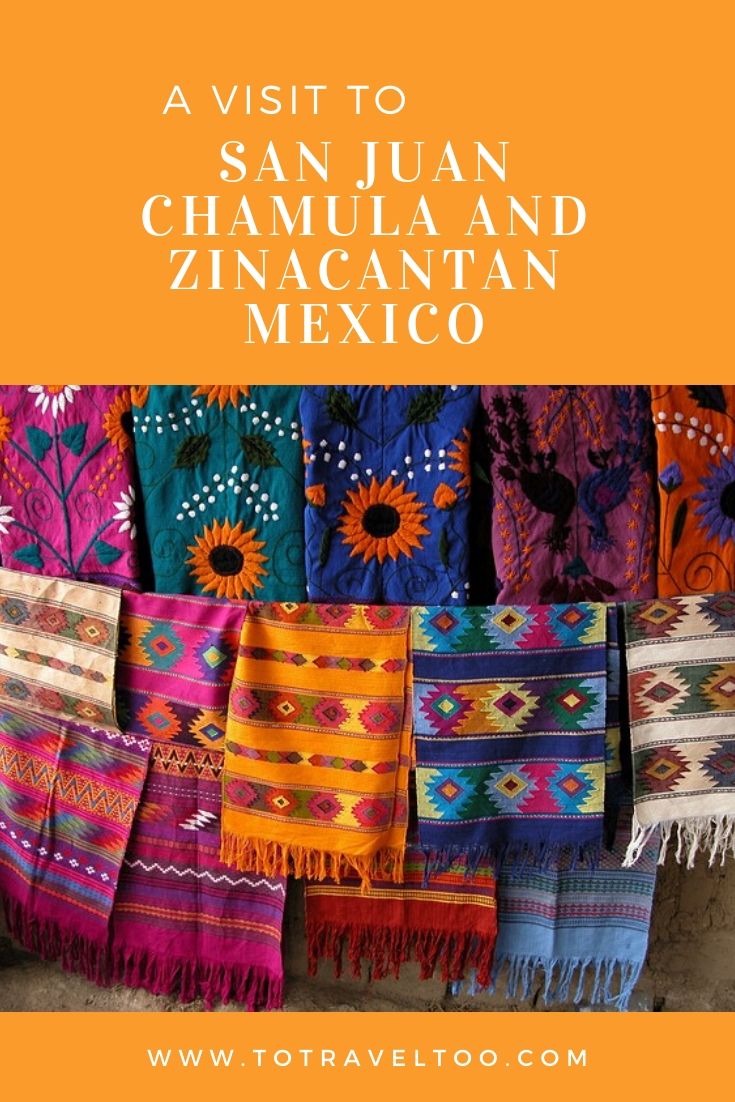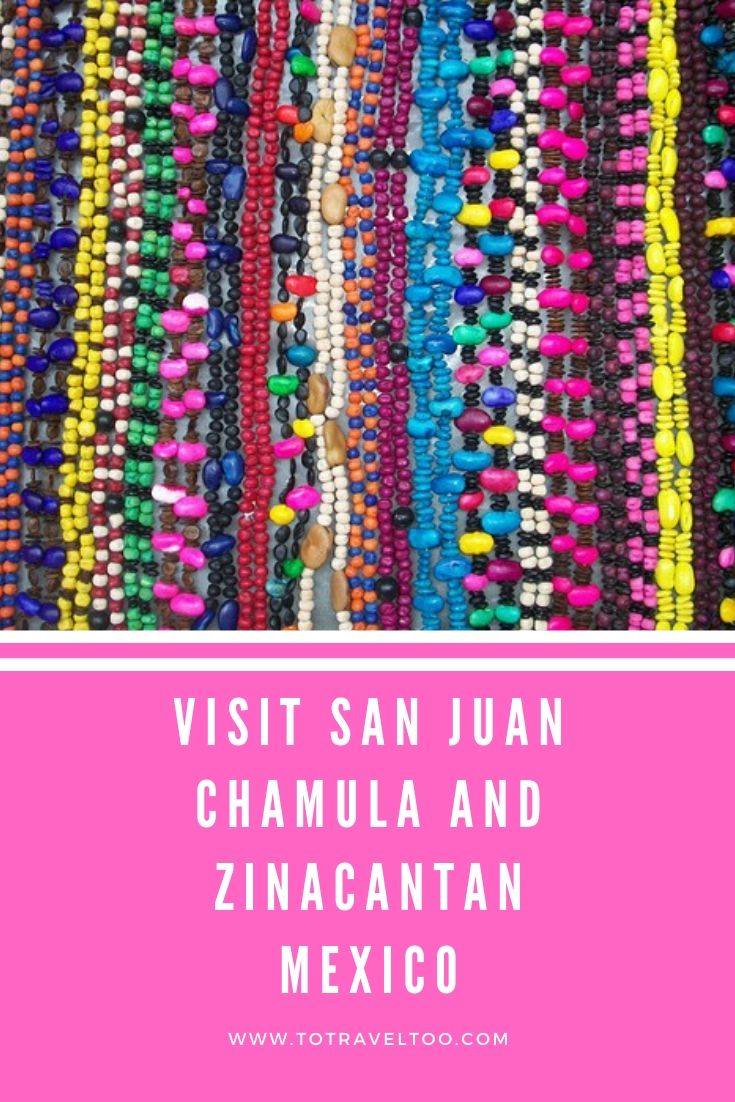 If you have any questions or would like some advice we would love to hear from you. You can reach us via our Facebook page or email us here.
In conclusion, a visit to Chamula and Zinacantan in Mexico is not only a journey through the rich history and culture of these indigenous communities but also an eye-opening experience that challenges our preconceived notions about traditional practices. From witnessing the spiritual rituals inside the churches of Chamula to observing the vibrant weaving techniques in Zinacantan, visitors are immersed in an authentic cultural encounter that leaves a lasting impression. The warmth and hospitality of the locals further enhance this experience, making it truly unforgettable. Whether seeking adventure, cultural enrichment or simply a deeper understanding of Mexico's indigenous heritage, exploring Chamula and Zinacantan will undoubtedly provide an unforgettable journey into another world.
To Travel Too Travel Shop
Travel smarter and safer with products from our To Travel Too Travel Shop.  If you are looking for the latest luggage, guidebooks or travel accessories we have you covered with over 800 travel products to choose from.