Could Ajijic Mexico be the best place for retirees to live?
After spending some time there housesitting for ex-pats, and understanding why it was so popular we would say it is up there as one of the best retirement destinations in Mexico.
Another popular destination that we have loved in our travels is Puerto Escondido for retirees. If you are a lover of the Pacific Coast of Mexico and looking for real estate Puerto Escondido has land and property available to suit all budgets.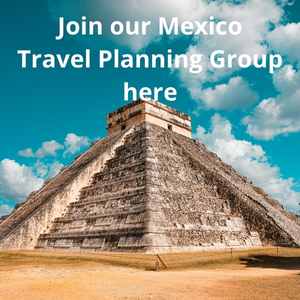 This post may contain affiliate links. Please see our disclosure for more information. 
If you are considering Ajijic on Lake Chapala Moving to Mexico's Lake Chapala gives you all the practical advice you need to make an informed decision.
Ajijic (pronounced ah-hee-heek) sits on the northern shore of Mexico's largest lake – Lake Chapala surrounded by the Sierra Madre Mountains.  4.8km away is the town of Chapala and to the west the smaller town of San Juan Cosala both popular with expat retirees.
Guadalajara, the capital of the state of Jalisco and the largest city in the state, is located 55km from Ajijic.
Ajijic Mexico Map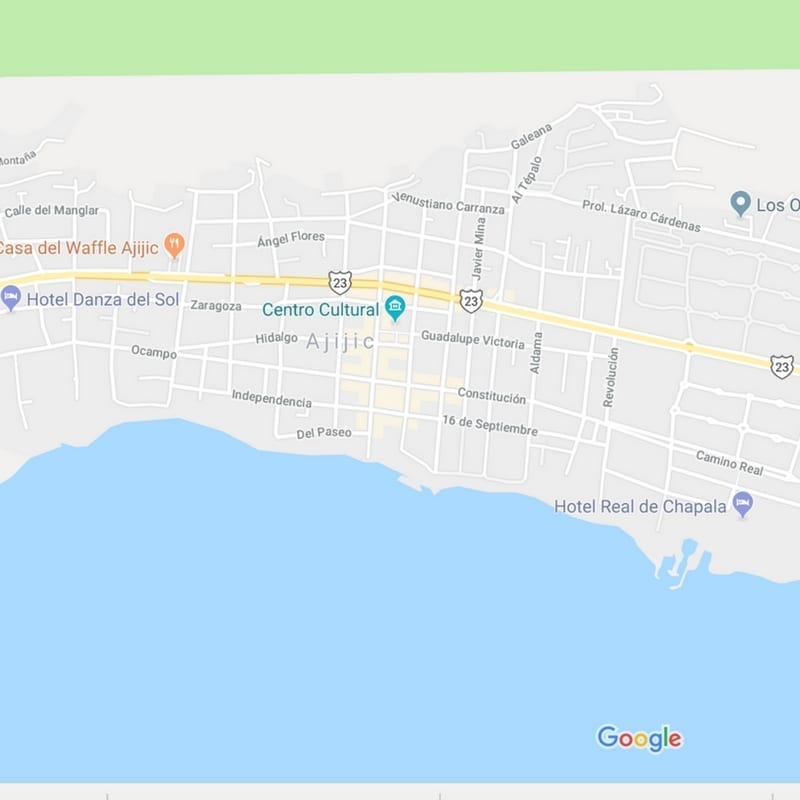 Why is Ajijic so popular with retirees
Slow Pace of Life
Life takes on a slow path in Ajijic.  Why hurry when you have no stress in your life! You will see horses and their riders up and down the cobblestoned roads of Ajijic – it is a normal sight in this laid-back Mexican town. There is a steady stream of day-trippers who arrive in Ajijic to enjoy the lake, wander through the galleries and boutiques and to enjoy the local Mexican cuisine.
Ajijic Weather
Apparently National Geographic has stated that Ajijic has the 2nd best climate in the world. The coolest months are December and January and the hottest is in May.  On average the temperature sits around 22 degrees, but we felt the chilly mornings in January but during the day it was very pleasant.
The rainy season is from mid-June to mid-October.
It is one of those destinations that you can organize an outdoor BBQ or party and can guarantee that you will have good weather.
Ajijic Mexico Cost of Living
Cost of Renting an Apartment in Ajijic 
According to Numbeo (a resourceful website on the cost of living in cities around the world) to rent a 1 bedroom apartment in the city centre would cost around  MXN$13,314  per month or USD$665 long term. Ajijic real estate is affordable for the ex-pat.
A 3 bedroom apartment in the city center would cost around MXN$24954 or USD$1246. A 2 bedroom apartment was not listed.
Ajijic house rental prices drop if you consider outside of the city centre:
MXN9974 for 1 bedroom apartment – USD498 per month
MXN22750 for 3 bedroom apartment – USD1136 per month
Cost of Buying an Apartment in Ajijic
The price for an apartment in the city centre will set you back around MXN$19129 per square meter or USD$955.
An apartment outside the city centre will cost you around MXN17171 per square meter or USD$858.
Monthly Cost of Utilities in Ajijic for 85m2 Apartment
Electricity, heating, cooling, water, garbage MXN913 USD46.00
1-minute prepaid mobile tariff local MXN1.60 USD0.08
Internet (60 Mbps or more unlimited data, cable/ADSL) MXN537.30 USD20.20
Ajijic Restaurants – Where to eat in Ajijic
We enjoyed some great coffee and excellent cuisine at the various restaurants in Ajijic. Retiring in Lake Chapala has many benefits and one of them is the great restaurants and cuisines available.
Cafe Black & White, Plaza Principal Open Monday to Sunday between 0830 and 2230
We paid MXN$20 for a Cafe Americano – USD$1.07
It's Sunday it Must Be Taco and Beer Time
Just beside Cafe Black and White on a Sunday lunchtime a local stall is set up selling freshly made Tacos and ice-cold beer – what more would a person want.
Pien Thai Restaurant – Calle Hidalgo 17 The food was very good with a varied menu. They cater well for vegetarians. Pien Thai is popular with locals and visitors. Such a great setting as well.
Chile Verde – Colon 25
This is a great local Mexican restaurant near Plaza Principal and a popular venue for locals.
For the top ten restaurants in Ajijic click the link below:

Things to do in Ajijic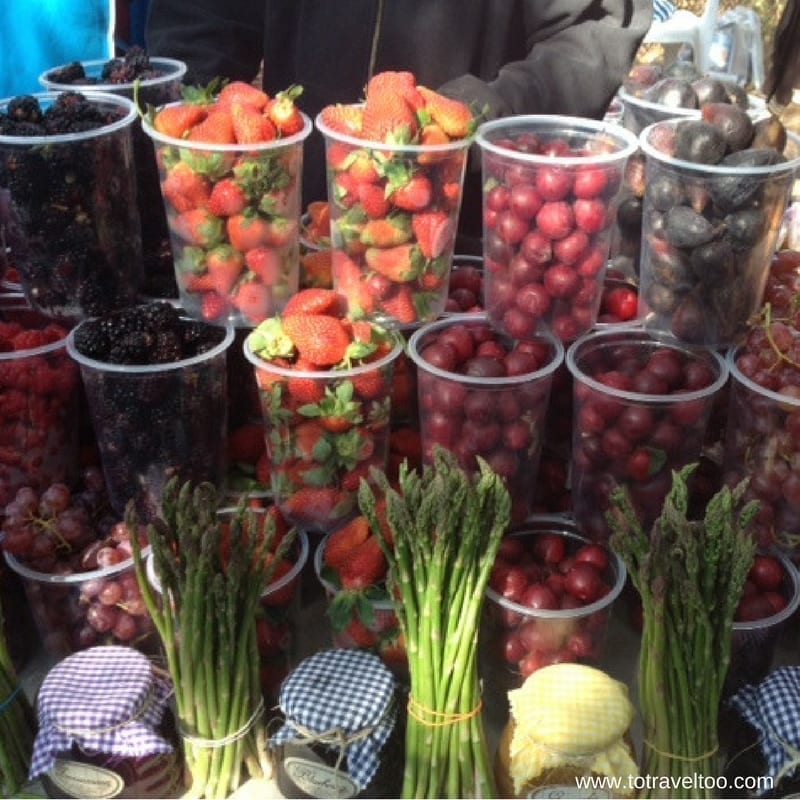 Wednesday Market  Ajijic– a great place to shop for fruit and vegetables and household goods as well as usual market goods
There are a few markets around Ajijic -click here for the latest reviews by travellers and locals of which are the best markets to visit in Ajijic.
Shopping in Ajijic
Ajijic has many art galleries and boutiques in the cobblestoned streets, a great way to spend a few hours.
For reviews of shopping in Ajijic click here.
Architecture To Enjoy As You Wander the Back Streets of Ajijic
The charm of Ajijic are the many colourful colonial buildings in Ajijic scattered around the cobblestoned streets. You could spend a few hours just wandering around and up and down the streets and enjoying the old world charm.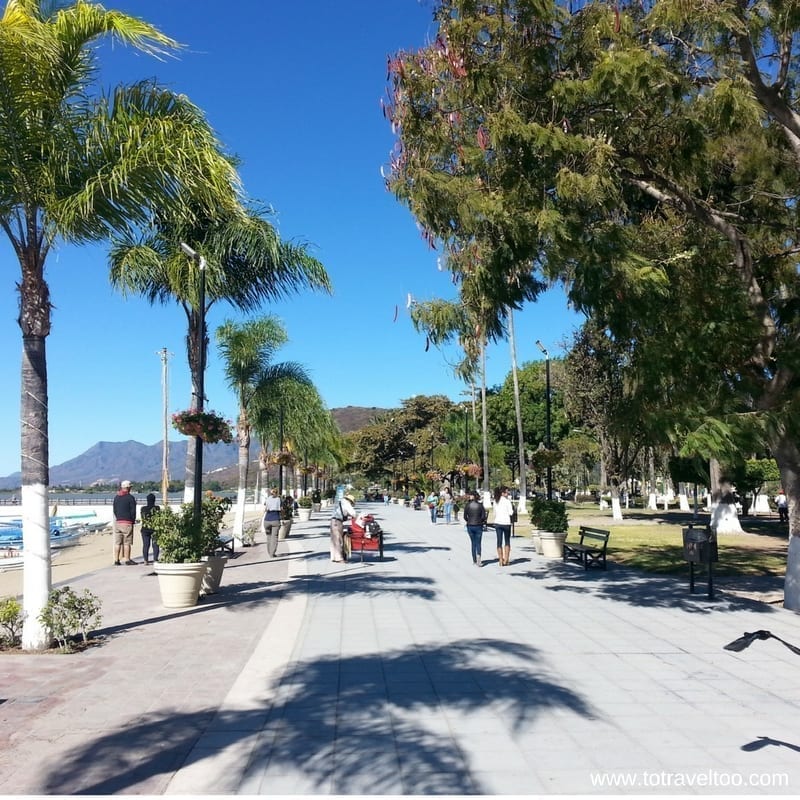 The Malecon on Lake Chapala in Ajijic is a great place to enjoy picture-perfect sunrises or sunsets.  The best time for a walk is before the heat of the day sets in.  Weekends are family time and you will see families setting up areas around the Malecon for parties and get-togethers.
Hiking in Ajijic
There are many hiking trails in the mountains that surround Ajijic.  There are 4 major trails and many lesser trails.  Ajijic has a Hiking Club that meets on a weekly basis. Click here for more details on hiking in and around Ajijic.
Lake Chapala Society
Set in a beautiful garden area the Lake Chapala Society offers many activities for its over 3000 members.  There is a library, a cafe, organised bus tours and assistance to expats who have settled in Ajijic.
Where to stay in Ajijic
Do you need accommodation whilst checking out Ajijic?
Casa de la Abuela, Galeana, 75, Ajijic, Mexico.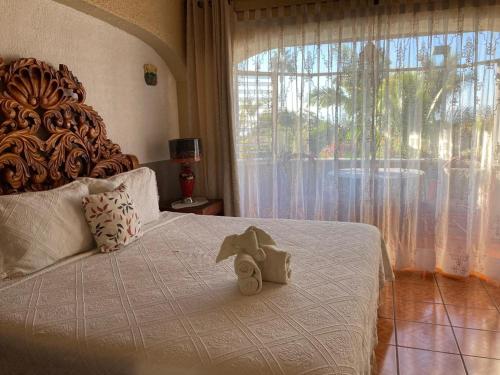 There are 10 available rooms in this Bed & Breakfast in Ajijic that includes an outdoor pool and some rooms have a partial view of Lake Chapala which is a 15-minute walk away. Breakfast is included.
Guest review: The room was excellent and very comfortable. A/C was a bonus! The grounds are charming and there is a very very tiny lake view. Breakfast was excellent and cooked to order. Note that Ajillic streets are very long so the number of blocks is deceptive. Try doubling them to get a truer correspondingly normal walking distance. I would absolutely stay here again

Hacienda del Lago Boutique Hotel: Privada Ocampo, No. 1, Ajijic, Mexico.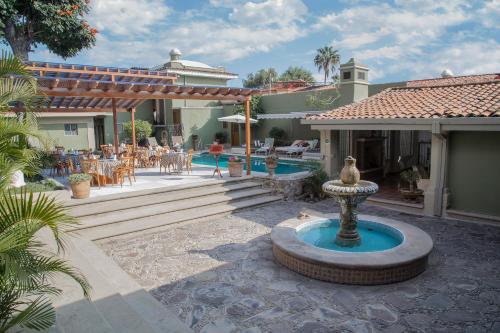 The 4-room 3.5 star hotel provides guests with an outdoor pool, terrace and bbq area. Spa services are available for guests. Lake Chapala is two blocks away.
Guest review: I highly recommend this property. It's so peaceful and relaxing. I booked for 2 nights but am so relaxed I'd like to stay longer! Our room (Sol) has everything you need, wifi is good, food is lovely, staff are fabulous, nice heated pool and the Malecon is only 1 minutes walk so you can be in the town centre in a few minutes. Wasn't too busy so we requested check out at 3.30pm to go to the airport….no problem, cheerfully agreed….that's often such a problem at hotels; extra charges, umming and ahhing…. nothing's too much trouble for these guys.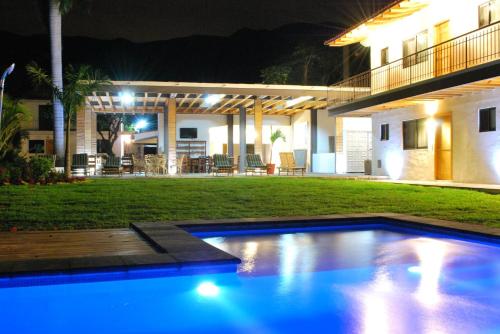 La Riberena: Calle del Lago 42, Colonia la Canacinta, Ajijic, Mexico.
This 9-room 3-star hotel on Lake Chapala offers an outdoor pool, sun terrace, sundeck, bar and restaurant.
Guest review: The place is really nice and calm, lakefront and the staff was beyond friendly and helpful


Hotel del Pescador: Carretera Chapala Jocotepec # 1008 Col. Centro Ajijic Jal., Ajijic, Mexico. A 26 room hotel that offers a jacuzzi and pool for guests.
Guest review: Quiet, nice pool, breakfast was good

For more Ajijic hotel options:
How to get to Ajijic
The nearest airport is Guadalajara, 38 km away.
Check out the latest transfers from Guadalajara Airport below (NB) there are a variety of transfers from private to shared
For more information click here
Flight Deals
Find the cheapest flights with Skyscanner – our 'go-to' when researching and booking flights.
Bus Travel
Bus travel is excellent in Mexico. We travelled all over Mexico using the services of ADO and Primera Plus bus services.
For bus schedules and ticket prices click here.
Need a hotel close to Guadalajara Airport
We can recommend staying at the La Villa del Ensueno Boutique hotel which is located close to the airport. You can read our review here.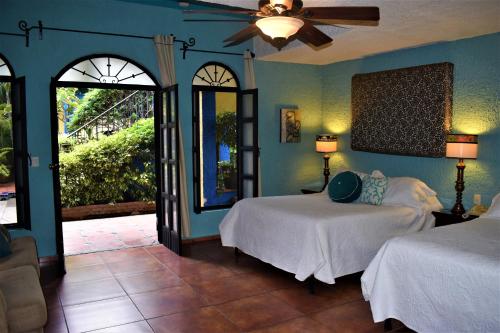 Mexico is one of our favourite countries.  So much so, that we wrote an e-book about our travels in Mexico, where to eat, where to stay, what to do and tips and tricks.
Do You Need a Visa for Mexico?

Travel Insurance 
We recommend taking out travel insurance as soon as you book your flights and pay deposits on any cruises, tours or hotels.
Tour from Guadalajara to Lake Chapala and Ajijic
There is a 6-hour tour of Lake Chapala and Ajijic from Guadalajara to get you acquainted with this awesome area of Mexico.  Click
here
for more information.
Our To Travel Too Travel Shop with over 800 travel-related products that we either have used ourselves or we have been recommended by other travellers.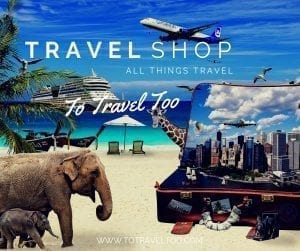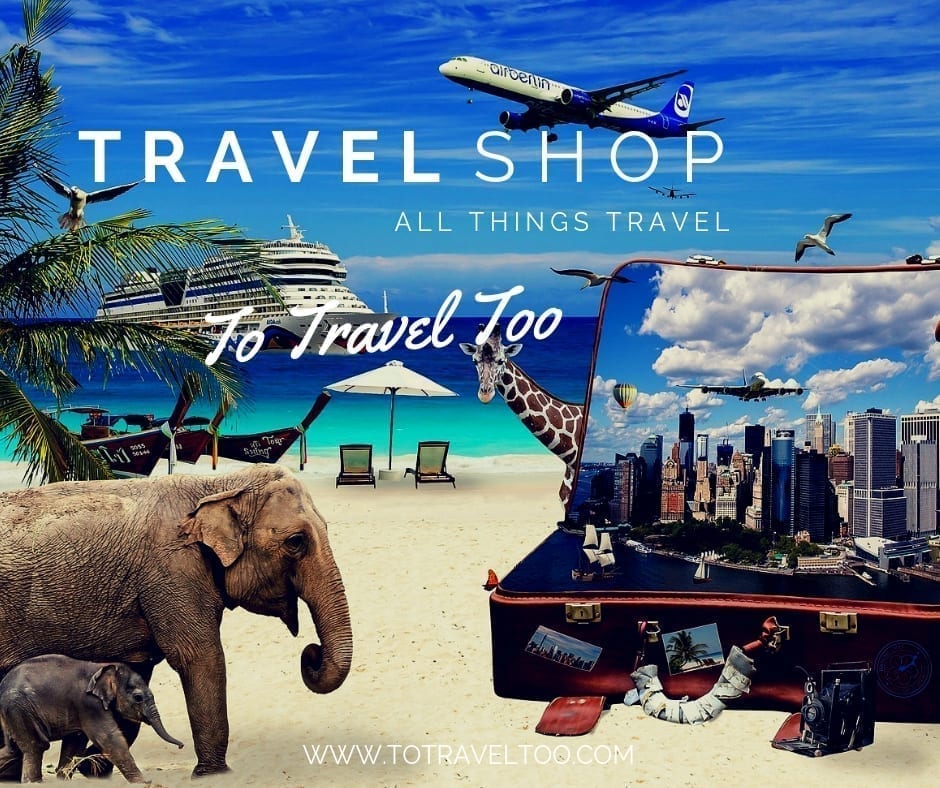 Pinterest
Are you on Pinterest? We are at To Travel Too and we have many travel-related boards check us out at Pinterest.  If you enjoyed our article why not pin it to your board.