Experience the magic of the underwater world like never before with an unforgettable Atlantis Submarines Barbados nighttime dive. As the sun sets on this Caribbean paradise, embark on a thrilling adventure into the depths of the ocean aboard one of their state-of-the-art submarines. Discover a hidden world teeming with vibrant marine life and illuminated coral reefs that come alive under the cover of darkness. In this review, we delve into our own extraordinary journey beneath the surface, providing an in-depth look at what makes Atlantis Submarines' night-time dive a truly unique and awe-inspiring experience in Barbados.
Another bucket list experience checked off – Atlantis Submarines Barbados Night Time Dive.  Is a submarine dive on your bucket list? Have you ever wondered what it would be like?
You can book one of the top things to do in Barbados here Atlantis Submarines Day or Night Tour Adventures.
If snorkelling or diving is 'not your thing' experiencing a submarine dive is the next best alternative
This post may contain affiliate links. Please see our disclosure for more information. 
We were hosted by Atlantis Submarines for our night-time dive and as always our opinions are our own.
Where to Experience an Atlantis Submarine Tour:
Atlantis Submarines has 12 submarines in 10 locations around the World:
**** In Curacao and St Martin the vessels used are Sea World Explorers – semi-submarine that sits 5 feet below the surface.
With so many locations to choose from around the world, Atlantis Submarines offer many opportunities to experience the mysterious life underneath the ocean.
Book your night time dive here
Atlantis Submarines Barbados Night-Time Dive
The afternoon had arrived for our underwater submarine dive.  Our check-in time was 5.00 p.m. for a 5.30 p.m. departure, you will receive your boarding pass for your Atlantis adventure.
Barbados is surrounded by the Atlantic Ocean, not the Caribbean Sea as we thought.  The Atlantis Dive Site is around the Freshwater Bay Coral Reef which is Barbados' oldest natural artefact in the Atlantic Ocean.  The Reef is over 20 million years old, 2 miles long and has a height of 60 feet.
As the sun set we boarded the boat that took us out to the Atlantis Submarine, it is a short journey of around 20 – 30 minutes. Whilst onboard a safety demonstration took place, with instructions on how to board and disembark the Atlantis submarine safely.
This was your last opportunity for a toilet break, there are no toilets onboard the submarine.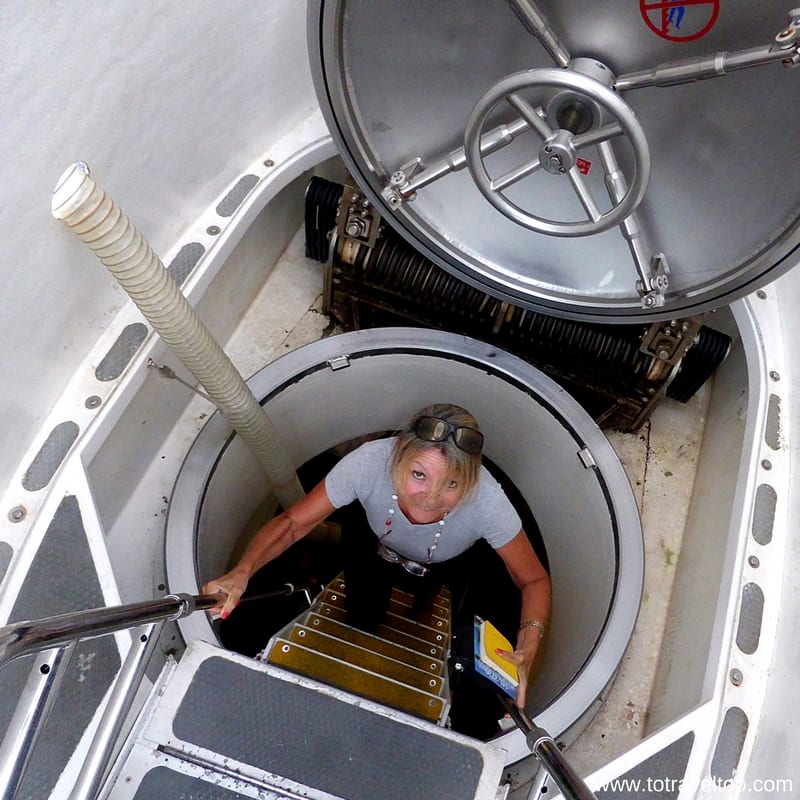 Once seated, we were welcomed by our Captain Hugh and the crew with last-minute safety announcements made, the hatch closed and we were off to find 'Nemo.'
We were all seated on the port side (left) but could move to the starboard side (right) at any time during the submarine tour.  Sick bags were provided in the pocket in front of us, just in case, anyone felt queasy.
The nighttime dive is a different experience from the daytime dive as you view the coral reef and its inhabitants with high-powered spotlights. There is a chance of seeing nocturnal creatures that you may not see during the day. Every dive will be different but there is one thing for sure that on the nighttime dive the colours of the reef will be very visible under the spotlight.
Part of the dive was getting up close to a shipwreck that dated back to 1650, just as a large barracuda 4 feet in length swam past. At the deepest part of the dive 144 feet, we were at the bottom of the ocean. Actually, it was not something that we had considered when we had booked the dive, that we would be skimming the bottom of the ocean.  Quite surreal!
During our dive we were fortunate to see many fish:
Horse eyed Jackfish
Barracuda
Sergeant Major
Trumpet Fish
Squirrelfish
Squid
Sea Plumes that look like feather dusters
Sea Fans
Pillar coral
Plate Coral
Black coral which is used to make jewellery
What seemed like only a few minutes of exploring the bottom of the ocean and it was time to start our ascent.  Slowly we headed towards the surface and to our awaiting boat. Instructions on how to safely disembark were repeated to all of us.  What impressed me with Atlantis Submarines is that they are a very safety-conscious company and the explanation at every step of the way was clear, concise and very easy to understand.
Back on board, we welcomed the snacks and rum punch before arriving back at the Atlantis Submarine base.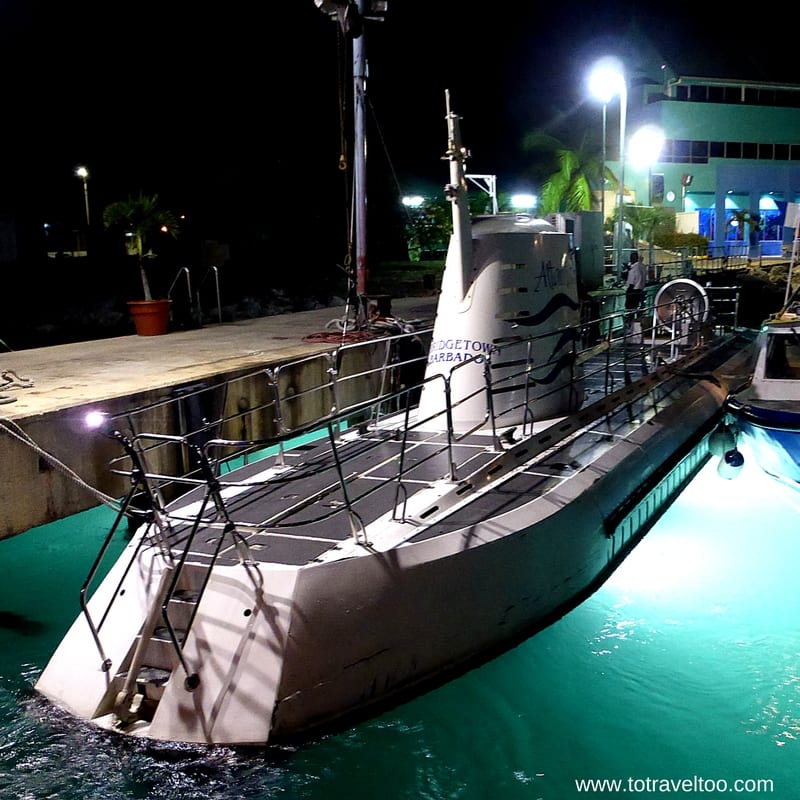 If you are enjoying our article why not PIN it for later:
General Information
Book your night time dive here
Atlantis Submarine Barbados Address:
The Shallow Draught Bridgetown Barbados
Atlantis for kids:
Atlantis Submarine Tours are suitable for kids.  There is a minimum height of 3 feet tall.
Transport:
Transport is available from Barbados Hotels.
Facts About Submarines: The Atlantis III Submarine  (taken from their brochure)
Size: 65 feet
Weight: 80 tons (160,000 lb)
Operating Depth: Approved to 150 feet
Speed: 1-1/2 knots submerged
Capacity: 48 passengers, 3 crew
Viewing: Large 2 ft diameter viewpoints, 13 on each side, extra large 52″ front viewport
Cabin Pressure: Air-conditioned at normal sea level pressure
Propulsion: DC battery-powered electric thrusters
Buoyancy: Sealed water tanks are adjusted to provide positive buoyancy
Safety features: All systems are duplicated.  Surface vessel maintains constant radio contact with the Submarine
To Travel Too Tip
If you know your dates for your Barbados Holidays and you want to experience the Atlantis Submarine tour we would recommend that you book well in advance and plan it for the beginning of your holiday.  There are two reasons for booking in advance:
there are only 48 passengers on each dive
weather conditions could affect a dive and there may be a requirement by Atlantis Barbados to reschedule the dive
Barbados Time Zone:
Atlantic Standard Time Zone – GMT -4.
Barbados Hotels
Need a hotel in Barbados?
Barbados Restaurants
Barbados has an extensive range of restaurants available throughout the island to suit all budgets and tastes.
Some of our favourites are:
Getting Around Barbados
Barbados has a good public bus network or you can hire a rental car.
Do you need an International Drivers Licence? You can organise one online here in minutes.
Things to do in Barbados
We spent a total of 3 months in Barbados and enjoyed numerous Barbados activities.
Barbados Weather:  When is the best time to travel
The temperature in Barbados is similar throughout the year.  The low to mid-20s are experienced through to the high 30s.
The busy tourist season starts from December and runs through to the end of April.  The rainy season is from May to the beginning of December.
The Hurricane Season starts from June and depending on the weather is can run up until November time.
Flight Deals to Barbados
Find the cheapest flights with Skyscanner our go-to when researching and booking flights throughout the world.
Travel Insurance
World Nomads offers simple and flexible travel insurance. Buy at home or while travelling and claim online from anywhere in the world.
Our Thanks
We would like to thank Wayne Scott and Leeanne Brathwaite at Atlantis Submarines Barbados for our complimentary  Night Dive.  As always our opinions are our own.
We would like to extend our thanks to Hugh, our Captain and the crew for the night for our underwater experience.
Pinterest
Are you on Pinterest? We are at To Travel Too and we have many travel-related boards check us out at Pinterest.  If you enjoyed our article why not pin it to your board?
Disclosure: Certain links in this post are affiliate links. This means that should you make a purchase via our link, we will receive a commission which will not affect the price you pay.
To Travel Too Travel Shop
Travel smarter and safer with products from our To Travel Too Travel Shop.  If you are looking for the latest luggage, guidebooks or travel accessories we have you covered with over 800 travel products to choose from.
In conclusion, the nighttime dive with Atlantis Submarines Barbados was an unforgettable and unique experience. From the moment we descended into the depths of the ocean, we were surrounded by a mesmerizing world of colourful coral reefs and fascinating marine life. The knowledgeable and friendly crew made sure to point out all the highlights, including shipwrecks and exotic fish species. The atmosphere inside the submarine was comfortable and safe, allowing us to fully immerse ourselves in this extraordinary adventure. Whether you're a seasoned diver or have never been underwater before Atlantis Submarines Barbados provides an incredible opportunity to explore the mysteries of the deep sea at night. It's truly a must-try experience for anyone visiting Barbados!