Are you looking for a sunny vacation on a paradise-like Island, but you only have 3 days? Look no further! We have the perfect 3-day itinerary for you to explore Mallorca (also called "The Pearl of the Mediterranean"), one of Spain's most beautiful islands.
Our guest author: "Timon is the passionate mind behind TravelSpain24.com, your go-to guide for all things Spain. After numerous visits to Mallorca, he's curated the perfect 3-day escape for you. Ready to uncover the island's best-kept secrets?"
Mallorca's strategic location makes it a year-round destination with mild temperatures during autumn and winter. You can easily reach it with low-cost airlines such as Volotea, Ryanair, EasyJet, and more.
Need an e-sim for your travel in Mallorca?
This article will provide you with tips on must-see attractions, local culture, accommodation, and everything you need for an unforgettable Mallorcan experience.
This post may contain affiliate links. Please see our disclosure for more information. As an Amazon Associate, we earn from qualifying purchases (if applicable).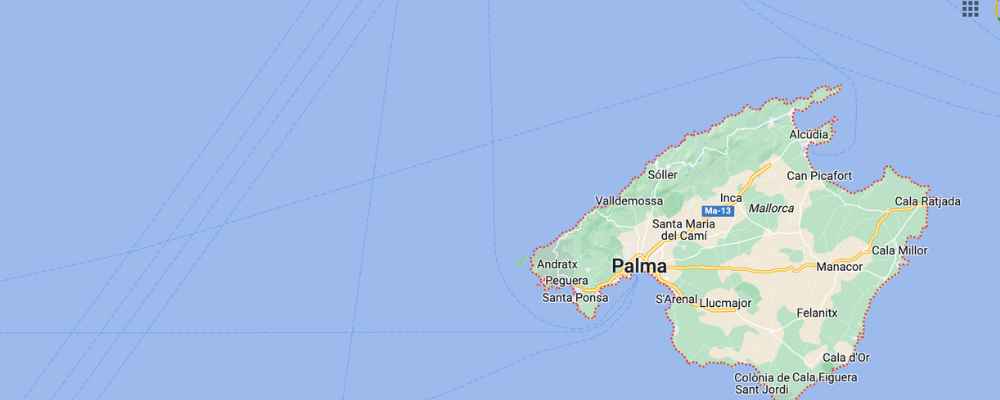 3-Day Itinerary Mallorca
Day 1: Palma de Mallorca and Valldemossa
Arriving in Palma, the airport's central location makes it super easy to reach your hotel and explore the city immediately.
When it comes to accommodation, Palma really offers options for every budget and preference. You can choose from Airbnb apartments, and large hotels facing the port, but personally, I find nothing beats a cosy local and unique boutique hotel in the city centre. Hotel Palau Sa Font, Posada Terrasanta, and Hotel Cort are three great options.
Since the itinerary covers visits to Palma and Valldemossa, you might also want to consider staying in Valldemossa instead of Palma, to make the most of your second-day trip to the Soller area. In that case, I would go for a hotel like Ca's Papà, Es Petit Hotel, or Sa Vall Hotel Interior.
Palma de Mallorca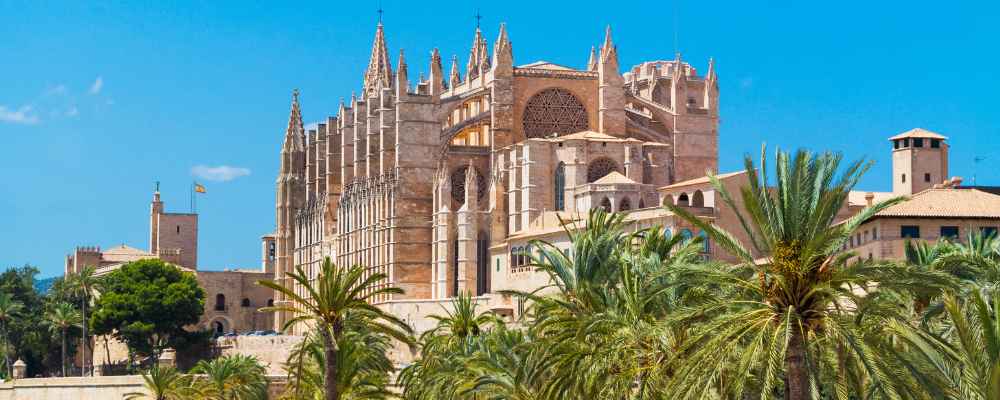 Arrival at Palma airport in the morning.
Car rental at the airport.
Deposit luggage at the hotel (in case you decide to stay in Palma).
If you don't stay in Palma, park the car a go around on foot.
A walk in the city centre through Avenida Jaume III, Plaza Mayor, and Plaza Cort ending up in the Cathedral.
Visit

Catedral La Seu

. The Gothic Church is also surrounded by other beautiful places you can admire, such as the Parc del Mar, the Almudaina Palace, and s'Hort del Rei.

Purchase your skip-the-line tickets here. 

Walk through the "Passeig del Born" until you reach the museum.
Visit at

Museum es Baluard

. If you like art, you can't miss it, with works by Picasso, Miró and other prominent local artists. From there, you can also admire the "Antiguas Murallas," the remains of an ancient fortification with large walls.
Explore the "

Mercado de Santa Catalina

" and enjoy lunch. At these local markets, you can buy the ingredients you want to eat, and the restaurant you choose will cook them for you.
Valldemossa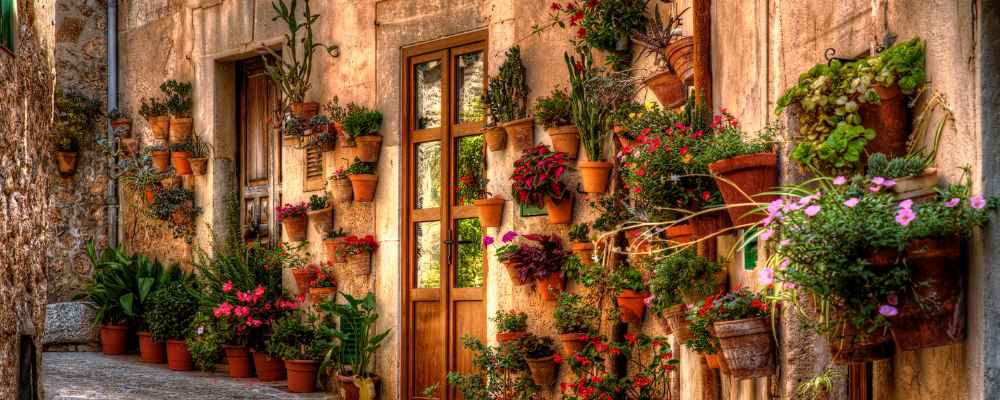 From Palma, travel to

Valldemossa

in the early afternoon through MA-1130/Carretera de Valldemossa.
Visit Real Cartujas.
Visit Frédéric Chopin and George Sand Museum.
Visit Jardins Rei Joan Carles.
Coffee break at Ca'n Molinas.
Visit Sa Miranda Des Lledoners to enjoy the view of the city from above
Dinner at QuitaPenas, Es Roquisar, Can Eutam, or Sa Cova and return to Palma (or check-in at the hotel in Valldemossa if you opted for this option).
Day 2: Sóller, Port de Sóller, and Deià
Our second day in Mallorca starts with Deia, a charming small town in the Sierra Tramontana.
If you've spent the night in Valldemossa, you're lucky. The morning in the mountains is pure bliss, with the sounds of nature and the sun-kissed the mountain's side.
If you decide on a Palma night, you'll have to get in the car and drive to Deia. I promise it's a beautiful route too.
Deià
Departure from either Palma or Valldemossa around 8 o'clock.
The first stop on the way is the

Monastery of Miramar

, founded in 1276 by Jaume II at Ramon Llull's request, to teach missionaries Arabic and other languages. It later belonged to Archduke Louis Salvador of Austria. Objects from both characters are still preserved.
Also on the way, just before arriving in Deia, there's another iconic spot. Make sure to stop at Son Marroig for a stunning photo overlooking the sea. It's a place with a viewpoint where many couples have got married, and it was one of the residences of Archduke Ludwig Salvator of Austria and where Empress Sissi also spent some time in the past.
Visit The House and Museum of Robert Graves, poet and author (1895-1985) who lived and died in Deià.
Route to Soller around 11 o'clock
Sóller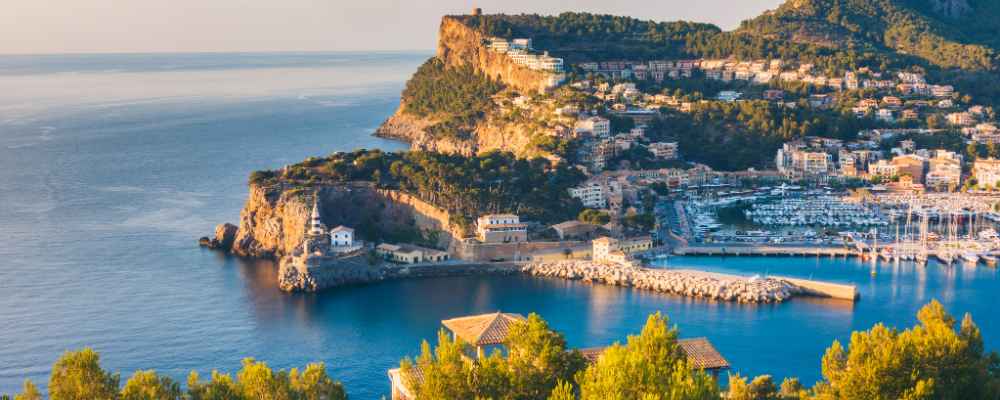 Arrival at Ecovinyassa. The spot is located under the impressive rocks of the Alfabia ridge, between Fornalutx and Biniaraix. It's an orange/lemon farm, and the visit includes freshly squeezed organic orange juice and a typical snack.
Arrive at Soller Center, Plaza de la Constitució, and visit Sant Bartomeu Church.
A walk around Calle de Sa Lluna, on this old road that used to connect with neighbouring towns such as Fornalutx, some medieval buildings from the 15th century are still preserved.
Lunch at Ca'n Limona, Can Gata or Can Carlito.
We continue our visit to the botanic garden.
Port de Sóller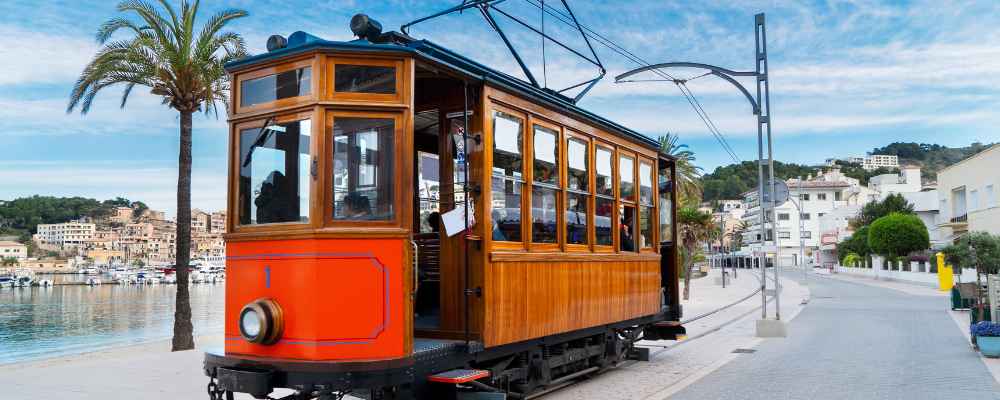 It's time for Port de Soller and for a unique experience,

we take the old railway

.
Have a walk around the port with a refreshing ice cream from io Gelats Artisans
Head back to Soller. You can take a bus if you don't want to take the old train again.
Head to Torre Picada to enjoy a stunning sunset view before your check-in at the hotel in Palma.
Day 3: The Calas of Mondrago Natural Park
The Mondragó Natural Park is, without a doubt, one of the great natural jewels of the island of Mallorca. Here, you'll be able to enjoy its variety of landscapes and the diversity of its flora and fauna.
While exploring the park, keep an eye out as you can easily spot hedgehogs and genets. On the other hand, the streams in the area flow into a coastline full of rocks, where birds such as the common falcon and the Mediterranean turtle coexist; in short, a rich ecosystem that you can easily explore if you decide to snorkel or hike.
In fact, Mondragó has been declared a Special Protection Area for animals, especially birds, which makes the visit even more attractive for birdwatchers.
S'Amarador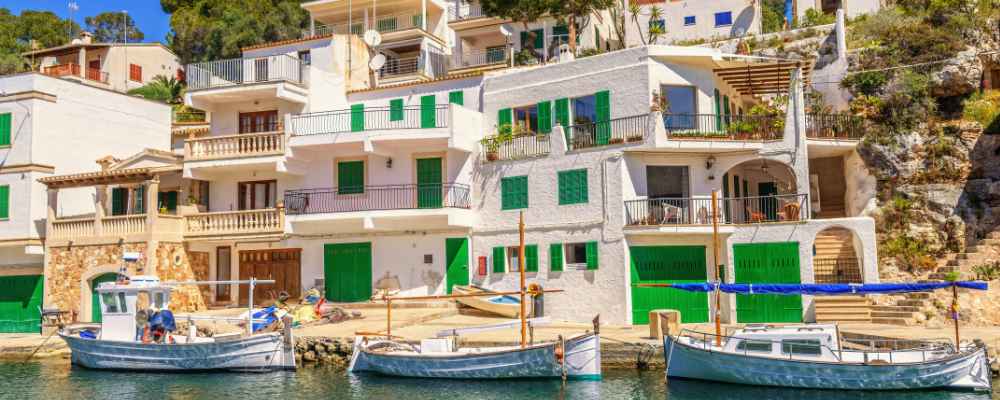 Departure from Palma, direction to the Municipality of Santany.
Arrival at S'Amarador, take a hike through the well-designed trails of Mondrago Natural Park. There are well-marked paths that lead you through pine forests and coastal landscapes. It's better to hike in the morning before it becomes too hot. I would recommend the one-kilometer-long route; this is the longest circular route. From the Ca Sa Muda parking, we set off along the path through pine and juniper woods, passing by the stream with the same name and stopping at the pond, where we can admire all the biodiversity. This route ends at S'Armador Beach, the perfect spot to rest and refresh yourself in the water.
Lunch at Restaurant S'Amarador, with a selection of fresh fish and typical Spanish dishes.
Cala Mondrago
After lunch, head to Cala Mondragó, the beach that named the entire natural park, and admire this beautiful beach and its incredible crystal clear waters.
Calo D'es Borgi
Then, following the coastal path, after a 10-minute walk, you can easily reach the Caló des Borgit, another jewel of the natural park.
Relax at Caló des Borgit, swim, and enjoy the sun before returning to Cala Mondragó, where you parked the car earlier.
Head back to Palma, or if you have time, consider taking a quick shower at the beach and have dinner in the beautiful Porto Petro, at Restaurant Es Celler 9.
If you decide to have dinner in Palma, consider choosing Celler Sa Premsa, Gaudeix, 13%, or Restaurant Botànic.
Planning Your Trip to Mallorca
Best Time to Visit Mallorca
Mallorca is one of Spain's most beautiful islands and a popular tourist destination. This Mediterranean island is located in the Mediterranean Sea, right at Valencia level, and offers a wide variety of landscapes, from beautiful beaches to rugged mountains. If you are planning to visit Mallorca, you are probably wondering when is the best time to visit Mallorca.
It really depends on what you are looking for. If you are looking for a quiet, uncrowded stay, less hot but pleasant weather, then mid-September to October or April and May might be the best time for you. If, on the other hand, you are looking for lively, beachy days, and activities to do, then summer is for you. During this high season, there is much more to keep tourists entertained.
But let's not forget the winters as well. The weather is cold, but the temperature is usually mild, and prices are very low. This time of year is ideal for nature lovers, as the island's landscape is very different and there are many outdoor activities to enjoy, such as hiking and cycling.
So overall, any time of year is a good time to visit Mallorca. It depends on your preferences and budget.
Renting a Car in Mallorca
Renting a car in Mallorca is easy and fun. It lets you explore the island at your own speed and peace, without worrying about public transport schedules, and reach hidden beaches and calas you might miss otherwise. Petrol is cheap, and parking spaces are generally plentiful, mostly free.
Another truly remarkable advantage is that with a car you can choose a hotel in a more decentralized, isolated location or in a less touristy village. Farm and Agriturismo stays, in fact, are usually out of the city centre and the best places to rent for an authentic Mallorcan experience.
I advise booking the car well in advance to secure your booking at the best rates and offers.
Also, remember, that the rental credit card must be in the driver's or a trip participant's name, not a third party at home. Also, watch out for the fuel policy. 'Full/full' means you get a full tank and return it full, while 'full/empty' means you use all the fuel but pay a premium for it.
And last, getting your car right at the airport it's the best option to be independent from the first minute.
Hop on Hop off Bus – Palma de Mallorca
Explore Palma at your own pace with a 24-hour ticket to the open-top hop-on, hop-off bus. Discover the city's top attractions, and jump off at any of the 16 stops en route to explore further.
Where to Stay in Mallorca
It's essential to carefully choose the best area to stay in Mallorca to ensure a pleasant holiday and a spot from where you can easily move around the island.
Mallorca has different areas and accommodations for all types of travellers. For example, some areas are famous for their lively nightlife, while others are quieter and perfect for relaxing and enjoying the sea. However, there are intermediate options that can satisfy both needs.
If you travel to Mallorca mainly for the nightlife, the ideal place to stay would be S'Arenal (southeast of the island) or Magaluf (southwest, two beaches a few kilometres from Palma).
In the northern part of the island, instead, you will find wide sandy beaches like Playa del Muro or Colonia di Sant Pere, ideal for families with children.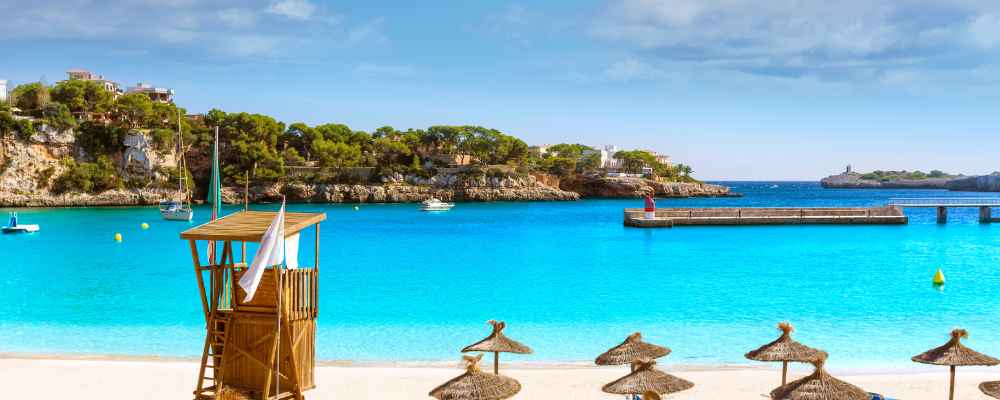 The east coast is very popular but offers more tranquillity than the southern resorts. Retired couples love places like Porto Cristo and Cala Millor.
Finally, characteristic villages and mountainous landscapes predominate in the west. This area (Valldemossa, Soller, Fornalutx, Andratx, and Deia) is more suitable for those who enjoy outdoor activities and rural tourism, rather than for lovers of beaches and nightlife.
Additional Tips and Recommendations
Mallorca is more than beautiful beaches and weather. This island is full of culture, having been inhabited since prehistoric times from around 5200 BC. Colonized by Greeks, Phoenicians Carthaginians, and the Byzantine Empire.
That's why I always recommend experiencing their food, which is one of the most unique among all Spanish regional cuisines.
Must tries are Ensaimadas, Cocarrois, Cocas de Trampó, Gató de Almendras, Tumbet and Sobrassada.
The calçotada is also something to experience. It's about eating calçots, a local variety of fresh onion, typically elongated in shape. Of rural origin, it is eaten at family or friend gatherings, or events are created to enjoy this culinary delicacy.
Related Reading: The Most Beautiful Places To Visit in Tenerife
Do you need to organise an international Drivers License? You can apply for it online here.
Travel Insurance
World Nomads offers simple and flexible travel insurance. Buy at home or while traveling and claim online from anywhere in the world.

Do You Need A Visa for Spain?
To Travel Too Travel Shop
Travel smarter and safer with products from our To Travel Too Travel Shop.  If you are looking for the latest luggage, guidebooks or travel accessories we have you covered with over 800 travel products to choose from.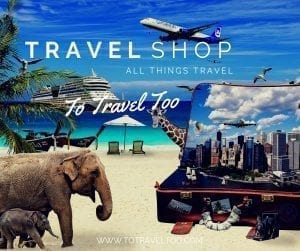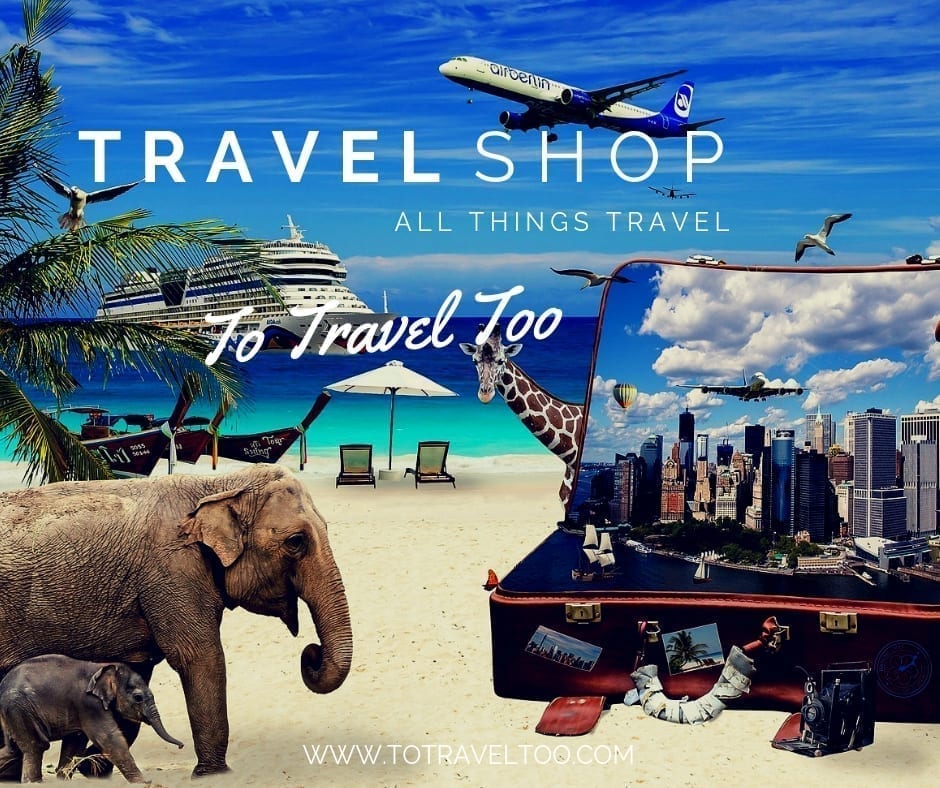 Pinterest
Are you on Pinterest? We are at To Travel Too and we have many travel-related boards check us out at Pinterest.  If you enjoyed our article why not pin it to your board and read it later?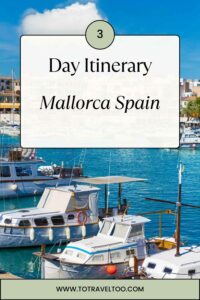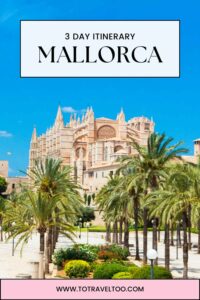 In conclusion, Mallorca offers a diverse range of activities and attractions that can be easily explored in a three-day itinerary. From exploring the charming streets of Palma de Mallorca to relaxing on beautiful beaches and indulging in delicious cuisine, visitors are sure to have an unforgettable experience on this stunning Spanish island. Whether you're seeking cultural immersion or outdoor adventures, Mallorca has something for everyone. So pack your bags and get ready for an adventure-packed three days in this Mediterranean paradise.