Which are the best Vietnam Islands to visit on your next vacation?
With over 3000 km of coastline, Vietnam offers travellers a range of 4000 beautiful islands to choose from for relaxation and rejuvenation away from the hustle and bustle of Hanoi and Ho Chi Minh City. Imagine white sandy beaches, swaying palm trees, turquoise blue waters, the best of seafood restaurants and local cuisine.
Not all of the 4000 Vietnamese islands are habitable.  We have chosen the best islands of Vietnam for your next vacation.  What are you waiting for? Pack your bags and head off for some rest and rejuvenation and enjoy the best islands in Vietnam.
A frequently asked question is how long should you allow to visit Vietnam? Our recommendation is to spend at least one month in Vietnam to really experience all that Vietnam has to offer.
Is Vietnam safe to travel to?
Like all countries in South East Asia Vietnam is safe to travel. After spending 3 months travelling from North to South we felt safe and comfortable.  You do have to ensure that you have your belongings in a safe place either on your body or back in the hotel.  Bag snatching is common in HCMC and all hotels will issue you a warning when you check-in. As in all big cities around the world be aware of your surroundings and ensure that you know the 'not-so-safe- neighbourhoods to venture into after dark.
The most well-known are Phu Quoc and Cat Ba Islands.  Other islands are now becoming popular and offer a range of attractions for the domestic and international tourist market and offer accommodation from luxury 5-star resorts to local homestays.


We have reached out to top travel bloggers to share with us their top Vietnamese Islands to visit. Our article will be updated on a regular basis with more Vietnam Islands to choose from.
Planning a trip to Vietnam read our ultimate travel guide here
This post may contain affiliate links. Please see our disclosure for more information. 
An Thoi Island
Submission by Gigi from Beach Addicted
After our trip to Con Dao islands, we were looking forward to visiting the gorgeous An Thoi islands.  The An Thoi archipelago consists of 15 islands and islets and is located near the southern tip of the famous Phu Quoc.  They are, for sure, one of our favourite islands we visited in Southeast Asia.
You can easily visit the An Thoi islands on a day trip from Phu Quoc. But if you would like to stay overnight, you can stay on Hon Thom Island.
You can easily book a boat trip directly on the beach as many guides are waiting there.  During our boat trip, we stopped at three islets: Hon Xuong, Hon Gam Ghi and Hon Vong.  This is the whole day trip, so make sure to pack some snacks with you.  If you are staying in Hon Thom, the hotel provides food as well.
The beaches of An Thoi have powdery white sand and warm blue waters with palm trees all around.  One of my favourite beaches was at Hon Gam Ghi Island, where we could enjoy some peaceful moments.  There is an iconic swing, which is excellent for taking photos.  You can snorkel too.  However, the best things to do are to relax and get some tan.
Cat Ba Island
Submission by Emily from Wander-Lush
While most of Vietnam's islands are located off the central or southern coast, Cat Ba is a great choice if you're visiting the north. It's not a tropical island (although there are a few sandy beaches) – but rather a lush island covered with forest.
The Cat Ba Archipelago is made up of more than 360 islets, with the eponymous Cat Ba being the largest. Located adjacent to the iconic Ha Long Bay, Cat Ba is easily accessed from Hanoi in a couple of hours using a combination of bus and high-speed ferry.
Cat Ba is a great alternative (and inexpensive) way to experience the UNESCO-Listed Ha Long and neighbouring Lan Ha Bay, which has similar karst rock formations. Full and half-day boat trips from Cat Ba feature a seafood lunch, kayaking, and a visit to a floating village.
Apart from exploring the bay, there are lots of things to do on Cat Ba itself, including trekking or mountain biking in Cat Ba National Park. For sunset, hike up to Cannon Fort. Used as a Japanese outpost during WWII, you can still see trenches, tunnels and a cave hospital hewn from the rocky cliff. Now there's a small bar at the top where you can enjoy a cold beer with a view over the bay. Most guesthouses and hotels are concentrated at the southern end of the island near the port. Here's also where you'll find a host of great restaurants, cafes and bars – many with rooftop terraces.
You can book a day trip to Cat Ba Island from Ha Long City which includes lunch here
Cham Islands Vietnam
Submission from Jane from To Travel Too
The Cham Islands, 18 km off the coast of Hoi An, are made up of 8 small islands in Quang Nam Province. They make up the Cham Marine Park, one of the largest biosphere reserves in Vietnam and in the world.
The Cham Islands are:
Hon Lao – the main island
Hon Dai
Hon Mo
Hon Kho Me
Hon Kohn Con
Hon La
Hon Tai
Hon Ong
Hon Lao the main island of the group is well known for its beaches of Bai Bac, Bai Ong, Bai Chong are great for swimming.
The islands are well known for its snorkelling and scuba diving activities. If you want to get away to golden sand beaches and stunning coral reefs you should consider visiting the Cham Islands.  You can visit as a day trip from Hoi An or you can stay in local homestay accommodation.
The best time to visit is between the months of March to August.
Take a speedboat to the Cham Islands for a day of snorkelling, swimming and dining on local seafood. You can book your day trip here.
Con Dao Islands
Submission from Jackie Szeto & Justin Huynh from Life of Doing
If you have extra time in South Vietnam, head to Con Dao Islands for its quietness, jaw-dropping sceneries, and history. It's an archipelago of 16 islands with Con Son Island as the largest and only inhabitable island.
With tourism at its infancy, it's a lovely place to spend a weekend to relax. You can splurge at the Six Senses Resort to get the full pampering and access to the private beach. Otherwise, stay at a guesthouse and rent a motorbike to wander around the island. Check out the numerous beaches. We recommend Nhat Beach for its white sand and the turquoise ocean. It's rare to not see a pile of garbage floating in the ocean water. For the outdoor adventurers, visit the National Park to spend the day hiking in the luscious forest.
Another recommended activity is to learn about its history as a former prison from 1862-1975. You may have seen or heard about the Vietnamese using "tiger cages" as a form of torture. You can visit three prisons, Phu Hai, American Tiger Cages, and French Tiger Cages, in-person to see what Vietnamese fighters and revolutionary soldiers endured in their small living space which is referred to as the tiger cages.
Phu Quoc Island
Submission from Rose Munday of Where Goes Rose
Phu Quoc is Vietnam's most idyllic island known for its white-sand beaches, luxurious resorts, water sports and diving opportunities.
This beautiful island off the west coast of Vietnam looks like it should be part of Cambodia but it's actually owned by Vietnam. Phu Quoc is easy to reach from Vietnam as you can catch a flight for as little as $20. Thanks to its luxurious holiday feel, it will be well worth it.
While Phu Quoc used to be a hidden gem home to relaxed fisher villages, tourism has increased rapidly. While things feel much more touristic and built-up these days, it's still one of the best islands to visit in Vietnam. 
One of the highlights of Vietnam is visiting the stunning beaches. Ong Lang Beach and Long Beach are two of the most popular. At either of these Phu Quoc beaches, you can swim in the warm water, snorkel or relax on the beach. 
For seafood fans, one of the best things to do on Phu Quoc is to eat fresh seafood. Head to Dinh Cau Night Market where you'll find every type of seafood imaginable, all caught locally and cooked fresh in front of you. It's the opposite of a fancy restaurant – pull up a stool and eat tasty food in relaxed surroundings.
Whilst in this area, you can also visit Dinh Cau Rock Temple, a vibrant Buddhist temple providing photo opportunities aplenty and views along the coastline. 
For places to stay in Phu Quoc, you can't do better than Tropicana Phu Quoc surrounded by forest and with plenty of amenities including a large swimming pool. For a more affordable option, stay at Viet Thanh Resort Phu Quoc which is right beside the beach with rooms for under $80 a night.
Rose has written a comprehensive Vietnam Itinerary for 2 Weeks.
Vung Tau Island
Submission from Ivan Tannenberg from Mind The Travel
Being the closest beach town to the buzzing city centre of Ho Chi Minh City, Vung Tau is one of the most popular islands in the southern part of Vietnam.  The four beaches in Vung Tau include Front Beach (Bai Truoc), Back Beach (Bai Sau), Pineapple Beach and Paradise Beach and each of them has its own distinctive vacation personality.
Although vibrant Ho Chi Minh is well-known for its street art and fashion scene, people living in Vung Tau have well-maintained the natural beauty of their beaches and landscapes.  Due to its proximity to the city centre, Vung Tau is a perfect option for visitors looking for quick weekend getaways, as well as those looking for an affordable place for a multi-day stay.
Instead of fast development, Vung Tau still retains its unique charm.  A laid-back seaside town with a beautiful mountain setting brings peaceful moments for explorers. Tuong Dai Chua Kito Vua (Christ the King Monument), Thang Tam Temple (Dinh Thang Tam) and Shakyamuni Buddha (Thich Ca Phat Dai) attracts millions of pilgrims to Vung Tau every year.  Therefore, there is no shortage of hotels that cater to different budgets and interests.
If you like fish and seafood and want to eat at an affordable price, you'll be in heaven in Vung Tau.  Xom Luoi market is a go-to-market for the locals and tourists willing to buy fresh seafood.  Eager to apply your cooking skills and creativity? There are stalls that have seasonings, stuffings, and sauces for you to buy.  You can also find BBQ grills here. Alternatively, you can bring raw food to the cooking stalls within the market and ask them to grill, boil or fry the seafood for you.  Once cooked, you can enjoy your delicious dishes at the park on Bai Truoc Beach.
Of course, visiting Vung Tau is not only about swimming, there are many landscapes and attractions to discover. At the same time, Vung Tau is not a party city and its nightlife is not as impressive as Ha Noi or Ho Chi Minh City. There are some clubs and bars (mostly near the beaches) that are worth a visit if you want to hang out and party for a bit. Outdoor activities such as trekking, walking, motorbike riding or a boat ride will give a chance to reveal the true beauty of Vung Tau and a better understanding of the local culture.
General Information on Visiting Vietnam
How many islands in Vietnam to visit?
There are 4000 islands to visit in Vietnam many of them are not habitable.
When is the best time to visit Vietnam
Spring is the best time to visit Vietnam between March and April when the daytime temperatures are pleasant and there is less rain during these two months.
Flight Deals for Vietnam
Find the cheapest flights with Skyscanner our 'go-to' when researching and booking flights throughout the world.
Air Asia, the budget carrier, has flights to Hanoi, Ho Chi Minh City, Danang and Nha Trang, from major Asian cities.
Bus/Train or Ferry Tickets in Vietnam
We use 12GoAsia for all bus, ferry and train tickets throughout Vietnam and South East Asia.
Do You Need a Visa For Vietnam
Most travellers will need to apply for an e-visa when visiting Vietnam. Our partner ivisa can now offer online photos for visas and passports. Check them out here.
Don't forget to take our travel insurance. Click below for the latest quote. 
To Travel Too Travel Shop
Travel smarter and safer with products from our To Travel Too Travel Shop.  If you are looking for the latest luggage, guidebooks or travel accessories we have you covered with over 800 travel products to choose from.
Pinterest
Are you on Pinterest? We are at To Travel Too and we have many travel-related boards check us out at Pinterest.  If you enjoyed our article why not pin it to your board.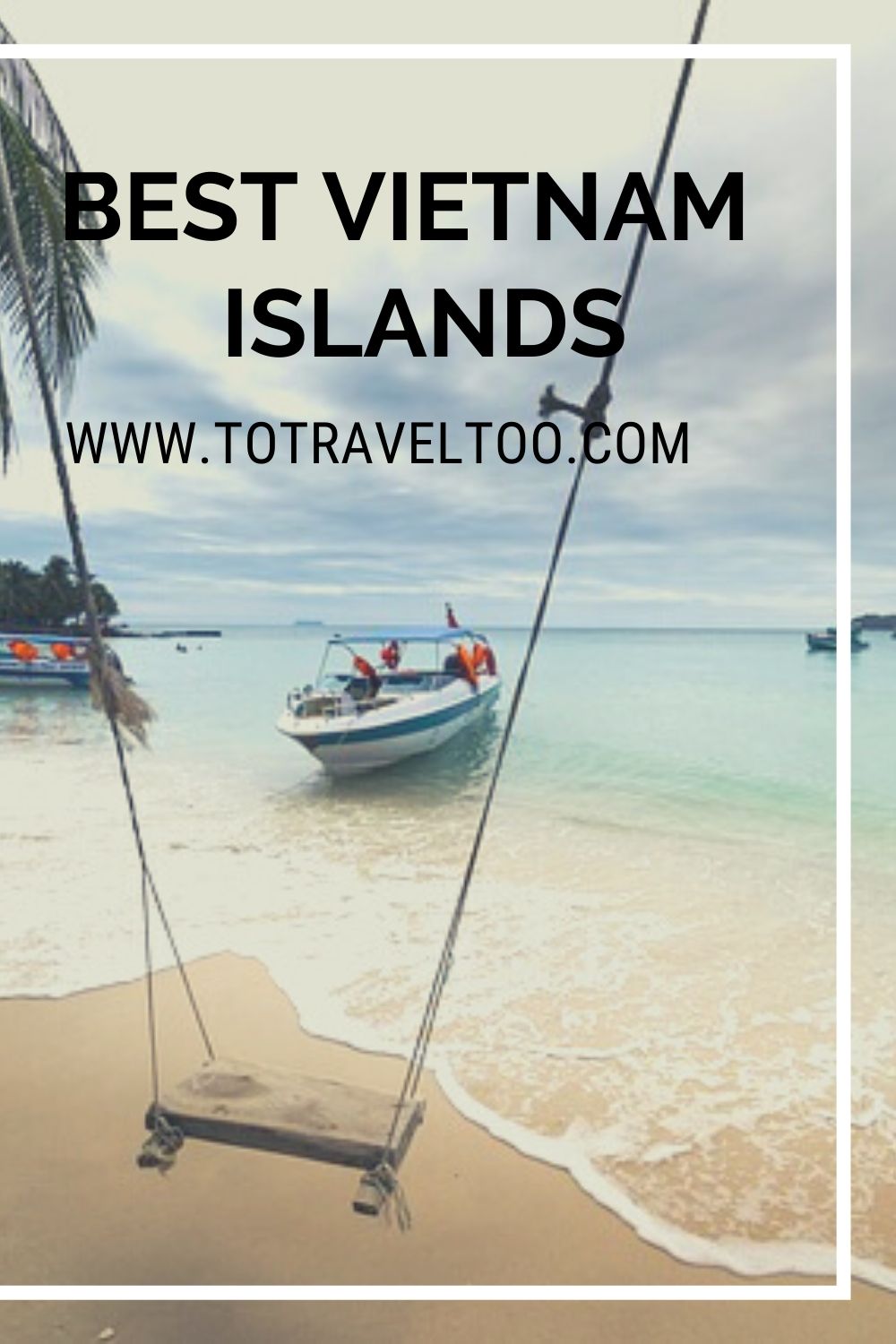 Conclusion
We hope you have enjoyed our article from our top travel bloggers on the best islands of Vietnam to visit. Let us know what your favourite islands are.