One of our favourite holidays, of all time,  is sailing on the canals of France, and none better than sailing with Le Boat France in their fleet of Horizon 2S boats.
Years ago when our two boys were young their favourite holidays were sailing in France.  Three years in a row we traversed the waterways of the Loire, the Burgundy, and Brittany regions.  A perfect holiday for all the family to enjoy. When we ask our boys now what was the best holiday ever, they both say, cruising down the canals. (and we thought that they would say Eurodisney, we were so wrong!)
The highlight for the boys was also visiting the Castles of the Loire, so majestic and jaw-dropping and so many to choose from.  Not only did we see them as we sailed along the canals but after our adventure, we visited quite a few of them.
Related French Articles to Read: Things To Do in Toulouse
How to spend 2 days in Strasbourg
This post may contain affiliate links. Please see our disclosure for more information. 
Check out our YouTube Video:
Now years later we are once again sailing the Loire region with two close friends of ours from the U.K.
Now, more of what to expect on life on the canals. The smell of freshly cut grass drifts our way. Colourful butterflies gracefully flutter by and in the distance, the low 'moo' from one of the cows in the herd of cattle in the paddock across from us can be heard. The French countryside comes alive with colours and sounds, it is such a beautiful country.
The silence is deafening, there is hardly a ripple on the water or movement in the sky.  The hot scorching summer sun is at its peak.
Life is peaceful on the waterways. We spend our time leisurely up on the top deck of the Horizon 2S what is known as the "Fun Deck".  We are impressed with the outside layout of the Horizon, giving us ample space to either sit at the table or relax on the sun lounges under the canopy or their bright blue Le Boat umbrellas.  There is even an outside sink, BBQ and small drinks fridge (what more could you want).
3 Nights on Le Boat Sailing the Canal Lateral a La Loire
With Le Boat, you have options to sail the waterways throughout Europe (France, Germany, Scotland, Ireland, England, Netherlands, Belgium and Italy) and Canada for sailing holidays that range from 3 nights upwards.
If you have not sailed on the canals of France before let us share with you our 3-night experience on the Canal Lateral a la Loire. It may sound daunting at first handling a boat and the locks but Le Boat have made it very easy for everyone to enjoy their vacation.
If we can offer one of our best tips ever:
For your very first boating experience look for a route within the region that you want to travel with fewer locks, just so that you can enjoy the experience without stressing out too much about how to handle them.  You will then build your confidence up for some of the other regions that LeBoat offer.
Base: Chatillon-Sur-Loire
Our recommendation on where to stay overnight prior to joining your Le Boat at Chatillon Sur Loire
12.5 km from Chatillon-Sur-Loire is Chambres d'hotes l'echappee Belle a delightful 18th Century Gite owned by Jean-Marc and Hubert. There are only 3 rooms available so early reservations are recommended, especially during July and August.  The breakfast is excellent, good wifi and on-site parking are available.

The owners recommended a local restaurant for us in the town of Gien across the river.  Le Regency was an excellent recommendation.
We sat outside on the pavement on a balmy summer's evening and enjoyed delicious cuisine. Click our link below for the latest Tripadvisor reviews.
Le Regency: 6 Quai Lenoir, Gien

Supermarkets
There are two large supermarkets in the town of Briare 8km away from the base.
Carrefour Market: Route D'ousson
Lidl: Avenue Yver-Bapterosses
Both are priced well but we found that Carrefour had more choices and a larger range of local wines and champagnes.  Lidl was competitive on general produce including fruit and vegetables.
Arrival on the day of departure
There is parking available at the base if you are coming by private car.  You can either choose to leave it in the open car park or for a fee at their enclosed locked up carpark.
Check what time you can collect your boat, the office does close in the middle of the day.  There is paperwork to be completed prior to departure.  Once the paperwork is completed one of their staff members will come with you to the boat and run through all that you need to know.  We must compliment Ophelie and Aurelie who were excellent in looking after us and showing us the ropes.
The Captain and 2nd in Charge (yes, you will have to nominate the 2nd in charge) will be given a demonstration on the features of the Horizon 2S and how to operate the boat. You can have a demonstration on handling the boat out in the water with one of the team before you set sail on your own.  We would highly recommend this if this is your first time. There is a lot to take in but Le Boat  provides:
Navigation Maps to assist in navigating the waterways
A Boat and Navigation Manual which includes legal documents which may need to be shown if authorities ask.
We can highly recommend:
Downloading the Le Boat App – it pinpoints your exact location on the waterway and gives you tips on what you can see coming up e.g. 195 steps away from the nearest Chateau.  A great resource for the local restaurants and what to see and do in the area:
Key features include:
•Route planner
•Point of interest to see and visit
•Restaurants
•Local phone numbers
•Mooring and lock information
•Geo-localised map of your cruise
•Pre-departure information & checklist
•Access and play videos
We also recommend that you:
inspect your boat and its inventory
understand how the electricity works and how to top up  along the route
know how to work the oven and hot plates and the turning on and off of the gas bottle
how to make sure you have hot water for your showers and how to flush the toilet
their range of boats have heaters and air-conditioners make sure you understand both on your boat – our first day was very hot and the air conditioner cooled down the cabins and our last day was quite cold and we could imagine that later in the season you may need the heater
how to cast off and how to use the pegs and ropes for tying up outside the marinas
your speed limit whilst cruising and in marinas and when larger boats are passing you by
what to expect in a manned and unmanned lock
Some hazards to watch out for when sailing:
low lying tree branches or branches along the side of the canal hidden in the water
low bridges that you will all have to duck to pass through, remember the umbrella and canopy may be up – most of the bridges on this route were low and we had to duck.  In the end, we travelled with the canopy and umbrella down.
Our Journey
Check out our tour of the Horizon 2 S Le Boat:
Our departure time was between 11.00 and 12.00 hours.  As we were driving around France in our friend's car we were able to shop for groceries in the morning before heading to the Le Boat office.  (They can provide provisions for you on request to get you started).
After our 'run through' on the boat and the completion of paperwork we were ready to set off.  (We would recommend that you allow up to an hour for this procedure and more if you want a demonstration out on the canal before you sail).  Do not rush this part.
As we had only 3 nights we decided to sail from Chatillon Sur Loire down to Sancerre and then return to base late afternoon prior to handing the boat over the next morning at 09.00.  Over the 3 nights, we managed 10 hours of sailing.  Fuel is charged on an hourly basis.  We could have sailed up to Briare on the last night and return early back to base on the morning before handover if we wanted to, but we had visited Briare the day before sailing and thought that we would leisurely sail back to base.  It is approximately 45 minutes sailing with no locks to Briare, so it can be done if you have only 4 days in France sailing on the Canal Lateral a la Loire.
A delight of France is sailing down the canals through the countryside in summer and enjoying the twilight of the summer evenings.  Nothing beats it. Ideally, we believe 10 days sailing in France on their many waterways is the ideal vacation period.
For lunch, we stopped alongside the canal just between Beaulieu-sur-Loire and Belleville-sur- Loire enjoying our fresh baguettes and cheese purchased that morning.  At Belleville-sur-Loire there was a lock with a lock keeper to help guide you.
At Belleville-sur-Loire there is a recommended restaurant from LeBoat – Terre de Loire, approximately 200m from the moorings.  If you have a young family or teenagers there is the Presles Aquatic Centre with multiple water slides, swimming pools and relaxation therapies on offer.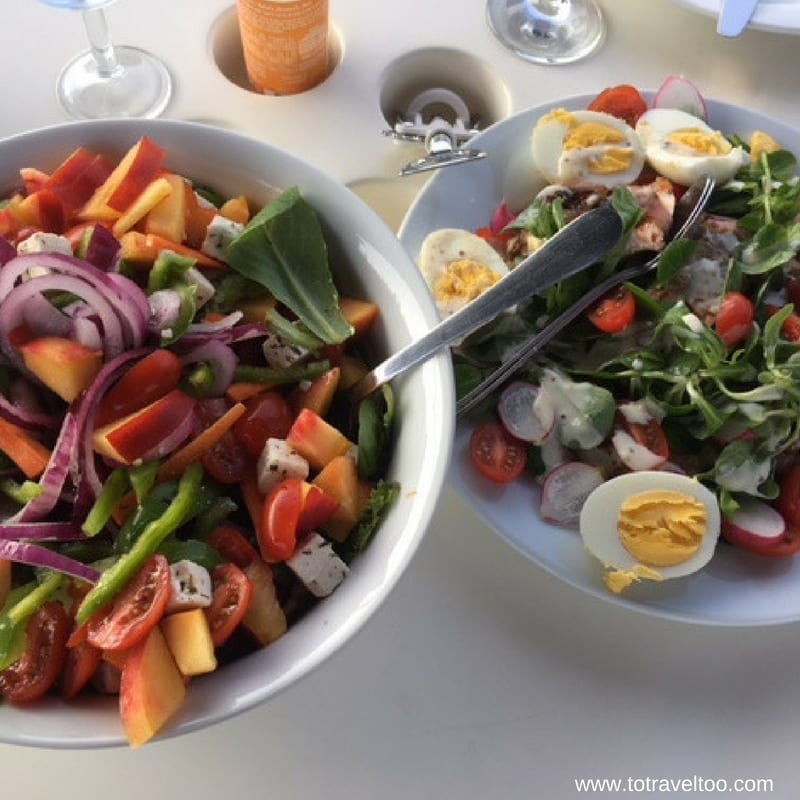 After an hour or so we found a peaceful place alongside the canal where we moored for the night.
The morning dawned bright and sunny, it was so peaceful sitting up on deck, drinking coffee and enjoying our breakfast of fresh fruit, cereals, yoghurts and croissants.  We could have sat there all day enjoying the views of the local vineyard but we wanted to get to Sancerre.
On the way down there are a few more locks to traverse, a total of five including:
Ecluse de Maimbray which is manual with a lock keeper in between Beaulieu-sur-Loire and Belleville-sur-Loire
Ecluse de Houards which is manual with a lock keeper
Ecluse de Peseau which is manual with a lock keeper
Ecluse de Bannay which is manual with a lock keeper
Opening times for the locks are from 0900-1200 then from 1300-1900.
We arrived at the pretty town of Menetreol-sous-Sancerre and decided to stay for the night it was so pretty.  The village was built during the 12th century around the small monastery which belonged to the monks who farmed the vineyards.
There is a walking trail available with details on the board near the moorings.  You wind up through ancient streets visiting the Church of Saint Hilarie that dates back to the 12th century and picturesque houses half-timbered houses dating back to the 16th and 17th centuries. It is 1.8km in length and should take you about 45 minutes.
If you enjoy goat cheese there is a small farm close by "Crottin de Chavignol" which we were keen to visit but just never made it. It is close to the Thauveney Lock, further downstream.
Just opposite the moorings, there is a local restaurant called Le Floroine. We were surprised to find that at lunchtime there were queues outside, and as we wandered past the menu looked enticing and the food local and wholesome. There were two menus a Euro14 which consisted on an Entree and Plat du Jour or Plat du Jour and Dessert and the  Euro 17 which consisted of an Entree, Plat du Jour and Dessert.
Sancerre is 3km from Menetreol-sous-Sancerre and all uphill winding up through the vineyards.  We would recommend that you call a taxi.  There is a number listed on the sign at the moorings.  It is a 10 euro ride but well worth visiting not only for the views but for the visit to La Maison de Sancerre.
La Maison de Sancerre is an interactive wine centre in Sancerre which runs through the history of the wine region.  You must not miss their 4D adventure cinema, it was such a buzz (no pun intended, you will know what I am talking about when you visit).
If you would like to visit a vineyard whilst you are in the area there is a tour available just contact Laure at [email protected]. She will arrange to collect you from the boat and visit the Sancerre vineyards.
There are many restaurants in Sancerre, check out TripAdvisor for the top recommendations.
For the return journey back to the boat it is easier to arrange the taxi to collect you from the Tourist Information Centre.  The view from this location is spectacular over the Sancerre vineyards.
Whilst we were visiting Sancerre more boats pulled up beside ours for the night.  It can become quite a sociable time, we enjoyed a few drinks with an Austrian couple who were also sailing a Horizon 2S.
After a leisurely breakfast the next morning we ventured back to Chatillon-sur-Loire reaching there around 4 pm.
You have the option of cleaning the boat yourself and avoiding a cleaning fee which we did the next morning.  During our overnight stay back at base, we topped up the water and electricity from the points located at the marina specifically for Le Boat.
If you have to top up along the way, especially if you are hiring the boat for a week or two, water and electricity points are available at Le Boat bases for free but at marinas expect to pay between Euros 5 – 10.
The handover consists of Le Boat staff checking the boat and also the amount of fuel consumed and then you are on your way.
Our thoughts on Canal Boat Holidays in France:
One of the most enjoyable holidays that you can have is sailing the waterways of France. We love sailing past stunning chateaux that date back to the 18th century in France, vineyards, countryside and medieval villages that line the waterways.
If you want to know more about France and riverboat cruises in France and the rest of Europe we can highly recommend Le Boat.
Their new Horizon 2S boat was comfortable for 2 couples, easy to handle with plenty of space downstairs and upstairs.
We would like to thank the team at Le Boat for hosting us for our 3 nights.  Our opinions as always are our own.
Accommodation in France – Pre and Post Cruise
We use Booking.com for all our accommodations in France.
Flights to France
For the latest flight deals to France you can compare prices on Skyscanner here:
Find the cheapest flights with Skyscanner who then directs you to the airline's website with no extra fees to pay.
Travel Insurance
We recommend taking out travel insurance as soon as you book your flights and pay deposits on any cruises, tours or hotels.
Car Rental
When we travel throughout France and Europe we book our cars through Autoeurope.
Do you need an International Drivers License? For more information click here.
Bus Travel
Throughout our travels in France we have used Flixbus – you can check our their latest schedules and ticket prices here.
Any Questions
If you have any questions or would like some advice we would love to hear from you. You can reach us via our Facebook page or email us here.
To Travel Too Travel Shop
Travel smarter and safer with products from our To Travel Too Travel Shop.  If you are looking for the latest luggage, guidebooks or travel accessories we have you covered with over 800 travel products to choose from.
Pinterest
Are you on Pinterest? We are at To Travel Too and we have many travel-related boards check us out at Pinterest.  If you enjoyed our article why not pin it to your board?
Reservations
Canal Boat Hire France, Europe and Canada Reservations: Le Boat
Conclusion:
If you are looking for somewhere to travel after your adventure on Le Boat we can recommend travelling the Champagne Route which is easily accessible from Chatillion sur Loire.