"Come quickly, I am tasting the stars!"
– Dom Pérignon
Driving the Champagne Route of France, what could be better than that for avid champagne drinkers such as ourselves. No sparkling wine here but the best of the best! What a fun week to visit the Champagne Houses of the region!
Who doesn't love a glass of chilled champagne?
France is the perfect country for a road trip.  There are so many regions for you to enjoy.  If you have time a 10-day road trip in France starting in Paris will allow you to cover many of the beautiful regions France has to offer the traveller.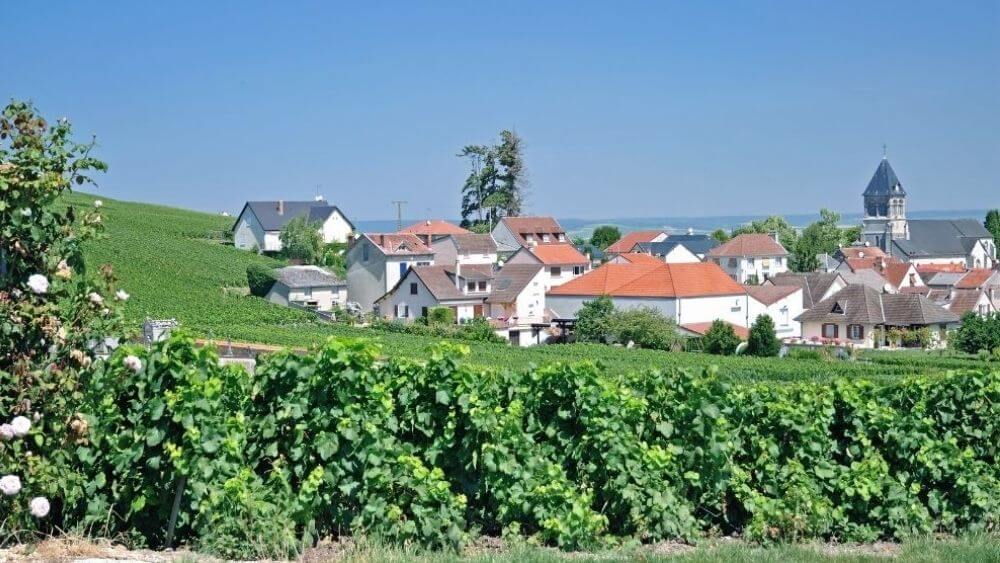 Facts About The Champagne Region You Should Know
Any sparkling wine that is not from the Champagne region cannot be called Champagne
Sabrage is the opening of a bottle of champagne with a sword. After post-battle celebrations, Napolean was the first to use a sword to open a bottle of champagne.
Champagne was the celebratory drink after the anointing of the Kings in Reims.
Over 300 million bottles are sold each year
The region covers 76,000 acres and has 320 villages
The producers of Champagne put their own house labels at the start of the rows of vines.

Moet & Chandon Vineyards
We had just completed a relaxing 3-night break on Le-Boat in Chatillon-sur-Loire.  The start of the Champagne Route at Villenauxe-la-Grande was only 177 km away. It just had to be done. This was an opportunity to good to pass up.
Harvest was early in 2018 in the Champagne region.  The harvest commenced 21st August and was well underway by the time we arrived on the 25th August. Normally the harvest is at the end of September and beginning of October. We were right there in the middle of the buzz and vibe of a harvest.  It is a unique time to visit the region and if you can plan your journey at this time of the year you will not regret it. It takes 100,000 itinerant workers three weeks to complete the harvest. They work from dawn to dusk to get it all done within the time frame.
This post may contain affiliate links. Please see our disclosure for more information. As an Amazon Associate, we earn from qualifying purchases (if applicable).
For the latest car hire deals for France click here
Driving the Champagne Route of France – Our One-Week Itinerary
You can download the Champagne Route of France here
The Champagne Route is well signposted just follow the black and gold signs that say Route Touristique du Champagne.
Our one-week itinerary of the Route de Champagne included:
We started our road trip from Chatillon-sur-Loire which was the base for our Le Boat canal trip.
Champagne Route (Route Touristique du Champagne)
If you are going to plan a driving route through the region, there are 5 different circuits to consider:
The most northern route from Reims known as the Massif Saint Thierry Route
South of Reims, the Reims Mountain Route winds through the Natural Regional Park
Leaving Epernay the Marne Valley Route along the natural banks of the Marne River
South of Epernay the Cote des Blancs Route
The Southern Route is known as Cotes des Bar Route
Or you can make up your own route! Like we did!
Champagne Tours
We are very happy using Get Your Guide in activities in cities that we visit.  We love their 'best price guarantee' which means if we find the same activity by the same local tour operator in the same currency for less they will refund the difference.  Currently, they offer over 35,000 activities in over 7,600 locations.
Thousands of unmissable activities for all ages and interests
– The lowest prices, guaranteed — no booking fees or hidden charges
– Pre-book tickets and skip the line at top attractions with our exclusive inventory of tickets
– Stay flexible with easy cancellation up to 24 hours before
– Mobile-friendly payment and tickets for booking on the go
– Friendly and knowledgeable customer services, available 24/7 in your language
Chatillon – Sur – Loire to Troyes 
A distance of 177 km.
Travel from Chatillon-Sur-Loire to Troyes via Auxerre
We travelled the route via Auxerre where we stopped for lunch a distance of 74 km and an average driving time of 1 hour 10 minutes.
Facts about Auxerre:
Auxerre lies half-way between Paris and Dijon
Auxerre is the capital of the Yonne Department
Auxerre was originally known as Autissiodorum and dates back to the Gallo-Roman Times (50 BC – 486 AD)
4th largest city in Burgundy
The city sits on the River Yonne, a tributary of the River Seine
The Abbey contains 9th-century full-sized frescoes
Joan of Arc passed through the town twice
The town is famous for its Chablis wine production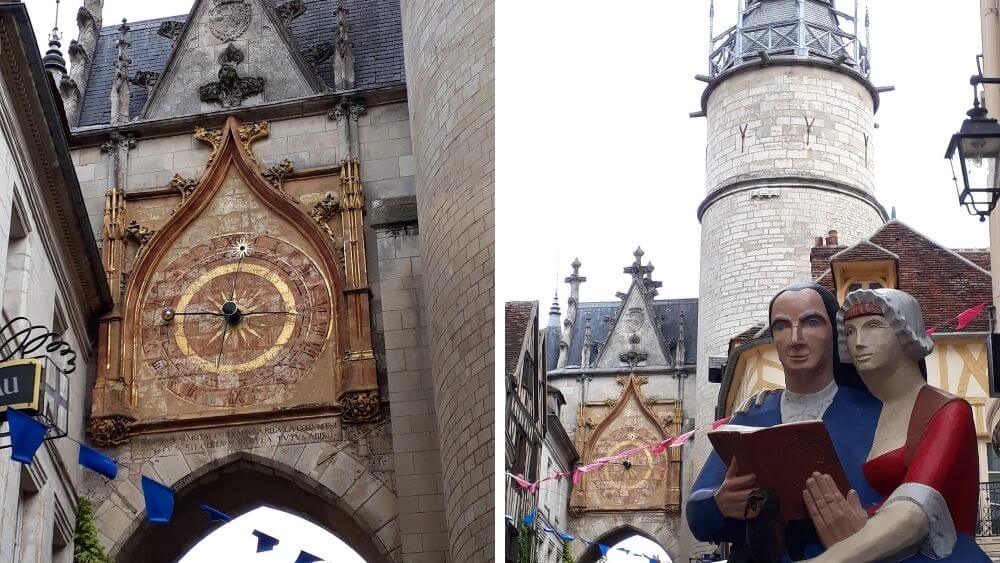 One of the highlights of visiting Auxerre was the 15th Century Clock Tower.  The Clock measures solar and lunar movements. You cannot miss the Clock Tower as it is located in the centre of the pedestrian area of Auxerre.
Allow some time to wander the pedestrian area for the architecture, shops and the small bars and cafes. Our biggest mistake was not spending a night in Auxerre.
Pro-tip: A local mentioned to us that the best time to photograph the clock tower is at sunrise or sunset.
Things to do in Auxerre
 Visit the Auxerre 15th century clock tower
 Wander the banks of the River Yonne
 For the best photos head to Pont Paul Bert
 Visit the Saint Germanus Abbey
 Visit the Cathedrale Saint Etienne d'Auxerre – construction began 1215 and finally completed in the 1540s
Auxerre to Troyes
A travel distance of 75 km with an average driving time of 1 hour 15 minutes depending on what route you take.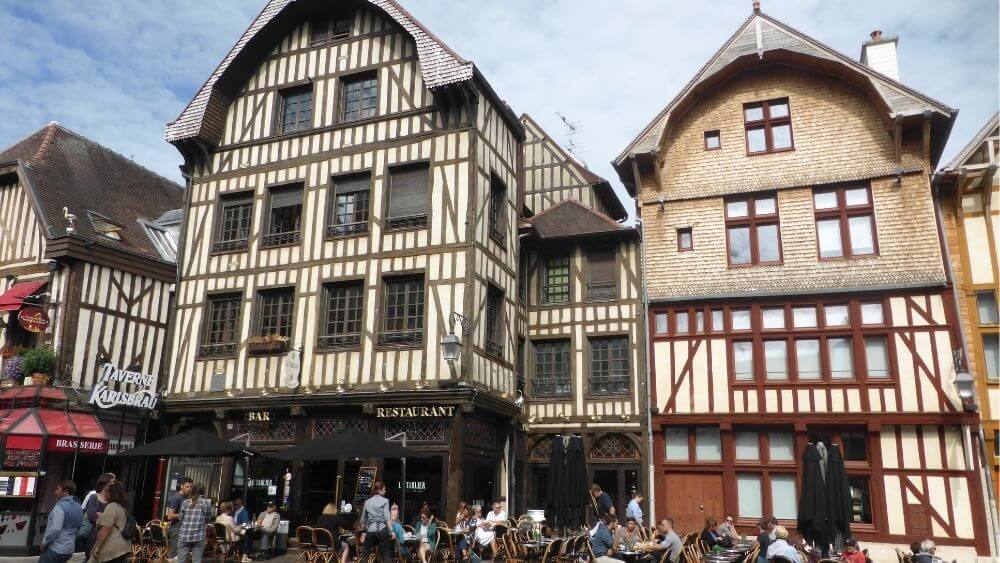 Aah Troyes, you stole our heart. Those half-timbered medieval buildings and alleyways to wander down.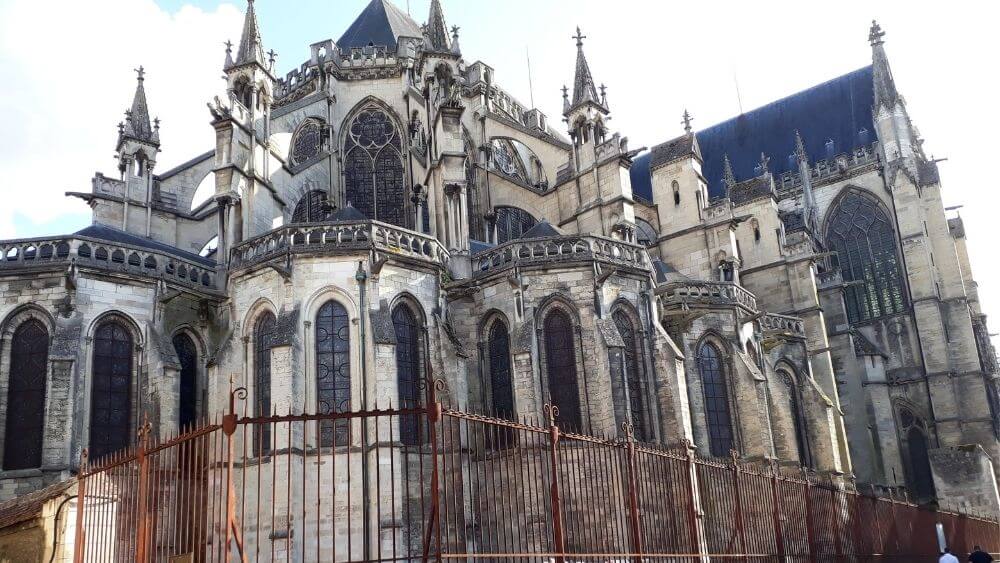 Facts About Troyes
Troyes is located on the Seine River 150 km south-east of Paris
Troyes is the capital city of the Aube department
Joan of Arc visited the city in 1429
1524 a great fire destroyed 1000 houses
Troyes was the historical capital of Champagne
Travel distance to Paris is 150 km
Troyes is a city of narrow, cobbled streets and medieval half-timbered buildings
Troyes has 1 cathedral and 9 churches<
Book a private guided tour with a licensed guide here
Things to do in Troyes
Troyes Cathedral – it took 400 years to complete the Troyes Cathedral which started construction in the 13th century. The Gothic Church is one of the most beautiful in France.
Troyes Historical Centre – enjoy wandering the streets viewing the medieval half-timbered houses
Walk the medieval alleyway of Ruelle de Chats
 Wander Le Coeur de Troyes
Visit the Basilique Saint – Urban famous for its gargoyles and flying buttresses
Where to Stay in Troyes
We stayed at the La Demeure d'Eirene at 20 rue de la Paix Troyes
Very comfortable bed and breakfast accommodation within walking distance to the town centre. Breakfast was good and consisted of croissants, cereal, eggs, fruit and excellent coffee.  We would definitely stay here again.
For the latest travellers photos and reviews and to book click here
Luxury Accommodation Troyes
The 5-star luxury 2-bedroom Gite de Troyes is located in a 19th-century building in Troyes with all the facilities you need for a perfect stay in Troyes.
Guest Review: "The apartment was perfect. The extra touches to make us feel at home, like breakfast supplies, were great. Very welcoming."

More Troyes Hotels (hotels à troyes)

Restaurant Troyes (restaurant à troyes)
Read the latest traveller reviews for the best restaurants in Troyes
Aeroport Troyes
Barberey Airport of Troyes Airport is located 2 km north-west of Troyes.
Find the cheapest flights with Skyscanner our 'go-to' when researching and booking flights.
Train Paris Troyes
For the latest schedules and ticket prices click here for the train from Paris to Troyes.
Troyes to Sezanne – a stopover enroute to Epernay
Driving distance 62 km average driving time depending on what route is around 1 hour.
After a morning of sightseeing in Troyes, we headed off to Epernay but first, we stopped off at the small town of Sezanne.
Just opposite the 16th-century Gothic-style Eglise Saint-Denis (Saint-Denis Church) was a small local bar where we enjoyed the best hot chocolate in the Champagne region.
After you have enjoyed your hot chocolate take a look inside the church.  The Renaissance Towers stands at 42 meters high.
Sezanne to Epernay
Driving distance from Sezanne to Epernay is 45 km with an average journey time of 45 minutes.
Facts About Epernay
The Avenue de Champagne in Epernay, as well as the historic hillside between Cumieres and Mareuil-su-Ay, are UNESCO World Heritage Sites.
Epernay is the capital of the Champagne region
Epernay lies on the banks of the Marne River
Over the years the buildings have been burnt and destroyed. Epernay is home to stunning mansions and chateaux.
There are 48 km of tunnels underneath the town where wine is stored
Champagne Houses in Epernay:
Moet et Chandon Epernay 
Address: 20 Avenue de Champagne, 51200 Epernay
Tours available:
The Iconic
The Imperial Moment
The Grand Vintage
Tours: 9.30 am to 11.30 am and from 2.00 pm to 4.00 pm.
For more details visit their website
Mercier Champagne House
Address: 68 Avenue de Champagne, 51200 Epernay
For more details visit their website 
Opening hours: 0930 – 1130 and 1400 – 1630
Travel tip:
We highly recommend that you take the tour.
Mercier's champagne tour includes a train ride through the cellars 30 metres underground. Afterwards, you can enjoy a flute of Champagne.
De Castellane Champagne House
Address: 57 Rue de Verdun 51200 Epernay
For more information and opening hours visit their website
Charles Mignon Champagne House
Address: 6-7 rue Irène Joliot Curie 51200 Epernay
For more information visit their website.
Open Monday to Saturday 9.30 am to  12.00 pm – 2.00 pm to  5.30 pm
Charles de Cazanove
5 minutes from the station of Reims oldest districts
Address: 8 Place de La Republic 51100 Reims
For more details visit their website
Nicolas Feuillatte 
The youngest of the great champagne wineries and brings together more than 4,500 growers from every corner of the Champagne appellation.
Address: Plumecoq, CD 40A, 51530 Chouilly (10 minutes from the city centre of Epernay)
For more information on tours and tastings visit their website
The tour of Nicolas Feuillatte comes highly recommended.  We visited towards the end of the day near closing time.  Our guide was one of the best we have had, interesting, funny, full of knowledge and plenty of facts and figures.
Where to Stay in Epernay
Les Demeures Champenoises Confort at Epernay is well located to visit the Champagne Houses in Avenue de Champagne approximately 1.5 km away.
Les Demeures Champenoises Confort has a range of accommodation from studios to triple rooms, 24-hour front desk service and plenty of parking. A great family hotel with facilities for disabled guests and free wifi.

Luxury Accommodation Epernay
Address: 82 – 84 Avenue de Champagne Epernay
The 15 room 19th-century house belonged to the Mercier Family. You can enjoy the outdoor pool and the rooftop terrace during your stay.
Guest review: "We stayed here in July 2020 to celebrate My Birthday. We stayed in the lovely suite with the large terrace, it was idyllic! The hotel is spotlessly clean, the staff are very friendly and welcoming, the pool is lovely. We felt very relaxed and happy here and will definitely return when we can go to France again. Perfectly placed to visit all the Champagne Houses and the lovely restaurants in Epernay."

For more hotels in Epernay
For more accommodation hotel options in Epernay:

Restaurants in Epernay:
La Cave a Champagne
Address: 15 Rue Gambetta 51200 Epernay
This was a recommendation from our hotel and we were glad that we visited. We are lovers of French cuisine and La Cave a Champagne did not disappoint.
For the latest Tripadvisor reviews click here
Le Sardaigne
Address: 1 Place Pierre Mendes France 51200 Epernay
If you want to eat outside we recommend that you make your way there around 6 pm. They did not take bookings and we were fortunate to get one of the last tables. Just seeing the queues later in the evening confirmed that we had made the right choice and the food lived up to its popularity.
For the latest Tripadvisor reviews click here
Paris to Epernay Train Travel
Click here for the latest train schedules and current prices for train travel from Paris to Epernay.
Epernay to Rilly-la- Montagne
The driving distance between Epernay and Rilly-la-Montagne is 18.5 km with an average driving time of 21 minutes.
We chose to visit the village of Rilly-la-Montagne to stay one night at the Chateau de Rilly.
Address: 38 Rue de Reims Reims
Historical facts about Chateau de Rilly:
Originally known as La Maison de Lossy
Wine house that dates back to the end of the 18th century
One of the most ancient houses from Champagne nobility
The cellars once housed over 3 million bottles of champagne
The private mansion was purchased by the Germain family in the 20th century
2008 the house was sold to the Serena family from Italy
On the 1st June 2012, the hotel was opened to the public for the first time
Accommodation:
The 15 room luxury Chateau offers a selection of rooms for guests.  There is a wellness centre available for beauty treatments, as well as a jacuzzi and 2 saunas.
We recommend booking the restaurant for evening meals and breakfast at the same time that you make your accommodation booking.
Our stay at the Chateau was perfect. Luxury accommodation, helpful staff, beautiful grounds and 24 hours of pure relaxation.  Dinner was excellent, with a seasonal menu and the best of local wines accompanied each dish.  Breakfast was superb, one of our best so far on our driving trip. You must try the creamy scrambled eggs!

Rilly-La-Montagne to Reims
The driving distance is around 15 km depending on the route you take with an average driving time of 20 minutes.
Facts about Reims France
Reims is located on the Velse River
Paris in 30 minutes away by high-speed train
Reims is pronounced like 'ransssss' start with ran and then add the sssss
Reims was founded in 80 BCE by a tribe of Gauls
Reims has 3 UNESCO sites:
1.  The 11th century Abbey of Saint Remi
2.  The

Palace of Tau

which was used as the residence of the Kings during the coronation.
3.  The Gothic Cathedral of Notre-Dame de Reims where 34 sovereigns were anointed
80th of the city was destroyed during WW1 (cathédrale de reims)
A Reim Fun Fact – 1 bottle of champagne is opened every 10 seconds
Champagne Houses in Reims
Veuve Clicquot Ponsardin
Address: 1 Rue Albert Thomas 51100 Reims
Cellar Tours and Boutique open from March to December (check dates each year)
For more details on tours visit their website
Champagne Taittinger
Address: 9 Place Saint-Nicaise Reims
Opening Hours: 9.30 am to 5.30 pm. Check with website before visiting for the latest opening hours.
For more information visit their website
Champagne Lanson
Address: 66 Rue de Courlancy Reims
Cellar tours
Opening Hours: Monday to Friday 8.30 am to 12.30pm then 1.30 pm to 5.30 pm
Check their website before visiting
Champagne Mumm
34 Rue du Champ de Mars
For opening hours and visits check their website out here
What to do in Reims
Cathedral Reims Light Show
Visiting the Reims Cathedral Light Show is a 'must-do' if you are in Reims between the months of May and August. Check with your hotel what the timings are or visit the Tourist Office here.
Free entry
Two shows per night that last for 25 minutes.
It is a spectacular light show! Get there early to have a seat on the sidewall or take your own seats.
Our Youtube Video of the Reims Light Show
Private Walking Tour With Guide
A 2-hour walking tour visiting:
Notre-dame Cathedral
Carnegie Library
Gallo-roman Cryptoporticus
Le Vergeur Museum Hotel
Boulingrin Covered Market
Porte Mars
and learning about:
Founded circa 80 BC
Roman Empire
The Gallic Wars
Saint Sixtus of Reims
The Roman Catholic Archdiocese of Reims
French Wars of Religion
The Battle of Ivry
World War II unconditional surrender document was signed in Reims
The Coronation City
Book your walking tour of Reims here
Where To Stay in Reims
Our accommodation in Reims was in an apartment which is no longer advertised. We self-catered during this time enjoying the champagne that we purchased during the trip and the delights of locally grown produce and of course French cheeses.

Restaurants Reims
Click here for the Top Frenchs Restaurants in Reims
Paris Reims Travel
The train journey from Paris to Reims takes 45 minutes. For the latest schedules and ticket prices Click here for the latest train schedules
More of our articles on France
How to spend 2 days in Strasbourg
Flights to Paris
Find the cheapest flights with Skyscanner our 'go-to' when researching and booking flights.
International Drivers License
Obtain your International Drivers License in minutes here.
Travel Insurance
We recommend taking out travel insurance as soon as you book your flights and pay deposits on any cruises, tours or hotels.
Pinterest
Are you on Pinterest? We are at To Travel Too and we have many travel-related boards check us out at Pinterest.  If you enjoyed our article why not pin it to your board.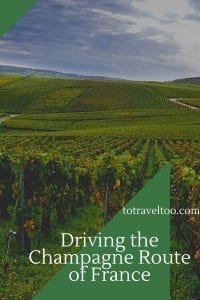 To Travel Too Travel Shop
Travel smarter and safer with products from our To Travel Too Travel Shop.  If you are looking for the latest luggage, guidebooks or travel accessories we have you covered with over 800 travel products to choose from.