How do you eat cheaply in Barcelona, is a question we are frequently asked.
Keeping within our travel budget helps us to travel longer. We can't afford to blow it. Parts of Europe can be expensive to eat out in and we are always looking for tips on how to keep within our food budget.
(Editor Update 2021)
You can easily blow the budget when eating out in Barcelona, Spain.  Spain is still one of the cheapest countries in Europe but you do need to be careful with your Euros if you want to stay within your budget.
Whether you have 24 hours in Barcelona or a week you will want to return time and time again. It is vibrant, lots to see and do and the local cuisine is the best. Maybe is it the Catalan influence!
Over the years we have stayed with family in Barcelona and we have enjoyed our time eating and drinking where the locals eat and drink, away from the over-priced tourist areas.
We share with you our best places to eat in Barcelona on a budget.
Tapas, paella, wine, Spanish omelette and our favourite pa amb tomàquet (bread rubbed with tomato, garlic and a drizzle of olive oil) and more makes Barcelona one of our favourite foodie places to visit in Europe.
Read our article on A Weekend in Barcelona – the perfect city break.
This post may contain affiliate links. Please see our disclosure for more information. As an Amazon Associate, we earn from qualifying purchases (if applicable).
Where to Eat in Barcelona
Breakfast
What do locals eat for breakfast in Barcelona?
Locals seem to have two stages when enjoying their breakfast in Barcelona.  They start the day with a strong cup of coffee and then an hour or two later enjoy a doughnut or a bocadillo (a small sandwich) or a bikini (a cheese and ham sandwich) with orange juice and coffee.
Don't be surprised if you see the locals standing at their local bars having a beer, anis or even a coffee with brandy. This is a tradition.
If there are locals eating in a small cafe at breakfast time – join them! They know all the best places.
Porto Fino Cafe
Address: Carrer Travessera de Gracia, 1, 0804 Barcelona, Spain
Prices may have increased since we last visited but we can vouch for their good coffee and excellent croissants.
Pro-Tip
There are many small cafes in the back streets around the Gothic area of Barcelona that offer specials for breakfast.
Top 5 Places to Enjoy Breakfast in Barcelona Without Breaking The Bank
 Federal Cafe –

Calle Parlament 39 08015

, 

08015 Barcelona, 

Spain

 Cafe & Te –

Rambla de Catalunya 92

, 

08008 Barcelona

Portofino

– 

Carrer Travessera de Gracia, 1

, 

0804 Barcelona, 

Spain

La Boqueria Market

– La Rambla, Barcelona -For Euro 1.00 you can enjoy a large range of fruit juices e.g.raspberry and coconut, strawberry, kiwi fruit etc and for Euro 1.50 you can enjoy a cup of freshly cut fruit.

Hansel

– Carrer de Provenca 237 L'Eixample

Lunch
Head away from La Rambla down the back streets of the Gothic and Born area and you will find many little cafes selling pizza slices from Euros 2.00 and a variety of sandwiches as well.
Our favourite is Made in Sicily located at: Carrer dels Escudellers 35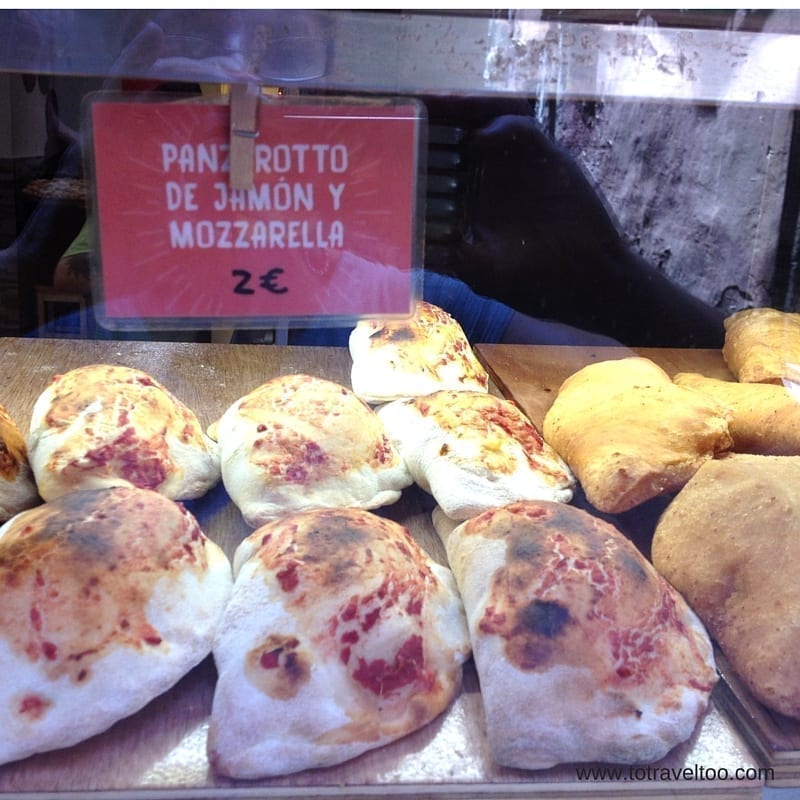 Local Tip: Self Catering in Barcelona for lunch?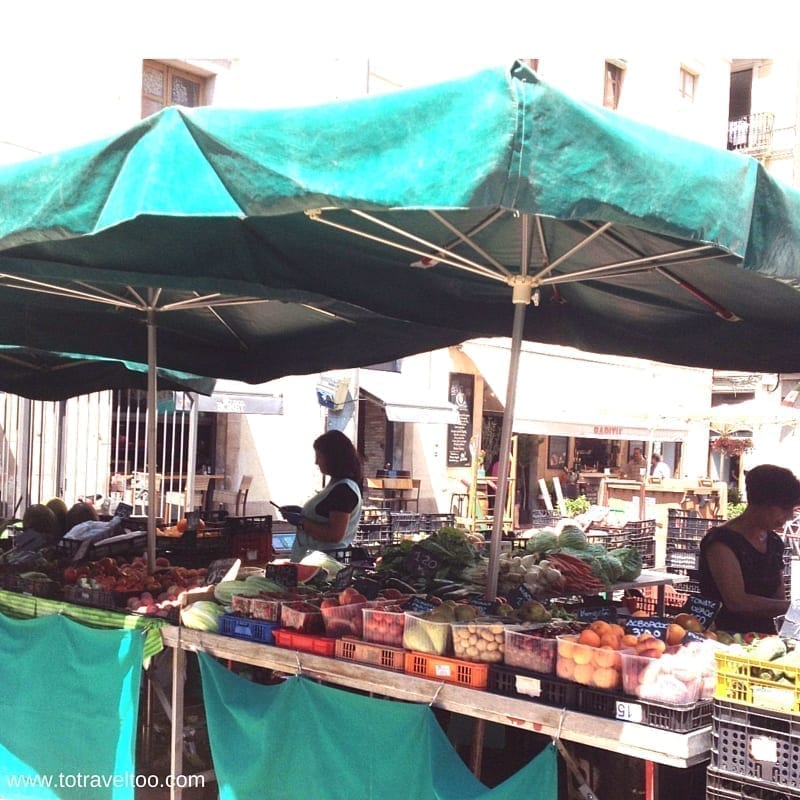 If you are self-catering and want to purchase fresh produce, to the right side of La Boqueria Market outside the building itself, you will find local growers selling their own produce at a lower price than you can purchase inside the market.
A must lunchtime visit is to La Boqueria Market off La Rambla.
You can't travel through Spain and not try the Tapas Menu and La Boqueria Market has many small tapas bars that are very busy at lunchtime. Find a spot order small tapas bites and enjoy a glass of chilled Spanish wine. Nothing is better than a tapas lunch.
100 Montaditos
Our favourite lunchtime spot for a cold pint of beer and small tapas snacks that won't break the bank 100 Montaditos.
They have several locations in Barcelona:
Plaça d'Urquinaona, 1

Avinguda de Rio de Janeiro, 42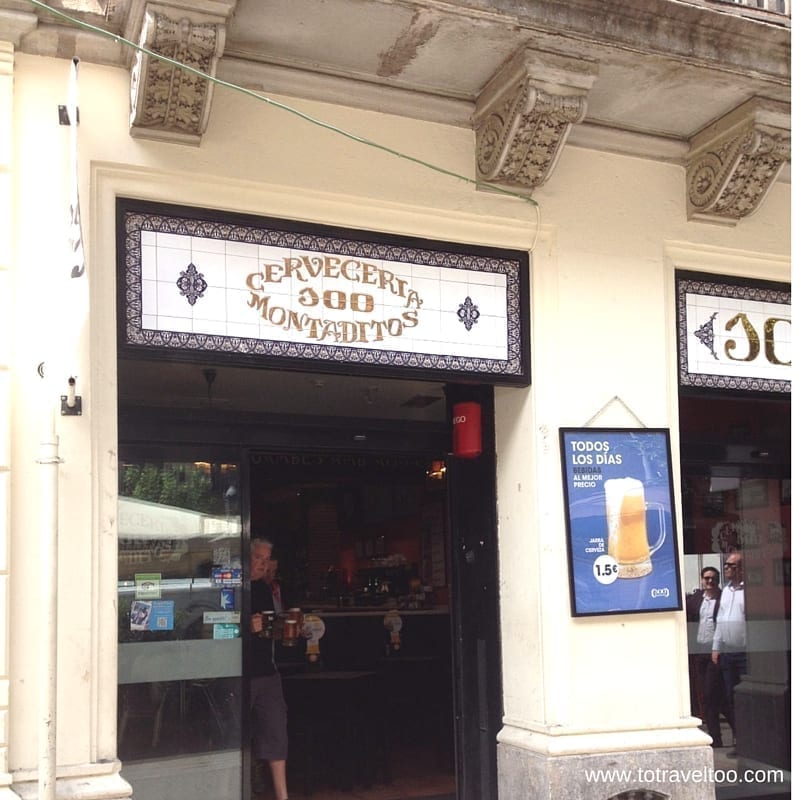 Cerveceria 100 Montaditos located on Rambla de Catalunya 11.
A pint of beer will set you back Euros 2.50 and small tapas snacks start from Euro 1.  It is a great place to sit and people watch.
Pre-Dinner Drinks
A choice of two of our local favourites.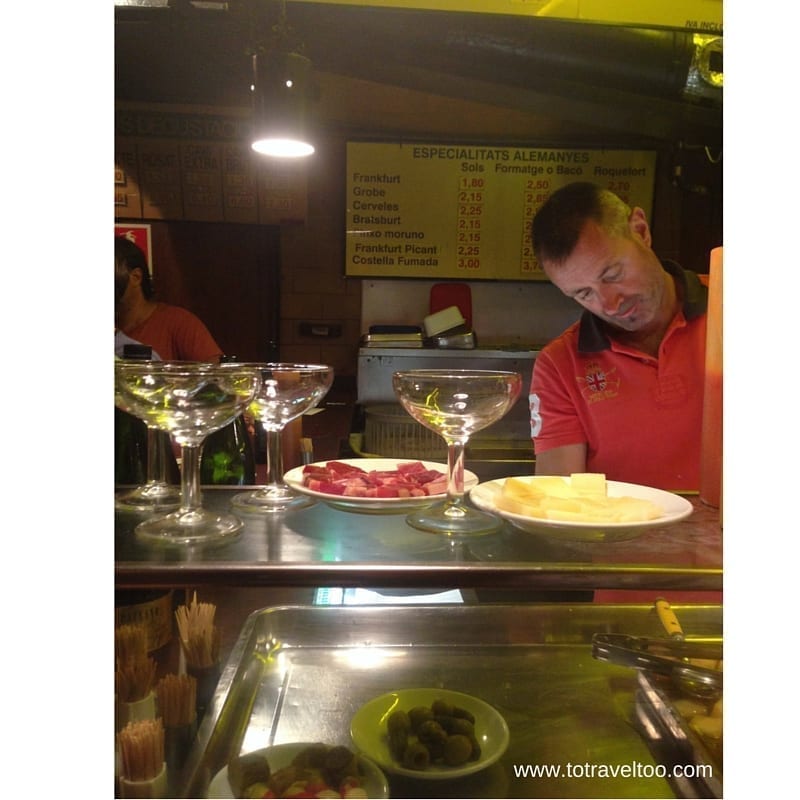 The first is La Champaneria located at Carrer Reina Maria Christina 7 Barcelona.
Can Paixano, best known as "La Champañería", is an old bar in the old Barceloneta neighbourhood. This bar is famous for their "cava" (typical Catalonian sweet sparkling wine, similar to champagne) and also for their big and tasty sandwiches.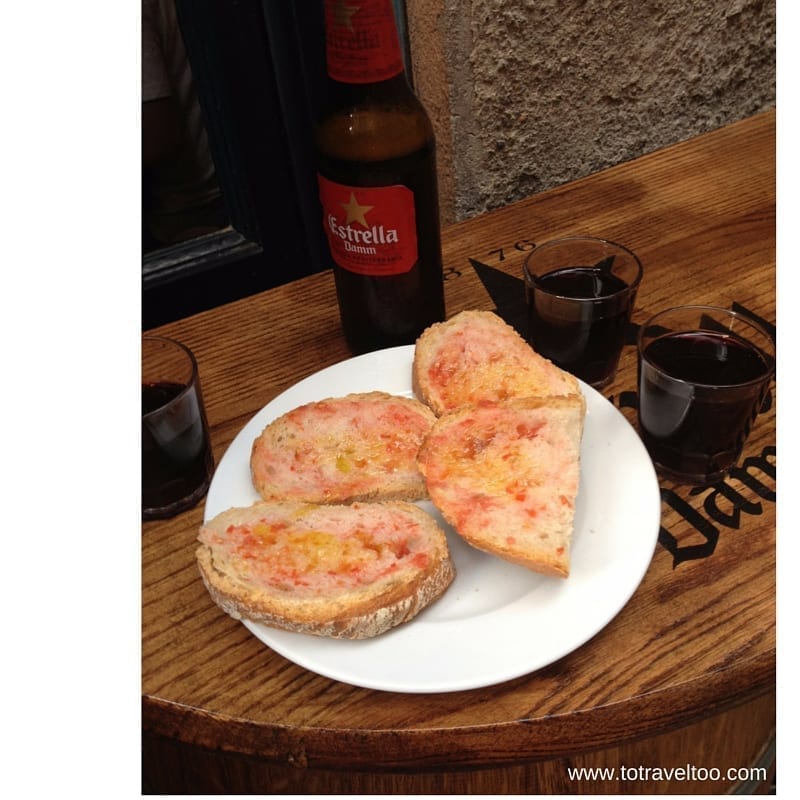 Our second choice is  La Plata Bar – for traditional tomato bread and sardines and exceptional wine.  La Plata has been awarded Barcelona's best Tapas Bar by the ABC Daily.  It is located at Carrer de la Merce #28.
Dinner
If you are still hungry we can recommend the following for light meals.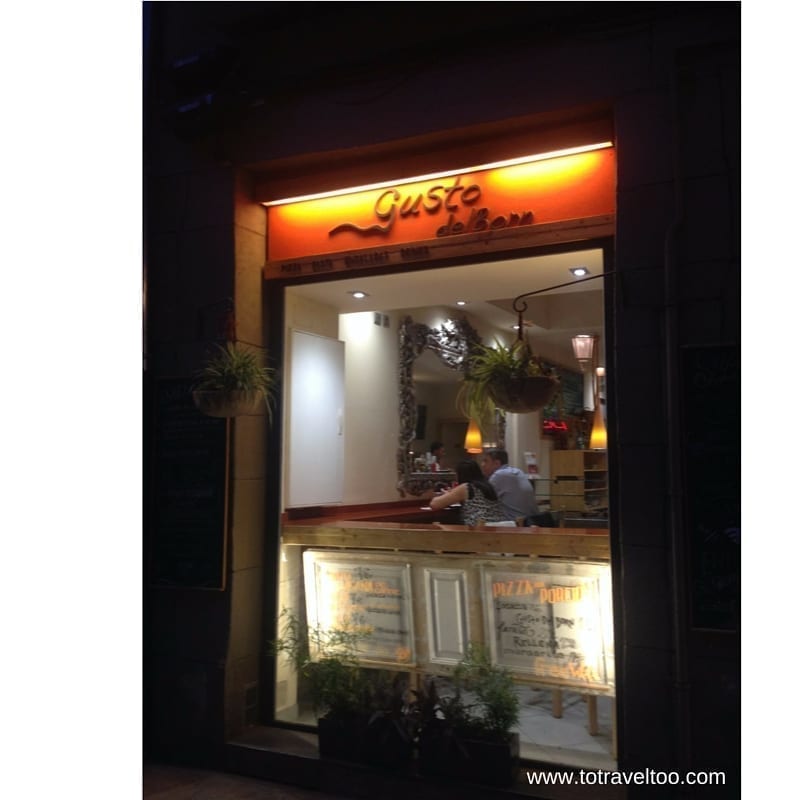 Gusto de Born for very tasty pizza slices whilst enjoying the El Born district of Barcelona. Slices range from Euros 2.00 per slice.
Address: 16 Paseo del Born.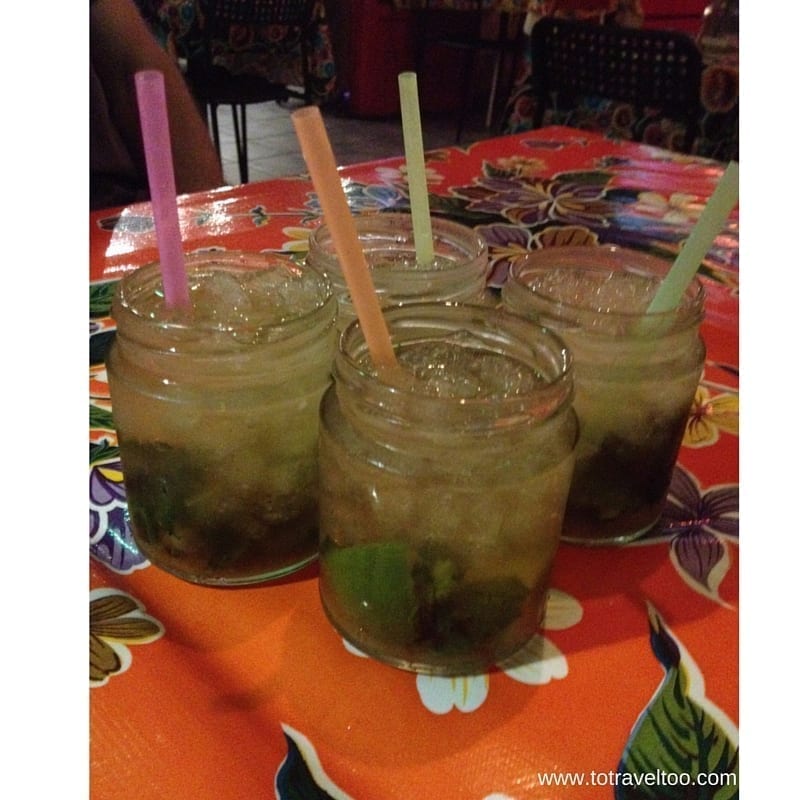 For strong flavoursome Mojitos and a varied menu try La Republica at Carrer de la Mercè, 13.
The Mojitos are Euros 2.50 each and one would probably be enough after a bottle or two of the champagne at La Champaneria or the wine at La Plata. 
Tripadvisor's Top 3 Cheap Eats in Barcelona
 Pizzeria Da Nanni Barcelona – Calle Llibreteria 10 08002 Barcelona

Teddy's Barcelona

– Carrer Escudellers12   El Gothico Barcelona 08002

Bar Santa Fe

– Wellington 17, 08018 Barcelona
Where To Stay in Barcelona
We use Hotels Combined for our accommodation needs when travelling. They have access to the best deals and use over 100 hotel accommodation sites such as booking.com, hotels.com and more
Over the years we have stayed in various hotels and locations.  Some of our favourites have been:
Som Nit Trimf has single, double and family rooms, most have a balcony overlooking the city, and maintain the characteristics of the typical Catalan house of the nineteenth century, with traditional modernist tiles. Som Nit Triomf has air Conditioning and Wi-Fi Connection Free and offers elegant rooms with a smart TV with an Internet connection and a private bathroom with shower. Many restaurants, bars, fashion shops and supermarkets are within 1 minute walk.
Address: 4º, Trafalgar, 39, 08010 Barcelona
Hotel Oasis is located just a minutes walk from Barceloneta metro and meters from França train station, and is home to the famous Barceloneta beach, beautiful parks and has plenty of great bars and restaurants. Just a short walk away are its neighbouring districts, El Born and Gothic Quarter where you can wander through the narrow streets stopping off at one of the many authentic tapas bars, shopping in it´s boutiques and taking in some of the many great cultural and historic landmarks such as Barcelona Cathedral and the Picasso Museum.
For Budget Accommodation:
This guest house is 100 m from Liceu Metro Station and Barcelona's famous Ramblas. Hostal Europa offers basic rooms in a central location and has free Wi-Fi in public areas.
More Options on Where to stay in Barcelona 
Food Tours in Barcelona
We have partnered with Get Your Guide for the latest and best Food Tours available in Barcelona.
Travel Insurance
We recommend taking out travel insurance as soon as you book your flights and pay deposits on any cruises, tours or hotels.
If you are located in Australia or New Zealand click here for the latest quotes.
If you are located in the rest of the world click below for the latest quotes.
Flight Deals to Barcelona
Find the cheapest flights with Skyscanner who then directs you to the airline's website with no extra fees to pay.
Pinterest
Are you on Pinterest? We are at To Travel Too and we have many travel-related boards check us out at Pinterest.  If you enjoyed our article why not pin it to your board.
Travel Shop
Travel smarter and safer with products from our To Travel Too Travel Shop.