Are you fans of visiting the Mayan Ruins throughout Mexico and learning about their history?
There are exciting things to see at the Palenque Ruins when you visit the state of Chiapas in Mexico. Not only can you see these incredible well-preserved ruins in the middle of the Palenque jungle you can also see a variety of wildlife.
You certainly won't be disappointed in visiting the Palenque site, it is a lot quieter than visiting Chichen Itza or Tulum which are quite touristy.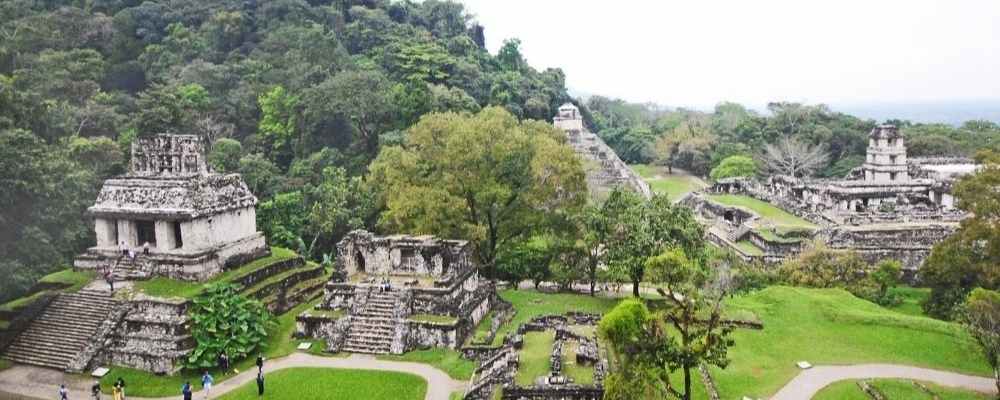 Some of the famous Mayan Ruins throughout Mexico are in the Yucatan – Izamal, Chichen Itza and Uxmal.
Further afield you can visit the Mayan Ruins in Tulum and Tikal in Guatemala.
Mexico also has Aztec Ruins – Teotihuacan which can be visited by a tour from Mexico City, the Great Pyramid of Cholula near Puebla and Monte Alban in Oaxaca.
There is not much to see around the modern town of Palenque, the drawcard really are the ruins.  Outside of Palenque, there are a few more places to visit such as waterfalls and an Eco-park which I will include further down in the article for your information.
Need a place to stay in Palenque?
This post may contain affiliate links. Please see our disclosure for more information. As an Amazon Associate, we earn from qualifying purchases (if applicable). 

How To Visit Palenque 
Opening Hours For Visiting Palenque: 8.00 am to 5.00 pm
Allow: 3 hours to visit. Take water with you and apply sunscreen – it can get very hot and steamy!
Palenque Entrance Fees: There are two lots of fees to be paid.  1.  Entrance to the Palenque National Park  M$35  (USD1.75) and 2. Entrance to the Ruins M$75 (USD3.80)
There are two ways of visiting the Palanque Ruins.
Option One – Visiting the Palenque Ruins Without a Tour
You can take a collective from Palenque town to the entrance and hire a guide, which is how we visited the Palenque Ruins. The collectivos all charge a flat rate of  MXP 20 (USD1.00) and run every 10 – 15 minutes, they will have a sign on the front that says "Ruinas". There are different prices offered by the guides so don't just take the first price given, some guides prefer to wait to get a larger group and may charge the same group price for say the two of you.
Good to know: Some guides are pushy – these are the ones to avoid. They will follow you around and harass you.  Just keep walking away until you find someone that you are comfortable with.
Second Option
The second option is to take an organised tour which includes visiting the ruins as well as local waterfalls and ponds of Agua Azul Cascade and Misol-Ha Cascade.
Check availability here
Where is Palenque
The modern town of Palenque is a few kilometres away from the impressive Mayan site of Palenque in the state of Chiapas about 800 km southeast of Mexico City.
The Palenque ruins are 5 km from the town.
Bus travel is easy to visit Palenque Town:
From San Cristobal, the journey is 9 hours and there are several daily buses
Tuxtla Gutierrez is 6 hours away
Villahermosa is 2.5 hours away
Merida is 8 hours away
Campeche is 5 hours away
Cancun is 13 hours away
Mexico City – the bus journey is approximately 16 hours – one or two buses operate daily
Oaxaca – 15 hours away
Playa del Carmen – 12 hours away
Tulum  – 12 hours away
There are two bus stations in Palenque
The address of Central de Autobuses ADO is Palenque – Pakalná LB Tulija, 29960 Palenque
Aexa SA de CV Buses – Av, Central Pte. No. 182, La Cañada, 29960 Palenque
Check the latest schedules and ticket prices here for ADO Buses.
Exciting Things to do at the Palenque Ruins
Map of Palenque
Facts About The  Palenque Ruins
The Chiapas Mayan Ruins dates back from 226 BC  to 800 AD.  Originally they were known as Lakamha which means "Big Water".  The ruins fell into decline and became overgrown by jungle.
Palenque is smaller than Chichen Itza and Tikal.
It is a UNESCO World Heritage Site.
During the reign of Pakal The Great – 615 – 683 AD many of the structures of Palenque were constructed.
In the 1830s Palenque was rediscovered and photographs were taken by two European Explorers – Desire Charnay and Alfred Maudslay
Palanque was one of the most powerful cities in classic Maya.
During the 1950s excavations started.
By 2005 the excavated area had covered 1 square mile.  It is believed that there are still over 1000 structures still overgrown by jungle ready to be discovered.<
Mayan Ruins of Palenque
The Temple of The Inscriptions and The Royal Tomb
It is interesting to find that the Temple also can be the royal tomb, this is unusual in other Mayan sites.  The temple is important as it houses the second-longest Maya glyphic text known recording 180 years of Palenque's history. In the 1950s Pakal's tomb was discovered by an archaeologist down a hidden passageway.
The temple stands 23 metres high and is very well-preserved.
It has a 9 tiered pyramid platform,  that contains 69 steps,  and as our guide pointed out that the number 9 that is represented by the 9 tiers relates to the Mayan underworld.
The Palace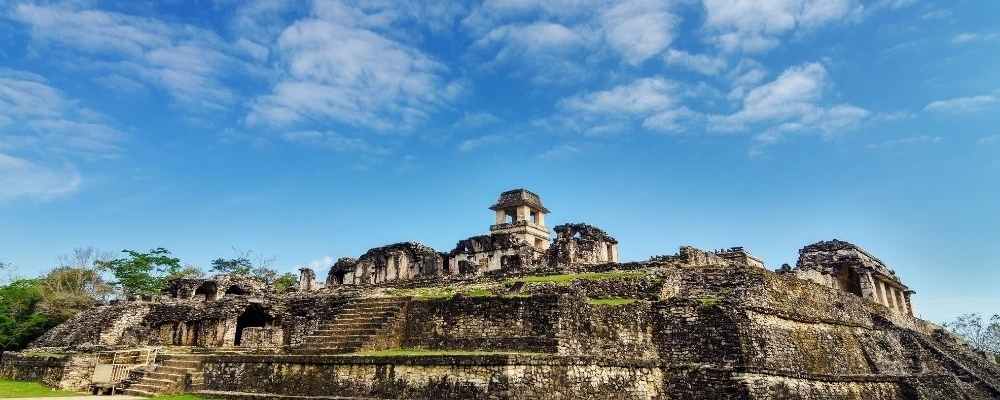 The Palace is believed to have been used for various purposes such as the administration centre for the region, a residence for the aristocracy and high priests and the top of the Palace was used for astronomy. The palace has a four-storey tower that contains glyphs that were used for ritual and astronomical purposes.
During the winter solstice, you will note that the sun sets directly over the Temple of Inscriptions from the Palace.
The Temple of the Sun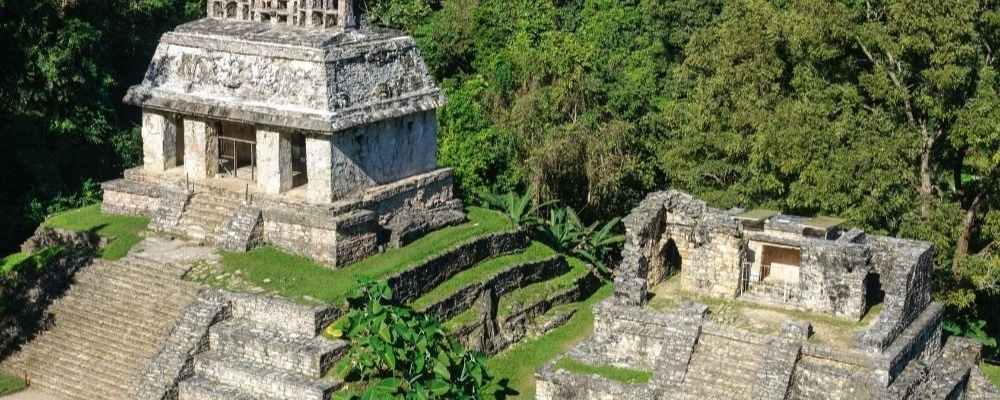 The Temple of the Sun has a unique roof and houses an important panel that depicts scenes that involve the King Serpent -Jaguar.
Skull Temple Palenque
Beside the Temple of the Red Queen or Temple XIII is the Temple of the Skull.  The temple is not open for viewing.  It is named the Temple of the Skull due to a corridor that leads from top to a tomb containing a sarcophagus of an unknown ruler. The temple is named after the skull of a rabbit whose shape is seen on a full moon. It is thought that the Mayan Moon Goddess holds a rabbit in her hands.
The Temple of the Count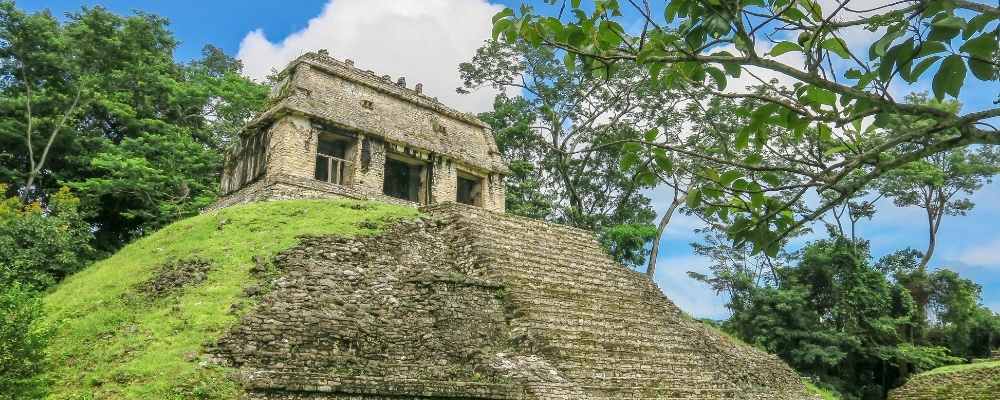 The Temple of the Count is a pyramid with a temple on top. It is the oldest of the structures that have been excavated.
Temple of the Foliated Cross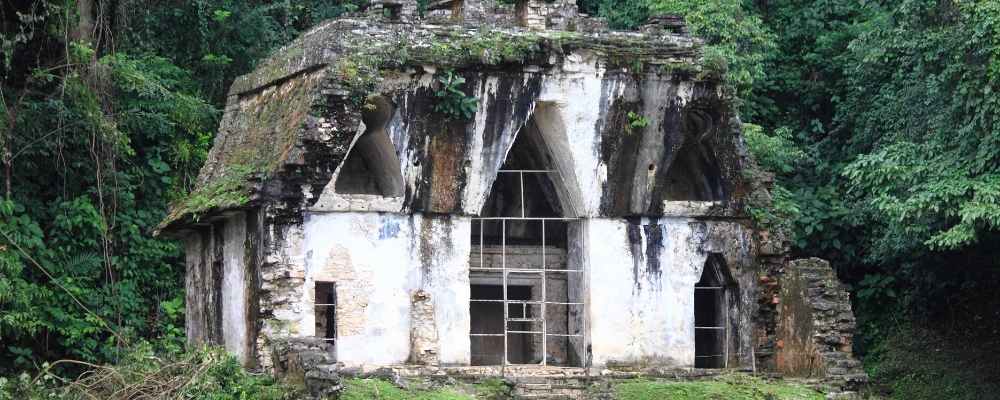 The Temple of the Foliated Cross is part of the three temples that form the South Complex or Cross Complex.  It is the smallest temple of the three temples and is impressive as it is surrounded by jungle atop a small hill.
Temple of the Red Queen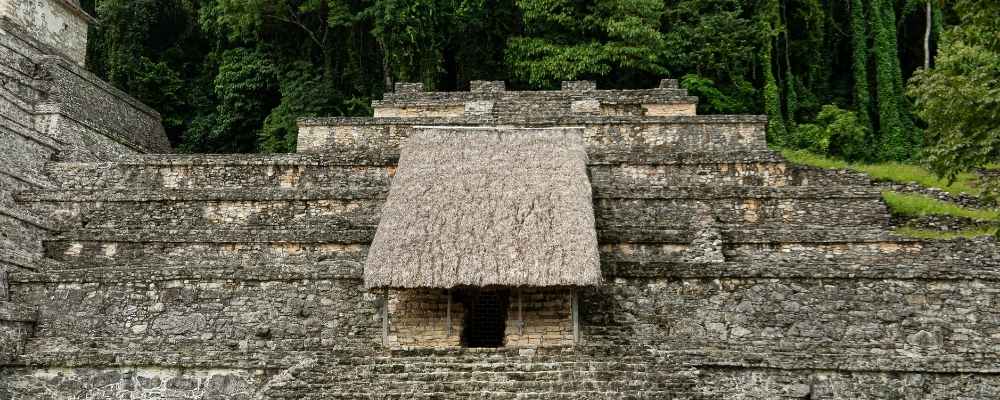 Located next to the Temple of Inscriptions is the Temple of the Red Queen which is also known as Temple XIII.  The Red Queen could have been the mother of Kinich Janaab Pakal (23 March 603 CE – 31 March 683 CE) the King of Palenque or his wife.  You can view her empty tomb.  She was named the Red Queen as she was covered in a red mineral known as cinnabar. Kinich Janaab Pakal ruled from the age of 12 for  68 years.
Frequently Asked Questions about the Mayan Ruins of Chiapas
When is the best time to visit the Palenque Ruins?
The best time to visit is early morning when the gates first open.  You may be lucky to experience the mist rising up from the jungle and the screeches from the howler monkeys and birds.
Is it true that an underground water system was found under the Temple of Inscriptions?
Yes, an underground tunnel was found under the Temple of Inscriptions by archaeologists. Gonzales,  one of the archaeologists, believe that the Temple and its tomb was built above the water spring.  The tunnel was located under the tomb and it is believed that the waters gave King Pakal a spiritual path to the underworld.
The Mayan people of Palenque built a sophisticated system of dams, aqueducts, canals, and reservoirs. They were creative as they were able to harness the water through their unique systems where we found other Mayan sites had to find ways to store water during the dry season.
Is Palenque located on a river?
Palenque is located on the Usumacinta River overlooked by the Tumbalá mountains.
More Things To Do Around Palenque Mexico
Yaxchilan & Bonampak Ruins and Lacandon Jungle from Palenque
Visit the ruins of 2 Mayan sites on a full-day tour of Yaxchilan and Bonampak. Cruise along the Usumacinta River and venture deep into the heart of the Lacandon Jungle.
Duration of tour: 13 hours.
A jungle wildlife park with birds, mammals, reptiles, tortoises with a manatee breeding area and the opportunity to feed the crocodiles.  It is located only 4km from Palenque town.
Address: Carretera, Ruinas-Palenque Km 2.6, 29960 Palenque
Where To Stay in Palenque
If we were to visit Palenque again we would stay in one of the resorts that are located closer to the Archaeological site, there is really not much in Palenque town itself.
If you want to stay in town here are some recommendations:
Hotel Maya Rue (where we stayed) at Calle Aldama s/n entre Juarez y 5 de Mayo.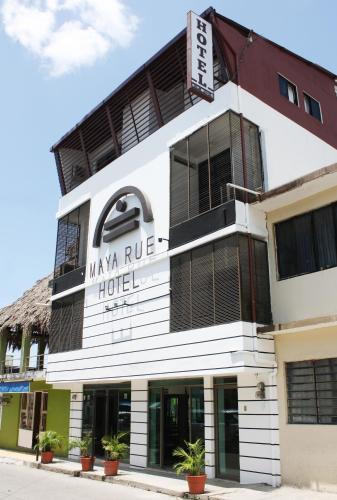 Budget accommodation but very clean, wifi worked well. The location is 200 m from the town square.  The ADO Bus Station is a 5-minute walk away. Rated 8.2 on booking.com and breakfast is included.
Guest review: "The location was excellent to the centre and to ADO bus station. The room was clean and perfect for our nights stay. Breakfast was great! "
Check availability here
Address: 20 de Noviembre s/n entre Aldama y Abasdo Palenque
Check availability here
Set in a bright town house a 5-minute walk from Palenque's Central Park, Posada Aguila Real offers a 24-hour reception and simple rooms with private bathrooms. The Palenque Archaeological site is a 10-minute drive away.
Each air-conditioned room at Posada Aguila Real has a private bathroom with hot water and free toiletries. All rooms have a TV, while free Wi-Fi is available in public areas.
Latest review: "small hotel in the middle of Palenque, we stayed there for 1 night, perfect breakfast and a big bed with aircon. I recommend it for a short stay, you can also park the car in a private space."
Hotels Closer to the Palenque site:
Hotel la Aldea del Halach Huinic
Address: Carretera a las ruinas 2.8km from the city centre
Very comfortable 4-star accommodation with swimming pool, restaurant, free Wifi and bar.
Guest review: A little paradise! Right in the jungle you can hear howler monkeys and see macaws flying over your head! The site is very clean and beautiful. The food at the restaurant was really great and at a good price too. Great location if you want to go to the Aluxes park (5min walk). You can also take a collectivo to the archaeological site of Palenque for 20$pesos and it's only 5 minutes away.
Check availability
Address: Carretera Palenque Ruins Km4.5
Charming bungalows that overlook the garden with a swimming pool. The ruins are located 2.2 km away.
Guest review: This is a really nice place in the middle of Palenque jungle. There are loads of animals around to see. I was lucky to see some howler monkeys (funnily enough didn't hear them but saw them jumping in the trees) It's very close by colectivo to Palenque ruins so no need for booking a tour. The cabañas are very nice with comfy beds.
Check availability here
Where to Eat in Palenque
The #1 Restaurant in Palenque is Restaurante Bajlum (Mexican Fusion) at Carretera Palenque Zona Arquelogica Km 2.8
Don Muchos (Italian Mexican) at Carretera Ruinas Km 4.5
Do you need a visa for Mexico
Travel Insurance
Travel Insurance is important when you travel. The time to purchase your travel insurance is once you have booked your flights and hotels and paid deposits on tours and cruises.
Flight Deals
We use Skyscanner for our flight deals when we travel!
Bus Travel
Book your bus tickets here. We travel via ADO Buses throughout Mexico..
Conclusion: We hope you enjoyed our Palenque Travel Guide. If you have any questions on visiting Palenque please reach out to us, we are here to help you plan your visit.
Feel free to share our article with your family and friends.
Pinterest
Are you on Pinterest? We are at To Travel Too and we have many travel-related boards check us out at Pinterest.  If you enjoyed our article why not pin it to your board.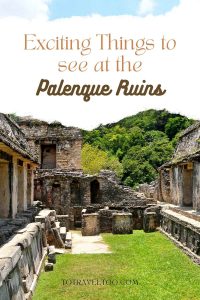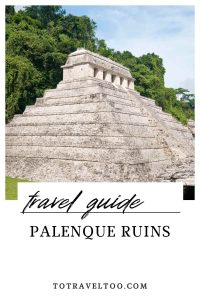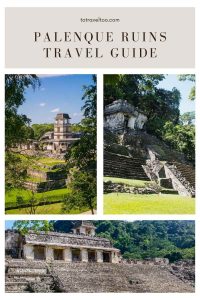 Further reading:
We have written an e-book on Mexico – you can purchase it here
We highlight the best of Mexico with travel tips and more.
Our travel shop
Visit our To Travel Too Travel Shop
Travel smarter and safer with products from our To Travel Too Travel Shop.  If you are looking for the latest luggage, guidebooks or travel accessories we have you covered with over 800 travel products to choose from.