If you are after fun farm holidays for families you can't go wrong with our top 5 Farm Stays in NSW in:
Exeter in the Southern Highlands
Kurrajong Heights in the Blue Mountains/Bilpin Area
Dubbo
My childhood was spent on a farm in the Southern Highlands and it was the best years of my life. I  spent my time outdoors riding horses, caring for cattle, sheep, pigs, chickens and the odd wombat and kangaroo.  Our family reared baby calves and new-born sheep by hand when their mothers did not make it, spending nights with them by the Aga cooker making sure they got enough milk to drink and were warm enough to survive through the long nights.
When we had our two boys we lived in the city of Sydney and they missed out on the experiences of being on a farm.  As the boys grew up we made sure that they had farm experiences and some of their most memorable were farm stays in France and in Western Australia during school vacation times.
Farmers in Australia are now opening up their properties to farm stays.  Times have been tough, they have experienced drought, flood and fires over the past decades and are looking at ways to diversify and make more income and share their love for farming.
We have researched some of the best NSW farm stays available for your next family vacation.
Join our Staycation Australia Facebook Group below:
Farm Stay Southern Highlands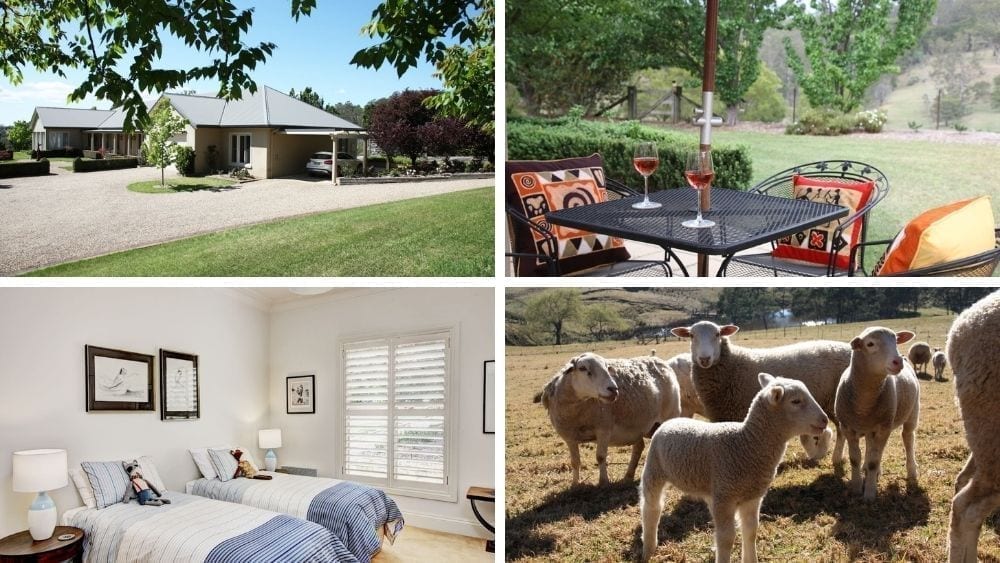 Latest Guest Review:
"Exeter Farm Stay is a delight! We loved exploring the expansive property and the guided introduction to the animals from Jill. The farm is full of treasures, from the hidden cabin to the stunning garden and child-friendly animals. It is a wonderful oasis also in close proximity to other experiences in the nearby villages. Highly recommend! We're looking forward to returning!"

Accommodation: Self-contained apartment available for 4 guests with 2 bedrooms, 3 beds and 1 bath provided by Super Host Jill.
living room with wood fire
kitchenette with microwave
dining/breakfast room
heated floor
private terrace with BBQ
enjoy afternoon tea or a sundowner with nibbles at the small cabin hidden away in the secluded valley
Property: 140 acres with 60 acres of natural bushland
Farm: Meet and feed the animals and ride in the farm truck
Dexter cattle
Suffolk sheep
Angelique the Alpaca
Birds, kangaroos, wombats and you may get to meet the echidna at times
Where is Exeter
Exeter is located in the Southern Highlands about 120 km from Sydney. The major towns of the Southern Highlands are Mittagong, Bowral and Moss Vale.  Mittagong is around a 30-minute drive to Exeter.
What are the top things to do in Exeter
Visit the Exeter General Store
Address: Cnr Bundanoon Road and Exeter Road Exeter
Opening Hours: 7 days a week. The cafe is open from 7.30 am to 4.30 pm on weekdays and on weekends from 8 am to 4.30 pm.
Enjoy some wholesome family cooking in the cafe, browse through the 2nd handbooks or purchase gourmet food products from local producers.
Visit Exeter Markets:
A bustling country market with local home-made produce, hand-crafted homewares, plants, fashion, jewellery and second-hand goods.
Future market dates:
4 Jun 2022, 9:00 am – 1:30 pm
6 Aug 2022, 9:00 am – 1:30 pm
3 Sep 2022, 9:00 am – 1:30 pm
1 Oct 2022, 9:00 am – 1:30 pm
5 Nov 2022, 9:00 am – 1:30 pm
3 Dec 2022, 9:00 am – 1:30 pm
Address: Exeter Park, 10 Exeter Road, Exeter
Explore Exeter's Historic Railway Station
The heritage-listed railway station was opened in 1878 and was known as Badgery's Siding until it was renamed Exeter Railway Station in August 1890.
Visit the local wineries:
Address: Oldbury Road Sutton Forest
Open from Thursday to Monday 11.00 am to 4.30 pm
Address: 12324 Hume Highway Sutton Forest
Open 7 days a week from 10.00 am to 5.00 pm
Address: 252 Centennial Road Bowral
Open 7 days a week from 10.00 am to 5.00 pm closed on Christmas Day, Boxing Day and New Years Day
Address: 3020 Old Hume Highway Berrima
Opening Hours:
Cellar Door: 10 am to 3 pm daily
Bookstore: 9.30 am to 5 pm daily
Coffee & cake from 10 am
Lunch weekdays from 12 pm
Lunch on weekends from 11.30 am
Visit Fitzroy Falls
Address: 1301 Nowra Road Fitzroy Falls
Car Parking: $4 per vehicle
Visitor Centre: Open 9 am to 5 pm closed on Christmas Day
Fitzroy Falls walks – easy walks for all ages around the East Rim or West Rim. Relax with a picnic at the Fitzroy Falls Reservoir where the children can enjoy the playground.
Address: St Jude Street Bowral
Museum Opening Hours: 9 am to 4 pm daily closed Public Holidays
Bradman Cafe: Open from 8 am to 4 pm
From the website: "It was Sir Donald Bradman's vision that 'cricket continue to flourish and spread its wings. The world can only be richer for it.' To honour this vision, the museum has been expanded to not only show the importance of the Don's contribution to cricket and Australian history, but also cricket's important role throughout the world. As one of the world's most popular sports, cricket has the capacity to bring different cultures and nations together. The Museum recognises this potential."
Farm Stay Hunter Valley
Latest Guest Review:
"Location is awesome, just at the right place. Loved our stay there and my kids loved the trampoline outside. For them, it was their first farm stay with chickens and other animals, they loved it. The place was sparkling clean and will definitely visit again."

Superhosts Catherine and Tony have accommodation in a 2-storey architecturally designed home suitable for 8 guests in 4 bedrooms, 6 beds and 2.5 bathrooms on a working olive and cattle farm. If you have more family members contact Catherine and Tony.
Facilities include:
custom-designed kitchen
upstairs deck
wine fridge
stocked panty
bbq
wifi
open fireplace
Activities include:
feeding the cattle, horses and alpacas
meeting the dogs and chickens
outdoor equipment for the children
wander through the olive groves
Planning your Hunter Valley Farmstay? Read our guide on what to do in the Hunter Valley, where to eat and more here
Farm Stay Mudgee
Latest Guest Review:
"Great weekend for the whole family. Kids loved feeding the horses and alpaca's, swimming in the river and playing pool – with a few cellar door outings for the parents! House is well set-up and in a perfect location."

Superhosts Ashleigh and Laurie offer accommodation for 8 guests in 4 bedrooms, 5 beds and 1.5 baths just 15 minutes from Mudgee overlooking the Riverlea Valley.
Facilities include:
luxurious farmhouse kitchen
open plan dining and lounge area
indoor open fireplace
air-conditioned
360-degree views from the verandah
Activities include:
pat the horses
say hi to the alpacas
float in the river
hike the countryside
Planning a Mudgee getaway and wondering what to do when you get there - read our article on What to Do in Mudgee here
Farm Stay Blue Mountains
Guest Review:
"The cabins are very comfy, and lovely and clean. The woodfire oven was amazing to keep the cabin warm. The alpacas are a treat, especially for the kids! Lots of recovery efforts after the bush fires hit the land and impacted on the property. Lovely spot to visit Bilpin and explore."

Superhost Anne has 8 cabins on 83 acres 1-hour drive from the 3 Sisters and Jenolan Caves. Accommodation available is for 5 guests, 1 bedroom with king-size bed, a double sofa and a single day bed is in the living room.
Facilities include:
slow combustion wood heater
open plan living room
18m indoor solar heated swimming pool
tennis court
gazebo with BBQ
common room library with DVD selections
Activities include:
hand-feeding the alpacas at 9 am and 3 pm daily
mingle with the hens
bushwalking through the Wollemi National Park
Top Things To Do in the Blue Mountains
Dubbo Farm Stay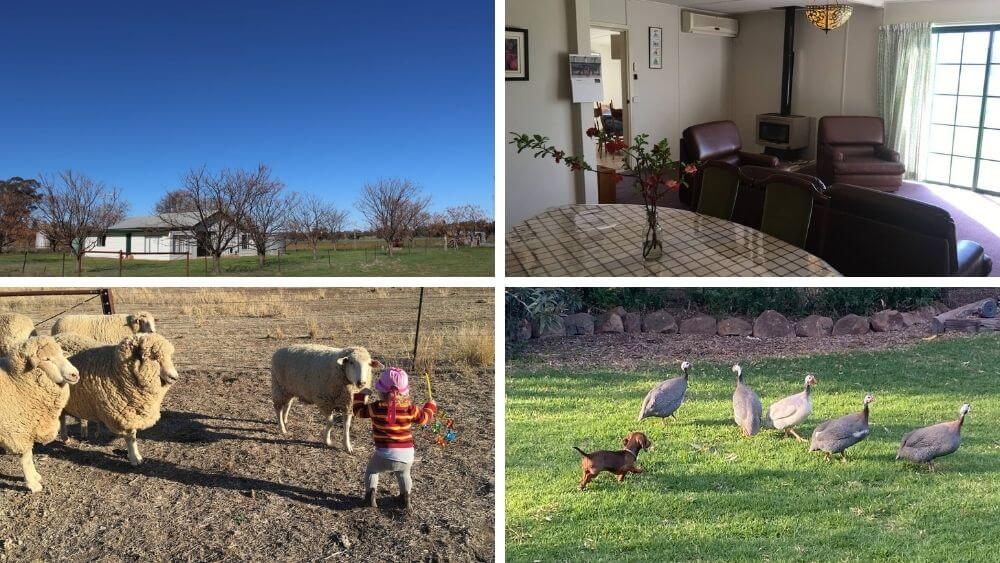 Guest Review
"This is a wonderful place to stay for so many reasons. Clare, the host, gives you space and yet has the genuine warmth to connect – we loved meeting and feeding the baby lambs and watching the shearers. The accommodation is basic, but was exceptionally clean, comfortable, and has such a feel-good charm about it. You sink into the couches and can daydream looking out the window at the fields. I have recommended this place to my friends already! My 14 and 12 year old can't wait to go back."

Superhost Clare offers accommodation in a 2 bedroom cottage for 5 guests, 3 beds and 1.5 bathrooms 25 km from the Western Plains Zoo.
Facilities include:
slow combustion fire
a porta cot and high chair is available for guests with infants and
BBQ facilities on the verandah
wifi
complimentary eggs for breakfast from the farm's hens
views across the paddock to the creek with 100-year-old gum trees
Activities:
pat the sheep
feed the chickens
depending on the time of year you can bottle-feed lambs and calves
watch the kangaroos grazing
Our travel blogging friends - Y Travel Blog have written an article on Things To Do in Dubbo With Kids - read it here
Flight Deals
Find the cheapest flights with Skyscanner our 'go-to' when researching and booking flights.
Conclusion
We hope you enjoyed our article on farm stays in New South Wales.  Feel free to share our article with family and friends.  If you have stayed at one of the farm stays in NSW mentioned in our article let us know or if you have other recommendations we would love to hear your thoughts over at our Staycation Australia Facebook Group.
Pinterest
Are you on Pinterest? We are at To Travel Too and we have many travel-related boards check us out at Pinterest.  If you enjoyed our article why not pin it to your board.