Are you visiting Santiago and wandering what to do? How about a Free Walking Tour Santiago Chile?
Santiago in Chile was our first experience of a Free Walking Tour.  Since that first tour, we have been hooked!  If there is a Free Walking Tour in a city, it is usually the first thing we do. We learn so much and we enjoy the snippets of information that the guides share with you. We get a personal viewpoint on the city from a local's point of view. Who loves locals tips on where to eat and what to do in the city which is off the beaten path?
Have you taken a Free Walking Tour?
Want to view the city first from the iconic Sky Costanera?
Witness unforgettable, panoramic views over Santiago from the observation deck of the iconic Sky Costanera, Latin America's tallest building. Let your jaw hit the floor as you are elevated 62 floors to fantastic 360-degree views over the Andes mountains. Book here.
Our Free Walking Tour Santiago Review
Our first walking tour ever was in South America and it was conducted by Johnny, a Scotsman, passionate about Santiago his adopted hometown. It was one of the best things to do in Santiago Chile.
(Editor Updated 2021)
Read more: Day Tour to Valparaiso and Vina del Mar in Chile
Where is Santiago Chile
Santiago is the Capital of Chile and lies in a valley in the centre of the country between the Andes Mountain and the coast.
For more information on Santiago Chile prior to your Free Walking Tour 
This post may contain affiliate links. Please see our disclosure for more information. As an Amazon Associate, we earn from qualifying purchases (if applicable).
Plaza de Armas is considered the centre of Santiago and all distances to and from Chile are measured from this plaza.  It is here you will find the sculpture in honour of Chile's Mapuche People. The Mapuche People are from south-central Chile and are the largest ethnic group in Chile. They make up 9% of Chile's population.
Palacio la Moneda is the seat of the President of Chile.  The building began construction in 1784 and was officially opened in 1805.  During the period 1814 – 1929 the building was used for the production of Chile's coin currency.
You can enjoy the changing of the guard at 10 am on weekdays and 11 am on weekends.  The changing of the guard takes place every 2 days; in odd months on odd days and in even months on even days.
Chile's Flag

 
Chile's Flag is located on the grounds of the Palacio and is the size of a football oval.
Even street dogs enjoy the free walking tour, this friendly dog follows the group to ensure everyone gets to the next location and sometimes takes the lead.  He is rewarded by a drink from one of the local vendors.  He joins in every day.
The castle originally was used as a lookout for the planning of the city of Santiago.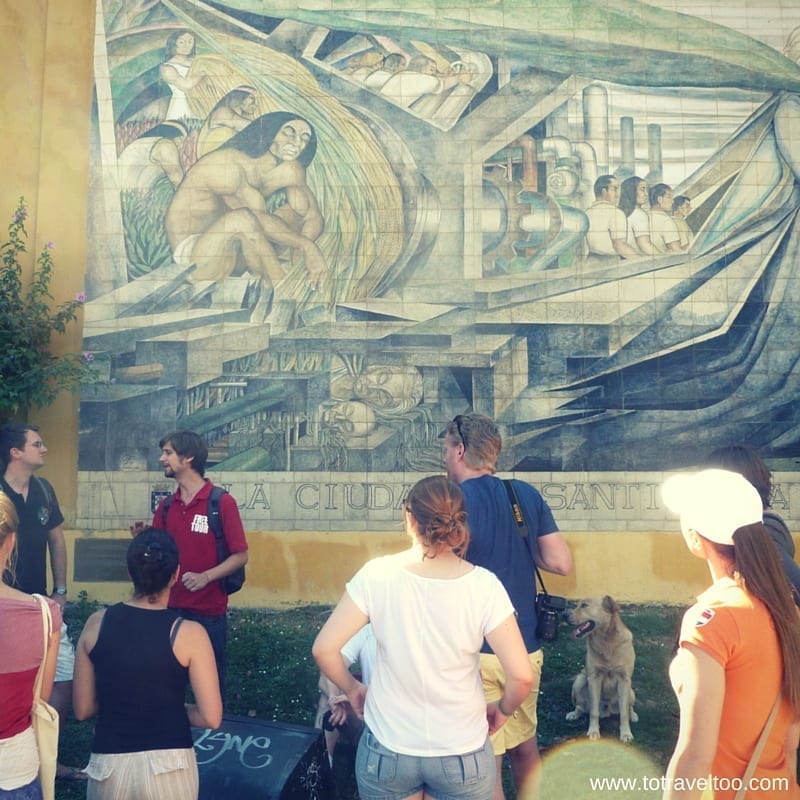 "Mural – The City of Santiago to Gabriella Mistral"
This is a mural tribute to Santiago's Nobel Prize winner Gabriella Mistral who took out this literature award in 1945.  It is the work of the painter Fernando Doza.
Note our four-legged friend, waiting patiently for us to take photos before we move to the coffee shop where he can rest in the shade.
All free walking tours usually have a break halfway through.  We enjoyed our coffee at the "Wonderful Cafe" – well named.  It is located at Jose Victorino Lastarria 90.
On the way to the Bellavista Neighbourhood, we came across this unique building!  This whole street was dedicated to local 2nd hand booksellers.
Across the Mapuche River, you will find the bohemian Bellavista Neighbourhood – full of cafes, restaurants, bars and street theatre. For a list of the top 10 restaurants and bars click here.
The Santiago Walking Tour Full Itinerary:
Plaza d Armas- Cathedral, Municipalidad, Correos Post Office
Museo de Arte Pre Colombino (Pre-Columbian Art Museum)
Antiguo Congresso – Old Congress Building
Corte Suprema – Supreme Court
Palacio La Moneda – Government House
Bolsa de Comercio – Santiago Stock Exchange
Teatro Municipal – Opera House
Cerro Santa Lucia – Santa Lucia Hill
Barrio Lastarria – Lastarria Neighbourhood
Museo de Bellas Artes – Museum of Fine Arts
Parque Forestal – Forestal Park
Plaza Italia – Italy Square
Barrio Bellavista – Bellavista Neighbourhood
Casa de Pablo Neruda – Neruda Museum
Cerro San Cristobal – San Cristobal Hill
General Information on the Free Walking Tour in Santiago
Website: www.freetoursantiago.cl
Tel 9-2368789
[email protected]
Meeting Point: is in the front of the cathedral of Santiago (metro station Plaza de Armas line 5) they will be wearing a red tour t-shirt.
How much to tip?
As they do not charge for this tour they rely on tips and the amount recommended is between 5000-8000 pesos.
Duration

:
4 hours
Other Things To Do in Santiago Chile
We are very happy using Get Your Guide in activities in cities that we visit.  We love their 'best price guarantee' which means if we find the same activity by the same local tour operator in the same currency for less they will refund the difference.  Currently, they offer over 35,000 activities in over 7,600 locations.
There is so much to do in Santiago City here are some Santiago Chile tours  for you:
Vina Del Mar and Valparaiso Tour
Maipo Canyon Volcano and Hot Spring Tour
Tour Isla Negra, San Alfonso and Pomaire
If you enjoyed our Santiago walking tour please check out our other posts on free walking tours:
Free Walking Tour Buenos Aires
Where To Stay in Santiago Chile
Santiago Hotels
Plaza El Bosque Nueva Las Condes at Manquehue 656 Las Condes Santiago
Hotel Casa Real – Santa Rita at Camino Padre Hurtado Santiago
One of our favourite neighbourhoods – Hotel Stanford Chile at Coronel 2380 Providencia
Location is all-important when choosing accommodation here is another recommendation in the Providencia area – Solace Santiago at Monsenor Sotero Sanz 115 Providencia
Our favourite budget accommodation in Santiago is Ventana Sur with its own swimming pool in the Providencia area.
More reading:
Essential Visitor Information for Santiago Chile
Getting To Santiago
Santiago's airport is 17 km from downtown.
You can pre-book your airport transfer here.
Getting Around Santiago
Book your bus tickets around Chile and the rest of South America here.
You can tour Santiago with their Hop On Hop Off Bus. Purchase your tickets in advance here.
Cheap Flight Deals to Santiago Chile
Find the cheapest flights with Skyscanner  our go-to when researching and booking flights throughout the world.
Travel Insurance
We recommend taking out travel insurance as soon as you book your flights and pay deposits on any cruises, tours or hotels.
Visa requirements for Chile
Do you need a visa?

Pinterest
Are you on Pinterest? We are at To Travel Too and we have many travel-related boards check us out at Pinterest.  If you enjoyed our article why not pin it to your board.
Travel Shop
Travel smarter and safer with travel products from our own To Travel Too Travel Shop.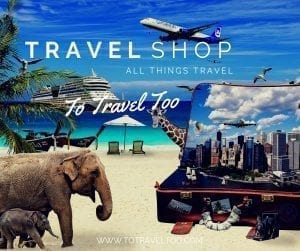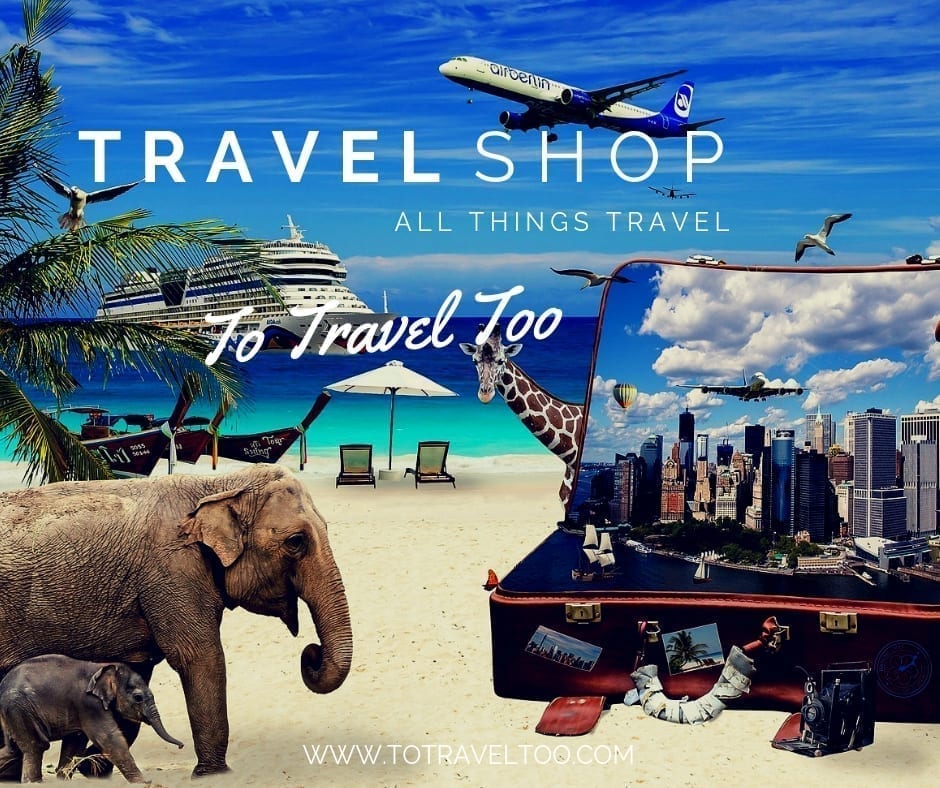 Have you heard of GPSmycity? You can now take our articles with you as you visit the cities that we have written about with this cool app! Click our City Walks banner.