Our GPSmyCity Giveaways for you for one week only November 13, 2017.
How many times have you walked around a city and wished that you did not have to carry around that heavy guidebook, local map supplied as well as a camera, mobile phone and that bottle of water?
Or how many times have you read a destination article and wished that you could have it at your fingertips on your mobile phone for reference as you visit a city?
As travellers who are continually on the road we needed a way that we could have access to the sites that we wish to visit in a new city. We needed GPS navigation from our current location. We have found it and we would like to share it with you – a GPS guided article by GPSmyCity (available on iOS and Android).
What is a GPS Guided Article from GPSmycity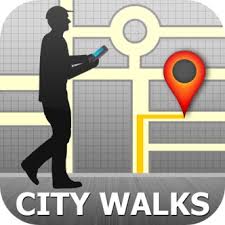 A GPS guided article is one that takes the article that you have just read with the writers suggested routes with GPS co-ordinates embedded in it. How easy is that? You can become your own tour guide, visiting the sites in your own time, morning or afternoon and stopping along the way for a coffee break or lunch and dinner.
GPSmy City has now over 1000 worldwide cities listed available for downloaded GPS offline guided articles.
Here are 10 examples for you, we have many more available for download:
A Walking Tour of Triana in Seville, Spain
Things to Do in Izamal Yucatan Peninsula
Why You Should Visit Gamla Stan in Stockholm
At least 6 reasons to visit Bangkok
Walk See Eat and Repeat in Cusco
Once you have downloaded the app it is simply a matter of downloading the articles on the cities that you are visiting. Apart from the articles there are offline city maps and self guided walking tours. Can you imagine all these at your fingertips already downloaded.  Travel made easy!
Our Special Gift
We are excited to announce that GPSmyCity has a special App Giveaway for one week commencing 13th November using 3 of our recent articles. Throughout that week you will be able to upgrade the following apps for FREE. The giveaway is only valid for iOS only at this time.
If you are planning to visit Mostar in Bosnia, or Madeira in Portugal or what about taking a Food Tour in Porto we have you covered in this special giveaway.
Together we plan to give away the following three article apps:
How do you Access GPSmyCity
After downloading the App you can type in the destination and select the article or articles that you want to download and save it to 'my downloads' which can be accessed offline whenever you need it.
You can also view the maps offline and points of interest along the route can be accessed via clicking on the pins.
There are two ways to access article apps on your IOS device. You can either click on the link at the end of a blog post that has been turned into an app (if you haven't already downloaded the free GPSMyCity app you will be prompted to do so). Or, once you have the GPSMyCity app, you can browse by city to see what articles are available. You can then download the article for free or upgrade for offline use and GPS tracking.
To get your free upgraded app you need to click on the link for the article(s) you are interested in. Then follow the instructions to download the GPSMyCity app. You will then be taken to the page for the article app – click on Upgrade and the app will be automatically linked to an offline map.
Where will you go next?
We would like to thank GPSmyCity for allowing us to include our articles in this promotion.
THIS POST CONTAINS AFFILIATE LINKS.