If you're planning to travel to Vietnam, one of the most exciting things to explore is the vibrant and cultural nightlife scene. Whether you're a party-goer, a bar-hopper, or simply looking for a relaxing evening, both Ho Chi Minh City and Hanoi have a lot to offer.
But how do these two cities compare in terms of their nightlife offerings? The following is a comprehensive comparison guide between these two popular destinations.
Join our Vietnam Travel Planning Private Facebook Group here.
This post may contain affiliate links. Please see our disclosure for more information
Ho Chi Minh City, also previously known as Saigon, is the largest city in Vietnam and is known for its energetic and fast-paced vibe. The city's nightlife scene is a reflection of this, with a wide range of options to choose from, ranging from chic rooftop bars to vibrant street food markets, dive bars and walking streets.
One thing that the Ho Chi Minh City nightlife scene offers that Hanoi doesn't is its rooftop bars, which offer stunning views of the city's skyline and the Saigon river below. The iconic Chill Skybar is a must-visit, with its modern design, innovative cocktails, and impressive views of the city.
For those looking for a more low-key evening, Ho Chi Minh City also offers plenty of cosy cafes and bistros that serve delicious coffee, tea, and snacks. If you're solo-travelling, be sure to check out TNR Saigon, a cool little dive bar that gets crowded on weekends with locals and expats, making it the perfect spot to make friends.
Related reading: Where to stay in Ho Chi Minh City
Hanoi, on the other hand, is a historic city that is steeped in tradition and is known for its tranquil and peaceful atmosphere. Despite this, Hanoi's nightlife scene is just as vibrant as Ho Chi Minh City's, but with a more relaxed vibe, and the party doesn't go as late.
One of the most popular destinations in Hanoi for nightlife is the Old Quarter, a maze of narrow streets lined with shops, bars, and restaurants. Here, you can sample local street food, enjoy live music, and socialize with locals. For a unique experience, check out the Bia Hoi Corner, a popular spot for locals where you can grab a super cheap beer for around 7,000 VND ($0.30) per glass!
Another must-visit destination for nightlife in Hanoi is the legendary Train Street, a narrow street lined with cafes and bars that are located in converted train carriages. Here, you can enjoy a drink and listen to live music while watching the trains pass by just a few feet away.
Ho Chi Minh City Nightlife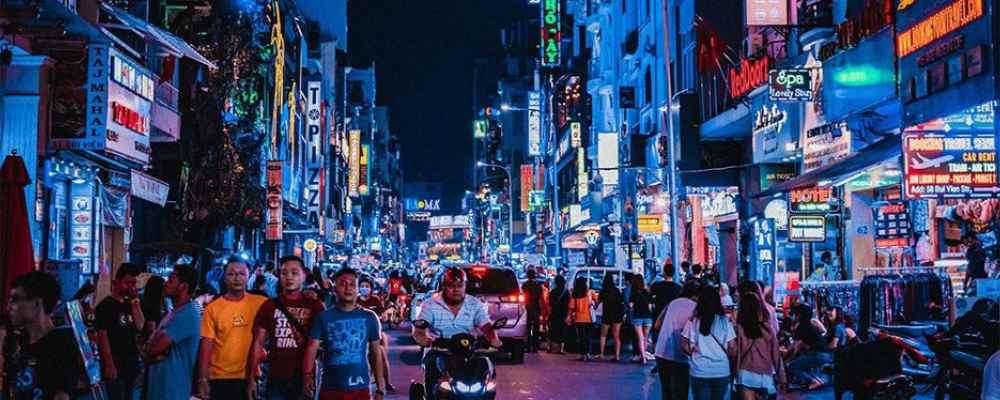 ✔️ Pros:
More venues and nightlife options than in Hanoi, no matter what sort of party you're looking for.
Bars and nightclubs are open later into the night
Friendlier locals (in our experience)
One of the highlights of Ho Chi Minh City's nightlife is its rooftop bars, which offer stunning views of the city and a fun place to start the night.
❌ Cons:
A little bit more expensive (Vietnam in general is cheap so this shouldn't be an issue)
Due to its large size and busy streets, Ho Chi Minh City can become crowded and busy during peak times.
Best Bars & Nightclubs in Ho Chi Minh City
Chill Sky Bar
Chill Skybar is a stylish rooftop bar popular for its sophisticated ambiance and stunning panoramic views of the city. The atmosphere at the venue really heats up after around 9:30 pm, when a DJ spins upbeat electronic music. However, be aware that the prices are relatively high, with a basic cocktail costing roughly 250,000 VND. Nevertheless, the magnificent view is worth the expense.
Bui Vien Street
No discussion of nightlife in Ho Chi Minh City would be complete without referencing Bui Vien Street, arguably one of the most notorious and beloved nightlife destinations in the entire country. While not a single bar but a walking street overflowing with nightclubs, bars and street food vendors. If you're a first-time visitor looking to party, this is the perfect starting point for your night out.
Lush Club
Located in District 1, Lush is a fashionable nightclub acclaimed for its exuberant vibe and frequent hosting of renowned international DJs. Despite being rather petite, the club has an upper level that allows you to view the dance floor and revel in the music from a higher vantage point.
Canalis Club
Canalis Club is a classic Vietnamese nightclub situated in District 3, which offers either live music from a band or a DJ set. This establishment is a popular choice among the locals, where a vast elevated dance floor, featuring dancing girls, is situated in the centre, and groups of friends stand and dance around their tables all night long!
Hanoi Nightlife
✔️ Pros:
Quite cheaper than Ho Chi Minh City
The city is smaller and more walkable than HCMC
More cultural and authentic experience
❌ Cons:
Places aren't open as late.
Can get a little cold during the nighttime.
Smaller than HCMC and has less variety of options.
Best Bars & Nightclubs in Hanoi
Local Bar
Situated on the corner of Bia Hoi street, Local Bar could be the ideal choice to pre-drink in Hanoi if you're a first-timer. It perfectly captures the essence of Hanoi's nightlife to simply sit on a small plastic stool and observe the hustle and bustle of the lively intersection. The bar has a dancefloor and a DJ spinning EDM mainstream and EDM music.
Binh Minh Jazz Club
If you're looking for a relaxed night out, Polite & Co. in the historic French Quarter of Hanoi is the place to be. From 9:00 to 11:30 PM every night, you can enjoy the performances of some of the best jazz musicians from all over the country, including the renowned Binh Minh.
Situated in the West Lake neighbourhood of Hanoi, is a favoured hangout spot with an outdoor terrace that overlooks the lake and an indoor two-story bar. They host live music and stand-up comedy events on select evenings.
Craft beer aficionados frequently flock to this establishment. Its name probably originates from the fact that its customers often stand outside on the street enjoying their drinks.
Hero Club
Hero Club is one of the most popular nightclubs in Hanoi and is open late until 4 am on the weekends. Located in the hip West Lake district, the club is popular with locals and foreigners with DJs spinning popular EDM tracks.
1900 Club
In the heart of the Old Quarter you'll find 1900 clubs, one of the best nightclubs in the city. While it is pricier (expect to pay 250k VND for cover and 90k for a beer), it is worth it as once you're in you won't want to leave. It has an incredible sound system, fun vibe and impressive light shows.
Hanoi vs Ho Chi Minh City Summary
In conclusion, both Ho Chi Minh City and Hanoi offer unique and exciting nightlife experiences. While Ho Chi Minh City is known for its energetic and busy vibe with high-end rooftop bars, Hanoi offers a more relaxed and traditional atmosphere, with its historic Old Quarter and legendary Train Street. Whichever city you choose, you're guaranteed to have a memorable evening filled with fun, culture, and excitement.
Guest Writer Bio:
Nightlife Party Guide is dedicated to helping party-goers and night owls discover the best nightlife destinations around the world. From the hottest clubs and bars to the coolest underground spots, our team of writers provides comprehensive guides to help readers make the most of their nights out. With a focus on major cities and popular travel destinations, Nightlife Party Guide offers insider tips and local recommendations to ensure that the guide is always up to date and readers have an unforgettable night."
Conclusion
What a great article.  We enjoyed Beer Street (Ta Hien Street) in Hanoi and Bui Vien Street in Ho Chi Minh City. Do you have a favourite? If you haven't visited Vietnam before – Hanoi or Ho Chi Minh City Nightlife which is better for you?
General Travel Information for Vietnam
Wondering which airport to fly into first, we have put together a Vietnam Airports Guide to assist in planning your travels.
We use Skyscanner for flights in and around Vietnam.
Air Asia, the budget carrier, has flights into Hanoi, Ho Chi Minh City, Danang and Nha Trang from Asian cities.
Do you need a visa for Vietnam? Our article explains the process.
Bus, Train and Ferry Travel Around Vietnam we use 12goAsia for all our bookings.
Need accommodation in Hanoi? Our article breaks down accommodation in the popular tourist neighbourhoods with 5 star, 4 star and 3 star options.
Accommodation in Ho Chi Minh City


Travel Insurance
We always recommend travel insurance when you travel, you just never know when you need it.
To Travel Too Travel Shop
Travel smarter and safer with products from our To Travel Too Travel Shop.  If you are looking for the latest luggage, guidebooks or travel accessories we have you covered with over 800 travel products to choose from.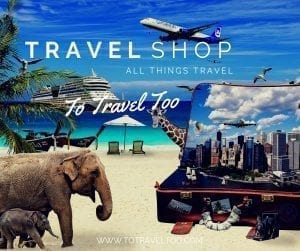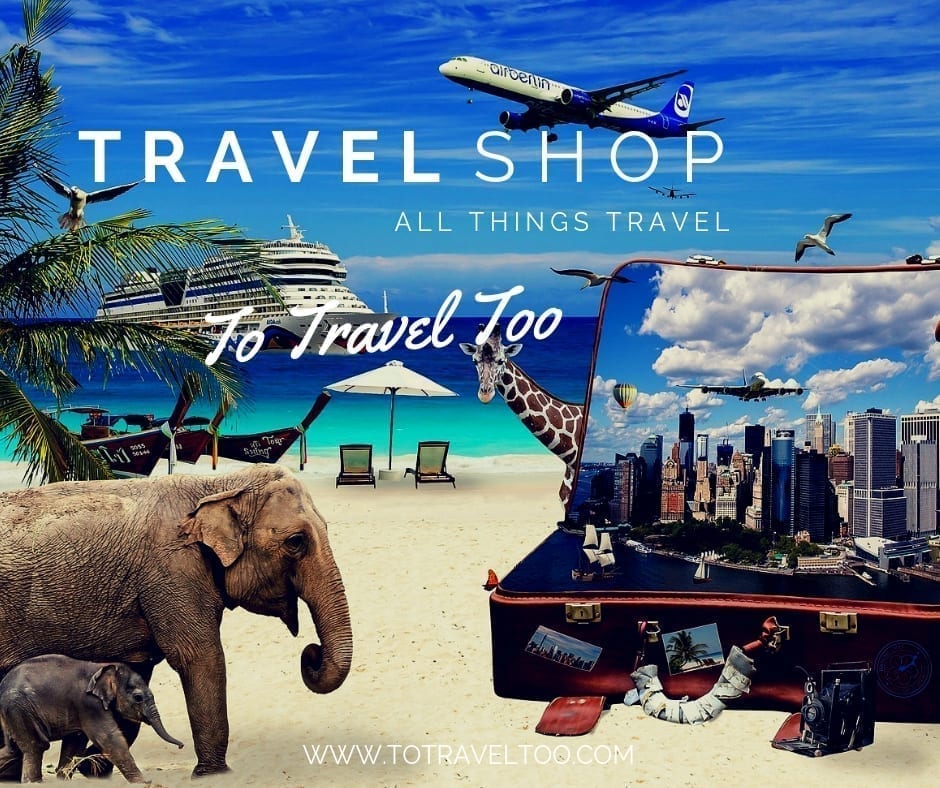 Pinterest
Are you on Pinterest? We are at To Travel Too and we have many travel-related boards check us out at Pinterest.  If you enjoyed our article why not pin it to your board and read it later?