After travelling the length of breadth of Vietnam in the last 9 weeks we finally arrived in Ho Chi Minh City.  To say we were excited was an understatement.  Just how different will HCMC be to Hanoi?
Are you planning a visit to Ho Chi Minh City (HCMC)? Read on and discover our Ho Chi Minh City 5 days itinerary for first-timers, or if you are a return visitor spending longer!
(Editor Update 2021)
Many travellers only give HCMC 2 or 3 nights but we would encourage you to plan to spend more time there at least 5 days. We recommend that you visit HCMC if:
If you love local Vietnamese cuisine ✔️
If you enjoy French Colonial architecture ✔️
If you are a fan of modern architecture ✔️
If you want to learn more about the Vietnam War ✔️
If you enjoy the coffee culture ✔️
If you are a fan of local markets ✔️
HCMC has all of the above and more.
HCMC surprised us as a city.  After travelling from North to South comments from other travellers advised us that HCMC and Hanoi are two different cities.  Totally different vibes, things to see and do and the people are different as well. They were so right. Do we have a favourite? No.  There are elements in both that we love and elements that we don't love.
Related Reading: Luxury Hotel Review Pullman Saigon Centre
Ho Chi Minh City Map
Join our Vietnam Travel Facebook Group below: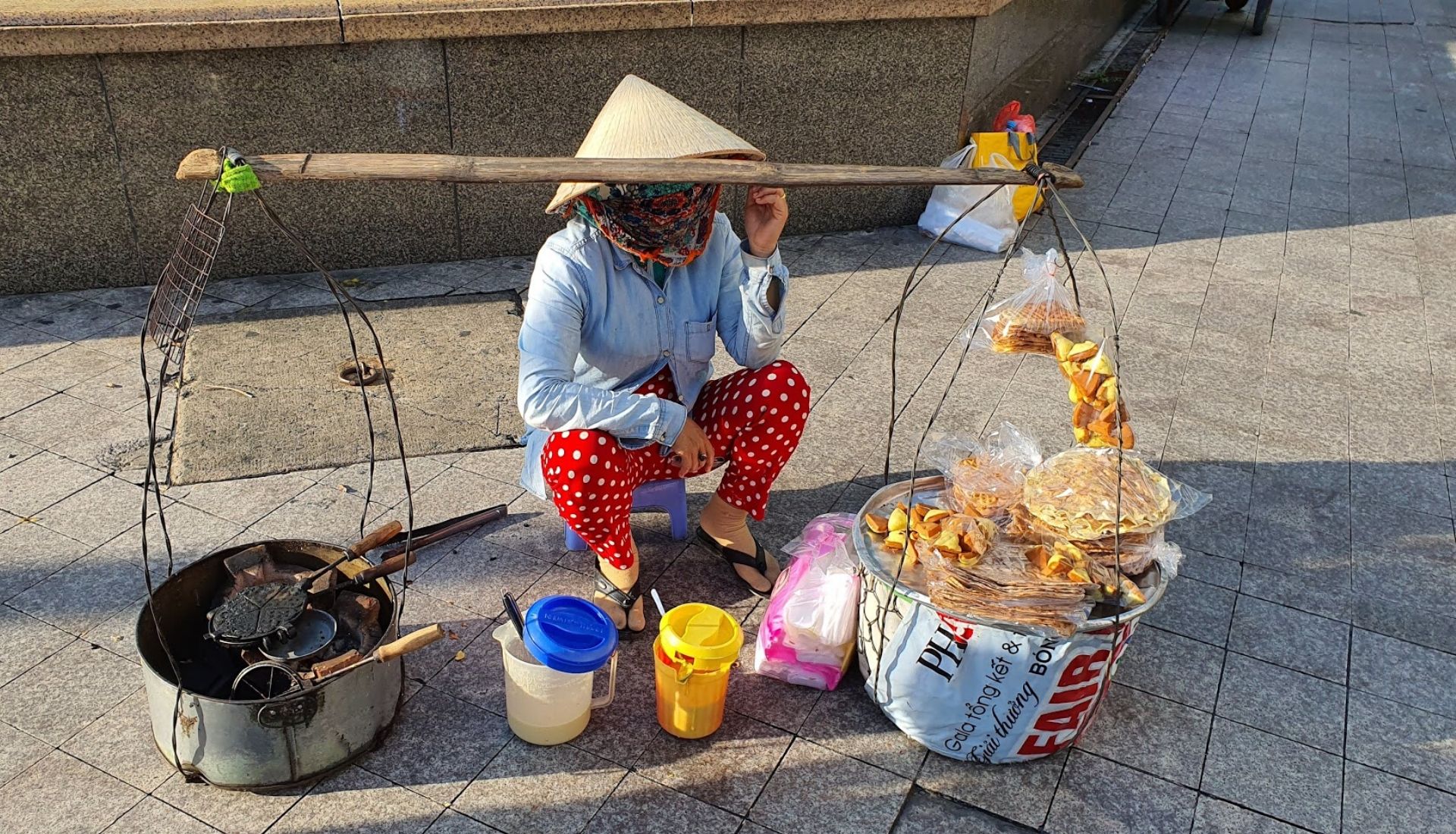 This post may contain affiliate links. Please see our disclosure for more information. As an Amazon Associate, we earn from qualifying purchases (if applicable).
Planning a trip to Vietnam read our ultimate travel guide here
This article has now been published on iTunes and can be downloaded via the GPSmyCity iOS app. You can read the downloaded article offline and upgrade it to obtain GPS navigation to the sights described in the article.
Watch our YouTube Video on What To Do in Ho Chi Minh City
You can subscribe to our Youtube channel here for more videos on Vietnam
Frequently Asked Questions About Visiting Ho Chi Minh City
Is Ho Chi Minh City safe to visit?
In general, it is a safe city to visit.  There are petty thefts as in most cities around the world.  We were warned about thefts from motorbike riders who snatch bags, so keep them close to you away from the side of the road that you are walking.
When is the best time to visit Saigon?
Ho Chi Minh City weather – the dry season is the best time to visit Saigon which is between December and April.  We spent 2 weeks in HCMC during September and we experienced showers during the day.
Can I use USD in Saigon?
You should use Vietnamese Dong instead of USD. There are many money exchange outlets and ATMs all over the city.
Do I tip?
It is not necessary to tip but if the food and service have been excellent tipping is always welcomed.
Where can I get a SIM Card?
You can get a SIM card at Ho Chi Minh Airport or you can purchase an unlimited SIM Card which can be delivered to your hotel which includes the following:
Unlimited high-speed internet connection (3G or 4G)
30 free minutes international calls (applicable to Combo Package)
60 free minutes local calls (applicable to Combo Package)
100 free local SMS (applicable to Combo Package)
24/7 access to a tourist support hotline in English
Delivery to your hotel
Discounts at selected merchants
Validity from 10 to 30 days after activation (depending on package)
Easy top-up available
Is it possible to take a cooking class?
There are many cooking classes available, here are some examples of tours:
A Little Bit About HCMC or Saigon City
Ho Chi Minh City is located in the South Eastern region of Vietnam.  It is also known as Saigon by locals and tourists alike. The city is surrounded by the Saigon River. HCMC is the financial capital of Vietnam, Hanoi is the capital. They couldn't be more different.
300 years ago Ho Chi Minh City was a small village with lots of trees.  Today it has a population of over 10 million people. The village was built near the Saigon River, a flat area of the region.
What does Saigon mean?
Sai means small forest or firewood.
Gon means trees, a cotton plant which relates to the Kapok tree which the Khmer people had planted in the area.
Ho Chi Minh City was once known as Prey Nokor.  At this time it was a Khmer Trading Port.  It is still called Prey Nokor by the Cambodians. One of HCMC's premier hostels is called Prei Nokor and it is located at 47 Phan Chu Trinh Street in District 1. Our guide described it as " a hidden gem in the bustling HCMC, looks small but just wait till you get inside, you will get a wow!"
Check the latest accommodation deals here for the Pre Nokor Hostel
Ho Chi Minh Itinerary
What to do in Ho Chi Minh City
If you have one day in Saigon we would recommend visiting the Ben Thanh Market in the morning and head to the Skydeck at sunset.  It is an easy walk between the two sightseeing along the way.
If you have 6 days in Ho Chi Minh City we would recommend that you visit all that we have recommended in our article but take it slower and return to your hotel for a swim or a nap and some relaxation before you head out for dinner at one of Saigon's many restaurants.  Ho Chi Minh City's nightlife is varied, you can enjoy a beer at Bui Vien Street, enjoy a cocktail at a roof bar, take a romantic dinner cruise on the river or find a karaoke bar.
Districts of Ho Chi Minh City
There are 24 districts in HCMC made up of 19 central districts and 5 suburban districts.
Most of the sights are in District 1 of HCMC. For those attractions outside District 1, a short taxi or Grab ride is recommended.
District 3 is the 2nd most popular district for tourists with the War Remnants Museum, Xa Loi Pagoda, Tan Dinh Church and more.
District 5 covers most of the Chinatown area.
The Airport at Ho Chi Minh City is known as Tan Son Nhat International Airport and is located 8 km from the city.
You can book a private transfer from the airport to your hotel here.
You can prebook a shuttle bus service from the airport to your hotel here.
We have created a Facebook Group – Vietnam Travel Planning to assist you in planning your next visit to Vietnam.
What To Do in Saigon (HCMC)
Anh Viet Hop-on Hop-Off Bus – Ho Chi Minh City Tour
The best way to see Ho Chi Minh City attractions is via the Hop-on Hop-off Bus which operates between 08.30 and 17.30.  It runs every 30 minutes and your ticket is valid for 24 hours.
On board you can access their free WiFi and there are discounts for food.
Visit Ho Chi Minh City by the Hop on Hop Off bus Click here to pre-purchase tickets
The route:
 Bus Station at 23/9 Park. 187  Pham Ngu Lao Street – backpackers area
 Ben Thanh Market at 133 Ham Nghi Street
 Skydeck – Opposite Della Hotel 67 Ham Nghi Street
 Bach Dang Pier – Opposite of Liberty Central Riverside Hotel
 City Hall – Opera House 92-96 Nguyen Hue Pedestrian Street
 Independence Palace – Main Gate 135 Nam y Khoi Nghi Street District 1
 Notre Dame Cathedral – Central Post Office Bus Stop Hoa Binh School
 History Museum – The Zoo Museum Gate 02 Nguyen Binh Khiem
 War Remnants Museum – Museum Main Gate 28 Vo Van Street
Independence Palace of HCMC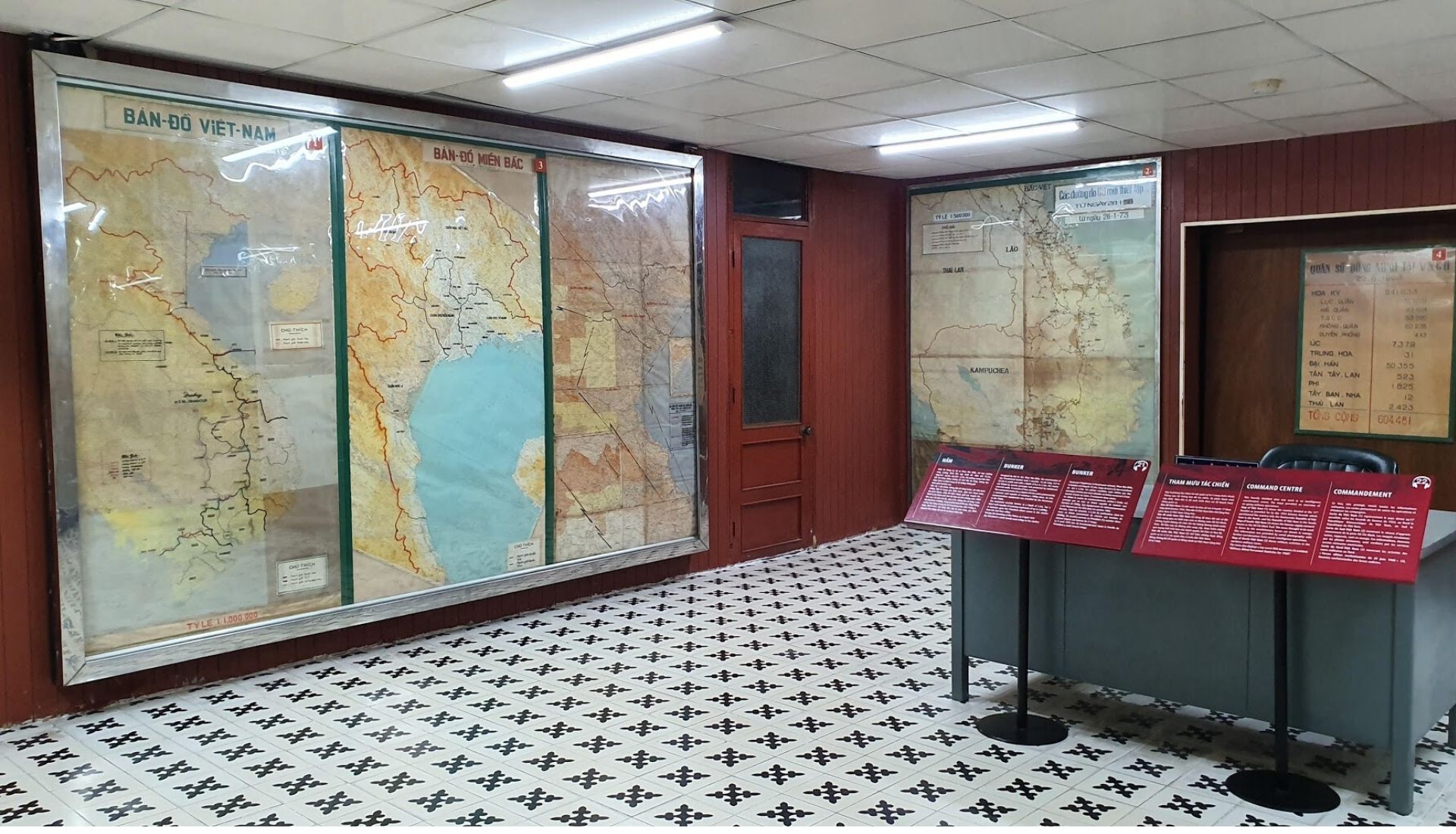 In 1863 on the current site of the Independence Palace (aka Reunification Palace) was a wooden palace that was used for the French to worship as at that time there were no available churches.
In 1868 a new palace was built with material from Europe for the French Governor of Cochin-China. When the French departed from Vietnam the then President of South Vietnam Ngo Dinh Diem moved in. In 1962 his own Airforce bombed the palace to rid him from South Vietnam. After surviving this attack Ngo Dinh Diem ordered a new palace to be constructed with a secure bunker and secret rooms. Unfortunately, another attack on his life occurred in 1963 and this proved to be fatal.
Construction of the new palace was completed in 1966 and the new President Nguyen Van Thieu occupied it until 1975.
The ground floor contains meeting rooms and upstairs are reception rooms all elaborately decorated. There are the private quarters of the President, a card room, a cinema and a rooftop nightclub complete with a helipad.
Underground is the bunker and communications area.
The Independence Palace is used today for APEC Summits.
Top Tip: 
Visit early in the morning to avoid the coach loads of tourists.
Address: Nam Ky Khoi Nghia HCMC
Opening Hours: 07.30 am to 11.00 am
13.00 pm to 16.00 pm
Entrance Fees: Adults VND40,000 (USD1.80) Children VND20,000 (USD0.90)
For a private guided sightseeing and city tour of Ho Chi Minh City that includes the Independence Palace you can book here
War Remnants Museum of HCMC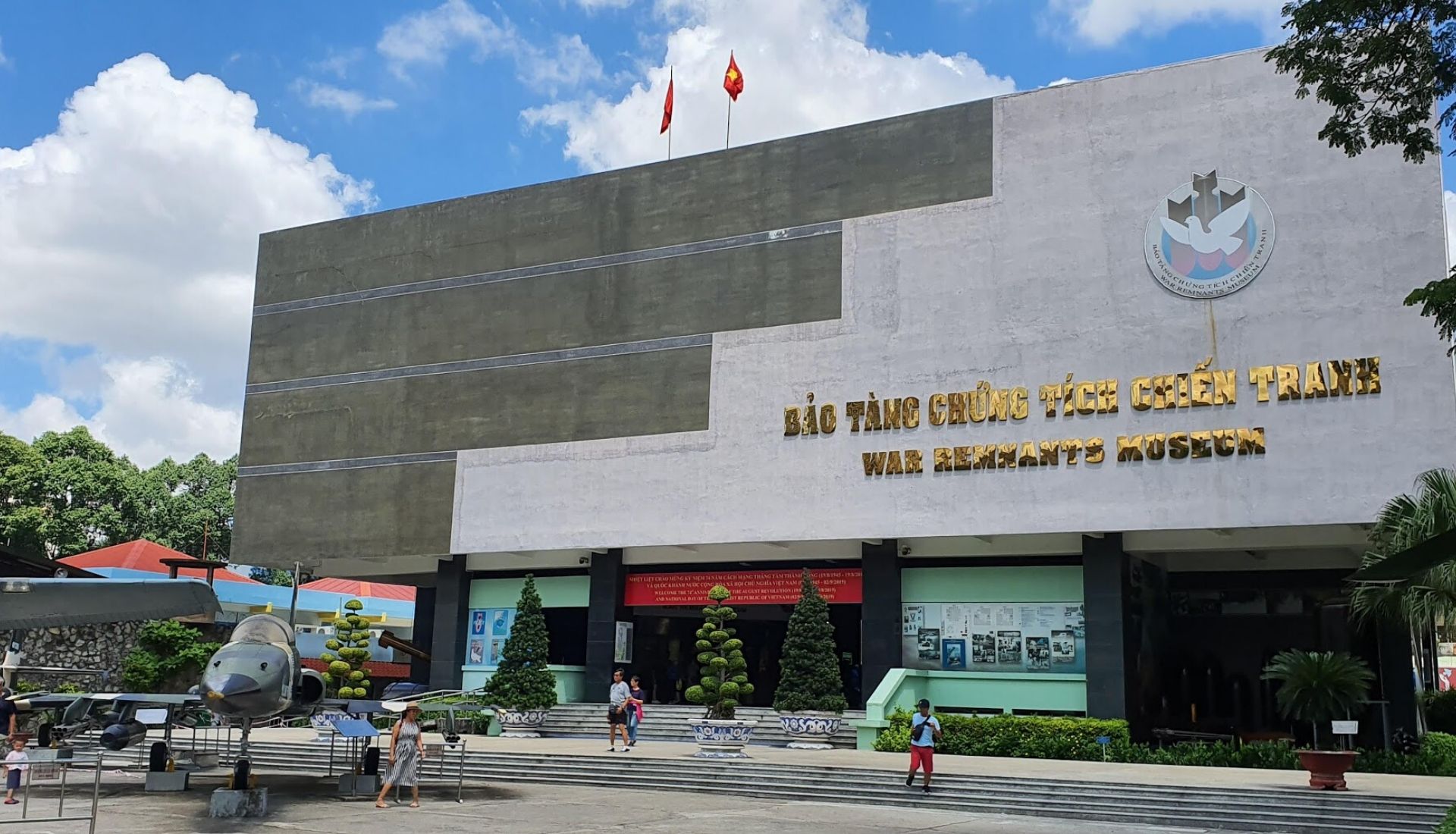 Address: 28 Vo Van Street District 3
The War Remnants Museum was founded on September 4th in 1975 to study, collect, conserve and display exhibits on war crimes.
Spread over three floors the Museum has 9 permanent exhibitions and is one of HCMC top tourist sites.
Top Tip
Start your visit  on the 2nd Floor first, 1st floor and then ground floor last
2nd Floor:
1 – Historical Truths
2 – Requiem
3 – Vietnam War and Peace
4 – Agent Orange – During the Vietnam War
5 –  White Doves
First Floor:
6 – War Crimes
7 – Agent Orange Effects (this is quite disturbing)
8 – Agent Orange Consequences through Children's paintings
9 – Conference Room
Ground Floor:
10 – International Support for The Vietnamese People in their Resistance War
11 – Temporary Exhibitions
12 – Imprisonment System During the Vietnam War
13 – Open Air Exhibition
You can enjoy a War Remnants Tour with a private guide and then visit the Ben Thanh Market all in a 4-hour tour. Lunch is included with the tour, private car, water and entrance fees. Book here
Saigon Skydeck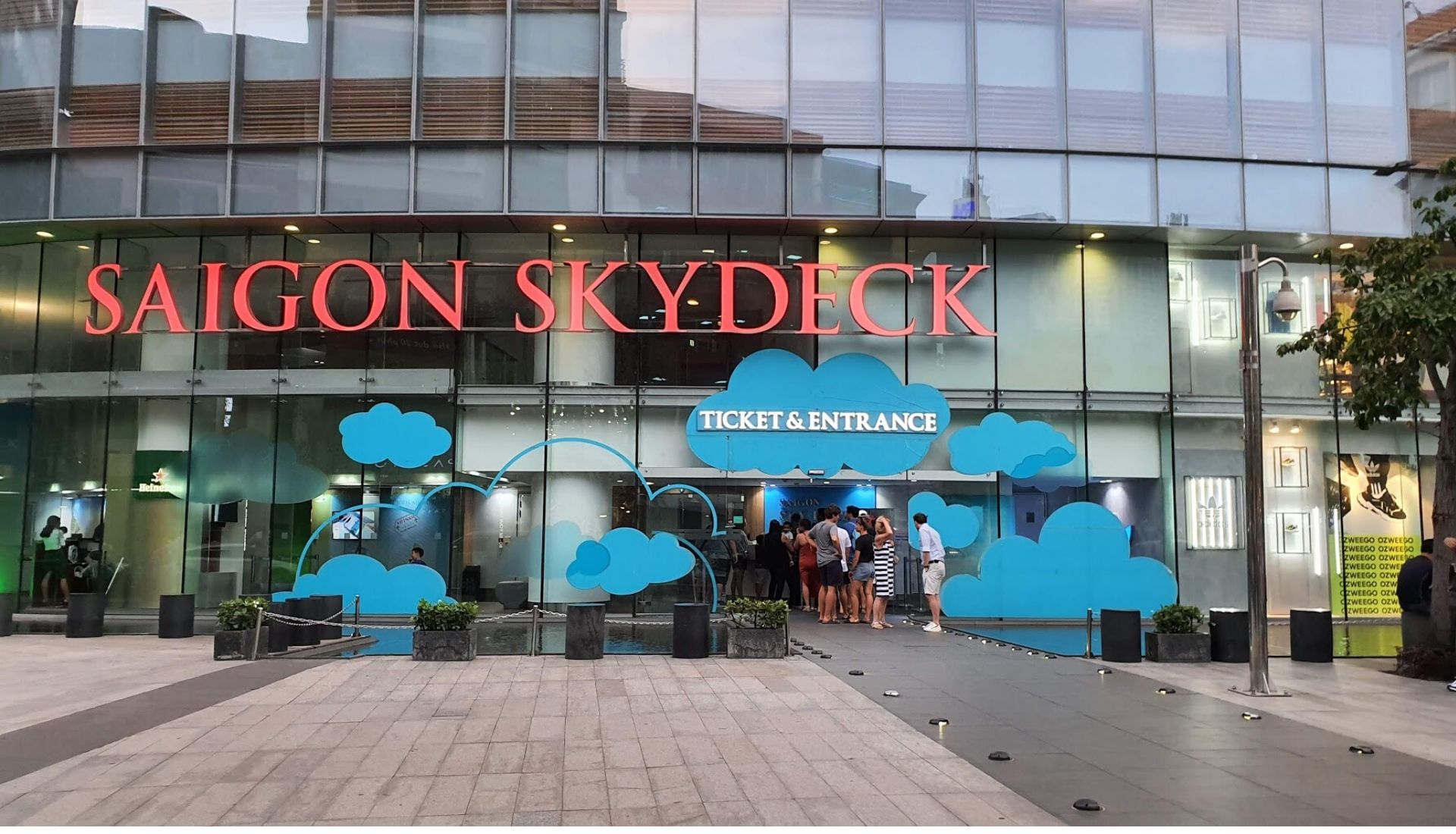 Bitexco Financial Tower stands 262 metres over 68 floors.  The Skydeck is on the 49th floor and offers stunning 360-degree views over the city. The elevator ride climbs 7 metres per second.
There is an Ao Dai Exhibition (the Vietnamese national dress) on the Skydeck level and displays a variety of Ao Dai over the centuries.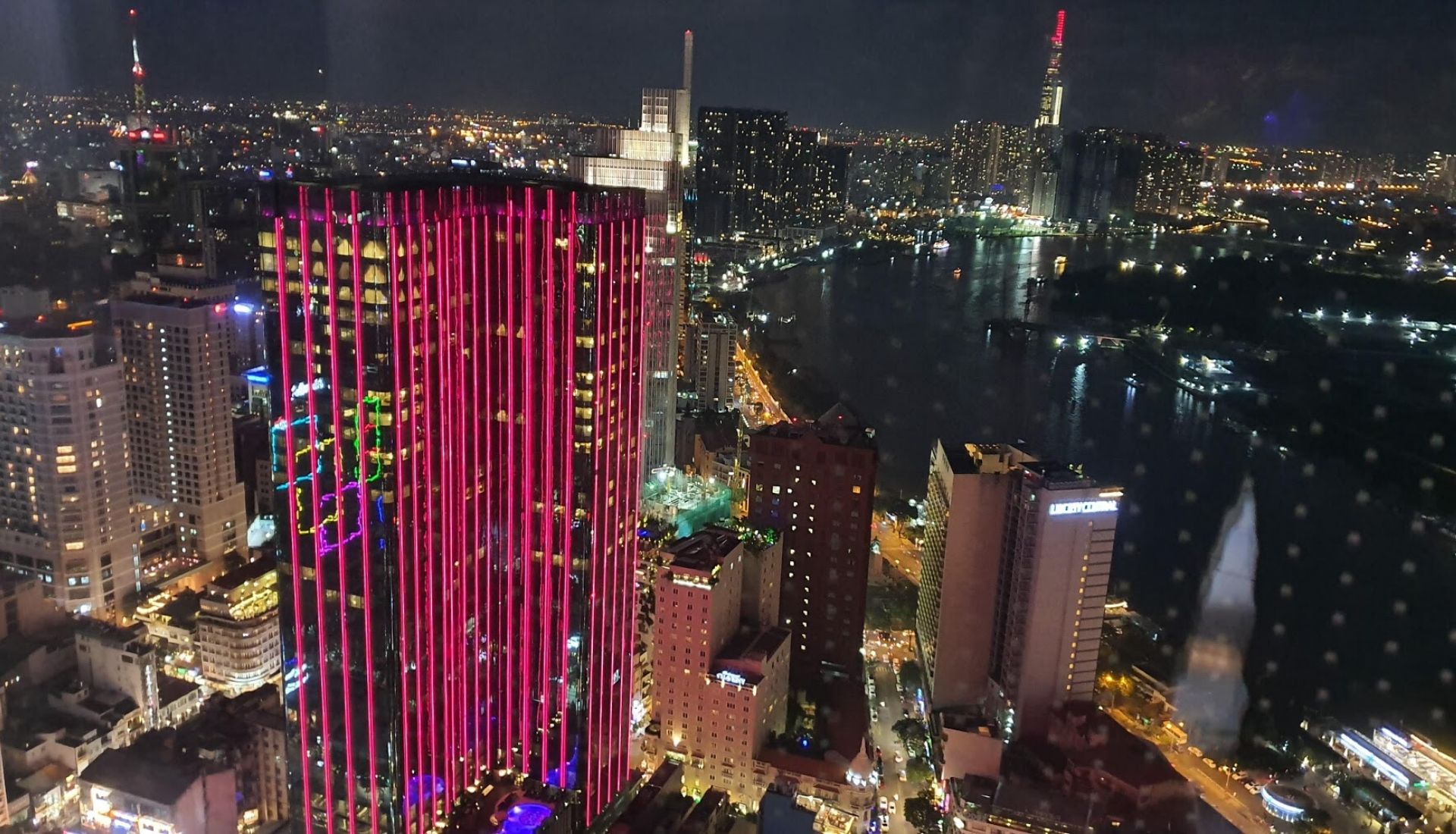 The World of Heineken Combo Ticket – visit in the afternoon/evening for a guided beer brewing tour, games and attractions, Heineken beer tasting and included is a special souvenir with your ticket to the Skydeck
You can pre-purchase your ticket to the Bitexco Sky Deck Saigon Tower and the Heineken Experience  Book here
Operating Hours:
Saigon Skydeck – 09.30 am – 9.30 pm daily
The World of Heineken – 15.00 pm – 9.30 pm daily
Last ticket and entry 45 minutes prior to closing
Top Tip: Visit at Sunset
Notre Dame Cathedral of HCMC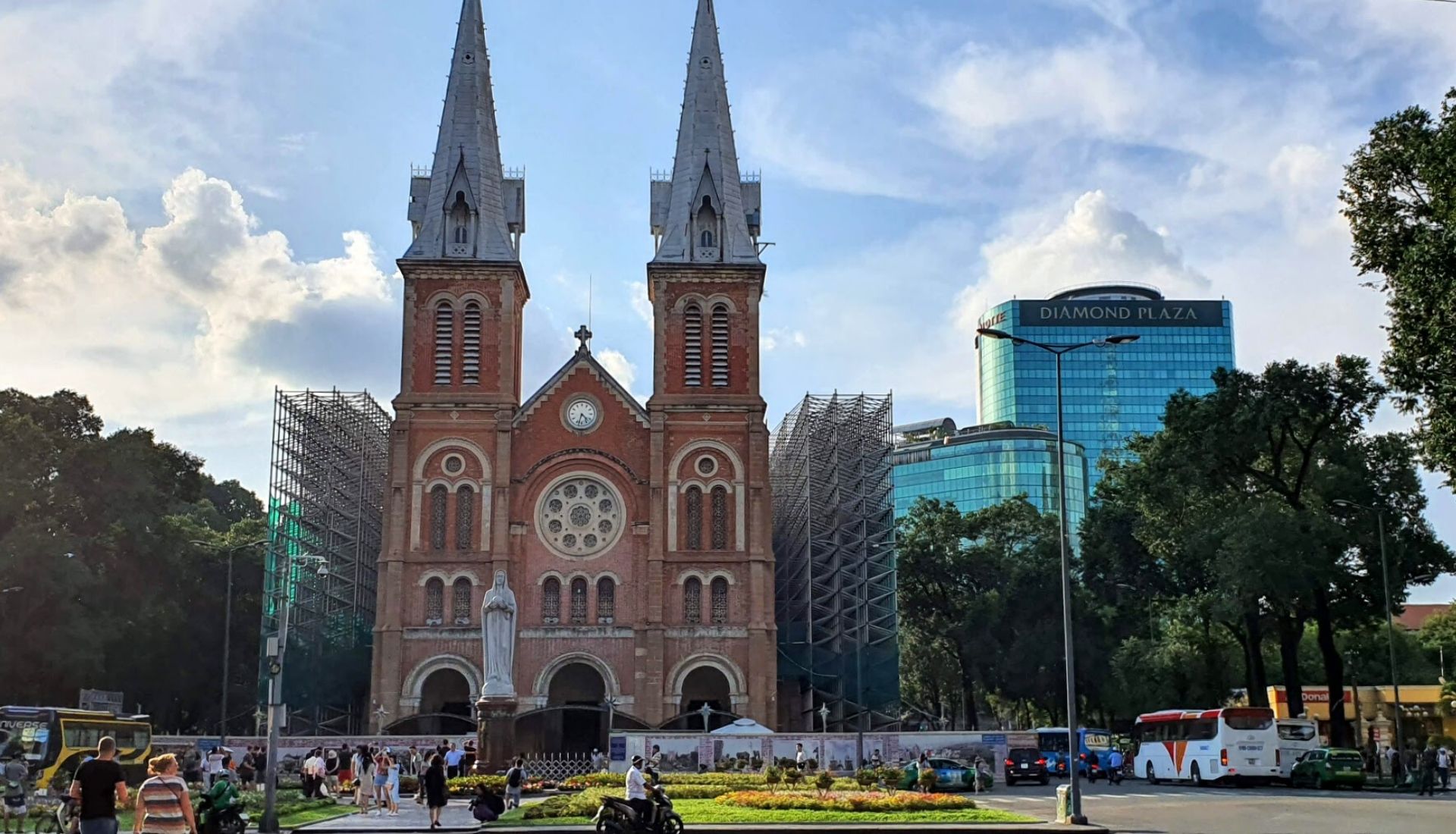 The Notre Dame Cathedral started construction in 1877 and took 3 years to build finishing in 1880. The brick and stone that was used in its construction came from Marseille in France, it took 2 months to travel by sea. It stands 60m in height and has 2 bell towers with 6 bronze bells.
Notre Dame Cathedral was originally called the Saigon Church.  It was the first Catholic Church in Vietnam. In 1962 the Vatican gave it 'Basilica' status and its official name is the Saigon Notre – Dame Cathedral Basilica.
Top Tip: When is the best time to visit the Notre-Dame Cathedral? Sunday Morning Mass at 9.30 am.
Address: 1 Cong Xa Paris, Ben Nghe, District 1
In front of the Cathedral is the Our Lady of Peace Statue that was made from granite that came from Rome, Italy.  The statue arrived on 16th February 1959.  In October 2005 it was reported that the statue shedded tears down the right side of her cheek.  The tears attracted a lot of attention.  These days the statue still attracts a lot of attention as worshippers come in hope of seeing a repeat.
Central Post Office of HCMC
The Central Post Office took 5 years to build from 1886 – 1891.  The tiles and the green gate came from France. French Architect Alfred Foulhoux designed the Central Post Office. There are elements of Gothic, Renaissance and French colonial architecture.
On the building facade, you will notice window plaques with the names of famous scientists and philosophers such as:
Volta
Descartes
Faraday
Ampere
just to name a few.
The tiles on the floor of the Post Office are original as is the main gate. On the right-hand side, you will see an 1892 map of Saigon and on the left-hand side, there is a map of the Mekong Delta.
There are the original telephone boxes on the left-hand side with an ATM on the right.
Saigon Opera House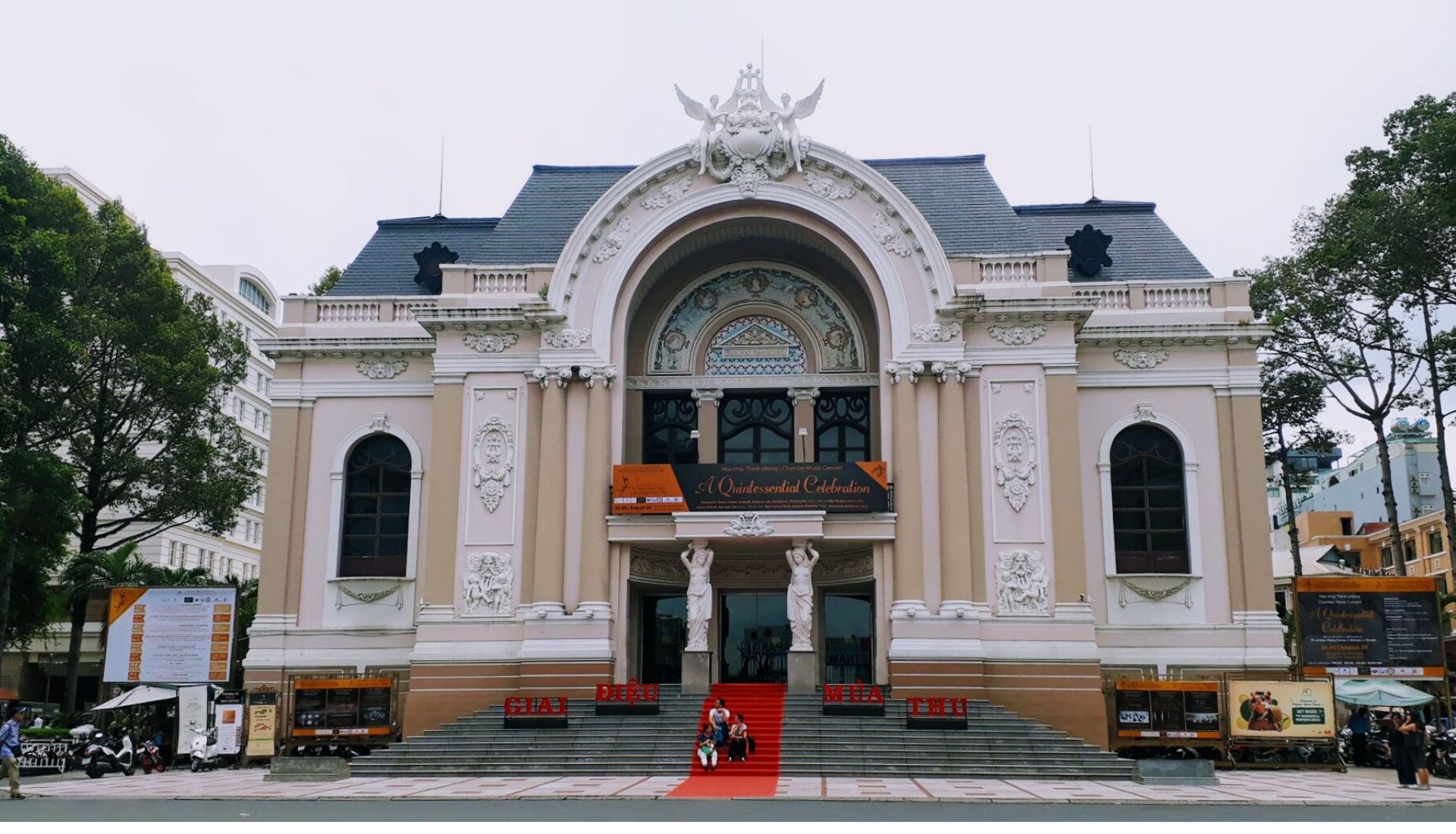 The Opera House was built by the French in the French Colonial Style and opened its doors for its 1st performance on 1st January 1900. The original location of the Opera House was 2 blocks away on the site which is now the Caravelle Hotel.
Address: 7 Lam Son Square Ben Nghe Ward District 1
Walk Catinat Street (now known as Duong Dong Khoi)
The oldest street in HCMC is Catinat Street (French Name) it is now known as Duong Dong Khoi (Total Uprising Street). It starts at the Notre Dame Cathedral and ends at the Saigon River. Graham Greene, the author and foreign correspondent visited HCMC four times between the years 1952 and 1955 and used to take daily walks down Catinat Street.
The Continental Hotel at 132 – 134 Dong Khoi was the home for Graham Greene during his visits who requested to stay in Room 214 for views over the square below. The hotel was the first hotel in HCMC and started construction in 1878 finishing in 1880 with 84 rooms. Graham Green wrote his book The Quiet American and used the locations around the Continental Hotel in his book.
The Caravelle Hotel at 19-23 Lam Son Square was opened on Christmas Eve 1959.  The 5-star luxury hotel was the highest building in the 1960s, originally with 9 floors and the 10th was a Skybar.
The New Zealand and Australian Embassies were located on the 7th floor.
In 1957 the hotel was renovated, more floors were added, now it is 24 stories.
The name Caravelle was named after a plane that belonged to Air France who supported the hotel financially.
In 1964 a spy from North Vietnam planted a bomb on the 5th floor, no-one was fatally hurt but the hotel occurred damages. The floor was being occupied by foreign correspondents at the time.
The Cafe Apartments at 42 Nguyen Hue Walking Street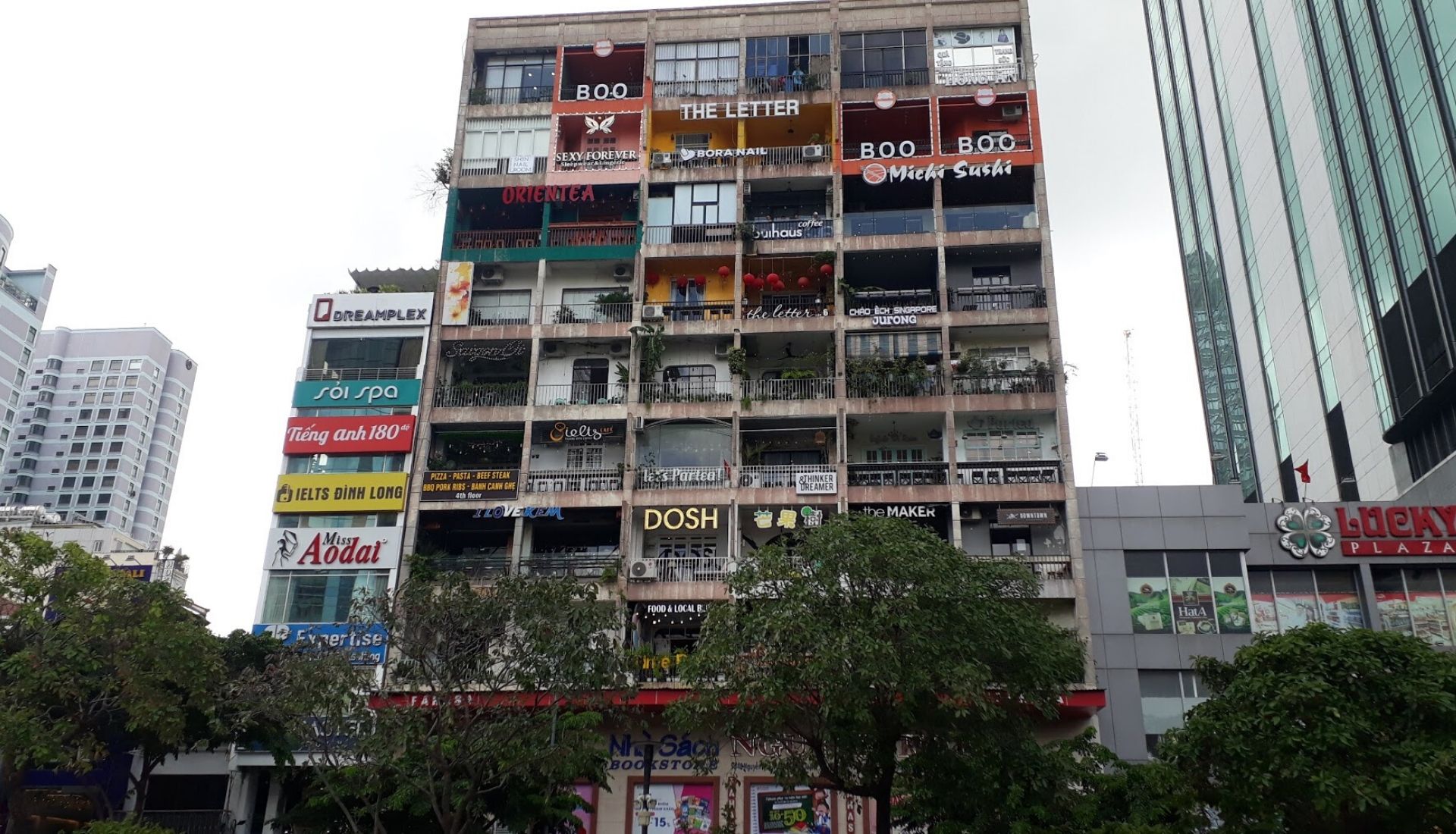 Built in the mid-1960s this apartment block is now home to cafes, restaurants and working spaces.  It was originally an apartment block. All the apartments in the 9 stories face south-west with balconies and views over Nguyen Hue Walking Street. You can take the stairs or for VND3,000 (USD0.13) you can take the lift.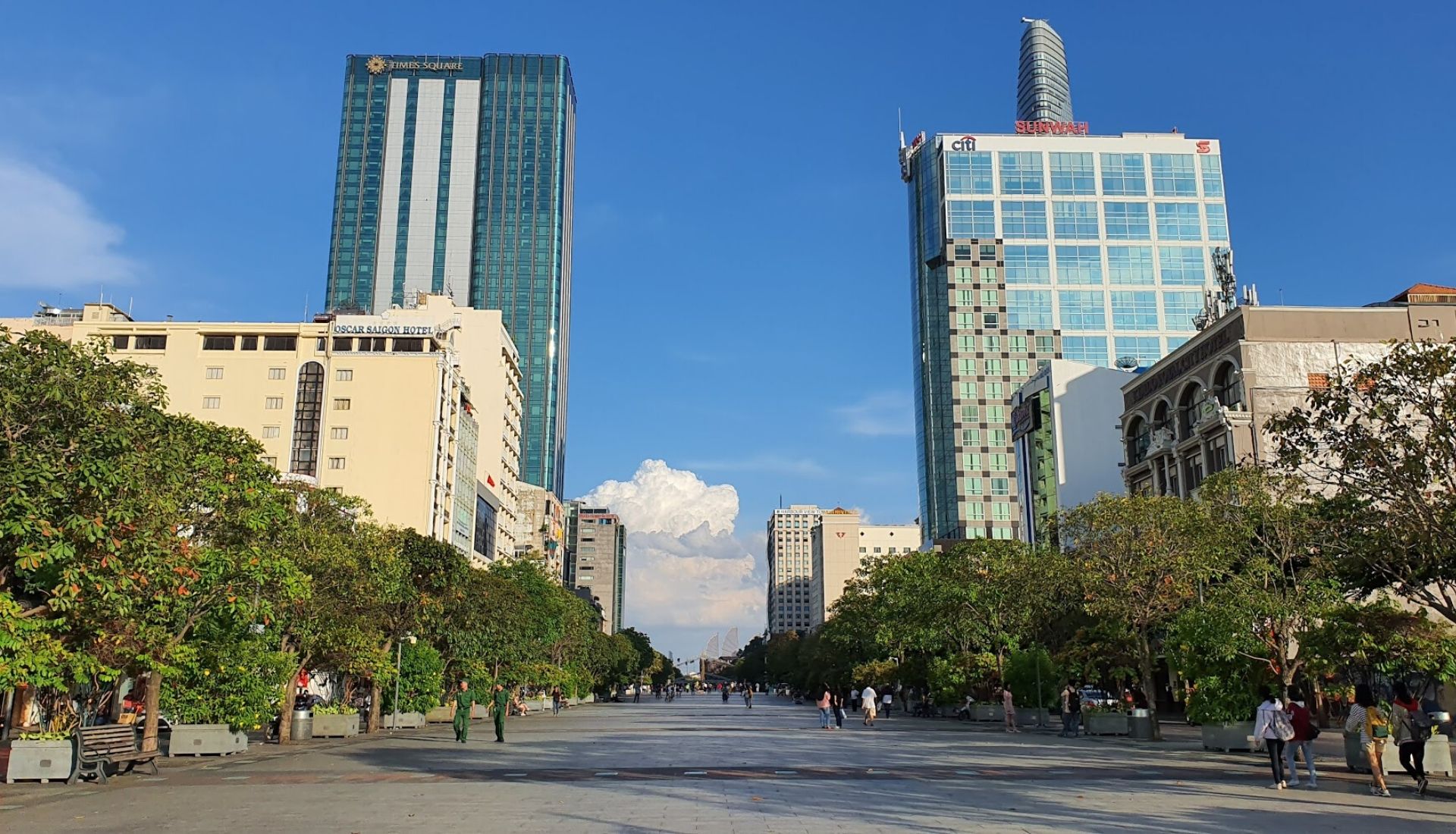 The walking street square was created in 2014, it used to be a small canal. During Tet the square becomes a flower exhibition that is open for 1 week.
City Hall – HCMC People's Committee Head Office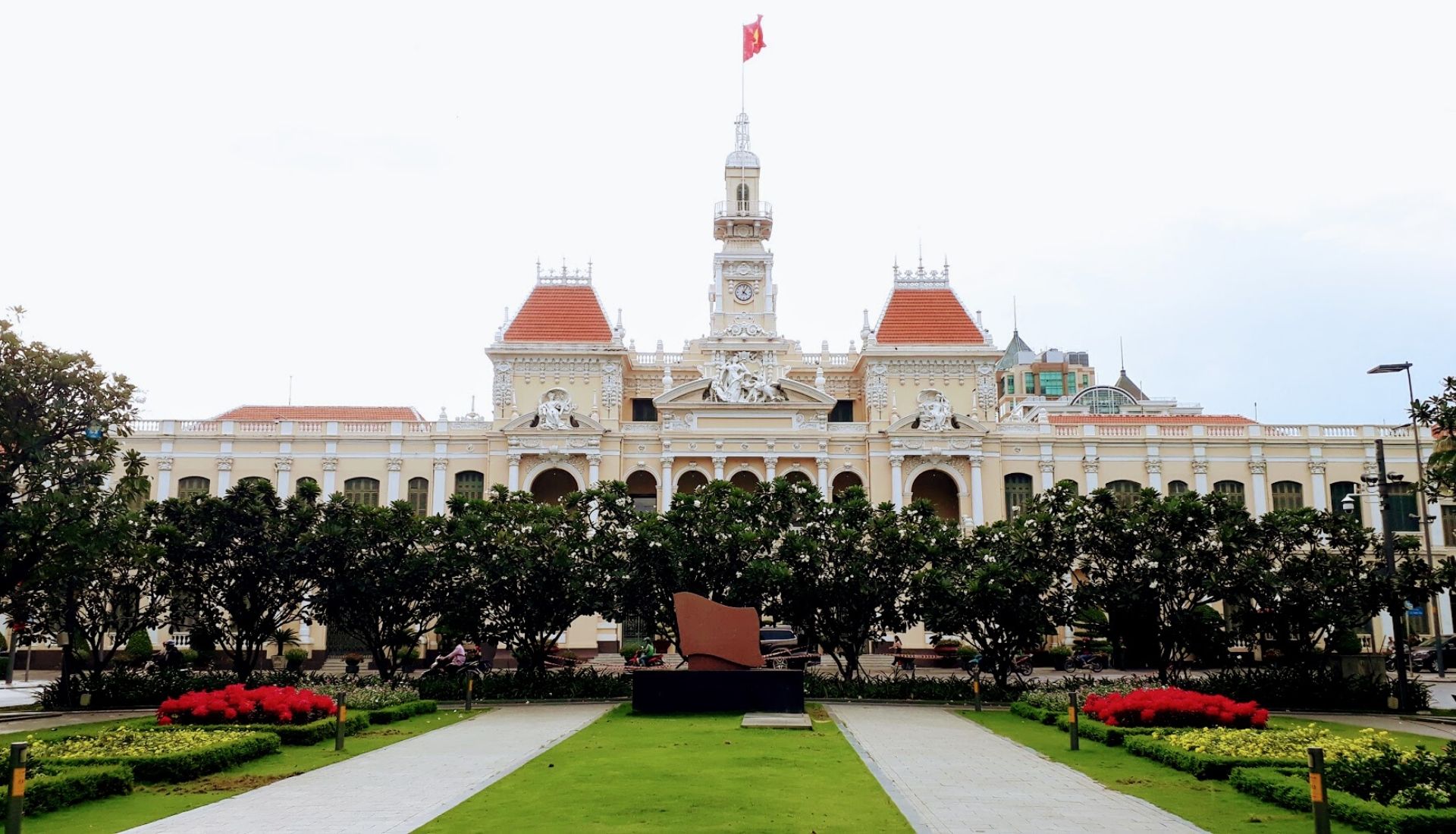 At 86 Le Thanh Ton in District 1 is the HCMC People's Committee Head Office.  It was originally built as a hotel in 1898 in the French Colonial style.  A good time to visit is in the evening when it is illuminated. It is not open for visitors.
Cho Ben Thanh Market
Address: Chợ, Đường Lê Lợi, Phường Bến Thành, Quận 1, Hồ Chí Minh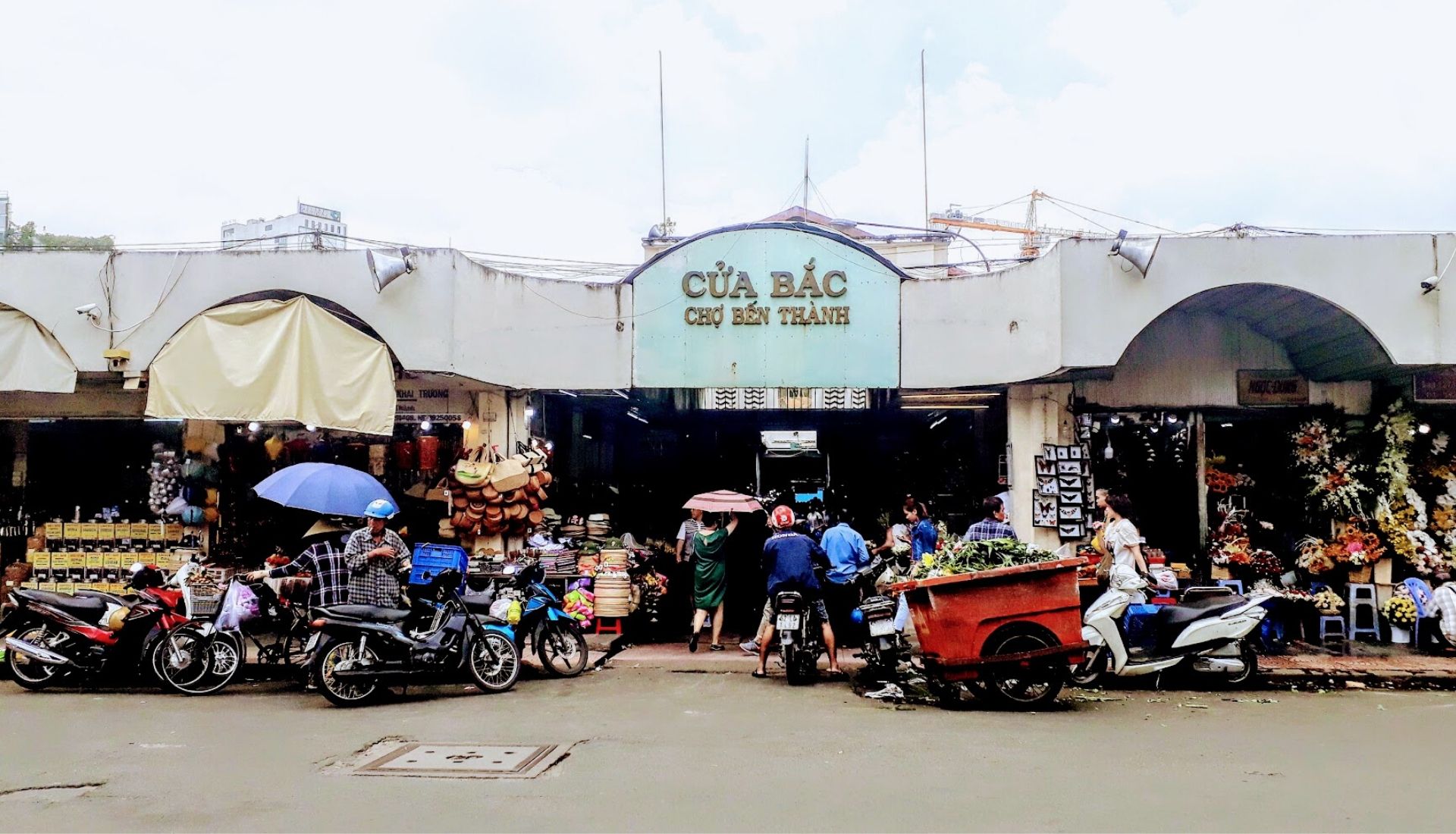 The market opens daily at 06.00 am and closes at 6.00 pm.  The night market that offers street food opens at 6.00 pm and closes at 10.00 pm from the gates located at East, North and West.
The market is frequented by locals and tourists alike.
The main entrance is in the South at Le Loi Street and Quach Thi Trang.  There are 4 main gates and each gate offers different products and services:
South Gate – clothing, material, shoes, cosmetics and jewellery
North Gate – fruit, vegetables, meat and food vendors
East Gate – dried fruits, herbs and spices
West Gate – arts and ceramics
The stallholders would prefer Vietnamese Dong.  You can practice your bartering skills in over 3000 stalls.
The market has been in operation since 1914. We would recommend visiting early to avoid the crowds.
Mariamman Temple of HCMC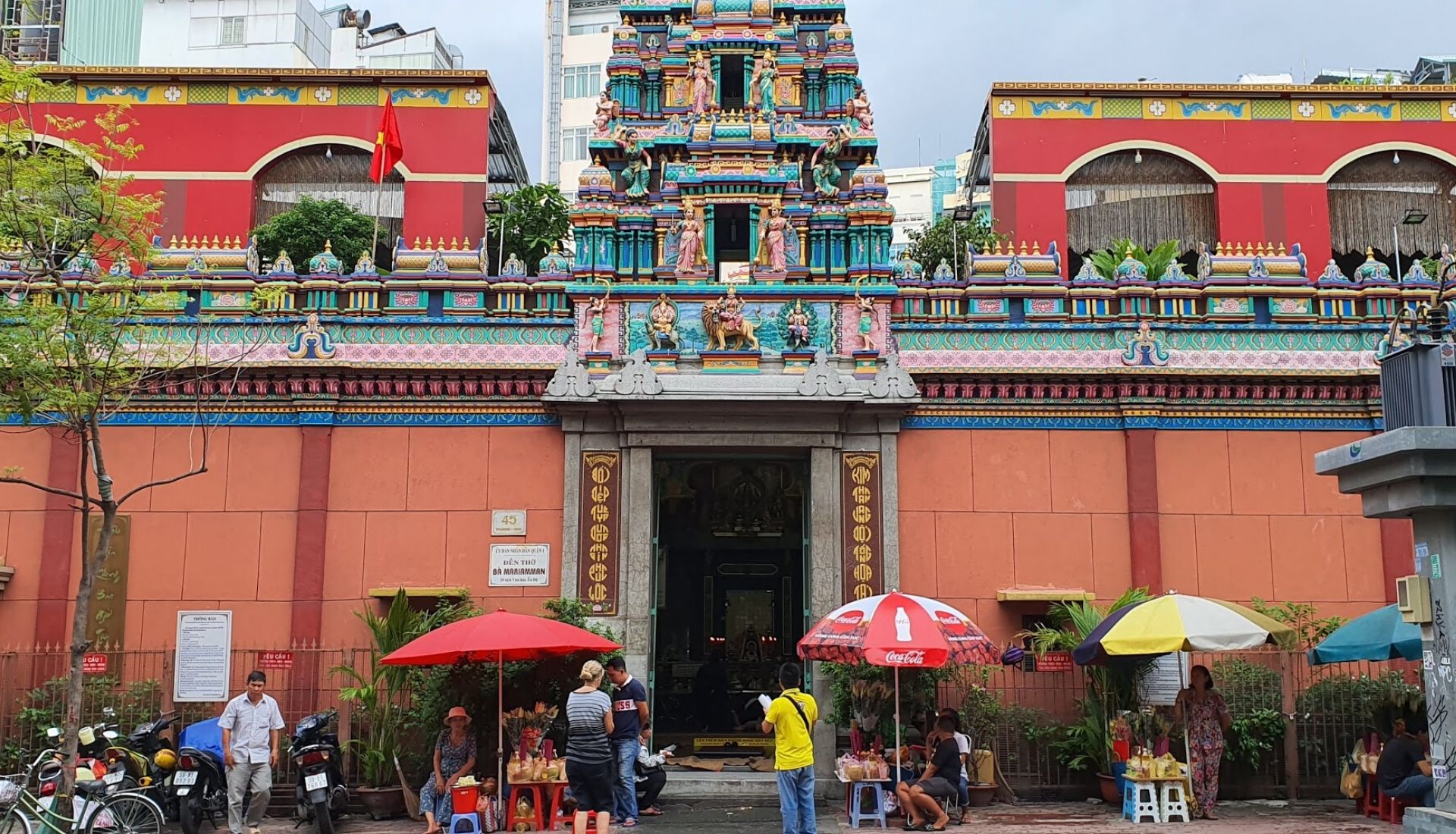 The Temple is the only Indian Hindu Temple in HCMC and was built in the 19th century.  It is dedicated to Quan Yin the Goddess of Mercy. Hindus who are seeking to have children come to pray and those who want good luck and wealth also flock to the temple. Visit the back of the Temple, there is a prayer wall located there and you will be able to hear the prayers of the devotees.
Address: 45 Truong Đinh, Ben Thanh, District 1 Ho Chi Minh City
Free to enter.
Opening hours: 07.00 am to 19.00 pm.
Visit The Cu Chi Tunnels
You can watch our Youtube video on our visit to the Cu Chi Tunnels below:
Subscribe to our Youtube channel here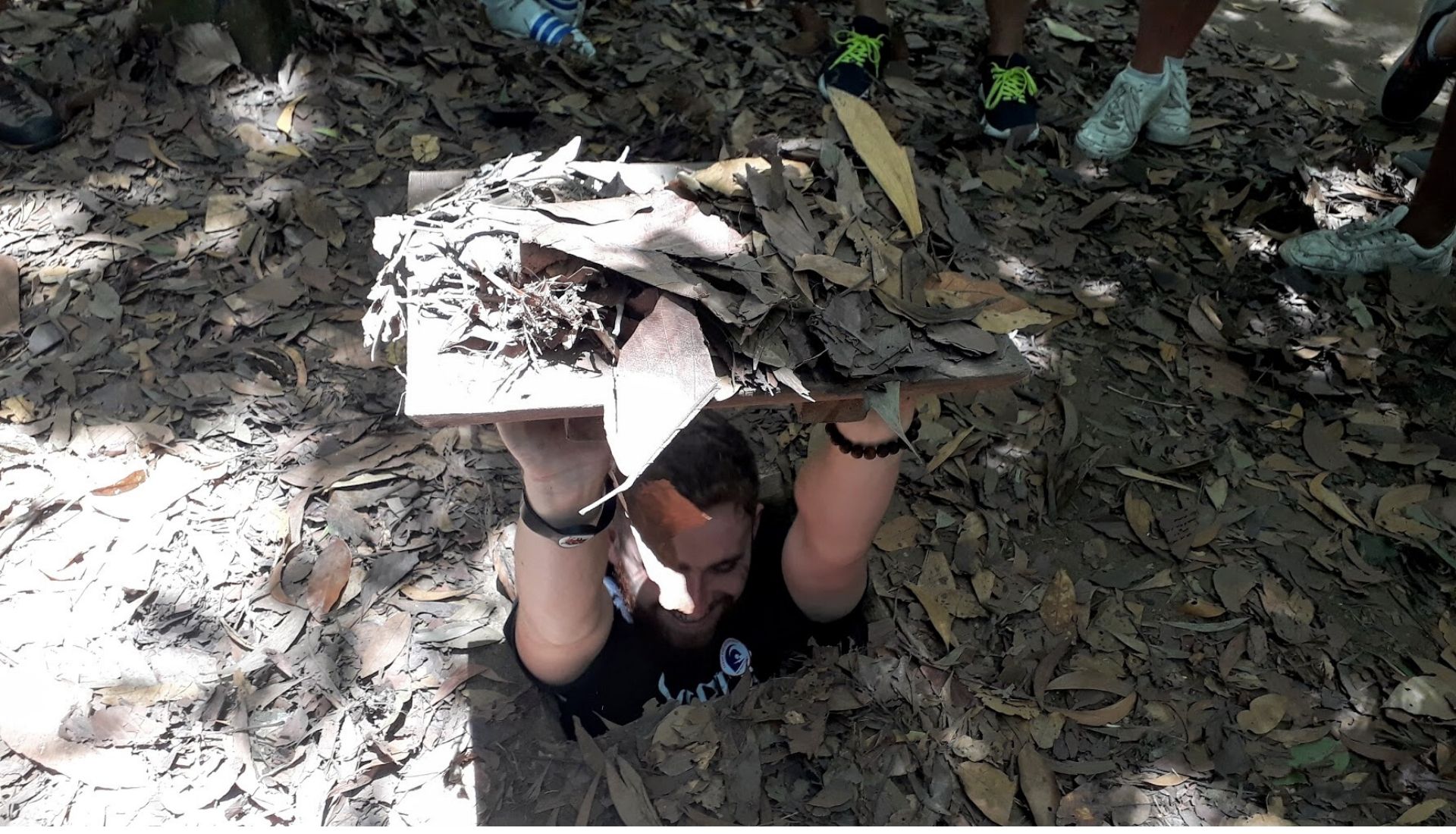 One of HCMC's most popular tours is a visit to the Cu Chi Tunnels.
There are many ways of visiting the Cu Chi Tunnels – by a minibus guided morning or afternoon tour, by speedboat from HCMC or by a motorbike excursion.
The Cu Chi Tunnels were tunnels dug by the Communist forces during the war of independence from the French in the late 1940s.  The tunnels were expanded by the Viet Cong and the Northern Vietnamese in the early 1960s.  The tunnels were used as living quarters, kitchens, ordnance factories, hospitals and bomb shelters.
You can read our review of our guided tour to the Cu Chi Tunnels here and all the options on how to visit the tunnels.
Location: TL15, Phú Hiệp, Củ Chi, Hồ Chí Minh 733814
Free Things To Do in Ho Chi Minh City
Looking for free things to do in HCMC:
Visit the Notre Dame Cathedral
Visit the Central Post Office
Visit Ben Thanh Market
Visit the Mariamman Temple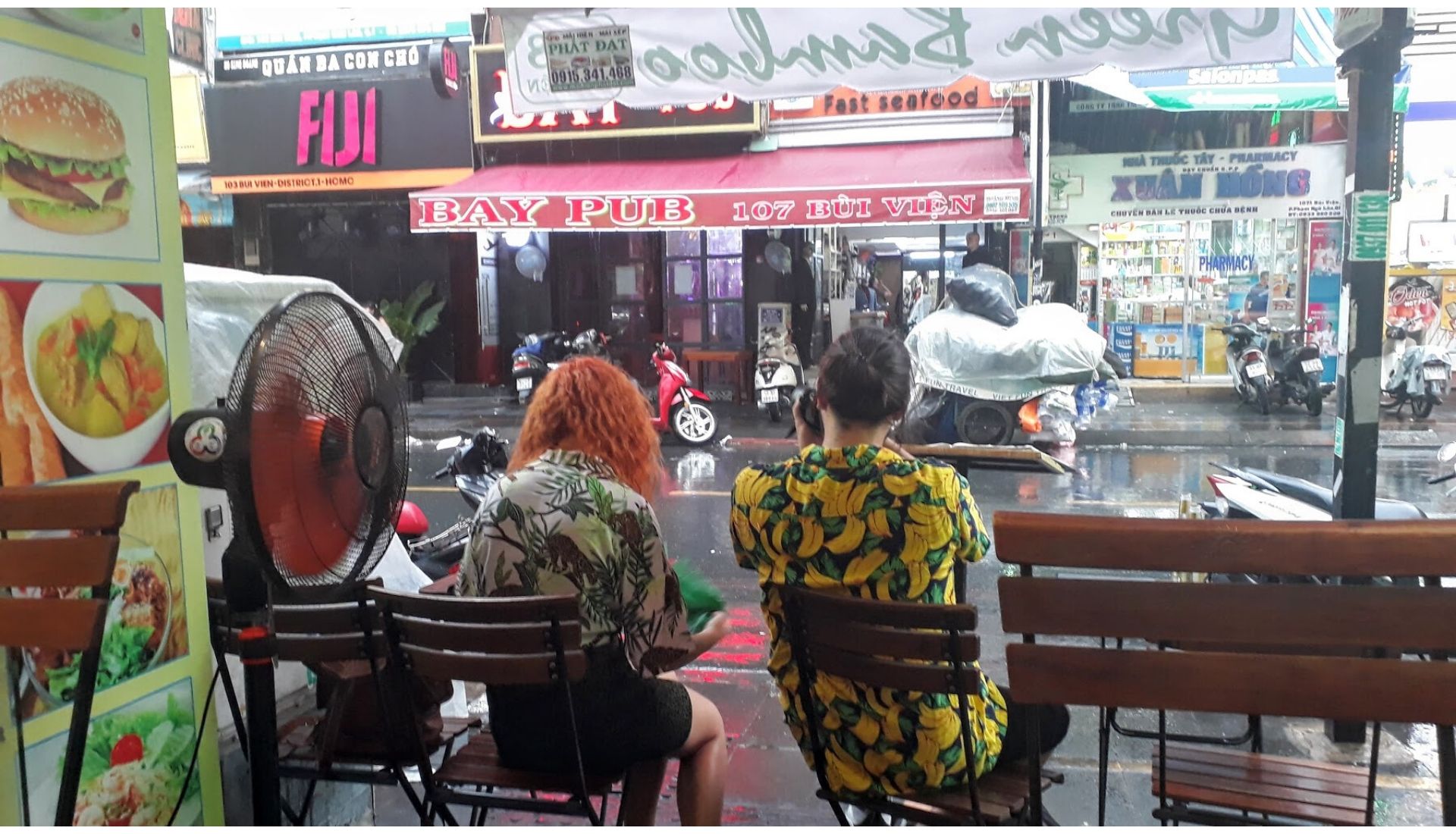 Walk Bu Vien Street in the evening – also known as the Backpackers area – in the evening it is touristy and has a vibrant buzz and is full of bars, restaurants, massage parlours, go-go bars, travel agents, hotels and hostels. If you go early in the evening it is not too touristy.
Best Of Saigon Tour
When: 4 pm every Saturday
Meeting Place: Central Post Office
Places to visit in the tour:
Central Post Office
Saigon Notre Dame Basilica
Dong Khoi Shopping Street
Saigon Opera House
The People's Committee
Ben Thanh Market
Saigon Past & Present Tour
When: 4 pm every Sunday
Meeting Place:  Independence Palace but check as this can change
Places to visit in the tour:
War Remnants Museum
Independence Palace
Ho Chi Minh City Museum
Ben Thanh Market
Mariamman Pagoda
Sense Market – Asian Food Town
Bui Vien Walking Street
More Options – What To Do in HCMC 
Ho Chi Minh City Tour: Half day city tour by Jeep visiting the iconic Reunification Palace, War Remnants Museum, Notre-Dame Cathedral, Ben Thanh Market, and more.
Book your half day city tour by jeep here
Ho Chi Minh City Water Puppet Theatre Performance:
Enjoy traditional dancing performances that have been recognized as world intangible cultural heritage by UNESCO. Then be entertained by a water puppet show, traditional to the Vietnamese culture for a valuable and unforgettable experience.
Pre-book your tickets for the Water Puppet Theatre Experience here
Flavours of Saigon Private Food Walking Tour
Walk with local students and discover some of the culinary gems of Saigon on a tasting tour of the local eateries of Ho Chi Minh City. Learn more about Vietnamese food and sample a selection of tasty dishes at night markets and other locations.
Pre-book your food walking tour here
Ho Chi Minh City Nightlife Tour: by Vintage Vespa
Enjoy the nightlife of HCMC with local guides.
From Get Your Guide: "Your interesting tour will begin as the sun begins to set. You will start by discovering some of the bustling streets of Ho Chi Minh City, beginning with Chinatown. You will then see Luong Nhu Hoc which is a beautiful street containing plenty of lanterns. Following that, you can peruse the decorative items on Hai Thuong Lang Ong Street, which sells fireworks, lanterns, and plenty of other cute items.
Next up, enjoy a dinner consisting of some traditional Vietnamese food. You will then visit the Ho Thi Ky Flower Market, which is the biggest flower market in Ho Chi Minh City. Following the flower market, you will have a chance to discover another part of this big city, as you explore the Saigon River at night.
This tour gives you a completely different experience to other day tours. You will visit a popular place in Ho Chi Minh City that most tourists don't frequent. Outside of the scenery, you can learn more about local life and culture, as you see the people of Ho Chi Minh City gather, eat street food, drink coffee, and socialize. Finally, you will have the chance to discover another part of this big city, as you pass through the Thu Thiem Tunnel.
For more details and booking for the Nightlife Tour by Vespa click here
If you have 4 days/3 nights available we can recommend visiting the Mekong Delta.
You can read about our adventures to the Mekong Delta here.
Where To Eat in Ho Chi Minh City
Local Restaurants We Enjoyed
Spice Viet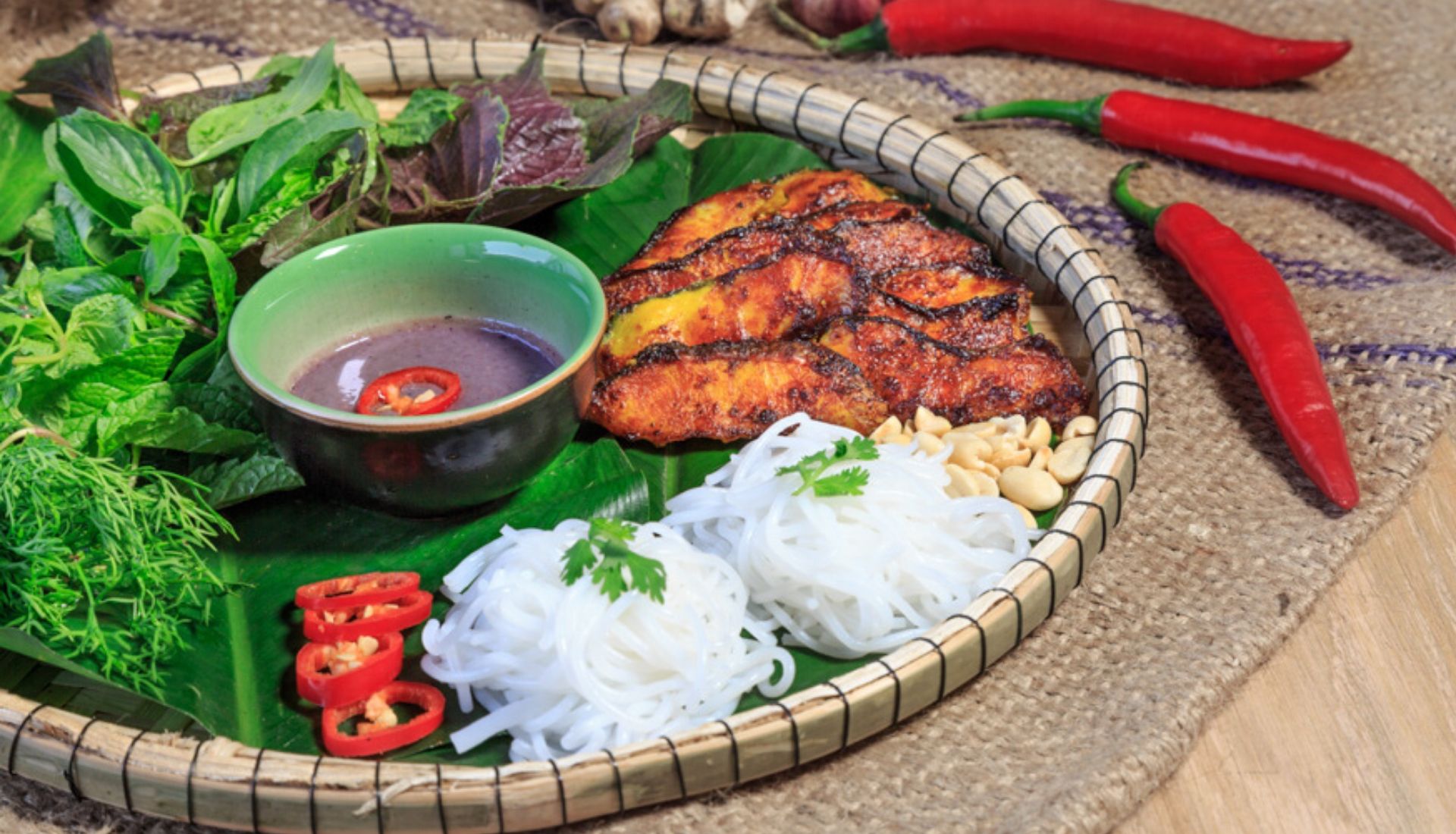 Spice Viet is one of our favourite restaurants in Vietnam. Spice Viet Restaurants use local herbs and spices, vegetables and local meats in their innovative healthy Vietnamese farm to table cuisine. Each restaurant offers a local speciality and has vegetarian options for diners as well.
They now have 4 restaurants:
Ho Chi Minh City at 157 Pasteur District 3
Hue at 15 Ly Thuong Kiet
Hoi An at 187 Ly Thuong Kiet
Hanoi at 46 Nguyen Truong To
For the latest Tripadvisor reviews click here
Bun Bo Nam Bo – Ba Ba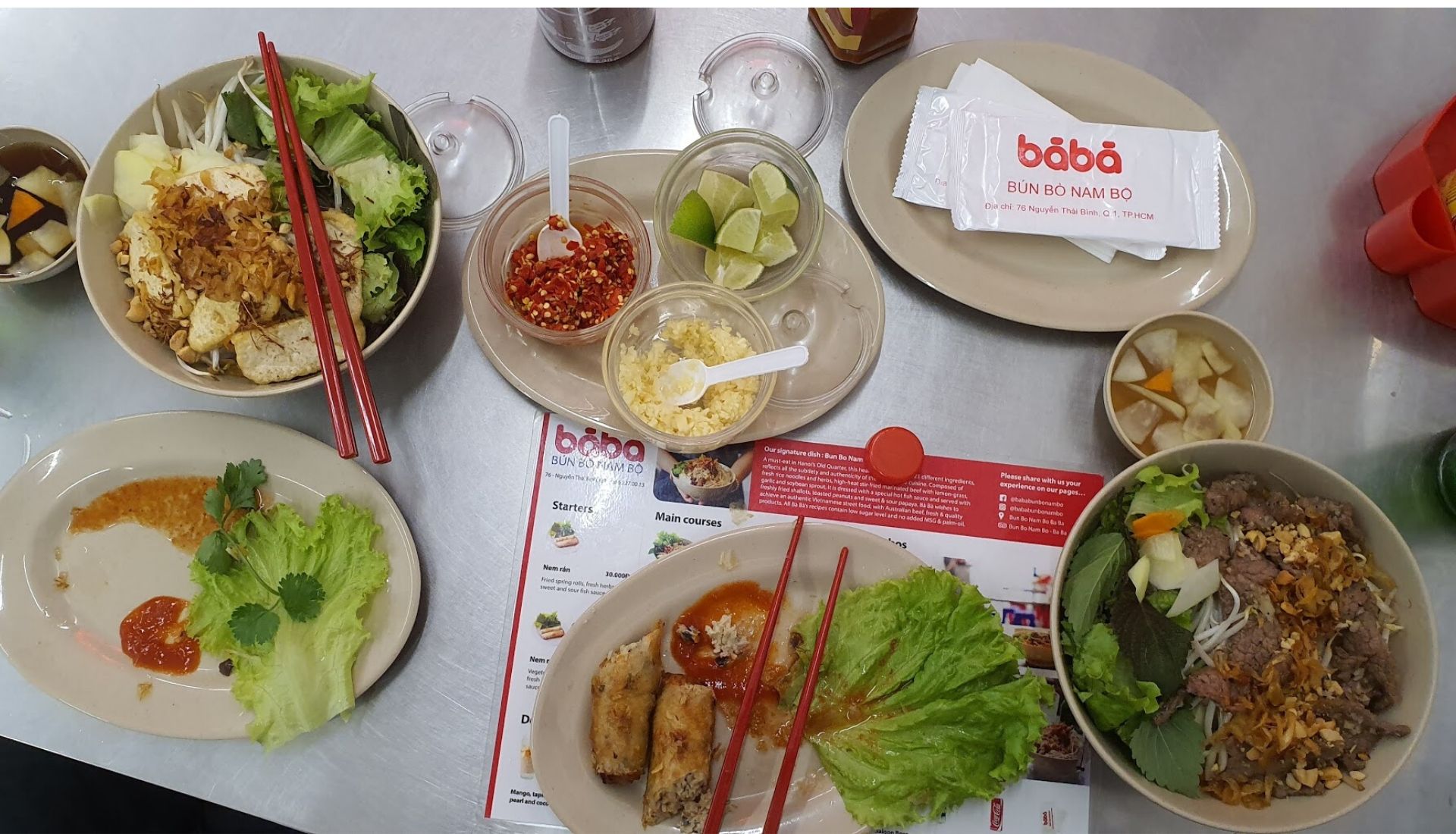 Bun Bo Nam Bo – Ba Ba at 76 Nguyen Thai Bin Ward District 1. A local restaurant with a small menu but high on flavours suitable for meat-eaters and vegetarians at a budget price.
For the latest Tripadvisor reviews click here.
Secret House
Secret House Restaurant at 1 Lê Thị Hồng Gấm, Phường Nguyễn Thái Bình, Quận 1. One of the best interior designed restaurant in HCMC with excellent food.  Minimum options for vegetarians.
For the latest Tripadvisor reviews click here
Where is the best Vegetarian Restaurant in Ho Chi Minh City
Sen Vegan Restaurant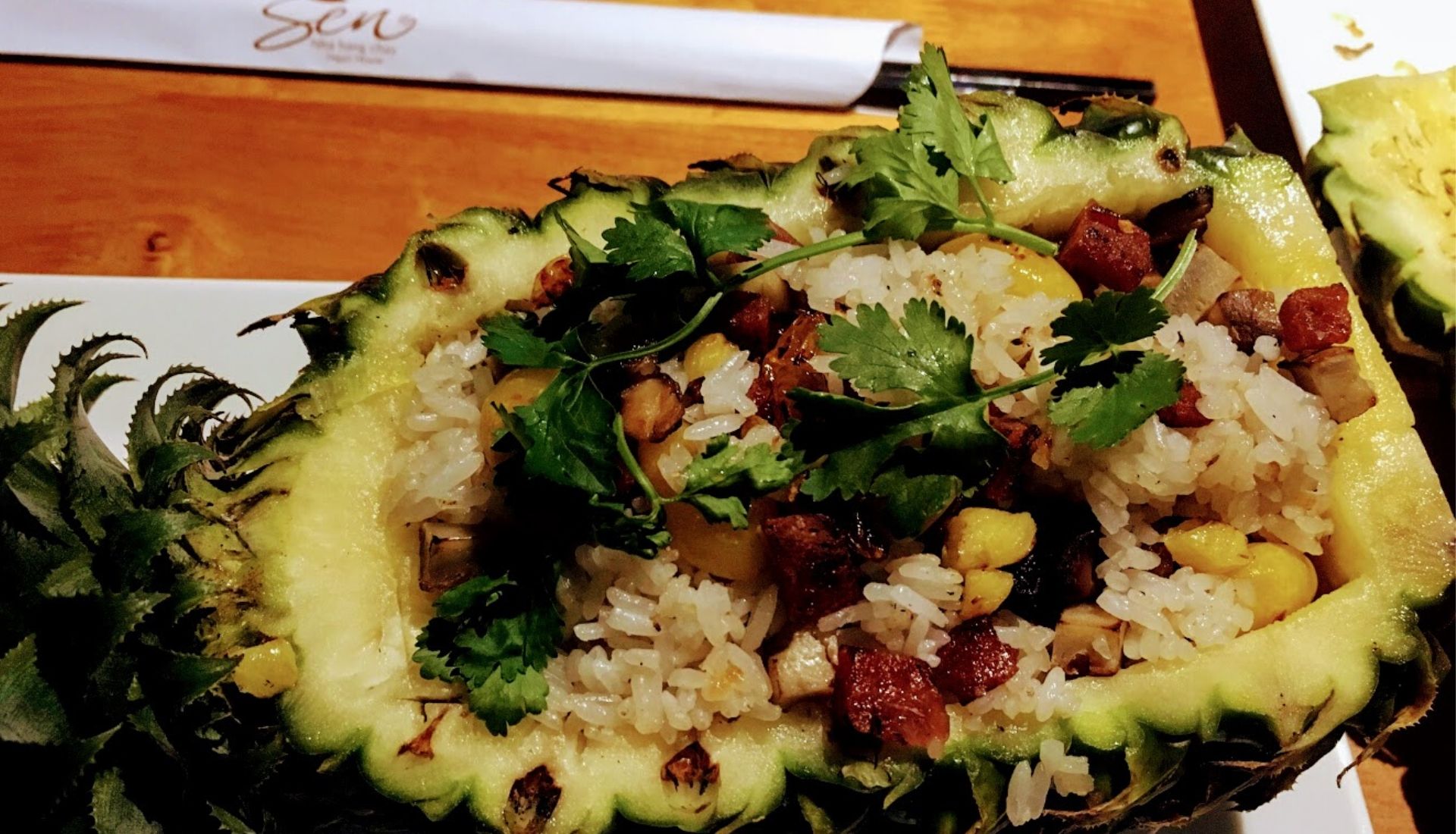 Sen Vegan Restaurant at 171 Nguyen Thai Hoc District 1 offers some of the best vegetarian food in HCMC.  In fact, it was so good we ate there nearly every night.
For the latest Tripadvisor reviews click here
Local Restaurant in HCMC for PHO
Pho Cong
Pho Cong at 142 Lê Thị Hồng Gấm, Phường Nguyễn Thái Bình, Quận was a favourite for local dishes. We were recommended this restaurant as the best Pho in HCMC.  If you are a vegetarian the options are limited.
For the latest Tripadvisor reviews click here
Pho 2000 Saigon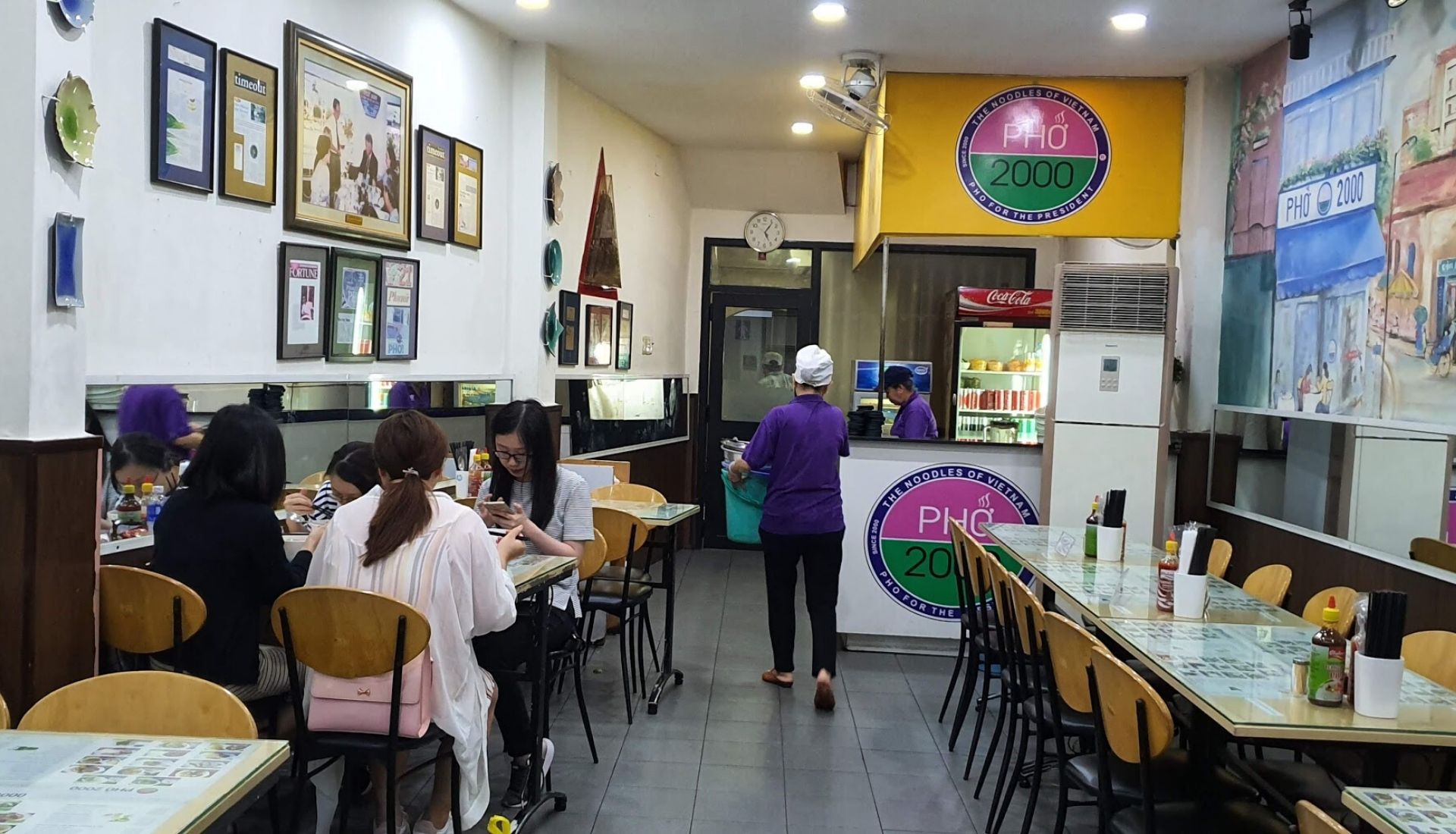 PHO 2000 Saigon located at 1-3 Phan Chu Trinh, Phường Bến Thành, Quận 1, Hồ Chí Minh, is one of the most popular Pho restaurants in HCMC even Bill Clinton was a visitor there. PHO starts at VND65,000 per dish (USD2.80)
Read the latest Tripadvisor reviews before you visit here.
Steak & Wine Restaurant in HCMC
MadCow Grill & Wine Bar
Our favourite Wine and Steakhouse is the MadCow Wine & Grill Saigon on the 30th level of the Pullman Saigon Centre Hotel at 148 Đường Trần Hưng Đạo, Phường Nguyễn Cư Trinh, Quận 1.  You must try the Wagyu Beef it is a speciality.  They also offer an extensive wine list with excellent value wines.
Read the latest Tripadvisor reviews here
Where To Stay in Ho Chi Minh City
 Ho Chi Minh City Hotels in District One
Address: 148 Tran Hung Dao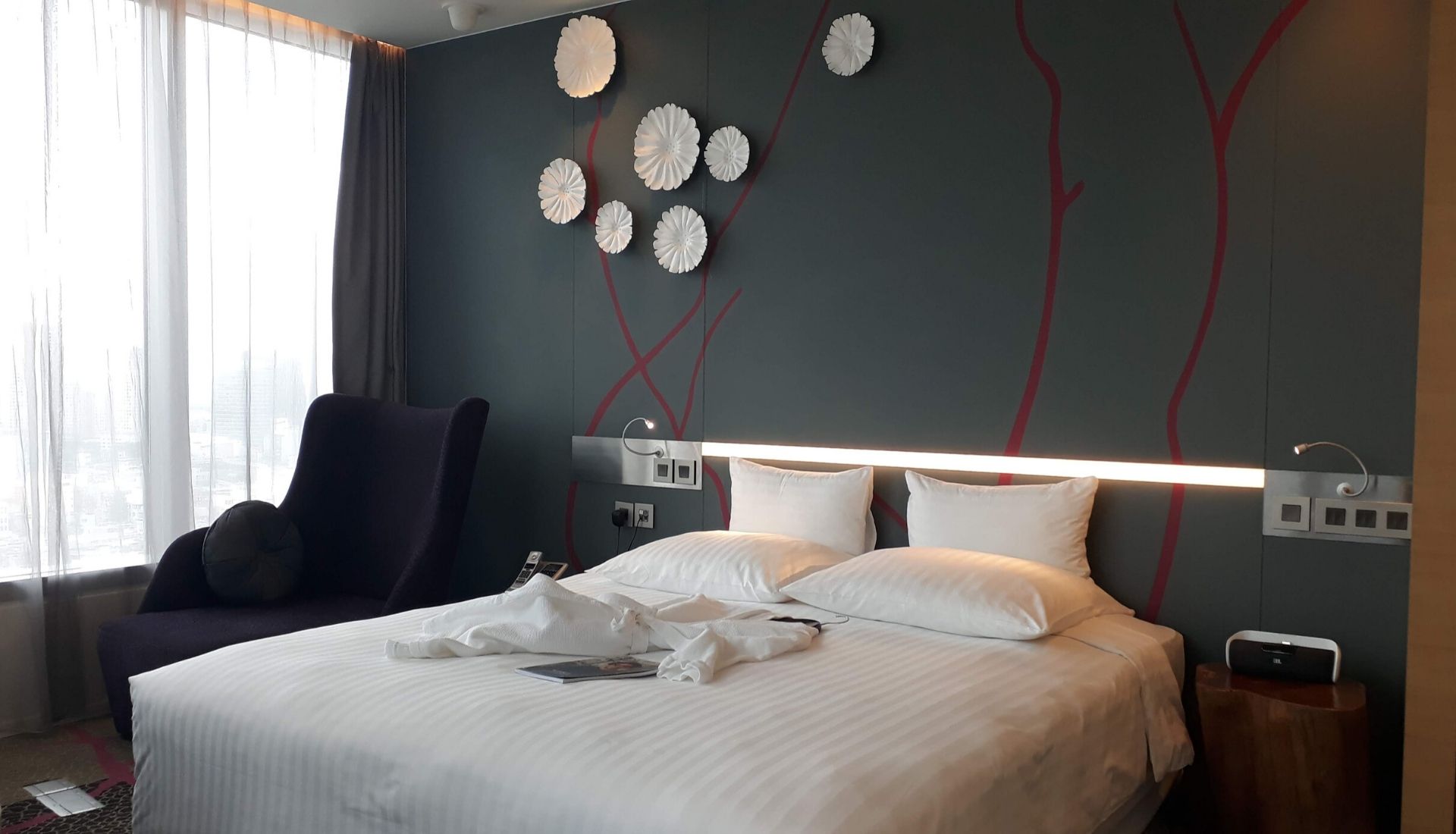 The best hotel in HCMC is the luxurious 5-star Pullman Saigon Centre Hotel is well located in District 1.  For expansive city views head to the 31st floor and enjoy their MadCow Wine & Grill Restaurant and Bar.  There are 2 outdoor swimming pools and a pool bar.
You can read our review on the Pullman Saigon Centre here.
You can read the latest Tripadvisor reviews here
Address:  28 -30 – 32 Le Lai Street Ben Thanh Ward District 1
The Winsuites Saigon is in an ideal location for visiting the Ben Thanh Market.  The hotel offers guests free breakfast, free WiFi, a restaurant, bar, outdoor pool and fitness centre.
For the latest Tripadvisor reviews of The Winsuites Saigon click here
We stayed at the Lotus Boutique Hotel for 2 weeks during our stay in HCMC.  It is such a popular hotel we recommend booking well in advance.  Choose your rooms carefully as some of the rooms are small and lack a window. We would recommend the Executive Double or Twin Rooms.  A breakfast buffet is included as well as free WiFi. The rooftop pool has great views over the city and there is a fitness centre in the basement.
Read the latest Tripadvisor reviews here
Do You Need a Visa
Most travellers will require an e-visa to enter Vietnam.  Currently, there are many changes in the visa requirements so please do check carefully before travelling.
Transport Information for Ho Chi Minh City and Ho Chi Minh City Airport
For information on the Airport at Ho Chi Minh City click here
For travel around Ho Chi Minh City, we can recommend using GRAB (similar to Uber).  You can download the app from your app store.
Taxis are also available as well as transport by motorcycles.
Cheap Flights to Ho Chi Minh City
Find the cheapest flights with Skyscanner who then directs you to the airline's website with no extra fees to pay.
Bus/Rail and Ferry Travel Asia
For the latest bus schedules and ticket prices:
Travel Insurance
We recommend taking out travel insurance as soon as you book your flights and pay deposits on any cruises, tours or hotels.
If you are located in Australia or New Zealand click here for the latest quotes.
If you are located in the rest of the world click below for the latest quotes.
To Travel Too Travel Shop
Travel smarter and safer with products from our To Travel Too Travel Shop.  If you are looking for the latest luggage, guidebooks or travel accessories we have you covered with over 800 travel products to choose from.
Pinterest
Are you on Pinterest? We are at To Travel Too and we have many travel-related boards check us out at Pinterest.  If you enjoyed our article why not pin it to your board.