If you are searching for a charming medieval town in France to visit,  Strasbourg wins hands down.
A town that lies 4 km from the France/German border, Strasbourg excites you the minute you arrive. The half-timbered medieval buildings, the river flowing through the centre, the popular squares and the many hidden alleyways, great restaurants and fun bars – it is a wow every time you turn a corner!
(Editor Update for 2023)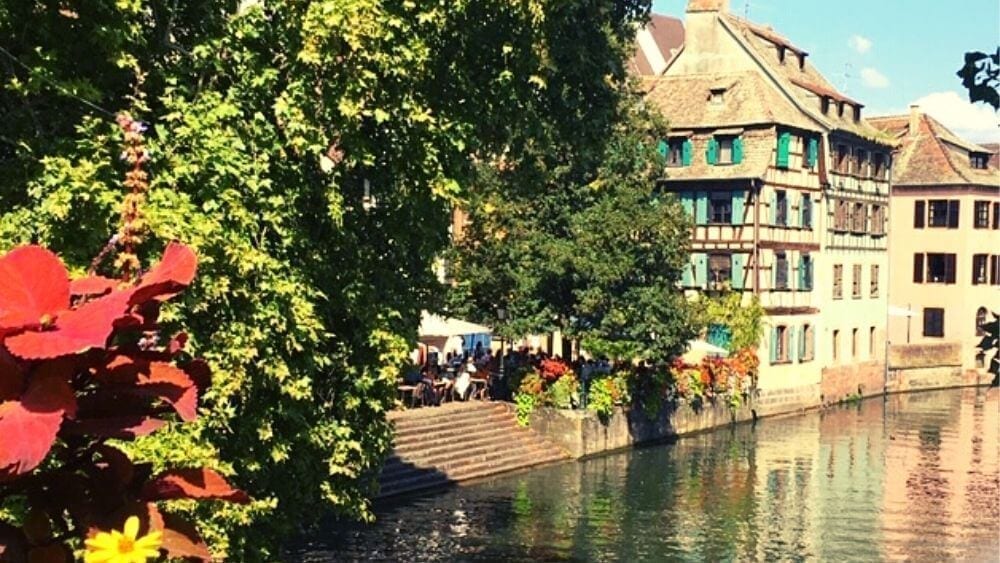 We will show you how to spend two days in Strasbourg, you won't be disappointed as you will experience the flavours of Germany and France together in one place. We have beautiful memories of our time there, we know that you will too.
This post may contain affiliate links. Please see our disclosure for more information. As an Amazon Associate, we earn from qualifying purchases (if applicable). 
Where is Strasbourg France?
Is Strasbourg in France or Germany? Strasbourg is in France but lies on the eastern border of the two countries which is formed by the Rhine River. The German town of Kehl is located on the opposite side of the river.
Strasbourg is located in the Alsace region of France. Strasbourg is the official seat of the European Parliament.
Map of Strasbourg
City of Strasbourg Map
How To Spend Two Days in Strasbourg
Wondering what to do in Strasbourg first?
Purchase the Passe Alsace Card
Although the card is for 3 days, if you are trying to fit in as much in 2 days it may be worth considering.
Enjoy this unique experience at the most relevant places in Alsace
Get your 3 days Pass Alsace and organize your trip to suit you
Feel like a winner with amazingly discounted prices
Follow the app on your smartphone to avoid getting lost
Enjoy free entry to 58 tourist sites, including wildlife parks, fortified castles, museums, and more fun activities and discounts in Alsace.
Organize your trip to Alsace with free entry to a large choice of museums, castles, wildlife parks, and more.
With the Pass Alsace, enjoy free entry to 58 sites in Alsace.
Head to the Haut-Koenigsbourg Castle, the Monkeys Mountain or the Batorama sightseeing boat tour in Strasbourg.
Benefit from discounts and reductions across the area.
Included with Pass Alsace: 1. Castle of Fleckenstein in Lembach
2. Castle of Challenges in Lembach
3. Four à Chaux in Lembach
4. Museum Lalique
5. Glass Museum in Meisenthal
6. Crystal Museum in Saint-Louis
7. Museum of the Battle in 1870
8. Petroleum Museum in Merkwiller
9. Rural farm from l'Outre Forêt in Kutzenhausen
10. Castle of Lichtenberg
11. Museum Pays de Hanau in Bouxwiller
12. Judeo-Alsatian Museum in Bouxwiller
13. Houses of rocks in Graufthal
14. Alsatian Museum in Haguenau
5. Luggage Museum in Haguenau
16. Historical Museum in Haguenau
17. Museum in Rohan's Castle in Saverne
18. Villa Meteor in Hochfelden
19. MM Park in La Wantzenau
20. Pixel Museum in Schiltigheim
21 à 29. City Museums in  Strasbourg (you can choose 2 among 9 museums)
30. One City Tours in Strasbourg (byke renting + géocaching)
31. Le Vaisseau in Strasbourg
32. Mémorial Alsace-Moselle in Schirmeck
33. European Center of Deported resistant – old concentration camp  Struthof
34. Museum of gingerbread and Alsatian folk art in Gertwiller
35. Würth Museum in Erstein
36. The Workshops of the Seigneurie in Andlau
37. The House of the Distiller in Châtenois
38. Eagles park in Kintzheim
39. Monkeys Mountain in Kintzheim
40. Castle of Haut-Koenigsbourg in Orschwiller
41. Cigoland in Sélestat
42. The bread House in Sélestat
43. The Humanist Library in  Sélestat
44. Tellure Silver Mine in  Sainte-Marie-aux-Mines
45. NaturOparC in Hunawihr
46. Castle of Hohlandsbourg
47. Museum of Wood and Heritage Trades in Labaroche
48. Toy Museum in Colmar
49. The Hansi Village and Museum in Colmar
50. Ecomusée d'Alsace in Ungersheim
51. Historial franco-allemand du Hartmannswillerkopf
52. Wesserling Park and textile Ecomuseum
53. Museum of wallpaper in Rixheim
54. Museum EDF Electropolis in Mulhouse
55. Mulhouse Zoological and Botanical Park
56. Firefighter Museum in  Vieux-Ferrette
57. Zoological and Botanical Garden in Mulhouse
8. Firefighters' Museum in Vieux-Ferrette
Places to Visit in Strasbourg
The Cathedrale, Strasbourg France (Notre-Dame de Strasbourg)
The Cathedral in Strasbourg dates back to the middle ages.  The 142 m (466 ft) high spire was completed in 1439 in the Gothic style. The Observation Deck stands 66m high (217ft).
Construction began at the end of the 12th century on the Gothic style cathedral and was completed in 1439. In 1015 the site was occupied by a Roman Church that was burnt down 3 times. Sandstone has been used in the construction and it is a never-ending refurbishment.
Every statue around the Cathedral conveys a special message. The church is funded by donations.
The Strasbourg Astronomical Clock
The Strasbourg Astronomical Clock is located in the Cathedral of Strasbourg. The current mechanism of the clock dates back to 1842.
Taken from the Visit Strasbourg website:
"The main attraction of the clock is its animated figures which come out to delight the public every day at half past noon. During this performance, visitors are treated to views of the different ages of life, personified by a child, a teenager, an adult and an old man, who all parade past Death. Higher up, the apostles have their own parade, before Christ. Their journey is accompanied by the beating of wings and the sound of a large cock crowing. In front of the Clock visitors can admire the huge Pillar of Angels which offers a highly original representation of the Last Judgment."
The entrance for visitors is from the South entrance.
Entrance is free on the first Sunday of the month.
Oeuvre Notre-Dame Museum
Address: 3 place du Chateau Strasbourg
Entrance Fee: Euros 7.50 per adult
Children up to 18 free
For the best exhibits of medieval works in France.
During the 15th century, Strasbourg was one of two European cities for the production of Upper Rhine tapestry.
One of the famous masterpieces of medieval art in Western Europe.
Petite France Quarter
Formerly the quarter of the tanners, millers and fishers in Strasbourg.
The pretty streets are lined with half-timbered 16th and 17th-century houses. It is a popular area to visit in Strasbourg for restaurants and a photographer's delight.
Petite France is listed as a UNESCO World Heritage Site.
Gutenberg Square
The square is named after Johannes Gutenberg who is the inventor of the modern printer. Gutenberg also created the first typed book known as the Gutenberg Bible.
The merry-go-round is not a permanent fixture in the Square, although we believe it should be.
Free Tour Strasbourg – Free Walking Tour of Strasbourg
Take a free walking tour with Happy Free Tour Strasbourg.
A great way to learn more about the history of Strasbourg as you are walking around with a passionate local. 
Meeting point in front of the Cathedral.
Visit the Strasbourg Squares of:
the Cathedral,
Gutenberg,
Kléber,
République,
and also in some less known places like Saint-Etienne
The tour route may differ depending on your guide. The free walking tour is based on tips.  We have enjoyed many free walking tours throughout the world including Spain, Ecuador, Argentina and Chile etc.
Kleber Square
Kleber Square is the largest square in Strasbourg.  The statue in the square is of the French General Kleber born in 1753 in Strasbourg. His ashes are contained in the bottom of the statue.
If you are visiting the Christmas Markets in Strasbourg the square houses the large Christmas tree. The locals donate gifts to the poor around the tree.
More Places to Visit in Strasbourg
Fontaine de Janus
It was constructed in 1988 by Tomi Ungerer and it is located in Place Broglie, one of the main squares of Strasbourg. The sculpture is of a roman 1 head/2 faces. Janus is the God of the past and the future.
Strasbourg Tours
When you visit Strasbourg allow some time to enjoy some of the local tours.
Walking and Bike Tours of Strasbourg
Wine Tours of Strasbourg
Day Tours from Strasbourg
FAQs on Strasbourg
What is Alsace France known for?
The Alsace of France is well known for its local cuisine and beer.
The beer of the Alsace region is Meteor or Kronenbourg.
Local cuisine includes Sauerkraut, cheese and Flammekueche similar to a pizza but contains cream, ham, mushrooms and cheese.
The Alsace – Lorraine region is also known for its classic French dish – the Quiche Lorraine.
You will find different versions of the classical dish around France depending on the region you are travelling through.
When is the Christmas Market in Strasbourg?
From the 28th November ending on the 24th December.
How many days should you spend in Strasbourg?
We would recommend at least 2 days.
Is Strasbourg worth visiting?
Definitely, we would return and spend at least another 2 days. We enjoyed the history, the Petite France neighbourhood, the food and the Cathedral.
What is the distance from Strasbourg to Nancy?
115 km from Strasbourg to Nancy.
What is the distance from Strasbourg to Lyon?
493 km from Strasbourg to Lyon
Weather in Strasbourg – when is the best time to visit?
The best time to visit Strasbourg is between the months of May and August. July is the hottest month. December is a good time to visit the Christmas market.
Is Strasbourg expensive?
Strasbourg is an expensive place to live, transport costs are high, locals travel around on bicycles.  As a tourist, you can reduce your costs by booking an apartment and self-catering.  Groceries from supermarkets may be more expensive than in other cities in France.
Accommodation Strasbourg
Wondering where to stay in Strasbourg? Strasbourg has a range of properties to suit all types of travellers and budgets.
Strasbourg Hotels
Some of the popular tourist hotels in Strasbourg are:
Best Western Plus Monopole Metropole Strasbourg
Address: 16 Rue Kuhn, Strasbourg, Bas-Rhin, France
4 Star hotel – free wifi, free parking, pet-friendly, centrally located being 1/4 mile from the train station, near Le Petite district. A breakfast buffet with scrambled eggs and bacon is served every morning in the elegant, Alsatian-style breakfast room. The hotel also has a modern bar with paintings by local artists, where guests can relax in one of the armchairs.
Latest Guest Reviews:
"Staff was professional, helpful and upbeat. The facility was warm and welcoming. The breakfast buffet was buffet was good and diverse."
City Residence Strasbourg Centre
This is where we stayed and we would stay here again, a great location, clean and comfortable.
Address: 1 Rue des Magasins, Strasbourg, Bas-Rhin, France
Budget 2 star hotel located a 10-minute walk from the Gare SNCF and 901 m of the Strasbourg Christmas Market. The 'Petite France' is a 12-minute walk from the aparthotel, while Strasbourg Cathedral is 0.7 mi from the property. Strasbourg International Airport is 6.2 mi away.
Free parking, free wifi and pet friendly.
Latest Guest Review:
"Friendly and helpful staff We got a parking place behind the residence Center can be reached by foot Ability to take your pet with you for a little fee"
More Hotel Accommodation Options

 
Check more availability for your dates of travel for Strasbourg Hotels with our partner Booking.com


Best Restaurants in Strasbourg
For the top 10 restaurants in Strasbourg click here
For the top 10 Bars in Strasbourg click here
How to Get To Strasbourg
By Train to Strasbourg
Amsterdam to Strasbourg Train – 28 trains per day, journey time 5 hours 24 minutes, usually one-stop e.g. Paris
Baden Baden to Strasbourg Train – 26 trains per day, journey time 1 hour 21 minutes
Basel to Strasbourg Train – 30 trains per day, journey time 1 hour 18 minutes
Brussels to Strasbourg Train – 29 trains per day, journey time 3 hours 32 minutes
CDG Airport Paris to Strasbourg Train – 20 trains per day, journey time 1 hour 48 minutes
Colmar to Strasbourg Train – 63 trains per day, journey time 25 minutes
Frankfurt Main to Strasbourg Train – 23 trains per day, journey time 2 hours 56 minutes
To book train tickets click here
Buses to Strasbourg
Bus Strasbourg to Paris – approximately 2 hours
Bus Lyon to Strasbourg – approximately 4.5 hours depending on the company
Bus Colmar to Strasbourg – approximately 1.05 hours
Bus Frankfurt to Strasbourg – approximately 6 hours 23 minutes
Bus Frankfurt Airport to Strasbourg – Lufthansas Express Bus 2 hours 30 minutes
Book your bus tickets here
Flights to Strasbourg
Aeroport Strasbourg
Strasbourg's airport is located 10 km southwest of Strasbourg in Entzheim.
Flights to Strasbourg from the UK are with EasyJet and Ryanair.
Find the cheapest flights with Skyscanner our go-to when researching and booking flights.
Car Rental Strasbourg
We use AutoEurope when we hire a car in Europe.  For the latest deals and availability click here.
Obtain an International drivers licence is minutes here.
Travel Insurance Strasbourg
We recommend that you take out travel insurance when you travel.  The best time to take the policy out is when you book flights and hotels and pay for deposits on tours and cruises.
To Travel Too Shop
Travel smarter and safer with products from our To Travel Too Travel Shop.  If you are looking for the latest luggage, guidebooks or travel accessories we have you covered with over 800 travel products to choose from.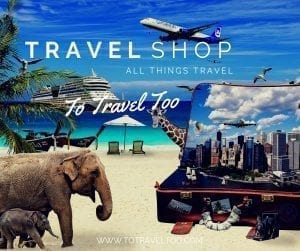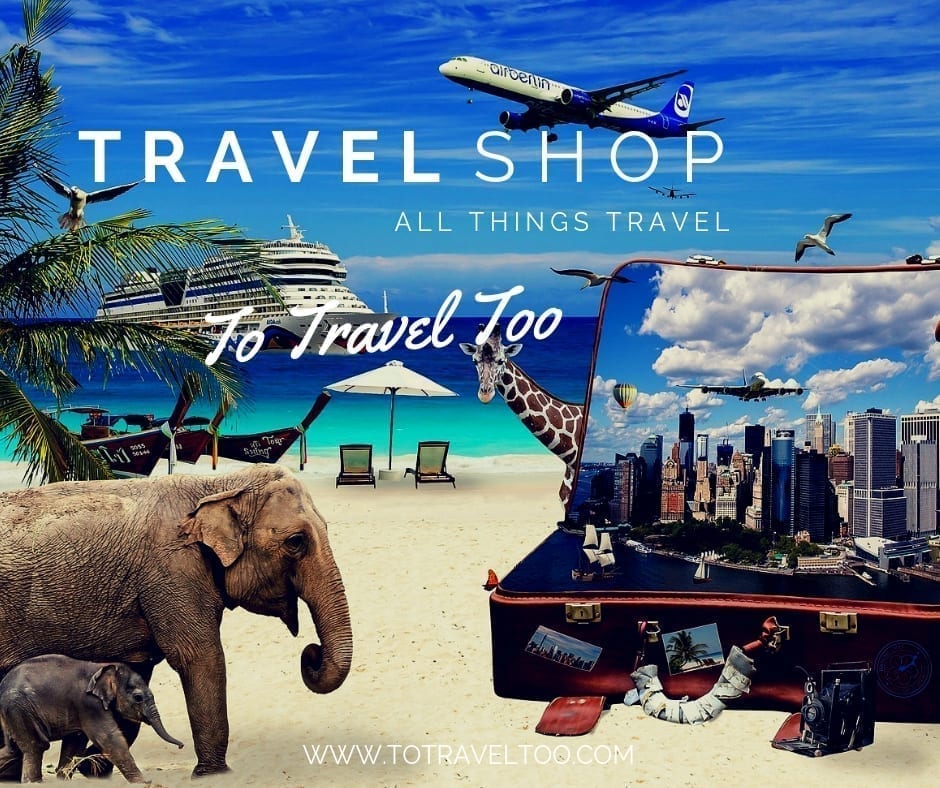 Pinterest
Are you on Pinterest? We are at To Travel Too and we have many travel-related boards check us out at Pinterest.  If you enjoyed our article why not pin it to your board.
Related French Articles:
Visit 8 Charming Villages near Toulouse
Sailing the French Canals with Le Boat
Driving the Champagne Region of France
What to do in Toulouse in 4 Hours
If you are planning a visit to Italy why not include a Day in San Gimignano (another beautiful European village and one not to be missed.)
Conclusion
We hope you enjoy Strasbourg as much as we did.
If you have any questions or would like some advice we would love to hear from you. You can reach us via our Facebook page or email us here.