Are you looking for a luxury resort in Dubrovnik for your next holiday? Let us share with you our luxury hotel review of the Sun Gardens in Dubrovnik.
Sun Gardens Resort – Welcome To The Pearl of the Adriatic – this is what you first read on the Sun Gardens website and this is exactly what you experience when you first arrive!  The quote from Irish playwright George Bernard Shaw "Those who seek paradise on earth should seek it in Dubrovnik" also appears on their website. How apt are these two statements!
Check availability here
This post may contain affiliate links. Please see our disclosure for more information.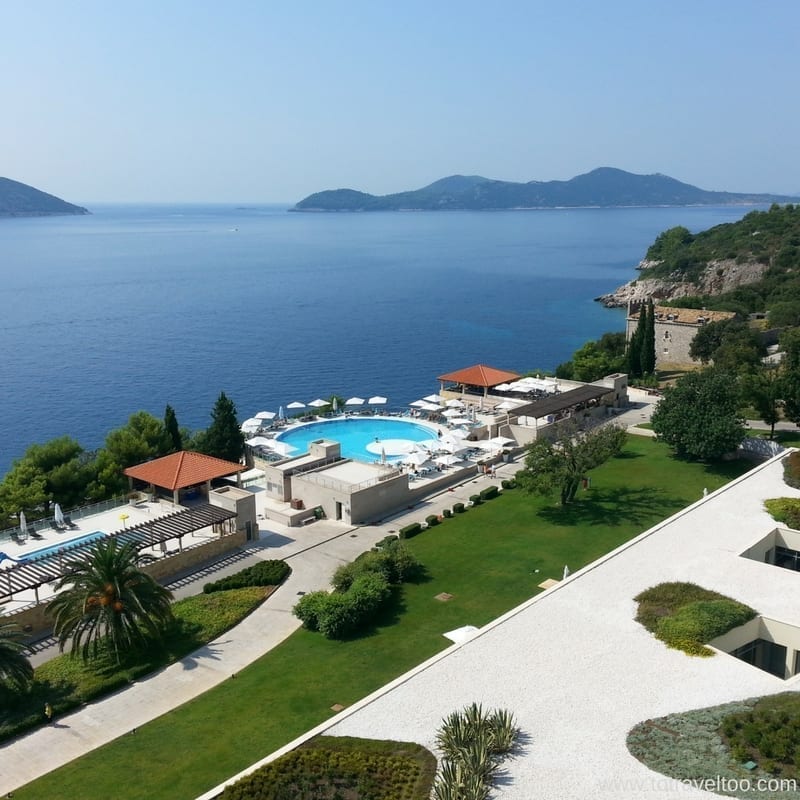 Sun Gardens – we certainly left the best to last!  After spending the last 8 days in Dubrovnik we had two more nights left before we were headed off to Spain, and what better way to spend it than enjoying the luxurious Dubrovnik Sun Gardens Resort.
We were hosted by the Sun Gardens Resort for our two-night stay. As always our opinions are our own.
Where is Sun Gardens Dubrovnik
Just 15 minutes from the Old Town of Dubrovnik the road winds its way through small harbour front villages with stunning views over the Adriatic Sea.  As your eyes gaze over the stunning vista you suddenly find yourself at the entrance to the hotel.  We had been following Sun Gardens on their Instagram account for the last few weeks and thought we knew what to expect.  Already our expectations had been exceeded and we had not even seen our bedroom's view yet.
We had arrived early at the hotel to meet with Iva Svetac, Marketing and P.R. Manager and whilst our room was being prepared we joined Iva on the balcony for coffee to find out more about Sun Gardens.
Background of Sun Gardens Dubrovnik
Originally the hotel was built during the 1980s as holiday residences.  Fortunately, during the war of the early '90s, the hotel was not damaged but the actual running of the hotel did run into problems, the need for accommodation dwindled and the maintenance and upkeep of the hotel came to an abrupt halt.  In 2008 a new investor put together redevelopment plans to create a 'replica of a Mediterranean village'  not just another hotel but a resort with hotel and residential private houses in a village-like atmosphere.
Sun Gardens Hotel is part of the franchise group of the luxury hotel chain The Leading Hotels of the World.
Accommodation at Sun Gardens Dubrovnik
Sun Gardens offers 408 accommodation units comprising of 201 rooms and suites and 207 residences spread over 22 acres.
The private residences are available in 1, 2 and 3 bedrooms with either sea views or garden views.
After enjoying coffee and a lovely chat with Iva and Katarina our room was ready. The top two floors of the Sun Gardens are designated for their Club Rooms and Suites according to the room number on our key, that is where we were headed!  You know the feeling when you are lost for words? Their Romantic Suite was ours for the next 2 nights! We stood on the balcony in awe of the view in front of us!
The double-sized balcony contained 4 lounge chairs and a table where we could envisage enjoying a glass or two of chilled white wine whilst watching the sunset over the islands.
As we walked back into the room we realised the bathroom was as large as the bedroom (and that was large) and that the walk-in wardrobe/dressing room was as large as some of the rooms we have stayed in before in hotels.  The double-sized shower and stand-alone bath with views over the Adriatic Sea were to die for, as well as complimentary toiletries. Our tiny carry-on bags looked like shopping bags in the immense walk-in wardrobe.
The bed was king-size with luxurious coverings and fluffy pillows.
A nice touch was the Nespresso Coffee Machine and our complimentary bottle of Croatian Red Wine with a plate of canapes.
The Exclusive Club Lounge was on our level and it was time to check it out and enjoy a chilled glass of Croatian White Wine before we headed off to explore the grounds and the 3 swimming pools.
Club Rooms at Sun Gardens Dubrovnik
If you are considering staying in one of the Club Rooms this is what is included:
personalised check-in and check out
A welcome tray of wine and canapes
fresh flowers and fruit are delivered daily
your personal pillow selected from a pillow menu
designer toiletries by OCCO (made from mineral extracts from the Adriatic Sea, local plants, flowers and herbs)
free high-speed wireless internet
Nespresso coffee machine
Satellite and Pay TV
Turn down service
Access from 1100 to 2300 in the Exclusive Club Lounge with complimentary tea, coffee, soft drinks, wine and spirits
Check availability here
Exploring Sun Gardens Dubrovnik
Swimming Pools and Beach Area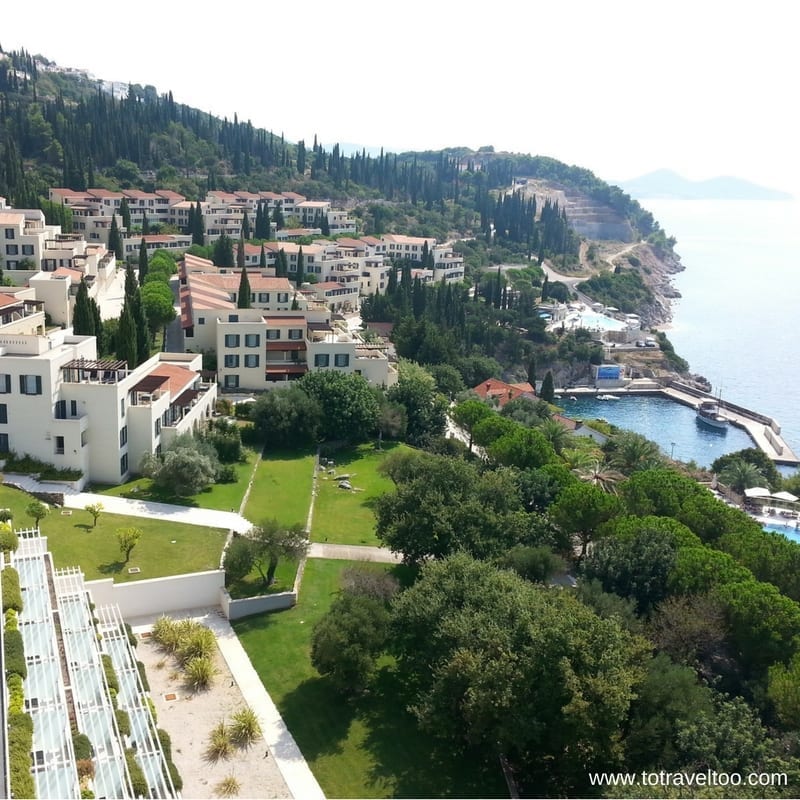 Spread over 22 acres, Sun Gardens boast gardens of palms and pine trees, 3 swimming pools (two family pools each with a separate children's pool and one adults-only) a promenade that spans the length of the beach.
The beach offers deck chairs, a beach bar and a very special V.I.P. area where you have your own private cabana, draped in white flowing curtains, where you can enjoy cocktails and wines whilst enjoying the view (this is a special V.I.P. package, costs and availability enquiries must be made directly with the hotel).
Spa Facilities at Sun Gardens Dubrovnik
The Yes to Beauty spa centre offers various soothing treatments, an indoor pool and spa, a sauna and a sun terrace where you can enjoy vitality juices.
Sporting Facilities at Sun Gardens Dubrovnik
A sports centre that offers 3 clay tennis courts, a football court where at 4 pm you can join a 5 aside game on their artificial turf. A squash court, gym, climbing wall, billiard tables, table tennis, indoor basket court and a studio room that offers group fitness classes.
Shopping Facilities at Sun Gardens Dubrovnik
Sun Gardens offers a Shopping Promenade with a grocery store, a pharmacy, hairdressers and retail outlets.
In House Travel Agency Sun Gardens Dubrovnik
Sun Gardens also offer in-house travel agency services that can organise a shuttle into the Old Town, tours to the islands or even to Mostar in Bosnia.
Restaurants and Bars Sun Gardens Dubrovnik
With a total of 15 restaurants and bars to choose from, we were spoilt for choice.  Guess we have to stay 15 nights to try each one out!  We made our dinner reservation for Cilantro which enabled us to dine al fresco with a view over the Adriatic Sea and to enjoy their range of Mediterranean and Croatian specialities.
Our compliments to the Chef and the team at Cilantro for making our evening memorable.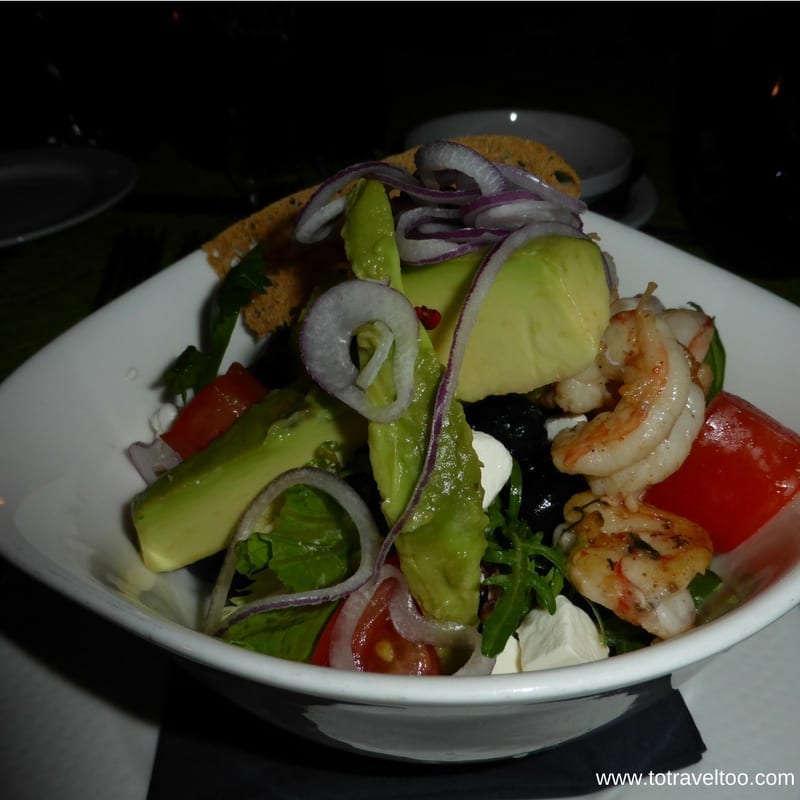 We dined on local seafood as Entrees.
Duncan had beef as the main meal.
Jane had a vegetarian risotto with a delightful chilled bottle of Tezoro.
Breakfast for those on the Club Floors is held on the rooftop in a delightful white and pink setting.
If you are not on the Club Floors, for an additional charge, you can enjoy the experience.
We could have stayed there all day enjoying our breakfast and having numerous cups of coffee whilst staring out at the sparkling Adriatic Sea and watching numerous boats pass by on their way to the islands but the Old City beckoned.
Unfortunately, the next morning we had a very early departure from the hotel and could not enjoy the delightful setting and breakfast, but after enquiring at Reception we were informed that the Hotel would provide us with a breakfast box to take with us.  There was so much food in the Breakfast Box it fed us for breakfast and lunch.
Sun Gardens Dubrovnik News
A weekly newsletter is published by the hotel showing the weather forecast for the week, opening hours of the restaurants and bars and a leisure activities timetable.  The newsletter also provides interesting articles on Dubrovnik and the surrounding area and any special events that the hotel may be holding.
Our Verdict
The Sun Gardens Resort and Spa is one of the most beautiful resorts that we have had the pleasure of staying in. Waking up to the stunning views over the Adriatic Sea and the islands and enjoying a special breakfast on the rooftop will always be a memorable experience for us.  Even with 100% occupancy, the hotel will never feel crowded or busy, the 22 acres have been utilised for all to enjoy some peace and quiet on your holidays and the variety of restaurants and bars enhance that experience. We should have stayed longer!
Sun Gardens Resort and Spa is perfect for:
Couples
Solos
Groups
Multigenerational Travel
Family Travel
Conferences and meetings
Hotel deals at Sun Gardens Dubrovnik
Check-in regularly for the Sun Gardens special deals and packages e.g. Christmas and New Years Eve
Read why TripAdvisor readers have rated the Sun Gardens Dubrovnik #1.
If you have enjoyed our article on the Sun Gardens Resort and Spa or you have stayed here we would love you to leave your comments below.
We thank Iva and the staff of Sun Gardens Radisson Blu for looking after us so well.  Our stay was part of a press trip to Dubrovnik and as always our opinions are our own.
Check out our YouTube video – Sunrise and Sunset at Sun Gardens Hotel Dubrovnik.
Flights to Croatia
Find the cheapest flights with Skyscanner our 'go-to' when researching and booking flights throughout the world.
Airport Transfer
Travel Insurance
We recommend taking out travel insurance as soon as you book your flights and pay deposits on any cruises, tours or hotels. We currently use two travel insurance companies, which are our partners, we compare each policy and price for the destination we are travelling to.
To Travel Too Travel Shop
Travel smarter and safer with products from our To Travel Too Travel Shop.  If you are looking for the latest luggage, guidebooks or travel accessories we have you covered with over 800 travel products to choose from.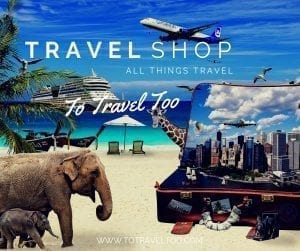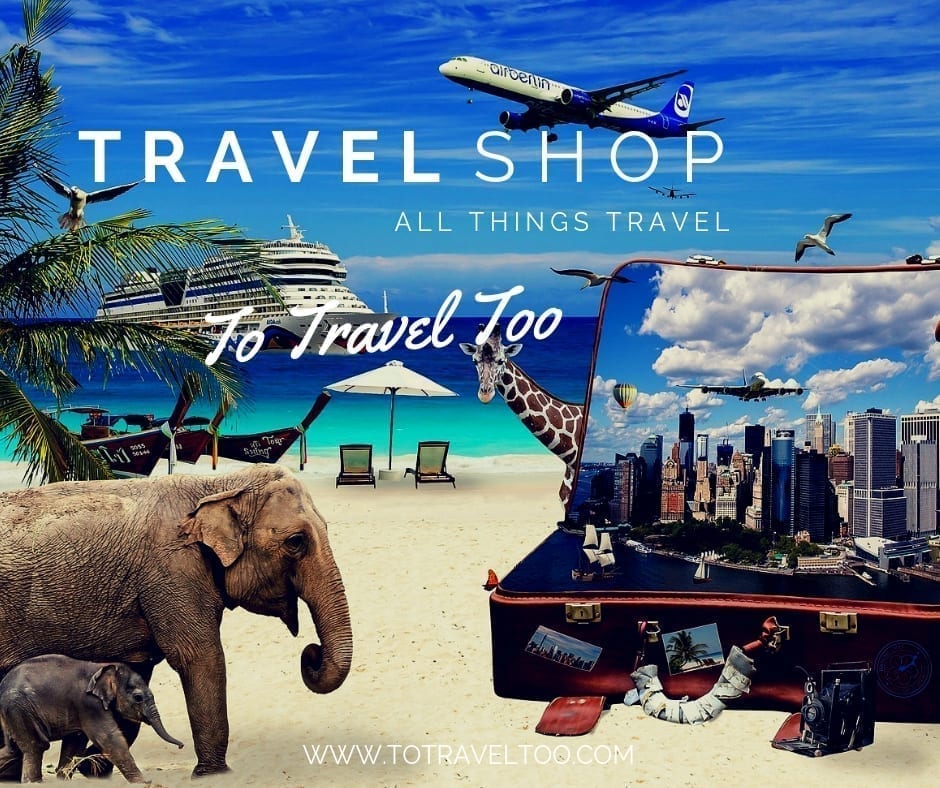 Pinterest
Are you on Pinterest? We are at To Travel Too and we have many travel-related boards check us out at Pinterest.  If you enjoyed our article why not pin it to your board.