Our Top Essential Travel Items for 2023
Are you planning your next adventure and wondering what essential items you should bring along? Look no further! In this article, we will explore the top travel must-haves that every globetrotter needs in their suitcase.
So pack your bags and get ready to discover the ultimate travel essentials that will make your trip unforgettable.
Wondering what we take with us when we travel? We have been on the road now since 2013 and we have the top essential travel items that we would not leave home without after many years of trial and error.
Since COVID-19 in 2020, we have added some essential health items that you need to carry with you on your travels in 2022. With the issues with travel luggage in 2022 we have added the Apple Air Tags to our travel essential list.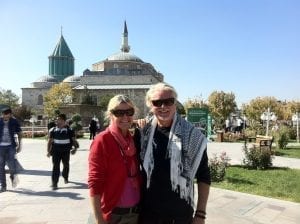 This post may contain affiliate links. Please see our disclosure for more information. As an Amazon Associate, we earn from qualifying purchases (if applicable).
Our Top Travel Essentials for 2023
Apple Air Tags
Osprey carry-on luggage
 Facemasks
 Hand sanitiser
 Apple Mac laptops
 Apple iPhone 13 and Samsung 10 Galaxy Note
 Packing Cubes – we will not leave home without these
 Power board
 Travel Insurance
 Hard drive
Some of our top travel essentials are our Osprey Carry-On Luggage which has been with us since 2016 and still going strong.  These will not need to be replaced. We recommend that you travel with carry-on luggage where you can. We have travelled for periods from 6 months to 18 months just with hand luggage.
Our Osprey carry-on luggage has travelled throughout Vietnam Cambodia Thailand, all through Europe, parts of the USA, Uruguay, Antarctica and many buses throughout Patagonia to Chile. They have been on tuk-tuks, cruise ships, hundreds of buses and trains and are still going strong. We highly recommend them for their durability.
A vacation packing list is different from our packing list for long-term travel as we now only travel with carry-on luggage.
These days with the regulations of some of the airline carriers our carry-on luggage can be considered overweight, so we have to be diligent with the current regulations of each carrier that we travel on.
We also carry a hand scale for weighing our luggage.
Health Essentials For Travelling
For travels the most essential health travel items are:
face masks
hand sanitiser

New travel products are always coming online and this year we are looking at reliable selfie sticks to travel with.

Travel CheckList and Travel Insurance

Before we head off on our travels we have a travel accessories checklist.  This covers who is carrying what technology, passports, tickets, currency and health insurance documents in their day packs or on our bodies.  We split our credit cards up between us, as we have learnt the hard way by being robbed in Ecuador on the way to Otavalo.  We can't stress highly enough about taking out travel insurance, honestly, you just don't know when you are going to need it.

In 2017 we had to claim twice for Duncan. The first time was when he pulled a muscle in his back travelling in Ireland and the 2nd time (same trip) was when we found out that he had high blood pressure when visiting the dentist in Bangkok, Thailand.  That involved getting on the first available flight home to Sydney (thanks to Skyscanner) to see our Dr and to have tests carried out, in fact, many tests.

What Essential Travel Items We Don't Travel With Now

We did initially travel with TSA locks on our bags, but we found that in Ecuador they were cut off and were pretty useless after that so we haven't bothered since.

We also found that a luxury leather travel wallet that we once had was too cumbersome for us, they take up too much space in our day packs. In fact, it was the luxury leather travel wallet, that was easily stolen in Ecuador.

We are not carrying any cameras these days.  We have had quite a few years enjoying our Panasonic Lumix but we find that our mobile phones are doing the same job. In fact, Duncan uses a  Samsung Galaxy Note Plus and Jane uses the iPhone 13.

Travel Gifts: We don't buy travel gifts for family or friends anymore, we just do not have space in our luggage.  In fact, we don't buy any material possessions as we spend our money on experiences instead.

What is New in Our Travel Kit

Since 2018 we have been travelling with packing cubes.  They have cut down packing time, clothes are easily found, they are so easy to place in our Osprey Luggage, we can't understand why we have not used them sooner. There are many different types and sizes available.

How Do We Carry Our Must Have Travel Items eg Passports, Credit Cards and Cash etc

Duncan now wears a small travel wallet on his body that has our passports and currency in it. Jane wears travel trousers that have deep pockets suitable for carrying credit cards and phones.
Jane is considering a travel scarf. She is currently weighing up the pros and cons of each item below.
How do you choose the right travel destination for your trip? Our guidelines will help you plan whether you are travelling with family, as a couple or a solo traveller.
If you are planning your next adventure we can give you our top tips and tricks for saving money on travel from flights to accommodation and more.
What Are Our Must Have Travel Essentials (What To Pack For A Trip)
#1 Travel Essentials – Travel Insurance 
It is so important, we cannot stress enough how important it is.  Our passports and credit cards were stolen in Quito, Ecuador.  The costs involved in replacing the documents, travelling to the Australian Embassy in Guayaquil, the other end of the country to where we were staying, came into thousands. Our saying is if you can't afford travel insurance you can't afford to travel.
The recommended time to take out travel insurance is when you start paying for your flights or deposits on accommodation, tours or cruises.
#2 Travel Essentials – Luggage –

Osprey Carry O

n
We are now travelling with our Osprey carry-on luggage set.  After two what we call 'failed attempts' with a local Australian brand we are very happy with the strength and durability of these products.  We have also downsized from 100 litres to 65 litres and now travelling with only a carry-on at 46 litres and a day pack.  Using carry-on luggage has saved us close to USD200 in the first three months of trialling these bags, the savings have been in public transport and airline luggage fees.
To partner with our Osprey Carry On, we use the Osprey Day Pack which carries all our electronic technology and important documents
We are now travelling with 2 Apple computers – a Macbook Pro and a Macbook Air.
My trusty workhorse, that is fast and efficient and the only way I can work on the road effectively writing stories and reviews.
#5 Travel Essentials – Powerboard
iPads, iPhones, two laptops and a camera that all require charging each night at once, it could be a nightmare, but not with the powerboard that we travel with.  All we need is one PowerPoint and to remember to plug it in (yep, it does happen especially after a long day on the road).
#6 Travel Essentials – Travel Adaptor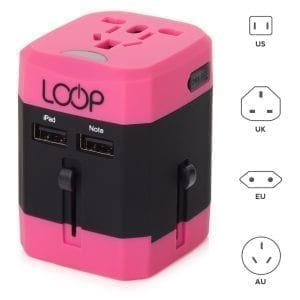 Another essential that any traveller needs is a Travel Adaptor.
#7 Travel Essentials Travel Budget App
A travel budget app is essential for keeping your budget intact whilst travelling. There are many available styles in the App store.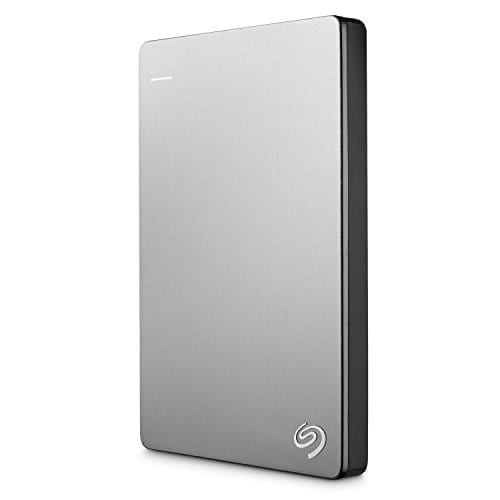 Last count we had over 40,000 photos for 3 years of travel.  We are actually running with 2 hard drives and looking to purchase another hard drive.
#9 Travel Essentials – USB Stick
Always handy to store files for printing, moving photos around and general documents.
#10 Travel Essentials – Moleskin Note Books
I am a bit 'old school' and need to travel with a notebook to write down things I see and hear when I travel.
Our Health and Safety
Our fitness level is important when we are on the road, check out our post on how we stay fit whilst on the road long term.
We would recommend that you include in your travel packing list a small first aid kit. Always keep your first aid products up to date.
We always carry a head-lamp, it is an item that we have used many times in the past from going down tunnels, finding things lost in the dark and when the electricity goes out.
In conclusion, having the right travel essentials can make all the difference in ensuring a smooth and enjoyable journey.
From practical items like passports and money belts to comfort-enhancing accessories such as neck pillows and eye masks, being prepared with these essential items can help alleviate stress and make any trip more pleasant. Additionally, packing versatile clothing options and necessary toiletries will ensure that you are ready for any situation that may arise during your travels.
So, before embarking on your next adventure, take the time to carefully consider which travel essentials are crucial for your specific needs and destination. By doing so, you will be well-equipped to handle whatever comes your way while creating lasting memories along the way.
What do you carry with you every time you travel? We would love to hear your travel essentials list.
Pinterest
Are you on Pinterest? We are at To Travel Too and we have many travel-related boards check us out at Pinterest.  
If you enjoyed our article why not PIN it for later.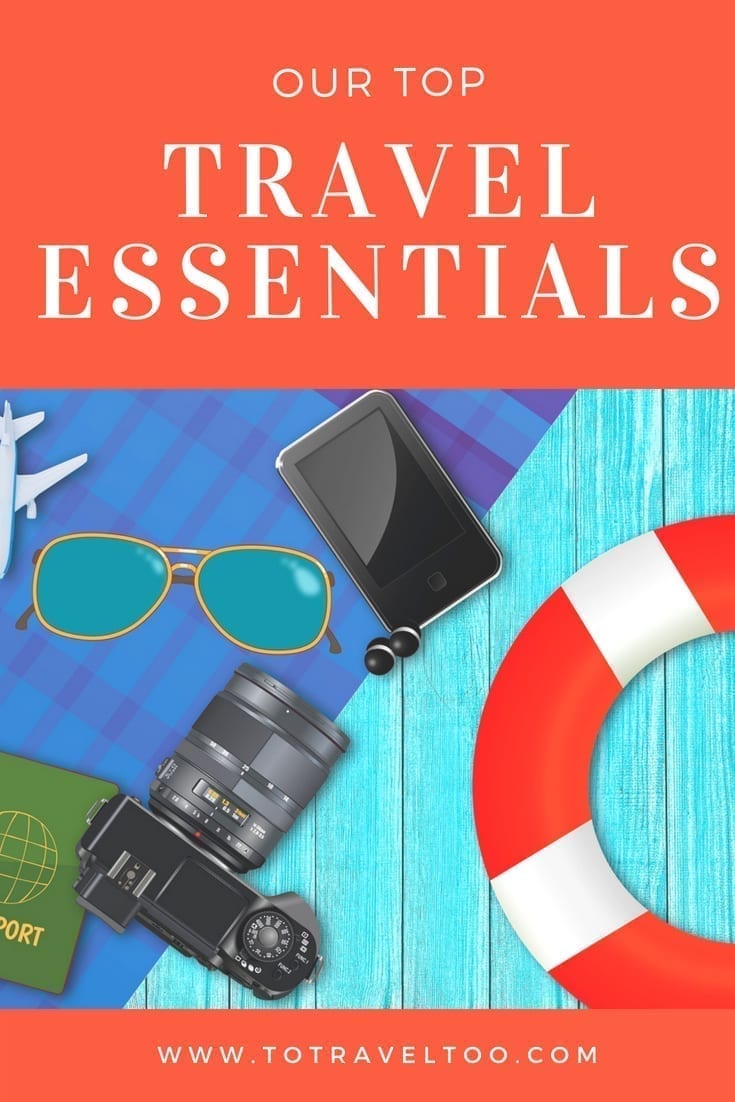 We have created our own To Travel Too Travel Shop with Amazon with over 300 travel products.  Some that we use ourselves others that other travel bloggers have recommended to us.