Are you thinking of travelling somewhere tropical and lush in South East Asia? You have so many choices but have you thought of Khao Lak in Thailand?
Just one hour north of Phuket Airport (73 km) is Khao Lak. Khao Lak is located on the western coastline of the southern region of Thailand in the Phang Nga province. Think swaying palm trees, silvery white sands, clear sparkling blue water, incredible sunrises and sunsets, national parks, and spectacular waterfalls.
This is my review of The Haven Khao Lak – an adults-only hotel in Khao Lak where I spent 8 nights chilling out in luxury and being pampered with daily massages and spa treatments, excellent Thai cuisine, and numerous daily cocktails.
The 5-star The Haven is located on the 380-metre-long Khuk Khak Beach about 15 minutes from the town of Bang Niang.
In 2022 The Haven has been awarded by Tripadvisor as the:
#1 of 5 in Thailand for the most romantic hotel
#6 of 20  in Asia for the most romantic hotel as voted by couples
This post may contain affiliate links. Please see our disclosure for more information. As an Amazon Associate, we earn from qualifying purchases (if applicable). 
Check out the latest prices here for The Haven
Join our travel community and enjoy our latest travel inspirations and travel tips here in our weekly newsletter.
How To Get To Khao Lak
There are many flights into Bangkok and direct flights into Phuket Airport (HKT).
I travelled the 1-hour flight from Bangkok with Thai Smile (the budget carrier of Thai Airways).  I highly recommend Thai Smile for their service, ease of booking on their website, after searching their flight deals on Skyscanner.
Depending on the time of the day they offer a small snack and tea, coffee and water.
Is there an airport in Khao Lak?
There is no airport in Khao Lak. Khao Lak is located one hour north of Phuket Airport. Phuket Airport is an International Airport and it is the 2nd busiest in Thailand.
You can book a hotel transfer through the hotel here.
You can also book a shared shuttle transfer:

The Haven Khao Lak is located 15 minutes from town. The Hotel can arrange a taxi for you which costs THB300 each way.
Shuttle Bus Time and Schedule – Bang Niang Market
The Bang Niang Market operates on Monday, Wednesday, Thursday and Saturday from 2 pm to 10 pm.
The Haven operates a shuttle bus to the markets on Monday at 14.15 and returns departing at 16.30.
On Wednesday the Shuttle departs at 16.15 and departs at 18.15.
There is no market on Friday but the shuttle operates to Bang Niang at 16.15 and departing at 18.15 from Bang Niang.
My Review of The Haven Khao Lak
The Haven Khao Lak is located down a scenic local road 15 minutes out of town.
Address: 61/4 Moo 3 Khuk Khak, Takuapa, Phang Nga 82220 Thailand
On arrival at the entrance of The Haven, you take the lift up to Reception. If you were impressed with the scenery on the way to The Haven, the view you are greeted with once you step out of the lift will take your breath away.
The Haven boasts of having the largest saltwater pool in Thailand. As you step into Reception you glimpse a small portion of it and then beyond the pool, shimmering silvery sands that reach the azure blue waters of the Andaman Sea. The pool just seemed to go forever.
In front of you is the Angel Wing Bar and its amazing views and to the left is the Sundial Restaurant which is open for breakfast from 6.30 am to 10.30 am. There is a small water feature running the length of the Sundial Restaurant with lots of carp and goldfish. You can enjoy breakfast out on the balcony overlooking the pool with views out to the Andaman Sea. The breakfast buffet has mouth-watering pastries, Asian and Western hot dishes, an Egg Station and the best of local tropical fruits and juices.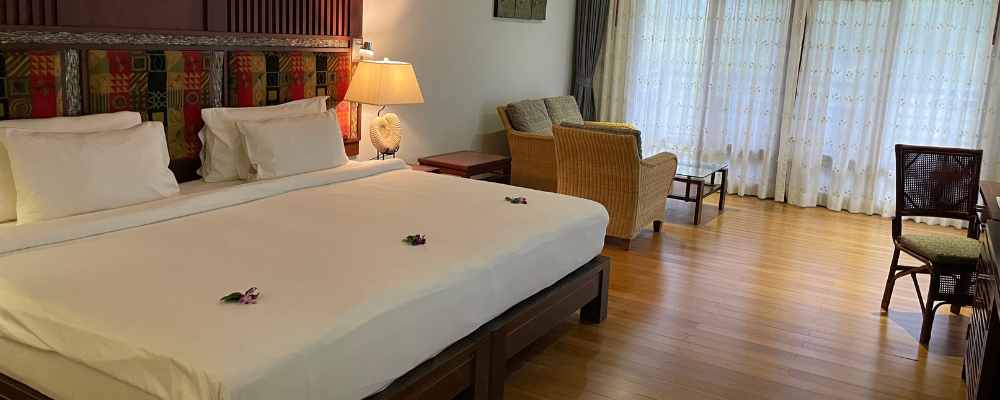 After a very easy check-in, I was shown to my room 1214 which is on the 2nd floor that overlooks the main pool area to the right with views out towards the sea.  I was surprised at how large my room was with its very comfortable lounge seating area and the size of the balcony too! I was going to be very comfortable here for the next 8 nights.
Check out my Youtube video here of The Haven and the Weekly Market:
I had booked a Luxury Escapes Package which included:
8 nights in a deluxe room
Daily buffet breakfast
Daily cocktails
Daily head and shoulders or feet massages
Airport transfer one way from Phuket Airport
High Tea
1 x Dinner at Vongole Restaurant
This was such great value!
If you would like to book a similar package by using this

code

you will get $50 off and so will I on my next booking. 
This trip was not all holiday and I still needed to work on my two websites – Staycation Australia and To Travel Too.
So I was pleased to see that The Haven had a great work desk area with ample power points for all of my technology. A kettle and tea and coffee-making facilities were provided with free bottled water supplied daily.
The king-size bed was so comfortable.  The luxury linen added to a great night's sleep.
The bathroom was a good size and I was impressed with the toiletries provided in large bottles cutting down on single-use plastic.
It was time to explore the pool area and the beach before heading to the Vongole Restaurant for a cocktail and dinner.
There were so many mouthwatering cocktails available there was no way I was going to be able to enjoy everyone on the menu in the time I was at The Haven.
The Vongole Restaurant's menu was extensive and catered well for vegetarians with a good selection of appetizers/soups and main dishes.  I was in heaven! I have been a vegetarian since I moved to Singapore in 2000 and at times struggle with the menu.
That first night I enjoyed a Mai Tai cocktail and Panang Curry Tofu! Both were delicious.
Each night after that it was a different cocktail and a different vegetarian dish.
For those who enjoy swim-up bars you must head to the Scallop Bar.
The Haven has 110 rooms which are made up of:
47 Deluxe Rooms (located on the first floor)
47 Deluxe Rooms with pool access
16 Deluxe Ocean front rooms
The family-run hotel was constructed in 2015.
The Deluxe Rooms with pool access are the same layout as the deluxe rooms except you can swim out from your balcony.
The stunning 16 Deluxe Ocean Front rooms are so popular you have to book well in advance. Imagine your own jacuzzi, sun loungers and sun deck measuring a large 20 sqm.  Your room is a spacious 82 sqm with floor-to-ceiling windows with views towards the ocean.  Enjoy your own Nespresso Coffee Machine and choose your type of pillow from the pillow menu.
Activities at The Haven range from stretch classes on the beach, Muay Thai, basic Thai language class, water aerobics, craft and the well-equipped gym.
Be pampered at the spa with their choices of massages and treatments.  Throughout my stay I enjoyed the foot massage, head and shoulder massage, aromatherapy massage, and a very relaxing milk body oil massage.
The Beach
Such a quiet beach for early morning walks and sunset viewings.  In the morning as I walked I would see the local fishermen head off in their longtail boats.
Conclusion
The Haven is one of the best hotels in Khao Lak! If you want a 5-star hotel in Khao Lak you should consider The Haven.  It is an adults-only hotel located on one of the best beaches in Khao Lak – Khuk Khak.   I enjoyed being on the first floor but if I return I would consider the Deluxe Room with pool access and or one of the Deluxe Oceanfront villas.
You could consider hiring a car from Phuket Airport but with the hotel transfers available and the tours that are available in the area you could consider not hiring one. There is a taxi rank just outside the entrance if you would like to book a day trip or go into town.
You can do as little or as much as you want at The Haven! All the staff are so welcoming and really enjoy making your stay as comfortable as possible.
Would I return? Yes, definitely.
Book your accommodation here
General Information for Travelling to Khao Lak
When is the best time to visit Khao Lak? The popular tourist season runs from November to April.
When is the wet season in Khao Lak? The wet season runs from May to October.  Hotels may offer reduced rates during this time and some restaurants may close.
When is the best time to visit the Similan Islands? The tours do not operate between 1 May and 1 November.  Check out one of the popular snorkelling tours here.
Do you need Travel Insurance?
We always recommend travel insurance when you travel, you just never know when you need it.  We use Safetywing travel insurance. Check out their policies and prices here.
Do You Need a Thai Visa? Check here. 
Travel Gear 
In conjunction with Amazon, we have created our own To Travel Too Travel Shop with a range of travel clothes, books, gear, cameras and more. Check it out here.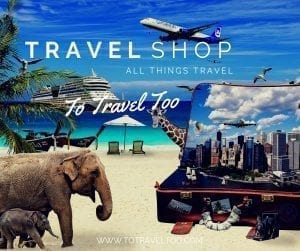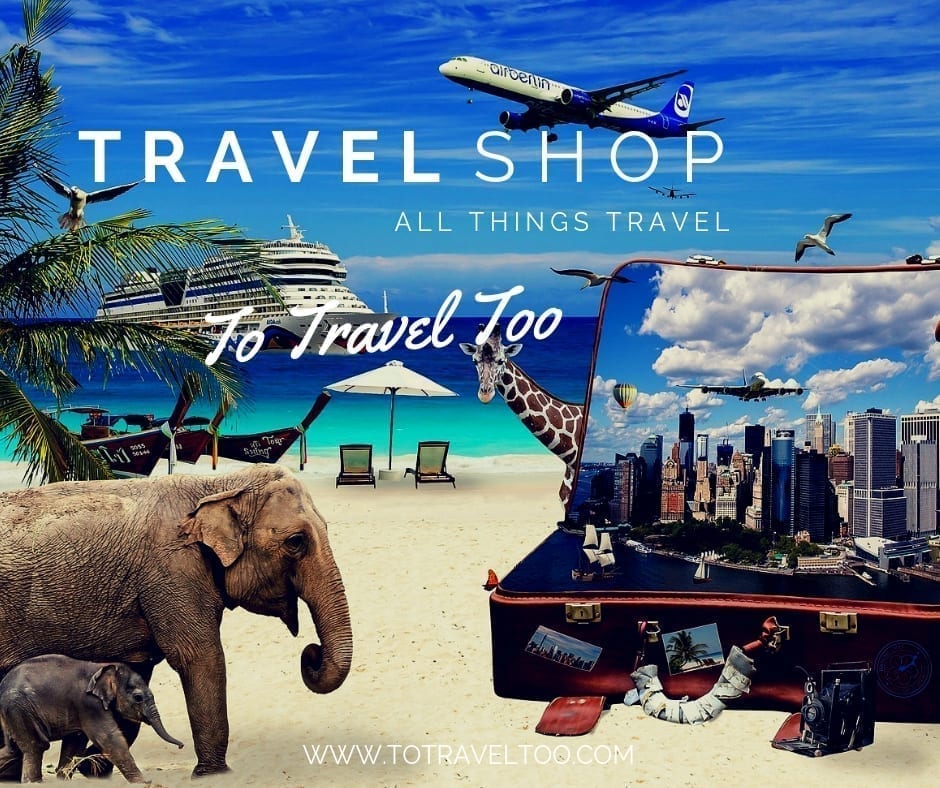 Pinterest
Are you on Pinterest? We are at To Travel Too and we have many travel-related boards check us out at Pinterest.  If you enjoyed our article why not pin it to your board and read it later?
Related Reading: