Siem Reap and it's #1 tourist drawcard Angkor Wat is Cambodia's most popular destination. If you are a fan of Asian history, incredible Angkor Wat definitely ticks the boxes, there is nothing else like it.
There is more to see in Siem Reap after Angkor Wat so allow a few extra days to experience:
food tours
visits to local villages by Vespa or bicycles
floating villages
meditation with the local monks at sunrise
arts & crafts
learn the art of Aspara dancing
and more.
(Editor Update 2021)
This post may contain affiliate links. Please see our disclosure for more information. As an Amazon Associate, we earn from qualifying purchases (if applicable).
You can now download our article for offline use when you are in Siem Reap. Click the city walks logo below for access to GPSMyCity – our go-to travel app.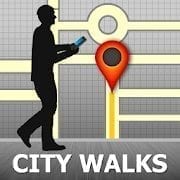 Related reading: Top Things To Do in Kep and Kampot
Map of Siem Reap Cambodia
The town of Siem Reap is made up of 7 main areas:
Old Market area
Kandal village
Wat Bo
Old French quarter
Taphul village
Road to Angkor
Airport Road
Many small streets don't have names so you will need to look for landmarks.
You can read our article on What To Do in Phnom Penh here
Getting To Siem Reap
A private taxi transfer from Phnom Penh to Siem Reap can be pre-booked here.
Get Your Guide, our tour partner, offers a transfer from Siem Reap back to Phnom Penh by a private transfer and boat cruise. Details and bookings here.
A 3-day tour from Phnom Penh to Siem Reap is also available aboard a boat with 4 cabins only, maximum 8 people. Bookings and full details are available here.
Book your Bus Tickets to Siem Reap here:
Flights to Siem Reap
Find the cheapest flights with Skyscanner who then directs you to the airline's website with no extra fees to pay.
Getting around Siem Reap
by foot is easy as it is a walkable city
moto fare at 0.75 for a short journey premium charges at night.
Tuk-tuks short trips are USD1
Check out our YouTube Video on Top Things To Do in Siem Reap
Top Things To Do in Siem Reap
The #1 tourist attraction is visiting the Angkor Wat Complex.
1 day pass USD37
3 days pass USD62
7 days pass USD72
We used Get Your Guide for our 4-day Angkor Wat and Beng Mealea tour – you can read our review in the comments.  A tour over 4 days is the perfect way to see Angkor Wat.  There is a lot of walking and climbing stairs and steps and by mid-afternoon, we were quite tired, we could change the itinerary if we wanted during the day as well.  We travelled in October, it was hot, humid and rainy. We highly recommend this tour. Not only did we visit the complex at sunset and sunrise, but a visit to Tonle Sap Lake was also included as well.
You can read our guide on visiting Angkor Wat here
Angkor National Museum
To understand the Angkor Wat Complex we would recommend visiting the Angkor National Museum first before visiting the complex.
You can now pre-book a one-way Tuk-tuk transfer from your hotel to the Angkor National Museum with entrance tickets included. Click here for more details and booking.
Adult USD$12 Children USD$6
Audio USD$5 per person
Opening Hours: 08.30 – 18.00
Address: #968 Vithei Charles de Gaulle Phoum Salakanseng Khom Svaydangum Siem Reap District
The layout of the Angkor National Museum:
The Gallery of 1000 Buddha Images – the most prestigious collections of buddha statues ever assembled.
Gallery A Khmer Civilisation – how the Khmer Empire was established, peoples faith and their stories
Gallery B Religion & Beliefs – beliefs that styled peoples living, literary works, sculptures and architecture, myths and folk tales
Gallery C The Great Khmer Kings – 4 Khmer Kings and their stories
Gallery D Angkor Wat – learn how it was constructed
Gallery E Angkor Thom – learn about ancient engineering plans and its relation to the symbolic story of the churning of the ocean of milk (the immortal city)
Gallery F – Story from stones – stone inscriptions beliefs and legends of the ancient Khmer empire
Gallery G Ancient Costume – Aspara (celestial dancers)
Wat Preah Prom Rath
Address: Opposite Temple Coffee & Bakery, Pokambor Ave, Krong Siem Reap 17254
The complex is beautiful and calming.  At 4 am and 5 pm monks chant a blessing that takes around 20 minutes.
 

Visit the Floating Villages on Tonle Sap Lake
From our tour operator Get Your Guide you can visit the fishing villages on Tonle Sap Lake, visit a crocodile farm and fish farm followed by a meal and a drink.
Evening Street Food Tour With Dinner
Full description of the tour from our tour operator Get Your Guide:
Explore the street food culture of Siem Reap to sample foods influenced by Thailand, Vietnam, China and France on a 2.5-hour tour of the night markets and discover some of the renowned vendors. Transfer by rickshaw for a more authentic experience.
Vespa Tour Visiting the Countryside 
A 4.5 Vespa tour where you visit:
a landmine clearing organisation
a local pagoda and learn about the local Khmer religion and beliefs and receive a blessing from the monk
families in a remote village and see how they make a living
a family of rattan makers
taste delicious sticky rice grilled in bamboo
a local medicine man
4 Hour Cycle Tour to a Local Cambodian Village
Enjoy an easy 4-hour cycling trip taking you out of the city of Siem Reap on a trail bike guided by local expert. See the typical rice fields and farms, and experience local Cambodian life in the villages and at family run businesses along the way.
Classical Aspara Dancing Class
Learn the classical Aspara dance from a Cambodian master.
Cambodian Cooking Class in a Local Village
Learn the secrets of authentic Cambodian cuisine with local chefs in this half-day cooking class departing from Siem Reap. Head to a rural village for an interactive and hands-on class before creating your own traditional and delicious Cambodian meal.
Learn How to Create Beautiful Paintings by Using Spoons
Use a brush to paint a spoon during this two-hour class with a professional instructor. Spoon painting is considered as one of the most interesting forms of painting in the local community.
Shopping in Siem Reap
Visit the T Galleria from DFS which is only 1 minute from the Angkor National Museum. It is Cambodia's best Duty-Free store.
Address: No 968 Vithei Charles De Gaulle Siem Reap, 17259, Cambodia
Top Tip:
If you are after that special gift to take home visit the Gift Shop in the Angkor National Museum.
Where To Eat in Siem Reap
Molop Wat Damnak Restaurant
Address: Wat Damnak Village, Sangkat Salakamrouk, Siem Reap
Molop Wat Damnak is a local restaurant specialising in vegetarian and vegan cuisine with local organic produce.  Meat dishes are also available. You can visit the organic produce farm and enjoy vegetarian cooking classes as well.
Khmer Grill
Address: Watdamnak Road, Wat Damnak Village Sangkat Salakamrouk Siem Reap Town, 17254, Cambodia
The Khmer Grill is a very popular restaurant in Siem Reap with an excellent menu offering local Cambodian dishes and Western cuisine and vegetarian options.  We ate here most nights and prices were reasonable.
Krousar Cafe
Address: 17 Sala Kamreuk Road Siem Reap 17252
For western cuisine and Khmer style cooking head to Krousar Cafe. Their breakfast menu is extensive and we can highly recommend their muffins.  Krousar Cafe is very affordable and offers great food.
High Tea at the Sofitel
Address:  Vithei Charles De Gaulle Khum Svay Dang Kum Siem Reap, 17259, Cambodia
Daily between 3.00 and 5.00 pm the Sofitel offers a range of 8 teas, sandwiches, scones, cakes, pastries and more in their High Tea.
Mouhot's Dream at the Sofitel
Voted the most romantic restaurant in Siem Reap a visit to Mouhot's Dream is highly recommended for its French and Khmer cuisine. The award-winning restaurant also offers an extensive wine list.  The restaurant is located beside Sala Lake at the Sofitel and creates a magical romantic atmosphere for the diner.
Pub Street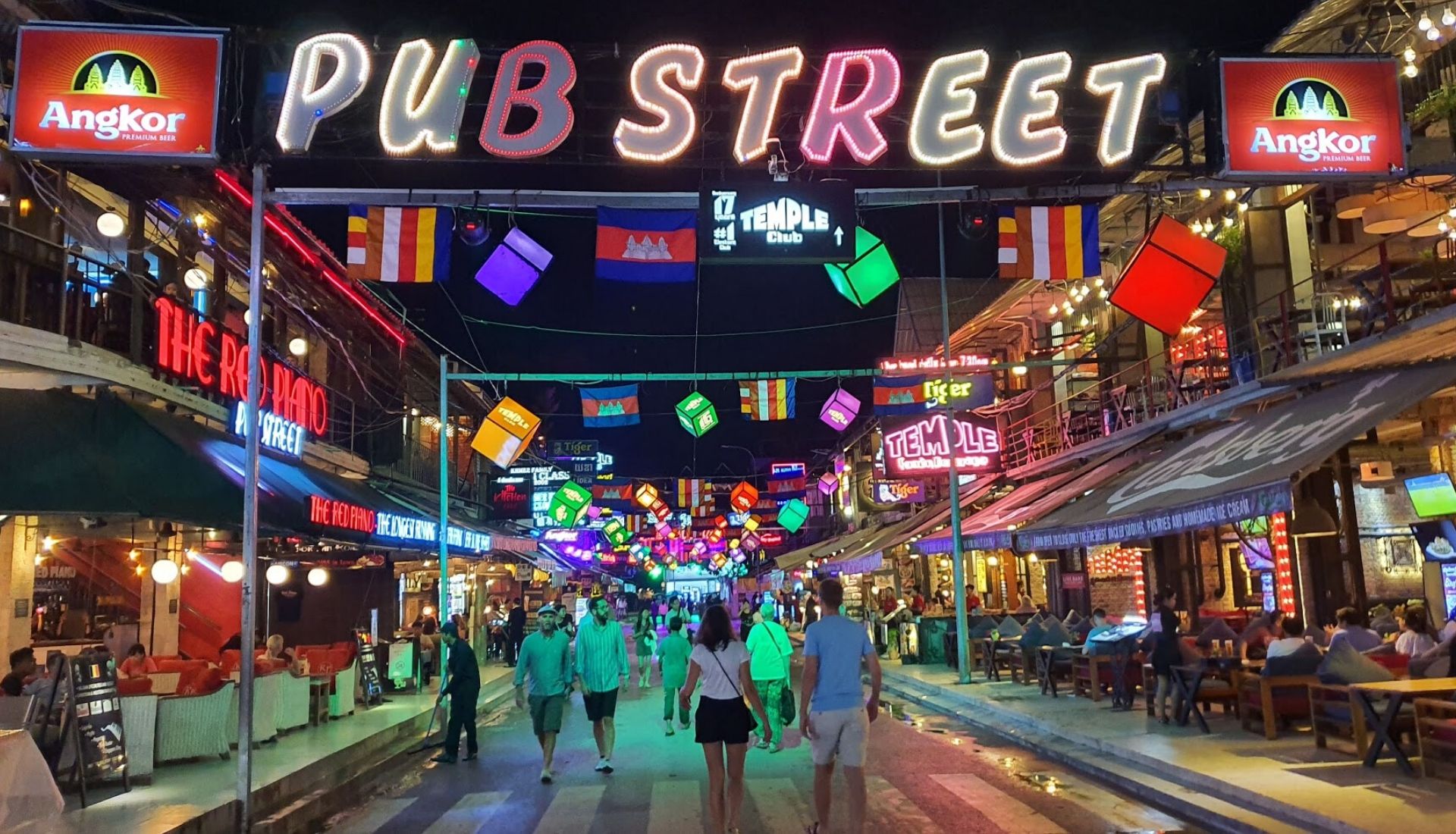 Siem Reap's Pub Street is where it all happens in the evening. Head to Pub Street for a range of bars, pubs, nightclubs and international restaurants.
Hotels Siem Reap
There is a range of Siem Reap hotels to suit all budgets.
5 Star Luxury Hotels in Siem Reap
Sofitel Angkor Phokeethra Golf & Spa Resort
Address: Vithei Charles De Gaulle Khum Svay Dang Kum Siem Reap, 17259, Cambodia
To experience a tour of the Sofitel Hotel Siem Reap check out our Youtube Video:
With luxurious 223 rooms and 15 suites available you are spoilt for choice. The Sofitel is well located to visit the Angkor Wat complex just ten minutes away.
The elegant Sofitel reflects French sophistication and yesteryear refinement and offers guests an outdoor swimming pool, gym and spa all located in lush green tropical gardens.
You can read our full review here.
Their signature restaurant Mouhot's Dream is rated the best romantic restaurant in Siem Reap.
The Raffles Grand Hotel d'Angkor was constructed in 1932 in the French Colonial style.  The hotel was closed during the war between 1975 – 1979.
The elevator dates back to 1929. It is an Otis and it s the only timber elevator in Cambodia. It was renovated from 1995 to 1997.
The hotel offers 119 luxurious rooms, suites and 2 private villas.
It was recently renovated during 2019 between May and October.
All-day dining is available at Café D'Angkor (check) and for breakfast on weekends till 11.00 am.
The hotel offers guests yoga classes, a traditional daily monk blessing, spa, gym, jacuzzi, kids club, tennis courts, the largest swimming pool in Cambodia and more.
Over the years the Raffles Hotel has had the pleasure of hosting many famous guests such as Michelle Obama, Hilary Clinton and more.
The walls are adorned with stunning photographs by photographer John McDermott.
1932 is the main dining restaurant at Raffles.  If you are dining in the restaurant take note of the napkins that have the exclusive royal logo and their Narumi Bone China dinnerware.  The restaurant is only one of 2 restaurants in Cambodia that is permitted to serve Royal Khmer Cuisine which was passed on by the King's own kitchen.
Happy hour is between 4.00 – 6.00 pm daily and we recommend trying their signature cocktail – Airavata at the Elephant Bar.
Address: Sangkat Sala Komreuk Wat Damnak Village Siem Reap
The 5-star Moroccan inspired luxury boutique hotel is centrally located to Siem Reap city and only 7km away from the Angkor Wat complex.
The rooms are elegantly decorated in traditional Khmer-style and some include an outdoor terrace.
Address: House #173, Wat Damnak Village, Sala Kamreak Commune Siem Reap, 17252
Recently opened in 2019 the Siem Reap Palace Residence offers guests luxury accommodation, restaurant, pool, spa and bar. We spent 4 nights here and were well looked after by their staff. Breakfast was included from a small a la carte menu.  The pool was a welcome relief after visiting Angkor Wat.
3.5 Star Hotel in Siem Reap
Dream Mango Villa
Address: Phum Wat Damnak Sangkat Salakamrouek Siem Reap
We spent 5 nights at the delightful Dream Mango Villa centrally located in Siem Reap. The rooms were comfortable and large.  Breakfast was included and good strong WiFi.  The hotel also includes a swimming pool, restaurant and bar.
Siem Reap Weather
The peak tourist season runs from December through to January in the dry North-East Monsoon period that covers the period from December through to April.
The wet season with high humidity runs from May to November.  We visited during the month of October and experienced rain showers in the afternoon, the humidity was high but it was less crowded.
Do You Need a Visa for Cambodia
International Travel To Siem Reap
Travelling around South East Asia, you may enjoy our following articles:
Top Things to do in Phnom Penh
Things to do in Mai Chau Vietnam
Best Islands to visit in Vietnam
Pinterest
Are you on Pinterest? We are at To Travel Too and we have many travel-related boards check us out at Pinterest.  If you enjoyed our article why not pin it to your board.
Travel Insurance
We recommend taking out travel insurance as soon as you book your flights and pay deposits on any cruises, tours or hotels.
To Travel Too Travel Shop
Travel smarter and safer with products from our To Travel Too Travel Shop.  If you are looking for the latest luggage, guidebooks or travel accessories we have you covered with over 800 travel products to choose from.