Australia is renowned for its stunning coastline and pristine beaches, making it the perfect destination for beach lovers from around the world.
Whether you're seeking a luxurious getaway or a budget-friendly escape, Australia offers an array of exceptional beach hotels that cater to every preference and taste.
From idyllic resorts boasting panoramic ocean views to charming boutique accommodations tucked away on secluded shores, this article will guide you through some of the best beach hotels in Australia, ensuring your next coastal vacation is nothing short of unforgettable.
For such beach lovers as ourselves, we are very fortunate to have the best beaches in Australia. Visitors to our country are speechless when they visit our stunning beaches. Our silky white sand and turquoise blue waters never fails to impress the visitor.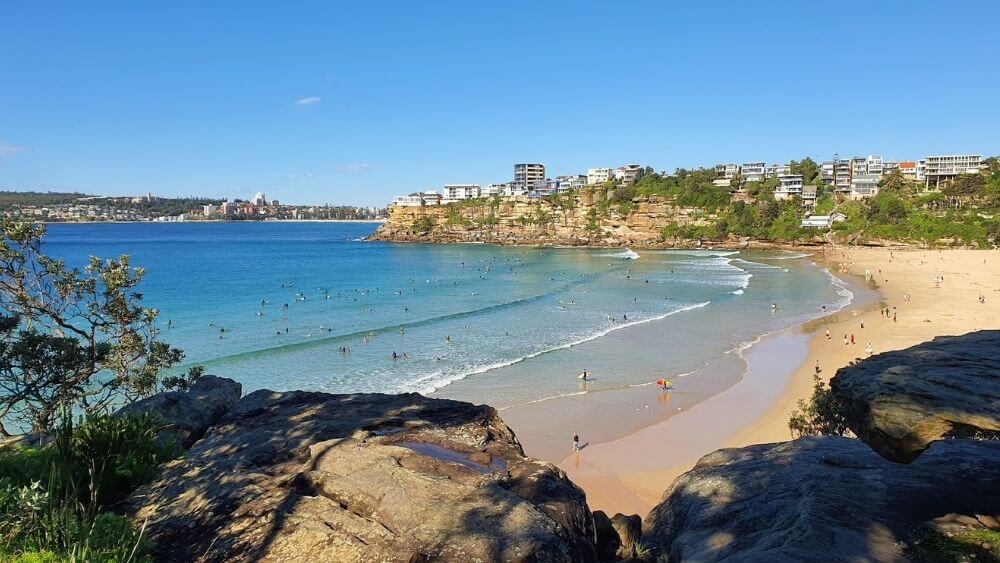 In fact, Australia has over 10,000 beaches to enjoy! This means that we also have some of the best Australian resorts to enjoy as well.
We have reached out to top travel bloggers who share their favourite Australian beach resorts and hotels to assist in planning your next vacation. Bookmark our article as we will be adding more beach resorts as we travel around Australia.
Do you have an Australian Bucket List travel experience? Click here for the A - Z of the best.
Join our Staycation Facebook page for your next travel inspiration.
This post may contain affiliate links. Please see our disclosure for more information. 
New South Wales
Byron Bay
Byron Bay is one of New South Wales's most famous beach towns. With a stunning stretch of coast, trendy cafes and the odd celebrity sighting, it's a wonderful place for a holiday. If you're looking for a beach hotel, you can't go past the wonderful Elements of Byron.
Elements is a luxury resort located right on the beachfront. It's situated in the area of Belongil Beach, just a short drive from the hustle and bustle of the main town. This means you're in your own holiday oasis with direct beach access. This makes Elements the premier beach hotel in Byron.
Elements is comprised of 193 villas which are dotted across the property. There are a range of choices from a standard 1 bedroom villa up to a deluxe 2 bedroom villa. No matter which one you choose, your villa comes with a super comfortable bed, bathtub and plush furnishings.
There's no need to even leave the resort during your holiday, given the vast amount of facilities. There are 2 incredible heated pools on offer. A large lagoon pool is the centrepiece of Elements and a wonderful place to spend time with family. Otherwise, the adults-only pool is a welcome escape, complete with chic cabanas, a swim-up bar and a taco truck.
There are a range of different options for food at Elements too. From the upmarket Azure Bar and Grill to food delivery in your villa, you won't go hungry. Many villas even come with their own kitchen if you'd like to cook your own meal.
Finally, other facilities on offer include a luxury day spa, tennis court, walking tracks and a gym.
Check out the latest accommodation deals here
Read the latest travellers reviews of Elements of Byron here
Sydney
QT Bondi Hotel is a hip and trendy seafront hotel located opposite the world-famous surfer's beach. It is designed with an urban/beach vibe and offers rooms and self-catering apartments complete with kitchenettes.
The hotel is furnished beautifully with quirky and spacious bedroom interiors complete with Nespresso machine, air-conditioning, a minibar and luxury bathroom products making it one of the best beach hotels in Australia.
Little treats like daily bags of snacks, old-fashioned games like dominoes and complimentary flip-flops and waterproof phone-covers make the guest feel really appreciated. Free Wi-Fi runs throughout the property.
QT has no restaurant but with Bondi cafes and restaurants on the doorstep, there are many great eateries to choose. Be it an ultra-modern vegan restaurant or a traditional Aussie burger joint there is something for all tastes.
Breakfast can be arranged by the hotel at the nearby "Porch and Parlour" where the bill can be charged directly to your room.
Outside of the property, the golden sands of Bondi Beach are just across the road and a 5-minute walk takes you to the start of the Bondi to Bronte Coastal Walk passing the famous Icebergs pools on the journey. QT Bondi doesn't have a swimming pool so this is the next best thing.
Bicycles can be borrowed from the hotel concierge to explore this beautiful stretch of the Australian coastline.
Book now to check availability and the latest prices for your date of travel through Booking.com
Read the latest travellers reviews of QT Bondi here
Suggestions on what to do in and around Sydney with our latest Sydney Tours article
Northern Territory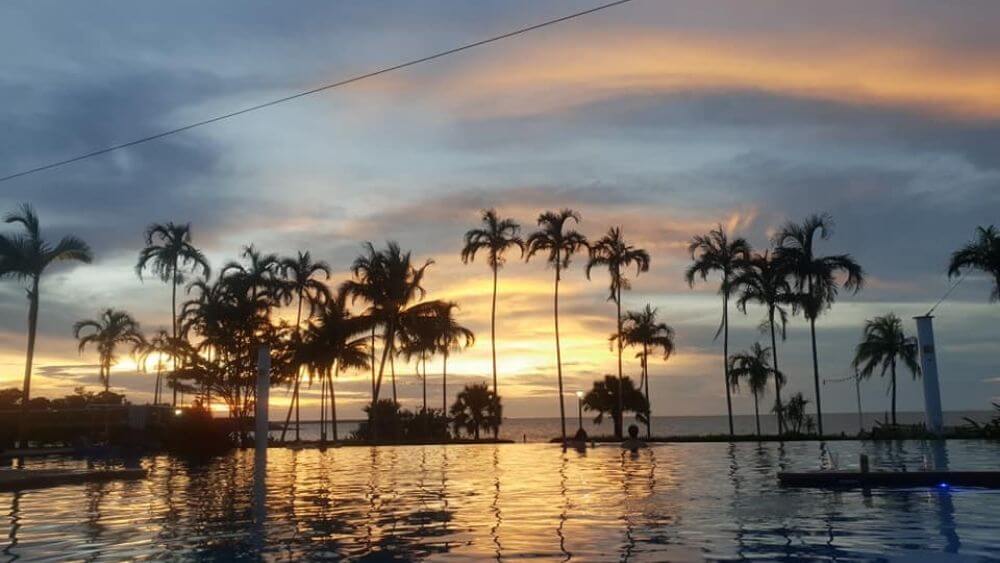 For those wanting to holiday in Darwin few places are as iconic as Mindil Beach. Visiting is considered one of the best things to do in Darwin. Mindil Beach is a breathtaking, white sand beach that faces west so it's the number one spot to watch the sunset in Darwin. However, the only thing better than visiting Mindil Beach at sunset is staying at the Mindil Beach Casino and Resort.
This luxurious hotel is connected to Darwin's casino and aside from your usual card games, it's also home to four bars and four restaurants. My favourite is Il Piato which serves amazing pasta and other Italian favourites!
All of these amenities can be accessed by the public, however, set aside for hotel guests only is the stunning infinity pool that overlooks Mindil Beach. With a cocktail in hand, this is the most ideal spot to enjoy the last few hours of the day and a highlight of the hotel.
Of course, it wouldn't be one of the best beach hotels in Australia without luxury rooms. There are two distinct styles of rooms with the first being the resort rooms. The resort rooms are all 5 stars and they sit around the pool so you're only seconds from cooling off any time of the day.
Their hotel rooms are slightly less luxurious, however, they're still 4 stars. These rooms are only minutes from the pool and some even have balconies with spectacular views of the ocean.
Regardless of which part of the hotel you stay in, the Mindil Beach Casino Resort is a magnificent hotel only meters from Darwin's best beach.
Check the prices for your dates of travel here.
Read the latest travellers reviews of the Mindil Beach Resort & Casino here
Queensland
If you are looking for a beach escape north of Cairns have you considered Palm Cove?
Magnetic Island
Located on the beautiful Magnetic Island, off the coast of Townsville in Queensland,  Bungalow Bay Koala Village is absolutely one of the best beach hotels in Australia.
Perched on the tropical and very aptly-named Horseshoe Bay, this is the only place on the island where you can pitch your own tent, grab a dorm bed or relax in a private bespoke bungalow and fall asleep to the sound of waves.
And then, in the morning, you can wake up to the chatter of the local kookaburras and the kangaroos, because this is the only hostel in Australia with its own wildlife park onsite!
Yes, it's not just the bar, tropical pool or eco bush surrounds that make this place special, but also the fact you can breakfast with koalas, along with a heap of other native animals, in a practice focused on sustainability and educational principles.
Ideal for all the family and eco-accredited, you can then head out from Bungalow Bay to enjoy some of the beautiful island walking trails that start right from the front door and promise, in true Maggie island style, beautiful views, historic forts and yet more wildlife.
Otherwise, Horseshoe Bay itself offers a range of great watersports, including stand-up paddle-boarding and kayaking, or why not head to another island beach to enjoy some snorkelling (Florence Bay is the best spot) or an epic sunset (West Point).
Cycling, as well as car hire, are both available on Magnetic Island, or you can bring your own vehicle over on the ferry from Townsville too! It's the perfect beachside break!
For booking and to read the latest traveller reviews of the Bungalow Bay Koala Village Magnetic Island here
Surfers Paradise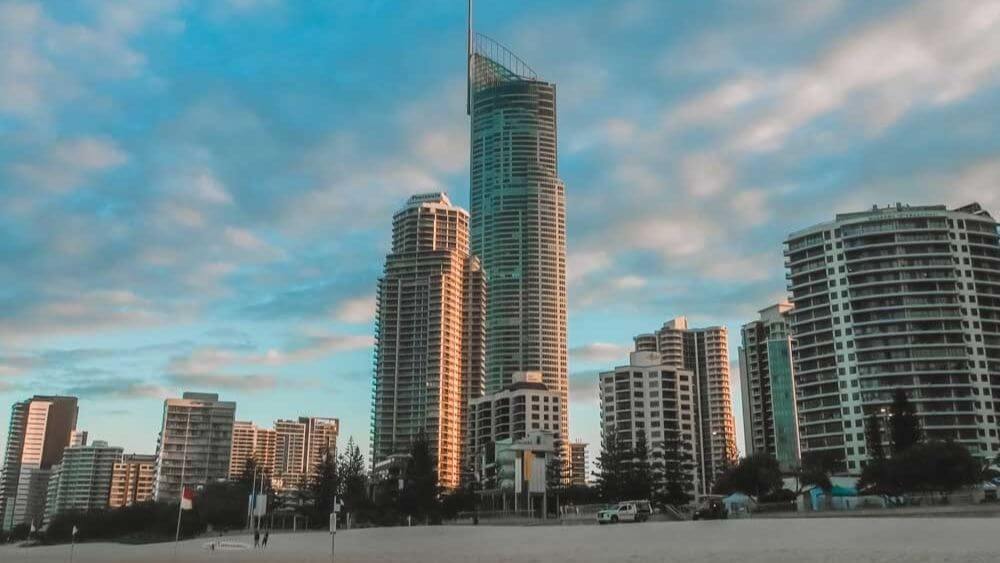 If you're looking for that best beachside hotel on the Gold Coast, then look no further than the Q1 Resort and Spa. It's located just 50 meters from the famous Surfers Paradise beach, not to mention being a 322-metre skyscraper, having the most undeniable views. It offers one to four-bedroom apartments as well as penthouses and spa rooms.
As of 2020, it still holds the current title for being the Tallest Building in Australia. If you're into a challenge or something to do, then the Skypoint Roof Climb around the top of this building might be what you're looking for. If not to climb, the Observation Deck is a great place to catch those views all the way down the coastline.
If you're not spending your entire day down at the beach, then laze the day away with a drink in hand, at one of the 2 lagoon pools. The Heated Lap pool and Spa will ensure swimming is still possible during the wintertime. Use the Barbeques for grilling up those burgers at lunch, or work off that built up energy at the gym. The catering is sorted with a number of venues like The Bistro and bar, the Skypoint Café, Teppanyaki & Kaiten Sushi.
Shopping is close by in Cavill Avenue with hundreds of options with Boutique stores, supermarkets, tourist information and restaurants. As the sun goes down, market stalls are erected along the beach where you can peruse local art and talent.
Make the 4.5 Star Q1 Resort and Spa your next Holiday destination!
Check the prices for your stay at the Q1 Resort and Spa through Booking.com here.
For the latest Tripadvisor reviews click here
If you are heading to Brisbane after staying in the Gold Coast our 100 Things To Do in Brisbane article will help you plan your next adventure.
South Australia
Located 11 kilometres from the city centre, the Stamford Grand sits of the foreshore of one of Adelaide's most popular beaches at Glenelg. It is an easy drive or bus ride from the hotel into town. There is also a popular tram service connecting the beach to the heart of the city.
'The Grand' as it is known by the locals, is a 15 story luxury hotel that sits less than fifty metres from the clean, white sand of Glenelg Beach. The rooms are generously sized and very comfortable. There is a gym, pool, spa and sauna available for the exclusive use of guests.
The highlight of The Grand is the views. If you can, get a room on the beachside of the hotel. Sitting on your balcony watching the sunset is very relaxing. Another sunset option is The Grand Bar. There are views across the grass reserve to the beach and jetty. It's a great place for lunch or to unwind at the end of the day with a drink.
Glenelg is a vibrant, bustling precinct. The hotel is next to Jetty Road and Mosely Square which have a variety of restaurants, bars, coffee shops and cafes. If you're after something more active, there are bike and walkways in either direction along the beach.
The beach has a great atmosphere. Whether you want to go for a dip or a walk along the jetty, it is a fun and relaxing place to spend some time and it's a great base for exploring greater Adelaide. If you're travelling with your family, the Beachouse has waterslides and rides and the new Glenelg Foreshore Playspace has everything for kids to climb, slide, bounce and balance on.
Check the prices for your stay at the Stamford Grand through Booking.com here.
Read the latest travellers reviews of the Stamford Grand Hotel in Glenelg here
Related reading: Best Places to visit in South Australia
Tasmania
When you think of beach hotels it's easy to assume it's all about the poolside cocktails, banana boats and daily spa treatments.
But if you're looking to unwind, relax and soak up the very best of Tasmania's pristine wilderness then the Homestead on Three Hummock Island is exactly what you're looking for.
Getting there takes some planning, but that's the charm of this remote location. A charter plane from either Wynyard on Tasmania's north-west coast, or from Lilydale Airport in Victoria are the most popular options, but helicopter transfers from Stanley and boat charters from Smithton are also possible. The 30-minute flight from Wynyard is a spectacular journey in itself, passing across the checkerboard fields of Table Cape (tulips flower here in spring every year), and over the stunning volcanic 'Nut' at Stanley.
Three Hummock Island is a State Reserve, and other than two caretakers you will probably have the entire island to yourself for beachcombing, kayaking, snorkelling and fishing (all equipment is provided free of charge). It truly is a stunning location, barely touched by human hands.
When the sun goes down you'll love the comfortable accommodation provided at The Homestead. Just metres from Home beach, this fully equipped cottage sleeps up to 10 people across 4 full-sized rooms. The kitchen and dining room are full of sunlight, and it's the perfect place to prepare your picnic or other meals for the day – all while watching the local wallabies grazing on the grass through the windows. The log fire also adds a really cosy ambience if you happen to escape to Three Hummock Island in winter.
As you can imagine, this is beach accommodation unlike any other. Some additional planning is needed to make sure you bring enough food for your stay, while also not bringing too much due to luggage limitations on the small plane. But get that balance right and you are in for the beach escape of a lifetime!
For bookings click here
Coles Bay
Edge of the Bay Resort – Jane from To Travel Too
A popular destination on the East Coast of Tasmania is Coles Bay. Coles Bay is the perfect base to explore the Freycinet National Park and Wineglass Bay.  The region abounds in wineries, excellent restaurants, craft beer, local produce and more.
The Edge of the Bay resort is located on 27 acres of bushland and offers 14 oceanview suites and 6 secluded cottages.
Just steps from a secluded and private beach Edge of the Bay Resort is eco-tourism at its best. Each ocean view suite has been designed to bring the scenic Freycinet National Park to your doorstep with unending views over the Bay towards the mountains.
A lovely touch was the underfloor heating which is needed during the cooler months in Tasmania.  The on-site Luz Restaurant offers the best in local produce. You will need to book in advance the restaurant.
If you are a lover of sunrises and sunsets Edge of the Bay Resort is the perfect location for viewing.  We sat on the deck sipping local wines and enjoyed the golden and pink hues of the sunsets.
We also loved the visits from a family of wallabies at sunrise, which was a special experience.
Check the prices now for your date of travel at the Edge of the Bay Resort through Booking.com.
Check out the latest travellers reviews and photos here
Victoria
Lorne
For those on a weekend getaway along the Great Ocean Road, one of the most iconic road trip routes in Australia, Mantra Lodge in Lorne is a very popular hotel to stay in, especially if you're coming from Melbourne.
Built around the oldest guesthouse in Victoria and boasting one of the only beachfront properties in Lorne, Mantra Lodge is one of the best staple accommodation options in the area. Although the rooms are great, it's the location and outdoor space that for me, really makes it.
Just metres away from the hotel, accessed by small tracks through the shrubbery, is the wonderful soft sand and the curved bay of Lorne Beach. Behind the hotel is the main Lorne high street, meaning you can walk to dinner at one of the fantastic local restaurants, or to the boutique shops in mere minutes.
A huge outdoor area (surrounded by 12 acres of gardens) is complete with multiple benches and games for everyone such as lawn bowls, croquet and an 18-hole putting green. At night, the seating area is lit with fairy lighting, ideal for enjoying the fresh sea breeze. Inside, hotel facilities include a gym, spa, swimming pool and a restaurant (which serves a delicious buffet breakfast).
The rooms are generous in size and most have a spa bath, beachfront views and a balcony to enjoy them.
Mantra Lodge Lorne is an idyllic accommodation option to be your base whilst touring one of the most striking coastlines in Victoria.
Check the prices now for your dates of travel for the Mantra Lodge in Lorne through Booking.com here
Read the latest traveller reviews of the Mantra Lodge in Lorne here
More reading: A Day Tour to Bruny Island for sightseeing, gourmet food and more
Torquay
One of the most popular destinations in Australia is Victoria's Great Ocean Road. Over 250 km of rugged and fragile coastline winds through charming and historic maritime towns. Great Ocean Road itineraries include astonishing rock formations such as the 12 Apostles, London Arch, the Grotto, and Loch Ard Gorge.
Torquay is the first charming town along this route but it is also a very popular holiday destination in its own right because of its famous surfing beach, Bells Beach. Surfing is perhaps the main reason to visit Torquay. It is the home of two of Australia's most well-known surfing clothing brands – Rip Curl and Quicksilver – and each Easter Bells Beach hosts the World Championship Surfing Round called the Rip Curl Pro. There's even a Surf World Surfing Museum and surfing lessons are held on Torquay's beaches.
The RACV Torquay Resort sits immediately behind the two most famous beaches in Torquay – Bells Beach and Jan Juc. It is 100 meters from the sea and has ocean views over the resort's golf course. This is one of the very few beach hotels along the Great Ocean Road.
In addition to the 18 hole Par-71 Golf Course, the resort has a spa and a health resort which includes swimming pools and aquatic exercise areas as well as yoga and pilates studios and an extensive gym. Tennis Courts, a children's playground.
If you add three restaurants and a bar to the list of five-star facilities, it's easy to see why this beach resort is the premier stop along the Great Ocean Road for couples, families, and surfing enthusiasts.
Check the prices now for your date of travel to the RACV Torquay Resort here through Booking.com
Read the latest traveller reviews of the RACV Torquay Resort here
Latest Flight Deals
Find the cheapest flights with Skyscanner our go-to when researching and booking flights.
Pinterest
Are you on Pinterest? We are at To Travel Too and we have many travel-related boards check us out at Pinterest.  If you enjoyed our article why not pin it to your board?
Conclusion
In conclusion, Australia offers an array of exquisite beach hotels that cater to every traveller's needs. From luxurious resorts with stunning ocean views and top-notch amenities to charming boutique hotels nestled along the coastline, there is something for everyone seeking a beachside escape.
Whether you are looking for relaxation, adventure, or simply a place to unwind and soak up the sun, these best beach hotels in Australia will exceed your expectations. With their picturesque settings, warm hospitality, and unforgettable experiences awaiting you just steps away from the sandy shores, it is no wonder that these accommodations stand out as some of the finest in the country.
So pack your bags and get ready to discover the magic of Australia's coastal gems while enjoying unparalleled comfort and style at one of these incredible beach hotels.