Are you thinking of visiting the Sumidero Canyon? Great choice, it is a great day out from San Cristobal de Las Casas or a short trip from Tuxtla Gutierrez.
In the Chiapas State of Mexico, there is one dramatic place to visit that was created around the same time as the Grand Canyon on the Colorado River in the US – Sumidero Canyon (cañon del sumidero chiapas).  It is a geological fault that is believed to have been formed millions of years ago.  It is stunning and an incredible sight to see, no wonder it is the 2nd most popular place to visit after Palenque in the State of Chiapas. It is one of Mexico's natural wonders.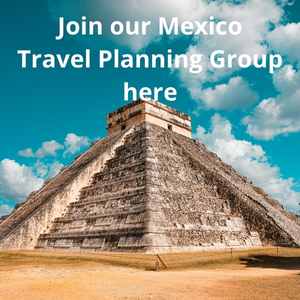 Where is Sumidero Canyon (Canon del Sumidero)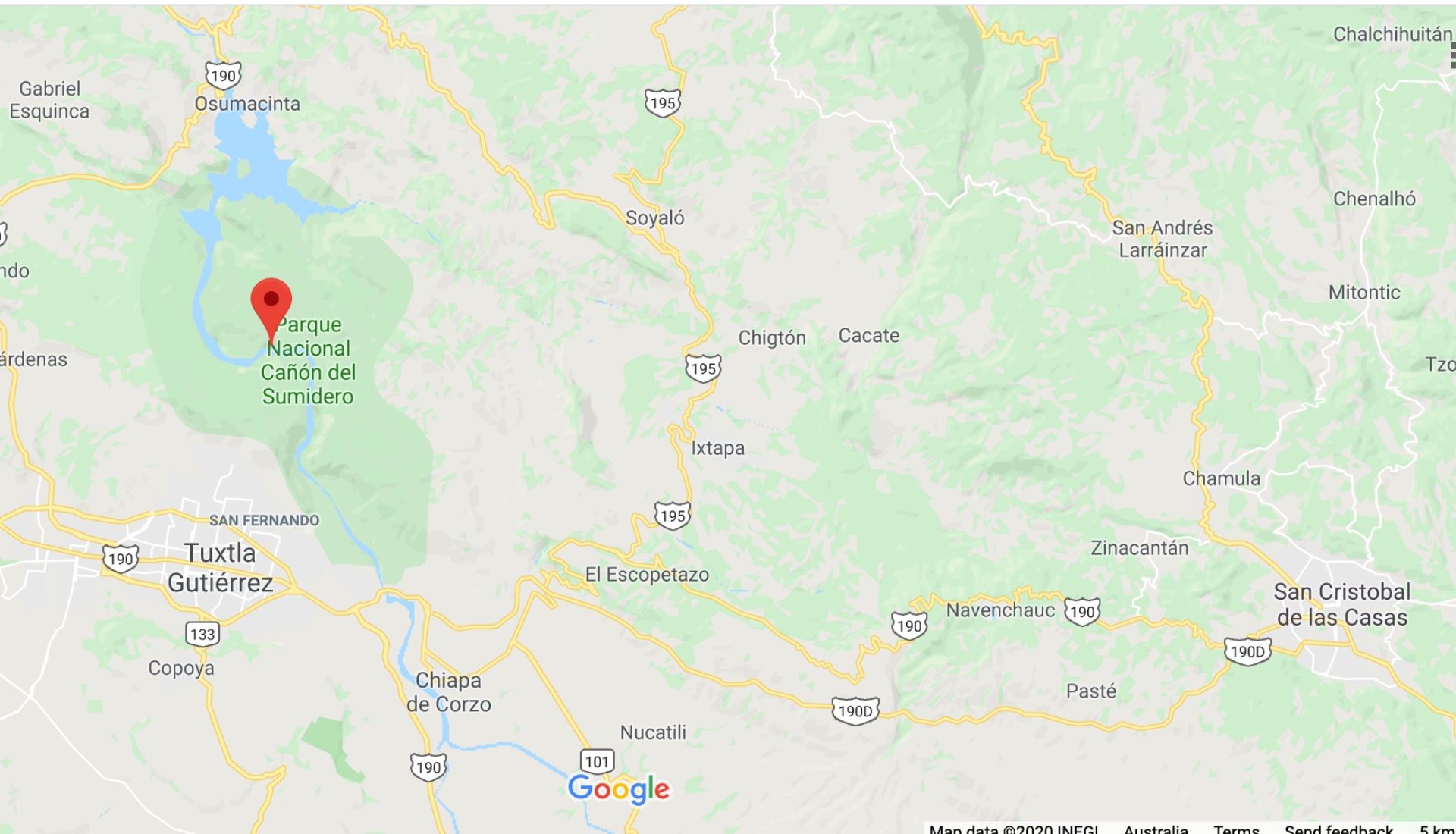 Sumidero Canyon lies 18.5 km from Tuxtla Gutierrez (the capital of Chiapas state and airport) and 76.3 km from San Cristobal de las Casas.
The Grijalva River runs through the canyon, turning at times 90 degrees and at other times widening to 2km.  The awe-inspiring limestone walls reach up to over 900 metres in height and are spectacular as you travel through the 13km long passage.
This post may contain affiliate links. Please see our disclosure for more information. As an Amazon Associate, we earn from qualifying purchases (if applicable).
There is more to Sumidero Canyon than just the river and walls
Check availability for the Sumidero Canyon Tour that includes  Chiapa de Corzo here:
After an hour's drive from San Cristobal de Las Casas, we arrived at the dock for our 2-hour boat ride down the Canyon.
On arrival, we were kitted out with life jackets and a wristband.  There is an entrance fee that has to be paid to the National Park of MXN34 per person.  As we entered the canyon there was a high tower on our right-hand side, the boat slowed down and we all had to raise our right arm to show our wristbands which proved that we had paid the National park fee.
As we rounded a small bend the boat started to slow down and drift towards the river bank on the left-hand side.  Sleepily a Mexican crocodile opened one eye, eyed us up and down (as if to say oh not, not again) and went back to sleep again.  He was a big one! One that you would not want to come to close to at any time.  Showtime! He turned around came gliding towards us just enough to scare most of us on the boat, flipped his tail and went back to his beach to doze.  Just what we all needed, a bit of excitement for the morning.
There are over 150 species of birds in the canyon and our driver pointed them out as we sailed down the river (unfortunately he could only speak Spanish so we were lost on the type of bird that he was pointing out).
Slowing down again he pointed upward to the trees and there swinging from side to side were a couple of spider monkeys.  Why are spider monkeys called 'spider monkeys'?  If you look at them hanging upside down from their tails they look like spiders with their arms and legs hanging down.
Apart from the rainforest, the National Park has orchids, pine trees, and palms as well as many other varieties of plants growing profusely.
The boat slowed down again and drifted towards the right this time.  Jutting out from one of the sheer limestone cliffs was what the driver called the Christmas Tree Waterfall.  The branches were covered in moss which apparently is a result of the waterfall deposits.  It really does look like a Christmas Tree.
Cave of Colours
Further down the river we slowed down and headed towards a small cave that from the distance sparkled in pink colours.  In fact, it did sparkle, the pink colours were made up of several mineral deposits including magnesium and potassium.  The cave also contained the image of the Virgin of Guadalupe and those who worship her climb up to the cave from their boats via a ladder with fresh flowers and light candles to worship.
Chicoasen Dam
Towards the north end of the Canyon, we sailed into the Chicoasen Dam one of Mexico's most important dams for the storage and generation of hydroelectricity power for the country.  It opened in 1981. There are statutes here dedicated to the workers of the dam.
All good things must come to an end as the boat turns around and we headed back to dock, the driver looked out for any creatures that may be lurking in the trees or on the beaches.  But that is not the end of the tour we still have an hour or two visiting the colonial village of Chiapa de Corzo.
Check availability here
Chiapa de Corzo
One of the top things to do in Chiapas Mx. is just 15km from Tuxtla Gutierrez and is the oldest colonial town in Mexico – Chiapa de Corzo.  It is situated on the northern banks of the Grijalva River.  Chiapa de Corzo is an important town in the history of Chiapas State, apparently, an early Mesoamerican Tomb Burial had been found in the area plus one of the earliest forms of hieroglyphic writings.  This would date that the early inhabitants arrived around 1400BCE.
Mexico has designated many towns to be "Pueblos Magicos" magic towns and Chiapa is one of them.
The town was founded by the Spanish in 1523 and the town itself is centered around a Main Plaza which is typical of Spanish towns.
In the middle of the Main Plaza is the 16th-century Moorish-style La Pila Fountain.  All the bricks are laid out in a diamond style.  It is a fun meeting place for the local students at lunchtime.
The 16th century Santa Domingo de Guzman church is also famous in Chiapa.  It is one of the best-preserved churches in the state and the main bell tower houses the largest bells in Mexico.
If you want to buy some Mexican souvenirs we would recommend buying them here than in touristy San Cristobal de Las Casas.  The same souvenirs can be purchased but at a lower price.
Pinterest
Are you on Pinterest? We are at To Travel Too and we have many travel-related boards check us out at Pinterest.  If you enjoyed our article why not pin it to your board.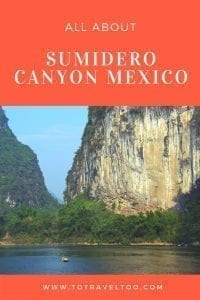 How to get to Sumidero Canyon and Chiapa de Corzo
We were staying in San Cristobal de Las Casas at the Hotel Villas Casa Morada and booked a local tour with Jalapeno Tours to Sumidero Canyon and the oldest colonial city of Chiapa de Corzo.
You can read our hotel review of Hotel Villas Casa Morada here.

The tour departed at 9 am for the 1-hour drive to the starting point close to the village of Chiapa de Corzo from the Al Grano Cafe in San Cristobal de Las Casas.
The tour was well organized from start to finish.
After the boat tour, it was a short drive to Chiapa de Corzo.  We had an hour to visit the town, eat in one of the local restaurants or at the market before heading back to San Cristobal de Las Casas arriving around 2 pm.
Can You Visit Sumidero Canyon without going on a tour:
You can visit without going on an organised tour but we have heard of cases where there were no available boats. Getting there will take longer and you will have to factor in paying your entrance fee to the National Park.  When you weigh up the costs of doing it yourself or going on a tour in this instance with this tour we found going by organised tour the best option.
Sumidero Lookout
There is a lookout over the Sumidero Canyon but there is nothing better to experience the Canyon by boat.
Where to Stay in San Cristobal de las Casas
Top places to stay in San Cristobal de las Casas:
Our top recommended hotel is the Hotel Villas Casa Morada.
The 4-star hotel is centrally located and offers a refrigerator, kitchenette and mini-bar as well as an on-site restaurant and outdoor terrace.
Address: Avenida Diego Dugelay 45 Barrio El Cerillo San Cristobal de las Casas.
Latest Guest Review: "This is an amazing hotel, with awesome stuff that go above and beyond for you. Super clean, covid 10 measures in place, and such a comfortable bed. I would stay here again if I ever visit San Cristobal"

Where To Stay in San Cristobal de Las Casas
We have written an ebook on our travels throughout Mexico. You can purchase it here for USD2.99
Other articles you may enjoy in this beautiful region of Mexico:
San Juan Chamula and Zinacantan
Tours Available from San Cristobal de Las Casas
Getting In
Tuxtla Gutierrez, the capital, is also where the location of the airport to visit Sumidero Canyon and San Cristobal de las Casas.
Flight Deals
Find the cheapest flights with Skyscanner our 'go-to' for researching the latest flight deals and schedules.
Bus Travel in Mexico
We are impressed with bus travel throughout Mexico. We travelled mostly on ADO Buses for comfort, safety and reliability.
For the latest bus schedules and ticket prices click here.
Car Rental
You can organise car rental at Tuxtla Gutierrez Airport. Click here for details.
Travel Insurance
We recommend taking out travel insurance as soon as you book your flights and pay deposits on any cruises, tours or hotels.
Visa For Mexico
Do you need a visa for Mexico?
To Travel Too Travel Shop
In conjunction with Amazon, we have our own To Travel Too Travel shop with over 800 travel-related products.  Travel safer and smarter with our selected products.