A popular holiday for families in NSW is a Sydney to Byron Bay Road trip. A journey of approximately 759 km takes you up the Pacific Highway/A1.  A journey of beautiful landscapes, coastal towns, stunning beaches and lots of things to do and see along the way.
Are we there yet?
Does this sound familiar to families travelling with kids?  When planning a road trip with children you need to plan for rest stops, adventures along the way, family-friendly accommodation and activities to create memories that will last a lifetime.
The Schultz Family Road Trip Tips: How To Survive The Car Journey
Pack healthy snacks and drinks for the car journey – Ziploc bags are the best that can be placed in an esky with fruit, nuts, muesli bars and sandwiches
Stop every 2 hours for 15 minutes
Ensure that tablets are fully charged, don't forget to take chargers
Create a music playlist
Books
Pack hand sanitiser, tissues and a bag for rubbish
If you have a bicycle rack, take the family bikes with you – pack helmets and a bicycle tyre pump
Our thanks go to the Schultz family from Sydney who road-tested the drive from Sydney to Byron Bay. This is their adventure, hopefully, it will be yours too!
Check out their travel tips throughout the article. 
How far is it from Sydney to Byron Bay? 760 km with an average driving time of 8 hours.
You could do this trip in two days stopping halfway between Sydney and Byron Bay at Port Macquarie only if you are short of time.
Do you need a hire car for your road trip from Sydney to Byron Bay? Click here for details.
This post may contain affiliate links. Please see our disclosure for more information. As an Amazon Associate, we earn from qualifying purchases (if applicable).
Related Reading:
Reasons to Visit Manly in Sydney
Join our Staycation Australia Facebook Group – click our logo below: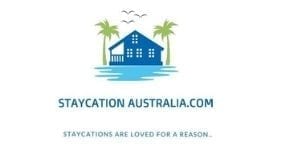 Sydney to Byron Drive
Sydney to Boomerang Beach/Great Lakes Paddock Winery
Sydney to Boomerang Beach is 284 km with an average driving time of 3.5 hours.
Where To Stay
Address: 4 Reg Gum Road Boomerang Beach
Moby's Beachside Retreat is perfect for families.  There are 1, 2 and 3 bedroom cabins available. The above 2 bedroom cabin contains:
kitchen/living area
2 bedrooms – 1 queen-size bed and 2 singles
Bathroom
Laundry
Outside dining area
Free parking
Foxtel and free to air TV
The retreat offers guests:
Lagoon Pool
Heated Spa
Sun Lounges around the pool area
Gym
Tennis Court
Day Spa
The Mobys on Red Gum Restaurant is open for breakfast, lunch and dinner and offers a children's menu. You can dine inside in the contemporary dining room, on the deck overlooking the pool or in the courtyard garden.
Travel Tip: Booking a cabin at Moby's with kitchen facilities keep food costs down at breakfast by self-catering before heading out to explore.

What To Do Around Boomerang Beach
Visit Great Lakes Paddock Wines
Enjoy a Music Day Event at Great Lakes Paddock, take a picnic, purchase some wine and enjoy the best of live music.
Great Lakes Paddock Wines offer 3 wine and 3 cheese flights for $15 per person.
Bookings are essential: Telephone 0419 618 211 or email: [email protected]
Wines available for purchase:
Shiraz
Chardonnay
Rose
Merlot
Verdelho
Pinot Chardonnay Sparkling Wine
Semillon Sauvignon Blanc
Tawny Port
Visit the Cellar Door
Opening Hours: please call before you arrive.
Great Lakes Paddock has a range of products from local producers including cheeses, olive oil, olives, gourmet cordials, conserves, condiments and more.
How to get there:
If you are driving from the Pacific Palms/Seals Rocks area come to Wootton on the Wattley Hill Road which is south of Bungwahl off the Lakes Way.
Great Lakes Paddock is located a couple of km's off the Pacific Highway between the Coolongolook and Bulahdelah Turn into Wootton Way from the Pacific Highway – follow the signs to Great Lakes Paddock.
Visit Elizabeth Beach
Just 1.1 km from Boomerang Beach is the beautiful Elizabeth Beach.
On Sundays at the Palms is the Sunday Market from 9 am 1o 1 pm where you can buy local handmade, homegrown or home-baked produce, arts, craft and more.
Address: Pacific Palms Community Centre, The Lakesway, Elizabeth Beach
Boomerang Beach/Seal Rocks Lighthouse
Visit Boomerang Beach or head to the Seal Rocks Lighthouse 11.2 km by car from Boomerang Beach.
Boomerang Beach is named after its shape – a boomerang.  It is one of the safest surf beaches in the area and is perfect for families and snorkelling. Visit the rock pools at each of the headlands at low tide.
What you need to know: The beach is not patrolled.
Where To Eat at Boomerang Beach
Kembali Cafe
Address: 188 Boomerang Beach Blueys Beach
Open Hours: 6.30 am to 3.00 pm
Kembali Cafe is an easy bike ride from Moby's Beachside Retreat – 750m away.
Schultz Family Tip: You must try the Felafel and the Nasi Goreng.
Special mention: We visited Kembali Cafe in March 2021 and had the Felafel and the Nasi Goreng and we can recommend both dishes.  The village is a great spot for lunch with various options to choose from.
For the latest top restaurants around Boomerang Beach by Tripadvisor click here
Boomerang Beach to Coffs Harbour
Driving distance from Boomerang Beach is 273 km with an average driving time of 2 hours 55 minutes.
Coffs Harbour is known for its beautiful beaches and harbour and is surrounded by banana plantations.
What to do in Coffs Harbour
Solitary Islands Marine Park
You can take a cruise to the Solitary Islands Marine Park and view the aquatic flora and fauna. The park stretches over 75 km. For more information on the Marine Park click here.
Visit the Big Banana
The Big Banana is a fun park and it is the biggest between Sydney and the Gold Coast. There are rides and attractions for all ages:
Giant Slide
4D Ride Simulator
Fun Zone
Toboggan
Mini Golf
Water Park
Laser Tag
Theatre and Tour
Candy Kitchen
Reptile World
Cafe and Ice Creamery
Opal Centre
Gift Shop
Cheese Making
Ice Skating
Address:  351 Pacific Highway, Coffs Harbour
Visit the TreeTops Adventure Park 
Address: Sealy Lookout Drive, Orara East State Forest, Coffs Harbour
The TreeTops Adventure Park is a family fun-filled adventure park that has 115 challenges that include 20 flying foxes and suspension bridges.  It is suited for children from 3 years upwards and each course has a level of difficulty from easy to medium to adventure lovers.
What you need to know: If it is a windy day please call 0457 506 888 before you head off to the Park as it may be closed.
For more information and to book click here
Schultz Family Tip: They travelled from Boomerang Beach to Yamba and wanted to visit the TreeTops Adventure Park along the way to break up the journey. Due to bad weather, the park was closed. They recommend calling the Park in advance if there is bad weather.
If you are not short of time you could spend a few nights in Coffs Harbour.
Where To Stay in Coffs Harbour
For a range of accommodation in Coffs Harbour to suit all budgets and travellers:

Coffs Harbour to Yamba
Driving distance from Coffs Harbour to Yamba 131 km with an average driving time of 1.5 hours.
Yamba is a popular family destination and is well known for its beaches, shopping, surfing at Angourie and the 'blue and green pools'.
Yamba is located at the mouth of the Clarence River.
What to do in Yamba
Visit 4 Popular Beaches in Yamba
Yamba has many beaches to choose from but the following four are some of the most popular:
Main Beach
Main Beach is located at Pilot Street in Yamba. Facilities include the Surf Club, a cafe, an ocean pool at the southern end and has disabled access.
What you need to know: The beach is patrolled on weekends and on school holidays.
Whiting Beach
Whiting Beach is located on Hickey Island at 187 Clarence Street in Yamba. Just a short distance from town Whiting Beach is sheltered from the winds and is great for young families. Facilities include picnic tables, a car park, toilets and showers and BBQs.
What you need to know: The beach is not patrolled.
Pippi Beach
Pippi Beach is Yamba's surfing beach.  It is best to visit when the winds are from the North or West. Facilities include picnic tables, parking and toilets.
What you need to know: It is recommended to swim at Pippi's Beach when it is patrolled, the northern end is patrolled in the summer months.
Turners Beach
Turners Beach is located at Harbour Street Yamba. Turners Beach is a popular swimming and surfing beach. Head to the South Break Wall and the Lighthouse from there you can take the steps to visit the Lighthouse. Facilities include picnic facilities, toilets and parking.
What you need to know: Turners Beach is patrolled during summer.
Visit The Yamba Farmers & Producers Market
The Market is held weekly on Wednesdays between the hours of 7 am and 11 am at the car park between Whiting Beach and Turners Beach.  There are over 40 stalls offering the best of local produce:
organic fruit and vegetables
artisan breads
coffee, cakes and smoothies
cheeses
native jams and spices
and more
More Things to do in Yamba
Take a kayak tour with Yamba Kayaks and come up close with wild dolphins in the estuary.
Take a scenic cruise with Clarence River Ferries to Iluka, the sleepy fishing village opposite Yamba.
Follow the ancient emu trails south to Red Rock along the Yuraygir Coastal walk.
Visit the Iluka Break Wall at Beach Street Iluka.
Visit the green and blue freshwater pools of Angourie – located between Angourie and Spooky Points, a favourite for families at low tides.
Trace the history of Yamba with two historical walks, details are available from the Yamba Museum in River Street.
Where To Stay in Yamba
For affordable family accommodation in Yamba,  stay at the Yamba Aston Motel located at 37 Coldstream Street, Yamba.
Facilities include:
swimming pool with outdoor spa
kitchenette
outdoor BBQ area
free wifi
airconditioning and heating
Travel Tip: Book a ground floor apartment if you are travelling with children

More Hotels in Yamba
For the latest prices and availability:

Where To Eat in Yamba 
Travel Tip: The Schultz Family's favourite restaurants in Yamba are:
Address: 25 Coldstream Street Yamba
For the latest reviews click here
Address: 64 The Mainbrace Yamba
For the latest reviews click here
Schultz Family Tip: They fell in love with Yamba and its laid-back vibe and plan to spend more time in Yamba on their next family holiday in the region.
Yamba to Byron Byron
Driving distance from Yamba to Byron Bay 125 km with an approximate driving time of 1 hour 37 minutes.
Byron Bay is  Australia's most easterly point and is one of NSW's popular holiday destinations for families, couples, solo travellers and backpackers.
Byron Bay is well known for its beaches, cafes and restaurants, surfing, swimming and shopping.
What to do in Byron Bay
Top tours available in Byron Bay from our partner Get Your Guide.  We have used Get Your Guide many times throughout our travels.  One of the advantages of using Get Your Guide is their free cancellation 24 hours prior to the event.
Visit the Cape Byron Lighthouse
Cape Byron Lighthouse was built at the turn of the 19th century. You can visit the Maritime Museum which is open daily from 10 am to 4 pm.  We recommend that you take a pair of binoculars with you.
Driving distance from the town centre to the Lighthouse is 8 minutes for the 3.5 km. There is parking available at a cost of $8 per car per hour.
Beaches to visit in Byron Bay
Tallow Beach
Tallow Beach is located 3.2 km from the centre of Byron Bay. Tallow Beach is 6.5 km long and is part of the Arakwal National Park. Tallow Beach is suitable for swimming, surfing and fishing. At Cosy Corner there are picnic facilities, toilet facilities and parking is $4 per hour.
What you need to know: It is advisable to swim only when patrolled as the beach has rip tides.
Wategos Beach
Wategos Beach is easily accessed from the Cape Byron Walking Track. If you are a beginner surfer this is the beach for you.
Little Wategos Beach
Little Wategos Beach is north-facing and suitable for swimming, rock fishing and sunbathing.  It is located a short distance from Wategos Beach by foot from the Walking Track.
Main Beach
Main Beach is the closest beach to Byron Bay town centre and is home to the Byron Bay Surf Club.
Facilities include:
Playground
Toilet facilities
Baby change facilities
Picnic tables and BBQs
Showers
Drinking fountain
What you need to know: Main Beach is patrolled every day of the year
Travel Tip: Walk the Tallow Ridge Track
A fun family outing is to walk the 1 km Tallow Ridge Track to Captain Cook Carpark.  It should take around 20 minutes through the rainforest.
Where To Stay In Byron Bay
Byron Bay has an extensive range of accommodations from backpacker hostels to luxury accommodations.  The Schultz Family stayed with friends during their time in Byron Bay.
Some of the popular places to stay:
Address: 28 Bangalow Road Byron Bay
The 4-star Bower offers luxury accommodation surrounded by lush tropical gardens, 15 minutes walking distance from the cafes and restaurants.  Luxury appointed rooms with private bathrooms and rain showers, swimming pool and complimentary bike hire.

Address: 35 Lawson Street, Byron Bay
Waves is located 60m from Main Beach and 100m from cafes and restaurants.
Spacious suites and luxurious rooftop penthouses are suitable for families. They offer free use of beach chairs, towels and boogie boards. A light breakfast of fresh muffins, coffee and tea is for guests as well as wine tasting evenings every Friday and Saturday nights.  Free wifi is available.

Address: 20 Bay Street Byron Bay
The 4.5 star Beach Suites is perfect for families offering boutique apartments and studios some with kitchens and others with kitchenettes.  Some studios have patios with heated plunge pool and spas.

Another 4-star popular property is the Lord Byron at Byron.
Address: 120 Jonson Street Byron Bay
Queen-size rooms are available with balconies in the heart of Byron Bay.
"The property is home to a range of uniquely decorated Queen-size rooms – each with a private balcony – and fully-furnished apartments; as well as a recently renovated swimming pool and spa with wraparound decking, tennis court, and spacious cabana BBQ area. To assist with a fuss-free holiday, all rooms also include air-conditioning, a refrigerator, and tea/coffee-making facilities.
Guests can enjoy a range of complimentary inclusions in their stay, including bike and surfboard hire, in-room Nespresso machines with complimentary pods, onsite car parking, tennis rackets, and late midday checkouts. within a tropical setting that shines with a holiday glow, our accommodation has everything you need to escape from it all. In addition, guests are able to order drinks service by the pool, in-room or under the cabana, at the simple tap of their phone."
Latest guest review:
Walking distance from everything, felt safe, a spotless room and great value for money.

Where to Eat in Byron Bay
The best place for Brunch is The Pass on Brooke Drive overlooking Pass Beach.
Open for breakfast between 7 am and 11.30 am and lunch from 12.00 to 2.30 pm.
Schultz Family Tip: Try the vegetarian burgers even if you are not a vegetarian you will love them!
For the latest reviews click here
The Tree House Cafe is another firm favourite on Belongil offering wood fire pizzas, shared platters and cocktails and wine.
Open for breakfast, lunch and dinner daily from 7.30 am to 11.00 pm.
Address: 25 Childe Street Belongil Beach
For the latest reviews click here
Return to Sydney from Byron Bay via Port Macquarie
The distance from Byron Bay to Port Macquarie is 384 km with an average driving time of 4 hours and 12 minutes.
Things to do in Port Macquarie
Port Macquarie is located on the banks of the Hastings River.
Discover Port Macquarie's beaches, historical sites, secluded rainforests and meandering rivers, take a dolphin watch cruise or a jet boat ride.
Take a walk along the Port Macquarie Town Break Wall and view the colourful graffiti rocks with messages from locals and visitors. Enjoy the stunning views to Town Beach from Hastings River. If you are up for a 9km walk you can start at the Town Green and head out to Tacking Point Lighthouse at Lighthouse Beach.
Billabong Zoo – Koala and Wildlife Park
Address:  61 Billabong Drive Port Macquarie
Opening Hours – 9 am to 5 pm.
The Park covers 10 km and you can get up close and personal with 80 species of mammals, reptiles and birds.
If you would like to have a one-on-one with cheetahs, snow leopards, koalas, red pandas, meerkats and snakes bookings are essential.
For more information click here.
Take the Hello Koala Sculptures Trail
From the mountains to the sea you can follow the Hello Koala Sculpture Trail which is made up of 70 1 metre high fibreglass sculptures in different positions in different locations. For more information click here
Visit the Koala Hospital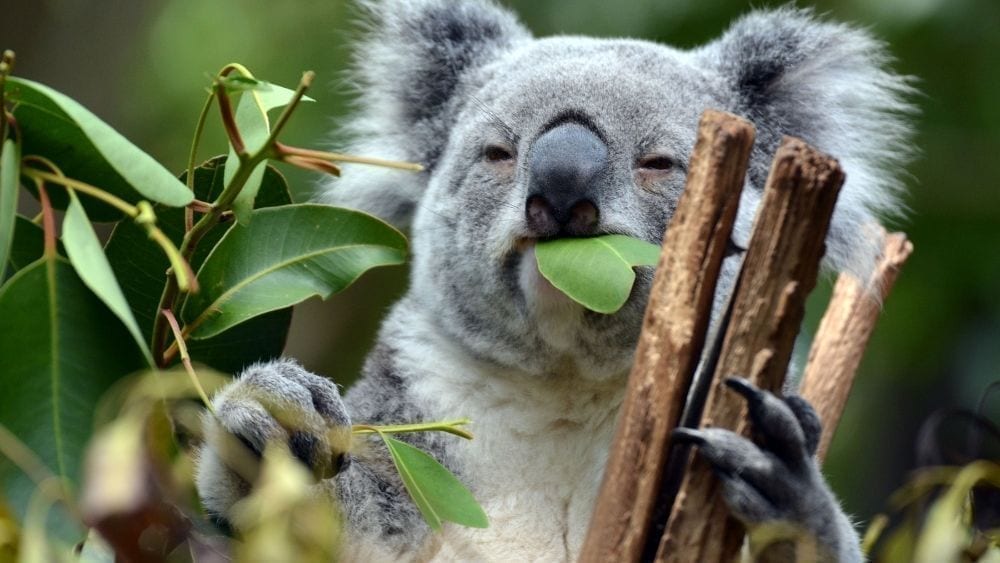 Visit the world's first Koala Hospital located at Lord Street & Roto Place in the grounds of the historic Roto House. Walk and talk tours are daily at 3 pm.
Bago Maze and Wine
A 30-minute drive into the hinterland of Port Macquarie and you can enjoy family fun at the Bago Maze and Wine. The kids can run around and play whilst the adults can enjoy wine tasting at its best.  The maze is one of the largest in the world and has 2000 metres of pathways.
Address:  Milligans Road, off Bago Road in Wauchope
For more information click here
Enjoy river cruising and whale watching cruises with Port Jet Cruise Adventures.
Ride a camel along Lighthouse Beach with Port Macquarie Camels.
Where to Stay in Port Macquarie
The 4 star Waters Edge is located at 1 Buller Street in Port Macquarie overlooking the Hastings River.  Family rooms are available as well as a kids pool, swimming pool, restaurant and bar.
Travel Tip: Perfect for families as the hotel is on the water and has a great kids playground, pool and restaurant. Spend more than one night in Port Macquarie as there are a lot of things to see and do.

Where to Eat in Port Macquarie
Schultz Family Tip: Go Japanese in Port Macquarie
MakiMoto Port Macquarie
Address: 22 Horton Street Port Macquarie
Japanese, Sushi and Asian Cuisine.
Open for lunch: 12 pm to 2.30 pm
Dinner: 6 pm to 9 pm
For the latest reviews click here
Port Macquarie to Sydney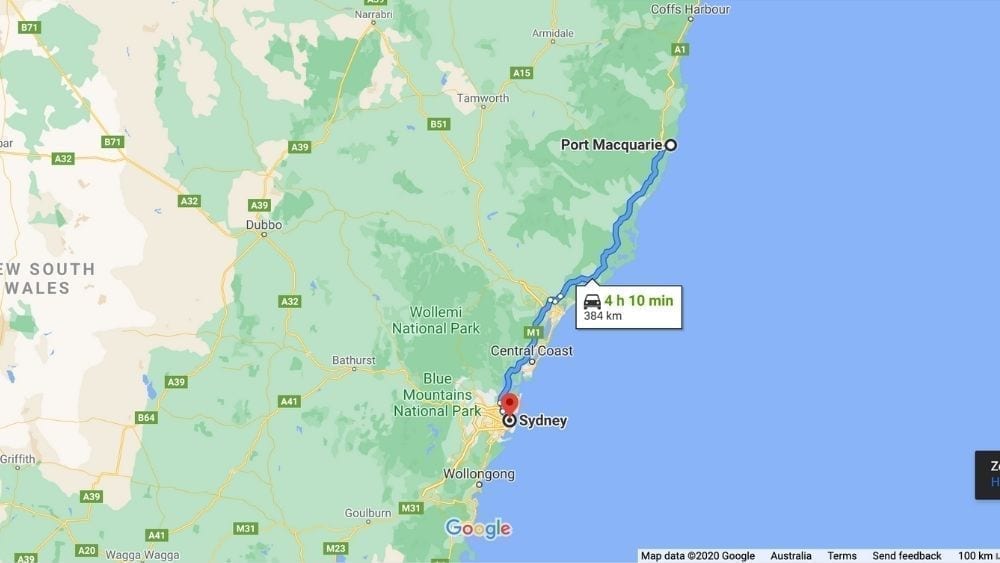 The final leg of the journey on your East Coast Road Trip – Port Macquarie to Sydney with a driving distance of 384 km with an average driving time of 4 hours and 10 minutes.
What a road trip!  Where will you travel too next?
Pinterest
Are you on Pinterest? We are at To Travel Too and we have many travel-related boards check us out at Pinterest.  If you enjoyed our article why not pin it to your board?
More articles on Australia to inspire you to travel:
We hope you have enjoyed our Sydney Byron Bay drive article. You can incorporate this article on a Sydney to Gold Coast road trip too!
If you have any questions on travel around Australia please reach out to us.