Have you always wanted to visit Mexico City?
The sprawling metropolis of Mexico City continually proves to be one of the top tourist destinations in the entire country. 
With a rich history and authentic culture, it's not hard to see why many keep coming to visit the capital and experience a more true and genuine version of Mexican life.
Can you spare 5 days? We have the best 5 days in Mexico City itinerary as well for you to make the most of your stay in this fascinating city.
In this guide, we'll cover all you'll need to know about Mexico City, including how to stay safe, the best time to visit, our recommendations as well as how long you'll need to explore the capital. We'll also cover 5 top things to do in Mexico City that you ought to see on your travels here.
Mexico City has some great landmarks to visit, but did you know that there are over 50 landmarks in Mexico to visit which will have you returning time and time again to enjoy every one of them.
A great time to visit is when the Day of the Dead in Mexico City is held in October/November. A month-long of festivities and celebrations of life.
Travelling further afield in Mexico? Try a Mexico tour or two using Mexico City as your base.  There is so much to see in Mexico you may need to return a few times to enjoy all that Mexico has to offer.
This post may contain affiliate links. Please see our disclosure for more information. As an Amazon Associate, we earn from qualifying purchases (if applicable). 
The Best 5 Things to do in Mexico City
In all honesty, there are dozens of cool things to do and see in Mexico City. However, here we'll cover 5 of the very best that you'll want to fit into your itinerary.
#1 – Teotihuacan
These infamous ruins are some of the best recognized in the World. With the classic pyramid of the Sun, which has been featured in many films, as well as many other giant temples and statues, there's no wonder that this gem continues to top the list for the most visited in Mexico. 
Historically, this site was one of the most important during the Mesoamerican era, with the Aztecs naming it Teotihuacán (which translates to "the place where the gods were created". 
Nowadays you won't see any gods strolling around, however, you will see over 2000 structures and ruins along the Avenue of the Dead. 
Travellers who have had the chance to do some backpacking in Mexico may have visited similar structures, such as El Tepozteco, in the nearby town of Tepoztlán. However, aside from the Pyramid of the Sun at Teotihuacan, which is the tallest, other must-see ruins include the Pyramid of the Moon, the Ciudadela, and the Temple of Quetzalcoatl. 
This spectacular site is the only one on our list not located in Mexico City, however, it is included due to it being a must-visit when here. To get here you'll want to head to the North Bus Terminal, where you can then take the two-hour bus directly to the ancient site. 
The buses depart hourly to and from, making it quite a flexible and easy trip to make.
Be the first to enter to Teotihuacan with this GetYourGuide Exclusive with early access
#2 – Roma Norte Mexico City
This popular district is one of the trendiest and hip parts to stay in and visit when in Mexico City. The Avenida Álvaro Obregón, which is the central avenue running through the heart of the district, is one of the best places to explore a more upper-class version of Mexico City life. 
Lined with rows upon rows of trees and shrubs, you'll also find here many boutique restaurants, classy bars as well as many buildings refurbished from previous mansions. One of the best things to explore in this district is Mercado Roma, which is a multi-level food hall famous for all things grub. 
Here you can try some of Mexico's most authentic and tasty dishes such as pico de gallo, burritos, and Alhambra. It's open from 9:00 am daily, however, closing hours vary between 7:00 pm and 2:00 am depending on the day. Regardless of the day, it's always a great place to grab some lunch or dinner.
Check availability in the Roma Norte area of Mexico City here
#3 – Isla de las Muñecas Mexico
Translated directly as the "Island of the Dolls", we won't lie – this one is pretty damn creepy. Located in the channels of the Xochimilco canal system, which is in the south of Mexico City, this island is infamous for being home to hundreds of strung-up and mutilated dolls. 
The legend goes that the once owner of this island found a girl who had drowned near his island and started to hear voices and see things at night. 
In an attempt to appease the spirits, he started to hang up these dolls but ultimately to no avail, as he himself was later found dead close to the same spot as where the girl was discovered. 
Pretty gruesome, but in terms of unique things to see and do in Mexico City, this one is a must-inclusion on our list. The only way to reach this gem is by trajinera, which are the colourful boats found in the Xochimilco Canal. It takes roughly an hour and a half to reach, where you'll stop and walk around the island. 
Xochimilco & Coyoacan Tour with Frida Kahlo Museum Option
#4 – Museo Soumaya Mexico
Known as housing one of the most comprehensive art collections in the world, Museo Soumaya is a haven for everything from Mexico's Pre-Hispanic Mesoamerican era. 
With over 1 million visitors annually, it continues to feature as the country's most visited museum. It's best known for its art collection, which details the last 3000 years of Mexico, including folklore Mexican art as well as work from legendary global artists such as Salvador Dalí, Pablo Picasso, Tintoretto, and Auguste Rodin. 
With over 66,000 sculptures, pieces of art, historical documents, and more, it truly is a great way to explore Mexico's colourful, impressive history and development. 
Even the exterior of the museum alone draws many tourists with its odd yet mesmerizing giant silver shape with a snake-like textural design. 
Museo Soumaya is located in the capital's trendy district of Polanco, which is pretty safe in comparison with the rest. The best way to get here is by taking an Uber or taking the metro to Polanco and then walking several blocks to reach the gem.
#5 – Walking Tour of Mexico City
Free walking tours aren't nearly enough utilized as they should be by travellers. However these are arguably the best way to get to know the streets of any city, and Mexico City is no different. 
You'll also get to know all of the sites, special gems you otherwise wouldn't know about as well as develop a solid mental map so you don't get lost. And all for free too! One of our top picks is the Estación Free Walking Tour in the Historic District. 
Leaving every day from either 11 am or 2:30 pm, this great tour explores all of the top sites in the area. This includes the Zócalo, with its famous massive Mexican flag raised overhead, as well as the important buildings situated on the periphery of the giant plaza. 
These include the Catedral Metropolitana, which features two giant bell towers, as well as the National Palace, which now serves as the official residence for the current president of Mexico. 
Other interesting landmarks covered are the Templo Mayor, Palacio de Bellas Artes, Torre Latinoamericana and Alameda Central. The tour is structured and organized in such a way that you end up with a great panoramic view of the historic centre, whilst also learning lots of interesting and fun facts from the passionate guides who lead this tour.
Best Time to Visit Mexico City
Mexico City is surprisingly quite cool, which is not what most expect when first visiting here.
April until October is the warmest time to visit the capital, with a daily average of 63-64°F (17.2 – 17.8 deg C)
Highs range from 73-77°F, (22 – 25 deg C) with lows of between 52-54°F (11 – 12 deg C) (April and May are the overall hottest months).
Rainfall is heavier during this time of year, with anywhere from 40-60 mm of precipitation throughout each month. September is the exception, with around 90 mm of a downpour.
November until March is much cooler, with average daily temperatures of 55-60°F (12 – 15 deg C). Highs can reach between 70-72°F, (21 – 22 deg C) with lows of 41°F (5 deg C)(December and January are the coolest months overall to visit). 
Rainfall is at its lowest during this time of year, with around 20 mm falling within each month. January and March are the driest months of the year to visit, with as little as 10 mm falling throughout each.
Mexico City Travel Tips
Mexico City really is a fantastic destination to visit. So much that we've continually kept coming back again and again! 
One of our first tips is to use the metro to get around. Being the size that it is, taxi fares can often be astronomical (as well as sometimes not safe). 
By using the metro you will pay just 25 Cents for one journey, and the extensive system links the whole city and nearby suburbs up really well. It's also well guarded with police presence, as well as separate waiting areas for women and children. 
With places such as Huasteca Potosina and San Luis de Potosí on the doorstep, be sure to check out the Ado bus times to see if you feel it's worth spending a night outside the city. 
Another key tip is to stay in the Roma and Condesa neighbourhoods (as touched upon earlier in this article). Not only are they the safest, but they're close to all the action and main sights, as well as being authentic areas to explore true Mexican culture.
Safety in Mexico City
Mexico in general is usually pinned with an over-the-top warning on safety and crime. Of course, it's not quite Europe, however, it's still safe as long as you take proper precautions.
The best way to stay safe is to properly research the area you're staying in and to avoid wandering out into unknown suburbs, or out alone at night. All you're doing is increasing the risk that something could happen, so don't!
Another tip is to dress down and avoid wearing too many expensive articles or accessories. Again whilst you'll feel pretty damn good, all you'll do is advertise yourself well to opportunistic thieves.
How Many Days are needed in Mexico City?
To be honest, here, you could spend months in Mexico City and still only scratch the surface! It really is a giant and there's so much to explore.
Now for the traveller who doesn't have so much time or only wants to see the highlights, then we would recommend a minimum of 4 days in Mexico City. 
This would be enough to see the very best of the capital, including all of the destinations on the list, as well as one or two day trips into the surrounding region.
AUTHOR BIO:
Dan and George are two seasoned travellers with extensive knowledge of Latin America who write no-nonsense backpacking guides. You can read all about their adventures on
BLATAM.
Conclusion
Our thanks to Dan and George for their informative article on their 5 top things to do in Mexico City.  We loved the 4 nights we spent in vibrant Mexico City where we visited Teotihuacan and Tlatelolco. We wished we had arranged to spend at least a week as there is so much to see and do.
General Travel Information for Mexico City
Mexico City Airport
Mexico's International Airport is located 11.5 km from the CBD.
You can book a private car transfer from the Airport to your accommodation here. (BTW this is what we did as we were arriving late at night.
Airfare deals to Mexico City
For the latest airfare deals to Mexico City from your preferred departure airport click here.
One of the best ways to see Mexico City is on the Hop on Hop off Bus.
Pre-purchase your Hop on Hop off Bus Pass here
Bus Travel Around Mexico
We have travelled for over 6 months around Mexico and have used ADO Buses each time. For the latest schedules and ticket prices click here.
Travel Insurance for Mexico
We recommend that you take out travel insurance as soon as you pay deposits on any of your travel bookings.
Join our Mexico Travel Planning Facebook Group here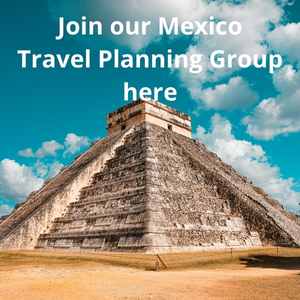 Our other articles on destinations close to Mexico City
Top things to do in Cabo San Lucas
Things to do in San Miguel de Allende
Pinterest
Are you on Pinterest? We are at To Travel Too and we have many travel-related boards check us out at Pinterest.  If you enjoyed our article why not pin it to your board and read it later.
To Travel Too Shop
Travel smarter and safer with products from our To Travel Too Travel Shop.  If you are looking for the latest luggage, guidebooks or travel accessories we have you covered with over 800 travel products to choose from.