Are you working from home? Do you need to find a well-located and quiet work environment to work in Sydney?
Do you need to organise a local Sydney retreat for a night or two?
We have researched some of the top 5 Sydney Workcation Escapes for you that will provide you with:
a good location
close by to restaurants and bars
close to supermarkets
close to transport if required
good Wifi
good traveller references
Join our Staycation Australia Facebook Group here:
This post may contain affiliate links. Please see our disclosure for more information. As an Amazon Associate, we earn from qualifying purchases (if applicable). 
Related Reading: Top 24 Sydney Tours
Luxury Sydney Escape – CBD
Read our article – Easter in Sydney at The Langham Hotel
The
Langham Hotel in Sydney i
s perfect for your next Workcation. You can't beat its location in the Rocks area. Luxury with a capital L. Travelling with your pets? Check out their Pampered Pet Programme.
89-113 Kent St, Millers Point in the historical Rocks area of Sydney
Stunning harbour views
Pampered Pets Program
75 Deluxe Rooms
8 Executive Rooms
11x 1 bedroom suites
1 x 2 bedroom apartment
1 x Observatory Suite
Dining Options:
Observatory Bar
Afternoon Tea by Wedgewood Monday to Sunday from 11 am to 5 pm
Kitchens on Kent
Wellness
Day Spa by Chuan
Health Club
Swimming Pool
Tennis
Guest Review:
"Langham Sydney was amazing!
Great stay. The staff are the reason we stay at the Langham Sydney! Truly perfect! The facilities and dining areas had a great atmosphere. We didn't get a chance to use the pool but next time 100%! Still next time Langham. Thank you!"

Luxury Coastal Escape Bondi Beach
What a location on the famous Bondi Beach. You will not want to leave!
Latest Traveller Review:
I jetted to the QT Bondi for a mini-vacay by the beach. The staff were charming, so informative, helpful and flexible with our needs. It was a really hot day and they had the room nice and cool for us upon arrival, and it is all the little touches that really made our stay so spesh.
Kevin Murphy bathroom products, great view and location so you can walk to everywhere you could imagine, the styling was modern and fresh and so clean, and the minibar delivered. I particularly liked the ready-made cocktails so I could treat myself before I headed out for dinner. Our room even had a washing machine, which would be perfect for a business stay too. Plus I found out they have dog-friendly rooms so I can't wait to come back with my pooch.
Thanks for looking after me QT Bondi, I left with my cup full!
Location: 
6 Beach Road Bondi
Hotel Facilities:
Rooms: Deluxe King, QT King, QT Gould Suite, QT Atrium Suite
Free Wifi
Gym
In-room movies and cable TV
Concierge Desk
Wheelchair access
Self-parking $49 per night
Complimentary use of the Speedo Fitness Club

Luxury 5 Star Sydney Harbour Escape
Definitely the best views in Sydney, the Park Hyatt ticks all the boxes!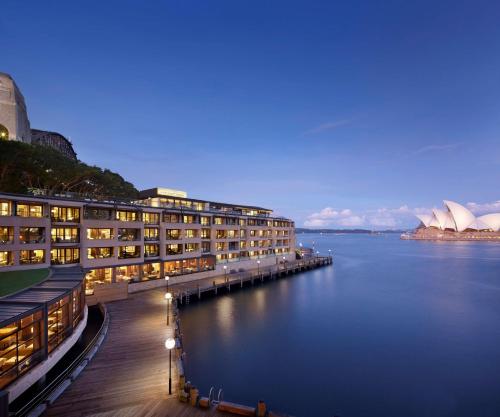 Location:
7 Hickson Road The Rocks Sydney
"Room was absolutely stunning!!! The staff were so friendly and attentive and made you feel right at home! Would def recommend the Wagyu beef burger in-room service!!! And the rooftop pool is gorgeous :)"
Rooms: King Deluxe, King Bed with Harbour Views, King Bed with Opera House Views, King Bed with Opera House Views Deluxe, King Bed with Opera House Views Premium, Twin Rooms, Twin rooms with Harbour views, Twin Rooms with Opera House Views
Suites: Quay Suite, Cove Suite, Rooftop Suite, Harbour Suite, Opera Suite, Sydney Suite
Wifi
Restaurants
Room service
Fitness Centre
Swimming Pool
Spa Facilities
Digital Key
Digital Check-In
Business Services
Laundry
Concierge
Meeting facilities
Dining Options:
Living Room – 12 pm to 9 pm
Dining Room:
Breakfast Monday to Saturday from 7 am to 10.30 am  Sunday from 7 am to 11 am
Lunch Thursday and Friday from 12.00 pm to 2.30 pm Saturday and Sunday 12.30 pm to 2.30 pm
Dinner Wednesday to Saturday from 6 pm to 9.30 pm
The Bar open from Thursday to Saturday 6.30 pm to 10.30 pm

Related Reading: Your next Sydney Staycation in the Rocks
Absolutely Perfect Escape in Darling Harbour
For French Luxury and French Cuisine in the heart of Sydney head to the Sofitel at Darling Harbour. Such a great location to enjoy the delights of Darling Harbour, Barangaroo, The Rocks and the CBD.
Latest Guest Review
Very quick and efficient service, staff are very friendly and welcoming, club Millésime was great and the wait staff were helpful especially Elmo. We will definitely be rebooking for our next weekend away.
12 Darling Drive Darling Harbour
590 rooms and suites with views
Infinity pool
Wifi Internet Access
Concierge
Parking
Accessibility for people with reduced mobility
Dining Options
Atelier by Sofitel Lunch Thursdays to Sundays Dinner Thursdays to Sunday
Champagne Bar Lunch Thursdays to Sundays Dinner Thursdays to Sunday
Le Rivage Pool Bar Saturday and Sunday 12 pm to 6 pm

Luxury Escape in CBD – Martin Place
Location:
1 Martin Place Sydney
Latest Guest Review
This really is a beautiful hotel. We knew it as the old Westin, however, the Fullerton has bought an extra layer of excellence to the hotel. The location is perfect, the architecture astounding and the service is second to none. We would highly recommend a stay here whenever we are in Sydney. 
Hotel facilities:
Rooms: Superior, Deluxe, Deluxe Suites, Executive Suites, Heritage Long Suite, Martin Place Suite
Accommodation suitable for corporate travellers and families
Contemporary styled rooms in the high rise building
Classically styled rooms in the heritage building
Dining Options
The Bar – Monday to Thursday 8.30 am to 9.00 pm, Friday 8.30 am to 10.00 pm, Saturday 10.00 am to 10.00 pm, Sunday 10.00 am to 9.00 pm
The Place – Breakfast Monday to Sunday 7.00 am to 11.00 am, Lunch Tuesday to Saturday 12.00 pm to 3.00 pm Dinner Thursday to Saturday 6. (Valium online) 00 pm to 9.00 pm
Related Reading: Visit Manly on a Sunday
Air Travel Within Australia
Find the cheapest flights with Skyscanner who then directs you to the airline's website with no extra fees to pay.
If you have any questions or would like some advice we would love to hear from you. You can reach us via our Facebook page or email us here.