Are you ready to immerse yourself in the ancient wonders of Chichen Itza? Nestled in the heart of Mexico's Yucatan Peninsula, this mesmerizing archaeological site is a UNESCO World Heritage Site and one of the New Seven Wonders of the World. Steeped in rich history and Mayan mythology, Chichen Itza offers a captivating journey back in time. Whether you're an avid history buff or simply seeking awe-inspiring experiences, this article will unveil the top things to do in Chichen Itza that will leave you breathless with wonderment.
Are you planning to visit Chichen Itza? What an experience for you! The beauty of the Mayan architecture and how the Mayans built these magnificent structures will wow you!
You will marvel at their astrological awareness, and the history of the Mayan people in this region is like nothing else we have come across before.  There were a lot of aah's and ooohs when we visited.  Impressive, yes, yes, yes!
We have written two articles on Chichen Itza.
In this article on things to do in Chichen Itza, we cover how to get there with different options from where you are basing yourself in the Yucatan Peninsula, timings, costs, where to stay and eat and tips on making the most of your visit to Chichen Itza. We cover the NightTime Light Show as well. We include hotel accommodations in Cancun, Merida, Playa del Carmen,  Chichen Itza and Valladolid.
Are you staying in Cancun? There are many Chichen Itza tours from Cancun available.
Our 2nd article is about the site itself, what temples to visit and what we experienced and learned on our tour with our local guide.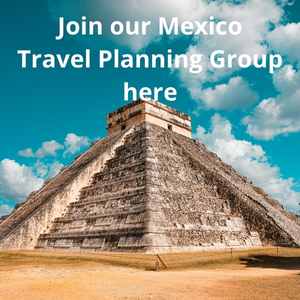 Good to know: Chichen Itza is not located close to Merida or Cancun, it is a journey in itself getting there.  Once there, you should consider staying for the evening light show performance. 
This post may contain affiliate links. Please see our disclosure for more information. As an Amazon Associate, we earn from qualifying purchases (if applicable).
There is a right way and a wrong way to visit Chichen Itza in Mexico during the day and night we believe now that we have done it. We certainly could have planned our visit better if we had thought about the distance that we had to travel from Merida each time.
Our  Chichen Itza guide will benefit the reader as we have learned from our mistakes and we would like to share with you our preferred way to visit next time. For those who do not have the luxury of a few days, we will share with you what we believe is the best way to visit Chichen Itza on a day trip.
#1 Tip for Visiting Chichen Itza – purchase your skip-the-line ticket in advance
#2 Tip for visiting Chichen Itza
Don't visit on a Sunday as it is free for Mexican Nationals and it can be very crowded.
#3 Tip for Visiting Chichen Itza and Cancun
Go Cancun All-Inclusive Pass: Save On the Top Attractions Save up to 45% to over 40 attractions. Explore at your own pace. Experience more for less. Enjoy access to 40 top Cancun attractions, Chichen Itza and many more activities and save on admission prices.
Before you travel to Chichen Itza you may want to learn about Chichen Itza history and the Mayan People in the Yucatan Peninsula. Chichen Itza: The History and Mystery of the Mayas Most Famous City by Jesse Harasta is Amazon's Best Selling Book on Chichen Itza. This informative book not only includes photos of Chichen Itza but delves into the reasons why the site was chosen and also why it was abandoned. The book also includes a detailed layout of the site.  If you do not want to hire a guide for your visit it would be worth considering taking this book along with you.

We spent over 6 months travelling around Mexico and wrote our first e-book – Our Mexico Guide USD2.99 – you can read it here.
Read our 2nd article on Chichen Itza here
Chichen Itza Facts
What is Chichen Itza
Chichen Itza is an archaeological site of Mayan Ruins located in the Yucatan State of Mexico. Chichen Itza sits on 740 acres and was built around 800AD. They are considered to be the best Mayan Ruins in the Yucatan.
The Temple of Kukulkan is the main drawcard to the site, with its impressive height and history of being two pyramids one built over the top of the other.
How Old is Chichen Itza
Chichen Itza which is considered to be one of the Seven Wonders of the New World proudly sits up there with Petra, Machu Picchu, the Great Pyramid of Giza, the Great Wall of China, the Colosseum, the Taj Mahal and Christ the Redeemer in Brazil.
The Temple of Kukulcan, also known as El Castillo is believed to have been built in 800AD.
Recent research shows that El Castillo was built over a Chichen Itza cenote which is 20m deep and could put the structure at risk in the future.
Other sites in Chichen Itza are:
Temple of the Warriors (also known as the Temple of the 1000 Columns)
Caracol
Chichen Itza Ball Court
Temple of the Jaguars
The Platform of the Skulls
plus a lot of other smaller temples
Chichen Itza Cenote
The Sacred Cenote of Chichen Itza lies to the north of the site.  A cenote is similar to a natural 'sinkhole'. The Chichen Itza Cenote was used as a place of pilgrimage for the Mayan people.  It is believed that during their rituals they would throw live men into the cenote as a sacrifice to their gods.  Apart from men being thrown into the cenote they also threw precious stones and other items of value that they owned.
Pinterest
Are you on Pinterest? We are at To Travel Too and we have many travel-related boards check us out at Pinterest.  If you enjoyed our article why not pin it to your board.
Map of Chichen Itza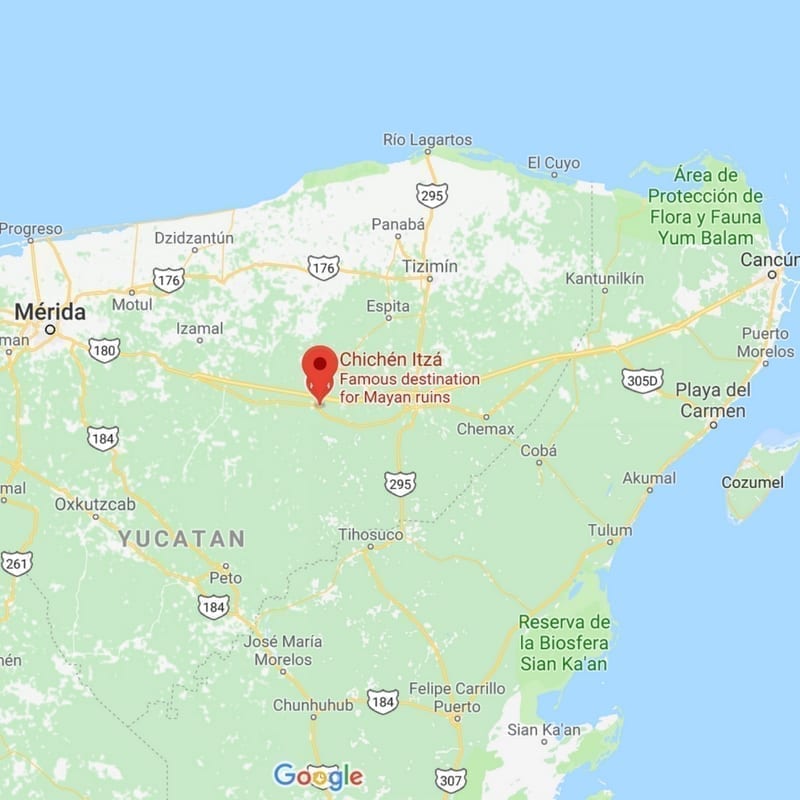 Chichen Itza lies in the centre of the Yucatan Peninsula of Mexico, that is why you need to plan your visit well in advance.
Distances from local towns to Chichen Itza for your planning purposes
From Cozumel to Chichen Itza 230km
Playa del Carmen to Chichen Itza 181km
Merida to Chichen Itza 120km
Coba to Chichen Itza 108km
Akumal to Chichen Itza 177km
Celestun to Chichen Itza 215km
Valladolid to Chichen Itza 45km
Chichen Itza from Cancun 197km
As you can see Chichen Itza requires some travelling to get to whether you are coming from Cancun, Cozumel, Valladolid, Tulum, Mayan Riviera or Merida. The distances will determine how you can make the best use of your time when visiting the Mayan Ruins.  This is one tourist attraction that some advanced travel planning is needed.
Where to stay near Chichen Itza
You will see that there is very little accommodation close to Chichen Itza. We chose to stay in Merida.
We stayed 120 km away in Merida at the Wyndham Hotel in Merida. It was perfect for visiting Merida, Progreso, Uxmal, Chichen Itza and Izamal. We did have to travel long distances every day.  At the end of the day it was nice to come home to the swimming pool to relax and refresh. The accommodation is perfect for families as well.

Related Reading: Best Places to stay in Cancun
Explaining Ticket Prices for Chichen Itza
Taken from the website of Chichen Itza
"As one of the Seven Wonders of the World, Chichen Itza applies admission fees to enter the most impressive archaeological site in the Yucatan Peninsula. Mexican Mayan ruins usually got two different rates, for Mexicans and for international visitors.
When you visit Chichen Itza there are two types of fees included in your tickets. One is for the Institute of History and Anthropology of Mexico (INAH) and another for the Ministry of Culture of Yucatán (Culture)."
Chichen Itza Entrance fee
General Admission
Adults $533 MXN
Child  (3-12) $80 MXN
Mexican Citizens $237
Locals  $80
Free admission on Sundays for Mexican citizens and foreigners with residence in Mexico, ID is required.
Kukulkan Nights
A Chichen Itza trip is not only exciting during the day, Chichen Itza at night becomes a magical experience. Enjoy the most incredible light and sound show in one of the Seven wonders of the world, admire how the Kukulkan Pyramid is filled with colourful images and Mayan representations. The show begins at 7:00 pm, you can get your tickets at Chichen Itza's entrance starting at 15:00 hrs.
General Admission
$600 MXN
Chichen Itza Visiting Hours
Chichen Itza is open from Monday to Sunday
from 8:00 am to 5:00 pm
Due to the pandemic, Chichen Itza receives only 3,000 visitors per day, and the last entry is at 4:00 pm.
There are three ways to visit the Chichen Itza Ruins:
Chichen Itza day trip
Daytime visit and return in the evening to enjoy the Chichen Itza Light Show Tour
Night only to enjoy the Chichen Itza Light Show Tour
Full-Day and Night Tour to Chichen Itza
 Chichen Itza Light Show Tour is a unique experience if you have the time to visit during the day and night.
Full details of the tour here from Viator (taken from their website)
"Watch the wonders of Chichen Itza come alive in the incandescent light of day and night on a full-day all-inclusive tour. Discover the mysteries of Mayan history as you explore the archaeological site with a knowledgeable guide, then prepare your senses for a spectacular light and sound show in which the towering structures of the park are illuminated with 3D projection technology. Your excursion will begin with a pick-up of major hotels in Cancun and Riviera Maya. Onboard, you will have drinks and snacks.
Your first stop will be to Valladolid, a colonial town for a panoramic tour to take some pictures from the bus. Valladolid is one of the 'Pueblo Magico' and recognized by UNESCO. After this quick stop, go to the Mayan village 'Aldea Maya.' A Mayan priest will greet you and show you how Mayans still live, their houses, how they work and how they grow their food. Arrive at Chichen Itza Mayan ruins at approximately 14:00. Be taken on a 1.5-hour tour with a certified guide who will introduce you to the secrets of the Mayans. Your guide will explain the historical significance of all the most important sites before leaving you to enjoy the ruins on your own.
Continue your visit to Cenote, a beautiful place in the jungle with impressive crystal clear water and 45 minutes free time to swim, relax and take some pictures. Then, enjoy a delicious buffet from your authentic Yucatecan kitchen. At 18:45, go back to Chichen Itza Mayan site to watch the amazing show. You will witness a representation of the equinox, the southward movement of the Kukulcan feathered serpent by multicolored lights. Suddenly you will live some flashbacks to the ancient Mayan world through a narrative that goes perfectly with the special effects of light and sound. You will understand much better a history that has enriched Mexican culture since the beginning. Depart back to the hotels by around 21:00.
Let us share with you how we visited Chichen Itza over 2 days and what lessons we learned and how we would do it differently next time.
What to do in Chichen Itza? How we experienced Chichen Itza over 2 days.
Day Only
We based ourselves at the Wyndham Hotel in Merida for 4 days and travelled to Chichen Itza on the morning of the 3rd day.
It was February, the winter season, the busiest time in Mexico to visit Mayan Ruins.
Although we had an early start of 8.00 am the drive from Merida to Chichen Itza took about 1.5 hours getting us there at around 9.30 am.  The excursion buses parked in the car park should have given us a sign of what was to come.  There was a long snaking queue past all the souvenir shops at the front of the ticket booths, it took us over an hour to get inside Chichen Itza. It was hot queuing for the tickets.  We recommend purchasing 'skip the line tickets' to avoid the queues. You can purchase them here.
A local guide approached us, and explained how he would tour Chichen Itza, giving us all his Chichen Itza facts, tips and his theories as we wandered around for the next 2 hours. It was winter, it was hot and dusty, the height of the season and very busy with thousands of tourists. Sometimes it was hard to hear what he was saying with all the microphones blaring out beside us from the large tour groups.
We enjoyed our tour and learned a lot about Chichen Itza history from him, this is one reason why we now suggest hiring a guide for a Mayan site.  Our guide spoke many languages such as French, German, Italian, English and even Mayan.  He is descended from the Mayans and was very proud of his heritage.  We were not sure how old he was and did not dare ask but we guessed he was close to 70.
You can read our full story on the temples of Chichen Itza and our day tour here
Unfortunately, when we visited the Mayan site of Tulum we didn't hire a guide and we missed out on a whole lot of good information on this major 'tourist attraction'. We learned our lesson there. These days we always hire a guide.
We headed off for lunch near Izamal at the Zamna Restaurant prior to visiting the 'yellow city' as Izamal is known.  It was a full day and we were exhausted by the time we returned back to the Wyndham Hotel in Merida.
Night Only
The morning of Day 4 we headed to Celestun to visit the Celestun Biosphere Reserve and its pink flamingos.  After a lot of driving to get there and back we returned back to the hotel at 2.30 pm knowing that at 5.00 pm we were due to head out to Chichen Itza for the Sound and Light Show.
Arriving at the entrance we noticed a lack of excursion buses,  a small queue and a very pleasant nighttime temperature with a slight breeze under a moonlit starry sky. It was a different experience to the morning tour, a memorable one for different reasons.  By the time the show finished and we left the site we did not make it back to the Wyndham Hotel till after 10.00 pm making it a long day of sightseeing.
Check out our Youtube video on the Chichen Itza Light Show 2017
Chichen Itza visit recommendations
Itinerary #1 – Chichen Itza Ruins Day and Chichen Itza Light Show Tour
Base yourself in Merida which gives you access to other tourist attractions in the Yucatan Peninsula such as Uxmal, Izamal, Celestun and Progresso.  Leave Merida at 12.00 pm on one of the days and travel to Chichen Itza – the drive will take approximately 1.5 hours from Merida to Chichen Itza.
Spend the afternoon there and take advantage of using a local guide to learn all about the Chichen Itza ruins, you will have a good 3 hours available.
After the archaeological site closes at 4.30 pm enjoy a meal at a local Chichen Itza restaurant till the park re-opens again at 6.30 pm.  Enjoy the (Chichen Itza Light & Sound Show) known as Noches de Kukulkan and return back to Merida.
Itinerary #2 Chichen Itza Ruins Day, Chichen Itza Light Show Tour with Overnight Stay at one of the Chichen Itza Hotels
In our 2nd option, we would recommend staying the night in one of the 11  Chichen Itza Hotels. You can enjoy a leisurely visit to the site as well as the cenote near Chichen Itza.  Back at the hotel, you can have a swim or a nap and then head back to enjoy the Chichen Itza Light & Sound Show.  If we were to visit again this is the option that we would take.

N.B. The Show is conducted in Spanish.  There are audio guides handed out in different languages when you check in, expect to queue for at least 20 minutes.  A photo ID is required to be handed over prior to receiving the audio guides.  There will also be a queue to hand them back after the show has finished. It took us a good 20 minutes to hand back the audio guide and received our photo ID back. 
Itinerary #3 – Chichen Itza Light Show Tour
If you have limited time and want to visit the Chichen Itza Light Show take note of the entrance times, plan to arrive 30 minutes before the site opens in the evening.
Chichen Itza Map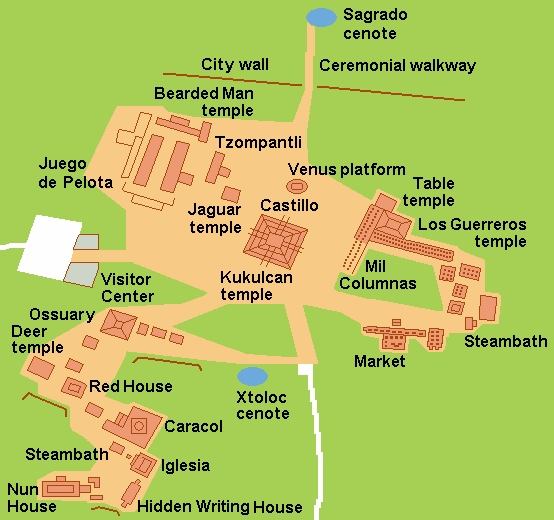 During the day you can wander around every pyramid at Chichen Itza and spend as long as you like admiring each one.
Chichen Itza At Night
Chichen Itza Map – Night-Time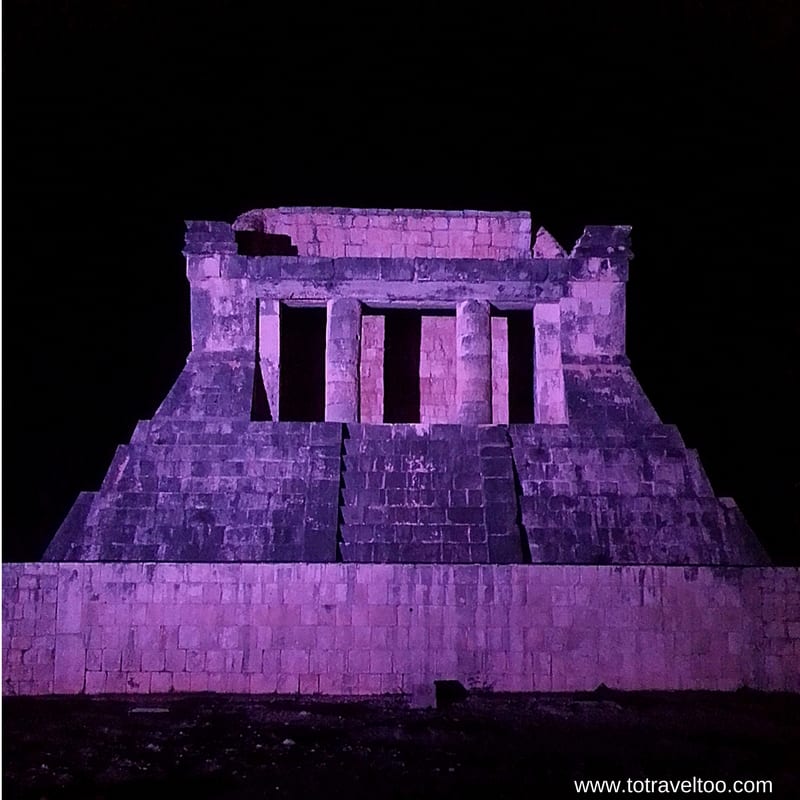 There is one path to travel in one direction to walk around at night which is lit up.  They advise not to wander from the lit path for safety reasons. There are guards ensuring that you stay on the path and 15 minutes before the light show starts you are requested to head towards the seating area and claim your seats.
There is not enough time or light at night to enjoy the whole site so it is advisable to visit during the day as well.
Chichen Itza Weather
Chichen Itza is the major tourist attraction on the Yucatan Peninsula.  During the cooler months between October and April, it is the busiest time to visit and you can expect hundreds of excursion buses a day to the site.  During this time the days are warm and you can expect lots of sunshine.
The rainy season is between May and September, it can be hot and humid and you can expect between 1-3 hours of rain a day.
Chichen Itza Tours
There are many tours available to Chichen Itza.
Chichen Itza Skip The Line Entrance Ticket
No more queues when you purchase this 'skip the line entrance ticket' for a full day visit to Chichen Itza. Click here for more information and pricing.
Other Mayan Sites to Visit Around Chichen Itza
Where to Stay in Chichen Itza
To assist you in your planning we have included some options for hotel accommodation for you from various locations around the Yucatan Peninsula.
Cancun Hotels
Merida Hotels
Playa del Carmen Hotels
Valladolid Hotels
How To Get To Chichen Itza
The closest airport to Chichen Itza is Merida and then Cancun for international flights.
Flight Deals to Mexico
Find the cheapest flights with Skyscanner our 'go-to' when we are researching and booking flights.
ADO Buses Mexico has a range of transport options for travelling to Chichen Itza. Click here for more information, schedules, routes and prices.
Travel Insurance
World Nomads offers simple and flexible travel insurance. Buy at home or while travelling and claim online from anywhere in the world.
Do you need a visa for Mexico?
To Travel To Tips on Visiting Chichen Itza
Plan your visit to Chichen Itza well in advance
Drink plenty of water
Use sunscreen
Wear a hat
Don't rush visiting this amazing archaeological site of Mexico
Our thanks go to Visit Mexico and Yucatan Turismo for providing the transport to visit Chichen Itza.  Our stay at the Wyndham Hotel in Merida was complimentary from Wyndham Hotels.
If you love this article why not PIN it for later.
Travel safer and smarter with travel products from our To Travel Too Travel Shop.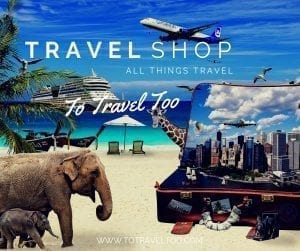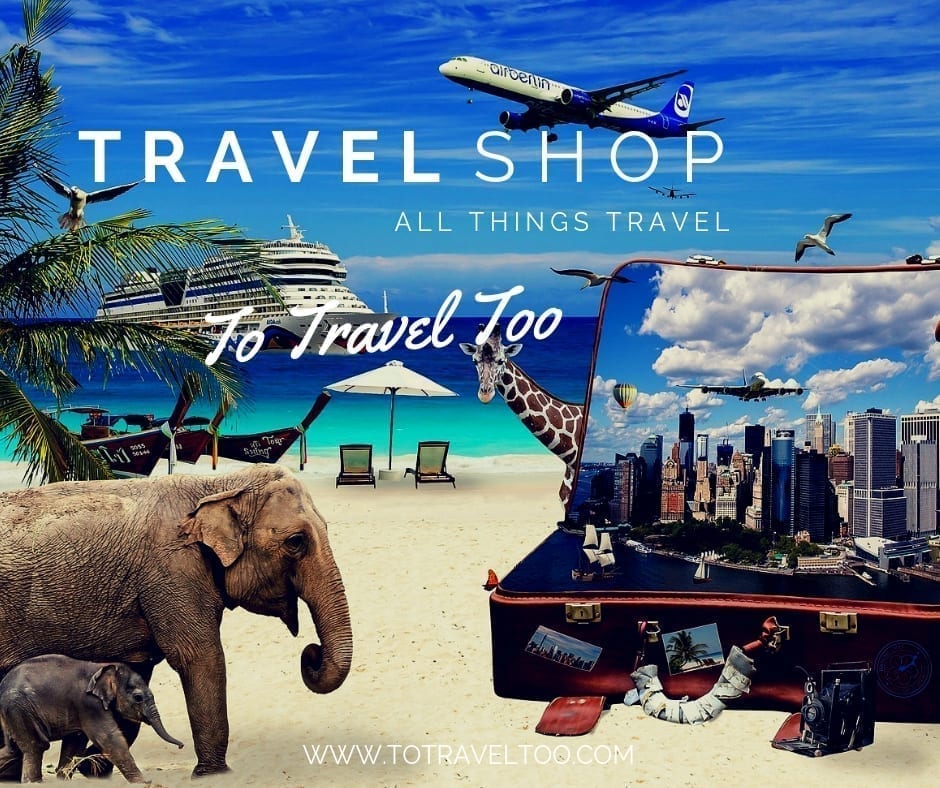 If you enjoyed our things to do in Chichen Itza feel free to share it with your family and friends.  We have travelled a lot through Mexico and you may want to read more of our articles. If you have any questions feel free to reach out to us.
In conclusion, Chichen Itza offers a mesmerizing journey into the ancient Mayan civilization. From the iconic El Castillo to the intricate observatory and sacred cenote, this archaeological site is a treasure trove of history and culture. Exploring its ruins, visitors can immerse themselves in the wonders of a bygone era and gain a deeper understanding of the rich heritage that still reverberates through modern-day Mexico. Whether you are an archaeology enthusiast or simply seeking an awe-inspiring travel experience, Chichen Itza should undoubtedly be on your bucket list.