Located in the picturesque mountains of northern Vietnam, Sapa is a dream destination for nature lovers and adventure enthusiasts. This enchanting town offers a perfect blend of rich cultural heritage, breathtaking landscapes, and thrilling outdoor activities. From hiking through terraced rice fields to immersing yourself in the vibrant local markets, there are plenty of things to do in Sapa that will leave you with unforgettable memories. Whether you're seeking an escape from the bustling city life or looking to experience the authentic charm of rural Vietnam, Sapa has something for everyone. In this article, things to do in Sapa, we will explore some of the top attractions and activities that make Sapa an absolute must-visit destination.
When someone mentions Sapa Valley in Vietnam what first comes to mind are the beautiful images of rich green terraced rice fields. The second thing that comes to mind is the colourful ethnic minorities and their villages.
What could be more beautiful than trekking through verdant terraced rice fields and visiting the local ethnic minorities whilst learning about their traditional way of life? When you visit Sapa you will experience the beautiful scenery from the jungle, lush forested mountains to rural terraces where the ethnic minorities still farm in their traditional ways.
Yes, it is touristy but you will understand when you arrive there why.
Here are travel options available to travel from Hanoi to Sapa.
Including:
Hanoi to Sapa by train
Bus Hanoi to Sapa
You can also book a private transfer from Hanoi Airport to Sapa here.
Meet & greet: Your driver will be waiting to meet you no matter what happens
Value: Enjoy a high-quality transfer experience at surprisingly low prices
Speedy: No queues, no delays – we'll get you to your destination quickly
Door-to-Door: We'll take you directly to your hotel entrance
Professional service with a support team 24/7
Visiting Sapa is one of the top things to do in Vietnam and trekking is one of the top things to do in Sapa Valley and it should be on everyone's travel list. Even if you are not an experienced trekker there are tours to suit every level of fitness. When hiking in Vietnam it is important that you take with you sunscreen, mosquito repellent and plenty of water.
When is the best time to visit Sapa? September is the best month when the rice is ready to be harvested.  March to May and September to November are the best months to visit Sapa.
Planning a trip to Vietnam read our ultimate travel guide here
You Can Read Our article on Vietnam: Best Vietnamese Restaurant Guide
Join our Facebook Group – Vietnam Travel Planning – to get the latest on all things Vietnam.  Ask our community any questions that you may have. We are here to assist in your planning for the best places to visit in Sapa.

We share with you a unique way to travel to Sapa – taking you back in time, a nostalgic journey, reminiscent of the golden age of travel.  We travelled with Victoria Voyages to Sapa. Come with us as we trek through the lush terraced rice fields and visit Sapa's local market and stay in luxury at the Victoria Sapa Resort & Spa.
The Victoria Sapa Resort & Spa is now known as the BB Sapa Resort & Spa.

Check out our YouTube video on our 2 days in Sapa in Vietnam below.
Let the journey begin in Sa Pa Vietnam.
This post may contain affiliate links. Please see our disclosure for more information. As an Amazon Associate, we earn from qualifying purchases (if applicable)
Do you need an E-sim card for Vietnam?
Where is Sapa Vietnam
Sapa Vietnam Map
Sapa, also written as Sa Pa, is located in North West Vietnam high in the misty Hoàng Liên Son Mountains. There are 58 provinces in Vietnam and Sapa is located in Lao Cai province. Distance Hanoi to Sapa is 316km.
Sapa is the capital of Sa Pa district within the Lao Cai province.  Sapa overlooks the Muong Hoa Valley where wet-rice agriculture traditions have been going on for years.  Overlooking Sapa is Vietnam's highest peak Mt. Fansipan towering over the town at 3143m. Sapa's altitude is 1500m. Mount Fansipan is at the eastern point of the Himalayas. You can trek to the top but it is only for serious trekkers and a guide is highly recommended.  The weather in Sapa can change in a minute.  In fact, Sapa boasts of 4 seasons in one day. There is a cable car system to Mount Fansipan.
Sapa is located close to 2 border crossings in China. Muong Khuong is mainly used for the transportation of goods between Vietnam and China and the more popular tourist border crossing Lao Cai.
How To Travel from Hanoi to Sapa by Train
The Victoria Express – Relive The Golden Age of Travel
Hanoi Railway Station is located 10 minutes from the city centre and 1 hour from Noi Bai International Airport Hanoi.
The Victoria Express Train Schedule
Departs Hanoi at 10 pm every night except Saturday night arriving in Lao Cai at 6.10 am.
Departs Lao Cai at 9.40 pm every night except Saturday night arriving in Hanoi at 5.30 am.
Our Experience on Board The Victoria Express
Our journey commenced when we were collected by private shuttle from our hotel and transported to Hanoi Railway Station at 120 Le Duan Street, Cua Nam Ward, Hoan Kiem District of Hanoi.
On arrival, our bags were whisked away and we were led to the Victoria Express Lounge on the 2nd floor of the station to relax till it was time for boarding.  You can purchase drinks and snacks in the lounge whilst you are waiting.
The Lounge is open between 8 pm and 9.30 pm every night except Saturday night for the Victoria Express departure.
There are two types of sleeper cabins available which accommodates 48 passengers in total.  The Victoria Express has 2 carriages which are part of the local railway network to Sapa. There are:
13 cabins (4 shared berths that can be converted to 2 private berths at an extra cost)
restroom facilities – two in each carriage
free Wi-Fi onboard – you can experience low signal strength in some areas throughout the journey
complimentary slippers
amenity kit which includes earplugs and a toothbrush
complimentary water
air-conditioning
individual reading lights
luggage storage
the train is equipped with cameras and security staff
We experienced both types of cabins.  On our journey to Sapa, we shared a 4 berth cabin with 2 French gentlemen and on our return journey, we experienced the 2 berth cabin.
You can book various train accommodations to Sapa from Hanoi. Check ticket prices and availability here.
Pro-Tip
If there are only two of you travelling we would recommend the 2 berth cabin. There is an extra cost for the 2 berth cabin.
When it was our time to board our bags were transported to the train and we were shown to our cabin.  Just before departure, we had a briefing on the amenities onboard, the location of the bathrooms and how to locate the crew during the night.  Our order for coffee, tea or juice was taken which is served prior to arriving with fresh croissants.
As the train pulled out of the station, everyone settled in for the night, some in their cabins and some in the corridor enjoying the evening lights of bustling Hanoi as we passed through.  We used the train's free Wi-Fi to check any messages on our phones before settling into our bunk beds.
The warm richly wood-panelled features inside the cabins created a 'feeling of the golden age of luxury travel'.  The beds were firm and comfortable.  As with any train travel in Vietnam, the old narrow-gauge railway tracks can create a swaying movement and the clickety-clack of the carriages echo throughout the night.  As dawn breaks and you awake from your slumbers, the views from the misty countryside are unforgettable.  Coffee and fresh warm buttery croissants are served just before you arrive in Lao Cai.
On arrival, we were transported by shuttle bus to Sapa around an hour's drive away.  The scenery as you climb higher and higher up into the mountains is breathtaking.  A snippet of what you will expect when you arrive in Sapa 38 km away.
Where to stay in Sapa Vietnam (our recommended hotel)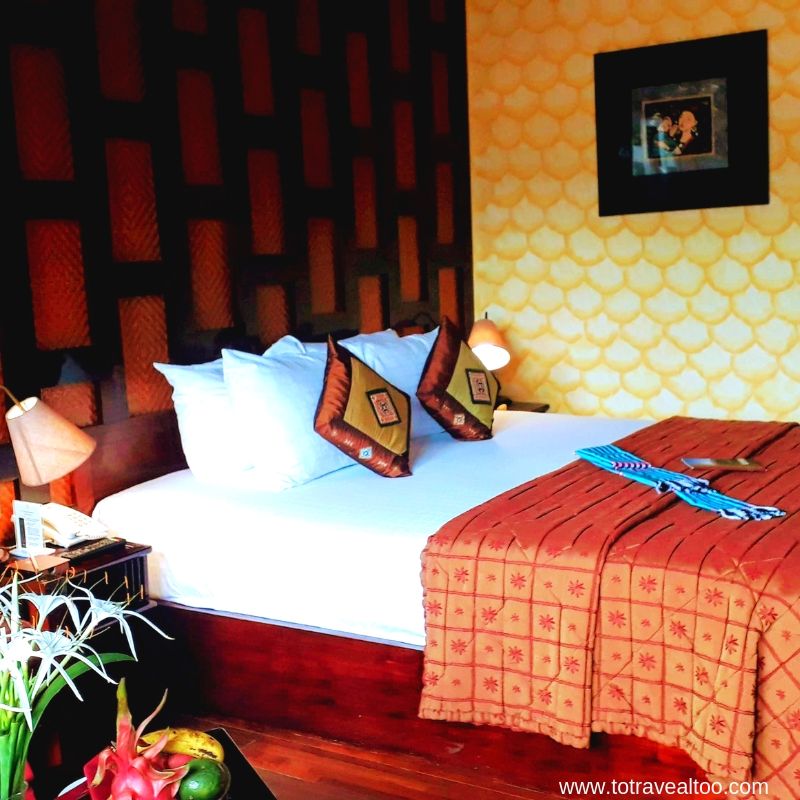 As part of the Victoria Voyages experience accommodation is at their luxurious Victoria Sapa Resort & Spa.
Victoria Sapa Resort & Spa (now BB Resort & Spa) : Xuan Vien Street, Sa Pa Town, Lao Cai Province, Vietnam
You can read our review of our stay at the Victoria Sapa Resort and Spa here.

We highly recommend having a well-deserved foot or body massage following your trekking experience.
Half-Day Trek To The Village of  Ta Giang Phin
Our Sapa Tour was organised by the Victoria Sapa Resort and Spa.
The journey to the beginning of the trek takes around 1 hour by shuttle bus.  The journey is spectacular. Breathtaking countryside views,  local villages with small children playing on the roadside, paddy fields of rice and fields of colourful Lillies grown for commercial sales flowing down the hillsides. We passed by small waterfalls and glanced up at towering mountains.  The journey is slow through winding roads and steep passes. In driveways, bright yellow corn can be seen drying in the heat of the day.
The local children were on school holidays and we came across many of them in charge of the buffalos walking them along village paths to their next fields for ploughing.  The lush green terraced rice field paddies glistened in the afternoon sun. We were mesmerised! There were photo opportunities to be had every second of the way.
Our trek started but all too soon we stopped to admire the views over the terraced rice fields and our gaze lifted to the Buddhas Finger Mountain (or the official name of Ngu Chi Son Mountain) that towers over this part of Sapa.
Three ladies from the White H'mong group joined us as we ambled down the rough dusty road through breathtaking scenery, one woman carrying her baby on her back.  They were just as curious of us as we were of them.  Our guide Mao explained to us that there are 8 different ethnic minorities in Sapa. The H'mong, Dao, Tay, Giay, Muong, Thai, Hoa and Xa Pho.
Each minority are distinguished by their traditional dress.
As we passed by one of the houses along the dusty road we noticed a woman on her front verandah working with what at first seemed like straw.  Mao checks with the woman whether we can come and visit.  She is working with hemp, which can be confused with the marijuana variety, the leaf shape is similar. Hemp is grown locally and produces a high-quality natural fibre to create fabric.  This process is widespread across Asia and dates back to 800 BC.  There are about 8 steps to produce the fibre which is spun.
We noticed that the woman's hands were stained in blue dye.  Mao explained that once the fabric is produced it is dyed a blue colour. The dye is a natural dye found in the leaves of the indigo plant.  The longer the fabric lies in the dye the darker the fabric becomes.  The H'mong group are famous for their fabric.  Each ethnic minority purchases the fabric from the H'Mong for their clothing and embroiders the fabric in their traditional colours and patterns.
Each of the traditional woman's outfits that we saw in Sapa were colourfully embroidered in unique patterns and designs.
We continued down the path until we reached one of the women's homes and we were asked if we would like to go in and see how they lived and cooked.  To the right of the house was a ramshackle building that looked like it would collapse at any moment, Mao explained it was to house their buffalo.  A buffalo is worth a couple of thousand dollars and the more buffalo a family has the wealthier they are.  They are more valuable than motorcycles which can be purchased for a couple of hundred dollars.
A stone corn grinder was located outside the front door and as we entered into the dark small space of the family home we noticed corn husks hanging along the back wall.  A small iron cooking pot was placed in the middle of the dirt floor with smouldering embers underneath.  The kitchen to the left housed the family's cooking equipment and crockery. The father who was not well was sitting in front of the TV smoking a traditional bamboo pipe and their young son was watching a local TV show.
Above the TV on the wooden landing is where all the family sleep together.  The landing on the opposite side above the stove is where the family dry and stores their corn and places their rice.  Corn and rice are their staple diet. We said goodbye to the ladies and headed further downhill to the village of Ta Giang Phin.
Children playing a Vietnamese version of hopscotch giggled and ran after us shouting hello in their own dialect.
For miles and miles ahead of us lie terraced verdant green rice fields and gently rolling hills.  Mao explained that the rough bamboo fencing in the middle of the fields demarcated each family's rice field.  They grow enough to feed themselves each year with very little leftover to sell. Mao also explained their age-old traditional irrigation methods.
Once we arrived in the village we were surprised to see only one small shop selling a few bottles of soft drinks, local household items and a small amount of fresh produce.
During our time with Mao, we learnt about her life as a child and as a teenager.  She explained to us about the traditional marriage within their minorities and the move in recent years to allow different groups to intermarry.  We were surprised to find out that it has only been in the last 12 or so years that electricity had come to the small villages.  Over the years we had heard of various methods of human trafficking but had not spoken to anyone with direct connections until we chatted with Mao.  It is terrifying for all concerned on the ways that human trafficking takes place. Just a few short hours in Mao's company taught us a great deal about the way of life in this region.
We thank Mao for her time and for being so open in sharing her life with us.
What to do in Sapa
Wander Sapa Town
Head down towards the lake and on to the local market.
Sapa Tourist Map
It has only been since the 1990s that Sapa town has started to attract trekkers and visitors.  In the 1920s the French used Sapa as a Hill Station to escape the heat of the Hanoi summers. We can attest to that, having visited in the summer with 100% humidity during the day. The French built over 200 villas which were destroyed by the Chinese in 1979, with only 10 of the villas still remaining.
During the 1940s, unfortunately, Sapa was heavily bombed and there was very little left of the town.
Sapa Town is dominated by its large square and the stone Sapa Church which seems to attract many visitors and a great opportunity to take a selfie or two.
Leading away from the Church you wander down steps into what seems to be a huge amphitheatre.
Over the last few years, the Square has become home during the day for local ethnic minority women dressed in their traditional clothing and selling their local handicrafts to make money for their families.  Increasingly, you will notice that there are small children also dressed in traditional clothing asking for money or selling small items.
To Travel Too does not encourage this type of exploitation of children, but it is increasing in Sapa and we would like to bring it to your attention as a visitor.
Sapa's Market
If hiking in Sapa is not your thing head down to Sapa Markets.
Sapa's market is open daily from 6 am to 2 pm.
If you are staying at the Victoria Sapa Resort or in town you can use the small electric cars that can be found near the Church.  We paid 20,000 VND (around USD.90) for one to take us privately to the market, it is cheaper if you wait till the vehicle is full.
To Travel Too Tip
Take one of the electric cars to the market and wander home via the back streets and around Sapa Lake.
The market sells the usual household products, traditional souvenirs, faux products etc.  Inside there are local meat stalls, fish and chicken, as well as flowers, tofu, rice, grains, bread and cakes, eggs, spices and herbs.
We recommend that you head to the back of the covered marketplace where you will find the local ethnic minorities selling their fruits and vegetables.  This is where the action is.
When you visit upstairs wander to the rear of the building and you will see ladies sewing their handicrafts.  Most of them were on their mobile phones.  We wandered past one small stall and noticed that the lady was actually sewing and not on her mobile phone.  She turned out to be 76 years of age, a tiny local woman with beautiful skin and a small knowledge of English that we could converse with her. She impressed us so much with her chatter about life and her cheeky smile that we purchased some small goods from her.  The minute we did all the ladies who were on their mobile phones came to life and started to pester us to buy from them. If you visit please head to her stall it will be a memorable experience.
Tours Available
Sapa Trekking Tours – Best Sapa Treks
Waterfalls, Trekking and Tribal Villages Tour
Full tour description: 
After meeting your local guide and driver, head about 30 minutes out of Sapa Town to visit the Silver Waterfall, Love Waterfall and Tram Ton Pass. Explore the area before leaving for the traditional village of Ban Khoan.
From there, begin your trek. The trek, about 4 hours and 15 kilometres (9.3 miles), takes you along mountain trails and through remote tribal villages. Enjoy amazing views of the surrounding rice paddies, and take plenty of photos as you learn about the unique cultures of the Hmong and Red Dzao people.
Take a break for a picnic lunch before continuing the trek to the home of the Red Dzao tribe in Ta Phin Village. In the afternoon, meet your driver to begin the 30-minute transfer back to Sapa.
SaPa Muong Hoa Valley Trek and Local Ethnic Villages
Full tour description:
Benefit from pick-up at your hotel in Sa Pa, and then start your 10-kilometre trek through the beautiful valley. Admire the rice terraces hidden behind the morning mist as you follow a small trail to cross the Muong Hoa river. Continue past well-tended, terraced rice fields on your way to the village of Lao Chai, where a local Black Hmong ethnic group live.
Hike to the village of Ta Van Giay and trek along the route of the Muong Hoa river to cross a small suspension bridge roughly 2 kilometres from the settlement. Discover a fascinating collection of ancient rock carvings that depict images of men, stilt houses and different decorative patterns. Enjoy lunch at a local house in the village before hiking through a bamboo forest and reaching the Red Dao ethnic minority village of Giang Ta Chai. Have a short rest at a nearby waterfall before climbing uphill to get the main road where the driver is waiting for you to take you back to SaPa.
Full-Day Private Muong Hoa Valley Tour
Full tour description:
Depart on foot from Sapa town, you are heading to Muong Hoa Valley, one of the most amazing valleys in north Vietnam, you trek through the villages of the Black Hmong tribe, interact with the locals and experience their daily life.
Reach the Lao Chai village where you get spectacular views of the most beautiful rice terraces in Vietnam, and it's time to enjoy lunch near the river bank or a local restaurant. Afterwards, keep trekking to Ta van village inhabited by the Dzay ethnic group, you will visit the local houses, and learn about their traditional handicrafts such as weaving and colouring their handicrafts.
You discover their rural life, and learn more about their customs and costumes before reaching the main road where the driver is waiting for you to take a private car back to Sa Pa centre.
Markets (Things to do in Sapa besides Trekking)
The Markets of the Sapa area are held weekly in different locations.  The local ethnic minorities come from their villages to town to sell their products and handicrafts.  It is also a time for the groups to converse with one another.  In the colourful and vibrant Sapa market we enjoyed the experience of seeing the ethnic minorities together in their traditional dress.  The market was alive with exotic aromas from their herbs and spices, fresh fruit and vegetables and flowers.
Can Cau Market – Saturdays only. Can Cau Market is 20 km from the village of Bac Ha, where you will return for lunch.  You will spend the morning at the market and in the afternoon you will have time to explore the village of Trung Do, home of the Tay people and enjoy a cup of tea with them.  A cruise along the Chay River is included before your return back to Sapa by car.  This tour includes 6 hours of driving, 1.5-hour boat cruise and 30 minutes of walking. If the water level is too low for the boat cruise a buffalo cart ride will be substituted.
Bac Ha Market – Sundays only. Head out from your hotel by car to the village of Bac Ha.  Spend the morning exploring the market and enjoy lunch at a local restaurant nearby.  In the afternoon you will visit the Tay village of Trung Do where you will notice that the homes are on stilts. Enjoy a cup of tea with the locals before cruising down the Chay River.  You return back by car.  This tour includes 5 hours of driving, 1.5-hour boat cruise and 30 minutes of walking.  If the river levels are low you will enjoy a buffalo cart ride instead.
Cao Son Market – Wednesdays only. Enjoy the market in the morning where you will see local products on sale, clothing and even livestock.  After the market, you will visit either a Tay village or a H'Mong village before having lunch at Muong Khuong and returning back to your hotel. This tour includes 6 hours of driving and1 hour of walking.
Muong Hum Market – Sundays only. Travel by car to the Y Ty border with China.  Local ethnic minorities sell their products, clothing, livestock and homemade products.  You can expect to see villagers from the Ha Nhi, The Phu La, The Tu Di, Black Dao, Giay, Red H'Mong and Black H'Mong ethnic groups. Lunch will be at a local restaurant before heading to the Muong Vi caves and returning by car. This tour includes 5 hours of driving and 1 hour of walking.
Coc Ly Market – Tuesdays only. – The last 30km on your drive to Coc Ly markets will be on a rough road.  The local ethnic minorities of the Flower H'Mong, Black Dao and Tay come down to Coc Ly to sell their goods. After visiting the market you will sail down the Chay River. Lunch is on the side of the river bank or in a local village home. On your return you visit the Tay village of the Trung Do group where you can enjoy a cup of tea with them and learn about their life before returning back to Sapa. This tour includes 5 hours of driving, 1.5 hours of cruising and 30 minutes of walking.
Lung Khau Market – Thursdays only. Drive to Muong Khuong and then towards the Lung Khau market where the ethnic minorities Flower H'Mong, Tu Di, Tay and Giay sell their produce.  After exploring the market you visit a Black Dao village before returning to Muong Khuong for lunch at a local restaurant.  You return to Sapa by car. This tour includes 5 hours of driving and 30 minutes of walking.
Treks & Homestays
Sa Pa 2-Day Trek and Ethnic Minority Village Homestay
Tour description:
Learn about the customs of different ethnic minority groups on a 2-day trek through the Muong Hoa Valley from Sa Pa. Spend the night at a Dzay homestay. Day 1: Sa Pa – Y Linh Ho – Lao Chai – Ta Van (L, D) Start your 11-kilometre trek through the Muong Hoa Valley and meet the Black H'mong ethnic minority people in the village of Y Linh Ho. Get beautiful views of Fansipan mountain and the surrounding rice paddies, and look inside one of the typical wooden houses. Pass different ethnic minority settlements, such as Lao Chai on the trek to Ta Van village. Check into a homestay of the Dzay ethnic minority people for the night.  Day 2: Ta Van – Bamboo Forest – Giang Ta Chai – Sa Pa (B, L) Enjoy breakfast at the homestay before the start of your 8-kilometre trek along a dirt trail. Pass a small village of the H'mong people before reaching a beautiful bamboo forest. Take a break at a waterfall and cool off with a swim in the Muong Hoa River. Enjoy lunch at a local restaurant before driving back to Sa Pa.
Fansipan Trek from Hanoi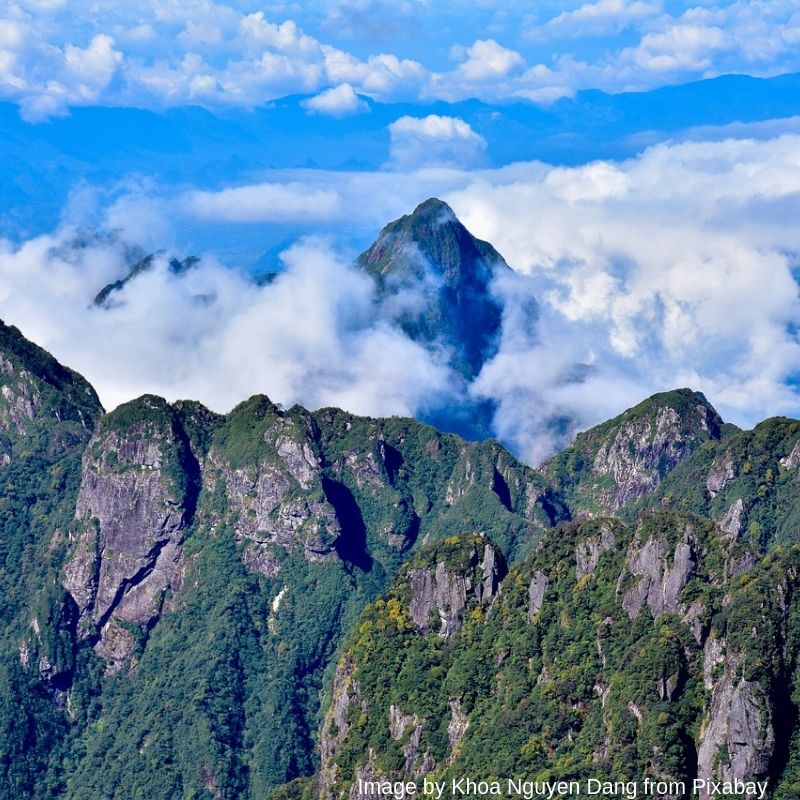 Conquer Mount Fansipan – Indochina's highest peak where you will enjoy spectacular scenery as you navigate narrow little paths as the forest closes in around you.
From Hanoi: Sapa Tour with Fansipan Cable Car and Limousine
Tour description:
Day 1: Hanoi – Sapa – Cat Cat village (Lunch)
You'll be picked up from Hanoi early in the morning. Admire the scenery as you travel through the countryside. Stop at Lao Cai for a break. Enjoy the beautiful scenery of mountains and rice terraces along the way from Lao Cai to Sapa city.
At 1:00 pm, arrive in Sapa Town, where you'll view the colourful traditional costumes of the H'mong, Dzao, and Tay local people. Enjoy a lunch of traditional local Vietnamese dishes. Then, enjoy a trek to Cat Cat village, home to the Black H'mong.
In the evening, free to discover Sapa Town in Night.
Day 2: Sapa – Easy Trek to Lao Chai and Ta Van – Sapa. (Breakfast/Lunch) After breakfast, trek to Lao Chai village, about 8km from Sapa town. Here you will discover the daily life of the locals and how they make traditional clothes and handicrafts.
After lunch in one of the local houses, you will walk to Ta Van village, home to the Dzay people. These people have a rich culture and beautiful houses located on rice paddy fields. You will visit the home of a local family to learn about their life, and enjoy some green tea.
In the evening, return to Sapa Town for free time.
Day 3: Sapa – Fanxipan Peak – Sapa – Hanoi. (Breakfast/Lunch) After breakfast, check out from your room and depart for the Sapa cable car station, where you will board a cable car to Fansipan Peak. At the summit, enjoy free time to admire the panoramic views.  You'll then head back to Sapa for lunch and to explore the town by yourself.
At 3:00 PM you'll be picked up by bus and driven back to Hanoi.
Where to Eat in Sapa
Ta Van Restaurant at the BB Sapa Resort & Spa – Xuan Vien Street, Sapa Town, Lao Cai Province, Vietnam
Ta Van Restaurant offers all-day dining with stunning views of Mount Fansipan.  The menu consists of Western and Asian dishes. On Saturday nights you can watch a local dance performance by either the Hmong or Thai ethnic group.
Related Articles on Travel Around Vietnam
What To Do and Where To Stay in Mai Chau
2 Night Cruise on Halong Bay with Emeraude Cruises
Travelling Around Asia?
We use a combination of buses, trains and ferries when we travel throughout South East Asia.  Our partner '12goAsia' is where we research our journey and book our tickets in advance. Check availability and prices here.
Flight deals to Vietnam
Find the cheapest flights with Skyscanner  our 'go-to' when we are researching and booking flights throughout the world
Air Asia, the budget carrier, has flights to Hanoi, Ho Chi Minh City, Danang and Nha Trang, from major Asian cities.
Hotels in Sapa
Pinterest
Are you on Pinterest? We are,  To Travel Too has many travel-related boards check us out here.  If you enjoyed our article why not pin it to your board?
Do You Need a Visa For Vietnam:
You will need to check if you require a Visa for Vietnam.  We have recently published an article on how to obtain a Visa for Vietnam – you can read it here.
Travel Insurance
We recommend taking out travel insurance as soon as you pay for your airline tickets, tours or cruises.
To Travel Too Shop in conjunction with Amazon
If you are travelling to Sapa and you need trekking equipment check out our To Travel Too Travel Shop.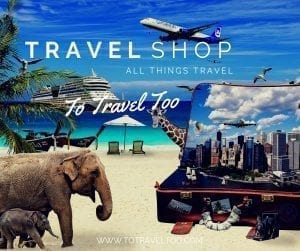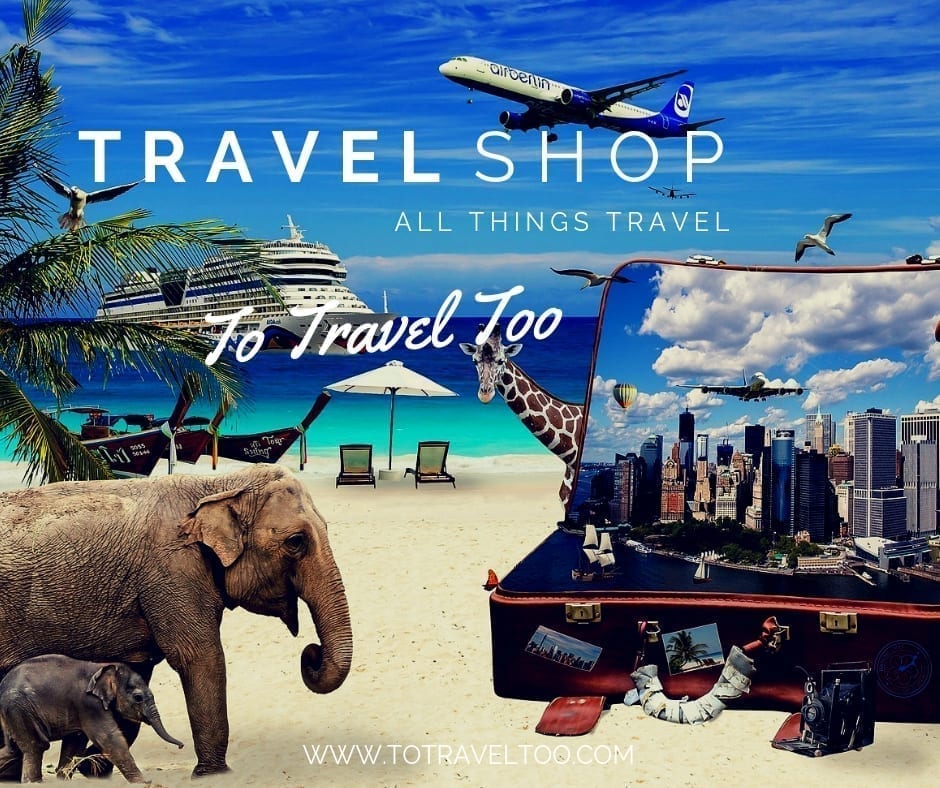 Our thanks go to the team from TMG, Victoria Voyages, Victoria Sapa Resort & Spa, Victoria Express Train and Mao our trekking guide for looking after us so well.  Our journey to Sapa was sponsored by TMG and its partners.
In conclusion, Sapa offers a plethora of activities and attractions that make it an ideal destination for nature lovers, adventure enthusiasts, and cultural explorers. From trekking through picturesque landscapes to visiting ethnic minority villages and experiencing their traditions, there is something for everyone in this charming mountain town. Whether you're seeking a peaceful retreat or an adrenaline-filled adventure, Sapa will not disappoint. So pack your bags and get ready to immerse yourself in the beauty and culture of this enchanting destination.