As I sit here and write about things to do in West Cork my mind goes back to that day when 8 of us headed out from the INEC in Killarney with Irish guide extraordinaire Jessie McDonald to visit West Cork on our TBEX Pre-Bex Tour (Travel Blogging Exchange).
These are some of the hidden gems that you can do when you visit West Cork in Ireland – off-the-beaten-track things to do!
I remember thinking at that time could "Ireland get any better?" We had just completed a road trip from Dublin to Celbridge, Limerick, Ballingarry, Dingle, Killorglin, Kenmare to Killarney and we were blown away by the scenery, landscapes and traditional Irish villages and of course the Irish hospitality (and the Guinness!). With so many activities West Cork was going to be another Irish highlight. Although we did not have time to visit Cork, the capital of the county, we will need to return as there are so many top things to do in Cork.
After visiting West Cork we realised that we should have spent longer as there is so much to see and do in County Cork.
There are so many famous landmarks in Ireland and so many things to do we would recommend that you plan to spend as much time as you can ideally 3 – 4 weeks to see all that Ireland has to offer.
In Killarney, we can recommend that you stay at Gleneagles Hotel & Apartments that are adjacent to the INEC. The Gleneagles Hotel is in walking distance to the town of Killarney. Luxury accommodation, great breakfasts and good wifi  – all perfect for the traveller.
Well, West Cork Ireland, you exceeded our expectations!  You see, Jessie our Guide is a West Cork lass, our coach driver Charlie from Kerry, and there seemed to be a bit of rivalry between the 2 counties 'which is more scenic' and in turn a bit of fun rivalry rubbed off between the two of them during the day.  Sorry, Charlie, we are siding with Jessie on this one! West Cork is definitely more scenic and we only saw a small part of it. Even the weather in Cork was perfect that day.
As we drove through lush green fields where sheep and cattle were grazing, over old stone bridges and around tight bends in the road where traditional Irish cottages clung to the sides Jessie regaled us with history and stories of life in Ireland. We could listen to Jessie all day, so passionate and so informative, the perfect guide for our day out.
We learnt about the Irish language.  If you or I were to move to Ireland we would be called 'blow ins' – a person who was not born in the town, even if you had moved there 30 years ago you would still be called a 'blow in'.
Have you heard the expression 'craic', to us non-Irish it can be a little confusing?  There is no exact English translation but as Jessie explained 'having the craic' means having fun.
We learnt about stone circles (a monument of stones arranged in a circle), ring forts (enclosed farmsteads in the early medieval period), fairies and Irish bogs as we travelled around. Now, did we believe in leprechauns? Do you?
Related reading: Self Drive Ireland Itinerary Guide, where to go, how far, costs, where to stay and what to do.
This post may contain affiliate links. Please see our disclosure for more information. 
Places to visit in West Cork #1
There are touristy things to do in County Cork Ireland but from our experience when you get off that beaten tourist path and experience local life you have a greater adventure. We love to support local communities whenever we travel.
A Visit to Durrus Cheese in Coomkeen Durrus
The journey from Killarney took us over the Sheep's Head Peninsula and a photo opportunity at Faite Boulteenagh located between Bantry and Durrus.  Visiting Ireland during Autumn is a spectacular time to visit when leaves of verdant green change colour to vivid red, gold and orange. It is cooler and can be wet at times but less congested, but is perfect to enjoy Irish cuisine. There is nothing better than sitting in a local Irish pub with the fire crackling having a pint and a hearty Irish meal.
We were greeted by Sarah Hennessy as we arrived, the daughter of Jeffa Gill, who started the family business over 40 years ago. Back in 1979, Jeffa bought the tumbled-down farmhouse in Coomkeen near Durrus, apart from renovating the farmhouse and creating a vegetable garden she purchased a herd of milking cows.
Jeffa with her friend the late Veronica Steele of Milleens experimented in cheese-making in the farmhouse kitchen.  By 1991 their cheese-making moved from the farmhouse kitchen to the converted outbuildings.
In 1984 their efforts were rewarded with Durrus Cheese winning gold at the Clones Agricultural Show, this was to be the first of many awards.
After explaining the history of Durrus Cheese, Sarah took us over to the small factory to show us the process and to wave hello to Jeffa and her team who were busy making the next batch of cheese.  We witnessed how labour-intensive cheesemaking could be.  During our visit, one of the local farmers took away the whey (the liquid remaining after the milk has been curdled and strained) for fattening up their pigs.
Now, what we were all waiting for – taste testing the end product.  Back in the showroom, we sampled:
Durrus Rind Washed Classic Cheese
A semi-soft washed rind cheese which we not only enjoyed here in Durrus but at Dublin's famous cheese shop – Sheridan's Cheesemongers on a recent Fab Food Trail Tour in Dublin.
Durrus Og
A soft cheese young cheese that is perfect for the cheeseboard and can be melted in pasta dishes and baked pies and tarts.
Dunmanus Matured Farmhouse Cheese
Dunmanus is made from raw cows milk and aged for 6 months. Dunmanus is perfect for the cheeseboard or in a Ploughman's Lunch.
If we were not on a tour certainly one or even all 3 of the cheeses would be coming home with us.
Contact Details for Durrus Cheese
Address: Durrus Cheese, Coomkeen, Durrus, Bantry, County Cork Ireland P75 PN81
Co. Cork, Ireland P75 PN81
Telephone: +353 (0) 27 61100
Website: Durrus Cheese

If you want to visit Durrus Cheese:
Visits to Durrus Cheese are by prior arrangement.
If you wish to purchase their cheese the showroom is open Monday through Friday between 09.00 and 14.00.
Cheese Recipes
Durrus Cheese has recipes available on their website for their cheeses.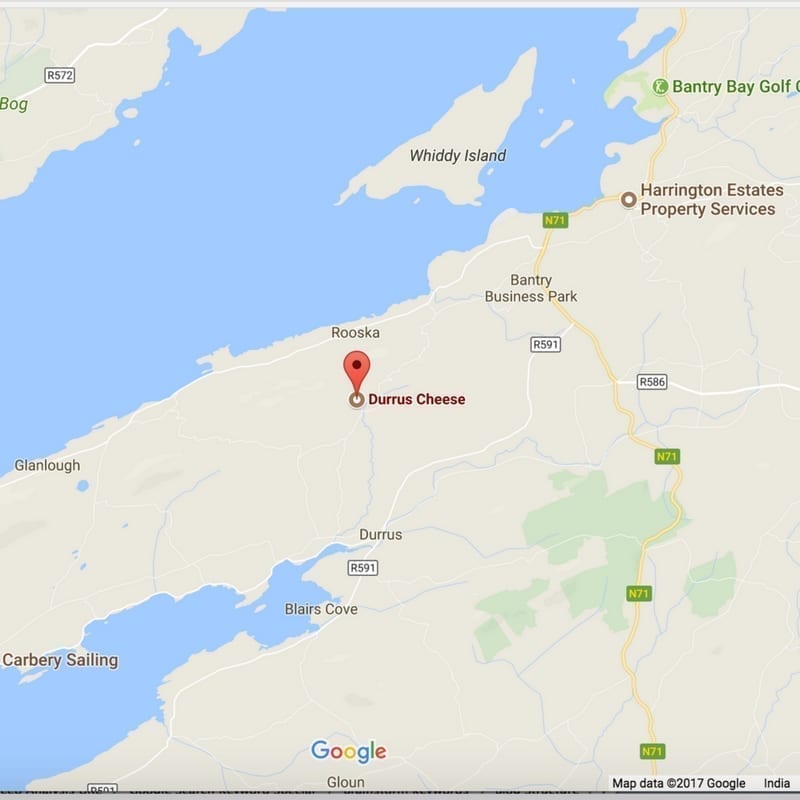 If you are enjoying our article why not PIN it for later?
Things to do in West Cork #2
A Visit to Victor Daly Master Stone Carver in Ahakista
Just a short 20-minute drive away through stunning West Cork scenery we arrived at Ahakista to meet charismatic Victor Daly, Master Stone Carver.
Victor, originally from Midleton, has made Ahakista his home with his wife, and whom both now try to live a sustainable life growing vegetables, raising pigs, lambs and goats, recycling wherever and whatever they can. Victor has worked in the US and Scotland in castles and cathedrals, he explained to us that 'he could have spent his life working at Edinburgh Cathedral'.
Victor has a busy schedule, working on his commissions from Monday through to Friday and running 2-day weekend Stone Carving Courses on Saturdays and Sundays.
He overcomes his busy work schedule by stretching, tai-chi, ensuring that he bends his knees whilst working on his pieces, eating well, drinking lots of water and taking a short break every 2 hours.  Stone carving is heavy work and time consuming,  you need to have a lot of patience. He states "on my course if you are able to cut one good letter in 2 days you are doing well! We start with the letter 'i' and spelling is vital".
The concrete floor of his workshop can be cold especially in winter when Victor runs his courses he comes down early and starts the fire so it is cozy and warm for the students.
Victor's commissions range from headstones for graves,  house name plaques, abstract sculptures and Christmas gifts just to name a few.  Stone carvings are ideal for interior and exterior use. When creating a headstone he talks to the relatives to find more out about the deceased, their passions etc so that he can create a headstone accordingly.
Victor told us that he has a lot of retired people coming to his course, they tend to do well as they have the time and the patience to work on their chosen pieces.  "One of them", he laughed, was so good that he had better watch himself, he has new competition!"
If you are considering learning how to carve Victor even has a property that he rents out! When his students are not learning the art they are enjoying the fresh air and the walks through the countryside of Ahakista.
Is there a technique to stone carving?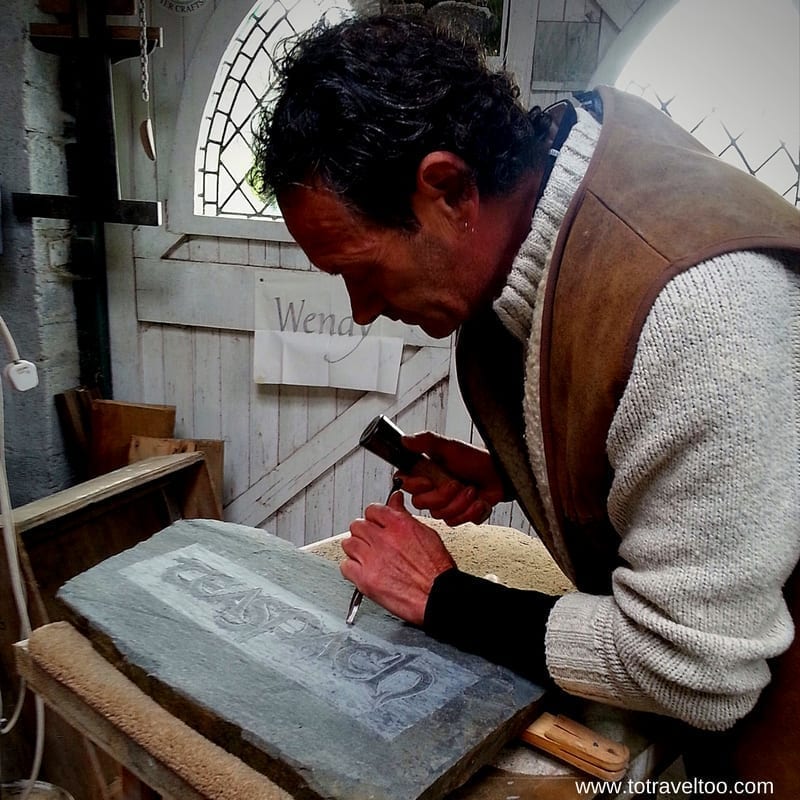 Victor explained that you need to hold the chisel lightly and loosely if you hold it too tight your hand will get tired.  It is like writing with 2 hands.  Some of us had a go working on a piece if local slate, moving the chisel lightly from left to right at an angle. It is not easy.  There are different types of chisels that Victor works with and each makes their unique sound.  When conducting a class he can tell which of his students 'have got it' just by the sound of the chisel.
Contact details
For more information on his courses click here.
Victor's website details: The Stone Carver
Telephone: +353 (0) 86 051 4116
Email: [email protected]
Address: Rossnacaheragh, Ahakista, Durrus, County Cork, Ireland
Map of Ahakista in Durrus County Cork
Things to do in West Cork #3
A Visit to Bantry House and Garden West Cork
Bantry House and Garden is 'one impressive Irish Georgian stately home' overlooking Bantry Bay in West Cork. Bantry House and Garden will reopen in April.
As part of our tour, we enjoyed a light lunch at the Tea House, which overlooks the sunken garden, in the West Wing before meeting Sophie Shelswell-White, General Manager, and a descendant of the White Family, who gave us a quick tour and history lesson on Bantry House.
In 1765 Richard White purchased Bantry House, which at that time was known as Blackrock House.  Richard was a local Councillor and had 3 sons.
Richard White, was made a Baron in 1797 and then in 1801 became known as Viscount Berehaven.  At that time Bantry House consisted of 90,000 acres and the family were one of the largest landowners in Cork.
The 2nd Earl of Bantry enlarged the gardens, creating 7 terraces, a parterre and a fountain and the famous hundred steps, a staircase built of local stone, set amidst azaleas and rhododendron.
During this time the 2nd Earl also enlarged the house to its current size around 30,000 square feet. He travelled with his wife extensively throughout Europe even visiting Russia and Poland acquiring a unique collection of furniture, artwork and tapestries.  He died without having any children and the title went to his brother William the 3rd Earl of Bantry who was married to Jane Herbert of Muckross. They had 6 children 5 daughters and 1 son who became the 4th Earl of Bantry. One of their daughters, Olivia married Sir Arthur Guinness 1st Baron of Ardilaun in 1871.
The title became extinct on the death of the 4th Earl and was passed to his eldest sister Elizabeth.
During the Irish Civil War in 1922 Bantry House was used as a hospital for 5 years.
During the Second World War from 1939 to 1945, the house and stables were occupied by the Second Cyclist Squadron of the Irish Army.
In 1946 the house is open to the public and in 1978 Egerton Shelswell-White inherits the house. When Sophie's father Egerton Shelswell-White passed away, Sophie returned from Australia to take over the management of Bantry House.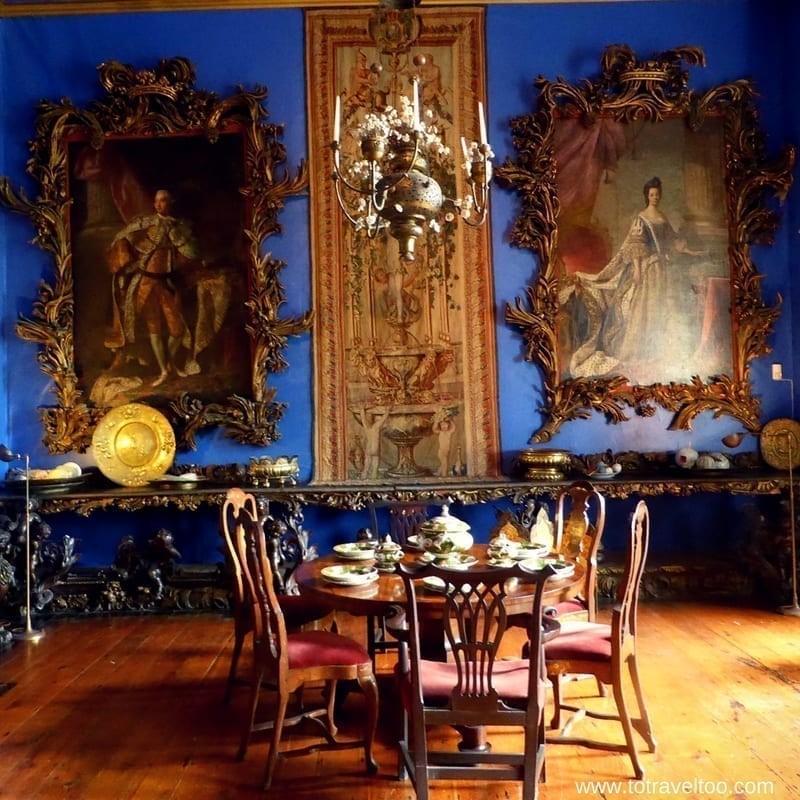 The cost of upkeeping a substantial Georgian property such as Bantry House is immense.  The family have now the help of the German University of Stuttgart to assist in the restoration of their valuable art collection and artefacts.
Accommodation at Bantry House
Bantry House offers Bantry House and Garden in the East Wing.

The following information is taken from their website:
Hotels in Cork Ireland
For the best places to stay in Cork:
More Activities To Do in Cork Ireland
There are many things to do in Cork Ireland – here are some more tours for your consideration. Day trips from West Cork are a recommendation too!
General Visitor Information for Ireland
The closest airport is Cork Airport.
For a private transfer from Cork Airport:
Flight Deals for Cork and Dublin
Find the cheapest flights with Skyscanner our go-to when researching and booking flights throughout the world.
Travel Insurance
We recommend taking out travel insurance as soon as you book your flights and pay deposits on any cruises, tours or hotels.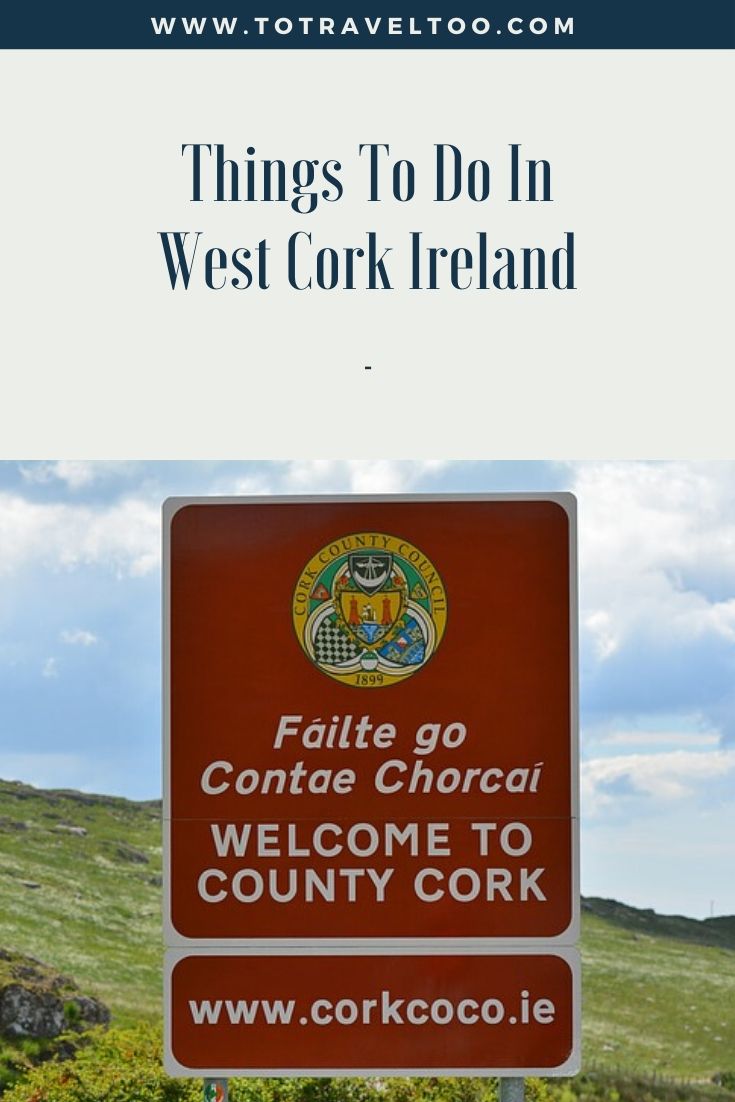 Our articles on Ireland for your travel inspiration:
There are so many West Cork Tourist attractions you should allow at least 4 nights to enjoy the county.  A west Cork road trip is highly recommended where you can include the Ring of Kerry as well.  What places will you see in West Cork?