Are you heading to the Yucatan Peninsula in Mexico? You are going to have a trip of a lifetime.
There are so many things to do in the Yucatan Peninsula in Mexico.  In fact, there are so many fun things to do that you will be spoilt for choice or run out of time and you will have to return for more Mexican vacations.
We share with you the best places to visit in Yucatan Mexico, where to stay and what to do there.  This is an extensive post, so grab a coffee or a wine and sit back and relax and plan your next adventure to the best places in the Yucatan to visit – (península de yucatán no méxico)!
Join our private Facebook Group – Mexico Travel Planning here.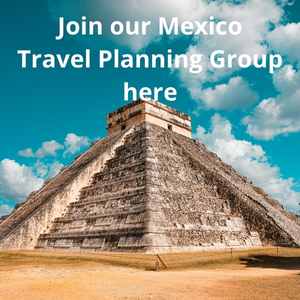 One of our frequently asked questions from our community is is it safe to travel to Mexico?
We felt very safe travelling around Mexico for 6 months by ADO and Primera Plus buses.
We would recommend checking with your country's government on current health warnings for Mexico in light of COVID 19 and any unrest in parts of the country.
Mexico is one of our favourite destinations.  We have travelled to so many cities such as Guanajuato, San Miguel de Allende, Morelia, Oaxaca, Tepoztlan, and more and we still have more Mexican destinations to experience and explore. We have written our own special guide book on Mexico. Click here to purchase through Amazon.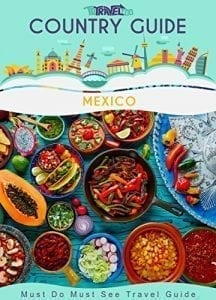 This post may contain affiliate links. Please see our Click here to purchase through Amazon for more information. As an Amazon Associate, we earn from qualifying purchases (if applicable).
So, what is it about Mexico?  We enjoy the weather in Mexico, Mexican food, Mayan ruins and other archaeological sites, the beaches, the history, the people and the Mexican vibe.  We also believe that the Yucatan Peninsula is one of the safest places in Mexico, although saying that everywhere we have travelled to in Mexico we have felt safe. Don't believe what you read in the media, go see for yourself.
Mexico is one of the best countries for shopping. Are you wondering what are some of the best souvenirs in Mexico to buy for family and friends? In the Yucatan Peninsula, wooden masks are a popular souvenir. They can be found in the villages of the Yucatan.
Before we start on this long post we share with you some interesting facts about Mexico.
Where is the Yucatan Peninsula Mexico
The Península de Yucatán México covers 197,600 square km of South-Eastern Mexico.  It is made up of the states of:
Campeche
Quintana Roo
Yucatan
The Yucatan Peninsula is located between the Caribbean Sea and the Gulf of Mexico with 1100 km of coastline and a breadth of 320 km. We can say that the Yucatan beaches are the best beaches in Mexico.
Related Reading: Best Places to Stay in Cancun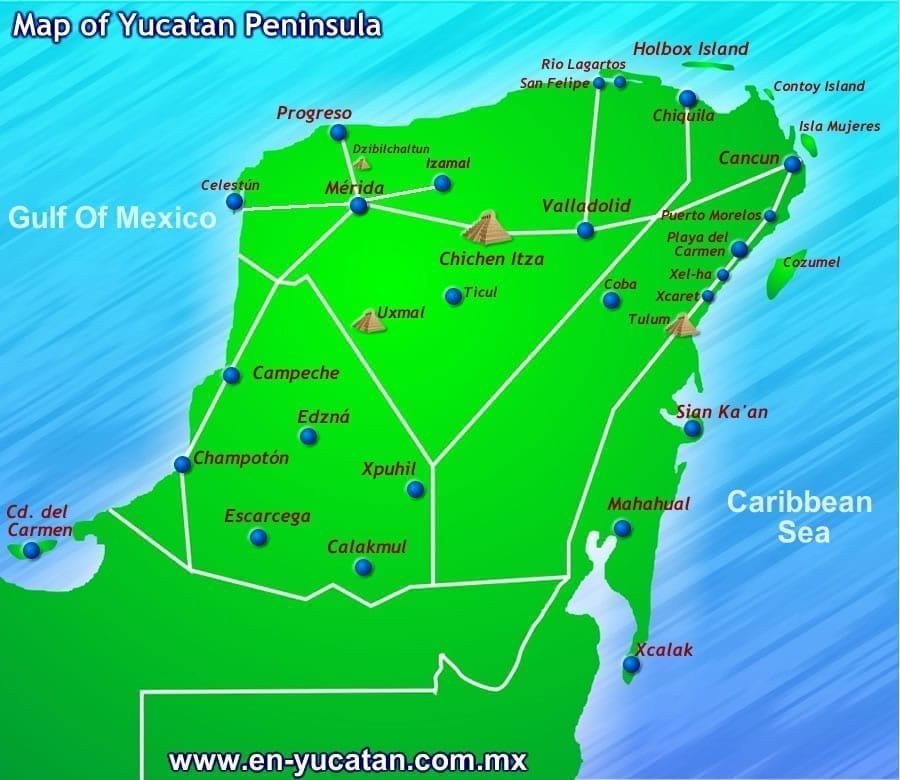 The 5 UNESCO World Heritage Sites of the Yucatan
Mexico has 34 UNESCO World Heritage sites which include:
27 cultural sites
6 natural sites
1 mixed site on the list
Out of the 34 sites, the Yucatan Peninsula has 5 of them:
The Pueblo Magico Towns of Mexico – Yucatán points of interest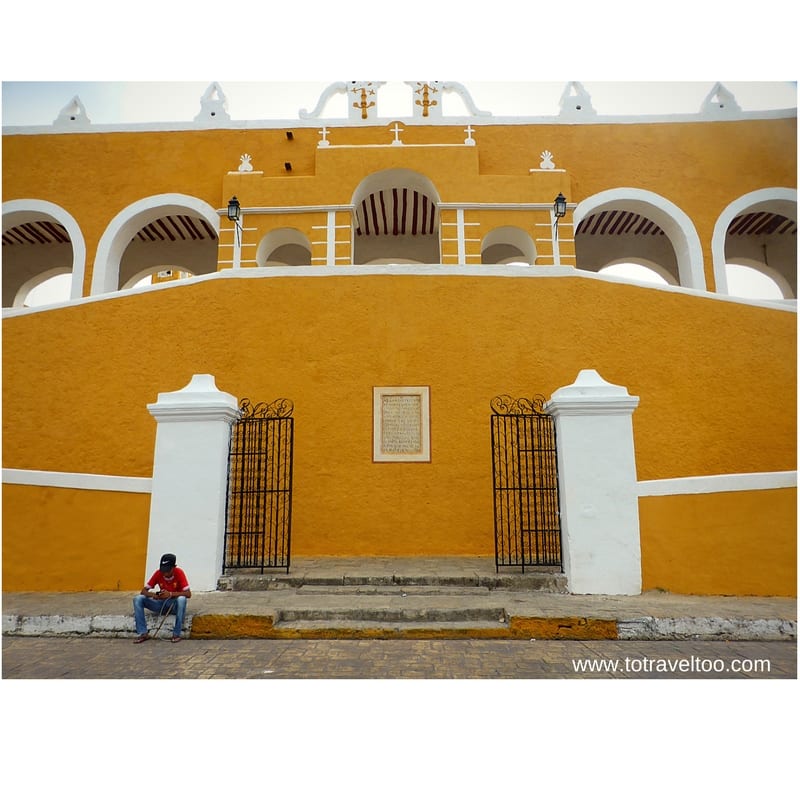 There are 111 designated 'Pueblo Magico' towns in Mexico and 6 of those are located in the Yucatan Peninsula.  A 'Pueblo Magico' town is one designated by the authorities of Mexico that have something special to offer; legends, history, important events, symbolism and a feeling of magic.
The 6 Pueblo Magico Towns are:
Frequently Asked Questions about Travelling to the Yucatan Peninsula
What is the Yucatan Peninsula well known for?
The Yucatan Peninsula of Mexico is well known for its Mayan architecture such as Chichen Itza, Uxmal and Tulum and many smaller architectural sites.
Is the Yucatan Peninsula safe to travel to?
There are parts in Mexico and in other countries as well that it is recommended not to venture into. Mexico does have a drug cartel that is located in certain parts of the country. It is safe to travel but you need to exercise caution.  Petty theft occurs everywhere in the world. Always check your country's government travel department for the latest updates.
How far in advance should I book travel?
We would recommend booking 30 – 60 days in advance.  December to March is their busy tourist season.
What is the power voltage in Mexico?
110 volts is used in Mexico, visitors from Europe will need to bring an adapter.
Is it safe to travel on buses in Mexico?
We have travelled all over Mexico by bus and have found it safe. Take care with your personal belongings, do not put them under the seat but in front of you.
What are the birds of the Yucatan and where can I get more information?
This is a good reference book that will assist you in identifying the birds of the Yucatan Peninsula.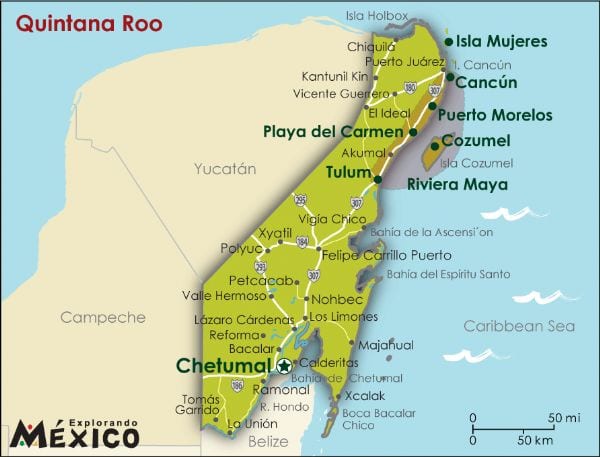 The state of Quintana Roo includes 3 Islands; Cozumel, Holbox and Isla Mujeres. Apart from the towns of Playa del Carmen, Akumal and Bacalar, it houses the large Caribbean resort area of Riviera Maya Mexico with its range of hotels. For thrill-seekers looking for the best all-inclusive resorts in 2023 we can the recommend Hotel Xcaret Arte Riviera Maya.
You may enjoy some further reading before you travel to Quintana Roo.
Cenotes in the Yucatan Peninsula
There are thousands of Cenotes in and around the Yucatan and some are quite expensive to visit as they are included in the many theme parks around the area.
Some recommended tours available are:
Cancún/Riviera Maya: Chichén Itzá, Valladolid & Cenote Tour
Tour the impressive archaeological ruins of Chichén Itzá and discover the ceremonial centre of the Maya civilization. Then, go to a sacred cenote and end with a buffet meal in the restaurant.
Snorkeling & Underground Cenotes Half-Day Tour from Tulum
Explore a 600m cave until you arrive at an area where the ceiling of the cave has collapsed and natural light shines through. Learn about the different geological formations that characterize the Yucatan region.
Xel-ha Park
Xel-ha in the Mayan language means "where the water is born".  It is a natural aquatic theme park where you can snorkel with the fish and wander through jungle paths.
All Day Pass
Discover the natural wonder of Xel-Há, a snorkelling paradise with fun activities for the entire family. Have a magical and unique experience with an all-inclusive ticket to the lazy river, children's playground, mangrove forest and more.
Xcaret Park
An eco-archaeological park where you can:
explore along the jungle trails
visit Jaguar Island
spend time at the Butterfly Pavillion
enjoy a snorkelling tour
swim with the dolphins
swim in underground rivers
Full-Day Admission with Night Show & Lunch
Enjoy all the fun of the premier attraction of the Riviera Maya with a full-day ticket to Xcaret Park near Playa del Carmen. Explore the cultural traditions of Mexico at underground rivers, swim and snorkel around coral reefs, or just laze on the beach.
Sian Ka'an
Sian Ka'an is a designated World Heritage Site near Tulum. The Biosphere Reserve is home to thousands of species of flora and fauna.
3 Hour Boat Tour:
Enjoy a three-hour boat tour to the middle of a UNESCO natural reserve. Snorkel amongst the huge diversity of fish and corals, enjoy a rest on the beautiful beaches and dine on a tempting Caribbean lunch!
Rio Secreto
Rio Secreto is an underground river museum where you can view stalactites and stalagmites.
Cancun/Playa del Carmen: Tickets to Rio Secreto and Lunch
Explore an underwater network of rivers and caves, featuring labyrinths, stalactites, and stalagmites. Then, dine on a light lunch of local food.
Cancun Underwater Museum or MUSA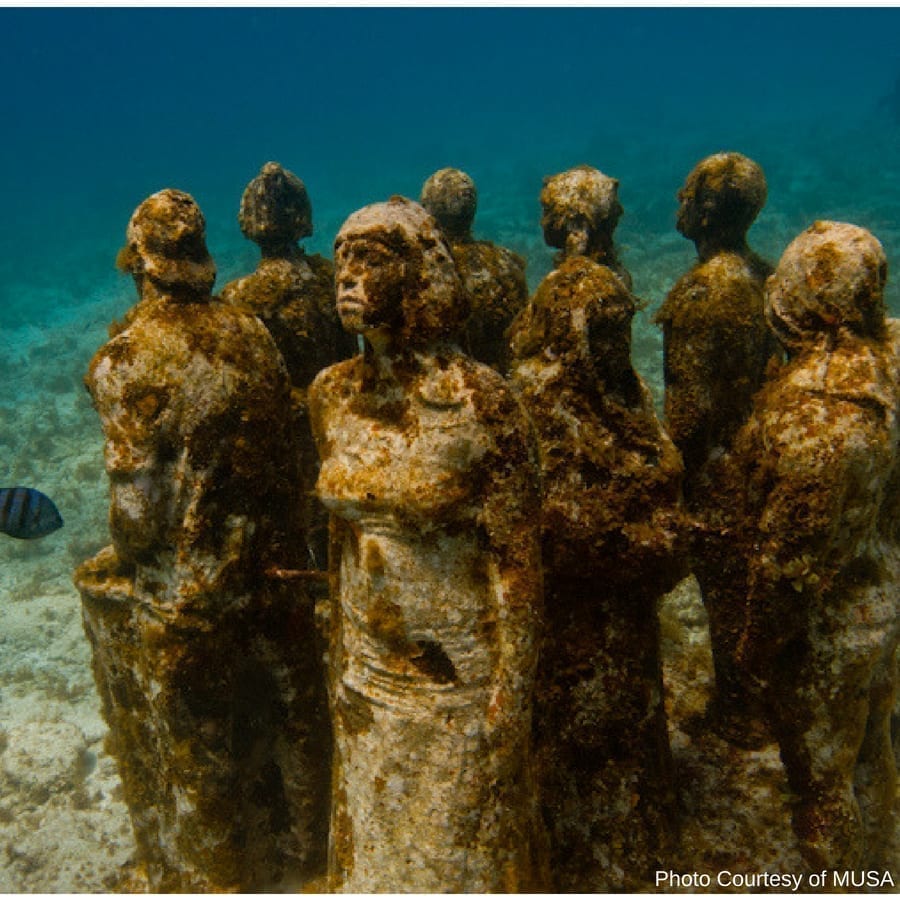 Located in the waters around Cancun, Isla Mujeres and Punta Nizuc is an underwater museum with over 500 life-sized monuments 8m deep in the ocean.  You can visit by either a glass-bottom boat, scuba dive or snorkel on a boat tour.
Cancun: Paradise Snorkel at Reef and Underwater Museum
Snorkel one of the most beautiful reefs in Cancun, Punta Nizuc. Explore the statues of the MUSA Cancun Underwater Art Museum and relax on a shaded, floating platform to enjoy a cold drink.
Visit Isla Mujeres, Cozumel and Holbox
How to get to Isla Mujeres
You can catch the  ferry from Puerto Juarez downtown Cancun.  The crossing takes about 15 minutes and the boats leave every 30 minutes from 05.00 to 21.00.
Make your visit to Isla Mujeres more convenient with a flexible round-trip ferry ticket from Cancun. Enjoy on-board amenities, including live music, TVs, a play area for kids, a snack bar, and more.
Top things to do in Isla Mujeres
There are many things to see in and around Isla Mujeres or you can just chill on the beach, snorkel or swim:
visit the Town Square
go for a walk along the West and East Malecon
visit the Sea Wall murals
visit the 3 Lighthouses
visit the grave of Mundaca, a famous pirate,  at the local cemetery
enjoy finding all the local statues scattered around the island
visit Punta Sur at the south of the island
take photos from the outside path of the unique Shell House – but don't ask to go in and visit
visit Floating Bottle Island where the base is made from over 100,000 plastic bottles
visit the turtle farm known as La Tortuga Granja
hire a golf cart and drive around the island, beware of the speed bumps though
attend a yoga session in the morning or in the evening
swim with dolphins on a cruise with lunch
swim with the whale sharks – there are many tour operators to choose from
go deep-sea fishing
Set sail on the Caribbean Sea for Isla Mujeres, the Island of Women, where you can snorkel in the turquoise waters and relax on one of the world's most beautiful beaches. Savour a delicious buffet lunch and enjoy drinks from the open bar.
Buy your tickets here for the Round Trip Ferry
Make your visit to Cozumel more convenient with a flexible round-trip ferry ticket from Playa Del Carmen. Enjoy numerous on-board amenities, including live music, TVs, a snack bar, and more.
Top Things to do in Cozumel
Cozumel is a top cruise port off the coast near Playa del Carmen.  It is also famous for being one of the best diving sites in the world.
Visit Chankanaab Beach Adventure Park for snorkelling, dolphin tours, zip-lining, tequila factory or just relax on the beach
San Gervasio – Mayan ruins founded in 300 AD.  Entrance fee USD$9.50.
Palancar Beach – great for sailing, kayaking, diving and snorkelling
Punta Sur Eco Beach Park – 2,500 acres of an ecological park which contains hundreds of exotic birds, crocodiles and sea turtles.  
You can also visit El Caracol the Mayan Ruins, swim in Laguna Colombia or visit the Celerain Lighthouse.  The park is open between 9.00 am and 4.00 pm.
Atlantis Submarine Expedition
Dive to depths of 100 feet in a submarine, piloted by a professional and licensed crew. Discover why Cozumel is one of the top dive destinations in the world on board the Atlantis Submarine as you admire the breathtaking underwater scenery.
VIP Glass Bottom Boat & Snorkelling 3 Reefs Tour
Take part in a great experience for swimmers or non-swimmers, where you will visit 3 of the famous Cozumel reefs on a 2-hour activity. Climb aboard a comfortable boat with a friendly and professional crew and drinks onboard.
Where to stay in Cozumel
Looking for some great accommodation in Cozumel?  We have found some great accommodation in Cozumel through Booking.com – check your travel dates and latest deals here
Check out Tripadvisor for the top 10 restaurants in Cozumel to suit your budget as well as reviews from other travellers.
Holbox is a small island to the North of Quintana Roo.  There are no cars on the island only golf carts. We hear that the sunsets are amazing.
How to get to Holbox:
The Holbox Catamaran Ferry takes 45 minutes from Chiquila and costs MXN220 (USD$12.00).
Top Things to do in Holbox
Visit Yum Balam Eco Reserve and its 60,000 acres of natural rainforest which is home to 5 of the wild cat species such as jaguar, jungle cat, ocelot, puma and a small ocelot known as margay
Kayak through the mangroves
See the flamingos at Isla Passion, a small island that is located between the mainland and Holbox
Accommodation in Holbox
Tripadvisor is our go-to resource for recommendations on restaurants in Holbox that suits all budgets and tastes.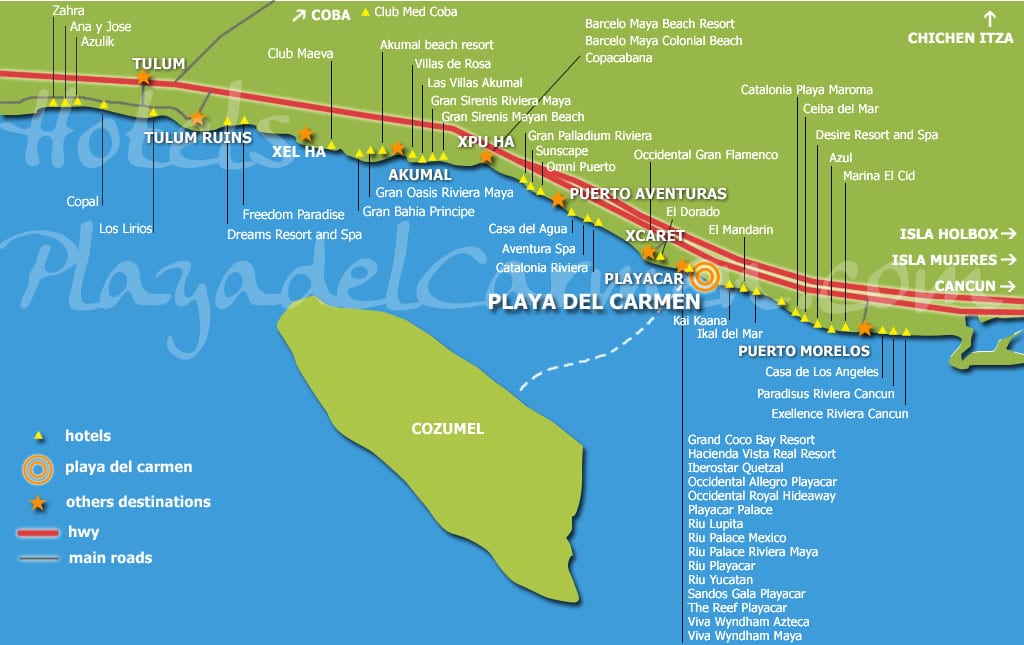 Also known as the Mexican Riviera, the Mayan Riviera stretches for 75 miles from 10 miles south of Cancun at Puerto Morelos and finishes at the town of Carrillo Puerto.  The towns of Playa del Carmen, Puerto Aventuras, Tulum and Akumal are scattered along the Caribbean coast.  It is one of the best places to visit in Mexico. There are many Mayan Riviera resorts to choose from.
Where to Eat in the Riviera Maya
Tripadvisor has a list of restaurants to suit all budgets and tastes. Check out their top 10 recommendations.
Xplor Park
Xplor is a park of many activities from zip-lining, underground rafting, amphibious vehicles to hammock splash. You can even experience adventures during the evening.
Cenote Chaak Tun
Your opportunity to swim underground and experience the marvels of the Cenote – a natural sinkhole.
Enjoy a full-day tour that takes you to the Tulum archaeological site and also to the Chaak Tun cenote. Explore the ruins and swim in the cenote.
Scuba and Snorkelling
There are various companies offering a variety of scuba and snorkelling experiences.
Reef Diving in Playa del Carmen
Reef diving in Playa del Carmen takes you to the best spot in the Caribbean for reef diving. One can see why. With lovely water temperatures and great visibility, you will see all kinds of marine life and even ship-wrecked boats.
More Fun Things To Do in Playa del Carmen
Where to stay in Playa del Carmen
Reef Coco All Inclusive Playa del Carmen
Set on the beach and only 5 minutes from 5th Avenue. The rooms are large and comfortable.
"The Reef Cocobeach offers easy access to several recreational activities such as snorkelling, diving or kayaking at the beach directly in front of the hotel. The hotel also provides games for children at the Kids Club and free wifi in the lobby.
Guests can enjoy cocktails and sports-watching at the beachfront Sports Bar or the Bar & Mar Lounge. Four on-site restaurants are available at The Reef."
Guest review: Breakfast was very good and it's available until 11 am which is great during the holiday. Good location next to the beach and walking distance from the downtown. Different services are available at the hotel. Clean room and friendly staff. Nice pool area. Several different restaurants in the hotel area. All-inclusive package was good.

Hotels in Playa del Carmen
Restaurants Playa Del Carmen
Tripadvisor has an extensive list of restaurants to suit all budgets. Check out their top 10 recommendations.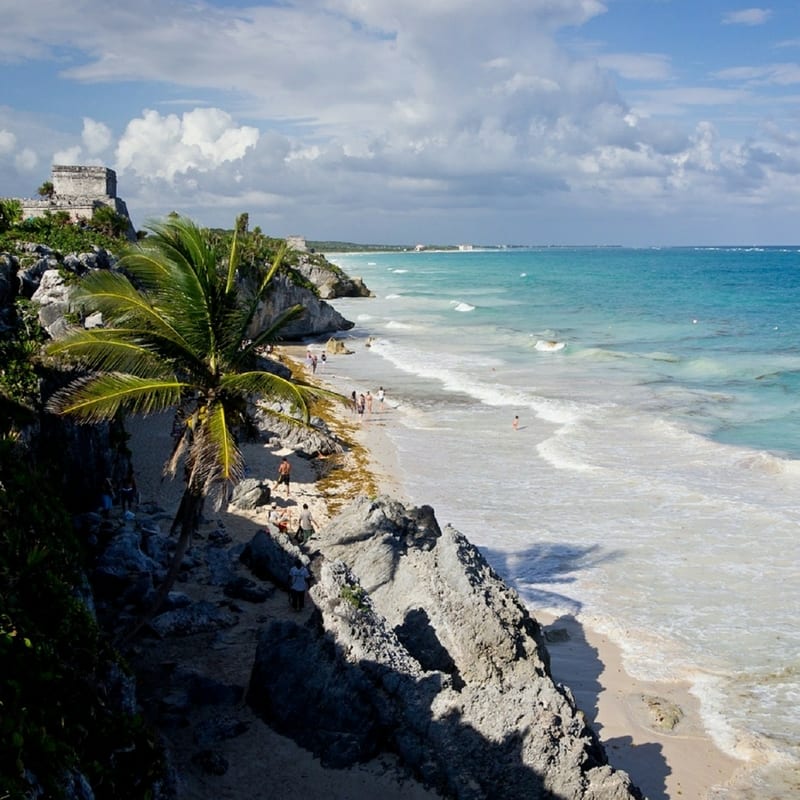 The #1 tourist attraction in Tulum is the 13th century walled Mayan Ruins on the cliffs overlooking the Caribbean Sea. Get there early before the many busloads of tourists.  Apart from the ruins, you will see the natural habitats of the iguanas.  Bring sunscreen, water and mosquito repellent. We would recommend hiring the services of a guide, it is one regret that we had about visiting Tulum, we didn't hire a guide.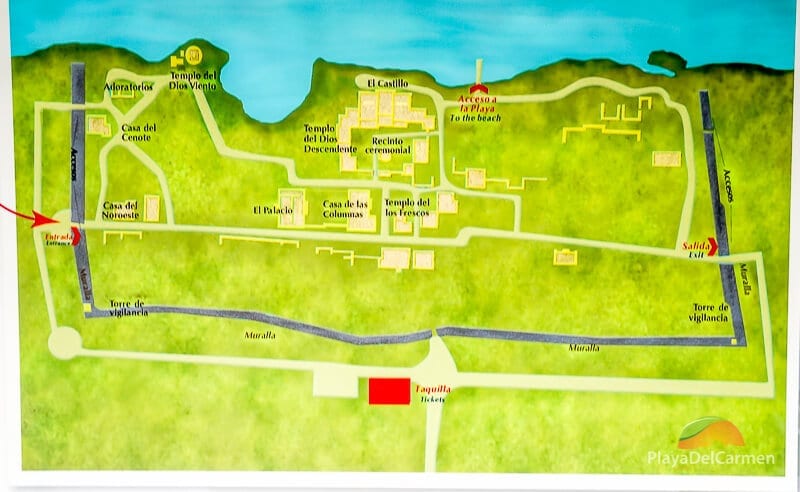 Opening Hours: 08.00 – 17.00 hours
Entrance Fee:  MXN85 (USD$4.50).
We would nominate  Tulum as the most stunning of all of the locations of the Mayan Ruins, situated on the cliffs overlooking the Caribbean Sea. You can take your swimmers with you, if the beach is accessible you will be able to swim.  It was high tide when we visited which made it difficult for swimming.
Book Your Skip The Line Tulum Entrance Ticket with Tequila Tasting here
Avoid waiting outside in long lines with this skip-the-line entry ticket to Tulum. Explore one of the most visited archaeological sites in Mexico.
Things to do from Tulum
Just 43 km from Tulum is the Coba Ruins.
Enjoy a full-day tour of Tulum and Coba Ruins – book your place on the tour here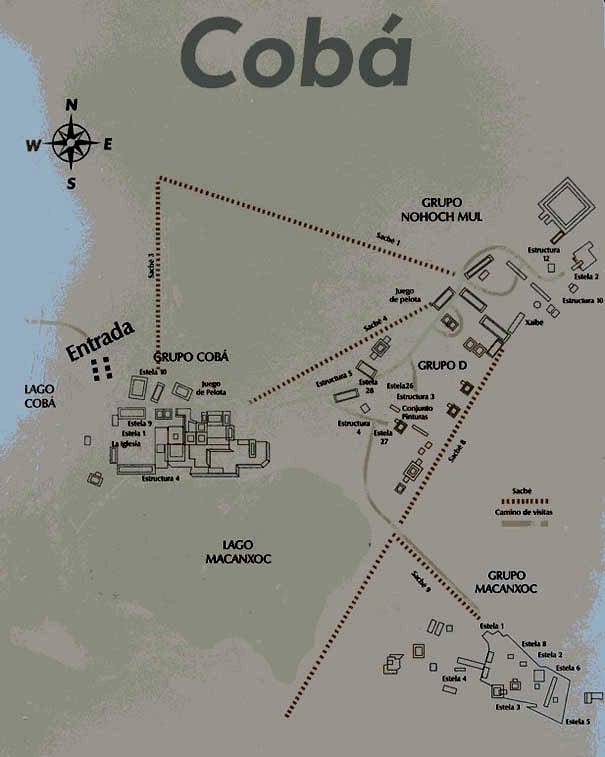 Coba is a large Mayan ancient ruined city in the state of Quintana Roo.  The Nohuch Mul group of pyramids with Ixmoja standing at 42m is the tallest Mayan pyramid in the Northern Yucatan.  Coba is not as touristy as Chichen Itza or Tulum and you are still able to climb some of the structures.
There are over 50 sacbes (white roads) in Coba which are stone causeways that were used to connect waterways around the site and residents to the pyramids.  You can visit 16 of them.
Entrance fee: USD6.50
Location: 45 minutes from Tulum
Sac Actun
An underground cenote and cave system which is suitable for swimming and snorkelling.
Enjoy a tour that includes Sac Actun and the Mayan Jungle – for more information click here
The official website for more information.
Grand Cenote in the Yucatan Peninsula
A limestone cenote and cavern suitable for snorkelling and swimming, with the water so clear you may not even need to hire a snorkel.
Open between 10.00 am and 5.00 pm the Grand Cenote is the largest of all cenotes in Quintana Roo.
Entrance fee USD25.00
An inspiring journey through the high forest on the outskirts of Tulum allows you to discover the variety of caves, caverns, and cenotes that are hidden underneath the jungle of the Yucatan. Explore secluded cenotes by bike, far from the crowds.
Long white silvery beaches that are semi-private, check first as some belong to the Beach Clubs and others to smaller hotels.  For the price of lunch, you can use the facilities of the Beach Clubs i.e. parking and beach chairs.  There are restaurants available as well.
Where to stay in Tulum
We stayed at the Punta Piedra Beach Posada along Tulum Beach with lots of small restaurants outside. It is a small hotel, with lovely comfortable rooms and its own private beach. A great place to just chill.
Latest Guest Review: Nice pool, great view from the breakfast area, nice beach, wonderful patio.
Address: Carretera Tulum Ruinas Boca Paila Km4 Tulum
Find out availability and travel deals for your travel dates for Tulum here with booking.com
A few years ago when we were staying in Tulum we enjoyed the following 2 restaurants:
Casa Banana at Tulum Boca Paila Km 8.5
Mateo's Mexican Grill at Tulum Beach Road Paila Km 5.2.  If you get there early you can have a 'sundowner' on the top deck whilst watching the sunset. Take mosquito repellent with you.
Tripadvisor has an extensive list of where to eat with reviews in and around Tulum.
If you are like us we love to do some initial research before we head to a destination.  Here are some great suggestions for Tulum.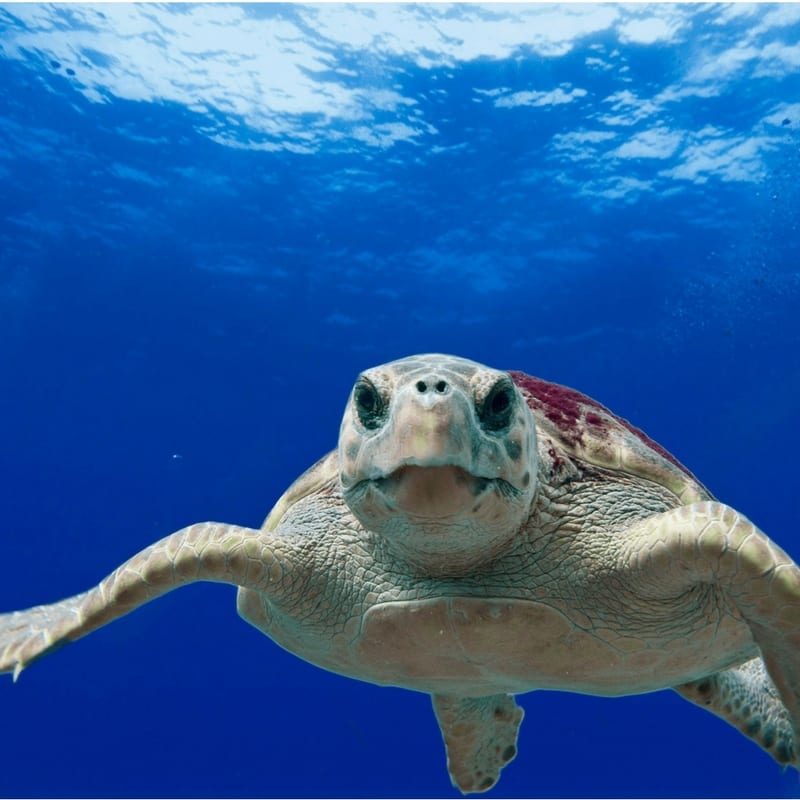 Akumal is a small beach resort near Cancun.  The top tourist attractions are:
swimming in the Yal Ku lagoon with schools of coloured fish
Visit a monkey sanctuary in the jungle with a knowledgeable guide and learn all about how the animals ended up here and what kind of care they need.
Where to Stay in Akumal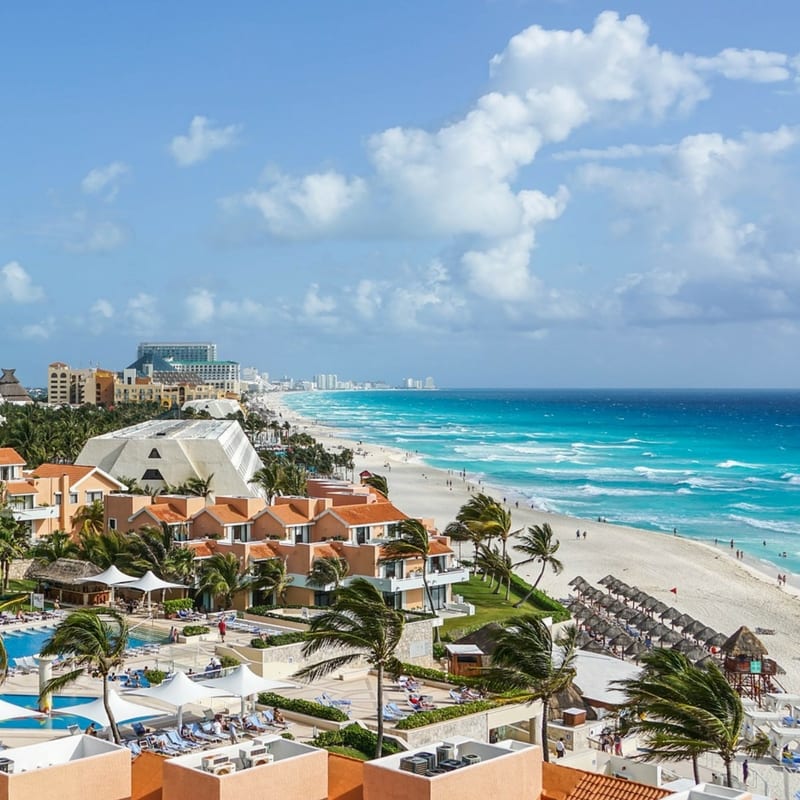 The weather in Cancun is pleasant all year round, no wonder it is one of the best places to go in Mexico.
Cancun is also the largest city in the state of Quintana Roo.  Cancun International Airport is Mexico's 2nd busiest.  It is a good jumping-off point to travel to Havana in Cuba.  It was cheaper to obtain visas at the airport in Cancun for Cuba than in the USA, USD20 compared to over USD100.
Head to the Zona Hotelera for the best of Cancun Nightlife.
Here are the best places to visit in Cancun
Cancun Hotel Map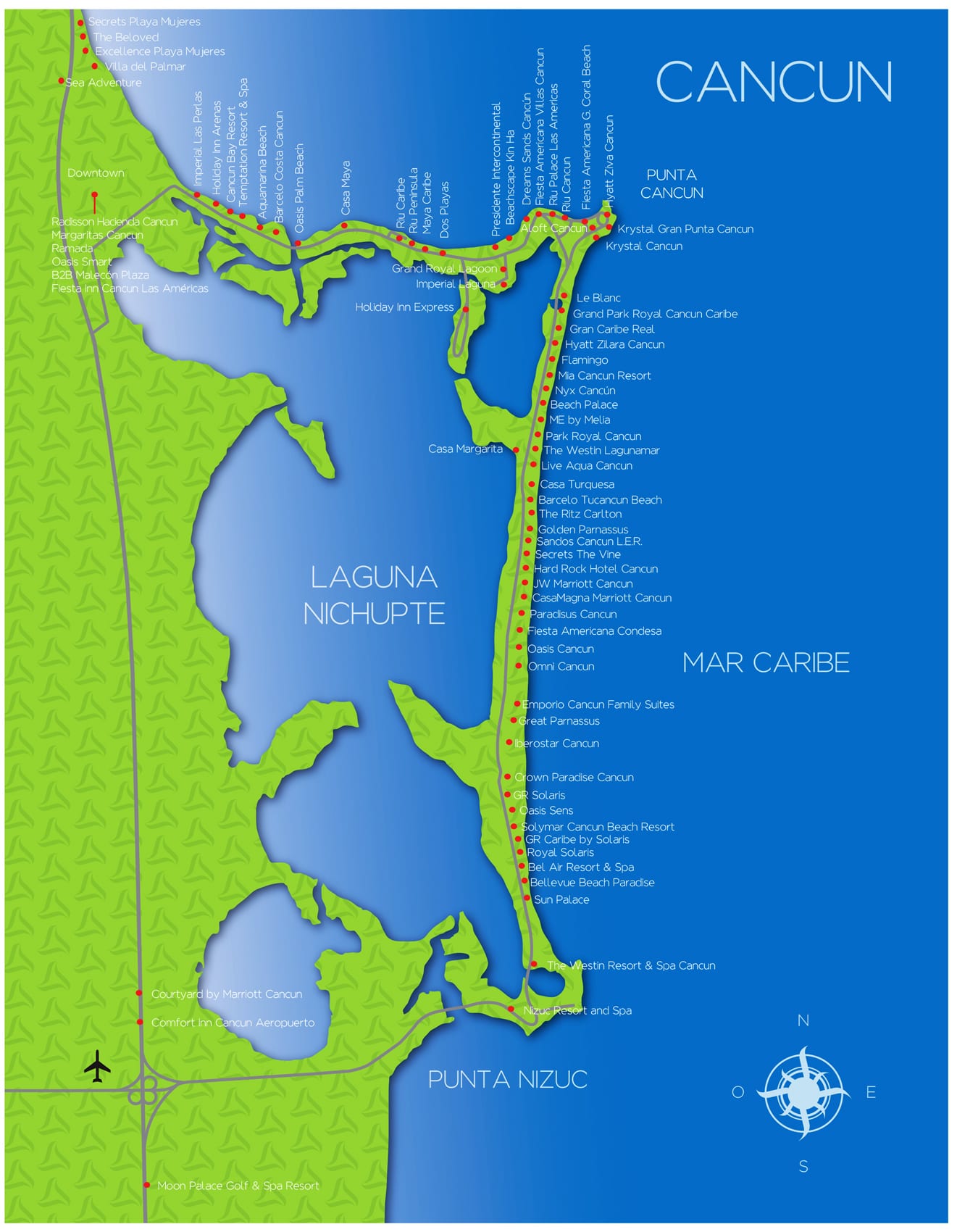 Things to do in Downtown Cancun
Visit the main park and large plaza for shopping, food and entertainment – Parque Las Palapas
Malecon America's shopping plaza
Walk from Nichupte Lagoon along the Malecon Tajamar
Shop in a real Mexican marketplace at Market 28
Things to do in Cancun:
There are so many fun things to do in Cancun. Check out these popular tours.
Xoximilco
A modern replica of UNESCO Xochimilco in Mexico City.  5 minutes from Cancun's International Airport where you can board colourful barges and party through the night as you sail down the canals through the Mayan Jungle.
Buy your tickets in advance here
Embark on a unique experience on board colourful trajineras (gondola-like boats), where a true Mexican fiesta comes alive. Classic live music groups await you, along with the delight of over 20 traditional dishes. Enjoy an open beer and tequila bar.
Maya Cancun Museum
The Maya Cancun Museum contains collections of ancient Mayan artefacts and the Mayan site of San Miguelito.
Located Blvd. Kukulcan Km 16.5, Zona Hotelera, 77500 Cancún, Q.R., Mexico
Opening Hours: 09.00 to 17.30
Entrance fee: USD$4.00
El Ray Archaeological Site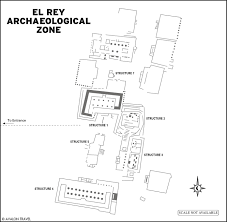 One of the most important Mayan sites along the Cancun strip dates back to 250 AD and includes a pyramid-shaped structure as well as 46 other buildings.
Location: Zona Hotelera, 77500 Cancún, Quintana Roo
Opening Hours: 08.00 to 17.00
El Meco Archaeological Site
Ancient Mayan ruins that include a pyramid.  You will also see iguanas in their natural habitat.
Location: Carretera Puerto Juaréz, López Portillo, 77520 Cancún
Opening Hours: 08.00 to 16.30
Entrance Fee: MXN55 (USD$2.75)
The official website for more information.
Isla Contoy
Only 200 visitors daily are allowed on Isla Contoy. There are snorkelling and swimming with the whale shark tours available.
Where to stay in Cancun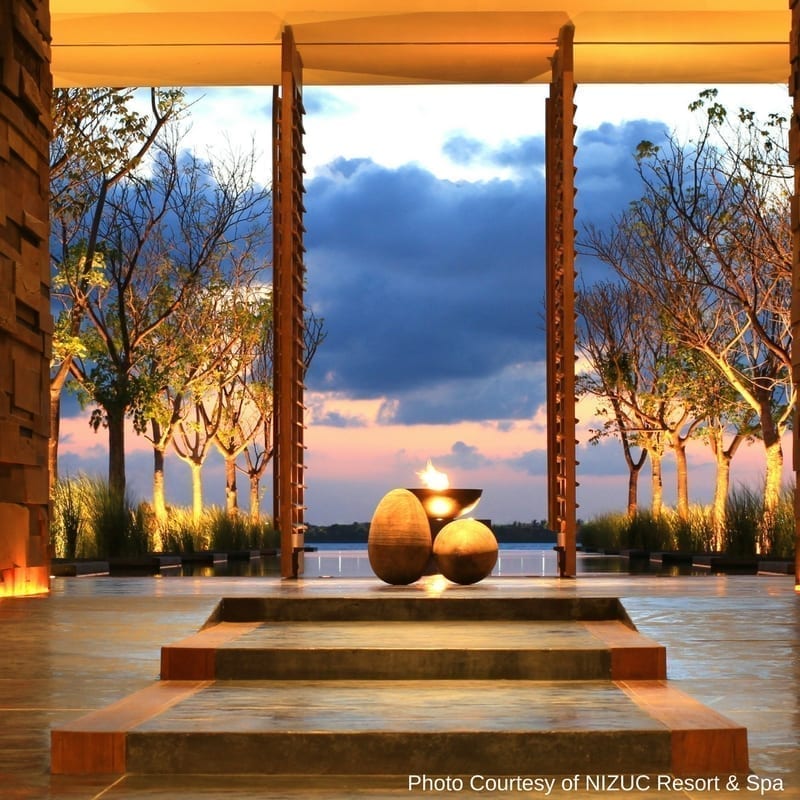 For a luxury stay in the Zona Hotelera strip of Cancun, we can recommend the Nizuc Resort and Spa. You will have a truly 'zen experience'.  Our 1-night stay was not long enough to enjoy all of the facilities and the 6 restaurants that Nizuc has to offer.  It is the only hotel on the strip that welcomes the sunrise in the morning and where you can enjoy a cocktail and the sunset in the evening.
Location: Zona Hotelera, 77500 Cancún

We have put together an article on where to stay in Cancun covering both the city and the Hotel Zone.
Tripadvisor has an extensive list of the best restaurants to suit all budgets in Cancun, with the latest reviews from travellers.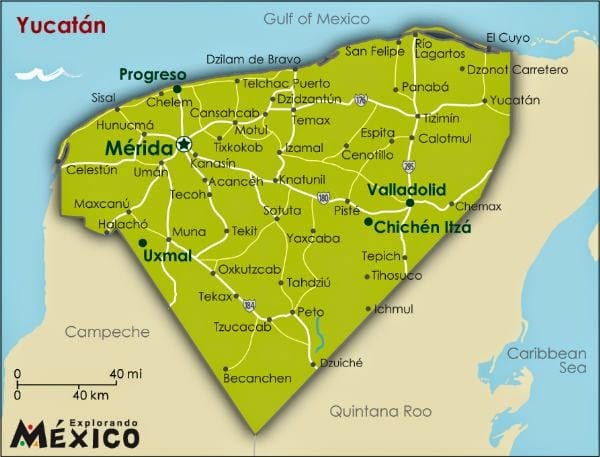 The state of Yucatan on the Yucatan Peninsula is home to the important archaeological Mayan Ruins of Chichen Itza and Uxmal.
The state is bordered by Campeche to the South West, Quintana Roo to the East and South-East and the Gulf of Mexico to the North and West and covers 39,524 square km. The Capital is Merida.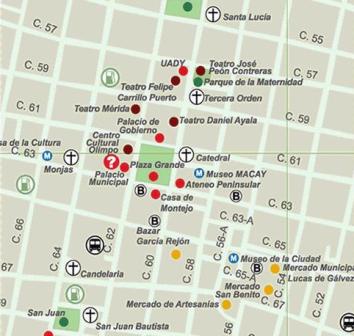 Merida Yucatan Map
Free Walking Tour
A free walking tour of the historical centre of Merida starts at 9.30 am.  The tour is conducted in English and Spanish.
Duration: 1.5 – 2 hours
Meeting Place: Tourism Office on Calle 62 between Calle 61 and 63
Cost: Free but based on tips
Horse and Carriage Ride
Also called a Calesa the rides depart from Calle 61 in front of the Cathedral.   The traffic around the Centro Historico area of Merida is hectic.  It is recommended to time your ride for an evening or a Sunday when it is quieter.
Cost MXN250 (USD$14) and takes around 45 minutes.
Pok Ta Pok
Every Friday night in front of the Cathedral in Merida the ancient Mayan Ballgame Pok Ta Pok is played.
It starts at 8.00 pm we would recommend getting there early to get a good seat.  It is free.
An extensive world-class Mayan Museum with exhibits of ancient Mayan artefacts,  and home to everything Mayan.
Entrance Fee: MXN150 (USD$8.50)
Opening Hours: Wednesday to Monday 08.00 to 17.00
Location: Calle 60 Norte No. 299 E Unidad Revolucion C.P.97110 Merida
The official website of the Grand Museum of the Mayan World for tickets and more information.
Paseo de Montejo
Merida's equivalent of Paris's Champs Elysees. Paseo de Montejo runs North to South along Calle 47.  It is home to the magnificent mansions of the 19th and 20th centuries which were built by the Sisal Barons of Merida to replicate the mansions of Europe.  From the Plaza of Merida, Paseo runs 2 blocks east and 7 blocks north and is worth spending a few hours wandering around on your own.  Today the buildings that have been renovated are used by banks and insurance companies, boutique hotels, restaurants and nightclubs.
The original Palacio Canton has been turned into the Museo Regional de Antropologia, covering the Mayan History throughout its time in the Yucatan Peninsula.
Opening Hours: Tuesday to Saturday 8.00 am to 8.00 pm Sunday 08.00 am to 2.00 pm
Entrance Fee: USD$5.00
A Yucatecan Serenade
Every Thursday evening at Santa Lucia Park on Calle 60 and Calle 55 an open-air concert takes place from 9.00 pm. It has been held every week since 1965.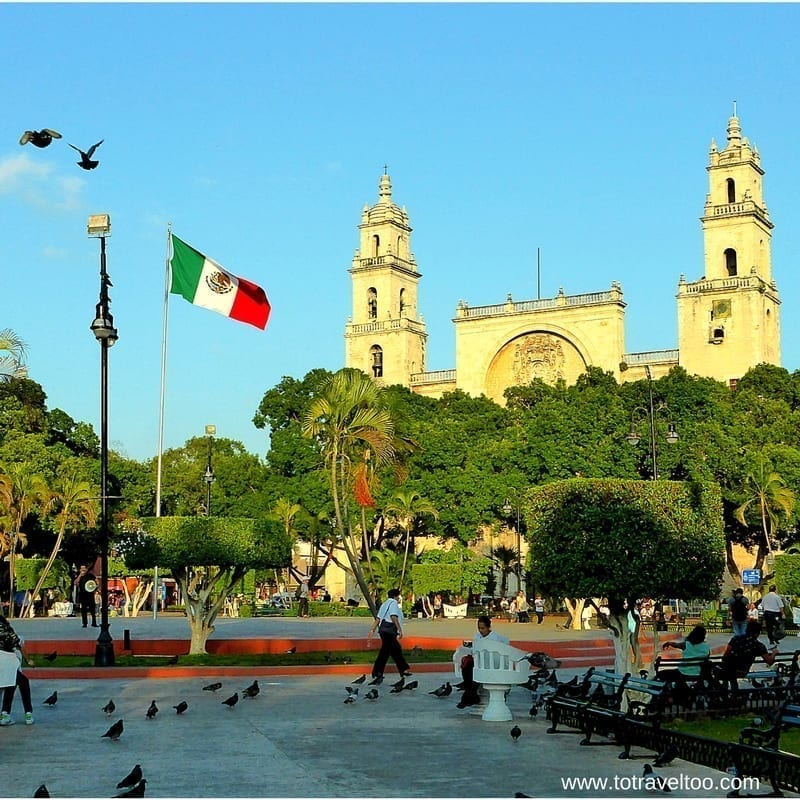 The oldest Cathedral on the Continent is the Cathedral of Merida which sits opposite the Main Square at Calle 60.  It was constructed between 1561 and 1598 and built over the Mayan city of T'ho.  Most of the stones came from the local Mayan temples in the area.
Around the Plaza you can see:
Palacio de Gobierno – built in 1892 and houses the large murals of Yucatecan artists Fernando Castro Pacheco. Opens from Monday to Saturday from 08.00 am to 8.00 pm and Sunday from 09.00 am to 5.00 pm.
Museo de Arte Contemporaneo Ateneo de Yucatan (MACAY) – works by contemporary artists.  Free entrance. Open from Wednesday to Monday 10.00 am to 6.00 pm but Friday and Saturday nights close at 8.00 pm.

Palacio Montejo

– built by the famous Montejo family the palace has now been sold to a Mexican Bank.  Unfortunately, due to the ever-increasing high taxes of Merida, the family had no alternative but to sell their home.  You can still visit the interior and the courtyard it will give you an idea of how life once was.
Ayuntamiento – City Hall.  The building dates back to the mid 19th Century. There are great views from the balcony overlooking the Park.
On Calle 65 between Calle 56 is the City Museum housed in the Old Post Office.  The Museum includes maps and pictures of Merida and the Mayan City of T'ho.
We were driving along Avenida Itzaes and got the shock of our lives when suddenly on our left was a Giraffe!  The Zoo is set in a beautiful park with a small lake.
Park Hours: Tuesday through Sunday 8 am – 5 pm
Entrance: Free
Merida Tours:
Learn about honey production in Sinanché and visit the mangrove swamp by boat in San Crisanto. Cool off in a freshwater reserve. Taste the famous Huevos Motuleños in a local market. End the day under the palm trees by the sea.
Immerse yourself in the local culture! This tour will take you to the local market where after buying all your supplies you'll take an exciting bus ride to the local home where your host and guide will guide you step by step to cook a traditional menu.
Delight yourself by tasting local food by visiting the food area of the main market, a seafood restaurant and a sorbet and gelato store. Ideal for learning most of the main Yucatan dishes you can in a short period of time.
Cantinas in Merida are fun and traditional. Locals go there to have drinks while eating some "botanas" (snacks), listening to Mexican music in a very friendly environment.
Where to stay in Merida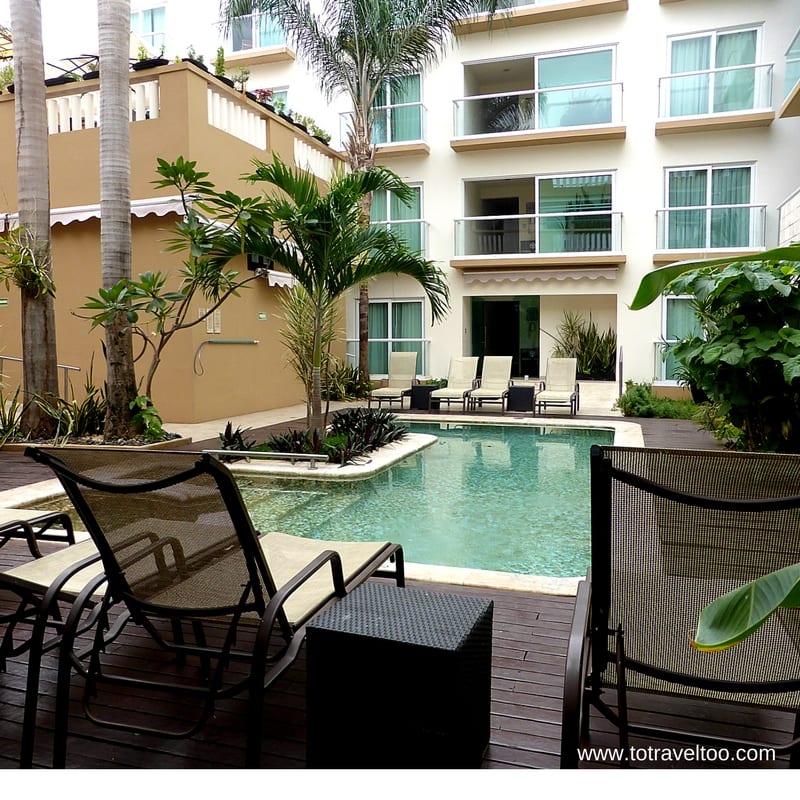 During our 4 nights in Merida visiting the major tourist attractions of the Yucatan Peninsula, we stayed at the Wyndham Hotel in Merida.  It was well located to visit the top sights.  The swimming pool was welcomed after a long day of sightseeing. Read more here.

Merida Hotel Accommodation
For a local breakfast experience, we can recommend eating at Mercado Santa Ana.  We have written an extensive blog post on Mexican Food in the Yucatan Peninsula, read more here.
Location: Calle 55 Entre 60 y 62 No. 510 Centro.
Opening hours: 05.30 am to 13.00
La Chaya Maya is a great choice for a family restaurant serving local Yucatan specialties.
Location: Calle 55 Entre 60 y 62 No. 510 Centro.
Tripadvisor has an extensive range of restaurants to suit all budgets in Merida.
Things to do Outside Merida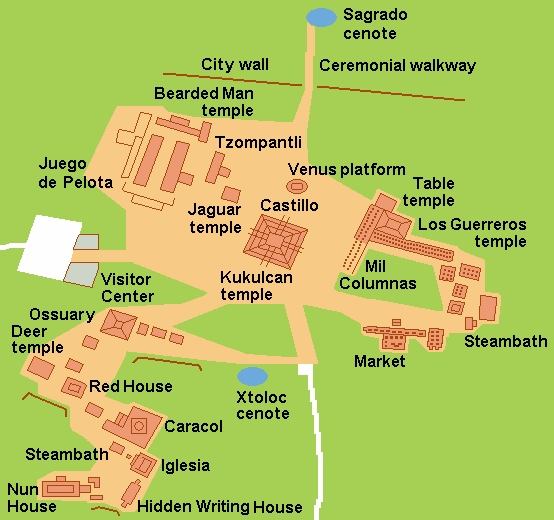 Chichen Itza is Yucatan's most famous site and the busiest during the high season between November and April.  The ancient Mayan Site was designated a UNESCO World Heritage Site in 1988. Plan to spend at least the morning there.
To get the most out of your visit to Chichen Itza here are the top 9 tips you need to know.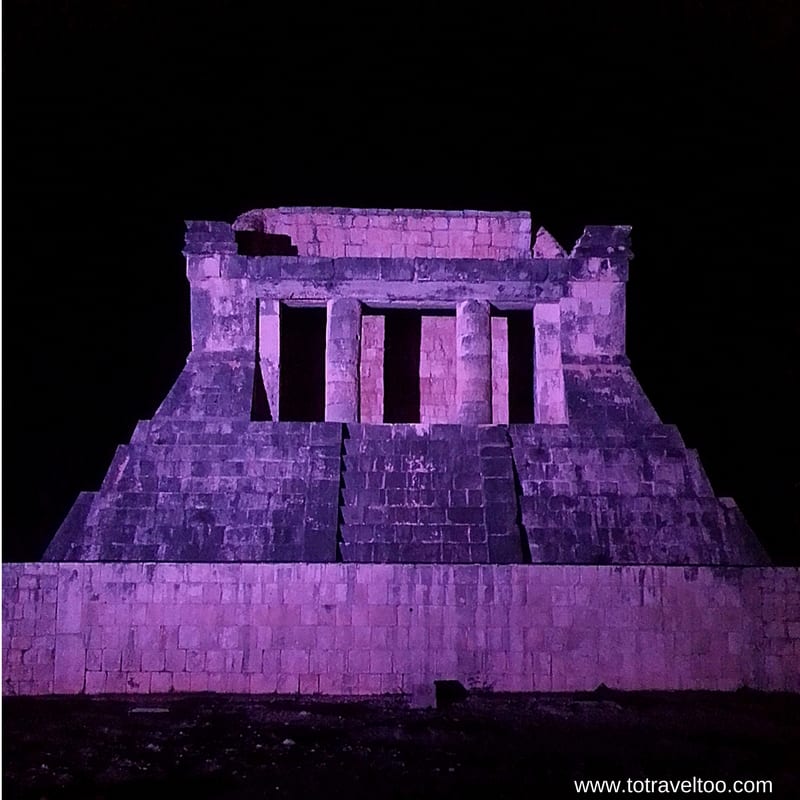 See our post on how to visit Chichen Itza during the day and night enjoying the Light and Sound Show.
Opening Hours: Daily: 08.00 to 16.30
Summer:  Light & Sound Show 20.00 to 21.00
Winter:  Light & Sound Show: 1900 to 20.00
Mexican Government Officials control and administrate Chichen Itza archaeological site.
For the Light & Sound Show at night there is a limited well lit pathway that you wander around before the 15-minute show commences.
Chichen Itza Tours
Feel the luxury and comfort of a unique private guided tour to Chichen Itza's Archaeological Site especially designed for you. Begin this activity at your time of choice and enjoy a roundtrip private transportation service aboard a Mercedes Benz vehicle.

Where to stay in Chichen Itza

Check out the latest prices and availability for your dates of travel.




Tripadvisor has a range of restaurant reviews in the vicinity of Chichen Itza suitable for all budgets and tastes.

Uxmal

In 1996 the ancient Mayan site of Uxmal was designated a UNESCO World Heritage Site. It's most famous pyramid – the Pyramid of the Magician stands 35m tall and it is very impressive with its round sides. For visitors, it is a quieter Mayan site to visit as the site gets fewer tourists than Chichen Itza.  We would recommend using the services of a local guide.

Uxmal is located 62km south of Merida.

Daily from 08.00 to 17.00

Choco Museum

Outside the gates of the Mayan Ruins of Uxmal is the Choco Museum.  This is not your typical museum, you wander through the grounds where you witness a local Mayan ceremony, as well as visit the animal refuge centre which houses animals that have been mistreated and who can't return to the wild.

There are 6 exhibition halls presenting the history of chocolate from the Mayans till today.  You can taste traditional hot chocolate and purchase chocolate and other gifts from the Choco Museum shop.

Location: Antigua Carretera Campeche Km. 78, Uxmal, Mexico

Entrance Fees:

Adults: MXN150 (USD$7.70)
Opening Hours: 09.00 am – 08.00 pm spring/summer; 09.00 am – 07.00 pm fall/winter

Uxmal Tours

From Mérida: Uxmal, Hacienda Yaxcopoil and Cenote with Lunch

Discover the archeological site of Uxmal, visit an old colonial estate, and stop to swim at a beautiful cenote on a day tour from Mérida with lunch.

Celestun Biosphere Reserve

Thousands of flamingos in Celestun between the months of November and March

The Celestun Biosphere Reserve is located in the northwestern part of the Yucatan Peninsula on 146,000 acres. Celestun is famous for its pink flamingos who flock here during the winter months between November and March for courting.  During the summer months, they head to Rio Largatos for nesting.

When you arrive at Celestun there are launches available to take you on the 2-hour boat ride to see the flamingos feeding as well as a tour through the mangroves.

The cost of the boat tour: USD$120 for the boat, prices are negotiable with the boat owner.

Tours available:

See pink flamingos in the beautiful Ria Celestun Biosphere Reserve and take a swim. Benefit from pick-up and drop-off at your hotel in Mérida.

Where to stay at Celestun




There are at least 10 restaurants around the Celestun Biosphere Reserve to suit all budgets.

Map of Izamal town showing locations of major tourist attractions

Izamal is one of Mexico's "Pueblo Magico" towns.  It is located 68km from Merida. Izamal is a very photogenic town with most of the buildings painted yellow.  Why are they painted yellow? Find out by reading our article on Izamal.

Kinich Kakmo

Things to do in Izamal

Climb the Kinich Kakmo pyramid
Visit the Izamal Convent – San Antonio de Padua
Take a horse-drawn carriage ride around the cobblestoned streets of Izamal
visit the Museo de Artesanias

Wander the streets Izamal and Valladolid to explore the history and culture of Yucatecan on a day trip from Mérida, with a buffet lunch included.
Where to stay at Izamal
From the 1st to the 8th December each year a major religious pilgrimage takes place in Izamal.  All bed and breakfast accommodation, as well as hotels,  are booked out well in advance. Some of the pilgrims sleep in the park and in the corridors of the City Hall and the Convent.  If you are planning to visit Izamal ensure that you miss these dates unless your visit is for the pilgrimage.
Our visit to Izamal included lunch at Restaurant Zamna which we can recommend. Their Sopa de Lima is highly recommended.
Other places to eat according to the reviews on Tripadvisor.
Progreso is located in the North West of the state of Yucatan in the Gulf of Mexico.
You can wander down the Malecon and shop at the street vendors along the way.  Progreso has become a new Cruise Port for the Yucatan Peninsula, it can be very busy when cruise ships are in port. There are many restaurants overlooking the Malecon.
Where to stay in Progreso
We have a range of accommodation available in Progreso to suit all budgets.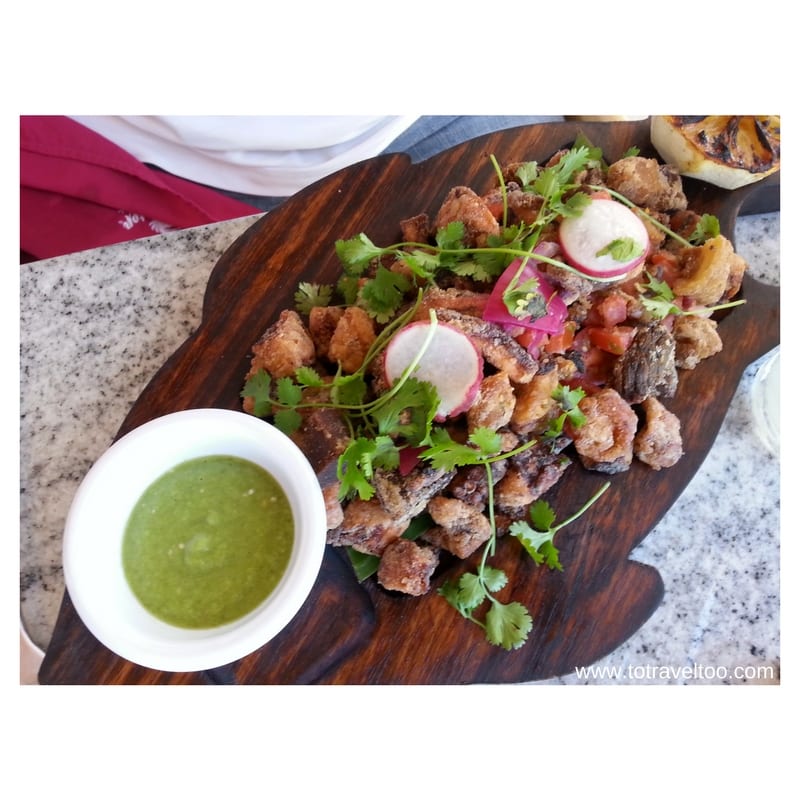 There are a range of restaurants in Progreso, the popular ones are located on the waterfront.
Our recommendation is – Crabsters.
To Travel Too tip – If you are selecting grilled fish off the menu request the smallest possible.  Our fish could have fed 4 of us
Valladolid is an inland city in the eastern part of Yucatan state. It has been given the honour of a "Pueblo Magico town".  It is a town known for its colonial churches and architecture.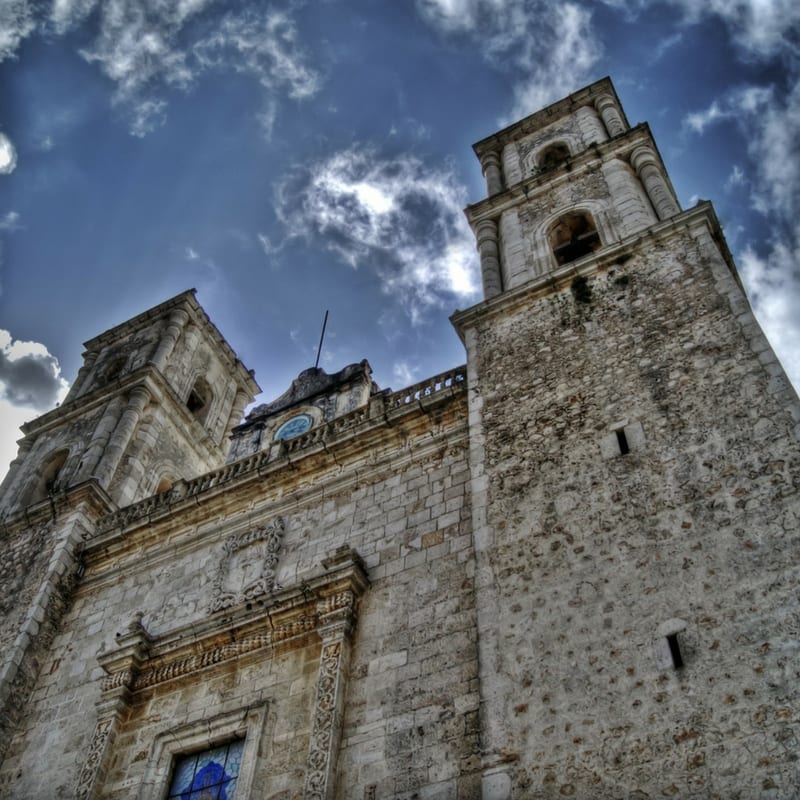 The top tourist attractions of Valladolid are:
Cathedral of San Gervasio located in Centro Historico.  It was rebuilt in 1705 using the local stones from Mayan temples.
Cenote Zaci – a few blocks from the central park is Cenote Zaci. The entrance fee is MXN30 (USD$1.70) – don't forget to take your swimmers with you.
Convent of San Bernardino of Siena at Calle 50 210B, Sisal, Valladolid. It has been recognised as one of the most beautiful buildings in the Yucatan Peninsula and one that was built over the vault of a cenote.
Casa de Los Venados – located in a private home this Museum has the largest collection of Mexican folk art in private hands, over 3,000 pieces. It is open daily at 10.oo am and there are tours available.
Tour from Valladolid: Cenote Maya Native Park Admission Ticket
Where to Stay in Vallodolid
Tripadvisor has a range of restaurants to be enjoyed in Valladolid to suit all budgets and tastes.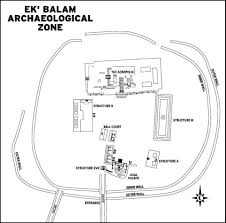 25 km north of Valladolid is the ancient Mayan site Ek Balam. El Torre the Tower is one of the largest Mayan structures with a height of 30m, 151m long and 60m wide.
Opening Hours: 08.00 to 17.00
Entrance Fee:  MXN413 (USD$22.00)
16km North of Merida is Dzibilchaltun – a small ancient Mayan site.  The most famous structure is the Temple of the 7 Dolls.  Archaeologists discovered that inside the temple were 7 small dolls, they are now housed in the Museum on the grounds.  There is also a restaurant on-site, a cenote, a church and a gift shop.  You can hire a guide, we highly recommend it.
Opening Hours: 08.00 to 17.00
Museum Opening Hours: 08.00 to 16.00
Entrance Fee: USD$10.00
Rio Lagartos is a small working fishing village within the 150,000-acre reserve.  During the summer months, you can expect to see over 40,000 flamingos who flock here from Celestun for nesting and birthing.  Rio Lagartos is also home to over 395 species of birds.
You can organise tours to Rio Largartos.
Top Things to do in the State of Campeche Mexico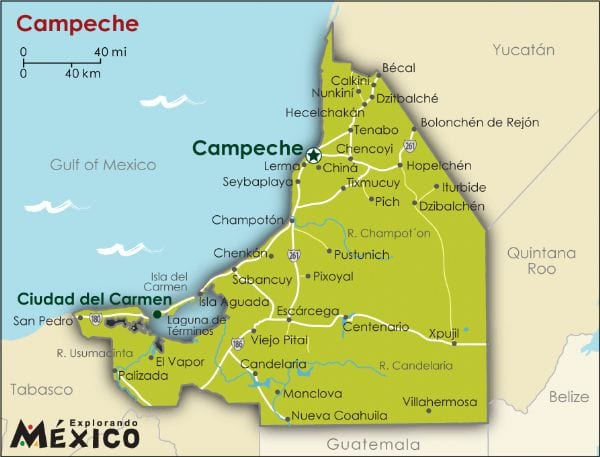 The state of Campeche is bordered by the Yucatan to the North, Quintana Roo to the East and Tabasco to the South West.  The Gulf of Mexico lies to the west of the state. To the South and South East, it borders the countries of Guatemala and Belize. It is a state that encompasses rainforests and beaches.
The Capital of Campeche is San Francisco de Campeche – commonly called Campeche.
Campeche has many Mayan ruins such as Calakmul, Uxul and Xicalango.  The name Campeche comes from the ancient Mayan province Kimpech.  The City of Campeche and its ancient colonial centre and fortified walls were designated a UNESCO World Heritage Site in 1999.  In 2002 the Mayan ruins of Calakmul was also designated a UNESCO Site.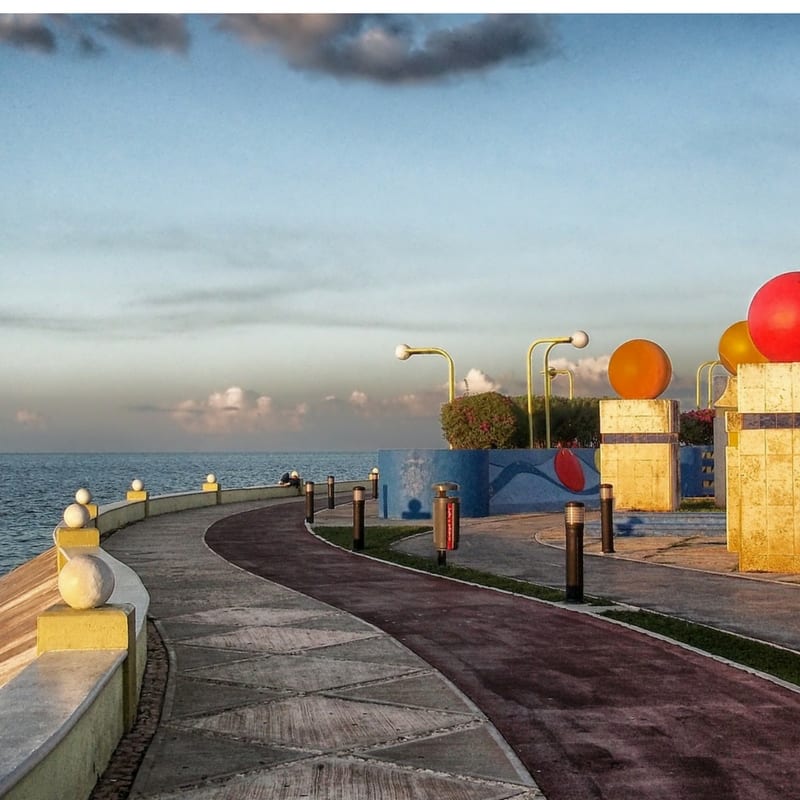 Malecon Campeche
The Malecon stretches for 5km from Justo Sierra to Joaquin Musel Avenue.  There are 3 tracks suitable for bicycles, skateboards and walking or running.  It is a great place to watch the sunset.
Walk the City Walls
The City Walls and Forts were built during the 16th century to protect the city from pirate attacks. There are 7 Baluartes (a stronghold into which people could go for shelter during a battle) some are free along the 2-mile walk and others have a fee of between MXN10 – MXN50 (USD$0.55 – USD$2.75). It is best to walk the walls either in the morning or late afternoon to escape the heat of the midday sun.
Fort San Jose
Fort San Jose was built to protect Campeche during the 18th century.  The Fort contains a museum of armaments and boats.  Check opening times before you visit.
Fort San Miguel
The Fort of San Miguel is now a Museum and houses pre-Hispanic items.
Campeche Evening Light Show
8.00 pm every evening in the main park in the Centro Historico of Merida is the popular 1 hour Light & Sound Show which depicts historical events, characters and stories.
Cathedral
Located on Calle 10 opposite Centro Park is Our Lady of the Immaculate Conception Cathedral of Campeche.  The Cathedral was constructed in the baroque and neoclassical style during 1650 – 1760.
Things to do outside the City of Campeche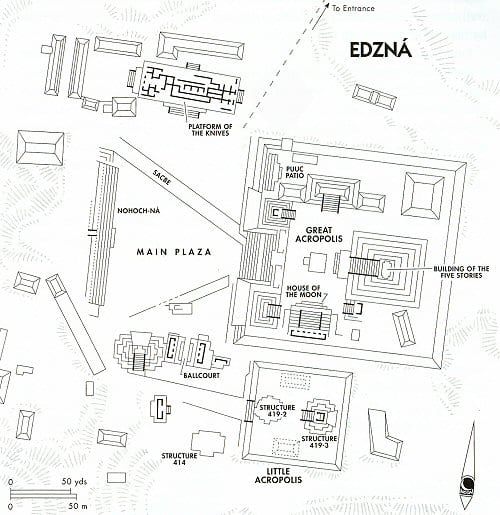 55km South-East of Campeche, you can visit the Mayan Ruins of Edzna.  The most impressive structure is the 40m high, 5 storey pyramid known as the Pyramid of 5 Storeys.  There is also an impressive Mayan Ball Court in the Plaza.
Opening Hours: 08.00 am to 17.00 pm
Entrance Fee: MXN60 (USD$3.00)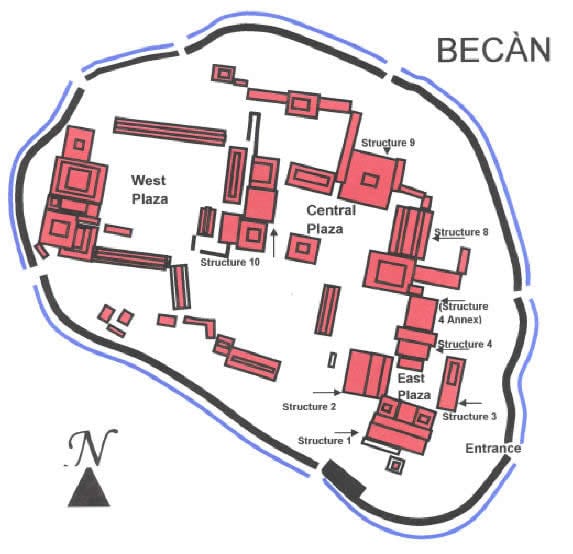 Becan is located 150km north of Tikal National Park in Guatemala.  There is a moat built around the city as a defensive ditch to protect the city between the years AD100 and AD250.  Located in the Central Plaza is the tallest pyramid standing at 30m high.
Opening Hours 08.00 am to 17.00 pm.
Entrance fee: MXN60 (USD$3.00).
Xpuhil is a small Mayan site in the state of Campeche. It is famous for its group of 3 Mayan towers that have facades of 70 degrees.  The archaeologists located secret stairways that transported priests to the top of the temples, the Mayan people thought it was magic when they saw the Priests on top of the temples.
Opening Hours: 08.00 am to 17.00 pm

Deep in the jungles of the Peten Basin in a biosphere reserve 35km from the border of Guatemala is the Mayan Ruins of Calakmul.  Calakmul was one of the largest Mayan cities and was the power seat of the Kingdom of the Snake – its emblem. There are over 6,750 structures within the site and the largest is the Pyramid known as Structure 2 which stands at an impressive 45 metres high.  It is believed to have contained 4 tombs inside the structure.
Opening Hours 08.00 am to 17.00 pm
Entrance Fee: There are 4 separate fees:
Community charge MXN60 (USD$3.00)
Vehicle MXN65 (USD$3.40)
Biosphere Reserve MXN80 (USD$4.00)
Archaeological site MXN85 (USD$4.60)
Laguna de Terminos
Mexico's largest estuary Laguna de Terminos is in the state of Campeche. It is 705,000 protected hectares of flora and fauna.
The mangroves are inhabited by ocelots, raccoons, manatees, boa constrictors, turtles, crocodiles and the green iguana.  There is an abundance of fish as well as bottlenose dolphins.
Campeche Mexico Beaches
Even though Campeche is on the coast it is not known for its beaches.
Some recommendations:
Playa Bonita at Lerma
Seybaplaya – a small fishing village with a rocky beach 20 miles south of Campeche
Champoton-a fishing village, south of here are miles of beaches
Sabancuy – a lagoon that is suitable for swimming
Where to stay in Campeche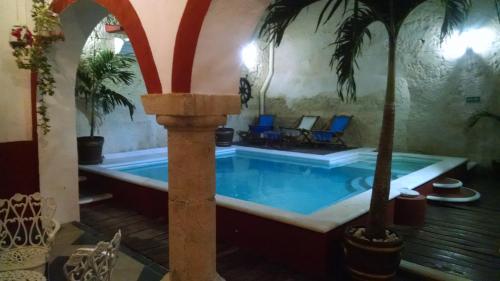 When we visited Campeche we stayed at the Hotel Maya Ah Kim Pech.  Our room overlooked the swimming pool, with high ceilings and it had a great colonial feel to it.  The location was perfect, 1 block away from the Main Square. It was excellent value for money.
Guest review: The location was perfect, we walked to the beach in just a few minutes to watch a beautiful sunset and there were lots of food choices nearby. Also our car was parked right out front and that was great.

Where to eat in Campeche
Tripadvisor has an extensive list of recommendations on where to eat in Campeche. Check out their recommended top 10.
Mexico Weather – Weather in the Yucatan Peninsula
Mexico is such a large country its weather varies from region to region.  The weather in the coastal regions is generally hot but you will need to understand when the rainy season kicks in.  When we visited San Cristobal de Las Casas in Chiapas state we had to wrap up warm, and early mornings in places like San Miguel de Allende and Ajijic as examples can be quite cool.  Mexico City can be chilly at times as well – so it is worthwhile researching weather patterns before you travel and pack accordingly.
The best time to go to Mexico to visit the Yucatan Peninsula is:
Winter is the best time to visit the Yucatan Peninsula between the months of December and April.  This is also high season for tourism and major sites such as Chichen Itza can be very busy.
During summer in July and August, it can be very hot and humid.
The rainy season is between September and November.
The Hurricane Season in the Yucatan Peninsula runs from June 1st to November 30th.
Yucatan Peninsula Facts
Some general information to make the best of your holiday to Yucatan Mexico.
Getting In
Airports in the Yucatan
Cancun International Airport [CUN]
Location: KM22 on the Cancun-Chetumal Highway
Cancun International Airport is located outside the city of Cancun at kilometre 22 of the Cancun-Chetumal highway.
Merida – International Airport [MID]
Location: 13km from the city centre of Merida
Campeche  Airport [CPE]
Location: 6km south-east of Campeche
Campeche airport is located 6 km/4 Miles southeast of the City.
Chetumal Airport [CTM]
Location: 2km from Chetumal
Cozumel Airport [CZM]
Location: 3km north of San Miguel
Booking Air Travel
We use Skyscanner to book all our flights around the world.  Skyscanner is one of our partners.  It is important for us to recommend to our readers a product that we regularly use and one that we feel confident in using.  There are a lot of airline websites out there, Skyscanner is one of the largest with an extensive range of airline fares available on a daily basis.  It is worth signing up for their alerts when planning your Mexico Holidays.
Flight Deals
For the latest flight deals compare prices on Skyscanner here:
Find the cheapest flights with Skyscanner.
Getting Around
Bus Travel
We have travelled extensively throughout Mexico with most of the journeys with ADO.  ADO covers the Yucatan Peninsula.  Check out the latest schedules and ticket prices here.
Rental Cars
Rental Cars are available throughout the Yucatan Peninsula from airport and city locations. Our partner is  AutoEurope.com.  As always when you hire any rental car please always read the small print.  Before you leave the Car Rental station, take photos of any dents or scratches on the car with your mobile phone and log the date and time if not already shown on your photos.
Always check your travel insurance policy to see what your travel policy covers in the way of car rental.
Travel Insurance
We recommend taking out travel insurance as soon as you book your flights and pay deposits on any cruises, tours or hotels.
Do You Need a Visa for Mexico?
Other General Facts on visiting Mexico:
Currency:
The Currency of Mexico is the Mexican Peso. Check out our currency conversion below.
Electricity:
127v/60hz American Plug type
Water:
It is recommended not to drink the water in any region of Mexico.
Read more:
We have written many articles on Mexico you can read more here.
Other Beautiful Places in Mexico To Inspire You
We hope that you have enjoyed our article on the Yucatan Peninsula.  If you like what you have read please feel free to share it with your family and friends.  Don't miss 5 cities in the Yucatan that you may have missed out on travelling to that you can include in your next travel itinerary.
If you would like more information or assistance in planning your travel to Mexico join our private Facebook Group – Mexico Travel Planning.
If you like our article why not PIN it for later.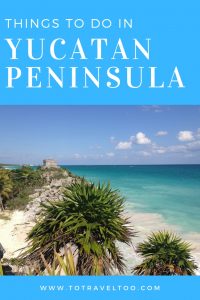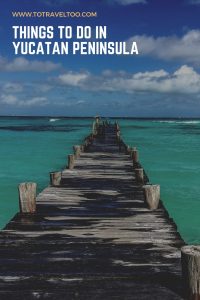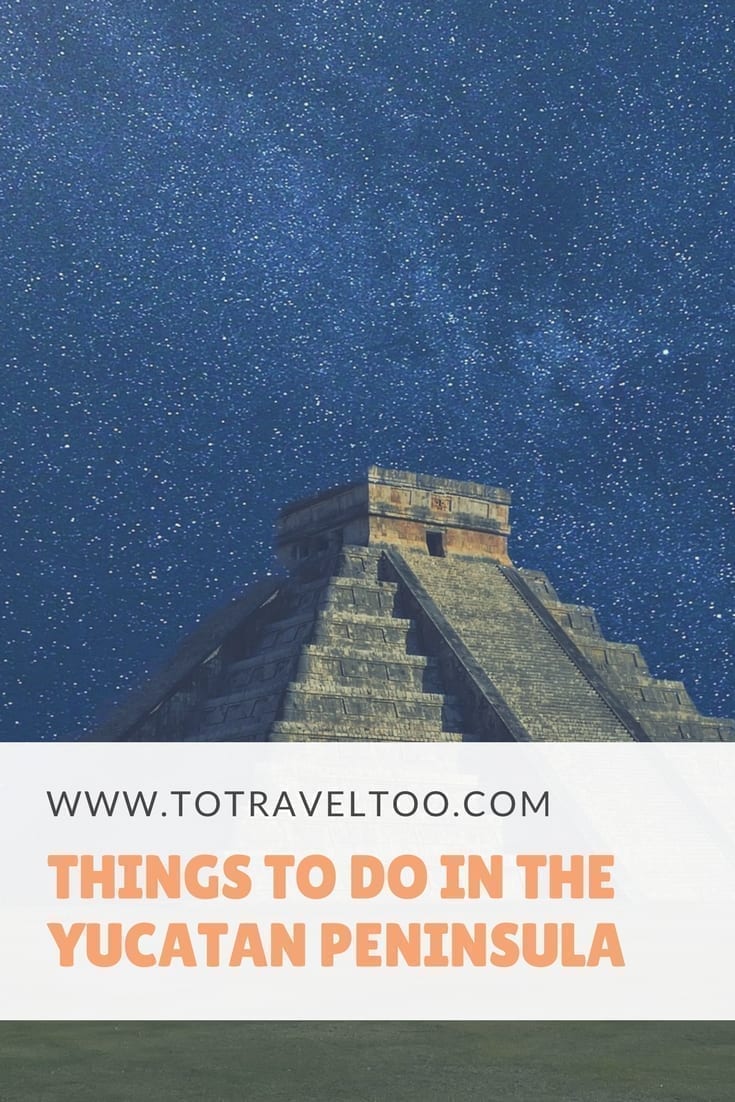 Our thanks to Visit Mexico and Yucatan Turismo for assisting us for 4 nights visiting the Yucatan Peninsula.  They provided us with a valuable itinerary, transport and some entrance fees to sites.  We also thank Wyndham Merida hotel for our complimentary accommodation.
Disclosure: Certain links in this post are affiliate links. This means that should you make a purchase via our link, we will receive a commission which will not affect the price you pay.
For further research and planning, we have a range of books from Amazon to assist you.