The country of Guatemala has so much to offer the traveller.  From the colonial city of Antigua to the beauty of Lake Atitlan, the coastal town of Flores Guatemala and a highlight for us visiting the Tikal National Park.
Did you know that some of the best things that you can do in Guatemala also include spelunking, rafting and bike tours as well as visiting volcanoes and visiting the Mayan site o Tikal?
(Editor Update 2021)
This post may contain affiliate links. Please see our disclosure for more information. As an Amazon Associate, we earn from qualifying purchases (if applicable).
Where is Tikal Guatemala
Tikal is located in the Department of El Peten in the Pete Basin in Northern Guatemala.  Tikal is 66.5km from  Flores, 527 km from Guatemala City and 228 km from Belize City.
Map of The Location of Tikal National Park in Guatemala (Tikal Parque Nacional)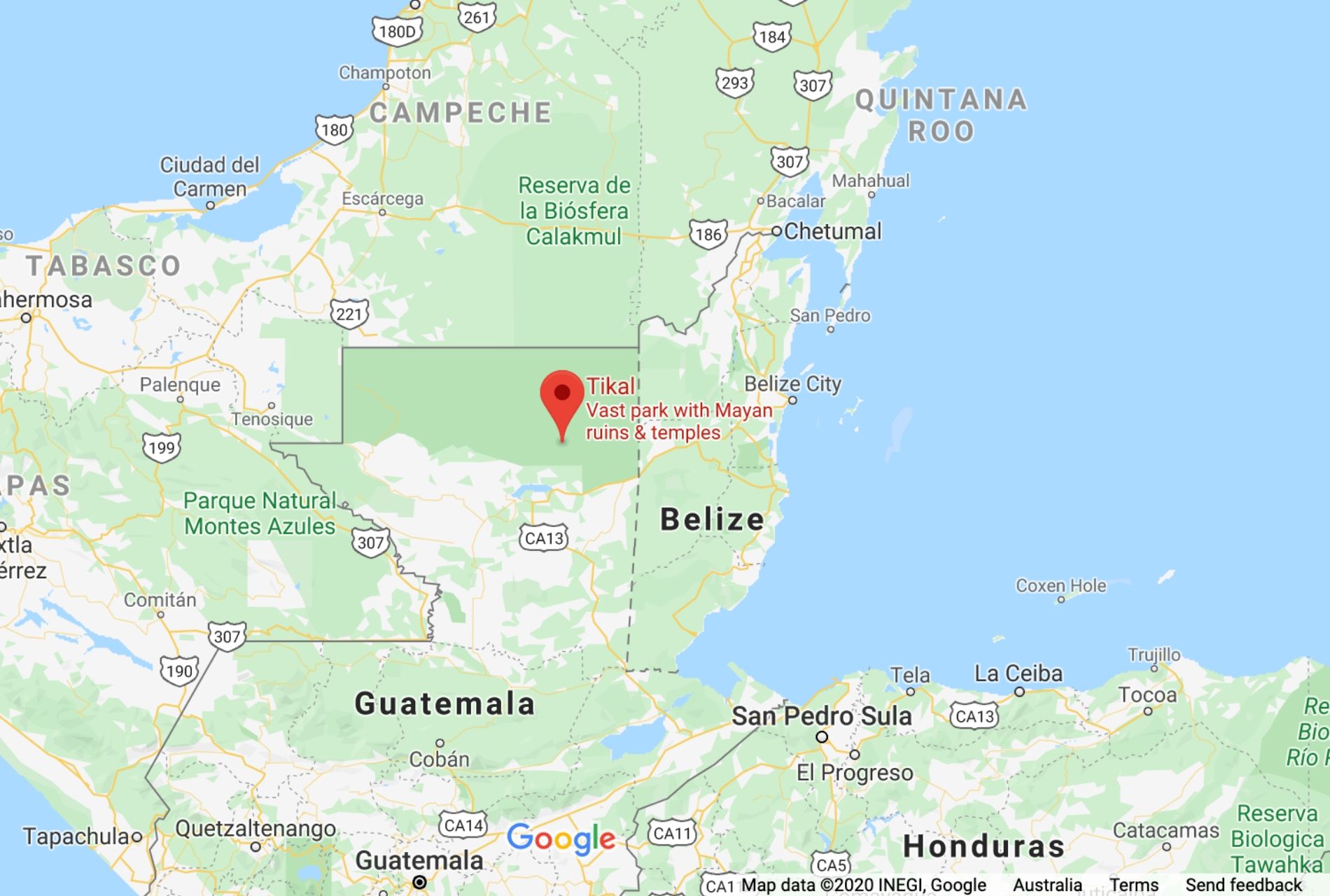 Tikal Map
Mayan Ruins Guatemala
The Tikal Ruins is one of the largest pre-Columbian Maya civilisations and in 1979 was declared a UNESCO World Heritage Site.  It was believed to be once called Yax Mutal. The site dates back to the 4th Century.
Tikal meaning:  'at the waterhole'. Tikal was the adopted name given after it was discovered during the 1840s. Tikal covers 16 sq km and has over 3,000 structures. Tikal National Park covers an area of 570 sq km.
You may enjoy reading the full history of Tikal and the Mayan Civilisation before your visit:


Our Top Tips To Visit Tikal
If you are visiting Tikal from Flores we would recommend organising a shuttle bus that leaves after lunch.  There are many travel agencies in Flores that will assist you in booking local transport. You can pre-purchase Tikal National Park tickets after 3 which allows you to book into your hotel and visit parts of the Park itself.
We can recommend staying at the Hotel de la Isla Casona in Flores prior to visiting or ending your journey to Tikal. Hotel de la Isla Casona is centrally located in Flores with a pool.
Click here for the latest prices. 
You can either organise Sunrise tours or wait till you arrive at Tikal as we did.  We arranged a tour with one of the local guides who had lived all his life in and around the park and knew every detail of the Tikal ruins.
When we did a sunrise Angkor Wat tour we also chose a local guide who had lived in and around the complex. Not only are they experienced but we are giving back to the local community.
To pre-book a day tour from Flores to Tikal with lunch click here for more information.
To Travel Too Tip
We organised a sunrise tour to the Tikal Temples and in the afternoon completed the sunset tour before heading back to Flores.  We got the best of both worlds.  It can get hot during the day so we would recommend considering either the sunrise or sunset or even both if you have the time.
Our Sunrise Tour
Our alarm was set at 3.30 am and by 4.00 am we were waiting outside the Jaguar Inn in Tikal.  In the cool of the morning and in pitch darkness our guide Alberto arrived. He is a local park guide and does not need a torchlight to find his way through the jungle, his home.  Alberto was insistent that we meet at 4 am, he wanted us to be the first at Temple IV to view the sunrise and to experience the jungle around us waking up before many other groups arrive.
For more details and the latest prices for the Jaguar Inn in Tikal click here
Off We Head Into the Tikal Jungle
Alberto arrived promptly at 4.00 am and produced a small torch for us and off we went following in his footsteps, sidestepping a poisonous black snake within minutes.  It was really eerie, not knowing where you were walking or where you were putting your foot as you took off into the blackness of the jungle.
He instructed us to turn our torch lights off as we approached the "Great Pyramid Plaza" or "Lost World" to view the shadows it makes on the surrounding landscape. The shadows were large and creepy and we were so pleased we had Alberto with us guiding us through these ancient monuments.
Suddenly from out of nowhere howling and screeching could be heard in front of us, we jumped.  Alberto chuckled as he enlightened us that it is the Howler Monkeys as they are awakening and calling for their mates.
Alberto stopped abruptly, moved his head ever so slightly to the right, and put his finger to his mouth signalling us to be quiet, there is a jaguar quietly calling out to his mate in the jungle to our right. What had we let ourselves into!
We arrived at Temple IV and climbed the rickety wooden staircase to the top to take a prime position.  Alberto did not come with us, he wanted us to experience the waking up of the jungle first before he joined us.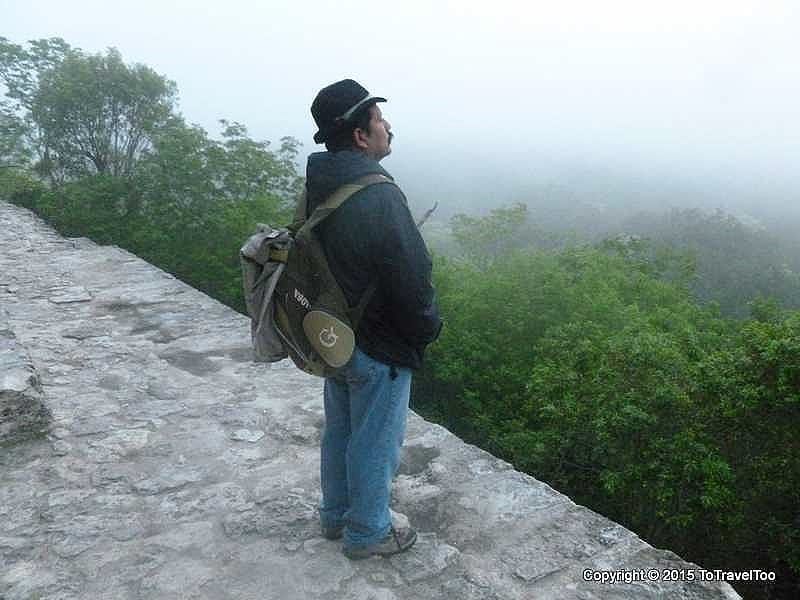 The mist shrouds the other temples in the darkness.  There is one other person already seated on the Temple steps setting up his tripod in time for the sunrise.  We greeted one another quietly and listened to the sounds evolving around us.
The Howler monkeys continued screeching around us in the darkness and the mist, there seemed like hundreds of them from the noise that they were making.  Birds started to wake and we heard their many varied calls amongst the trees and bushes close by.  The mist started to clear and we could view Temple III in the distance, then the mist enclosed the temple once more and we sat in near darkness.
Now others had arrived and their chatter was as loud as the Howler monkeys.  Alberto appeared silently and with authority said "ssshhh listen, just listen'. There was silence at last.
The sun tried to break through the mist,  as it did we managed an occasional glimpse of the other Tikal temples. It became clear that a stunning sunrise was not going to happen that morning for us.
As we were just about to leave Temple IV,  Macaw birds were sighted on the trees below us, their colourful vibrant plumage showing through the trees whilst their loud calls and screams echoed through the jungle.  It was only now that the mist cleared and we were able to get a clearer view of the temples in front of us.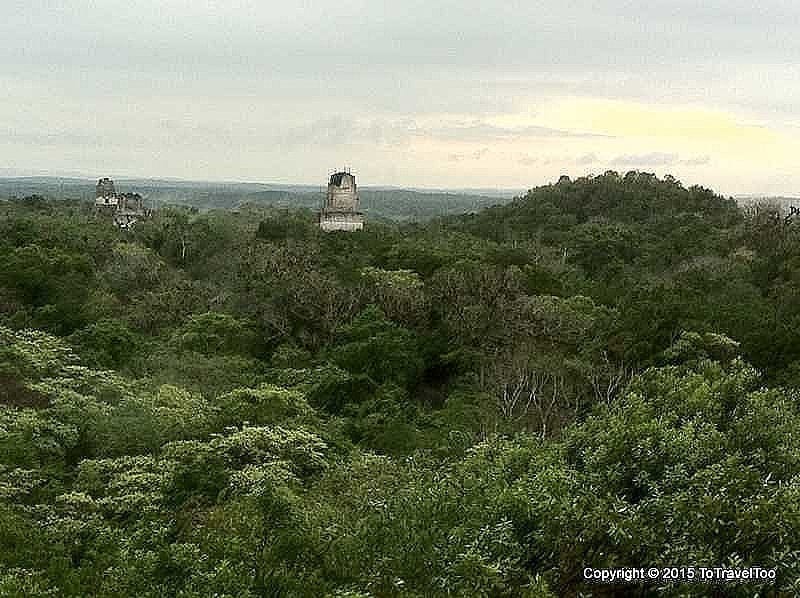 We left Temple IV with Alberto to have a private tour through the Temple grounds, before heading back to the Jaguar Inn for breakfast at 8 am.
Tikal Tours
More Hotel Accommodation Tikal National Park
There are 3 other hotels located in the Tikal National Park:
Tikal Restaurant
Click here for the top 5 Tikal restaurants
Flight Deals to Guatemala
Find the cheapest flights with Skyscanner  our go-to when researching and booking flights throughout the world.
Travel Insurance
We recommend taking out travel insurance as soon as you book your flights and pay deposits on any cruises, tours or hotels.
When is the best time to visit Guatemala and Tikal National Park
The busy tourist season is from January through to March.
The hottest months are June, July and August.
The best months weather-wise is December through to February which coincides with the busy tourist season.
Pinterest
Are you on Pinterest? We are at To Travel Too and we have many travel-related boards check us out at Pinterest.  If you enjoyed our article why not pin it to your board.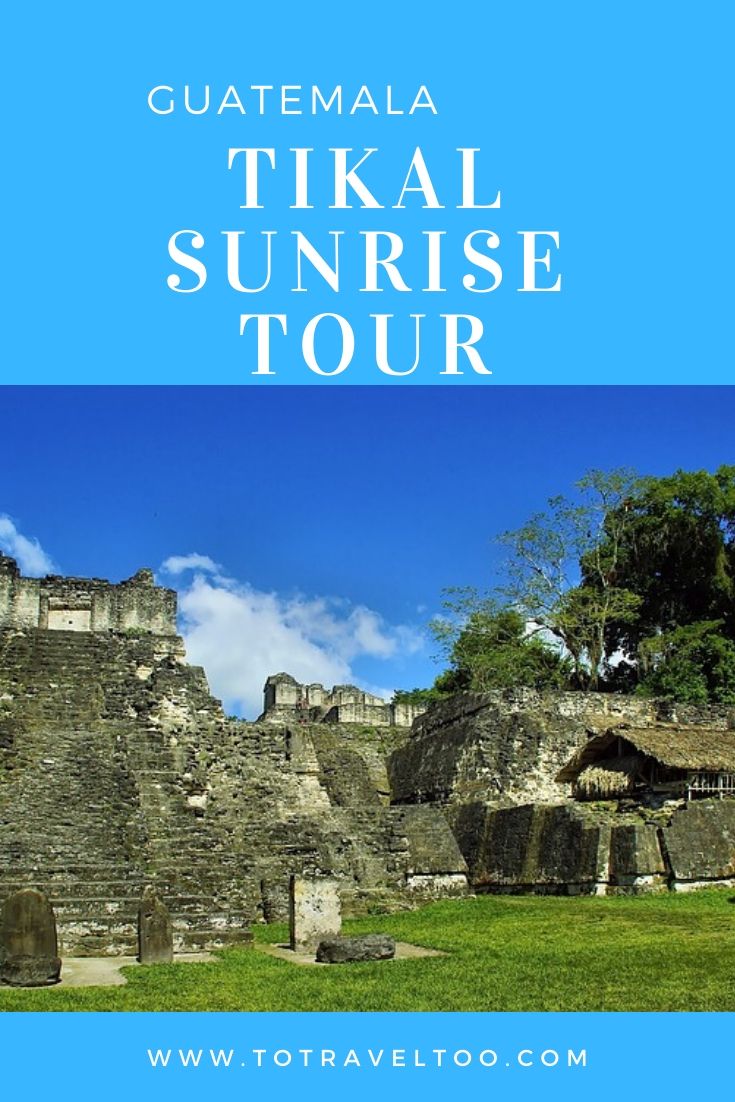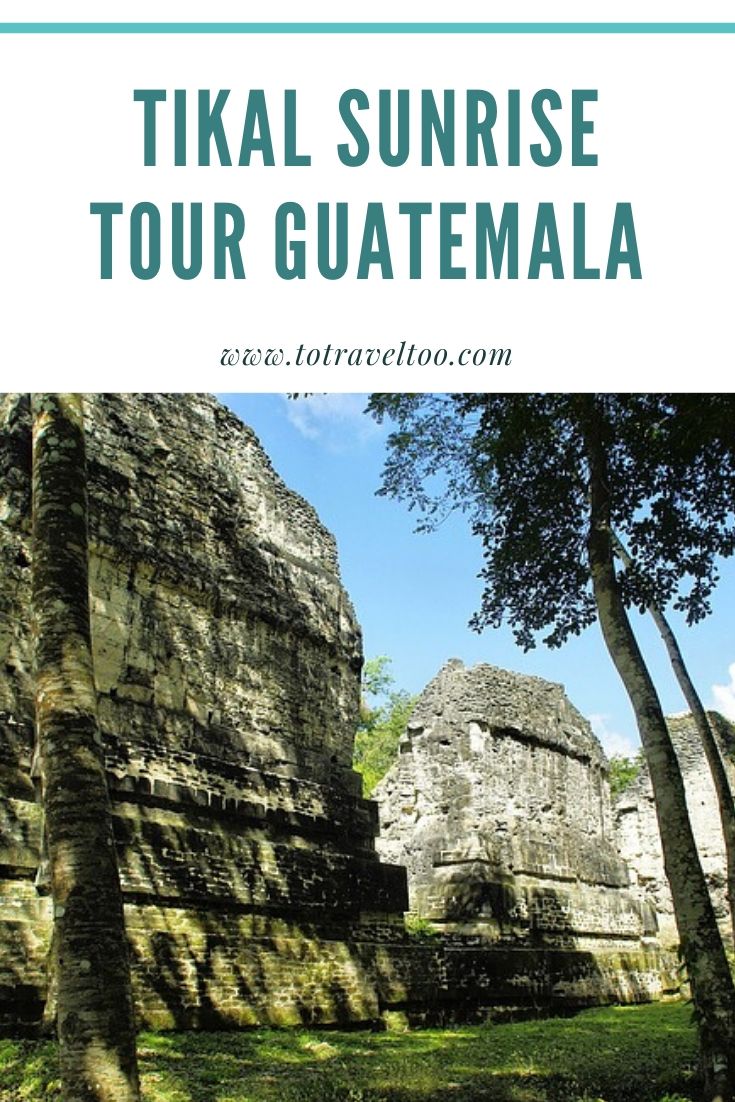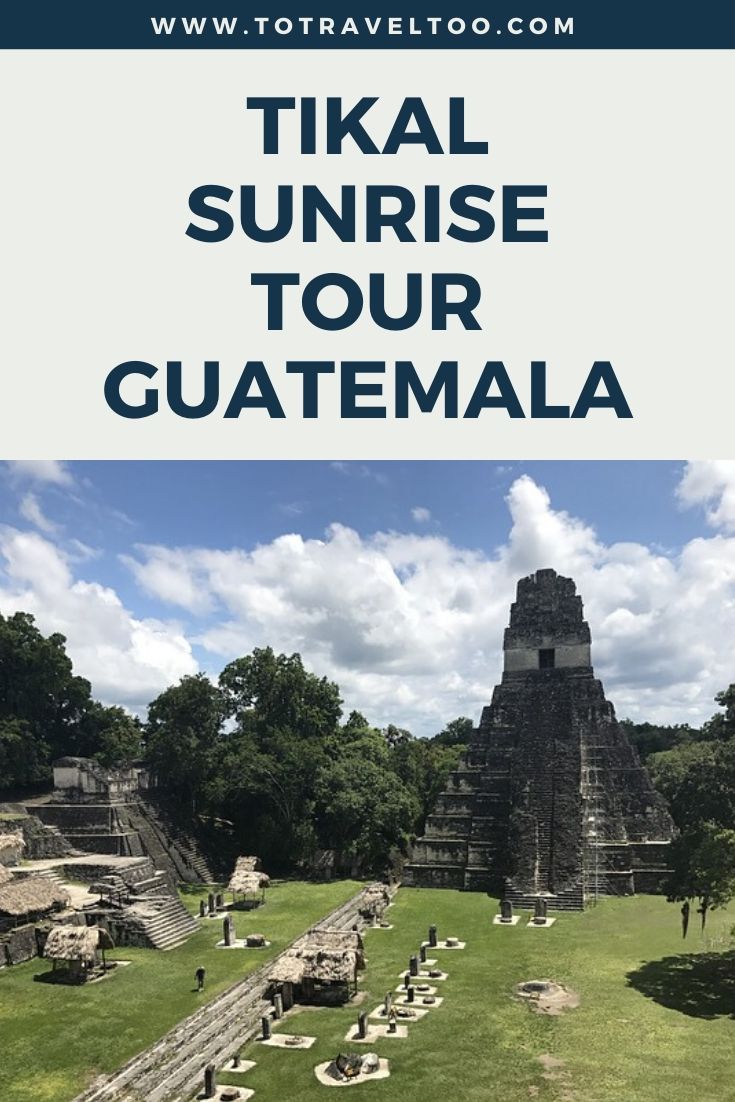 To Travel Too Travel Shop
Travel smarter and safer with products from our To Travel Too Travel Shop.  If you are looking for the latest luggage, guidebooks or travel accessories we have you covered with over 800 travel products to choose from.