Top 10 Reasons to Visit Minho Portugal
Our extensive Minho guide shows you how to enjoy this beautiful area of Portugal.  If you enjoy, Vinho Verde wine, chocolates and local cuisine, Minho is a region that you should put on your travel list. Visiting Minho is one of the top things to do in Portugal.
Tucked into the northeast corner of Portugal, the area known as the Minho has not officially existed since 1976, but don't tell the Portuguese that. As far as they're concerned the land between the rivers Douro and Minho is still very much alive and well. In fact, they consider it the most beautiful part of their mainland and they definitely don't need a reason to visit it.
This post may contain affiliate links. Please see our disclosure for more information. 
Minho is beautiful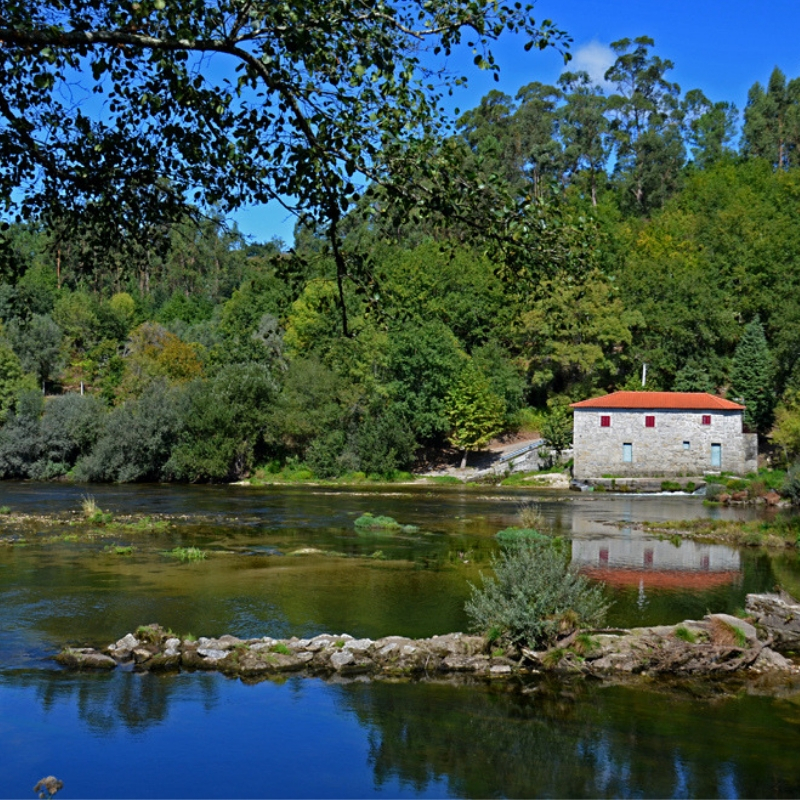 Fed by an abundance of underground water channels and by the languid Lima River that threads its way through the valley floor, this is some of the country's most fertile land.
Wander its country lanes beneath arbours of grapes and you'll see a landscape awash with fields of golden corn; velvet-green couve galega – the greens used in traditional caldo verde soup – and vines strung on tall trellises above the crops, their tendrils heavy with the plump grapes that produce the region's famous vinho verde.
Stay in traditional Portuguese manor houses
During Portugal's Golden Age of Discovery when navigators were returning from Brazil and China, their caravels laden with treasure, it was from Viana do Castelo that many sailed and returned, bringing untold riches to the region.
Throughout the 15th- and 16th centuries, noble families constructed great houses in Minho's green and pleasant land. Today some of the finest open their doors to a select number of visitors who get to experience what it's like to be 'to the Portuguese manor born' without having to worry about paying the bills for the upkeep – gulp.
It's a garden-lovers dream
If wandering around the garden with secateurs in one hand and a trowel in the other is your idea of a good time, you'll love the Minho.
Awash with flowers, particularly during spring and early summer, the blossom on the region's floral riches is Ponte de Lima. As if being one of Portugal's oldest and prettiest towns, with a Roman bridge spanning the River Lima and a wealth of parks and gardens isn't already enough, the town also stages an annual International Garden Festival between the last Friday in May and the 31st October.
Walk the Caminho de Santiago
Meander your way northwards towards Ponte de Lima and you'll find yourself following a trail of scallop shell symbols and having people shout a cheery Bom Caminho! at you as you go.
Part of the Northern Way of the Portuguese Caminho de Santiago runs through Ponte de Lima on its way to Santiago de Compostela in Spain but unlike its Spanish counterpart, a fraction of the number of pilgrims use it, so you can enjoy the experience of treading these hallowed paths without the hordes.
Cross the Legendary River Lima
Legend has it that, when a Roman Legion en route to conquer Galicia reached the River Lima they stopped, too frightened to cross it. Such was the beauty of the river that the legionnaires believed it was the mythological Lethe – the River of Forgetfulness that divided the world of the living from that of the dead – and that, once crossed, all memories of life, love and family would be gone.
At an impasse, their commander, Decimus Junius Brutus, came up with a cunning plan. Crossing the river, he called every one of his men by name from the other side, thus proving his memory was still intact and the river was not the Lethe.
Visit a Chocolate Factory
In a village the size of Durrães which has just one supermarket, two bars and a church, the sight of a small chocolate factory is likely to stop you in your tracks, which is handy because then you can pop in for a visit. The oldest chocolate factory in Portugal, Avianense has been in business for over a century and is the producer of the country's much-loved Emperor bars. You can tour the factory, visit the small museum and naturally, taste the chocolate – well it would be rude not to.
It's Vinho Verde country
Called 'green wine' because of its youth rather than its hue, vinho verde is one of Portugal's best-loved wines.
Light and slightly sparkling, according to the Count of Calheiros whose dinner parties are awash in vinho verde from his own vineyards, it's virtually impossible to get drunk on this quaffable wine. Book yourself onto one of Inntravel's manor house holidays and you can test the Count's theory for yourself.
Follow in Rome's footsteps
The towns and villages of the Minho are some of Portugal's oldest and still carry the picturesque vestiges of their Roman occupation, particularly the bridges, the most spectacular of which is the footbridge that crosses the River Lima in Ponte de Lima. Dating back 2000 years, this beautiful icon of the town looks at its best reflected in the waters of the Lima at sunset.
Have dinner with a Count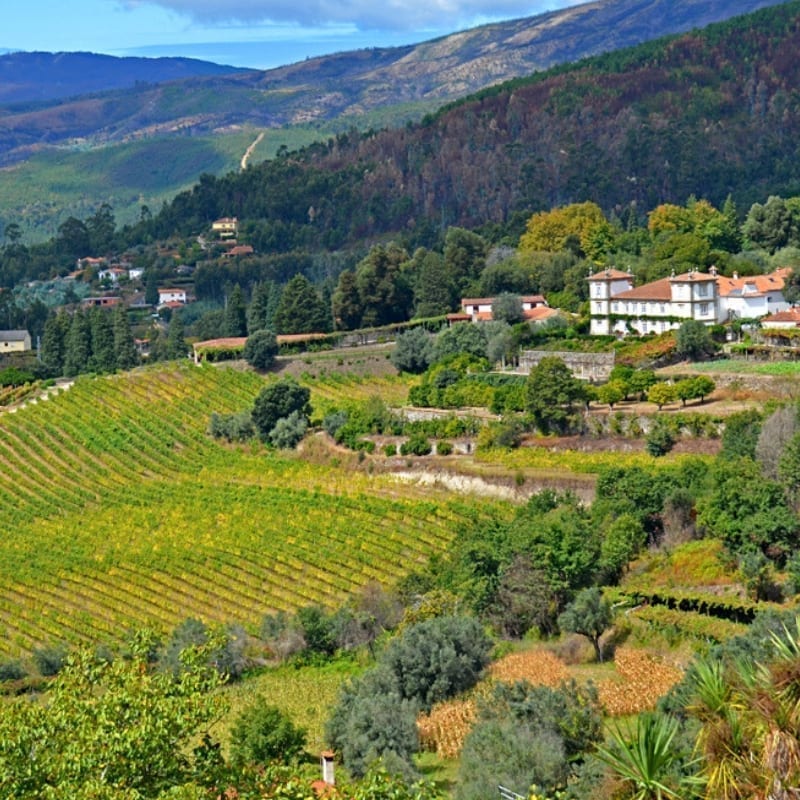 In the village of Calheiros, you get to stay at the magnificent ancestral home of Count Francisco do Calheiros. Poised above the valley, its extensive vineyards and gardens spilling down the green hillside towards Ponte de Lima, this 17th-century manor house is considered one of Portugal's finest, and has been the family seat of the Count for more than six centuries.
A wonderfully gregarious character who's delighted to join his guests for dinner, the Count's conversation flows as freely as his vinho verde. The perfect opportunity to put that theory of his to the test.
Try the Sarrabulho
If you're the sort of person whose face contorts at the mere mention of such delicacies as fried liver or stewed kidneys, this is not something you're going to want to try but if you're a foodie who's willing to look beyond the "ewww!" factor, you'll love sarrabulho.
One of the region's culinary specialities, sarrabulho is two meals in one; not only do you get a plate piled high with cuts of meat and pieces of blood sausage (was that a "ewww" I heard?) but you also get a steaming bowl of rice cooked in pig's blood and spices. Yum.
Minho Map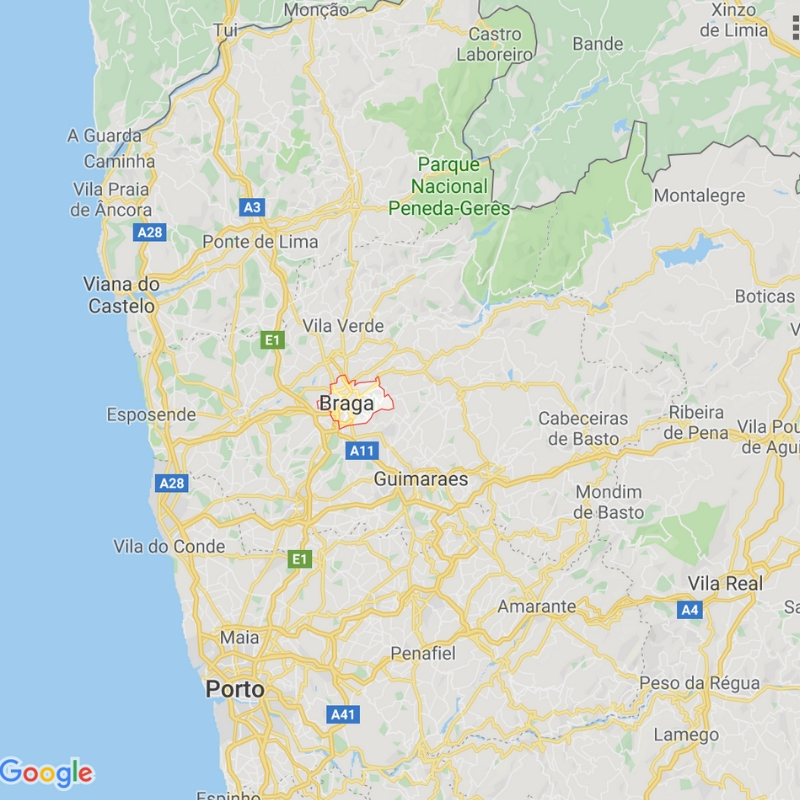 Minho Region of Portugal Facts
The Capital of the Minho Region is: Braga, Portugal
 What airports in Portugal are closest to Minh?  Porto is the closest airport.  Braga is 1   hour by train from Porto.
 How many train services are there a day from Porto to Braga? 11 – 14 trains a day
 Can you travel by train from Lisbon to Braga? 8 – 11 trains make the 5 hours 30-minute journey daily from Lisbon to Braga.
 Can you hire a car from Porto? How long does it take to drive? Yes, you can hire a car from Porto. The journey is 1 hour.
Can you take a bus from Porto to Braga? Buses run from Porto to Braga every 30 minutes and takes between 60 – 70 minutes.
Can you take a bus from Lisbon to Braga? The bus service from Lisbon takes 4 hours 30 minutes and there are between 8 – 11 services daily.
Can I stay in unique manor houses in the Minho region? Yes, you can click here for more information.
If you have 5 days in Portugal or even 8 days in Portugal would you travel to Minho? Yes, of course. The region has so much to offer the visitor however many days you have available
How far is Minho from the Algarve in Portugal?  It is 633 km from the Algarve.
Minho Portugal Weather: Best Time To Visit
The busiest time to visit Minho is in summer between the months of May and August which is also the hottest time. May is the busiest month for tourists, followed by August then July.
A milder climate can be experienced in Spring and Autumn. In winter you can expect snow and temperatures on average around 12 degrees.
Is it safe to travel to Minho
The latest report states there are no travel advisories or warnings, you do need to check with your country's government and their current regulations about COVID 19.
Latest Flight Deals To Porto and Lisbon
Find the cheapest flights with Skyscanner our 'go-to' when researching and booking flights throughout the world.
Have you booked your travel insurance yet? Click here
Tours Available to the Minho Region:
You may enjoy our other articles on Portugal:
Walking Tour of Funchal Madeira
Yellow Hop on Hop off Bus Porto
Yellow Hop on Hop off Bus Funchal
Things to do in Madeira Portugal
Porto Walking Tours with Porto Walkers
Travel Insurance
We recommend taking out travel insurance when you book and pay for flights and pay for deposits on cruises and tours.
If you enjoyed our article why not PIN it for later:
We have a To Travel Too Travel Shop with over 500+ travel items. Check it out here.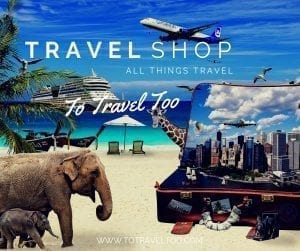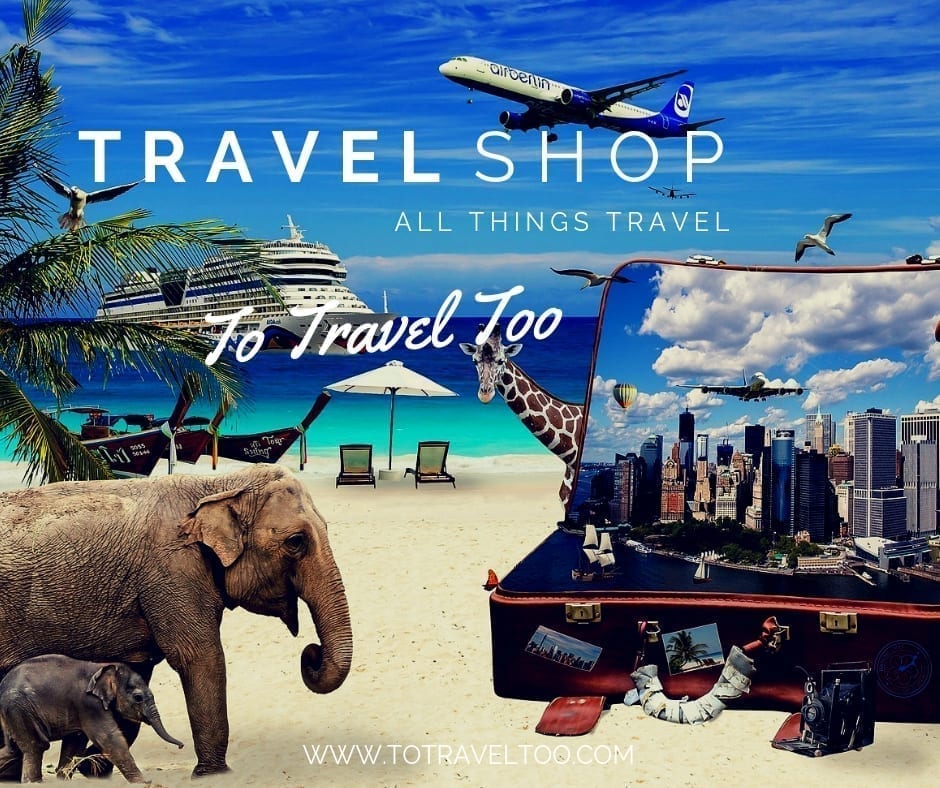 Do You Need a Visa or Health Declaration for Portugal