Our Top 15 Most Beautiful Places To Visit in Vietnam is an extensive guide on all things Vietnam.
Have you ever wanted to travel to Vietnam but you were not sure whether you wanted a city break, a beach break or even a mountain break? What about a cruise around Halong Bay or even crawl through the Cu Chi tunnels?
Join our new Facebook Group – Vietnam Travel Planning.  We will share our top articles and tips on all things in Vietnam.

Emily Pham is our guest contributor highlighting the top 15 most beautiful places to visit in Vietnam. Emily was born in Vietnam and has extensive local knowledge. Her informative article will give you the best of Vietnam for your itinerary planning.
For the latest information on obtaining Visas for travel to Vietnam click here.
Updated November 2019 (with the latest tours and accommodation that To Travel Too has experienced in their 3 months travel throughout Vietnam in 2019).
Vietnam Map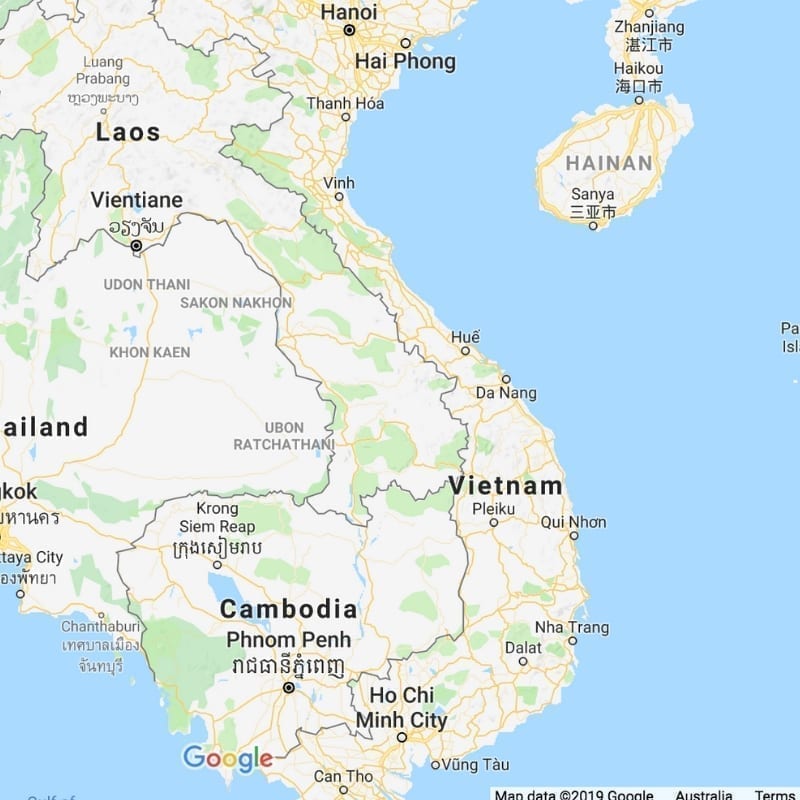 Flights to Vietnam
The two major airports for flying into Vietnam are either Hanoi or Ho Chi Min City.
For the latest airfare deals from the USA and Canada  click here
For the latest airfare deals from Oceania (Australia and New Zealand) click here
For the latest airfare deals from the UK and Europe click here
Top 15 Most Beautiful Places To Visit In Vietnam
Along with Thailand, Singapore, Japan, Philippines, Vietnam is another ideal nation in Asia for tourists to visit. If you are planning to travel to this beautiful country, don't forget to read the following top 15 most beautiful places to visit in Vietnam, which promise to give you the unforgettable moments ever.
Halong Bay #1 Top 15 Most Beautiful Places To Visit In Vietnam
Situated on the Western side of Gulf of Tonkin, Halong Bay is one of the most beautiful natural places in Vietnam. It includes the island and marine areas of Halong city, Cam Pha city and a part of Van Don District, Quang Ninh province. The bay has a coastline of 120 km, an area of about 1,553 km2, 1,969 islands, of which the central region of the bay covers an area of 335 km2 with 775 different islands.
When coming to Halong Bay, most tourists are impressed with the romantic beauty of the "cloud and water wave" sceneries. Besides, Halong also gives visitors the feeling of peace when immersing in the unique landscapes here. Thus, in 1994, Halong Bay was recognized as a World Natural Heritage for the first time by UNESCO. In 2012, New Open World organization had officially regarded it as one of the seven new natural wonders of the world.
Read more about Halong Bay and Cruising here.
Where to Stay in Halong Bay
What to do in Halong Bay – Suggested Tours
Hoan Kiem Lake Or Sword Lake
This is a natural freshwater lake of Hanoi the capital with an area of about 12 hectares. In the past, the lake also had other names, such as Luc Thuy lake, Thuy Quan lake, Ta Vong lake, and Huu Vong lake. The name "Hoan Kiem" lake appeared at the beginning of 15th century in association with the legend of King Le Thai To who returned the magical sword to the golden turtle. Also, Hoan Kiem Lake is a symbol of peace and virtue of Vietnamese people. Therefore, many artists take the image of Sword Lake as the foundation for their works.
Where to stay around Hoan Kiem Lake
We can personally recommend the following two hotels from the Trang Trang Hotel Group.  They are located only a few minutes walk from Hoan Kiem Lake and are in the Old Quarter.  If one is fully booked you can book the other way.  The rooms are excellent, comfortable and clean, WiFi is excellent, hot options available at the buffet breakfast and the staff are very welcoming and helpful.
Trang Trang Boutique Hotel– 104 Pho Ma May 104 Pho Ma May Phuong Hang Buom Quan Hoan Kiem Thanh Pho Ha Noi, Hoan Kiem, Hanoi, Vietnam. A 3-star hotel. This street is really interesting to walk around.  We can recommend visiting the Old Traditional House in the street. Opposite the Old Traditional House, we can recommend the Trang Trang Hotel – 15 Cho Cau Go, Hoan Kiem, Hoan Kiem, Hanoi. This hotel is only minutes from the Water Puppet Theatre.  A 3-star Hotel. They are due to open a Sky Bar with magnificent views over the lake at sunset August/September 2019. We would recommend visiting at sunset.
What to do around Hoan Kiem Lake
Recommended 5 Star Accommodation in Hanoi
The Pullman Hanoi Hotel is located about 3km from Hoan Kiem Lake and within walking distance of the Ho Chi Minh Mausoleum, Temple of Literature and the Ho Chi Minh Museum. The 5-star luxury hotel has a swimming pool, spa, tennis courts and offers High Tea in the afternoon as well as a very popular Lunch Buffet from Monday through to Saturday.
Thien Mu Pagoda
Thien Mu Pagoda is one of the most famous ancient pagodas in Vietnam. It is also known as Linh Mu Pagoda, which is located on Ha Khe hill, about 5 km from Hue city, Vietnam. This pagoda was officially built in 1601 under Tien Nguyen Hoang Lord reign. Thanks to the natural beauty and large scale, Thien Mu Pagoda becomes the most beautiful pagoda at that time. After many historical events, the pagoda was restored many times under Nguyen dynasty. Nowadays, the place is still reconstructed for magnificence and attractiveness.
Where To Stay Close to Thien Mu Pagoda
The closest main town to the Thien Mu Pagoda is Hue. Accommodation details are based on staying in Hue.
We can recommend the Spice Viet Restaurant located in the Emm Hotel in Hue.
What to Do in and Around Thien Mu Pagoda
Related Reading:
Hoi An Ancient Town
Placed on the banks of Thu Bon River, Quang Nam province, about 25 km from Danang city, Hoi An is an ancient town which is very attractive to tourists. In the past, Hoi An was a commercial port with many traders from all over the world, which creates a diverse culture between East and West. Today, the town preserves the architectural relics and intangible cultural foundation in the customs, religious practices, folk arts, cultural festivals, traditional craft villages, etc. Moreover, the culinary culture in Hoi An is one of the unique things that tourists mention. If you come here, you should enjoy the traditional dishes, such as Quang noodles, white rose cake, Cao Lau, etc. It's wonderful!
Where to Stay in Hoi An
What To Do in Hoi An
Our articles on Hoi An to inspire you to visit:
Victoria Hoi An Beach Resort & Spa
Sidecar Tour to Monkey Mountain from Hoi An
Hanoi
Hanoi is the capital of a thousand years of civilization in Vietnam with a typical old town, which preserves the long-standing architecture and many traditional values. Hoan Kiem lake, Ngoc Son temple, and The Huc bridge are symbols of Hanoi. Besides, tourists can learn about Vietnamese's culture and history when visiting Ho Chi Minh's Mausoleum, Hoa Lo Prison, and national museums.
The special thing in Hanoi is the combination of the different cultures. You find nowhere in Vietnam where there are many cultural villages like Hanoi. Tourists will be excited when enjoying the unique beauty and cultural values of villages, Buddhists and French architectures here.
Related Reading: A Weekend Hanoi Itinerary
What To Do in Hanoi
Phu Quoc Island
Known as Dao Ngoc, Phu Quoc is the largest island in Vietnam and also the 22nd largest island in the Gulf of Thailand that you shouldn't ignore when traveling to Vietnam. Phu Quoc and other islands constitute Phu Quoc island district under Kien Giang province. The whole region has a total area of 589.23 km2. Nowadays, Phu Quoc has become famous for tourists all over the country and the world. This is not only because Phu Quoc is a beautiful island called the sunshine paradise, but it also contains many mysteries which haven't been discovered.
It can't be denied that nature gives Phu Quoc the harmonious sceneries and cool and pleasant climate all year round. Also, it owns the long and beautiful beaches with blue sea water and white sandy. Therefore, Phu Quoc will be an ideal destination for couples to go on a honeymoon or families for a vacation.
Where To Stay in Phu Quoc Island
What To Do in Phu Quoc Island
Sapa
Located on a highland town in Lao Cai province, Sapa is a great place that you shouldn't miss when coming to Vietnam. Thanks to the majestic natural scenery, beautiful terraced fields, mysterious love market, and rich cuisines, Sapa nowadays becomes more and more attractive to tourists. In other words, the natural landscapes in Sapa are combined with the creativity of people, the terrain of mountains and hills, the green color of forests. All things create a harmonious and romantic picture.
Furthermore, Sapa owns many beautiful tourist attractions, such as Ham Rong flower garden, Muong Hoa valley, silver waterfall, the stone church with Gothic style in the center, Bac Ha market, etc. Especially, Sapa possesses Fansipan – the highest mountain in Vietnam and was dubbed the "Indochina roof" which is very attractive to those who love climbing and conquering.
Where To Stay in Sapa
You can read our review of our stay at the Victoria Sapa Resort & Spa here
What To Do in Sapa
You can read about our stay in Sapa travelling from Hanoi to Sapa by the Victoria Express Train, our accommodation at the Victoria Sapa Resort & Spa as well as our trek through the rice fields to visit a local ethnic village and a Sapa market visit here.
Da Nang City
Da Nang city is one of the biggest cities in Vietnam which has been a familiar destination for domestic and foreign tourists due to its friendly people, clean environment, delicious and strange dishes with the strong local flavours. Da Nang is also known as a coastal city with beautiful beaches and white sands. After hard working days, you can come here for relaxation by diving in the blue water, playing with the waves, and sunbathing on the white sand. Not only that, there are many sea services, such as canoeing, dragging, windsurfing, banana sailing, water motor, watching corals, etc., that you should experience. Besides, it possesses many beautiful landscapes, such as My Khe beach - one of the most charming beaches on the planet, Ba Na hill with many entertainment activities, Son Tra peninsula, Ngu Hanh Son, Han River, Rong Bridge, etc.
Where to Stay in Da Nang
What To Do in Da Nang
There are many things to do in Da Nang and we share with you our top 11 fun and spontaneous things to do plus day tours below.
Nha Trang City
Nha Trang is a coastal city and a political, economic, cultural and tourist center in Khanh Hoa province, Vietnam. This land has the temperate climate, convenient transportation both in waterways, roads, airways, and railways. Thanks to the beautiful natural sceneries and rich historical contexts, Nha Trang has become a tourist attraction with many types of tourism, such as ecotourism, landscape tourism, community tourism, etc.
Also, it is famous for salanganes nest - one of the most nutritious foods used by Kings 400 years ago. Besides, Nha Trang is considered as the pearl of the Far East due to its natural landscapes, white sand beaches, and offshore islands with coral ecosystems. Especially, Nha Trang Bay is one of the 29 most beautiful bays in the world ranked by the world's bay club, and it was officially recognized in July 2003. Along with Ha Long Bay, Nha Trang Bay is the second bay of Vietnam to be classified as this honor. Moreover, when visiting this place, travelers have a great chance to enjoy the fantastic beauty of ancient Cham temples and quiet museums in the heart of the city.
Where to Stay in Nha Trang
What To Do in Nha Trang
Hue Citadel
Hue is one of the historical cities in Vietnam, which is associated with relics from Nguyen dynasty in the 19th century. Located on the peaceful Huong River, Hue Citadel has a large area and circumference around 10 km. There are some famous sites, such as Ngo Mon Gate, Thai Hoa Palace, Dien Tho Palace, etc., where you should visit when coming to this place. Besides, tourists can take a boat on the Huong River to visit tombs and pagodas, including Tu Duc tomb, Khai Dinh tomb, Thien Mu pagoda, etc.
Where To Stay in Hue
What To Do in Hue
Ho Chi Minh City
Ho Chi Minh City is one of the two biggest economic and cultural centres in Vietnam. Most tourists travelling to Vietnam want to come to Ho Chi Minh City for enjoying a diverse economic region and traditional cultural history. The first impression of the visitors when coming to this 300-year-old city is the excitement, youthfulness, and dynamism. Besides, you can see the high-rise buildings in the city centre, crowded markets, beautiful streets with shops, food stalls, restaurants, entertainment areas which are open to serve late at night.
It can be said that this is a modern city, but it still retains the charming architectural features from the French colonial period. Tourists can visit the War Remnants Museum, Cu Chi tunnels to find out the Vietnam War, or come to Notre Dame Cathedral, Ngoc Hoang Pagoda. If you want to go shopping, you should come to Ben Thanh Market – a familiar destination with many different kinds of items.
Where To Stay in Ho Chi Minh City
What To Do in Ho Chi Minh City
Cu Chi Tunnels
This is an underground defense system in Cu Chi district, which is known as "steel land," about 70km from the north-west of Ho Chi Minh City. This system was built by the National Liberation Front of South Vietnam during the Indochina and Vietnam War. Also, it is a unique architecture which is located deep in the ground with many floors and alleys, including spider net with the length of over 200 km, which took place Vietnamese people's accommodations, meetings and fights.
Cu Chi Tunnels owns three different deep levels; the upper level is about 3 meters from the ground; the middle level is about 6 meters from the ground, and the last level is more than 12 meters in depth. If you want to discover the tunnels, don't miss this place in your journey!
Where To Stay To Visit The Cu Chi Tunnels
To Travel Too recommendation is to visit the Cu Chi Tunnels from Ho Chi Minh City.  Please refer above to where to stay in Ho Chi Minh City.
How To Visit Cu Chi Tunnels
Our article on 5 days in Saigon staying at the Pullman Saigon Centre Hotel to inspire you to visit.
Mekong Delta
Mekong Delta is also known as the Southern Delta or Southwest region in Vietnam with the total area of 40,548.2 km2. Thanks to the long coastlines, unique tributaries, canals, islets, the Mekong Delta is suitable for ecotourism. Besides, when travelling this place, tourists will experience many exciting activities, such as visiting the vast orchards, sitting on one of the nine rivers that flow into the Sea of Mekong River, listening to Don Ca Tai Tu folk music and enjoying the specialities of Southern region, Vietnam. Moreover, when travelling here, you can visit the floating markets - a particular type of market only in the West of the river water.
Where To Stay in the Mekong Delta
To visit the Mekong Delta we would recommend staying in Ho Chi Minh City.  Please see above for our recommendations.
What To Do in the Mekong Delta
Mui Ne
Mui Ne is a famous tourist destination in the South Central Coast, Vietnam, 22km from Phan Thien city, Binh Thuan province. This place is also a strip of desolate coast with red dunes stretching like a desert and Vietnamese fishing villages. Along with that, Mui Ne attracts tourists due to many historical-cultural relics of diverse and multi-ethnic culture, including Kinh, Cham, Hoa. Furthermore, Mui Ne is famous for many beautiful relics, such as Cham Tower, Water Tower, Ong Pagoda, Van Thuy Tu Pagoda, and many other cultural, historical and tourism monuments.
Where to Stay Near Mui Ne
Emily has written an informative article on Mui Ne read it here.
What To Do in Mui Ne
Dalat
Dalat is the capital of Lam Dong province, Vietnam, situated on Lam Vien plateau with the height of 1,500 meters. This is one of the ideal places for couples thanks to the beautiful landscapes and pleasant weather all year round. The unique feature of Dalat tourism is the farms and forests where they grow flowers. Thus, it is regarded as the city of flowers, spring, love, and fog. When coming to this city, you should discover some famous places, such as Xuan Huong Lake, Love Valley, Pongour Waterfall, Dalat Station, Langbiang Mountain, etc.
Where To Stay in Dalat
What To Do in Dalat
Top Hotels in Vietnam
For accommodation options throughout Vietnam:
Vietnam Currency:
The official currency is the Vietnamese Dong.  US dollars are accepted in major hotels and shopping centres.
ATMs are available throughout Vietnam. There are fees associated with most of the Banks.
Vietnamese Restaurants
Vietnam is a foodies heaven.  To check out the top restaurants before you travel check out all the Tripadvisor reviews here.
Hence, what are you waiting? Your vacation is sure to be more interesting if you set foot on one or all of these top 15 most beautiful places in Vietnam. However, before departing, it is highly advisable to weigh up your travel plan carefully. Have a nice vacation!
Emily Pham Author bio:
I am Emily Pham. I was born in Vietnam – a country with many unknown beaches, historic sites, and tourist attractions. Understanding that Vietnam nowadays is a famous destination, I established the blog site vina.com with the purpose of introducing the elegant beauty of Vietnam to friends around the world. If you are planning a trip to Vietnam, our blog will provide you with essential information on where to go and what to do in our country.
Pinterest
Are you on Pinterest? We are at To Travel Too and we have many travel-related boards check us out at Pinterest.  If you enjoyed our article why not pin it to your board.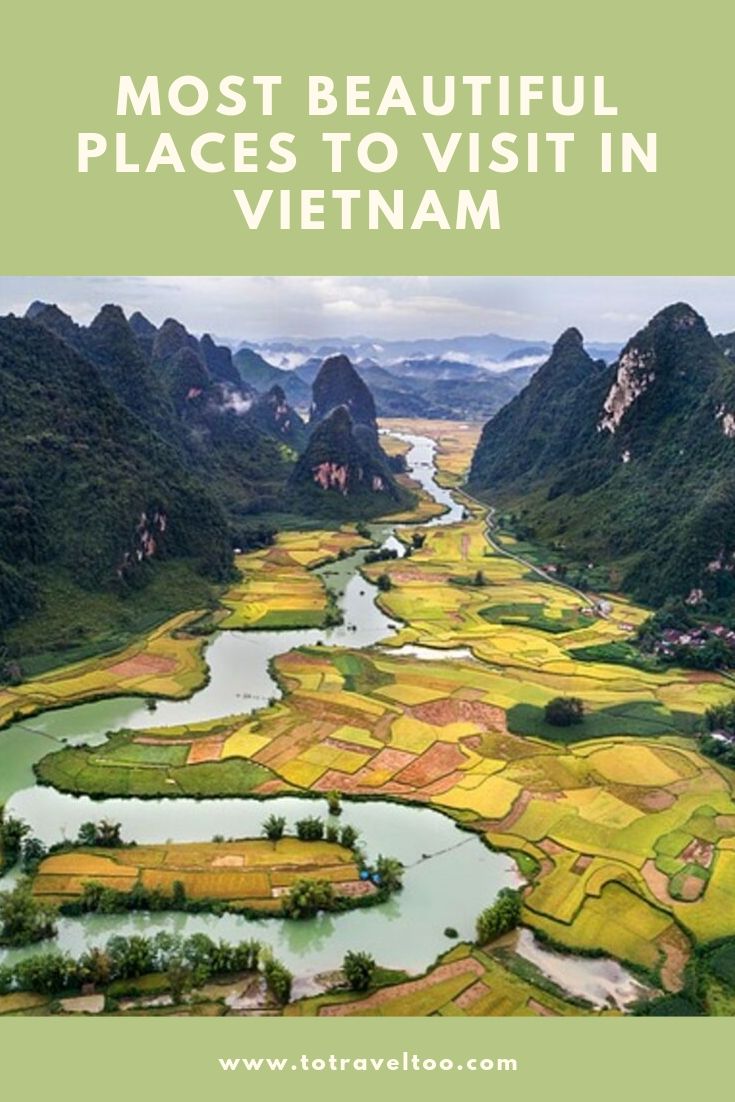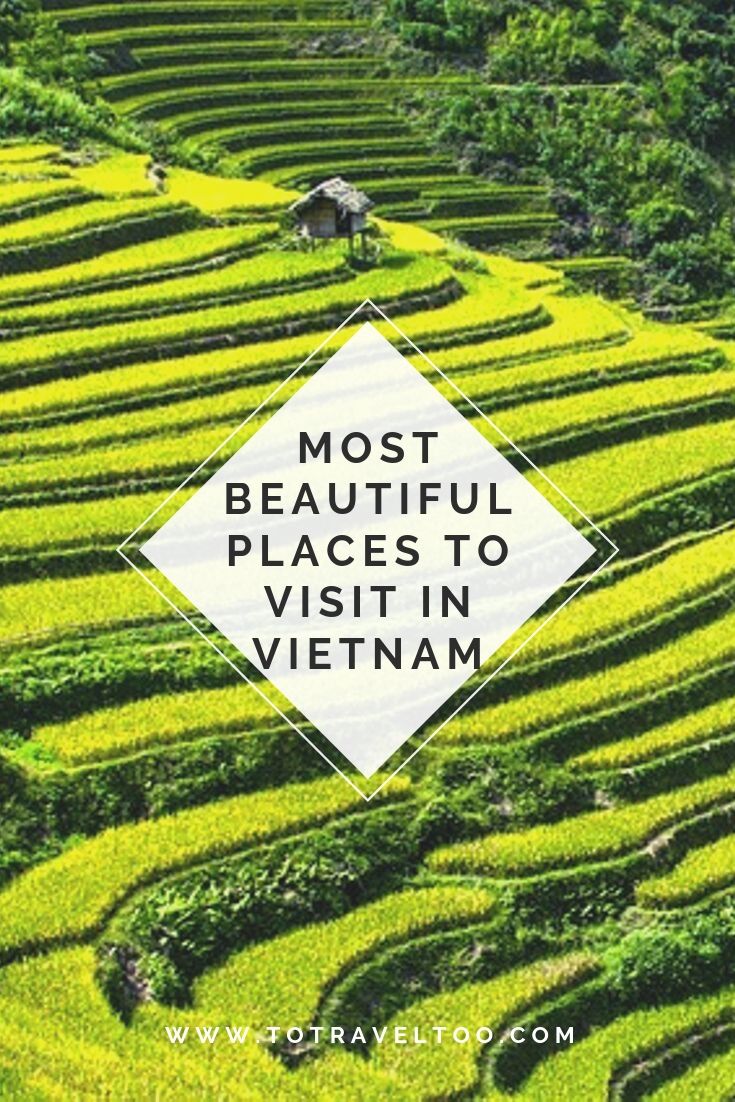 Travel Insurance
We always recommend that travel insurance is taken out when you start booking your travel and paying your first deposits or airfares.
For travellers from Australia and New Zealand here.
For travellers from the rest of the world click here.
Flights to Vietnam so that you can plan to see the Top 15 Most Beautiful Places To Visit In Vietnam
Skyscanner is the website we use to book flights around the world.  Check your latest flight deal from your home destination to Vietnam here
What excites us about Vietnam is the diverse countryside, excellent food, four regions with different climatic zones and the people. No wonder Tripadvisor rates Vietnam in its top SE Asian destinations each year to visit.
Further reading:
Check out our To Travel Too Travel Shop: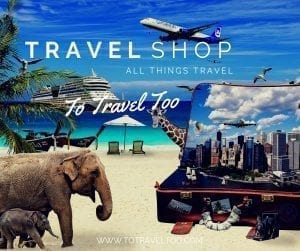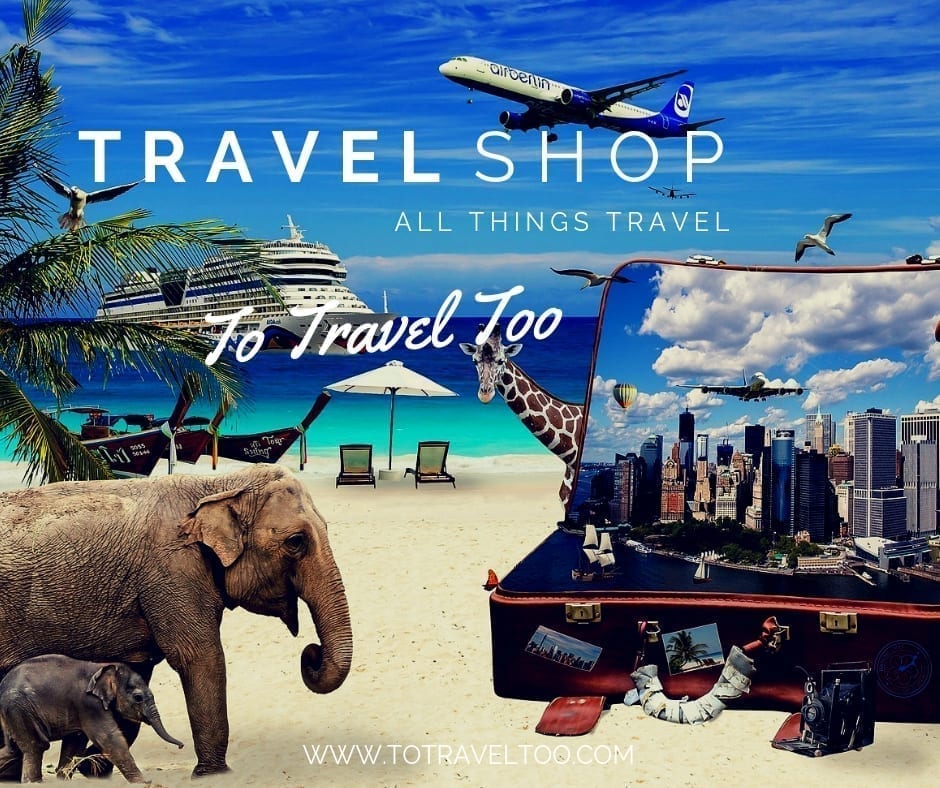 If you have any questions on the Top 15 Most Beautiful Places To Visit In Vietnam or would like some advice on other travel destinations we would love to hear from you. You can reach us via our Facebook page or email us here.
www.totraveltoo.com is a participant in the Amazon Services LLC Associates Program, an affiliate advertising program designed to provide a means for sites to earn advertising fees by advertising and linking to amazon.com, amazon.co.uk, amazon.ca. Amazon and the Amazon logo are trademarks of Amazon.com, Inc. or its affiliates.