Planning a visit to Kuala Lumpur? Looking for free things to do in Kuala Lumpur?
Discover the best places to visit in Kuala Lumpur Malaysia. Our article is perfect for your planning, we share with you what you can see for free, activities that will cost, how to get around easily, where to stay and more.
Plan to spend at least 4 – 5 days in Kuala Lumpur (KL) before heading out into the coastal areas to enjoy Malaysia's beautiful beach resorts or head into the mountains to escape the heat.
You can now download our article and walk KL with a GPS-enabled map offline. Click below for more details.
Best time to visit Kuala Lumpur
Kuala Lumpur has a humid tropical climate.  The best months to visit are between May and July and December to February.
This post may contain affiliate links. Please see our disclosure for more information. As an Amazon Associate, we earn from qualifying purchases (if applicable).
Map of Malaysia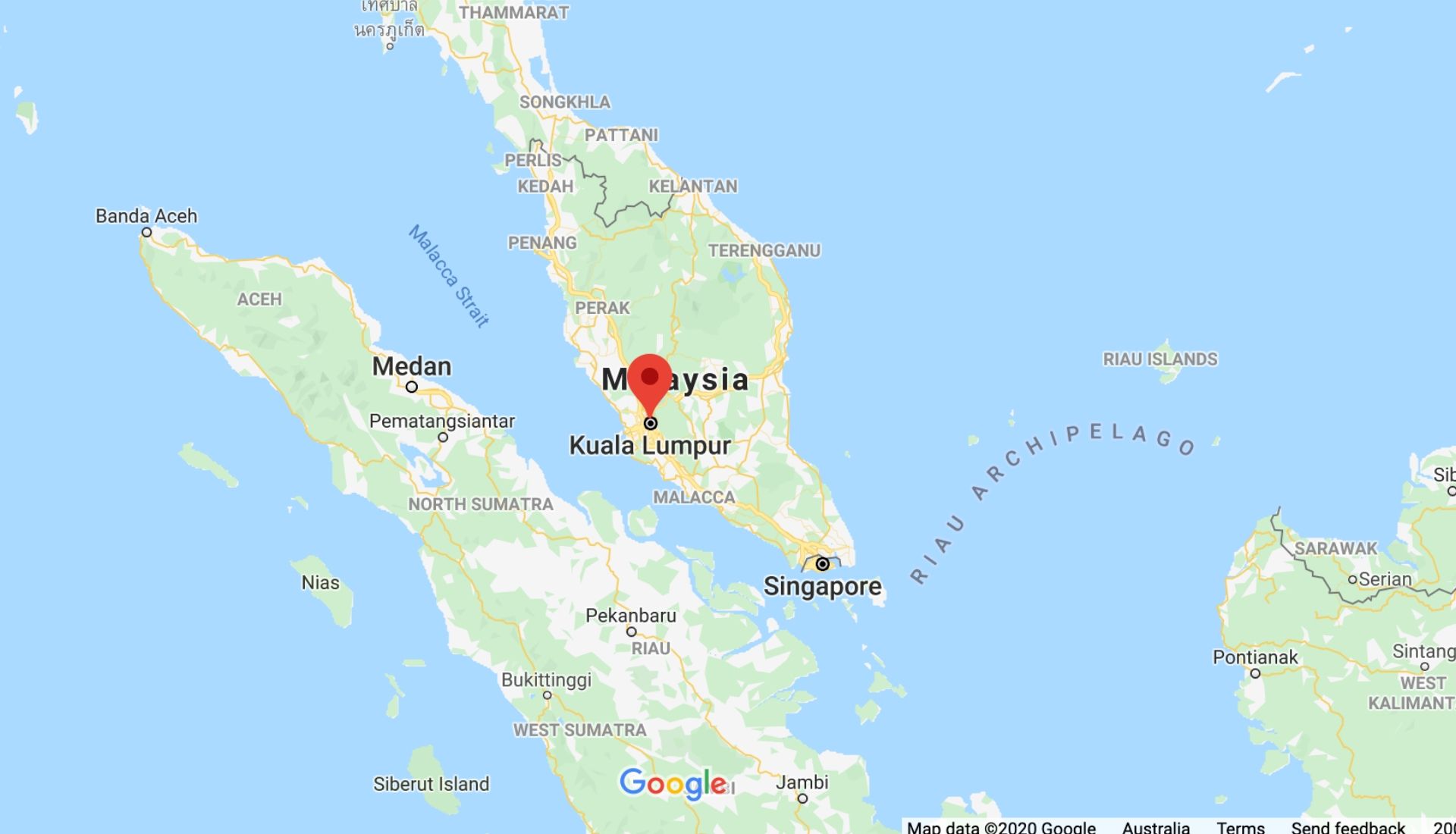 Map of Kuala Lumpur
Where is Kuala Lumpur
Kuala Lumpur is the capital of Malaysia which lies 2 – 7 degrees from the equator. The peninsula of Malaysia has borders with Singapore to the south and Thailand to the North. It is made up of 11 states on the peninsula, 3 federal territories as well as Borneo and its two states – Sabah and Sarawak.
Travelling to Malaysia
You can purchase an E-Sim card here
Enjoy the convenient and instantly available eSIM data plans for Malaysia. Choose from a variety of options and activate your eSIM anywhere on your journey in Malaysia.
KLIA is Malaysia's International Airport at Sepang about 50km south of KL.
There are 2 terminals – the main terminal is called KLIA and KLIA2 1.5 km away from the Main Terminal.
KLIA Ekspres Train:
28 minutes from KLIA and 33 minutes from KLIA2 to KL Sentral Station
Frequency:
Sunday to Friday 0600 – 0900 every 15 minutes
Sunday to Friday 1600 – 2200 every 15 minutes
At other times the train runs every 20 minutes.
First train 05.00 and last train from KL Sentral at 00.40 am and 01.00 from KLIA
Purchase your one-way ticket here to save time on arrival at KLIA
Bus Travel To Kuala Lumpur
For bus, rail and ferry tickets around South East Asia we use the services of 12goAsia.
Getting Around Kuala Lumpur
LRT – Two lines Kelana Jaya Line – 29km stretching from the Putra Terminal in Gombak to the Kelana Jaya Terminal in Petaling Jaya.
Ampang Line – 27 km, 2 routes – the Ampang and Seri Petaling with an interchange at Kelana Jaya Line and Ampang Line at Masjid Jamek station
MRT – 51 km from Sungai Buloh to Selangor
KL Monorail – 8.6km with 2 parallel elevated tracks and 11 stations connecting KL Sentral with shopping malls and hotels in the city
KTM Komuter – 2 lines Sentul – Port Lang and Rawang – Seremban connecting the towns of Rawang, Sentul, Port Klang and Seremban
Tram – starting from KL City Gallery operating between 0930 to 1700 around Tun Abdul Razak Heritage Park and Dataran Merdeka
Taxis – fares are metered with a flag-off at RM3 (USD0.70)
Grab Taxi – is available just download the Grab app
RapidKL LRT details: Explore the City with 2 Day Unlimited Train Rides
KL Travel Pass: Single RM75 – single trip validity one-month KLIA Ekspres Airport Transfer and 2-day unlimited rides on LRT, MRT and KL Monorail Lines (2 consecutive calendar dates, starting from the first usage on Rapid KL services)
KL Travel Pass Return RM120 (return trip validity 1 month)
Purchase your KL City Pass here that includes your Kuala Lumpur Hop On Hop Off Bus for 1, 3 or 6 days
Free Things To Do in Kuala Lumpur
Visit Central Market Jalan Hang Kasturi Kuala Lumpur – interesting place to visit in KL
Opening Hours: 10.00 to 21.30 daily
Free admission.
The Central Market was constructed in the Art Deco style of the 1930s.
It used to be the wholesale and retail wet market for fresh produce for KL.
The Central Market was renovated and reopened in 1986 and is now a leading craft centre. If you are after souvenirs head to the Central Market.
Getting There: KL HOHO Bus/RapidKL LRT – Pasar Seni Station
The Heritage Centre Kuala Lumpur
Address: Jalan Stonor
Opening Hours: 10.00 to 17.00 – closed on Sundays and Public Holidays
Free admission
The Heritage Centre promotes the conservation and preservation of the heritage buildings of KL.
Guided tours are available for a donation of RM10 per person (USD2.30) for the Rumah Penghulu Abu Seman which is within the grounds – an example of a Malaysian traditional house. It was the home of a local headman from the state of Kedah.
Getting there: KL HOHO Bus/KL Monorail – Raja Chulan Station – a short walk from the station.
Jalan Hang Kasturi Shophouses Kuala Lumpur
A short walk from Central Market is the Jalan Hang Kasturi Shophouses which used to be the shops selling dried fish and preserved vegetables.
You can still find dried goods here.
The Shophouses were built in the neoclassical style.
St Marys Cathedral Kuala Lumpur
Address: Jalan Raja
Free admission
Built in early English Gothic architecture the St Marys Cathedral features beautiful stained glass windows.
Getting there: KL HOHO Bus/Tram/RapidKL LRT – Masjid Jamek Station
Guan Di Temple Kuala Lumpur
A 2-minute walk from Central Market.
Opening Hours: 07.00 to 19.00 daily
Free admission
The Taoist Temple located at Jalan Tun HS Lee was built in honour of the Taoist God of War Guan Di.
National Textile Museum Kuala Lumpur
Address: 26 Jalan Sultan Hishamuddin
The National Textile Museum is a 3-minute walk from Central Market.
Opening Hours: 09.00 18.00 daily except for Hari Raya Aidilfitri and Hari Raya Aidiladha.
Free admission
The National Textile Museum highlights the development and techniques of local textiles from the past and the present.
Merdeka Square Kuala Lumpur – a Kuala Lumpur Must See
(Merdeka means independence in Malay)
A 5-minute walk from Central Market.
It is located opposite the Sultan Abdul Samad Building and beside the Royal Selangor Club.
The Union Jack was lowered and the Malaysian flag was hoisted for the first time at midnight on August 31 1957 – the flagpole standing at 100m high is one of the tallest in the world
It is the venue for the yearly National Day parade and celebrations.
Getting there: Visit from HOHO bus/ GO KL City Bus/Tram/KL Horse & Carriage Ride/RapidKL LRT – Masjid Jamek Station, Merdeka Square is a short walk from the station
Sri Mahamamariamman Temple Kuala Lumpur
Address: Jalan Tun H S Lee
A 3-minute walk from Central Market.
Opening hours: 06.00 21.00 daily
Free admission
It is the oldest Hindu Temple in KL situated at the edge of Chinatown.
The temple was built in 1873 by  K Thamboosamy Pillai as a private shrine for the Pillai family and opened to the public in the 1920s.
Getting there: KL HOHO Bus/RapidKL LRT Pasar Seni Station
National Monument Kuala Lumpur – top attraction in Kuala Lumpur
A 45-minute walk from the Central Market.
Opening hours: 08.00 –  22.00 daily
Free admission
Aka Tugu Negara was built by Malaysians to honour Malaysia's fallen soldiers in WW1 and 2. The monument consists of seven men holding the national flag denoting the seven qualities of leadership, unity, strength, vigilance, suffering, courage and sacrifice.
Petaling Street Kuala Lumpur – popular tourist places in Kuala Lumpur
A 3-minute walk from Central Market
Chinatown is surrounded by hotels and Bed and Breakfast Inns. It is a colourful area of KL with shops, restaurants and hawker stalls. It is one of KL's most popular shopping areas.
Getting there: KL HOHO Bus/RapidKL LRT – Pasar Seni Station – a short walk from the station
Lebuh Ampang – Little India Kuala Lumpur
The bustling street was the home of the South Indian moneylenders. Today the street is still home to Indian traders with restaurants, sundry stores and textile shops. It is a 5-minute walk from Central Market.
Masjid Jamek Mosque Kuala Lumpur
Masjid Jamek Mosque is also known as Friday Mosque and is open daily except for Friday. The Mosque overlooks the Klang River. It is a 5-minute walk from Central Market.
The oldest mosque in KL built in 1909 and is located at the confluence of the Klang and Gombak Rivers. The design of the Mosque was inspired by Mogul architecture from Northern India.
Opening Hours: Saturday to Thursday – 08.30 – 12.30 and 14.30 to 16.30
Address: Jalan Tun Perak
Getting there: KL HOHO Bus/RapidKL LRT – Masjid Jamek Station
National Mosque Kuala Lumpur – top place to visit in Kuala Lumpur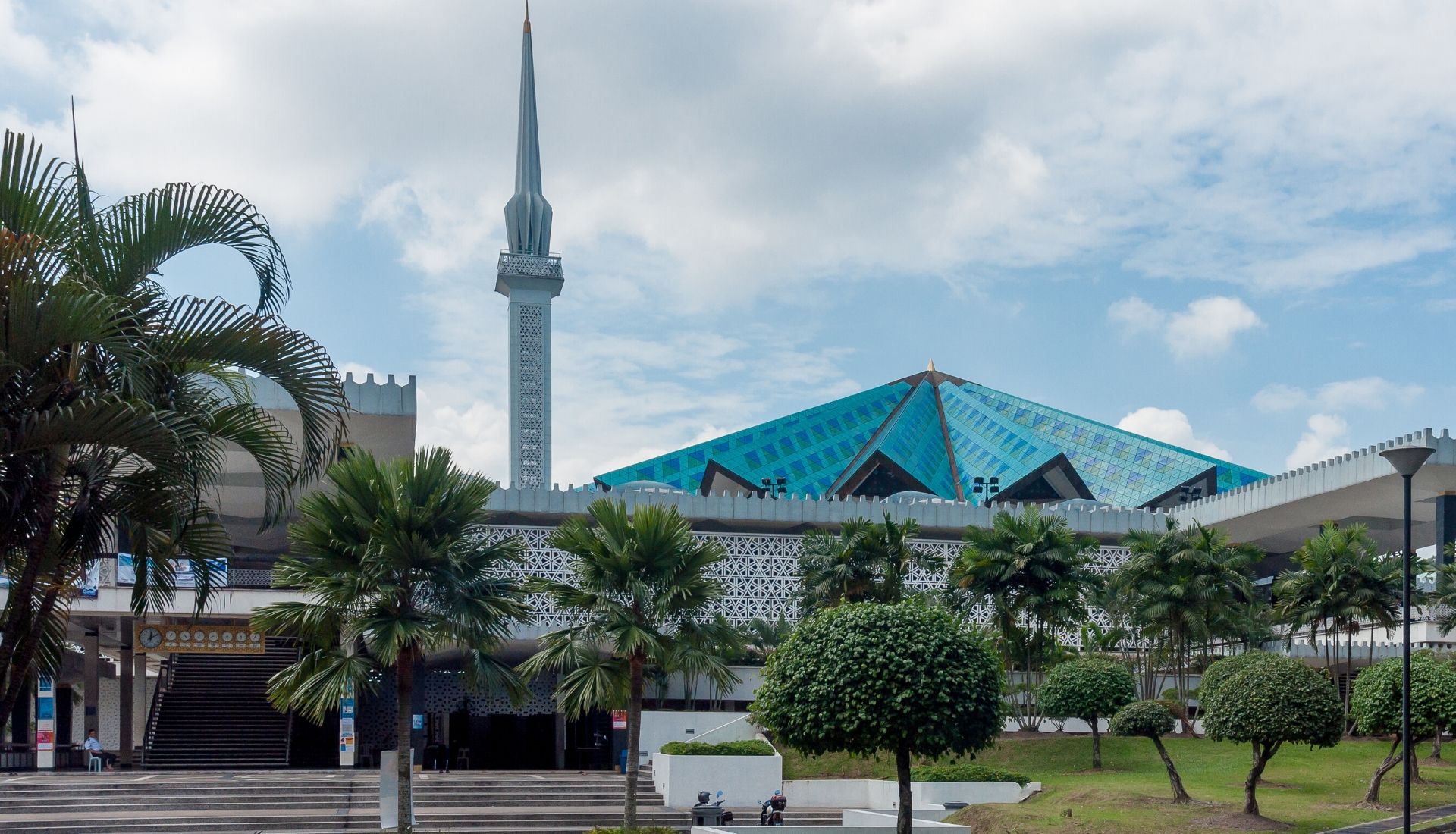 Address: Jalan Perdana
A 15-minute walk from the Central Market.
Opening hours: 0900 – 1230 and 14.00 – 16.00 and 17.00 – 1830.
Free admission
The National Mosque is impressive.  The minaret stands at 73m high and has a unique star-shaped dome in manicured gardens with fountains and pools.
To Travel Too Tip: Dress appropriately for visiting the Mosque. Robes and headscarves will be provided for women.
Getting there: KL HOHO Bus/Tram/KTM Komuter- Kuala Lumpur Station
Sultan Abdul Samad Building Kuala Lumpur
Location: 5 minutes from the Central Market at Jalan Raja opposite Merdeka Square
It was completed in 1897 in the Moorish design. It used to be used as government departments during the reign of the British. It was named after the State ruler of the day.
The building is decorated with colourful lights and flags at nights.
Getting there: KL HOHO Bus/tram/KL Horse and Carriage Ride/ RapidKL LRT – Masjid Jamek Station and is a short walk from the station.
Istana Negara Kuala Lumpur
The National Palace is the official residence of the King of Malaysia since November 2011. It has 22 domes with the largest standing at 40m high.  You cannot visit the Palace but you can view it only from outside the entrance gates.
Address: Jalan Duta
Getting there: Visit via the KL HOHO Bus
Medan Pasar (Market Square) Kuala Lumpur
The Market Square is located between Lebuh Pasar Besar and Lebuh Ampang.
The area was once owned by Yap Ah Loy who was the head of the Chinese community and the founding father of Kuala Lumpur. He had established a piggery, abattoir and workshop in this location.
The 3 storey shophouses were built in ornate Neo-Classical design.
Market Square is pedestrian-only and is the size of a football field.
National Art Gallery Kuala Lumpur
Address: 2 Jalan Temerloh off Jalan Tun Razak
The National Art Gallery contains exhibits from leading Malaysian and international artists.
Opening Hours: 10.00 – 18.00 daily
Free admission
Getting there: Visit via the KL HOHO Bus
Royal Selangor Visitor Centre Kuala Lumpur
Address: 4 Jalan Usahawan 6, Setapak Jaya
Malaysia is famous for its Royal Selangor pewter. The Visitor Centre has interactive games and exhibits. There are workshops available for all ages.
Opening hours: 0900 – 1700 daily
Free admission
Getting there: Taxis are recommended. If you are staying in one of the major hotels there is a free shuttle service.
Tun Abdul Razak Heritage Park Kuala Lumpur
Address: Jalan Parliamen
The Tun Abdul Razak Heritage Park also known as Lake Gardens consists of 173 acres of lush gardens, lakes and trails. You can rent a bike or take the tram. For children, there is an excellent playground. The Heritage Park includes the Perdana Botanical Gardens, the Orchid Garden, the Hibiscus Park and Deer Park. You can spend a whole day enjoying all that the park has to offer.
Free admission to enter but there are entrance fees to certain landmarks such as the:
Kuala Lumpur Butterfly Park
Kuala Lumpur Bird Park
Getting there: KL Hop On Hop Off Bus or by taxi
KLCC Park Kuala Lumpur
The KLCC Park is located at the KL Convention Centre and has over 1900 indigenous trees and palms in the park. The park also offers a children's playground, wading pool, jogging track, Symphony Lake and 2 fountains. This is one of the top things to do in Kuala Lumpur.
Getting there: KL HOHO Bus/RapidKL LRT – KLCC station
KL Car Free Morning Kuala Lumpur
On the first and 3rd Sunday of each month, you can walk, skate, cycle or jog the major streets of the KL Golden Triangle.
Free Walking Tours Kuala Lumpur
The KL Tourism Bureau offers free walking tours.
Kuala Lumpur Heritage Trail
Frequency: Monday Wednesday and Saturday
Time: 09.00
Duration: 2.5 hours
Meeting Point: KL City Gallery
Old KL & Nature Walk
Frequency: Tuesday and Thursday
Time: 09.00
Duration: 2.5 hours
Meeting Point: KL Tourism Bureau
Jalan – Jalan At Kampong Bharu
Frequency: Tuesday, Thursday and Sunday
Time:16.15
Duration: 3 hours
Meeting Point: Kelab Sultan Sulaiman
KL Night Walk
Frequency: Saturday
Time: 18.30
Duration: 2.5 hours
Meeting Point: Arch Café at the Old Market Square
Other Things To Do in Kuala Lumpur (That Are Not Free)
N.B. You will find that there will be prices for Malaysians and different prices for Non-Malaysians for Kuala Lumpur attractions.
National Museum Kuala Lumpur
Address: Jalan Damansara
The National Museum has 4 main galleries that include Malay daggers, ceramics from the Ming Dynasty and traditional musical instruments from Asia.
Entrance Fee: Adults RM 5 (USD1.15)
Opening hours: 09.00 – 18.00
Getting there:  KL HOHO Bus
Islamic Arts Museum Kuala Lumpur
Address: Jalan Lembah Perdana
Themed galleries offer the visitor the best of Islamic Art and Islamic Architecture such as the Taj Mahal in India, the Masjid Al-Haram Mosque in Mecca and the Amir Timur Mausoleum in Uzbekistan.
Entrance Fee: Adults RM 14 (USD3.20)
Opening hours: 10.00 – 18.00 daily
Getting there: KL HOHO Bus
Aquaria KLCC Kuala Lumpur
The Oceanarium is located on the Concourse Level of the KL Convention Centre. Aquaria features a 90m tunnel for viewing of Sand Tiger Sharks, Giant Stingrays and turtles.
Entrance Fees: Adults RM75 (USD17.50) Children RM65 (USD15.00)
Opening Hours: 10.00 – 20.00 daily (last admission 19.00)
Getting there: KL HOHO Bus/RapidKL LRT – KLCC Station
Purchase your Aquaria Tickets here online to save time in queues.
Petronas Twin Towers Kuala Lumpur
The Petronas Towers stands at 451.9m in the centre of Kuala Lumpur City Centre (KLCC).
As part of your visit, you can enjoy the Skybridge on the 41st Floor and Viewing Deck on the 86th Floor.
Petronas Towers are closed on Mondays.
Opening Hours: 09.00 –  20.00 and closed between 1300 – 1430 on Fridays)
Getting there: KL HOHO Bus Rapid KL LRT – KLCC Station/Rapid KL Bus
Seniors 61 years and above can get a discount – take your passport to the ticket counter.
Avoid the queues and pre-purchase your Skip The Line Tickets 
KL Tower Malaysia
Address: Jalan Puncak Off Jalan P Ramlee
The KL Tower is a telecommunications tower at the top of Bukit Nanas and is the world's 7th tallest building.
Visit the Skydeck, Sky Box, Atmosphere 360 degrees, Banquet Hall, XD Theatre, Mini Zoo, KL Upside Down House and more
Entrance: Observation Deck
Opening Hours: 09.00 –  22.00 daily
Last admission 21.30
Visit the KL Tower Observation Deck. You can pre-purchase your entrance ticket here.
Getting there: KL HOHO Bus/ a shuttle service is available from the tower's main gate.
National Zoo (Zoo Negara) Kuala Lumpur
Address: Hulu Kelang
The National Zoo has animal shows, tram rides over 110 acres of land with over 500 animal species that includes reptiles, mammals, birds, fishes, amphibians, insects and plants.
Opening hours: 09.00 – 17.00
Visit the National Zoo with your pre-purchased ticket which includes admission to the Giant Panda Conservation Centre and see Malaysia's two famous pandas Xing Xing and Liang Liang. Purchase your tickets here.
Getting there: RapidKL LRT – Wangsa Maju Station – you will need to get a taxi from the station.
Hidden Kuala Lumpur Bike Tour
Description taken from Get Your Guide Tours:
"This exciting half-day program will take you from Kuala Lumpur City Gallery to Kuala Lumpur's downtown area and the iconic Sultan Abdul Samad Building and Petaling Street, where you can enjoy a traditional Hainanese coffee before commencing on a fascinating 'voyage of discovery' by bike. The path leads through a labyrinth of hidden alleyways that connect the new and the old Kuala Lumpur.
This is 'secret' Kuala Lumpur far from public view is where a dark single file passage opens to secret morning junk market that only locals go to, and unique historical gems. Discover hidden Chinese green tiles and ancient shop-house ladders, delight at the fascinating old shop-houses and enjoy a refreshing drink at a locals store. Photo opportunities abound as your guide shares not only the history but daily rituals and regimes that will intrigue and amaze. Getting lost and found again in these hidden alleyways is a truly rewarding and special experience. Depending on the group size, rider's abilities and weather conditions the duration of the tour may exceed that as stated, in these cases the tour itinerary may be adjusted."
You can make your booking for Hidden Kuala Lumpur by Bike here
KL Butterfly Park Malaysia
The world's largest butterfly park with over 5,000 butterflies spread over 80,000 sq ft.
Opening hours: 09.00-18.00 daily (last admission 1700)
Getting there: KL HOHO Bus
A combined private tour visiting the KL Bird Park, KL Butterfly Park and the Orchid and Hibiscus Garden is available for half a day. Book your tickets here.
KL Bird Park Malaysia
Spread over 20 acres the KL Bird Park features over 3000 birds from 200 species including flightless birds in 4 zones.
You can purchase Skip The Line entrance tickets and a one-way transfer from your hotel here.
Opening hours: 09.00 – 18.00 daily
Getting there: KL HOHO Bus
Family-Friendly Traditional Malaysian Cooking Class
Sarang Cookery welcomes you to our home built in 1928, to a trip down memory lane to a unique experience of history, culture, food & love from the 15th century. The Peranakan created the earliest fusion food, a blend of Chinese, Malay & Indian cooking techniques with local ingredients. With freshest ingredients, no added MSG. There is no fixed menu we will cook 3 dishes. We take into consideration food allergies and food restrictions.
After we finish the class, we will enjoy a lovely meal together.
Book your cooking class here
Half-Day and Full-Day Trips from Kuala Lumpur
Places near Kuala Lumpur to visit:
Batu Caves
The Batu Caves are made up on 3 limestone caves a short drive from Kuala Lumpur.  The entrance to the caves is guarded by the Hindu deity Lord Murugan. The Batu Caves are a popular tourist attraction for visitors and worshippers.  Climb the 272 steps to reach Temple Cave which features Hindu shrines.
The best way to visit the Batu Caves is on a tour.  You can book your own private tour to the Batu Caves here.
IPOH
Our tour partner Get Your Guide offers a tour to Ipoh – full details below:
"Start your day trip with hotel pickup in Kuala Lumpur city centre at 7:30 AM. Board an air-conditioned vehicle with your knowledgeable guide to begin the 2-hour journey to the charming town of Ipoh.
When you arrive, admire the Ipoh Railway Station with its neoclassical and Edwardian Baroque architecture. Marvel at this impressive building which is referred to as the Taj Mahal of Malaysia. Then, drive past the city centre where many British colonial buildings remain intact before stopping at the original Old Town White Coffee for lunch. Next, visit Kellie's Castle and the magnificent limestone cave temples of Perak Tong, home to more than 40 Buddha statues.
Finally, walk through Ipoh's city markets to try a range of local treats. Sample bean sprouts, chicken, snowflake beer, and Heong Peng. Finish this off with a traditional dessert like sugary rice balls called muah chee. At the end of the tour, head back to Kuala Lumpur where you will be dropped off back at your hotel."
Book Your Ipoh Tour here
Taman Negara National Park – Full-Day Tour
Our Get Your Guide tour partner offers a full-day tour to the Taman Negara National Park – full details here.
"Depart Kuala Lumpur and journey to Taman Negara National Park following early morning pickup from your hotel. Enjoy the amazing views on the scenic drive past typical kampung (village) houses and stop for a local breakfast at Jerantut Town.
Upon arrival at Kampung Kuala Tahan, cross the river by water taxi to the Taman Negara Resort, and take a quick trek to Teresek Hill. Discover amazing views from the fantastic viewpoint before braving the canopy walk over the treetops. Enjoy a sumptuous lunch at a floating restaurant, and get some time to relax before riding the river rapids on a longtail boat ride to Trenggan."
Book Your Taman Negara National Park Tour here
A Full-Day Tour To Malacca
Our tour partner Get Your Guide offers a full-day tour to historical Malacca from KL. Full details of the tour below:
"Following a hotel pick-up at 9:00 AM from you hotel in the Kuala Lumpur City, your first stop will be St. Francis Xavier Church. This church was built by Father Farve, in 1856, in honor of St. Francis Xavier. It was at one time the largest church built by the MEP (Paris Foreign Missionary) in the Malay Peninsula.
Afterwards, proceed to Stadthuys, which is the most visited Malacca attraction. It is an old Dutch building, that is a big city hall once used for public gatherings. Representing the Dutch architecture, it is a red building in the center of city that was built in 1650 by the Dutch people on the land. For the same reason, Stadthuys Melaka is also known as the famous Dutch Square.
After having lunch continue to Christ Church. Built in 1753 in honor of the centenary of the capture of Malacca, it is one of the most recognized and photographed places in the city.
Head over to Mosque Kampung Kling, located within the vicinity of the famous Harmony Street, where houses of worship from various religions harmoniously coexist. Built in 1748, like many Malaccan mosques built around that period, it displays strong Javanese and Oriental influences in its architecture. The mosque was reconstructed and renovated in 1872 and 1908 to replace the original wooden structure with one made of concrete. In 1999, after a restoration exercise by the Department of Museum and Antiquity, it was declared a historical monument.
Along the way, snack on various street foods that is influenced by the many cultures that have both passed through Malacca and planted roots here. After some more exploring, hop back in the comfortable vehicle for the ride back to Kuala Lumpur.
At approximately 5:00 PM, you'll arrive back at your hotel in Kuala Lumpur City area where the tour will end."
For more details and to book your Malacca Tour click here
Kuala Lumpur Nightlife
The KLCC Fountains –  two musical fountains the KLCC Lake Symphony Light Water Fountain performs at 19.30, 20.30 and 21.30 whilst the Light and Sound Fountain has shows at 20.00, 21.00 and 22.00 daily. They have 150 programmed animations in a magical performance of sound and water.
For more KL nightlife options head to:
Bukit Bintang – for dining and entertainment options
Asian Heritage Row – for cafes, bars and clubs
KLCC – for dining, clubs
Bangsar – for bistros, cafes
KL Shopping Malls
Kuala Lumpur is famous for its shopping and its number of large shopping malls.
Head to these tourist places in Kuala Lumpur:
Bukit Bintang
KLCC
Sungei Wang Plaza
The Gardens
Bangsar Shopping Centre
Kuala Lumpur Hotels
We have stayed in KL many times and we would like to share with you our two best hotels in Kuala Lumpur.
Traders Hotel Kuala Lumpur – 5 star in hotel
Address: KLCC Kuala Lumpur (240m from KLCC Aquaria and 390m from KLCC).
The 5-star 571 room Traders Hotel is part of the Shangri-la Group and is well located in the centre of KL.
Facilities include a swimming pool, fitness and spa centre.  We can highly recommend an evening cocktail at the Sky Bar with spectacular views of the Petronas Towers.

The Boulevard Hotel – 4 star hotel in Kuala Lumpur
Mid Valley City, Lingkaran Syed Putra, 59200 Kuala Lumpur
The Boulevard Hotel has access to two of the best shopping malls in KL – Mid Valley Mega Mall and Gardens Mall.

Weather in Malaysia
Malaysia has a tropical climate with temperatures ranging from 21 deg C to 32 deg C. The wettest months in Kuala Lumpur are between May to July and December February.
Currency in Malaysia
The currency of Malaysia is the Ringgit – RM.
Flight Deals to Kuala Lumpur
Find the cheapest flights with Skyscanner who then directs you to the airline's website with no extra fees to pay.
Travel Insurance
We recommend taking out travel insurance as soon as you book your flights and pay deposits on any cruises, tours or hotels.
Car Rental in Malaysia
Car Rental is available from the city centre and on arrival at KL's Airport.
Do You Need a Visa for Malaysia
Pinterest
Are you on Pinterest? We are at To Travel Too and we have many travel-related boards check us out at Pinterest.  If you enjoyed our article why not pin it to your board?
To Travel Too Travel Shop
Travel smarter and safer with products from our To Travel Too Travel Shop.  If you are looking for the latest luggage, guidebooks or travel accessories we have you covered with over 800 travel products to choose from.