Are you planning a vacation to Barbados? Are you wondering what there is to do after spending a few days at one of Barbados's popular beaches? Why not take a tour around the island?
One of the top excursions in Barbados today is a tour around Barbados with Glory Tours. We reached out to Sarah Taylor, the owner of Glory Tours, who comes from one of the oldest families in Barbados to ask for her advice to which tour we should experience.
Glory Tours started back in 2001 and has 15 full-day tours to choose from as well as 10 half-day tours. We settled on their popular Best of Barbados Tour.
Chatting with Sarah we also found out more about her history on the island.  Her great-grandfather was one of the first photographers on the island and had been commissioned to take photos of the Royal Family whilst they were holidaying on the island of Barbados.
Glory Tour's goal is "to put a smile on your face and to keep you smiling as we share the beauty, culture and history of Barbados". Our driver and guide for the day Quammie had the biggest smile, the biggest laugh and certainly kept us smiling whilst we learnt about the island of Barbados.
This post may contain affiliate links. Please see our disclosure for more information. 
Our Tour Around Barbados with Glory Tours
If you are enjoying our article you may want to PIN it for later:
Our day started early with Quammie collecting us from the Crystal Cove Hotel in St James.  As we drove to other hotels to collect the rest of the guests Quammie showed us the many Barbados points of interest such as the famous Sandy Lane Hotel and the Coral Reef Club where many celebrities stay when visiting the island. The West Coast of Barbados is famous for its tranquil silvery sand beaches and crystal clear water as well as its many luxury hotels.
On our way to our first stop Harrison's Cave, we learnt about the history and geography of Barbados. Quammie definitely knew his 'stuff' and presented the facts in an entertaining manner.
Book the tour here
Harrison's Cave Barbados
One of the top things to do in Barbados is to visit the unique Harrison's Cave.  Harrison's Cave is located in the central part of the island in the highlands.  On arrival, we were taken to the lift that took us down to the tramway that will take us underground.
Our driver was David for the duration of the tour and we also had a local guide that explained what we would see along the way.  We will travel 2.5km through the cave where at certain points along the way the cave will be over 100 feet high and 150 feet wide.  There are still 2 miles of underdeveloped areas in the cave.  The caves are formed by water running through the limestone rock.
We passed by what is called 'The Village' – the formation looked like people clustered together.  The Great Hall, another impressive structure,  reaches to a height of 50 feet. The stalactites and stalagmites were formed over thousands of years ago.  As the tram travelled deeper we passed by other formations such as The Cavern and the Altar and experienced 'cave showers' as we reached the deepest point of 160 feet. We were amazed that it takes 120 years to grow 1 inch of stalactite and stalagmite. At certain spots along the way, we were able to leave the tram to view the structures at close range. What seemed like only minutes we were heading back to the entrance.  One enthralling experience was had by all, no wonder it is one of the best things to do in Barbados.
Welchman Hall Gully Barbados
Our next stop was Welchman Hall Gully where we walked down the shaded pathway through the tropical trees and plants and viewed the wild green monkeys of Barbados feeding.  We arrived just as feeding time was taking place and hundreds of green monkeys were enjoying their bananas on their specially built platform.  Just don't get too close to them whilst they are eating, staying about 5 metres from them is recommended.  If you time it right as you walk back up the path you can view the hundreds of green monkeys making their way to their habitats deep in the gully, swinging and chatting as they swing from tree to tree.  It was such a great sight to see them in their own natural habitat. The Green Monkeys were introduced to Barbados as pets with the early settlers to the island.
The smallest snake in the world can be found in Welchman Hall Gully and it is about 3 1/2 inches in length and harmless.
Welchman Hall Gully is also famous for its grapefruit grown from a sweet orange and a pomelo.  As you wander down the pathway you will see many plants and trees such as the impressive Bearded Fig Tree which legend states was the tree that Barbados was named after.  Los Barbados (the bearded one) refers to the beard like roots that hang down from this tree.
On arrival at the entrance to Welchman Hall Gully you will be given a guide – the guide has numbers that correspond with the different trees and plants that you will see along the pathway.
Bathsheba Barbados – East Coast Photo Opportunity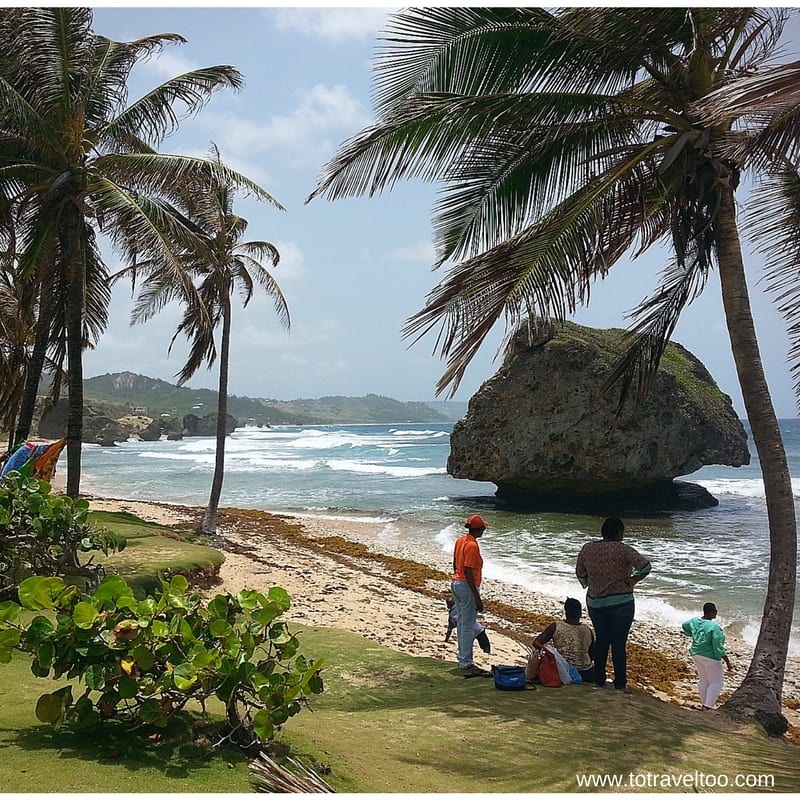 On the rugged East Coast of Barbados in the parish of Saint Joseph lies Bathsheba the main fishing village on this coastline.
There is a legend about Bathsheba. The legend states that the wife of King David, Bathsheba, used to bathe in milk to keep her skin supple and youthful.  The waves in this area are likened to Bathsheba's milk bath, the water is rich in minerals and can assist in health benefits.
Bathsheba is also known as the 'soup bowl' where local and international surfing competitions are held.
Pirates Cove at Carlisle Bay Barbados
Close to the capital of Barbados, Bridgetown is Pirates Cove Beach Bar and Grill at Carlisle Bay.  Our tour stopped here for lunch. For lunch there was a choice of either fish or meat and included is a Rum Punch. The restaurant is located right on the beach.
After lunch, there is a boat tour to Carlisle Bay to snorkel with the turtles. The tour lasts between 45 minutes and 1 hour.  Snorkelling in Barbados is an experience in itself, the water is clear and warm and there are plenty of sea life and turtles to swim with.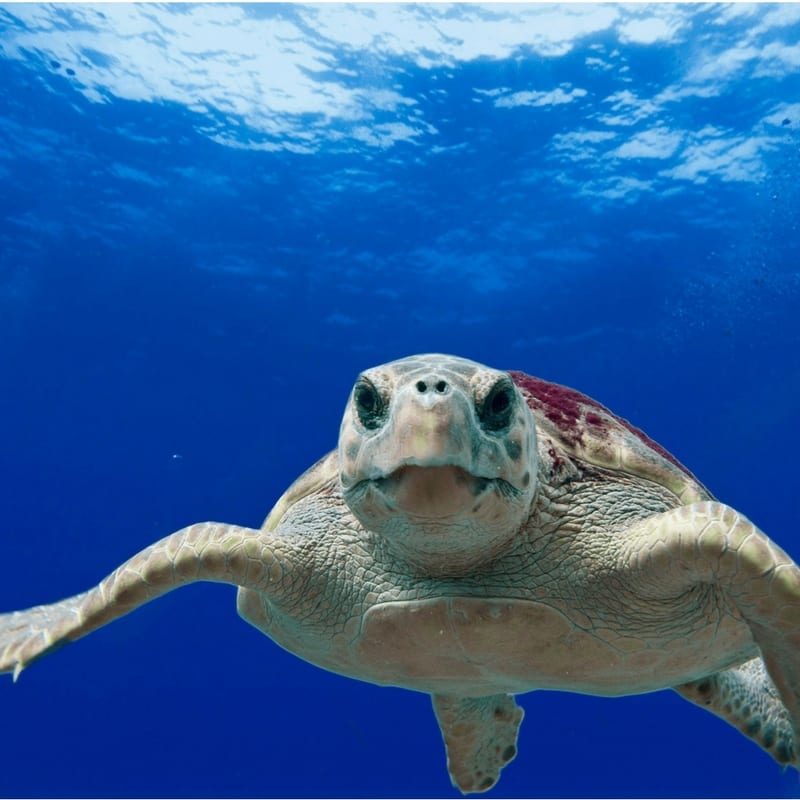 There are changing facilities available at the restaurant.  After the tour, time is allowed to relax on one of the beach chairs in front of the restaurant before we were driven back to our meeting points.
Did we enjoy our tour around Barbados with Glory Tours?
Yes, we certainly did.  The tour was just long enough to really experience Harrison's Cave, Welchman Hall Gully and to have lunch and to snorkel with the turtles without being rushed.  Quammie was an experienced driver and guide and we felt we were in good hands throughout the day.  Glory Tours is a well run professional organisation headed by Sarah Taylor who is very passionate about her home Barbados. There are a variety of tours to suit all tastes and budgets.
Map of Barbados
Glory Tours also offer speciality trips e.g. Cricket, Brewery Tours, Historic Garrison Tours, and others click here for the full list.
Contact: [email protected]
Telephone: 246 231-2932
Website: Glory Tours
Our thanks to Sarah for our complimentary Best of Barbados tour and to Quammie for being our driver and tour guide for the day on our excellent tour.
Tripadvisor has many reviews on all of the tours offered by Glory Tours Barbados.
Where To Stay in Barbados
For a luxury stay in Barbados, we would recommend the Sandy Lane Hotel with its own private beach, outdoor pool and sauna.

For a couples-only hotel that is all-inclusive, we can recommend Sandals Barbados at St. Lawrence Gap on the Maxwell Coast.  The 5-star hotel offers an outdoor pool, sundeck terrace and their in-house restaurant offer Indian-inspired meals served on their outdoor terrace.

For families, we can recommend the Mango Bay Hotel at 2nd Street in Holetown.  This 4-star hotel is all-inclusive with free WiFi, outdoor pool and all rooms have a private terrace.

For more hotel options:

Where To Eat in Barbados
During our 3 month stay in Barbados, we enjoyed eating out on the West Coast of the Island.  Here are two of our recommendations:
We have put together an extensive guide on What to do in Barbados read it here.
To Travel Too Tip: You can visit Barbados all year round.  There is a busy tourist season between November and April, so e highly recommend that you make your reservations in advance so you are not disappointed.
Cheap Flight Deals to Barbados
We flew to Barbados with Jetblue from the USA. They have some great deals.
Find the cheapest flights with Skyscanner  our go-to when we are researching and booking flights throughout the world.
Travel Insurance
We recommend taking out travel insurance as soon as you book your flights and pay deposits on any cruises, tours or hotels.
To Travel Too Travel Shop
Travel smarter and safer with products from our To Travel Too Travel Shop.  If you are looking for the latest luggage, guidebooks or travel accessories we have you covered with over 800 travel products to choose from.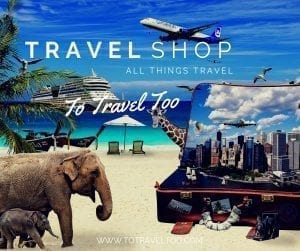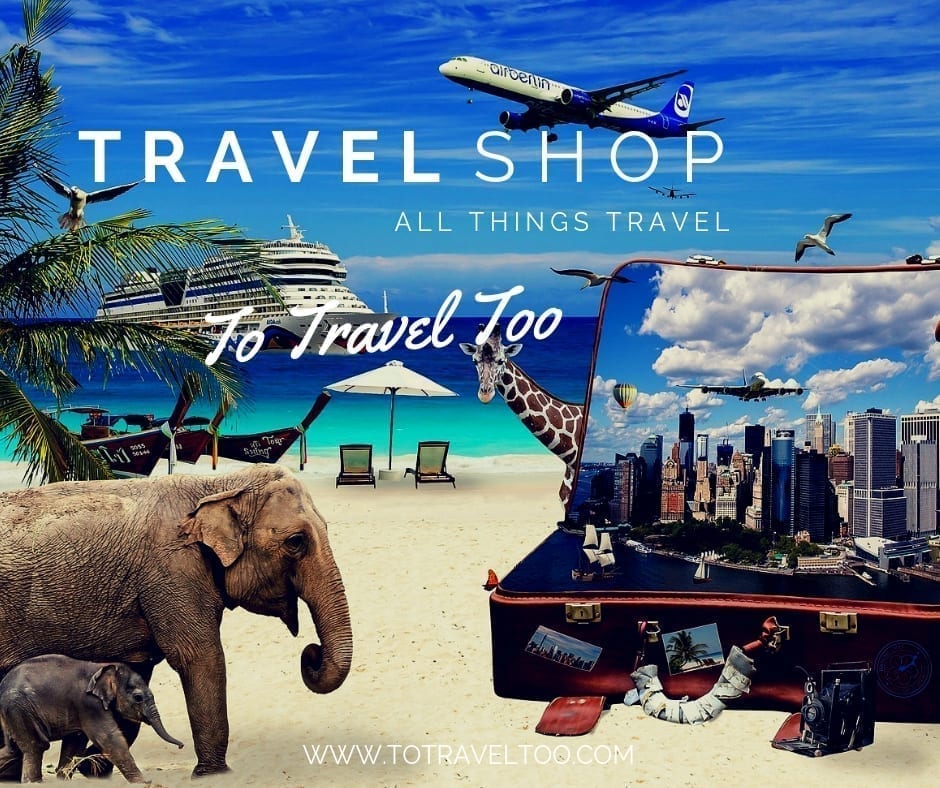 Pinterest
Are you on Pinterest? We are at To Travel Too and we have many travel-related boards check us out at Pinterest.  If you enjoyed our article why not pin it to your board.
To help you research your visit to Barbados these are our top picks from Amazon.
We enjoyed this tour as a guest of Glory Tours but received no further remuneration to write this post.  We were not expected to write a positive review – all views are our own and we retain full editorial control.
Disclosure: Certain links in this post are affiliate links. This means that should you make a purchase via our link, we will receive a commission which will not affect the price you pay.
www.totraveltoo.com is a participant in the Amazon Services LLC Associates Program, an affiliate advertising program designed to provide a means for sites to earn advertising fees by advertising and linking to amazon.com, amazon.co.uk, amazon.ca. Amazon and the Amazon logo are trademarks of Amazon.com, Inc. or its affiliates.
SaveSave
SaveSave