Valparaiso and Vina del Mar, two neighbouring cities located on the central coast of Chile, are a perfect combination for a day trip filled with stunning scenery, cultural immersion, and delightful experiences.
Valparaiso, known as the "Jewel of the Pacific," is renowned for its vibrant street art scene and colourful hillside houses that offer breathtaking views of the ocean.
On the other hand, Vina del Mar beckons visitors with its pristine beaches, lush gardens, and opulent mansions. Whether you're seeking artistic inspiration or simply looking to unwind by the sea, a day out in Valparaiso and Vina del Mar promises an unforgettable adventure through Chile's coastal wonders.
Are you in Santiago looking for a day trip out of the city?
Valparaiso and Vina del Mar Chile are neighbouring seaside towns one hour 40 minutes drive from Santiago, the capital of Chile. As we were staying in Santiago for four nights we took the opportunity to visit these two famous seaside towns.
This post may contain affiliate links. Please see our disclosure for more information. As an Amazon Associate, we earn from qualifying purchases (if applicable).
You can book your day tour from Santiago to Valparaiso and Vin del Mar here
How to get to Valparaiso from Santiago
If you prefer to do the day tour by local bus it is an easy bus journey from Santiago to Valparaiso.  Buses depart Santiago from Terminal Alameda every 15 minutes for the terminal located at the National Congress Building in Valparaiso. We travelled by Turbus.
Check the latest bus schedules and ticket prices here
Tour company touts descended on us, some quite pushy others more relaxed.  Should we take the tour of Valparaiso and Vina del Mar or just wander around and get lost?
We could wander around Valparaiso by foot and potentially run out of time to see Vina del Mar or we could take a Day Trip that includes both.  The timing was important as we had booked the 6.30 pm bus back to Santiago.
At the bus stop on arrival there was a tour leaving in 30 minutes and would have us back at the terminal in time to return to Santiago and we could visit both Valparaiso and Vina del Mar.
Things to do in Valparaiso Chile
The tour included a visit to Plaza Sotomayor in Valparaiso and one building that you cannot miss is the headquarters of the Chilean Navy – Armada de Chile.  If we had not taken the tour this would have taken us a good 30 minutes to walk here.
Plaza Sotomayor is one of the main city squares located next to the Port area of Valparaiso.  This area of Valparaiso is classified as a UNESCO World Heritage site.
Apart from the scenic views from the historical area of Valparaiso known as Cerro Alegre, the streets are abounding with local street art.  The local authorities allow vibrant artwork and welcome local and foreign artists to express themselves.  As you wander around you will come across local cafes, hostels and any wall that is free covered with vibrant and colourful graffiti.  No wonder Valparaiso is known as the Graffiti Capital of Chile.
Discover the "Jewel of the Pacific" on a 4-hour guided tour of Valparaiso and see the pretty, multi-coloured houses and narrow streets of the UNESCO World Heritage city. Ride the famous funiculars to get panoramic views.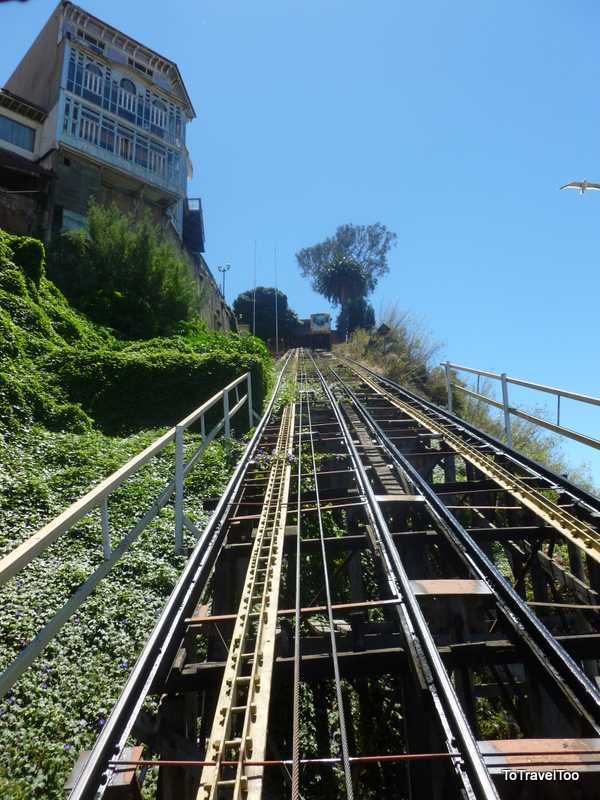 Ascensore Artilleria is one of the 16 remaining funiculars linking the flat area of the city with Artilleria Hill.  The trip lasts a quick 80 seconds and it is a must-do if you are visiting Valparaiso. It is a top Valparaiso attraction and a must do in Valparaiso.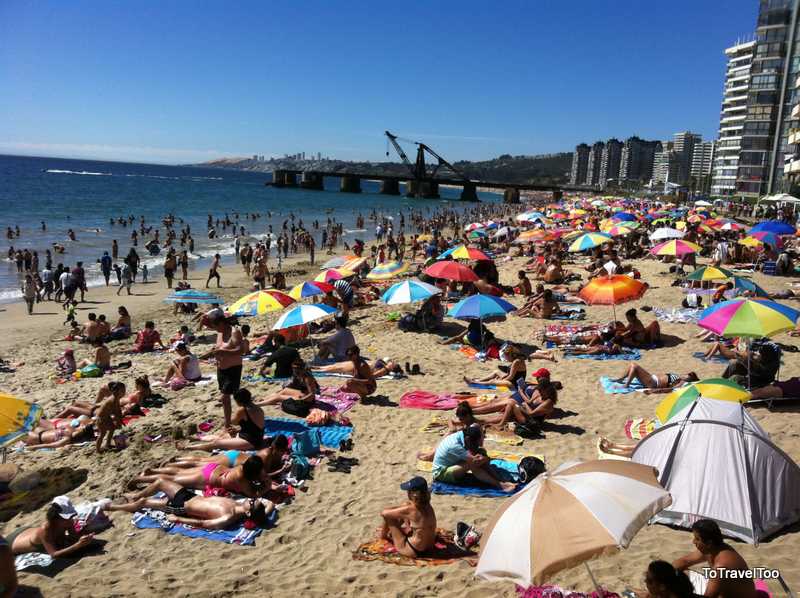 Things To Do in Vina del Mar Chile
Vina del Mar means in Spanish the Vineyard of the Sea, but is it also known as the Garden City.  A  popular seaside resort of Chile, Vina del Mar offers those who visit, many parks and water fountains, casinos, shopping malls and Caleta Abarca beach.
The working clock of Vina del Mar is one of the city's most famous landmarks.  Its face is made only with flowers.  Here you can take a relaxing ride on a traditional horse-drawn carriage (which the locals call 'Victoria's') through the historic streets and along the waterfront.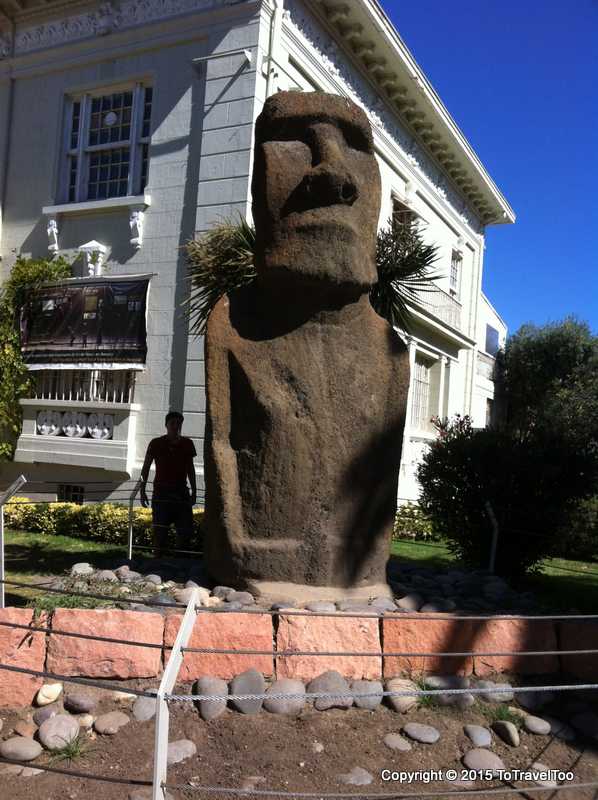 The original Moai (Easter Island Statues) stands guard outside the Museum of Archaeology and History Francisco Fonck.  The Museum has an extensive library of documents and wood tablets displaying ancient hieroglyphics of Easter Island. This is a top attraction in Vina del Mar.
Travel Information on visiting Valparaiso and Vina del Mar from Santiago
Read more: Free Walking Tour in Santiago Chile
Where to stay in Santiago
Budget Accommodation in Santiago
We can recommend staying at Ventana Sur Hostel if you are travelling on a budget. Ventana Sur is located in the Providencia suburb. Ventana Sur offers a swimming pool, private room with ensuite, dormitories with a great travellers vibe. You will need to book in advance as it is very popular.
Address: Claudio Arrau 0340 Providencia
Latest guest review: A home far away from home…The best people you can meet, good food, good wine, good music, undoubtedly the best place to stay in South America…I planned to stay 2 nights and ended up staying for 10 days…A huge thanks to Evan for opening his home to travellers! Don't have any expectations, just book it and enjoy ;-)!!

4-Star Hotel in Santiago
One of the top 4-star hotels in Santiago is the Hotel Magnolia at Paseo Huerfanos 539 in the City Centre two blocks away from the Bellas Artes Metro. The hotel offers free WiFi and breakfast.
Latest guest review: Beautiful location, beautiful hotel, value for money, standards higher than in well-known hotel brands in Santiago and amazing 3 course dinner included

5-Star Hotel in Santiago
The NH Collection Plaza Santiago Hotel is located on Avenida Vitacura 2610 in the financial heart of Santiago. The hotel offers guests a swimming pool, gym, free WiFi and breakfast.
Latest guest review: Great location. A shopping mall is right next door and a lovely restaurant is within a short distance walks. Super friendly staff as well 🙂 One of my favourite places to stay in Santiago!

Where to Stay in  Valparaiso
Where to Stay in Vina Del Mar
Santiago Chile Airport
Comodoro Arturo Merino Benitez – Santiago Chile Airport is located 15 km northwest of downtown Santiago.
You can pre-book your airport transfers here.
Cheap Flight Deals to Santiago Chile
Find the cheapest flights with Skyscanner our go-to when researching and booking flights throughout the world.
Bus Travel around Chile
For the latest bus schedules and ticket prices for Chile click here.
Car Rental in Chile
You can organise car rental for collect at the airport or downtown. More information here.
Travel Insurance
World Nomads offers simple and flexible travel insurance. Buy at home or while travelling and claim online from anywhere in the world.
Visa requirements for Chile
Check if you need a visa for Chile here.
Travel Shop
Travel smarter and safer with products from our To Travel Too Travel Shop.  If you are looking for the latest luggage, guidebooks or travel accessories we have you covered with over 800 travel products to choose from.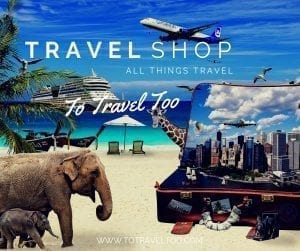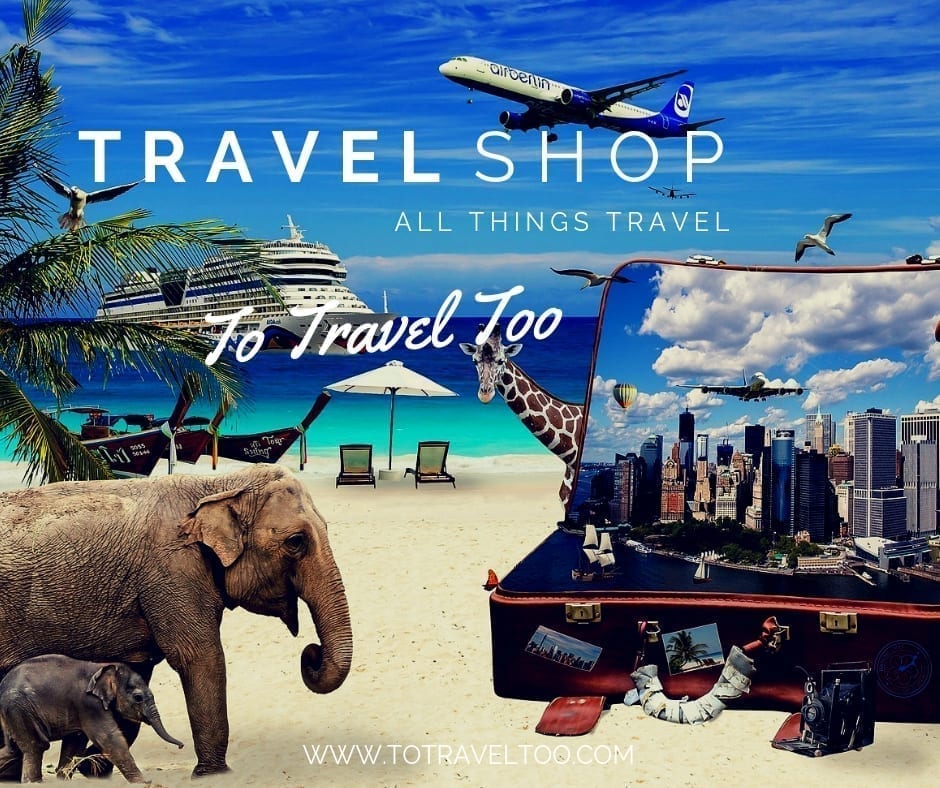 Pinterest
Are you on Pinterest? We are at To Travel Too and we have many travel-related boards check us out at Pinterest.  If you enjoyed our article why not pin it to your board?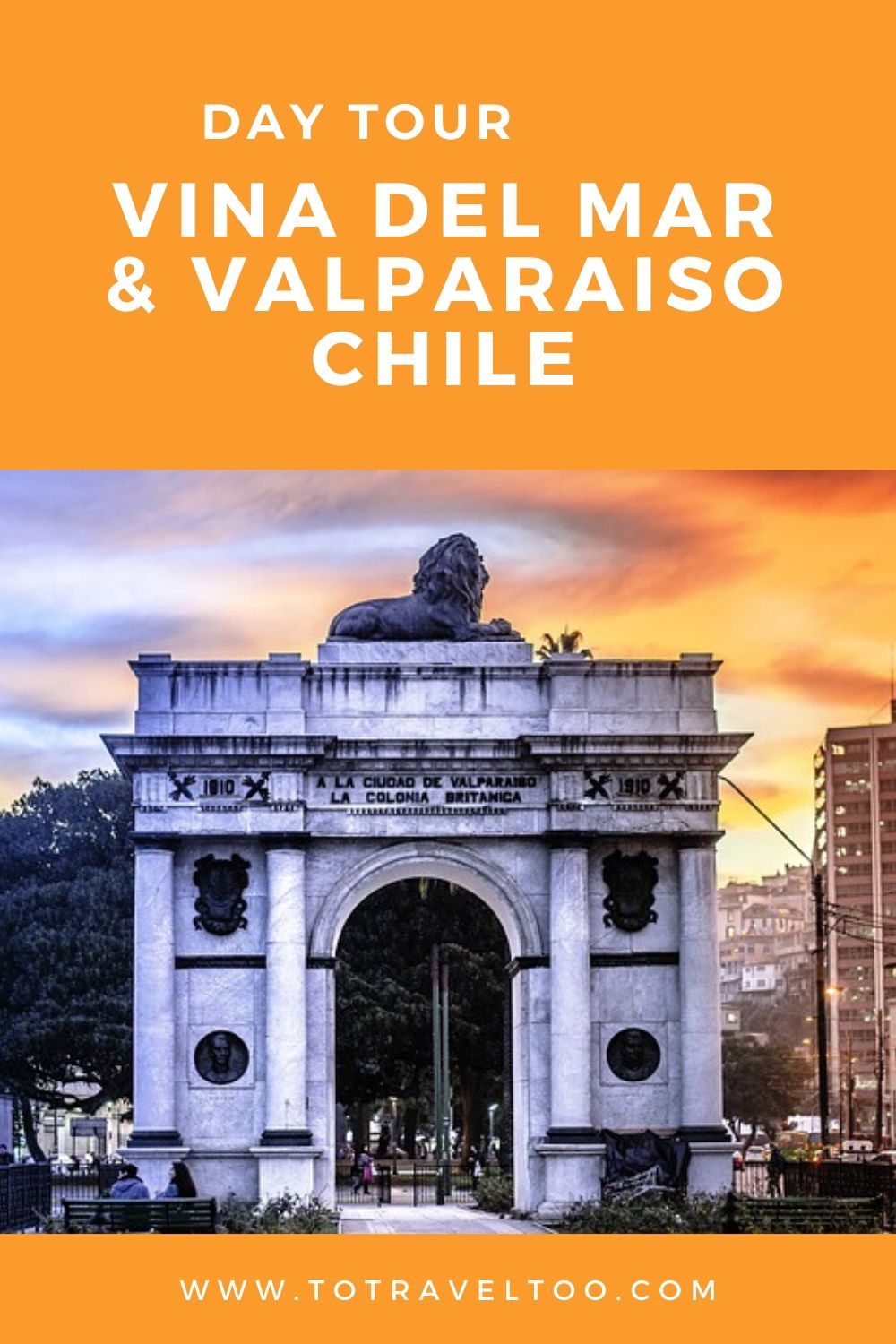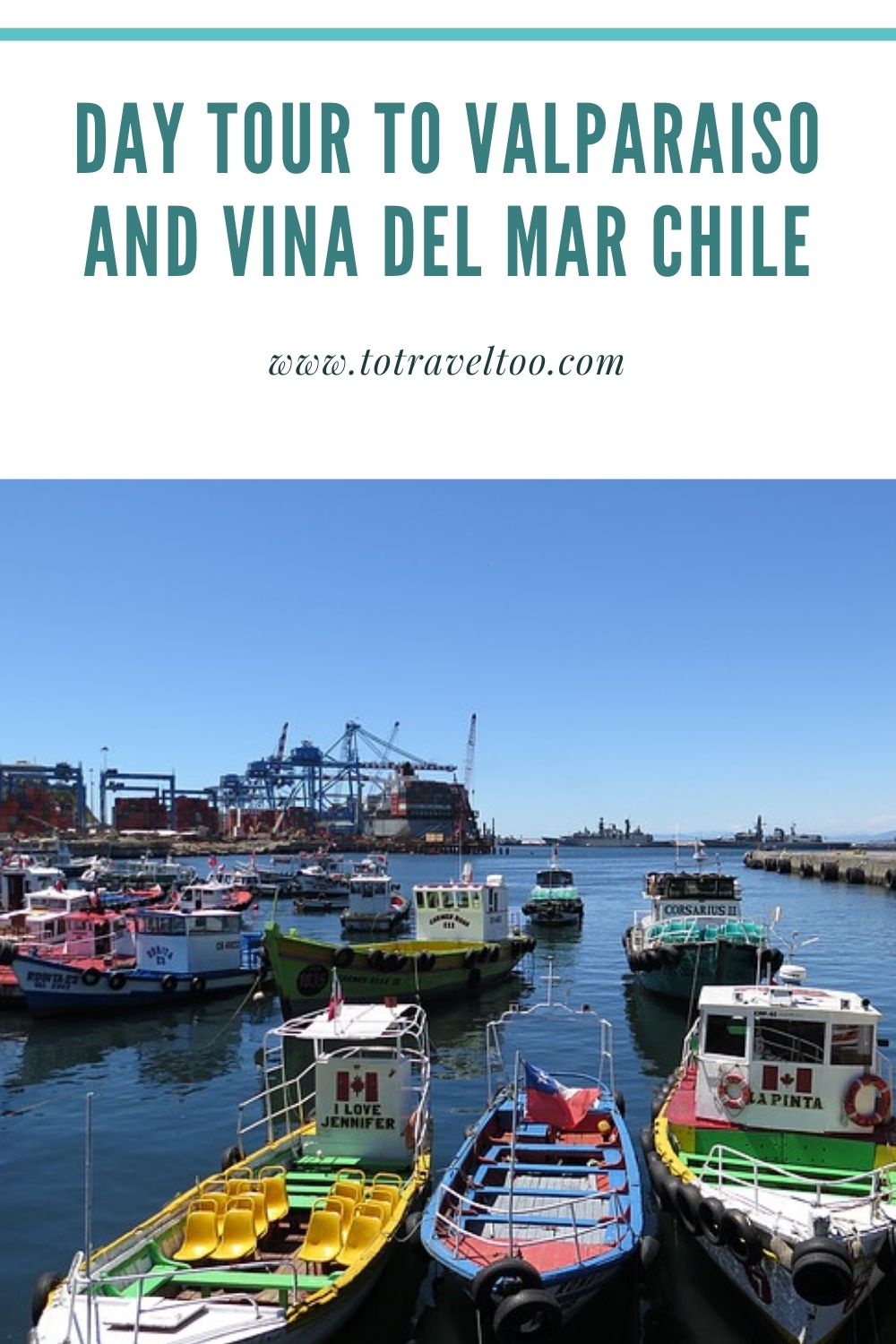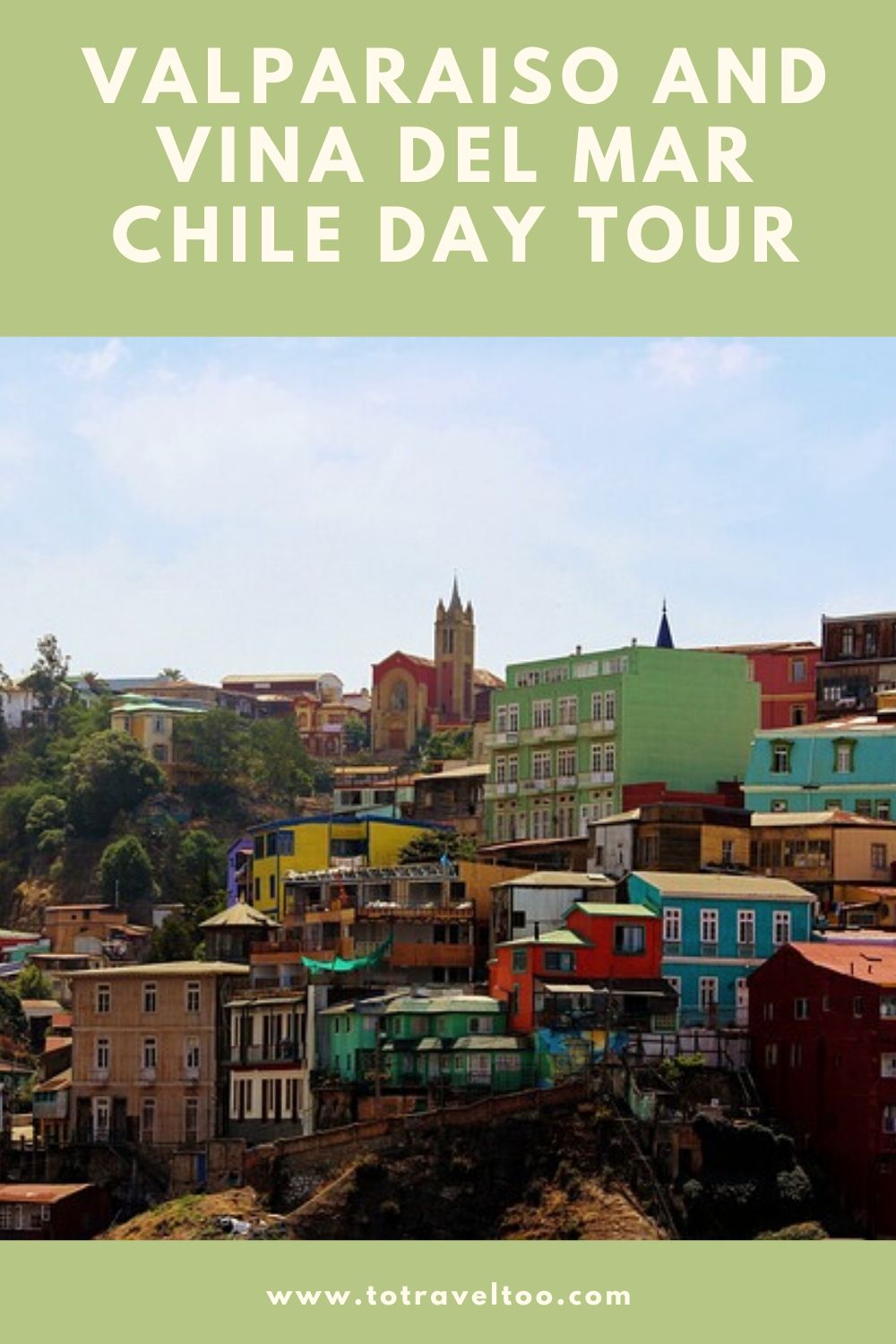 Conclusion:
In conclusion, a day out in Valparaiso and Vina del Mar offers an unforgettable experience with its stunning coastal scenery, vibrant street art, rich cultural heritage, and relaxing beaches. Whether exploring the colourful hills of Valparaiso or strolling along the beautiful promenades of Vina del Mar, visitors can immerse themselves in the unique charm and character of these two neighbouring cities. From historic landmarks to bohemian cafes, there is something for everyone to enjoy. A trip to Valparaiso and Vina del Mar promises not only a visual feast but also a chance to create lasting memories in this captivating region of Chile's Pacific coast.
Why not take our article with you as you wander around, now you can, just click our City Walk banner for more information.