Angkor Wat is a UNESCO World Heritage site located in the northern part of Cambodia. It is one of the world's most famous archaeological sites, attracting millions of visitors every year. In fact, 50% of visitors that travel to Cambodia visit Angkor Wat.
Angkor Wat is renowned for its intricate carvings, majestic temples and beautiful architecture that dates back to the 12th century. With so much to see and explore, planning a trip to Angkor Wat can be overwhelming. That's why we've put together this comprehensive Angkor Wat travel guide to help you navigate your way through this ancient wonderland with ease.
Over the years we have visited the Temples of Bagan in Myanmar, Chichen Itza in the Yucatan Peninsula, Teotihuacan in Mexico City and trekked 4 days/3 and nights to get to Machu Picchu, but Angkor Wat was different. It is the size of the site that is impressive, it is bigger than the city of Paris, 4 times bigger than the Vatican City, with 1,000 temples spread over 500 acres.
We recommend taking 4 days to visit Angkor Wat.  During our 4-day tour, we walked 23.5 km and completed 39,541 steps. It is tiring but it is worth every step taken.
Angkor Wat Travel Tips:
wear sturdy shoes
due to mosquitos wear long pants and long sleeves
wear a hat and sunglasses
take mosquito repellant with you
wear sunscreen
take water and snacks with you
Angkor Wat dress code: as you are visiting a temple you are required to wear pants or skirts below the knees and a T-shirt that covers the shoulders


You can book our 4-day tour to the Angkor Wat Complex and Beng Mealea here which includes a cruise on the Tonle Sap Lake.
This post may contain affiliate links. Please see our disclosure for more information. As an Amazon Associate, we earn from qualifying purchases (if applicable).
Where is Angkor Wat?
Angkor Wat is located 5.5 km north of Siem Reap and the distance by road between Angkor Wat and the capital Phnom Penh is 319.5 km.
If you are considering travelling from Bangkok to Angkor Wat the road distance is 405.6 km.  By bus, the journey takes between 6 – 7 hours depending on the border crossing.
Our article on What to do and Where to stay in Siem Reap
Related Reading: Top Things To Do in Kep and Kampot
Angkor Wat Map
Thanks to visit-angkor.org for their downloadable pdf map – map A .
Downloadable pdf Map – Map B – click here
Tickets for Angkor Wat
Tickets for Angkor Wat can be purchased at the main entrance on the road to Angkor Wat, 5 km from the city of Siem Reap or 12 minutes by car.
The ticket counter is between 7 – 8.5 km from the Angkor Wat complex depending on where you are visiting first and the journey takes around 15 minutes by car.  There is a ticket checkpoint that you will need to show your tickets at all times. There can be queues depending on the season and time of the day.
As of 2023 ticket prices for visiting Angkor Wat complex are:
1 day pass USD37 per person
3-day pass USD62 per person
7-day pass USD72 per person
The passes require a photograph that is taken at the ticket booth.  Your ticket needs to be with you at all times as passes must be shown at the entrance to temple complexes.
NB
If you purchase your ticket before 5 pm on the day your ticket is only valid for that day.
If you purchase your ticket after 5 pm you can use the ticket on that day but make sure when handing your ticket over that it is not stamped or punched on admission otherwise you have missed out on the use of one day.
Tickets can be paid for in USD, Cambodian Riel, Euros or Thai Baht and credit cards. There is an ATM at the ticket booth.  If you pay in cash your change will be given in Cambodian Riel.
As of 2020 entry to Beng Mealea is now included in the admission ticket for Angkor Wat (previously there was a USD5 entrance fee per person).
To visit Koh Ker the entrance fee is USD15
To visit Phnom Kulen the entrance fee is USD20.
Visiting Hours:
The Angkor Wat Complex is open between 5.00 am and closes at 6.00 pm.
Banteay Srey closes at 5.00 pm.
Kbai Spean closes at 3.00 pm.
Facts About Angkor Wat – Angkor Wat History
What is Angkor Wat?
Angkor Wat is the largest Buddhist site in the world.  The name "Angkor Wat" means temple city.
How old is Angkor Wat?
Construction on Angkor Wat commenced during 1110- 1150 making it over 900 years old.
Who built Angkor Wat?
Angkor Wat was built by King Suryavarman II who reigned between 1131 – 1150. It was originally built as a Hindu Temple dedicated to the God Vishnu.
It was built using:
300,000 workers
6,000 elephants
300 ox
Between 5 – 10 million bricks of sandstone were used in the construction which was mined from a quarry 25 miles away and transported by the canals and waterways of the area.
How long did it take to build Angkor Wat?
It took 30 years to build.
How large is Angkor Wat?
Angkor Wat is 208 hectares/500 acres in size.
Is Angkor Wat a UNESCO World Heritage Site?
Angkor Wat was listed as a UNESCO World Heritage Site in 1992.  Interestingly, it has never been included in one of the 7 wonders of the world.
Which temple was used in the Tomb Raider movie?
Ta Phrom was the temple that was used in Lara Croft – Tomb Raider. The fee was USD10,000 per day to film the movie in 2000.
Who discovered Angkor Wat?
In 1587 a Portuguese Monk – Antonio da Madalena was the first Westerner to discover Angkor Wat.
The French Explorer Henri Mouhot published an account of his visit in the 19th century in his book Travels in Siam Cambodia Laos and Annam.

He stated "Angkor Wat is grander than anything left to us by Greece and Rome"
FAQs on Visiting Angkor Wat
When is the Best time to Visit Angkor Wat?
The best time of the year to visit Angkor Wat is between December to February which is also the peak tourist season.
The dry season runs from December to April after that 6 months of rain and high humidity.  We visited in October and experienced rain showers in the late afternoon.
During April and May, the temperatures can reach as high as 40 degrees.
During the Low season, Angkor Wat receives between 2000 – 3000 visitors per day and in the high season, Angkor Wat received between 10,000 – 15,000 per day.
What is the best way to tour Angkor Wat?
The best way to tour Angkor Wat is with a guide and an air-conditioned car.
We chose a 4-day tour as we did not want to rush the experience.
Exploring Angkor Wat?  Do you need a guide to visit Angkor Wat?
Yes, you do need an experienced guide to visit Angkor Wat.  The site is so vast with so much history you may miss out on important aspects of the complex.
How many days do you need to visit Angkor Wat?
To visit all the major temples and sites you need at least 4 days.
Can you walk around Angkor Wat?
You can walk around each different temple region but as the whole complex, you do need transport.
Our 4-Day Tour to Angkor Wat Review
We booked through our tour partner Get Your Guide and were the first ones to experience the 4-day tour.  You can read our review here and book your tour.
We were fortunate to have an excellent guide by the name of Sa who was born in Siem Reap and has guided for many large travel companies including National Geographic. Sky, our driver, was also excellent, safe, reliable and on time. During the 4 days, we travelled in an air-conditioned car and had water supplied.
We purchased a 3-day ticket each which cost us USD 62 per person.
Day 1 Beng Mealea and Tonle Sap
Check out our Youtube video on visiting Beng Mealea.
Early morning start to drive to Beng Mealea (which means lotus pond)  which is 40 km east of the main temple complex of Angkor Wat, or approximately 1 hour of driving.
Beng Mealea was built in the 12th century. It was built by the same King as Angkor Wat – King Suryavarman II. Beng Mealea was also built as a Hindu Temple for the God Vishnu.
The temple complex lies in ruin and feels like it is hiding in the jungle. Over the years the jungle and vegetation have claimed back the temples.
We entered via the East Entrance which correlates to a rainbow connection, the universe to heaven, the beginning of the sun and the beginning of life. The East Entrance is where the King would enter the complex.
Tourists can enter via the South Gate.  The West Gate is where they would bring out people to be cremated or buried.
Over the years 438 mines have been cleared.  It is advisable not to venture off the paths.
The temple complex was mostly built in sandstone from a nearby quarry. They used oxen to transport the sandstone.  The sandstone decorations that remain relate to Hindu mythology, although there can be seen some Buddhist inscriptions.
Local Khmer people were selected as artists.  They would share their talents such as cooking, transport, carving animals and carving bamboo for inscriptions.
Tonle Sap
Check out our video on our boat trip on Tonle Sap
Tonle Sap Lake is located 15 km south of Siem Reap. Tonle means large river and sap means fresh not salty.  It is the largest freshwater lake in South East Asia.
5 provinces surround Tonle Sap Lake which connects to the Mekong River which flows down from China.  It was designated a UNESCO Biosphere Reserve in 1997.
There are 230 species of fish in the lake which include carp, eel, and stingray. Fishing is the #1 earner for the locals followed closely by tourism at #2.
Freshwater dolphins can be found in the lake. The lake is 6 – 8 times bigger in the wet season and full of fish. Fishing takes place in the large lake, our journey was down one of the smaller canals.
The floating villages are located down small side streams/canals. They move to this area from the big lake which takes between 1 – 2 months to relocate.
The houses are on stilts due to flooding and termites. Locals sleep upstairs and have their living quarters downstairs. The front is the living room and the back is the kitchen and toilets.  In single-storey homes, the middle section is the bedrooms.
In the dry season, they have to buy water. The locals use bikes instead of bikes to get around.
Cambodians, Vietnamese and Muslims all live together harmoniously and some of them are rich.
Water buffalos are used for manual work of transportation, ploughing fields and when they are too old they are used for meat. They need water all the time.  1 cow can cost USD500.00.
Cambodia uses Brahmin cows but they don't produce milk, they are used for working animals and meat. Cambodians have to import milk. Children do not drink enough milk as a can of formula can cost USD10.
Mines around Cambodia
The CMAC – Cambodian Mines Action Centre is working on clearing the mines from the fields. After 20 years they are still not finished.  Once there were 33 million mines. When it floods you can see the mines, when it is not the wet season the mines can kill.
During 1970 – 1975 many temples collapsed due to the B52 bombs during the war.
Sunset 1st Day – Pre Rup Temple
You can watch our sunset experience at Pre Rup Temple here:
Sa, our guide, recommended that we head to the Pre Rup Temple for sunset.  Pre Rup is a 15-minute drive from the Angkor Wat ticket office. The Temple is part of your Angkor Pass and is normally included in the "Angkor Wat grand circuit tour". Pre Rup is also a favourite temple for sunrise.
Pre Rup was a state temple constructed in the 10th century for the Khmer King Rajendravarman.  Pre Rup was a Hindu temple dedicated to the God Shiva.  The temple was constructed using brown-coloured laterite stone, grey sandstone and bricks from clay.  The temple is thought to have represented the sacred mountain Meru which is believed to be the centre of the universe in Hindu mythology.
The 3 tiered pyramid temple is over 1,000 years old and faces east.
Four towers are located on the site:
South West Tower dedicated to Lakshmi
North West Tower dedicated to Uma
South-East tower dedicated to Vishnu
North East Tower dedicated to Shiva
Carvings can be seen on the east wall.  The artists drew the pictures on the wall using metal tools.
Carvings include Shiva riding bulls, each temple dedicated to the God Shiva must have a Nanda Bull as part of the carving.
The Lion statues represent the King's power.  The dragons and Nagas that can be seen are holy animals related to Khmer ancestors.
Pre Rup was excavated by two French conservators George Trouve and Henri Marchal in the 1930s.
Day One visiting Angkor Wat statistics:
walked 4.9 km
8,223 steps
climbed 12 floors
Day 2 – Angkor Wat Small Circuit Group of Temples
Angkor Thom
You can view our Youtube video of Angkor Thom here.
The Angkor Wat Small Circuit Route of Temples at Angkor Wat includes Angkor Wat, Angkor Thom and Ta Prohm.
Angkor Thom's South Gate lies 7.2 km north of Siem Reap and 1.7 km north of Angkor Wat.
The Angkor Thom complex was built by King Jayavarman VII.  The complex is surrounded by  100m wide moat and 8m high walls which enclose this 9 square km city.
We entered Angkor Thom at the south gate where the bridge over the moat contained devas (gods) on the left-hand side and asuras (demons) on the right-hand side as you headed into the complex.
Angkor Thom is the last capital of the Khmer empire.  The city included residences for the priests, officials of the palace and military as well as administration buildings for the Kingdom. These structures were built of wood and have perished but the remaining stone monuments testify that Angkor Thom was indeed a great city as its name applies.
The Temples inside the city walls are Bayon, Baphuon, the Leper King, Preah Palilay, Tep Pranam and Prasat Sour Prat.
There are 5 gates to the complex:
West
North
2 in the East one for funerals and one as a victory gate
South Gate is popular for tourists.  The South Gate also contains 4 smiling Buddha faces.
Bayon Temple
One of our favourite temples which was built as the official state temple of the Buddhist King Jayavarman VII in the late 12th century.
Originally there were 49 towers sadly only 20 are still remaining.  Each tower had 4 faces total 216 in all. Each tower depicted a different activity.
There are carvings of lotus flowers in bloom over each smiling face.
The Bas relief on the walls depicts life in the time of King Jayavarman VII from military victories to the ordinary life of the Khmer people. Khmer people are depicted by their long ears which means long life.  The Generals of Jayavarman VII military are shown riding elephants or horses.
Bayon Temple has issues with its foundations.  If there is no water in the moat the foundations are not stable.
Baphuon Temple
Baphoun is a Hindu temple built during the 11th century.  It is a 3 tiered temple-mountain built as a state temple for King Udayadityavarman II. It is 120 years older than Bayon.   During the late 15th century the temple was converted to a Buddhist temple.  It took the French Government 20 years to restore the temple.
Phimeanakas Temple
Phimeanakas Temple was built at the end of the 10th century during the reign of Rajendravarman.  It was completed during the reign of Suryavarman.  The temple is a 3 tiered temple built in the Khleang style.
Terrace of the Elephants
The Terrace of the Elephants was used as stadium for sports such as horse racing and as a platform that King Jayavarman VII used to watch the return of his victorious armies.  It is part of the walled city of Angkor Thom and is 350m long and 2.5m high and was constructed during the 12th century.
To Travel Too Tip:  The best time to visit for taking photographs is before noon.
Terrace of the Leper King
The Terrace of the Leper King was built in the Bayon style under King Jayavarman VII.  The statue which has been discoloured over the years and had moss growing over it was likened to a person who had leprosy.  The statue depicts the Hindu God Yama who is the God of Death.
As you leave the Angkor Thom complex by the East gate you come across Chau Say Tevoda Temple.  The temple was constructed during the 12th century and used by the Khmer people.
Thommanon Temple
Thommanon Temple pairs with Chau Say Tevoda on the opposite side of the road just outside the East Gate. Built at the same time as Chau Say Tevoda the temple has sculpted reliefs of Hindu Gods Shiva and Vishnu.
Ta Phrom
Ta Phrom Temple is located 1 km east of Angkor Thom.  The temple complex was founded by Khmer King Jayavarman VII in 1186.  The site was home to 12,500 people including 18 high priests, 615 dancers and 8000 locals in villages nearby.
At the fall of the Khmer Empire during the 15th century, Ta Phrom was neglected and abandoned.  Unfortunately, it has now been swallowed up by the jungle.  Silk cotton trees and the strangler fig have damaged the site.
Ta Prohm was originally known as Rajavihara which means 'royal monastery'.
The temple was featured in the Lara Croft Tomb Raider movie starring Angelina Jolie. The tree has 2 strangler figs growing over it and contains a number of beehives.
When you visit the Central Sanctuary you will notice a lot of holes in the wall.  It is believed that these holes contained emeralds, gold and other jewels that caused a reflection.
If you listen to our Youtube video of Ta Phrom, our guide Sa, demonstrates the amplified sound of heart beating in the Echo Room. The Echo Room was used as a place for the Khmer people to pray to God, and seek guidance if they were upset or unhappy.
When we visited the Dancing Hall was under renovation.  The Hall was used to bless the Khmer people for long life and performances of the Apsara Dance were performed there.
Day Two statistics of visiting Angkor Wat:
walked 4.7 km
7,758 steps
climbed 8 floors
Day 3 Angkor Wat Grand Circuit Route
Angkor Wat
We visited Angkor Wat on the morning of Day 3.  Whilst there we planned on where we would locate ourselves for the sunrise visit the next morning, with our guide Sa, who gave us a few recommendations.  It depends on how many people are there and what time you arrive, there could be long queues at the entrance of the archaeological park ticket check-in.
You can check out our Youtube video on our experience here:
Angkor Wat is so impressive.  Your first glimpse is from the western causeway as you start to cross. Angkor Wat is a massive 3-tiered pyramid crowned by 5 beehive towers that rise 65m from ground level.  It was designed to represent Mount Mera which is the home of devas in Hindu mythology.
Angkor Wat was constructed by 2 kings.  The first, King Suryavarman, started the construction early 12th century as a state temple and mausoleum for himself but unfortunately, he passed before it was completed.  King Jayavarman VII completed the construction during the late 12th century. It was originally a Hindu temple dedicated to Vishnu but by the late 12th century it transformed into a Buddhist temple. The temple was constructed using local sandstone and laterite spread over 400 acres.
There are 5 towers and 5 gates, odd numbers are sacred numbers.
The first floor of Angkor Wat is on good condition.  The bas reliefs depict 8 Hindu stories in total.  The most famous is the Churning of the Sea of Milk.  It took 70 years to carve the stories along the corridor.
Preah Kahn
Preah Kahn was constructed during the late 12th century by King Jayavarman VII in honour of his father. The city was also a Buddhist university and was the centre for 100,000 officials and servants.  It was constructed in the Bayon style as a flat temple complex.
View our Youtube Video of Preah Kahn here:
We entered by the west gate and exited out the north gate.  Silk cotton trees have strangled parts of the temple, the best time to capture the good light to photograph them is between 1000 and 1100.  It will take around 1.5 – 2 hours to visit the complex. The temple is located opposite Ta Prohm.
Nek Poan Temple
You can view our Youtube video on our visit to the Nek Poan Temple here:
Nek Poan is an artificial island in Jayatataka Baray north of Angkor Thom.
Nek Poan was built during the reign of King Jayavarman VII for medicinal purposes. There are 4 connected pools that relate to the four elements of water, earth, fire and wind which are based on the ancient Hindu belief of balance.
When attending the temple for healing you are required to pray first and then discuss your health issues with a healer.  After that, water is collected from each of the four pools and you head to the chapel to be anointed with the water.
There are 4 chapels all located in the 4 cardinal directions and have an animal and element appointed to them.
North – elephant – water
West – horse – wind
South – lion – fire
East – human – earth
East Mebon Temple
You can view our visit to the East Mebon Temple here:
A mid-10th-century Temple was built by King Rajendravarman II to honour his parents.  You can enter and leave by the east gate. It is located on once was a small island accessible only by boat, today it stands on a plain of rice fields.
East Mebon was built in the Pre-Rup style, the temple itself being 500m away. The five towers represent the five peaks of the mythical Mount Meru. Two enclosing walls and 3 tiers were constructed using local sandstone, brick, laterite and stucco. Some of the towers have holes in the brickwork from insect infestations.
The temple was dedicated to the Hindu God Shiva.
You can allow between 45 – 60 minutes to visit.
Day Three statistics on visiting Angkor Wat:
walked 7.8 km
13,157 steps
climbed 17 floors
Day 4 Angkor Wat at Sunrise and Bantry Srei Temple Complex
Sunrise at Angkor Wat
Plan to arrive after the gates open at 5.00 am.  We found the best viewing area is the reflection ponds on the left-hand side.  Stand your ground, others will try and push in front of you.  If you have a tripod bring it as well.
Check out our Youtube video here.
Banteay Srei Temple
You can view our Youtube video of Banteay Srei here:
Bantray Srei means the "city of women" and it was constructed during the late 10th century. It was the only temple that was not constructed by a Monarch. It was dedicated to the Hindu God Shiva. The temple is located 25 km north of Angkor Wat and takes 45 minutes by car.
The temple was rediscovered in 1914.  The Swiss Government in conjunction with Cambodia is helping to restore the complex.
It is considered by many to be the jewel in the crown of Angkorian art.
Bantrey Srei is cut from stone of a pinkish hue and includes some of the finest stone carvings anywhere on the earth. The carvings are 3 dimensional.
Over the years the complex has been pilfered and vandalised.  Some statues have been removed to the National Museum in Phnom Penh for safekeeping.
Banteay Samre Temple
Banteay Samre Temple was constructed during the 12th century and dedicated to the Hindu God Vishnu.  It was built by King SuryavarmanII in the Angkor Wat style. "Samre" means the ancient people of Indochina.
You can view our Youtube Video here: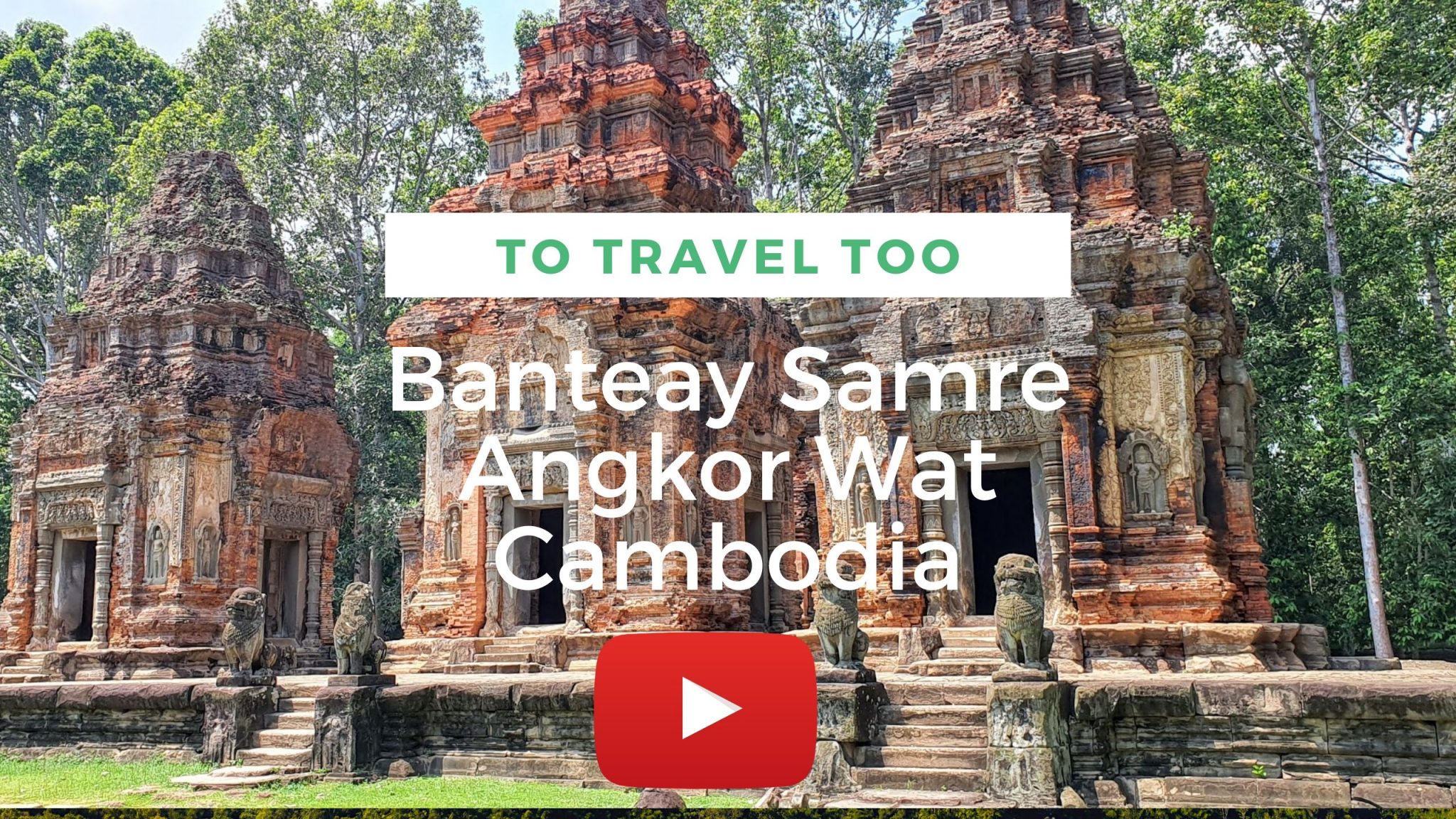 Banteay Samre is located 20 km from Siem Reap.  It was restored by the Germans between 1936- 1944.  It is a low-rise temple with carvings that depict Hindu and Buddhist stories.
It is not often visited by travellers.  You can allow 30 – 60 minutes to visit.
Preah Ko Temple
Preah Ko Temple was built in the 9th century during the reign of Khmer King Indravarman I.  The temple is dedicated to the Hindu God Shiva.  It was built to honour the members of the King Family.  Preah Ko means the sacred bull.  The temple complex has statues of the white bull Nandi which is the mount of Shiva.
You can view our Youtube video here of our visit to Preah Ko Temple:
Day Four statistics on visiting Angkor Wat:
walked 6.1 km
10,403 steps
climbed 7 floors
1-2  Day Tours of Angkor Wat Cambodia
Best Place To Stay in Angkor Wat
During our time spent in Siem Reap we stayed in 3 hotels:
and undertook site inspections of the:
The 5-star Sofitel Angkor Phokeetha Golf & Spa Resort is located a few minutes from Angkor Wat. The best place to stay in Angkor Wat.
You can read our full review here.
The hotel is suitable for families, couples and solo travellers.  The lush tropical gardens and one of the largest swimming pools in Siem Reap makes it the perfect location to retire to after a full day visiting the temples. The rooms are luxurious with all the comforts that you would expect from a 5-star Sofitel Hotel.  Enjoy a spa treatment or a work out at the gym before you head to the Explorers Bar for happy hour and then dine at the romantic Mouhot's Dream French restaurant.

The 4 star Siem Reap Palace Residence has recently opened its door.  It is well located to walk into Siem Reap.  The modern and very comfortable Hotel offers luxurious bedrooms with balconies overlooking the swimming pool. Breakfast is included and the Wifi is strong.

The 3.5 star Dream Mango Villa is well located in visiting Siem Reap.  The rooms are large, breakfast is included and the swimming pool a welcome relief after a day visiting Angkor Wat. There is a small restaurant and bar. The staff are welcoming and look after their guests well. Wifi is strong.

The 5-star Moroccan inspired hotel – Sarai Resort & Spa is perfect for that romantic break in Siem Reap. It is located within walking distance of the town. The rooms are decorated in Khmer style traditional furnishings.  The swimming pool is perfect for relaxation. Chill out at the end of the day in their Seasons Spa.
The 5-star Raffles Grand Hotel d'Angkor is located a short distance from Angkor Wat.  The luxurious 5-star hotel underwent a renovation in 2019. The rooms are beautifully appointed and luxurious. The swimming pool is one of the largest in Siem Reap.  You can enjoy spa treatments, yoga classes, blessings by a local monk and dine on the finest local Khmer cuisine.

In conclusion, Angkor Wat is undoubtedly a must-visit destination for any traveller seeking to explore the rich history and captivating beauty of Southeast Asia. Its awe-inspiring architecture, intricate carvings, and sprawling temple complex offer a unique glimpse into the ancient Khmer civilization. From watching the sunrise over the iconic main temple to exploring hidden gems like Ta Prohm and Banteay Srei, there is no shortage of wonders to discover in this UNESCO World Heritage Site. With proper planning and guidance from this travel guide, visitors can make the most out of their trip to Angkor Wat and create memories that will last a lifetime. So pack your bags, immerse yourself in the mystique of Angkor Wat, and embark on an unforgettable journey through time.
How to travel to Angkor Wat in Cambodia
Airport for Angkor Wat
Siem Reap International Airport is located 6km from Siem Reap.  It is Cambodia's 2nd busiest airport after Phnom Penh.
Flight Deals to Siem Reap
Find the cheapest flights with Skyscanner who then directs you to the airline's website with no extra fees to pay.
Bus Travel to Angkor Wat
We use the services of 12goasia for our bus, train and ferry tickets around South East Asia.
Travel Insurance
We recommend taking out travel insurance as soon as you book your flights and pay deposits on any cruises, tours or hotels.
Do You Need a Visa for Cambodia?
Pinterest
Are you on Pinterest? We are at To Travel Too and we have many travel-related boards check us out at Pinterest.  If you enjoyed our article why not pin it to your board?
Visit Our To Travel Too Shop
Travel smarter and safer with products from our To Travel Too Travel Shop.  If you are looking for the latest luggage, guidebooks or travel accessories we have you covered with over 800 travel products to choose from.