Triana, a vibrant neighbourhood nestled on the west bank of the Guadalquivir River in Seville, Spain, is known for its rich history, lively atmosphere, and unique cultural heritage. With its narrow streets lined with colourful houses, traditional ceramic workshops, and bustling marketplaces, Triana offers visitors an authentic taste of Andalusian charm. One of the best ways to explore this enchanting district is through a walking tour that takes you through its hidden corners and unveils fascinating stories from its past. In this Walking Tour of Triana review article, we will delve into the captivating experience of a walking tour – from discovering ancient landmarks to learning about Triana's history – making it an essential addition to your itinerary when visiting this captivating city.
We love free walking tours, and we learn so much from passionate locals who want to 'show off' their cities to travellers. There are just so many Seville (Sevilla as the Spanish spell and pronounce it) attractions to visit you will need at least 2 days in Seville.  Have you visited Seville?
This post may contain affiliate links. Please see our disclosure for more information. 
What were we doing in Spain this time? We were travelling on our 10-day road trip around Southern Spain and spent 4 nights in Seville.
We hired a car and enjoyed 10 nights of travelling around the region starting in Madrid and ending back in Barcelona.
Triana a suburb of Seville is unique, as it is a working-class neighbourhood across the Guadalquivir River. It has a lot of history and is full of romance and is home to the flamenco dance.
If you are visiting Seville and you have time we would highly recommend this evening tour of Triana.  If your visit is in Summer, the coolness of the evening as you wander around is the ideal time and at the end of the tour, you can enjoy the many Tapas bars in Seville.
Need WiFi in Seville – you can now pre-book your WiFi device in advance. Click here for more details.
Seville is the capital of Andalusia in Southern Spain situated along the banks of the Guadalquivir River.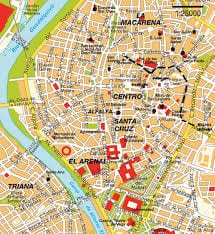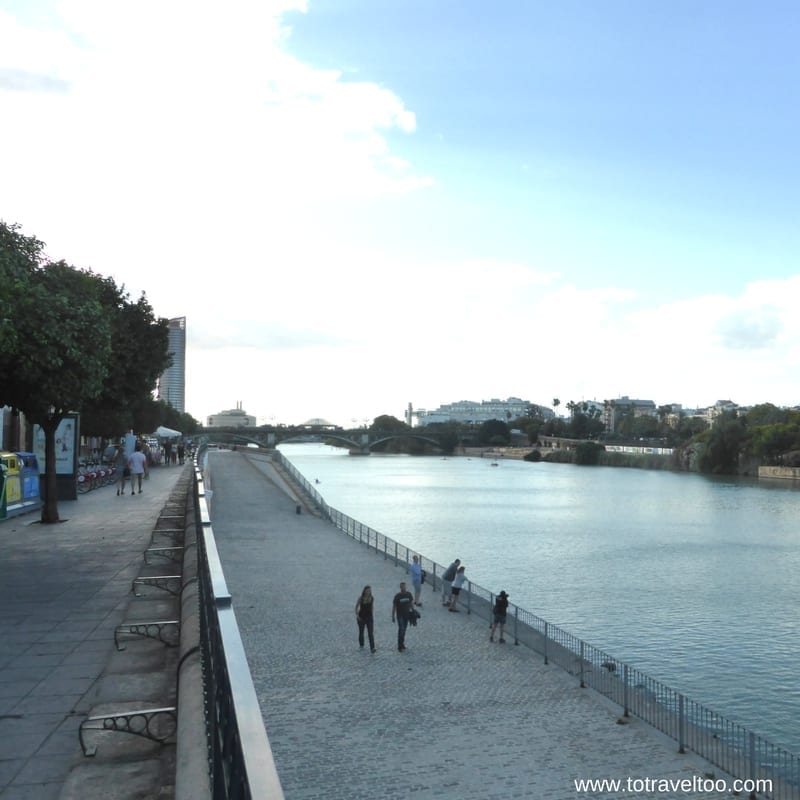 Triana was located outside the walled city of Seville, separated by the Guadalquivir River. Triana was classified as the poorest neighbourhood of Seville, full of blacksmiths, sailors, and flamenco dancers. The sailors were the poorest. The residents of Triana were not allowed to live within the walled city of Seville.
The Guadalquivir River is the 2nd longest river in Spain. Triana in Latin means behind the River (Seville), with tri meaning 'behind' and 'ana' meaning river.
Triana was founded during the Roman period by Emperor Trajan who apparently lived close by in the town of Italica. It is known as the "Independent Republic of Triana". Its people are very proud of their heritage.
Walking Tour of Triana in Seville Review
If you have 3 days in Seville a walking tour of Triana will give you a further experience of the fascinating city of Seville and its people.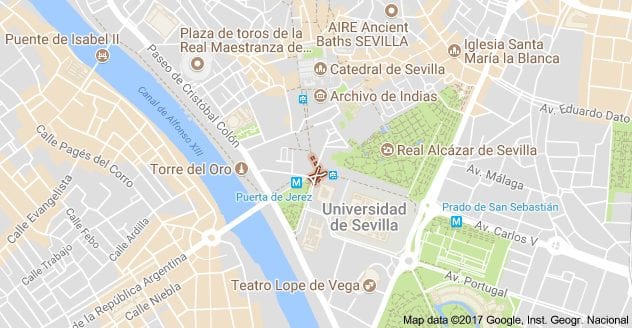 We met at Puerta Jerez in Seville at 7.00 pm.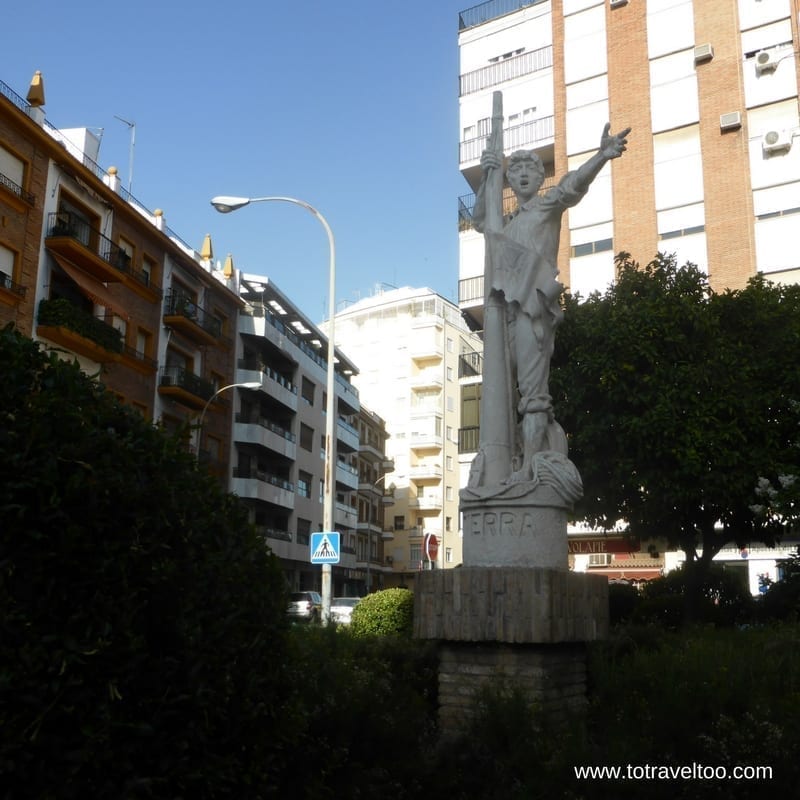 Local sailor, Rodriguez, not Columbus was the first man to see America he was born in Triana, he died in Tunisia in Tunis in 1498.   He was Triana's first hero. Colombus took this honour for himself as he was promised lands and riches from Queen Isabella and King Ferdinand. Two years later the boats returned to Spain. We were surprised to hear this piece of history.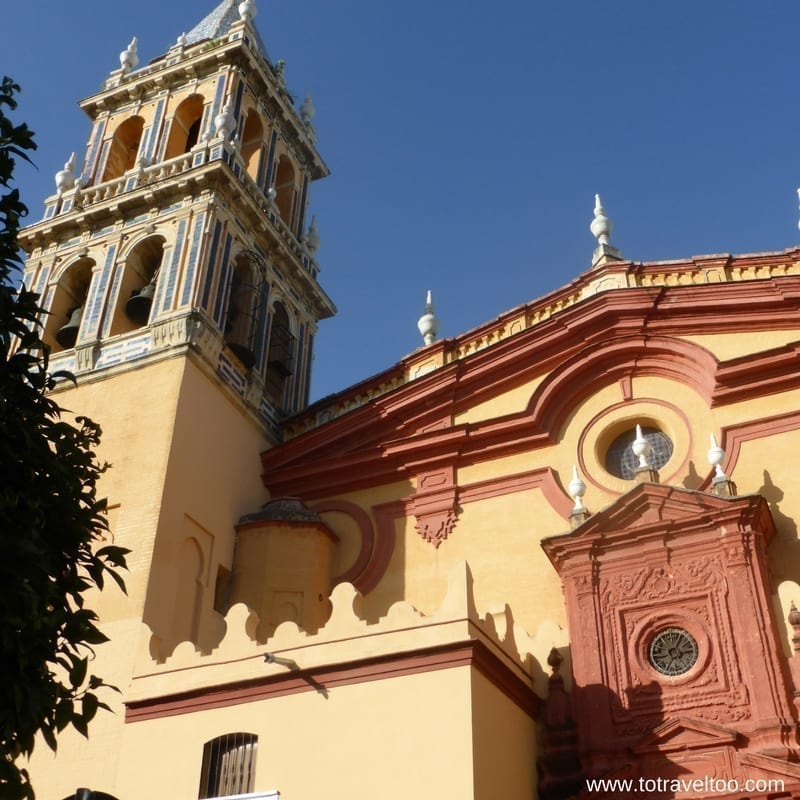 Iglesia Sant Ana began construction during 1256 by order of King Alfonso X. The legend states that Alfonso (the son of King Ferdinand) who lived in Seville during 1256 and 1268 started to lose his eyesight due to his extensive writings and studies at night. As Triana was a Jewish and Muslim neighbourhood full of Doctors it was these learned men who found a cure rather than the regular Christian Doctors that the Royals used. As a celebration, the Church was founded and built by the Spanish King and completed in 1266. Water and plants represented on the church entrance are geometric forms which can be seen on both sides of the column.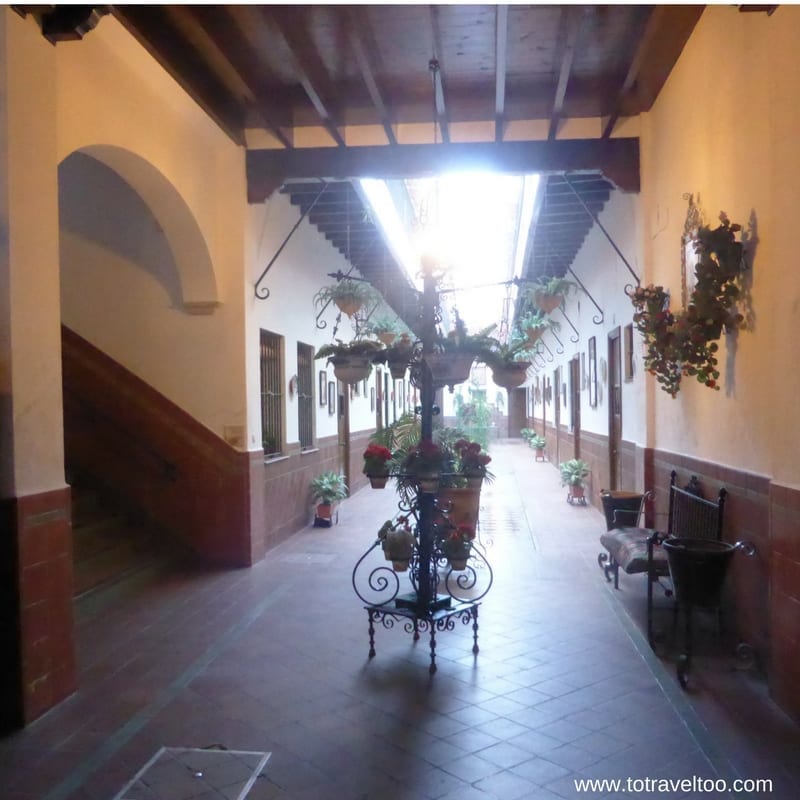 Gypsies arrived in Seville from India and Ceylon in 1225. They were first called 'Egyptian people' by the Muslims and Catholics – hence the name Gypsies. They had dark-coloured skin similar to Indians. The Gypsies were the best flamenco dancers and singers. Flamenco is now classified under UNESCO's Intangible Cultural Heritage of Humanity. The flamenco dress was originally worn by women of businessmen usually of Gypsy origin and it was more like a housecoat with flounces. Granada in Spain is a destination known for its flamenco and has a large gypsy population living in caves in the mountains surrounding Granada.
The Courtyard is where two centuries ago the Gypsy people lived. Here they practised their dancing and singing, today it has been turned into luxury apartments.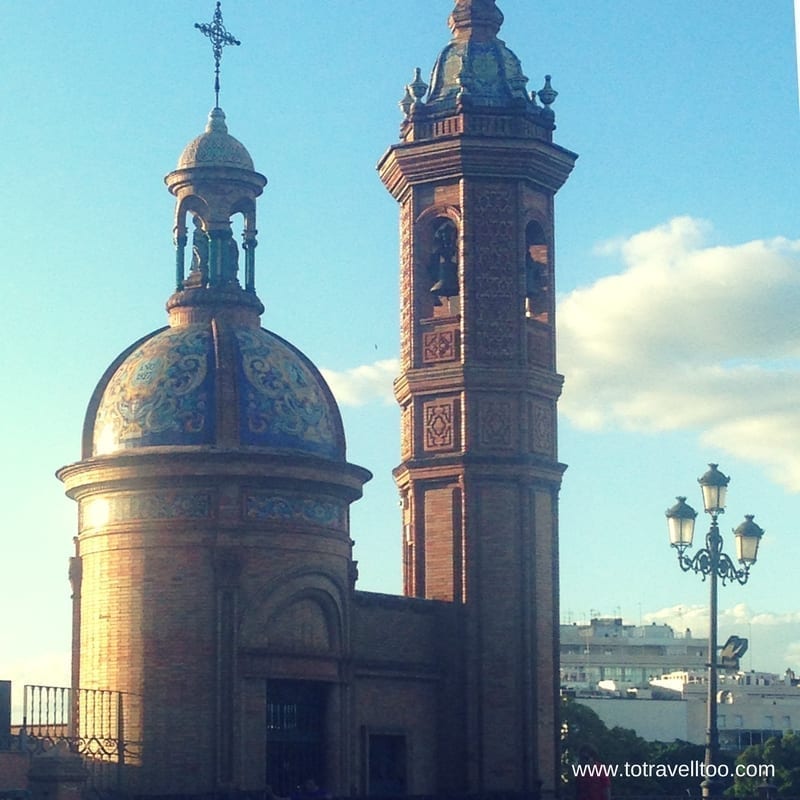 Punte Isabel II (also known as the Triana Bridge) started construction in 1845 by two disciples of Gustave Eiffel. As you cross the bridge you will notice the Chapel of the Virgen del Carmen. It is built in the Moorish Revival Style and houses beautiful tile work inside. Virgen del Carmen is known as the protector of sailors.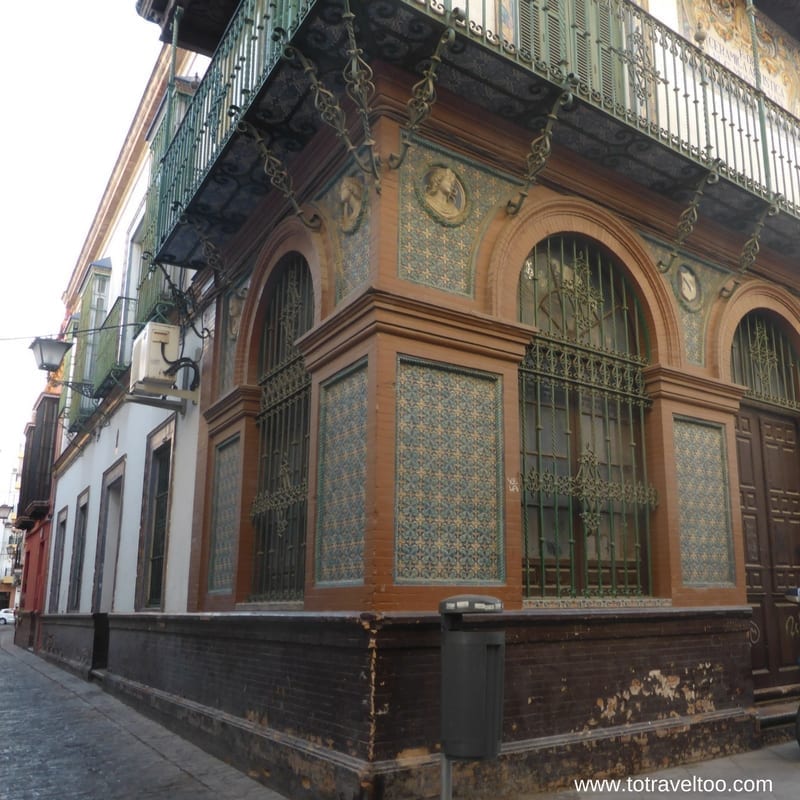 Triana is famous for its ceramic tiles using mud from the river Guadalquivir. Ceramic workshops are rare now but you can still find some tile shops. The tiles are colourful with exquisite designs, you could spend all day just wandering around admiring all the tiles.  The buildings remind us of our time in Lisbon, also well known for colourful tiles on buildings.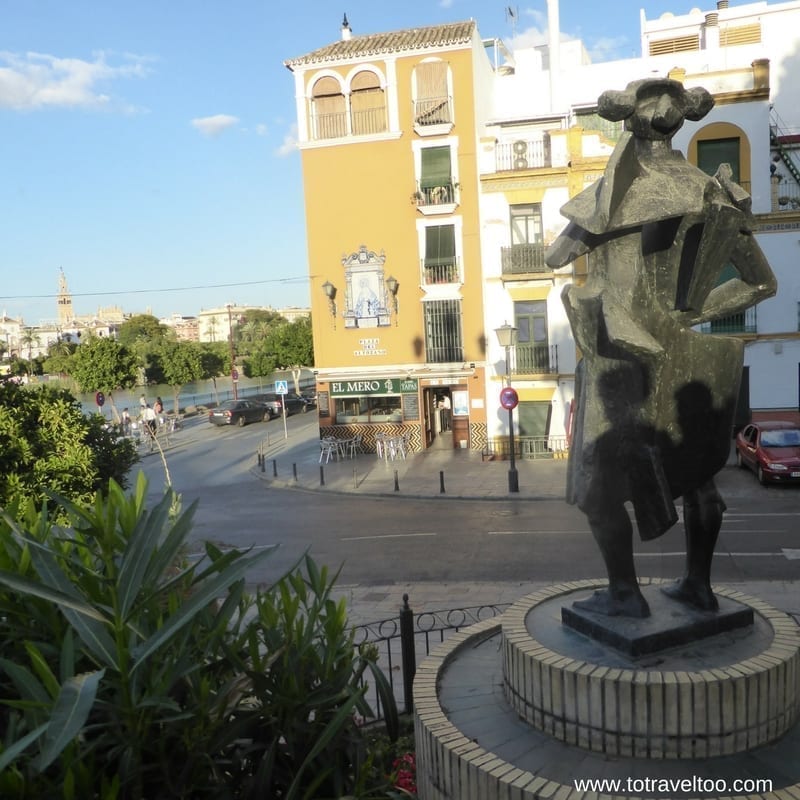 There is a statue of a bullfighter opposite the Chapel of the Virgin of Carmen at Altozano Square.
Bullfighting is still practised in Spain. King Phillip III ordered his soldiers to train with the bulls in 1625. Spanish bulls are reputed to be the biggest in the world and they were bred in the mountainous areas of Spain. Spain is divided 50/50 those for and those against bullfighting.  We are against bullfighting.
Triana has cobblestoned streets, a lively atmosphere, the houses are smaller and less grand than Barrio Santa Cruz across the river in Seville itself. Locals from Seville have claimed they have never crossed the river or set foot in the Triana neighbourhood. If we had more time we would have returned to sample all of the Seville restaurants, the bars, cafes that line the riverfront and in the small plazas. As we walked around we could hear flamenco music being played in small bars.
Don't bypass a visit to Triana and its proud people who take their heritage seriously.
Free Tour Triana Sevilla Details:
Website:
Free Walking Tour – Free Tour Sevilla
Price:
It is a free walking tour but tips are appreciated.
Meeting Place:
Puerta Jerez, Seville
Meet at 7 pm at between June and September
Meet at 5 pm between October and May
Our Tour Guide:
Valen – who was very informative and you could tell his passion for his city
Other Things To Do in Seville Spain
If you are visiting the Alcazar you can now purchase skip-the-line tickets, avoid the long queues, and enjoy a 1.5 hour guided tour. For more information and booking click here.
Off the beaten path and market tour? Wander for 2 hours enjoying local neighbourhoods that are off the beaten path.
Would you like to take our article with you, you can now.  Click our link below for more information on how to download our article and be your own tour guide with our article offline.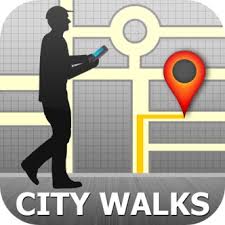 More articles to inspire you to book your next vacation to Seville:
Seville How to plan the Perfect City Break
Seville Hotels
Check out the latest hotel deals for your travel dates below.

There are many hotels in Triana and in Seville that suit all budgets and tastes.  Tripadvisor has reviews on all the best hotels in Seville Spain to help you to choose the most suitable for your stay.
One of our favourite restaurants in Seville is La Azotea.
Address:  Calle Zaragoza 5, Seville
We have a large range of best restaurants in Seville for your information.
Tapas is our favourite local cuisine in Spain and we have enjoyed Tapas all over especially in Bilbao and Granada. We would recommend that you head towards the Mercado Ferria for lunchtime Tapas.
Getting into Seville 
Seville airport is located 25 minutes away.  We use Skyscanner to book our flights, click here for the latest fares and availability.
Ryanair flies into Jerez Airport which is located 95km from Seville.
Seville is serviced by AVE high-speed trains e.g. Cordoba is 1 hour away and Madrid is 3 hours.
Buses are a great way to travel through Spain. Click here for more information.
Need an International Drivers License? You can obtain one within minutes here.
If you enjoyed our article why not PIN it for later?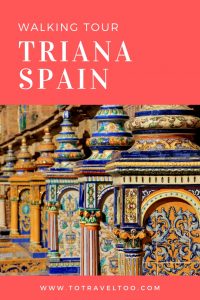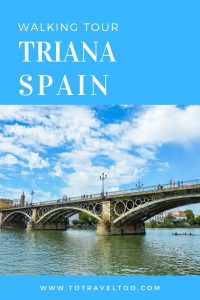 Travel Insurance
World Nomads offers simple and flexible travel insurance. Buy at home or while travelling and claim online from anywhere in the world.
We have recently joined forces with Amazon to create our own To Travel Too Travel Shop with over 800 related travel products that we have used or that we have been recommended by other travel bloggers and travellers.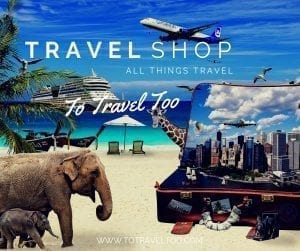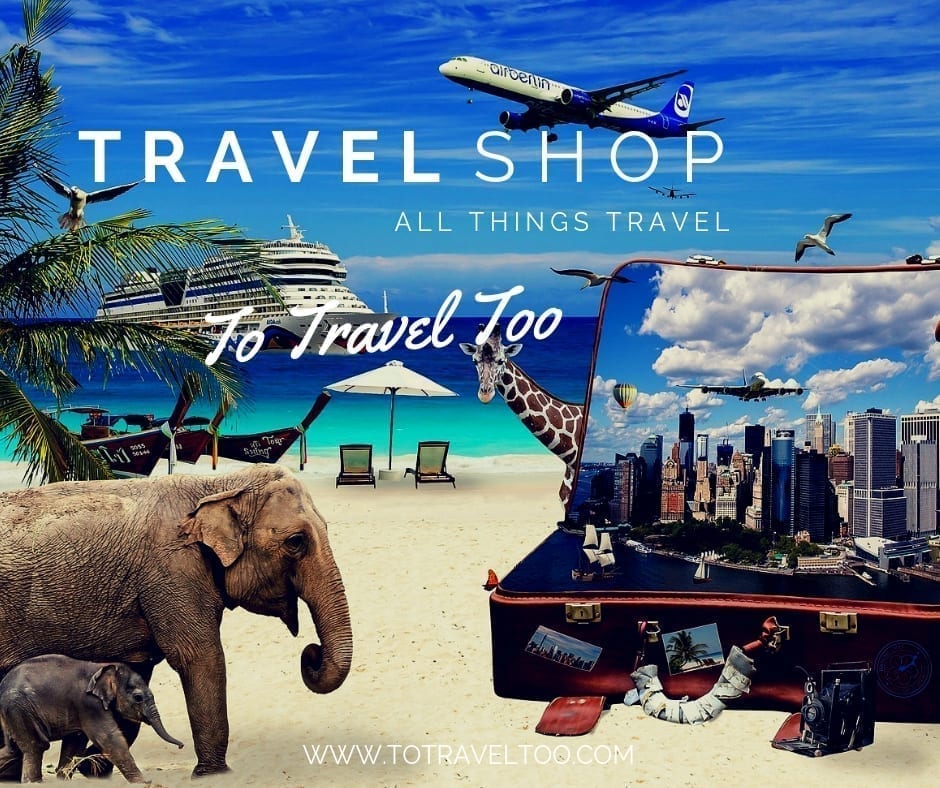 Disclosure: Certain links in this post are affiliate links. This means that should you make a purchase via our link, we will receive a commission which will not affect the price you pay.
In conclusion, a walking tour of Triana Seville is an excellent way to explore this vibrant and historic neighbourhood. With its rich culture, beautiful architecture, and fascinating history, Triana offers a unique and immersive experience for visitors. From the bustling market to the charming streets lined with colourful houses, there is something to discover around every corner. Whether you are interested in flamenco dancing, traditional ceramics, or simply soaking up the lively atmosphere, a walking tour of Triana will surely leave you with lasting memories. So put on your comfortable shoes and get ready to embark on a journey through one of Seville's most captivating neighbourhoods!