Planning to travel to Zihuatanejo/Ixtapa in Mexico on the Pacific Coast? A great choice!
We have put together our guide on what to do in Zihuatanejo, Mexico's tropical paradise on the Pacific Ocean. We were only meant to stay for a week and ended up staying 5 weeks in total it captivated us so much.
We loved wandering downtown during the morning and enjoying a coffee whilst watching the locals at the buzzing fish market as the boats came in.
In the late afternoons, we would head to the beach and choose one of the fish restaurants there and dine on freshly caught grilled fish, guacamole and ice-cold Sol beer.  It was an easy pace of life and one that was hard to leave. "Zihua" as it is known to the locals,  has excellent weather all year.  As the bay is sheltered it is safe for swimming all year round.
Zihuatanejo  is hard to pronounce, let us help you with the Spanish pronunciation is "siwata nexo".
Tripadvisor Zihuatanejo – read what travellers have to say about Zihua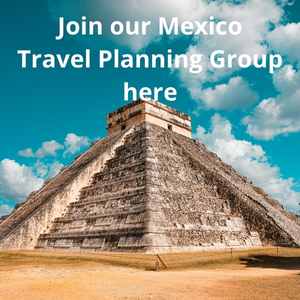 We love Mexico so much that we even wrote an e-book: Mexico A Travel Guide with our top travel tips on destinations throughout Mexico. USD2.99
This post may contain affiliate links. Please see our disclosure for more information. As an Amazon Associate, we earn from qualifying purchases (if applicable).
Where is Zihuatanejo Mexico
"Zihua" as it is locally known, is located on the Pacific Coast in the State of Guerrero 240 km northwest of Acapulco.  A typical Mexican sleepy fishing village located in a well-protected bay, Zihua offers the traveller a peaceful location to holiday in compared to the busy, high rise tourist development of Ixtapa 10 kilometres away. Ixtapa's beaches face the ocean and at times undertow problems arise.
Zihuatanejo Map
Zihuatanejo Mexico Map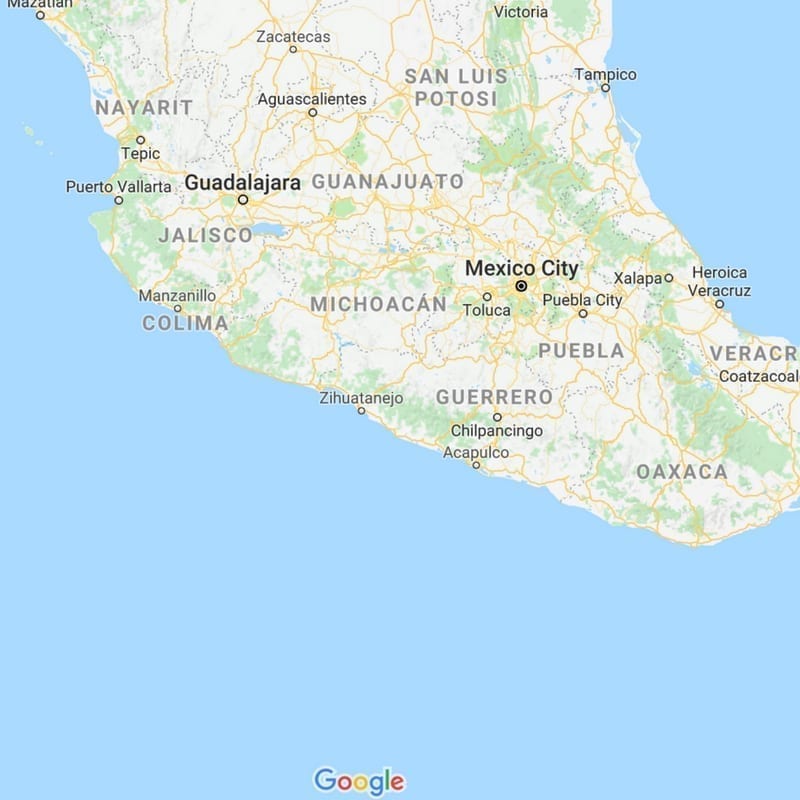 Map of Zihuatanejo
Arrival at Zihuatanejo Airport
We flew into Zihuatanejo Airport from Mexico City via Interjet and was impressed with the views from the plane of the long ocean beaches and the green tropical landscapes.
Zihuatanejo Airport is located a few kilometres out of town.  It has a quirky baggage retrieval system.  As you enter the terminal, there is a small area on your left that is roped off, bags are unloaded into this area, then the pushing and grabbing starts, chaos everywhere, people tripping over one another to try and reach for their bag underneath the ropes, whilst airline staff try to deliver the right bag to the right person. Luckily there is a checkpoint where your bags and receipts are checked before you exit the terminal.
Flight Deals
Find the cheapest flights with Skyscanner our 'go-to' when we are researching and booking flights.
Where we stayed in Zihuatanejo
One of the best hotels in Zihuatanejo is Hotel Aura del Mar.
This accommodation had a major part to play in us extending our stay.  Hotel Aura del Mar is located on Madera Beach with a private access and had a good size swimming pool. Our room came with a spa and a large balcony that overlooked the pool and the beach.
We would stay there again, it was one of our best accommodations in Mexico.
Latest guest review: "Everything was absolutely incredible ! Such a special experience from start to finish."

Things to do in Zihuatanejo Ixtapa Mexico
Wander Paseo del Pescador  (Fisherman's path) and visit the daily fish market
During the morning just past the basketball courts, you will see the local fishermen selling their catch from the evening's fishing. It is fun watching the locals haggle with the fishermen and rushing to get the best of the best! Seagulls are also eyeing off the catch!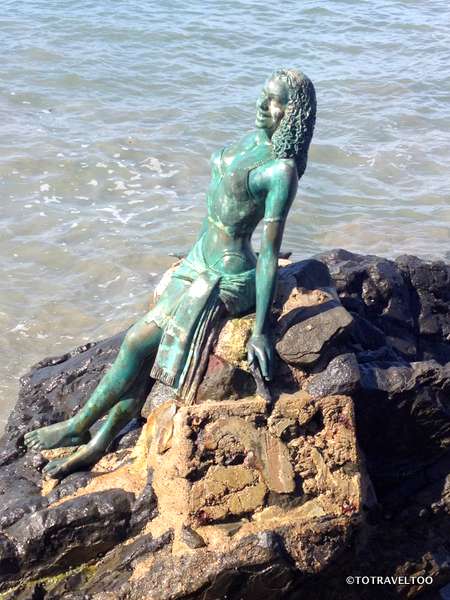 Visit Playa Las Gatas (Cat Beach)
The small port is used for the local fishermen and ferry boats that take you across the bay to Playa Las Gatas (Cat Beach) for MXN 80 (USD4.00) round trip.
Whale Watching
Humpback whales migrate to warmer oceans during the months between December and April.  There are many tours available.
Visit the Costa Grande Archeological Museum
"This museum is in Zihuatanejo and has six rooms where pieces are exhibited from various archaeological sites in the area, and shows the development and the life of the people settled in Guerrero. Displayed also are tools, pottery and weapons with influences from the Olmeca, Teotihuacana, Tarasca and Mexica cultures. The museum is located in a building dating from the first half of the 20th century, and opened in May of 1992." (source: travelbymexico.com 
Address: P.º del Pescador s/n, Centro, 40890 Zihuatanejo, Gro., Mexico
Opening hours: Tuesday through to Sunday 10.00 am to 5.00 pm
Tours around Zihuatanejo
Where To Eat in Zihuatanejo – Top Zihuatanejo Restaurants
Dine at the local restaurants on Playa Madera (Wood Beach)
Follow the walkway from the main beach in town across the bridge and head towards cdphpfitnessconnect.org) html" target="_blank" rel="nofollow noopener">Playa Madera (wood beach) where you can dine on fresh seafood from the restaurants there. We love Mexican Food, don't you?
Our favourite restaurant was Valeria I.  The restaurants here are open from breakfast through to lunch and dinner and close around 7 pm at night.
2km from the main town is Playa La Ropa (clothes beach), a popular beach lined with hotels and restaurants, where you can sail, parasail and jet ski.
We enjoyed pizza from Pizza Locas on our balcony at the Hotel Aura del Mar.
Address: Vicente Guerrero 10, Centro, 40880 Zihuatanejo, Gro., Mexico
La Papa Loca at C. Heroico Colegio Militar 45, Centro, 40890 Zihuatanejo, Gro., Mexico open from 7 pm till late – popular with their crazy potatoes which are baked potatoes with melted cheese and pork plus other trimmings piled high!
For cheap local meals head to the Municipal Market on Boulevard Benito Juarez.
Best Coffee in Zihuatanejo
Wonder through the town area and along the Municipal Beachfront to enjoy the many restaurants on offer. Tripadvisor Zihuatanejo rated El Cafecito as the best coffee in Zihuatanejo.  We just had to find out for ourselves.  We so totally agree with all the travellers who had rated El Cafecito the best.
Shawshank Redemption Zihuatanejo
Zihuatanejo was made famous in the movie Shawshank Redemption.  The movie starred Tim Robbins and Morgan Freeman. Tim Robbins who played the part of Andy, whilst being held in the Shawshank Prison, dreamt of living his life in Zihuatanejo.
Visit Zihuatanejo Beaches
The top 5 beaches in Zihuatanejo are:
Playa La Ropa
Playa Las Gatas
Playa Larga
Playa Blanca
Playa Prinicipal (Main Beach)
Zihuatanejo Hotels
The top Zihuatanejo Resorts and their traveller ratings:
Hotel Aura del Mar (rated 9.2 ): Eva Samno de Lopez Mateos s/n Playa Madera Zihuatanejo.
Our favourite hotel overlooks Madera Beach with a swimming pool. Rooms come with balconies and ocean views. You can enjoy dinner at their restaurant or a drink at the bar with stunning views – perfect for a sundowner. There is a business centre, gym and spa.
Guest review: "An awesome and luxurious resort. Can't wait to go back again."

Villa del Pescador (rated 9.2): De la Noria 7, Zihuatanejo, Ixtapa Zihuatanejo,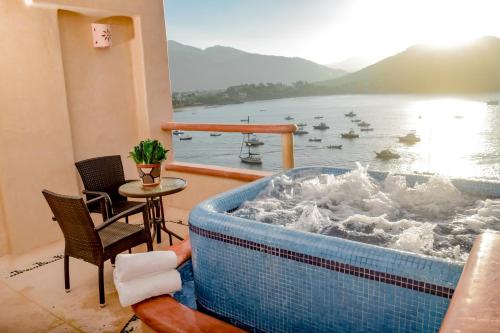 This 4-star 12 room hotel offers a jacuzzi, pool, WiFi and a sundeck. Every room has a bay view and the beach is a 10-minute walk away.
Guest review: "The wonderful sea view from the terrace. The friendly helpful staff. On arrival, the owner insisted on driving us around the local area to get us orientated, which was really helpful. The swimming pool. Anything we asked for was done immediately."

La Casa Que Canta (rated 9.9): Camino Escénico a Playa La Ropa, Colonia Playa La Ropa, Playa La Ropa, Ixtapa Zihuatanejo.
La Casa Que Canta is located in an art deco setting with an outdoor pool, roof terrace, lounge bar and restaurant and WiFi.
Guest review: "We absolutely loved La Casa Que Canta! It was so beautiful and peaceful. The staff is amazing and went above and beyond to help with any questions we had. We can't wait to return :)"

Essential Visitor Information for Zihuatanejo
Getting In
The Ixtapa/Zihuatanejo Airport is 12 km southeast of Zihuatanejo. It is an international airport serviced by many airlines such as Delta, American Airlines and Aeromexico and more.
Find the cheapest flights with Skyscanner our 'go-to' when researching and booking flights.
Some of the hotels offer free shuttle transfers, check with them before organising a taxi.
Buses to Zihuatanejo are available from Mexico City, Acapulco and Morelia. For the latest bus schedules and ticket prices click here.
We travelled with ADO buses around Mexico.
Do You Need a Visa for Mexico?
Frequently Asked Questions for Visiting Zihuatanejo
Is Zihuatanejo safe to visit?
Yes, it is safe to visit. Be aware of your surroundings and your personal belonging when you travel anywhere these days. We would recommend keeping your expensive jewellery at home.
What is the voltage for Mexico?
In Mexico, the standard voltage is 127 V and the frequency is 60 Hz.
Zihuatanejo weather: When is the best time to visit Zihuatanejo?
The hottest months are June, July and August. The best time to visit is between December and April. The rainy season is between May and September.
How do you get around Zihuatanejo?
Zihuatanejo is a very walkable town and if you do need to travel out further we would recommend one of the local taxis.
Pinterest
Are you on Pinterest? We are at To Travel Too and we have many travel-related boards check us out at Pinterest.  If you enjoyed our article why not pin it to your board.
Further reading:
Travel safer and smarter with travel products from our To Travel Too shop.

If you have any questions or would like some advice we would love to hear from you. You can reach us via our Facebook page or email us here.
You can join our Mexico Travel Planning Facebook Group here.
Travel Insurance
We highly recommend that you take out travel insurance when you book and pay for your flights, tours, cruises and hotels.
Why not take our article with you as you wander around Zihuatanejo – just click our City Walks Banner for more information.