Well, Lonely Planet did not list Kotor as the #1 place to visit in 2016 for nothing!  Their opening line 'drop dead gorgeous' certainly sums it up.
Cobblestone streets and high limestone mountains towering over one of the most scenic bays adds up to a stunning beauty! We were in awe!
(Editor Update 2021)
Our guide to Kotor will assist you in planning your visit, where to stay, what to do and where to eat.
Enjoy learning about the history of Kotor with a walking tour. For more information click here.
This post may contain affiliate links. Please see our disclosure for more information. As an Amazon Associate, we earn from qualifying purchases (if applicable). 
Where is Montenegro
Montenegro is one of the Balkan countries and is bordered by the Adriatic Sea, Croatia, Bosnia and Herzegovina, Kosovo, Albania and Serbia.
If you only have one week to visit Montenegro you can easily see all that Montenegro has to offer during that time.
Looking for accommodation in Kotor?
Map of Montenegro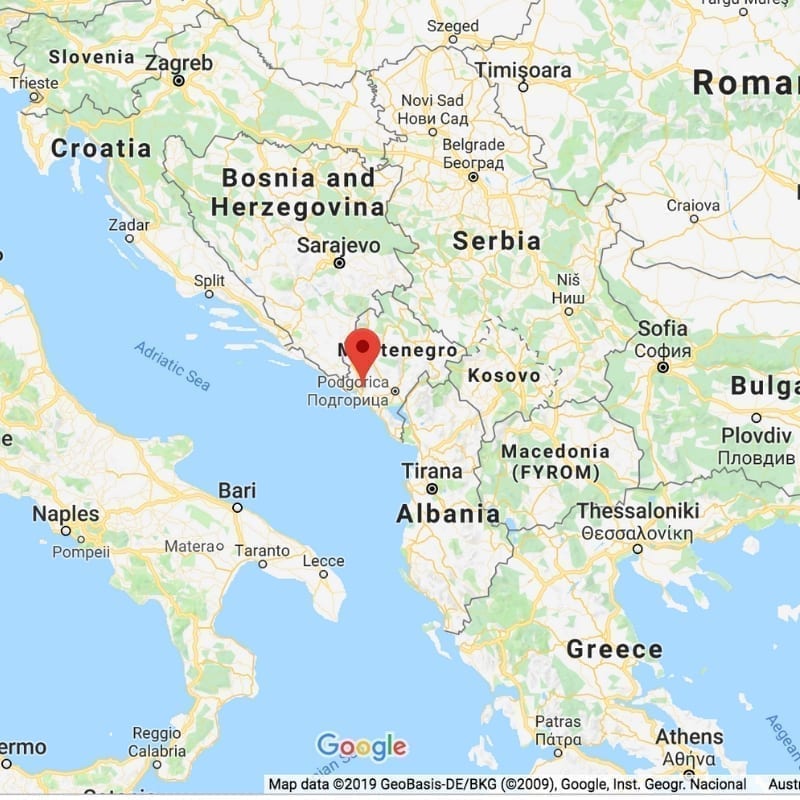 Where is Kotor Montenegro
Kotor is located in the south of Montenegro in the Bay of Kotor.


Why not PIN our article for later:
What to do in Kotor
Places to visit in Kotor:
The Stari Grad (Old Town) of Kotor is believed to have been settled as early as the Middle Ages.  It is positioned in one of the most dramatic settings we have seen, with vast rocky mountains as a backdrop and the sparkling blue waters of Kotor Bay at the front, and surrounded by thick fortified walls.  No wonder it is on the UNESCO World Heritage Site's List as it is one of the best-preserved medieval towns apparently in the Balkan countries.  The Old Town which is triangular in shape is made up of narrow winding streets and alleyways with palace, churches, squares and marketplaces. Kinda place where you can get lost easily, but who cares it is beautiful and there are little gems around each corner.
The Cathedral dates back to the 11th century and throughout its history, it has been reconstructed at various times due to the many earthquakes in the area.  The Patron Saint of Kotor – St Trypon – remains are located in the Chapel.
St Nicholas Church is the largest Orthodox Church in the Old Town.
Where to enjoy a drink in Kotor:
Enjoy a nice cold local beer after a morning of wandering around the narrow cobblestoned streets at the Mariner Pub. Grab a seat outside and watch the world go by.
Where to travel to on the Bay of Kotor Montenegro:
 

Bay of Kotor – Boat Trip to Our Lady of the Rocks and Perast
Opposite the entrance to the Old Town, you will find a local boat tour operator that runs a boat service to Our Lady of the Rocks and the small town of Perast Montenegro with departures at 12 pm and 2 pm.
You can prebook your tour here with Get Your Guide – our 'go to' city attractions company. The lowest prices guaranteed and no booking fees or hidden charges.
It takes 40 minutes to sail from Kotor Bay to Our Lady of the Rocks where you are given 30 minutes to wander around visiting the church and the museum.  A five-minute sail to Perast where you have 30 minutes to view St Nikola Church or wander the small back streets and then return back to Kotor.
Sitting proudly in the bay with its shimmering blue roofs, nestled amongst the terracotta roofs and the buildings made of local stone, Our Lady of the Rocks is the local Catholic Church and a Museum.  How did they build it?  It took the locals over 200 years to build just the base, by throwing stones as they returned safely from each sea journey.  The Church houses over 68 important paintings by the Baroque Artist Tripo Kokolja.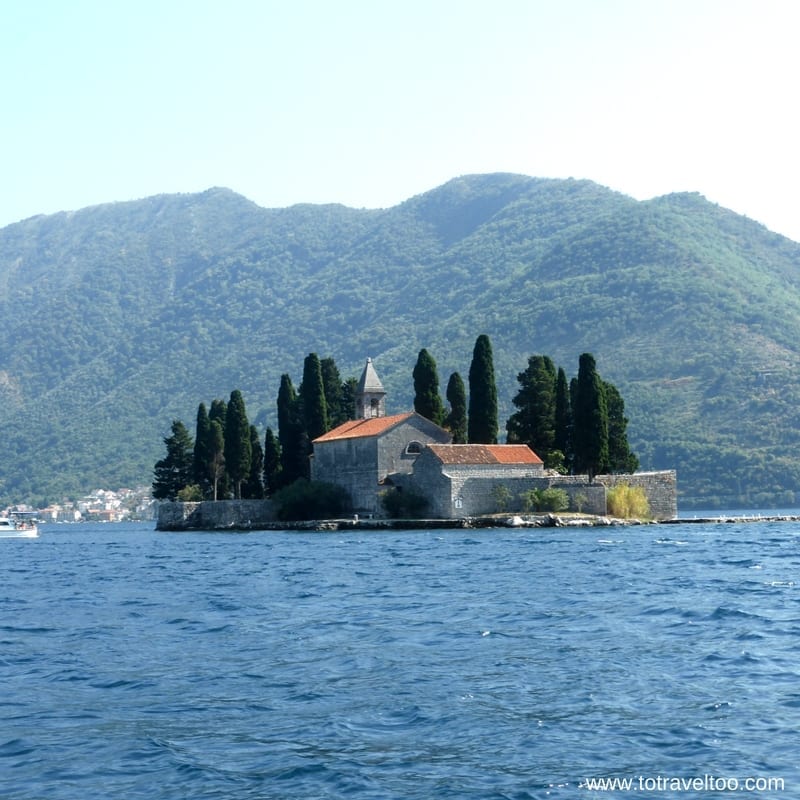 Sveti Dorde is a natural island, home to the 12th Century St George Benedictine Monastery.  The island houses the graves of priests who once lived there.  Today, there are still Monks living in the Monastery.
Montenegro Beaches
Montenegro has some fine beaches.  For in-depth information on which beach to go to, what type of beach it is e.g. rocky or sandy and what to expect read more here.
For the latest reviews on the best Montenegro beaches to visit click here:
Where to hike in Kotor Montenegro: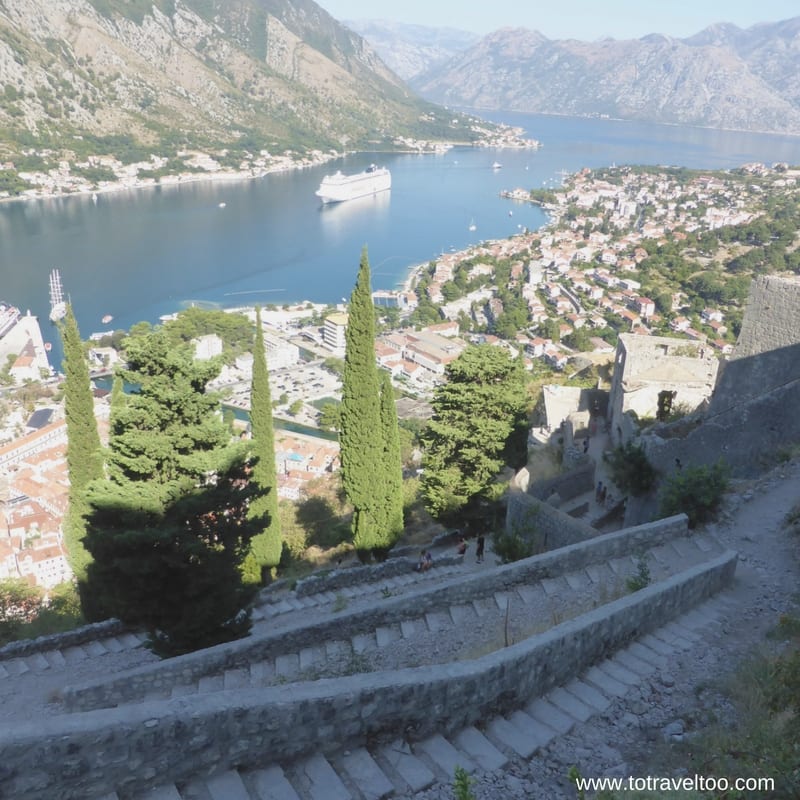 Overlooking the Old Town and 1,350 steps up the mountain is St John's Fortress.  The view is worth the hike up.
To Travel Too Tip: start early in the morning as soon as the gates open and take plenty of water.
Read our blog post on our climb to the top of St. John's Fortress.
Montenegro Tour:
 

North Montenegro Tour by 360monte Tours
We highly recommend that you visit the surrounding country areas of North Montenegro.  River canyons, stunning views, lakes, national parks and the Ostrog Monastery built into the side of a cliff face high up a mountain.  We travelled with 360monte Tours and we saw some of the most beautiful scenery we have seen in this part of Europe.
Read our post on our 360monte Tour to North Montenegro
Kotor Hotels
If you want stunning accommodation, right on the bay, in a quiet area outside of Kotor you can't go further than the Old Mariner Guest House.  It is located 10 minutes by car to the Old Town in the small waterfront village of Prcanj. A taxi will cost you 5 Euros to the Old Town.  All rooms have amazing sea views over Kotor Bay. We found that the Old Town can be busy and noisy when the cruise ships are in and Prcanj was a lovely area to escape to.
For more Kotor Hotels: 

Kotor Restaurants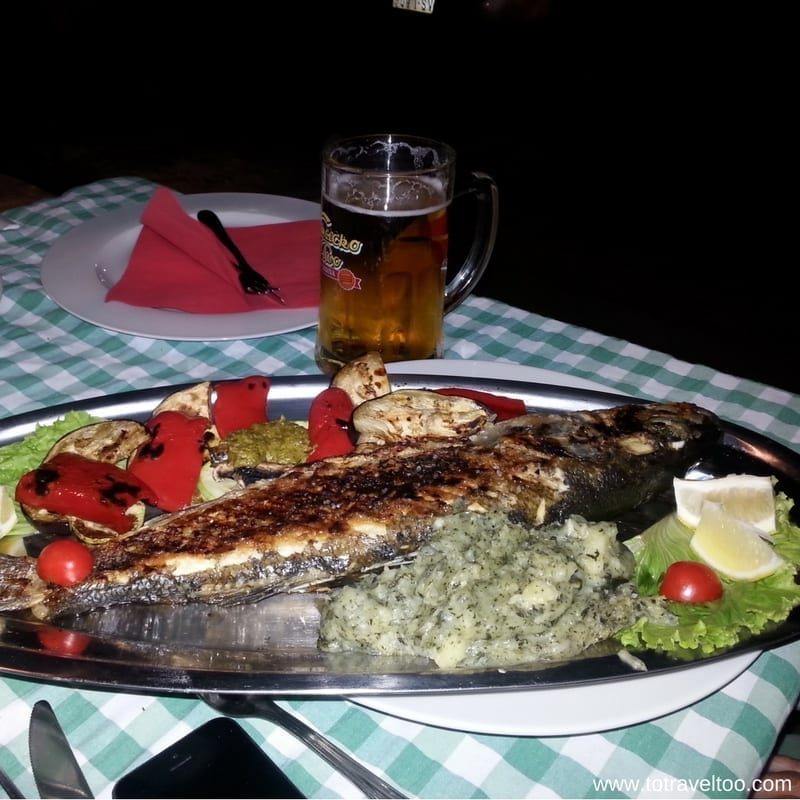 Our favourite restaurant for value and great grilled fish was Bokeski Gusti a 15-minute walk along the waterfront from our accommodation at the Old Mariner Guest House.  There are many restaurants in the Old Town but some can be quite pricey and touristy.
For the top 10 Restaurants in Kotor click here.
Top Things To Do in Kotor
We are very happy using Get Your Guide in activities in cities that we visit.  We love their 'best price guarantee' which means if we find the same activity by the same local tour operator in the same currency for less they will refund the difference.  Currently, they offer over 35,000 activities in over 7,600 locations.
Thousands of unmissable activities for all ages and interests
– The lowest prices, guaranteed — no booking fees or hidden charges
– Pre-book tickets and skip the line at top attractions with our exclusive inventory of tickets
– Stay flexible with easy cancellation up to 24 hours before
– Mobile-friendly payment and tickets for booking on the go
– Friendly and knowledgeable customer services, available 24/7 in your language
Montenegro Full-Day Tour
"Join a 12-hour tour where you'll see some spectacular viewing points, incredibly beautiful places and historic monuments. Visit Njegusi village, Lovcen National Park with its mausoleum, Cetinje, Crnojevic River and Sveti Stefan."
Boka Bay and Speedboat Tour with Snorkelling
"Embark on a thrilling 3.5-hour speed boat tour of Boka Bay's highlights. Pass by Mamula Prison and learn about the region's maritime history during the Yugoslavian war. Swim in the sparkling waters of the Blue Cave and visit Our Lady of the Rocks Island."
Kotor Hop on Hop off Bus with Walking Tour
"Enjoy a hop-on hop-off sightseeing bus tour and see the beauty of the Bay of Kotor. Stop at picturesque villages, admire ancient Roman mosaics, and wander along a stunning beach. Listen to audio commentary on board, and take a walking tour of Kotor."
Getting to Kotor
The closest airport to Kotor is Tivat (TIV) which is 4.6 km from Kotor and 3 km south of Tivat.
Other alternatives:
Podgorica (TGD) 39.5 km from Kotor
Dubrovnik (DVB)  44.3 km from Kotor
Tirana (TIA) 136.3 km from Kotor
Bari (BRI) 219.7 km from Kotor
Cheap Flight Deals to Montenegro
Find the cheapest flights with Skyscanner who then directs you to the airline's website with no extra fees to pay.
Have you been to Kotor or are you planning what to do in Montenegro we would love to assist you?
Travel Insurance
We recommend taking out travel insurance as soon as you book your flights and pay deposits on any cruises, tours or hotels.
If you are located in Australia or New Zealand click here for the latest quotes.
If you are located in the rest of the world click below for the latest quotes.
Pinterest
Are you on Pinterest? We are at To Travel Too and we have many travel-related boards check us out at Pinterest.  If you enjoyed our article why not pin it to your board.
To Travel Too Travel Shop
Travel smarter and safer with products from our To Travel Too Travel Shop.  If you are looking for the latest luggage, guidebooks or travel accessories we have you covered with over 800 travel products to choose from.