Well, Lonely Planet did not list Kotor as the #1 place to visit in 2016 for nothing!  Their opening line 'drop dead gorgeous' certainly sums it up.
Cobblestone streets and high limestone mountains towering over one of the most scenic bays adds up to a stunning beauty! We were in awe! Excellent fish restaurants, cosy bars and much much more! Kotor you won us over too!
We have put together our guide to Kotor that will assist you in planning your visit, where to stay, what to do and where to eat.
If you only have a day and want to cover as much of Kotor as possible why not take a walking tour and learn more about this beautiful town and its history? The tour is only 90 minutes but during that time you will learn so much about this UNESCO-listed fortified city.
This post may contain affiliate links. Please see our disclosure for more information. As an Amazon Associate, we earn from qualifying purchases (if applicable). 
Where is Montenegro
Montenegro is one of the Balkan countries and is bordered by the Adriatic Sea, Croatia, Bosnia and Herzegovina, Kosovo, Albania and Serbia.
If you only have one week to visit Montenegro you can easily see all that Montenegro has to offer during that time.
Map of Montenegro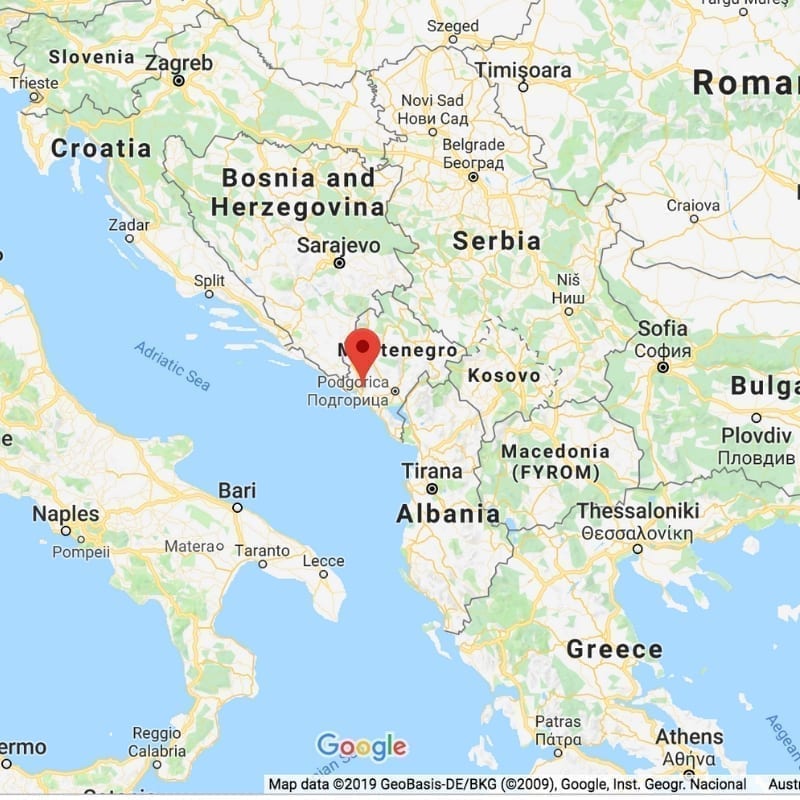 Where is Kotor Montenegro
Kotor is located in the south of Montenegro in the Bay of Kotor.
Where to travel to on the Bay of Kotor Montenegro:
Bay of Kotor – Boat Trip to Our Lady of the Rocks and Perast
One of the most popular tours is the boat trip to Our Lady of the Rocks and to the town of Perast.
"Out of many panoramic views, the first one is directly aimed at the islet Our Lady of the Rocks, a site enriched with a mythical legend that goes back more than 5 centuries. Legend has it that it is an artificial island expanded by seamen who discovered the Madonna and Child emblem on a sea rock.
Feeling grateful for safe returns after long journeys, the sailors vowed to honour the Holy Mother, so, little by little and stone by stone, they built it into an island that harbours the Lady of the Rocks church. Visitors can listen to stories about the relics while seeing the chapel's many frescoes, paintings, votives, tapestries, and other treasures.  The Church houses over 68 important paintings by the Baroque Artist Tripo Kokolja.
This UNESCO heritage site once housed people from the Illyrian, Roman, and Christian periods. The architecture of the nine defensive towers, Baroque palaces from the 17th and 18th centuries, and distinctive Catholic churches demonstrate the city's affluence during Venetian administration. "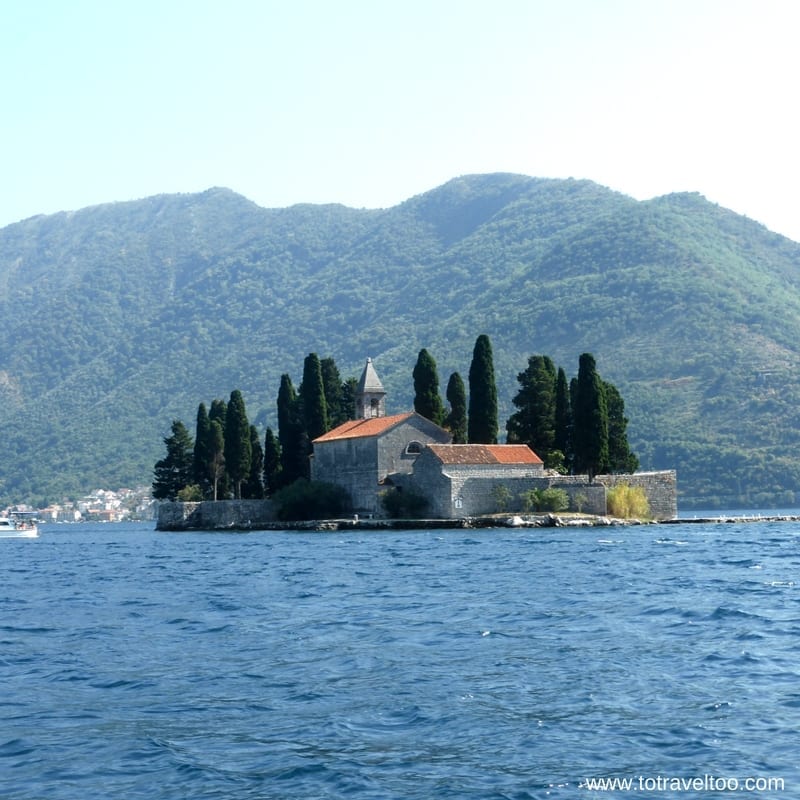 Sveti Dorde is a natural island, home to the 12th Century St George Benedictine Monastery.  The island houses the graves of priests who once lived there.  Today, there are still Monks living in the Monastery.
Panorama and Semi-Submarine Underwater Experience
Spend an eventful hour exploring the Bay of Kotor from both above and below the waterline. Admire the local landscape and discover the underwater world in just 1 hour on an unusual tour sure to delight the whole family.
For more information click here
Montenegro Beaches
Montenegro has some fine beaches.  For in-depth information on which beach to go to, what type of beach it is e.g. rocky or sandy and what to expect read more here.
For the latest reviews on the best Montenegro beaches to visit click here:
Where to hike in Kotor Montenegro: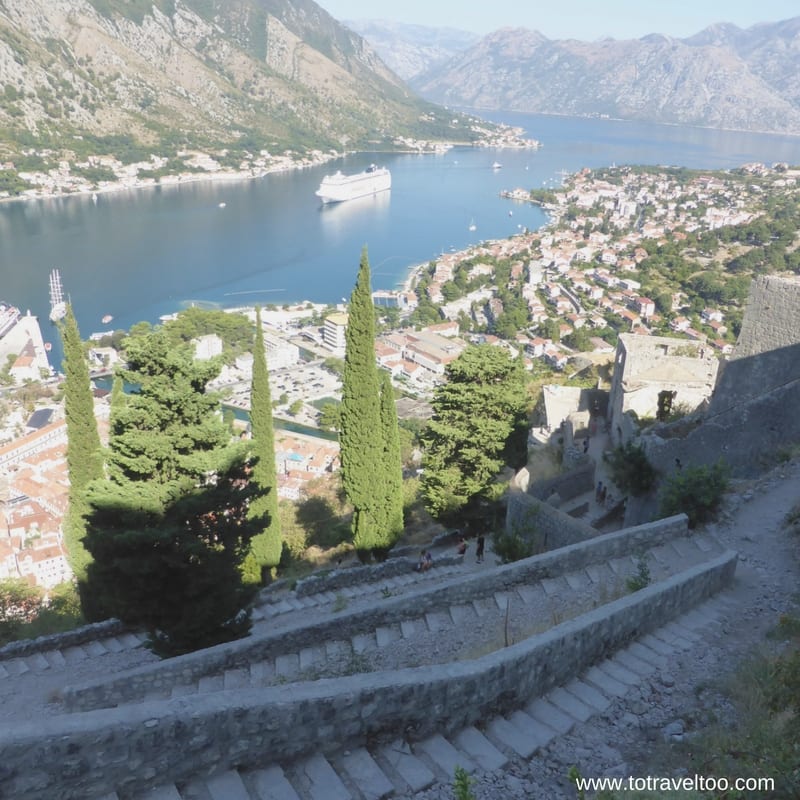 Overlooking the Old Town and 1,350 steps up the mountain is St John's Fortress.  The view is worth the hike up.
To Travel Too Tip: start early in the morning as soon as the gates open and take plenty of water.
Read our blog post on our climb to the top of St. John's Fortress.
Popular Montenegro Tours:
We highly recommend that you visit the surrounding country areas of North Montenegro.  River canyons, stunning views, lakes, national parks and the Ostrog Monastery built into the side of a cliff face high up a mountain.  We travelled with 360monte Tours and we saw some of the most beautiful scenery we have seen in this part of Europe.
Explore the wild beauty of North Montenegro
Take a perfect introduction for first-time visitors
Tour with an informative, friendly, and professional tour guide
Visit Boka Bay Viewpoint
Be amazed by Ostrog Monastery
2.5 Hour Kayak Tour on the Bay of Kotor
"Experience the Bay of Kotor from a unique perspective, get away from the crowds and head into a fun sea adventure. Explore the coastline around Kotor, the nearby fishing villages and beaches on a guided kayak tour. No experience is required."
See medieval villages in the Bay of Kotor from your sea kayak
Relax and sunbathe on a beach
Swim and snorkel in the crystal-clear waters of the Adriatic sea
For more information click here
More Things To Do Around Kotor
Where To Stay in Kotor
Kotor Hotels
If you want stunning accommodation, right on the bay, in a quiet area outside of Kotor you can't go further than the Old Mariner Guest House.  It is located 10 minutes by car to the Old Town in the small waterfront village of Prcanj.
A taxi will cost you 5 Euros to the Old Town.  All rooms have amazing sea views over Kotor Bay. We found that the Old Town can be busy and noisy when the cruise ships are in and Prcanj was a lovely area to escape to.
Latest Guest Review: "The owner was extremely friendly and helpful and he explained about the 1000 year history of his family house which had been beautifully restored, with its history and artefacts well preserved. The reception area was very welcoming and full of character. This is the perfect form of Montenegrin tourism, that preserves the character and beauty of this wonderful country. I can't recommend this place highly enough, and I look forward to returning."

For more Kotor Hotels: (there are 99 in the Old Town)

Kotor Restaurants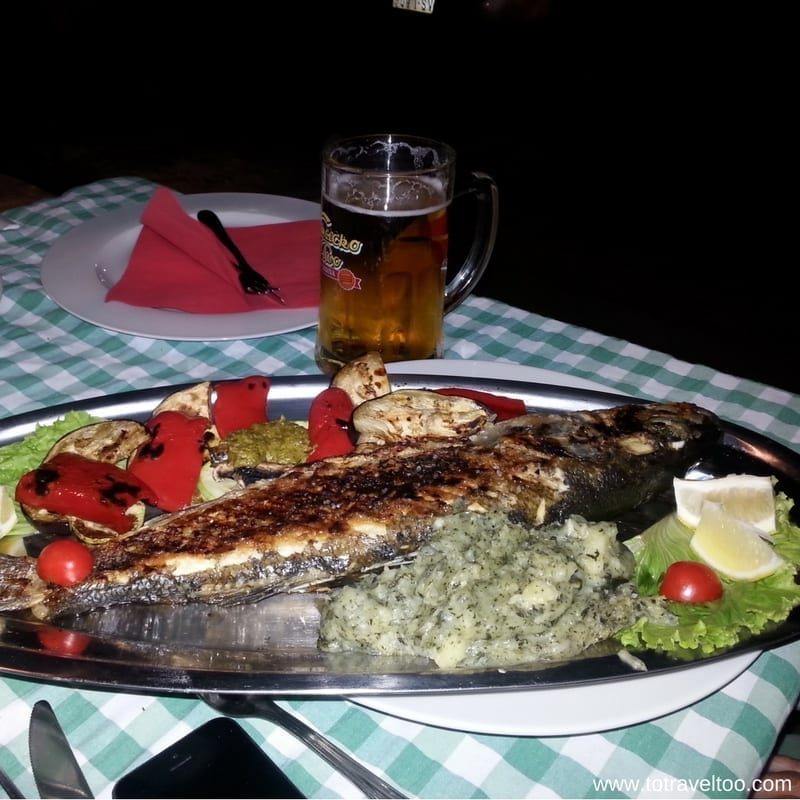 Our favourite restaurant for value and great grilled fish was Bokeski Gusti a 15-minute walk along the waterfront from our accommodation at the Old Mariner Guest House.  There are many restaurants in the Old Town but some can be quite pricey and touristy.
For the top 10 Restaurants in Kotor click here.
Getting to Kotor
The closest airport to Kotor is Tivat (TIV) which is 4.6 km from Kotor and 3 km south of Tivat.
Other alternatives:
Podgorica (TGD) 39.5 km from Kotor
Dubrovnik (DVB)  44.3 km from Kotor
Tirana (TIA) 136.3 km from Kotor
Bari (BRI) 219.7 km from Kotor
Cheap Flight Deals to Montenegro
Find the cheapest flights with Skyscanner our 'go-to' when we are researching and booking our flights.
Travel Insurance
World Nomads offers simple and flexible travel insurance. Buy at home or while traveling and claim online from anywhere in the world.
In conclusion
In conclusion, visiting Kotor is a truly unforgettable experience that should be on every traveller's bucket list. This charming and historic city offers a unique blend of stunning natural beauty, rich cultural heritage, and warm hospitality. From exploring the breathtaking Bay of Kotor to wandering through its labyrinthine streets filled with medieval architecture, there is something for everyone in this hidden gem of Montenegro.
However, it is important to plan your trip carefully by considering the best time to visit, being mindful of the crowds, and respecting the local customs. By doing so, you can ensure that your visit to Kotor will be an enriching and memorable adventure that you will cherish for years to come.
Pinterest
Are you on Pinterest? We are at To Travel Too and we have many travel-related boards check us out at Pinterest.  If you enjoyed our article why not pin it to your board?
To Travel Too Travel Shop
Travel smarter and safer with products from our To Travel Too Travel Shop.  If you are looking for the latest luggage, guidebooks or travel accessories we have you covered with over 800 travel products to choose from.