One of the most frequently asked questions we get is when is the best time to visit Vietnam?
Vietnam is a lovely, long country with distinct northern, central, and southern regions. Many visitors come for the warm weather and enjoy the scenic beauty, laid-back ambience, and excellent food.
Read Our Most Beautiful Places to Visit in Vietnam
It is essential to plan your trip to Vietnam ahead of time in order to avoid visiting during the hottest months of the year or when it rains the most.
The weather is diverse in various parts of Vietnam.
In general, the best time to visit Vietnam is between the months of March to May. The storm season in Vietnam is in November.
May through October is the hottest time in Hanoi and the north. From December to February, the far north is often very cold.
In central Vietnam, temperatures can reach the mid-30s Celsius in January and August, while October and November are known for their heavy rains.
The south of Vietnam is generally hot and dry from November to April. It is warm and rainy from May to October. The most rain falling in May and June in HCMC and Phu Quoc.
Need help in travel planning – join our private Facebook group – Vietnam Travel Planning here.


This post may contain affiliate links. Please see our disclosure for more information.
Overall the Best Time to Visit Vietnam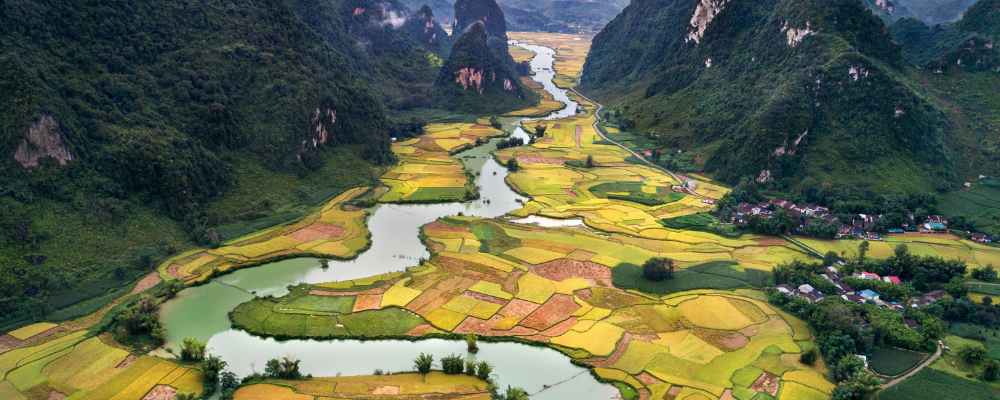 Most people think the best time to visit Vietnam is between December and April. The weather is mild, and it doesn't look like it will rain much. To some extent, the best time to visit Vietnam depends on where you want to go. In the north, December and January can be pretty cold, but they are pleasant and mild in the south. It's hard to say which month is best to visit Vietnam, but if we had to pick, we'd go between March and May.
Best Time to Visit Northern Vietnam
The best times to visit North Vietnam are during the spring (February–April) and fall (September–November). March, when the Vietnamese climate has finally shifted into spring, is perhaps the finest time to explore the northern part of the country. Typically, it's a comfortable 23°C outside. April sees somewhat higher temperatures, between 26°C and 27°C, but the sun makes up for it.
September and October are good months to visit the North for the rice fields.
The following places are considered part of North Vietnam but are not limited to:
Sa Pa, Hanoi, Halong Bay, Cuc Phuong, Mai Chau, and Ninh Binh.
Best Time to Visit Central Vietnam
The central area has year-round temperatures ranging from 22°C to 28°C. The weather in Central Vietnam is sweltering and sunny from May to August, making it a perfect destination to spend a summer vacation in April, the best month to explore Central Vietnam. Central Vietnam offers a good climate all year, making it a desirable tourist destination even when the skies are gloomy during the rainy and winter months from December to February.
November is the rainy month in Central Vietnam.
The following places are considered part of Central Vietnam but are not limited to:
Quy Nhon, Hoi An, Hue, Dalat, Nha Trang, and Danang.
Best Time to Visit Southern Vietnam
Many people agree that December through to February is the most excellent time to visit the south of Vietnam because of all the celebrations. As the southern area experiences high temperatures (up to 39°C) but moderate humidity, late December is an ideal time to come and soak in the holiday spirit.
Rain in the South is between May and June in Ho Chi Minh City and Phu Quoc.
The following places are considered part of Southern Vietnam but are not limited to:
The Mekong Delta, Phan Thiet,  Mui Ne, Ho Tram,  Phu Quoc,
Con Dao, Long Hai, and Ho Chi Minh City.
Busiest Time to Visit Vietnam
It is recommended to make hotel reservations well in advance during July and August since these are the busiest travel months in Vietnam, and rates might increase by up to 50% along the coast.
The whole nation, except for the very far north, has high levels of heat and humidity, which are sometimes broken up by impressive summer monsoon downpours.
Cheapest Time to Visit Vietnam
Flight costs to Vietnam drop to their lowest point of the year in September and October, the low season. Since there will be fewer crowds at your destination, you can get better deals on flights and accommodations.
When to Avoid Visiting Vietnam
Typhoon season is not a good time to visit Vietnam. Since Mother Nature is seldom predictable, hurricane season (typhoon season) typically ends sometime in December. The start date depends on whether you're in northern, middle, or southern Vietnam. August through November is often the stormiest time of year, with October being the most violent.
Tet Holiday is a very busy time to visit Vietnam.  You will find that transport will be booked well in advance of the dates of Tet which generally fall either late January or early February. Some of the major tourist attractions may also be closed during Tet. Costs for food and services may double in price during this time.
Winter in Vietnam
Vietnam has a unique climate in the winter that complements its rivers, stunning beaches, and ancient pagodas. From the end of November to about the middle of February, Vietnam experiences winter, with January being the coldest month.
Best Places to Visit in Vietnam in Winter
Mount Fansipan
See one of the most stunning regions of Southeast Asia by trekking into the mountains of Sapa and taking in the breathtaking vistas of the region's terraced rice fields. Participate in the Sapa Winter Festival, a fantastic opportunity to learn about the culture and cuisine of Northern Vietnam and to celebrate the arrival of the snowy season.
Pre-purchase your tickets and avoid the queues for Mount Fansipan here
Ha Long Bay
Those who prefer to experience the scenery from a boat go to Ha Long Bay in the winter, near the mouth of the Red River Delta. This UNESCO World Heritage Site is one of the most visited places year-round, but the winter months showcase its stunning natural beauty.
Read our review here of our 2-night stay in Halong Bay
Spring in Vietnam
Spring between January and April offers many wonderful activities and attractions. Vietnam is best during springtime. Visit these beautiful spring destinations.
Best Places to Visit Vietnam in Spring
Moc Chau Plateau
Moc Chau is a strange and beautiful North West destination in spring. Spring is the most beautiful season in the countryside when peach and plum blossoms are bright. Spring adds rustic charm with flowers.
Hanoi
In April, visit the Capital. Hoan Kiem Lake, Temple of Literature, Thang Long Imperial Castle, and West Lake Water Park are attractions. The city is decorated for the holidays. People visit Tran Quoc Pagoda and West Lake Palace to sightsee, relax, and pray for good fortune.
Read our article here on What To Do in Hanoi
Summer in Vietnam
Vietnam's coastlines and rich landscapes are perfect destinations in the summer months. The months of March to early June are ideal for those who wish to visit the beaches or the valleys.
Best Places to Visit Vietnam in Summer
Hoi An
The summer sky makes Hoi An's historic city appear magnificent. Enjoy a diversity of architecture and gastronomy by foot, bike, or scooter. Visit Bang Beach or Cham Island via public boat.
How about taking a day tour around Hoi An and  Danang in a sidecar?
Nha Trang
Nha Trang's crescent-shaped coastline, scenic beaches, and blue bay are famous. There are small islands in the bay and many hills on all sides. When visiting Nha Trang, windsurfing, parasailing, underwater walking, and flyboarding are all possible.
Autumn in Vietnam
With the Mid-Autumn Festival and September 2nd's Independence Day, autumn is a great time to take a vacation, have a picnic, and relax in Vietnam.
Best Places to Visit in Vietnam in Autumn
Lan Ha Bay
Lan Ha Bay, which encompasses more than 7,000 hectares and is located south of the East Bay and Cat Ba Island, is renowned for its breathtaking natural beauty and the unique forms it gives to its 400 lush islands. In contrast to Ha Long, every one of Lan Ha Bay's islands—even the little one—is forested.
Enjoy a 1 night/2 day cruise on Lan Ha Bay here
Mekong Delta
It is located at the furthest southern tip of Vietnam. It's a complex network of waterways, wetlands, and islands. As most people in this area depend on boats for transportation and commerce, the floating market is a must-see.
Read our article on 4 days/3 nights on the Mekong Delta
Conclusion
You can finally confidently plan your journey to Vietnam now that you know the best time to visit. Vietnam is home to various events, historic places, stunning coastlines, and delectable dishes; it's time to start preparing. Travel safely!
General Travel Information for Vietnam
Wondering which airport to fly into? Read our Vietnam Airport Guide for information
You may need to organise an e-visa on arrival in advance of your travel to Vietnam.

Travel Insurance 
We always recommend travel insurance when you start booking your flights, hotels, tours and cruises.  You just never know when you may need it.
Bus, Train and Ferry Travel
Our 'go-to' is 12goasia for all our land transport options and bookings.
Flights into Vietnam
For flights into Vietnam and around Vietnam our preferred partner is Skyscanner.
Air Asia fly into Hanoi, Ho Chi Minh City, Danang and Nha Trang from various destinations in Asia.
E-Sim Card
Hotel Bookings Throughout Vietnam
Our favourite hotel booking engine is booking.com. Did you know that you can save money by booking all your hotels with booking.com and becoming a 'genius'!
To Travel Too Travel Shop
We have our own To Travel Too Travel Shop with the latest travel luggage, travel clothes, travel gear and travel books.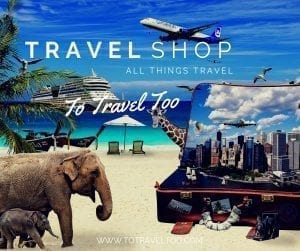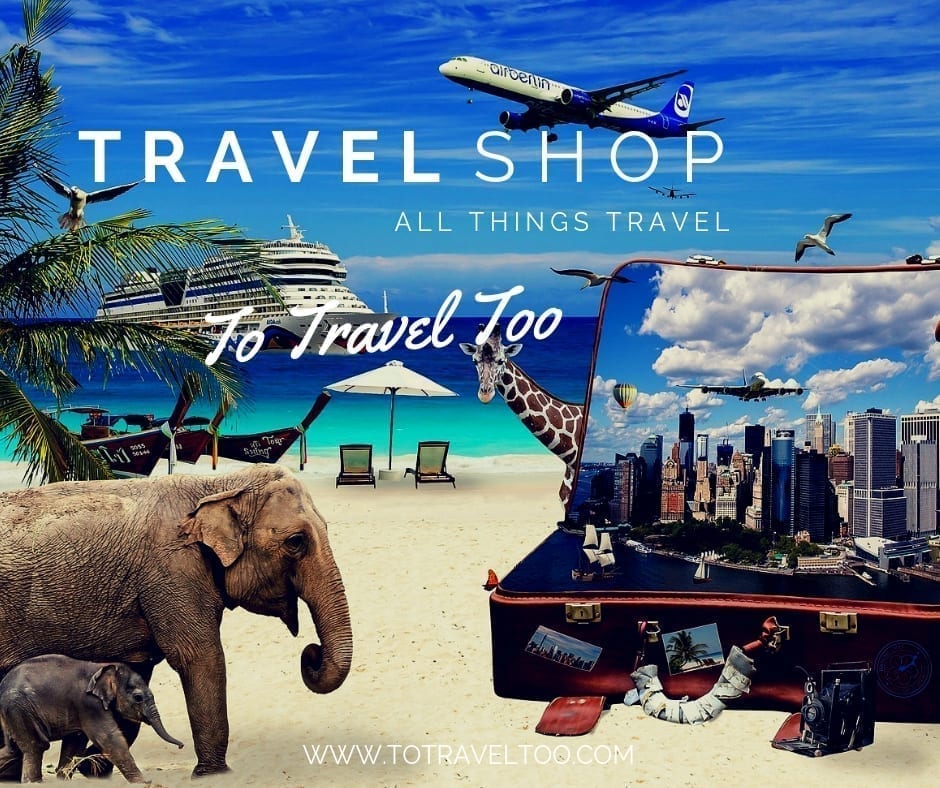 Keep up to date with the latest articles tips and more when you sign up for our regular newsletter.
Pinterest
Are you on Pinterest? We are at To Travel Too and we have many travel-related boards check us out at Pinterest.  If you enjoyed our article why not pin it to your board and read it later?