Are you wondering where the best areas to stay in Cuba are? We have put together a where you should stay in Cuba guide for your next Cuba vacation.
Our Cuba accommodation guide will assist you in understanding:
the types of accommodation available throughout Cuba
the best part of Cuba to stay
cool places to stay in Cuba
the pros and cons of Cuba accommodation.
There is a mix of accommodation available in Cuba:
Cuba Resorts
Cuba all-inclusive resorts
Cuba Hotels
Airbnb
Casa Particulares (accommodation in local homes).
It depends on your budget, the type of traveller you are, how long you have available and where you want to travel to.
We spent a month travelling the length of Cuba enjoying local hospitality and all the things to see and do in this unique Caribbean country.  Our recommended places to visit in Cuba:
Cienfuegos
Trinidad
Santa Clara
Camaguey
Bayamo
Where and how you stay will either make or break your trip whether it's 1 week or 4 weeks in Cuba.
Where is Cuba
Cuba is located in the Caribbean Sea just south of Florida and east of Mexico. The flying time from Cancun to Havana is 1 hour.
Cuba Map
Visa for Travel to Cuba
If you are travelling from the USA you will need a Pink Tourist Card. Details here.
If you are travelling from outside the USA you will need a Green Tourist Card. Details here.
Flights to Cuba
Find the cheapest flights with Skyscanner our go-to when researching and booking flights throughout the world.
Airports in Cuba
For your trips to Cuba, Cuba has 10 international airports to choose from:
Havana (HAV)
Holguin (HOG)
Cayo Coco (CCC)
Camaguey (CMW)
Santiago de Cuba (SCU)
Varadero (VRA)
Santa Clara (SMU)
Cayo Largo (CYO)
Cienfuegos (CFG)
Manzanillo de Cuba (MZO)
This post may contain affiliate links. Please see our disclosure for more information. As an Amazon Associate, we earn from qualifying purchases (if applicable).
As the WiFi is poor we would recommend taking a guidebook with you.  A guidebook will assist when wifi is patchy or non-existent.
We spent months reading other travel blogs, chatting with other travellers who had just returned, and researching sites such as Tripadvisor and Airbnb.
There are many types of accommodation available:
Why not PIN our article for later:
Airbnb vs. Casa Particulars
Both  Airbnb and Casa Particulars are local Cuban homestays, the difference is in the booking procedures.
The pros for booking through Airbnb are:
with over 10,000 properties there are so many choices all listed on one site
you can read other travellers' reviews
the site shows the local area where the property is located
you pay for your accommodation upfront
The cons are:
there is an extra charge of approximately 3% which Airbnb puts onto the price to cover their costs
The pros for booking a Casa Particular direct:
it can be cheaper than Airbnb
The cons for booking a Casa Particular direct:
if you are sending an email inquiry there could be delays in receiving answers due to the limitations of Wi-Fi in Cuba
if there is only a telephone number for the Casa Particular there could be a language issue and/or a time frame issue
we found that the properties that we were recommended were already fully booked
you had to confirm your booking with the owners a few days in advance by telephone, there have been instances when owners did not receive an advance reconfirmation and gave the rooms away on the day to the first travellers
After using Airbnb and booking directly our preference would always be to use Airbnb in Cuba unless we had a personal recommendation.
Our accommodation requirements:
centrally located accommodation in a Casa Particular or Airbnb property
for 2 out of 4 weeks accommodation in a triple room (there were 3 of us) with a private bathroom
the other 2 weeks a double room with a private bathroom
What You Can Expect To Pay
For Casa Particulars on average, the rooms were between CUC25 and CUC35 (CUC1 = USD$1) – they could sleep either 2 or 3 persons.  This will depend on location, country areas tended to be a little cheaper than city areas.  Breakfasts range between CUC3 in the country areas and CUC5+ in the city, this depends on the Casa Particular owner.
For Airbnb there is a bigger range of price differences depending on the type of accommodation and location, some establishments charged a cleaning fee and Airbnb place a service fee.  We paid between AUD$35 (USD$27) and AUD$45 (USD$34) per night.
If you click on the accommodation links it will show you the current prices in your chosen currency.
There are many hotels in Havana to choose from to suit all budgets.  We would recommend choosing your location carefully.We also recommend reading travellers reviews from TripAdvisor prior to booking.
Read the latest Tripadvisor reviews here
10 Best Cuba Beaches
If you are considering a beach holiday in Cuba you may want to read what travellers have stated as their 10 best favourite beaches in Cuba.
Where To Stay in Cuba
One of the cool places to stay in Havana Cuba was:
Casa Particular  Anita y Leslie 
Address:  Calle Calzada #751 Apto.4 e/Paseo y 2, Vedado, La Habana, Cuba
Accommodation: Double room with a bathroom outside the bedroom door. Breakfast is an extra cost (as in all Casa Particulars).
Location:  Vedado is a great place to stay in Havana.  It is more tranquil and more local.  If you love walking, you can walk from Vedado to the Malecon and head towards Hotel Nacional and then onto Old Havana. The accommodation is well placed for transport, banks, restaurants and Wi-Fi hot spots.
Why we loved Anita y Leslie's accommodation:  Anita and Leslie are mother and daughter and are incredibly warm and friendly.  They have a beautiful apartment which is stylishly decorated.  The bedroom is decorated beautifully with a TV and refrigerator. They are supportive of all who travel to Cuba, offering services such as money exchange, transfers to and from the airport and the booking of bus tickets for the Viazul Bus which travels the length and breadth of Cuba.  We highly recommend booking with Anita and Leslie, but a word of warning, they are so popular you do need to book well in advance of your travels. Anita and Leslie were our first host experiences in Cuba and they set a very high standard.
The recommendation came from John and Susan Pazera of travel blog Latitude Adjustment Blog.
Airbnb Cienfuegos Casa Particular Villa La Mar
Address: Sra Mayda Calle 37 #204 A e/2 y 4
The first accommodation that we were recommended by John and Susan Pazera from Latitude Adjustment Blog had been booked out – Vista Al Mar. The owners kindly offered to refer us to alternative accommodation close to where they were.
Accommodation: A triple room with an ensuite bathroom.  The outside balcony is situated right on the water with stunning views across to the mountains.  Breakfast (an extra cost) is served on the balcony each morning.
Location: A 20-minute walk from the centre of Cienfuegos. There are plenty of taxis and tuk-tuks, even a horse-drawn carriage available for transport to the centre.
Why we loved Villa La Mar: The location on the waterfront really makes this location.  The breakfast of fruit, fruit smoothies and eggs with good strong Cuban coffee sets you up for the day.  The owners mentioned bringing earplugs as there is a bar a few doors away, but during the time we were there, we found that the music stopped between 10.00 – and 11.00 pm.
Casa Particular Hostel Noel y Nury
Address: Frank Pais Street #209 between Antonio Guiteras & Lino Perez Streets, Trinidad
Accommodation: A triple room with an ensuite bathroom.  Our room consisted of two single beds and a bunk bed suitable for a family of 4. There is a rooftop terrace with a great view over Trinidad where we would spend each afternoon relaxing after a day of sightseeing. Breakfast was held on the rooftop terrace.  (breakfast is at an extra cost).
Location: The hostel is well located in Trinidad.  You could walk from the Bus Station (around a 15-minute walk) and 2 blocks from the main park and 10 minutes from Plaza Mayor.  Wi-Fi is available at the Main Square as well as on the steps of Casa Musical near Plaza Mayor.
Why we loved Hostel Noel y Nury
The location was perfect for visiting Trinidad.  Jesus, the Manager, was so helpful at all times and well-versed in local knowledge.  The rooftop terrace was perfect for chilling.
Contact them here for bookings
Casa Particular Hostal Acertijo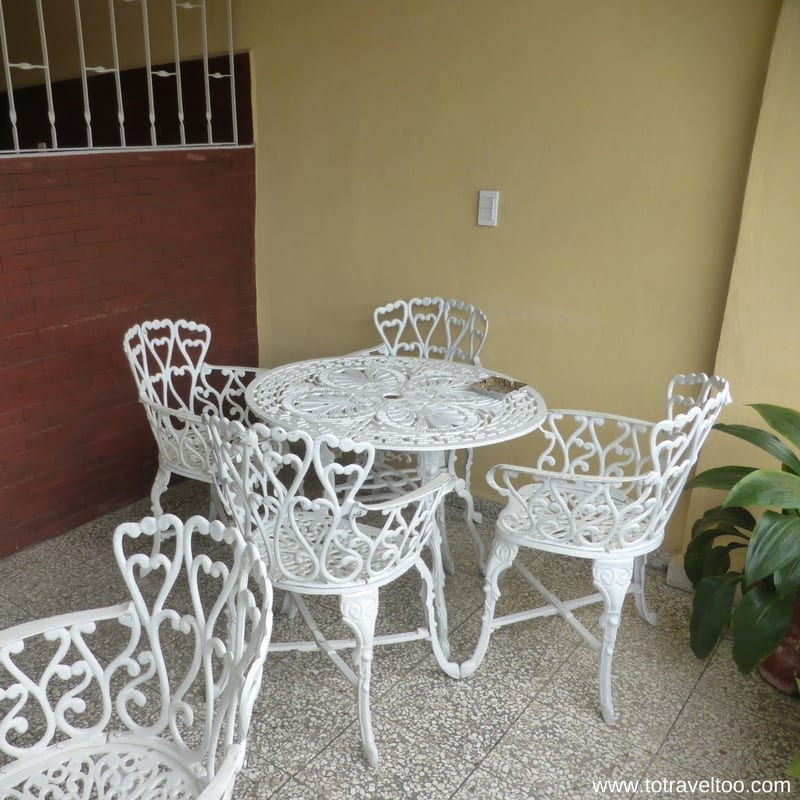 Address: Cespedes #20 entree Maceo y Parque, Santa Clara
Accommodation: A triple room with an ensuite bathroom on the 2nd floor.  There is a small balcony overlooking the street which is perfect for relaxing.
Location: The accommodation was located 100m from the central park in Santa Clara.  There were restaurants located around and just off the park.  The park was a Wi-Fi zone.
Why we did not love Hostal Acertijo: Although the accommodation ticked all of our boxes i.e. centrally located, clean, size room etc the location next to a rooftop farmyard of chicken, doves, turkeys and roosters that started crowing at 2 am in the morning was not conducive to a good nights sleep.  A Pet Shop was located on ground level next door.  The owner would arrive at the Pet Shop around 6 am and the puppies would start howling and barking, this was just after you managed to get an hour's sleep.
Casa Particular Deisy y Reinaldo
Our recommendation for accommodation in Camaguey came from fellow bloggers Goats on The Road for Miriam House.  On our arrival, Miriam came out to greet us and explained that our accommodation was not available due to the previous guest contracting dengue and he could not be moved.  Her sister had a property that would be suitable for us closer to town.  Miriam then drove us to her sister's property. We were grateful to Miriam for organizing this for us.
Address: Joaquin De Aguero 525 entre 25 de Julio y Perucho Figueredo, Camaguey
Telephone: +53 5270 3252
New Accommodation: Deisy y Reinaldo
Address: Calle San Ramon #354 e/linea y San Jose Centro Historico Camaguey
Telephone: +53 32 283 077
Accommodation: A double room with an ensuite bathroom.
Location: A great location just a few blocks from Centro Historico.
Why we loved Casa Deisy y Reinaldo: 
Deisy and her husband Reinaldo were so welcoming.  The accommodation at the top of the house was very clean, large and a good-sized bathroom with TV.  They could not do enough for us.
Address: C Planta Baja Bayamo
Telephone: + 53 53 38 3441
Accommodation: A double room with an ensuite bathroom.  Included in the room were a refrigerator and TV.  There is an outside courtyard to the rear of the property that is great for relaxing in.
Location: A few blocks away from the main square and restaurants.  Wi-Fi is available in the main square.
Why we loved Casa Bretones:  Amarillis was a very good host.  Our bus had broken down on the way from Camaguey, we managed to call her to let her know that we would arrive around 9 pm.  On arrival, we were exhausted and hungry and she called a local restaurant for us to see if they were still open.  During our stay, Amarillis was very helpful and friendly.
Casa Particular Casa Marta Sierra
Address: San Francisco 436 entree Calvario y Carniceria
Telephone: +53 552046 or +53 52400762
Accommodation: The largest property we stayed in.  Located on the rooftop of a colonial-style villa with its own outdoor terrace, sitting room with TV and refrigerator, ensuite bathroom and double bedroom.
Location: The location was perfect, two blocks away from the main pedestrian street that runs through Santiago de Cuba.  Wi-Fi is available in various locations within a 10-20 minute walk.
Why we loved Casa Marta Sierra: Marta and her daughter Heidy are delightful, welcoming, informative and ended up like part of the family.  They offer a wonderful Cuban home experience.  They have extensive historical knowledge and are proud to show you their home city. We learned so much from both of them.
Casa Particular Villa Juana y Nela #5
Address: Calle Rafael Trejo No 5 Vinales, Pinar del Rio, Cuba
Telephone: +53 48 69 65 07
Accommodation: A double room with an ensuite at the rear of the property where it was very quiet. Breakfast (extra cost) consisted of fruit smoothies, pancakes, fruit, cake, cheese, and meat – so much so that we could not eat it all, and coffee.
Location: Vinales is always very busy and the closer you are to the main square the noisier it can be.  The location is a few minutes behind the main street of Vinales.
Why we loved Villa Juana y Nela #5:  We had a real Cuban homestay experience, the whole family assists and we were welcomed into their family and home.  They assisted us in booking the local horse riding tour through the tobacco fields.  We enjoyed a typical Cuban meal on the last night of our stay which the family prepared for us.
Very Important Tips from To Travel Too:
Because of the restrictions of Wi-Fi, we would highly recommend that you take an actual travel guide of Cuba and download an app that will give you off-line maps.
Places to Stay in Cuba – Hotels
If you would like to stay in hotels instead you can check availability here and at the same time find out what there is to see and do in Cuba. Allow some time to really enjoy Havana, it is such a vibrant city.
Read more of our articles on Cuba that includes information on what to see and do in Havana and Vinales, currency, ATMs, WiFi and tips.
Cuba Weather
The best time to visit Cuba is between December and May. The hurricane season in the Caribbean runs from June to November.
Travel Insurance
World Nomads offers simple and flexible travel insurance. Buy at home or while travelling and claim online from anywhere in the world.
Pinterest
Are you on Pinterest? We are at To Travel Too and we have many travel-related boards check us out at Pinterest.  If you enjoyed our article why not pin it to your board?
Travel Shop
Do you need some new luggage, packing cubes, travel clothes or travel guides for Cuba? We have a range of all travel products in our Travel Shop.