Sweden's Sormland region may be lesser-known compared to its popular counterparts like Stockholm or Gothenburg, but it is a hidden gem waiting to be explored. Nestled in the heart of Sweden, Sormland offers a unique blend of picturesque landscapes, rich cultural heritage, and fascinating history. From enchanting castles and charming old towns to pristine lakes and serene forests, this region has something for everyone. Whether you are an adventure seeker looking for outdoor activities or a history enthusiast wanting to delve into the past, Sormland promises an unforgettable experience. Join us as we uncover the reasons why you should not miss out on visiting Sweden's captivating Sormland region.
We set ourselves a travel challenge whilst visiting Sweden's Sormland region. Could it be more beautiful or outstanding than Sweden's Roslagen region where we spent a night and two days the week before? Could it also be a region that would win the hearts of the "Young At Heart" traveller?
This post may contain affiliate links. Please see our disclosure for more information. As an Amazon Associate, we earn from qualifying purchases (if applicable).
Where is Sormland located in Sweden?
Sormland is located to the South of Stockholm, a mere 50 minutes by train and situated between the Baltic Sea and Lake Malaren. It is just as easy to get there, as is anywhere that we have found in Sweden.
Sormland is known for:
It's historical importance
It has over 400 manor houses and castles, most of which are privately owned. Gripsholm Castle has been named one of the top 50 European Castles, it shares the list with some of our favourite castles throughout Europe.
The regional town of Malmkoping was made famous by a story of a

100-year-old

man who climbed out of a window of a retirement village and disappeared on his 100th birthday party (wouldn't you?)
Classic cars, bicycles and jukeboxes – the likes you will have never seen before and never see again
A culinary destination
The oldest inn in Sweden dating back to 1609 built on the foundations of a Carthusian monastery
Sweden's Largest Open-air Museum-

Julita Manor

Staying overnight in a soap factory – actually the 'Sunlight' soap factory
Viewing of moose and deer at the Oster Malma Castle and Wildlife Park
Quaint towns
Stendorren – Nature Reserve
Over our many years of travelling, we have spent time visiting Chateau, Palaces, Castles and Manor Houses throughout Europe, could Sweden rival what we have already experienced?
Things to do in the Sormland Region of Sweden
Fika, Korvmoj, local beer and cuisine (sounds like Swedish to me!)

Fika, we love the whole concept behind Fika.  Fika happens every day morning and afternoon with family, friends and even in the workplace.  What is this mysterious event?  The Swedes have got it correct, from our point of view.  More of us should do Fika!
Fika is 'a moment to sit down by yourself with family, friends and work colleagues and mull over the good things in life over a coffee or tea and a small pastry'. We really could get the hang of this, but our waistlines would suffer after too many Kanelbulle!
Korvmoj means 'fast food' in Swedish and why not enjoy some Korvmoj with a royal view of Gripsholm Castle across the lake, before dinner.
A classic hot dog stand "Gripsholmsgrillen" gave us a taste of their signature dish and even for us vegetarians, we snacked away on sweet potato fries and three different types of sauces. We were even treated to bottles of local Sormland artisan beers!
Lunch in Roggebakery Strangnas
Attached to the Hotel Rogge in Strangnas is the well-known bakery famous for its sourdough and artisan bread, scrumptious salads and delicious pastries for morning and afternoon Fika!  If you can't get enough you could always stay the night and come back for seconds the next day.  We know, we would!
Dinner at Gripsholms Vardshus (Inn) in Mariefred
After a day of sightseeing throughout the region, we enjoyed local Swedish Fare at the Gripsholms Vardshus (Inn). You have a choice of fine dining, English pub food and classic Swedish fare with stunning views at sunset over the lake to Gripsholm Castle.  The next morning it was too easy to linger longer over breakfast than normal with such a great selection of bread, meats, cheese, eggs, pastries, yoghurts and fruits and of course a great cup of coffee to start the day.
In Nykoping, Oster Malma provides regional cuisine at its best.  Sourcing food from its own game slaughterhouse, lakes, forests and gardens they provide the diner with varied options and vegetarians are well catered for as well.
We enjoyed watching the deer play at sunset, a variety of birds in flight and the highlight of our visit was seeing moose in their natural environment.
 

Visit Historic Castles in Sormland
Gripsholm Castle in Mariefred
Shimmering across the lake and standing proudly on its own island is King Gustav's Renaissance Castle Gripsholm. King Gustav Vasa laid the foundation stone in 1537.  A castle that has seen Royal imprisonments, abdications, theatrical performances and a badly stuffed lion that has become quite famous for being the first lion ever in Sweden and one that taxidermists could not quite stuff correctly having never seen one before.
Since 1822 Gripsholm has housed the National Portrait Gallery of Sweden.  It is definitely worth spending a few hours enjoying the portraits, spending time in the chambers of past Kings and Queens gone by and wandering around the outside gardens, moat and visiting the rune stones. We sat for a few minutes in one of Europe's most well-preserved 18th-century theatres and you could feel the music and the banter happening around you as it would have done hundreds of years ago.
Sparreholm Castle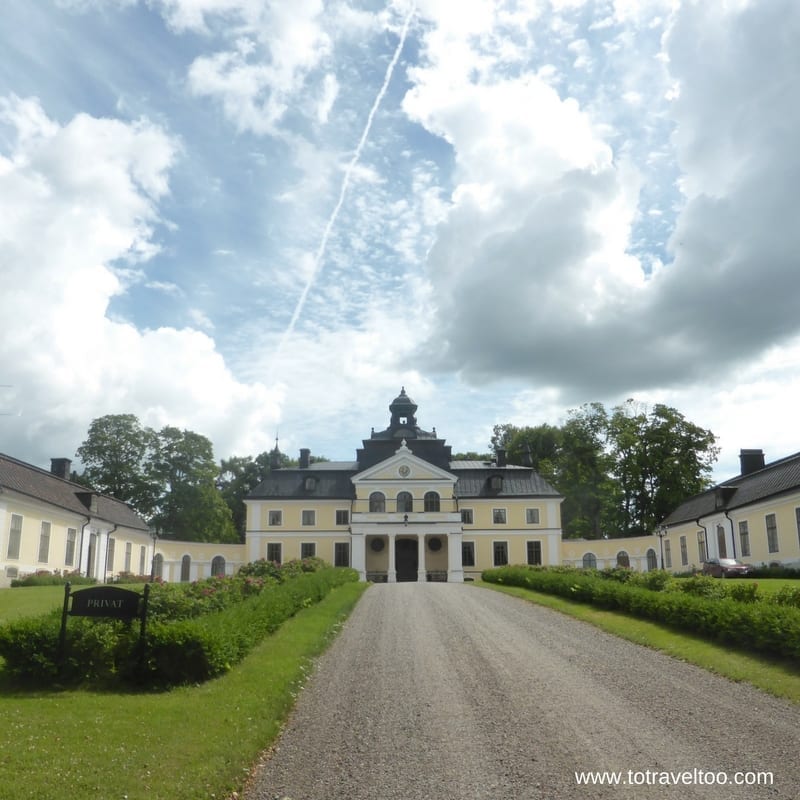 If you had lots of land with buildings to spare, unlimited funds and a passion for collecting things, what sort of collection would you start?  Luckily for passionate collector Helge Karinen his home  Sparreholm Castle had the space and the buildings for him to follow his passion. Are you interested to see what he has collected? We all were.
If you are a vintage car enthusiast this is the place to visit, even if you are not, you will be 'gobsmacked', you are visiting one of Europe's leading car collections showing the development of the automobile since the 1800s and this is not even the full collection.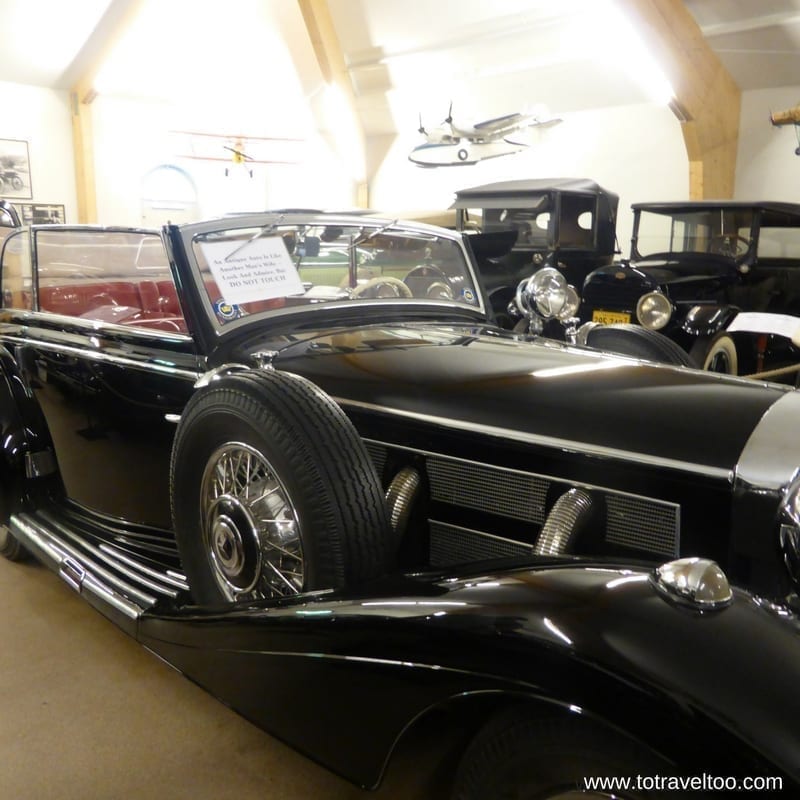 Of course, you can't touch but there was one vintage car that I would have liked to have sat in – a Mercedes 540K from 1936 that was owned by Prince Gustaf Adolf, the current King of Sweden's father.
Do you remember Jukeboxes? Sparreholm Castle houses the largest collection of Jukeboxes in Europe as well as the first music boxes, phonographs, and gramophones.  To be honest, I had assumed that jukeboxes were all the same, over 100 jukeboxes later I know now they aren't.  They did not look like the old one I remember in our Aussie Pub!
Can you imagine running around the grounds of this Castle, sitting in vintage cars, riding Lusitano horses, playing loud music and learning to ride on vintage bikes? This is what the children of the current owner can remember doing from such an early age.
Seasonal Accommodation during the summer months is available at the Castle and from our viewing of some of the rooms available, we could spend a lovely weekend here in the countryside enjoying the delights of this 1562 estate and buildings.  If you are interested in Horse Riding and Classical Dressage the Castle offers Dressage teaching on their well-educated Lusitano horses in their Equine Centre where there is a unique display of horse-drawn carriages.
Oster Malma Castle
Overlooking Lake Malmasjohn for 350 years Oster Malma Castle was built in the baroque style in the 1660s.  A castle of hunting history awaits you and do look up when you visit the rooms inside the Castle, the ceilings are amazing.  It was a little daunting in the trophy room where on the walls were hundreds of deer antlers, all of the different sizes.  I felt better when an explanation was given, that the antlers of today are in much better condition on the deer than a couple of hundred of years ago due to advances in hunting and game management.
Manor Houses of Sormland
Julita Manor House – Sweden's Largest Open-Air Museum
Between Katrineholm and Eskilstuna on the shores of Lake Oljaren lies Julita Manor, a well-preserved Manor House and its estate of 2,200 hectares. Although we were there only for a short while it was easy to see how important this Manor House has become in the history of Sormland.  The estate was donated to the Nordiska Museet by Arthur Backstrom in 1941 and the Nordiska Museet has lived up to the words of Arthur Backstrom "to provide future generations with a faithful representation of what a large old Sodermanland estate looked like at the end of the previous century and the beginning of the present one".
There are over 290 apple trees, gardens, stables, carriage houses, estate offices, dairy, windmills and labourer's dwellings all to be explored.  Guided tours are available of the well-preserved Manor House.
Our treat was a 'pic-nic-fika' on the verandah of the Manor House overlooking the manicured gardens.  We drank the estate's finest apple ciders, ate the estate's cheeses, and went back for seconds for the pastries and homemade cakes.  Exploring and sightseeing does make you hungry and thirsty.  Accommodation is also available with an amazing view of the lake.
There are three trails available which all take about 45 minutes each: Julita Abbey, The Gentry and Their Servants and The Gardens.  We would recommend allowing a whole day to enjoy Julita, there is a cafe available and a garden shop.
Nynas Manor House
We were transported back to our childhood on our tour of Nynas Manor House.  A tour that started at the bottom of the house in the servant's quarters and wound its way up to the attic, peering in the state apartments, and viewing the best-preserved late 17th-century stucco ceilings in Sweden along the way. If you have children this is a fun way to get them involved in enjoying these beautiful Manor Houses from the past, and the reward when you reach the top? Well, we won't give it away here you will need to experience it yourself.
Nature Reserves of Sormland
Stendorren Nature Reserve located between the towns of Nykoping and Trosa offers visitors a peaceful nature getaway with suspension bridges that takes you across to the smaller islands and well-marked hiking trails through the woodlands.  The islands can be accessed by private boats.  A few of our group braved the cold conditions of the waters of the archipelago whilst the others basked in the warm sunshine and the tranquillity of the surrounding nature.
Small Towns of Sormland

Strangnas
We were welcomed by Lina,  a Strangnas Greeter, passionate about showing us around her town, sharing with us the history and even taking us off to taste the delights of Fika pastries at Cafe Grassagarden. We strolled up to the hill where sits an 1855 windmill still in working condition that gave us a great view over the harbour and town.  
The whole of Sormland region is full of history, especially King Gustav Vasa and as we visited the Cathedral we learnt that this is where he delivered his first speech on the northern side of this impressive cathedral.
Nykoping
Nykoping, just an hour away from Stockholm, is situated on the Baltic Sea. It is a world away from the hustle and bustle of Stockholm. Nykoping bounced back after two major fires completely destroyed the town, one during the summer of 1665 and the other started by the Russian Army in July 1719 that even destroyed the ships in the harbour.
As you wander through the town you will notice images of keys in gardens and in stone statues? What is this all about?  Well, as the story goes, a great banquet was held in 1317 by King Birger,  after years of power struggles with his two brothers Erik and Valdemar he imprisoned them and threw the key to the dungeon into the river, never to be found – well, not for a few centuries anyway.  If we can believe the story, a young boy whilst fishing in the river in the late 19th century fished out the key, could it really be the same key?  But what happened to the two brothers? Apparently, they starved to death.
Accommodation in the Sormland Region of Sweden
The Inn is located in the town of Mariefred and dates back to 1609 and rests on the foundation of a Carthusian Monastery.  Our room could not have been more beautiful, with luxurious bedding and pillows it was very hard to leave the next morning after our Swedish Buffett-style breakfast.

Sunlight Hotel, Conference and Spa
Address: Nytorget 7, Nyköping, Sodermanlands Lan, Sweden
Would you like to spend a night sleeping in a factory?  How about a famous 1900s soap factory that is a luxury hotel, conference and spa centre? How about the Sunlight Soap Factory?  The Sunlight Hotel is a unique accommodation experience boasting the largest gym and spa in the local area and would you believe a conference floor where you can touch, admire and even sit in a classic car.  The rooms are very comfortable with luxurious bedding as well as a substantial breakfast buffet in the morning.  We felt like royalty spending a night here. What a change from a factory to a luxury hotel?

In conclusion, Sweden's Sormland region is a hidden gem that offers a perfect blend of natural beauty, historical sites, and cultural experiences. From the stunning archipelago dotted with picturesque islands to the charming towns steeped in history, there is something for everyone in Sormland. Whether you are seeking outdoor adventures or a peaceful retreat surrounded by nature, this region has it all. Not only will you be mesmerized by the breathtaking landscapes and fascinating landmarks but also be warmly welcomed by friendly locals who are eager to share their traditions and stories. So why wait? Pack your bags and embark on an unforgettable journey to Sweden's Sormland region today!
With thanks to:
Swedish Rail for a quick easy journey to Sormland
This was a sponsored familiarisation for TBEX participants from Visit Sweden, Visit Sormland and Swedish Railway.
As always, our opinions are our own.
For our other adventures in Stockholm and Sweden read more here:
Why You Should Visit Gamla Stan
Why Baby Boomers Should Visit Stockholm
Stockholms Archipelago and Military
Getting In – Stockholm
Cheap Flight Deals to Stockholm
Find the cheapest flights with Skyscanner our go-to when researching and booking flights throughout the world.
You can arrange a private transfer from Arlanda Stockholm Airport to the City Centre here.
Car rental to be arranged for the airport or the city centre. Click here for details.
Travel Insurance
World Nomads offers simple and flexible travel insurance. Buy at home or while travelling and claim online from anywhere in the world.
Pinterest
Are you on Pinterest? We are at To Travel Too and we have many travel-related boards check us out at Pinterest.  If you enjoyed our article why not pin it to your board?
To Travel Too Travel Shop
Travel smarter and safer with products from our To Travel Too Travel Shop.  If you are looking for the latest luggage, guidebooks or travel accessories we have you covered with over 800 travel products to choose from.