Are you planning to visit Tulum? Great choice it is a favourite destination in Mexico. Let us share with you why you should visit Tulum.
Tulum is a unique destination in Mexico in Quintana Roo on the Yucatan Peninsula.  Tulum is famous for its Mayan Ruins and its strategic location on the limestone cliffs overlooking the Caribbean Sea.
To help make your visit to Tulum a memorable one we have included a Mexico Packing List for you with over 30 items you will need to visit Tulum, the Mayan site and the beach.
Tulum Fact: Tulum in its heyday could have had over 1600 people staying there in the royal city and it was a very important trading port.
Today it is one of the most visited Mayan sites in Mexico. Its drawcard is not only the Mayan ruins but the silvery sand beaches and laid-back vibe. The local Mexican cuisine is a highlight. There are many top restaurants in Tulum to choose from.
Purchase your skip the line ticket here for Tulum Ruins which includes Tequila Tasting
There are many reasons to visit Tulum.
Have you visited Tulum? Tulum is an easy destination to travel to from Cancun.
Are you travelling through the Yucatan Peninsula? We have written a comprehensive guide that covers all the states, what to do, where to go, where to stay and our hot travel tips. Read more here.
We will show you why you should visit Tulum, how to visit the ruins, where to stay, where to eat and what you can do.
This post may contain affiliate links. Please see our disclosure for more information. As an Amazon Associate, we earn from qualifying purchases (if applicable).
Where is Tulum in Mexico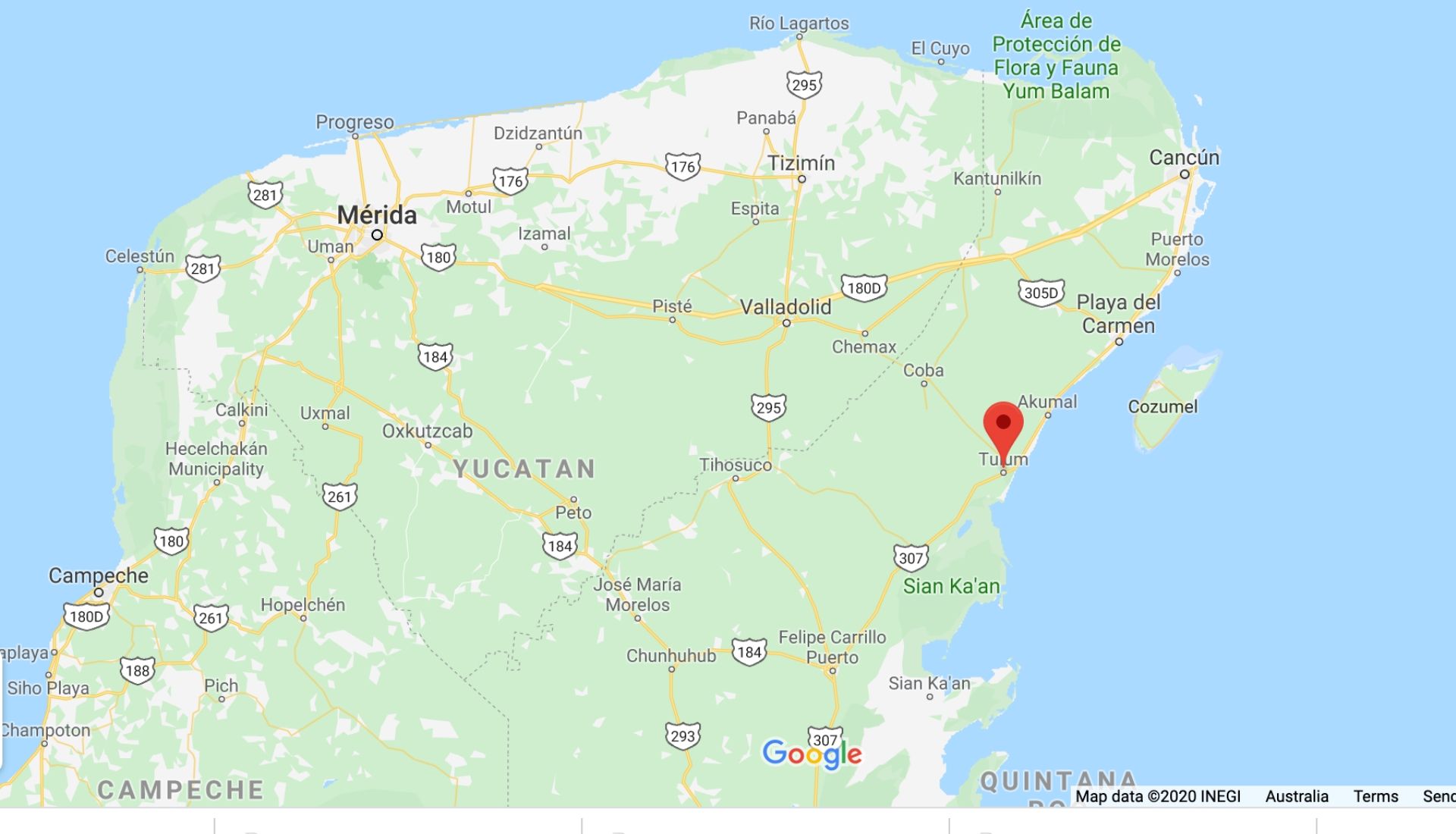 Tulum is located in the state of Quintana Roo in the Yucatan Peninsula.
Getting to Tulum Mexico
Cancun to Tulum distance: 131 km
Playa del Carmen to Tulum distance: 68 km
Merida to Tulum distance: 259 km
Campeche to Tulum: 432 km
Do you need a transfer from Cancun to Tulum?
Book a Cancun to Tulum shuttle here

Tulum City Map

Where To Stay in Tulum: Our Top Recommendation
We stayed outside of the town of Tulum in the Zona Hotelera Tulum at the 3 star Posada Punta Piedra at Carretera Km 4 Av Boca Paila Tulum.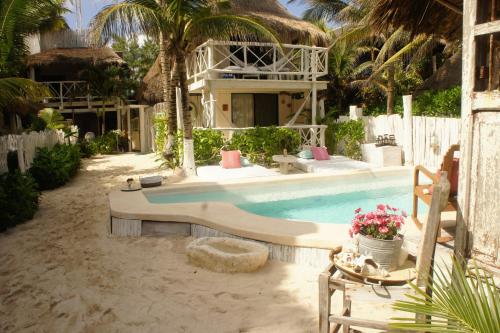 With its own private beach, comfortable stylish accommodation and centrally located for local restaurants and bars we would definitely return. The 10-room boutique hotel offers an outdoor pool, jacuzzi and restaurant.
Latest Guest Review: "amazing property with beautiful beach and beach bar and the most lovely welcoming staff. Our favourite of all the places we stayed while in Mexico. Great value"

How To Visit The Tulum Ruins
The Mayan Ruins are the top tourist destination in Tulum and there are many many busloads of tourists from all over descending on the site every hour.  We had two attempts in visiting.  On the first attempt we planned for mid-morning and the queues were massive so we abandoned our visit. On the second attempt, we were first in line at 8 am and had the ruins to ourselves for the first 40 minutes.
There are 60 buildings to visit within the site.
Pro-Tips for visiting the Tulum Ruins
Be the first to arrive when the gates open at 8 am.
Make sure you have plenty of water, sunscreen and insect repellent (the mosquitoes are big and nasty)
Ensure you have hand sanitiser with you
Ensure you know the latest Covid regulations when you visit the ruins
History of Tulum
Tulum was built by the Mayans in the late 13th century.  It was a seaport trading mainly in jewels such as turquoise, jade and obsidian. During this time a population of between 1000 to 1600 lived and worked here before its demise at the end of the 15th century by old world diseases brought in by the Spanish settlers.
About Tulum Mayan's Ruins
Purchase your skip the line ticket here for Tulum Ruins which includes Tequila Tasting
The castle or Castillo is perched on the edge of a 12-metre limestone cliff facing east towards the Caribbean Sea. El Castillo was a lighthouse guiding the ships into shore missing the treacherous reefs in the area.
The Great Palace was the residence of the most important people in Tulum at the time. Religious ceremonies were held in the sanctuary beside the building.
Facts about Tulum's Mayan Ruins:
It is one of the only walled cities built by the Mayans, there are three-walled sides the fourth being the Caribbean Sea.
The word Tulum in the Yucatec language means wall.
Tulum was called Zama meaning 'dawn' in the Mayan language.
The earliest date recorded on the site is A.D. 564.  This was found as an inscription on a stelae found on the site in the Temple of the Initial Series south of the Castle
The Castle is the tallest building on the site and was erected in several stages.
There is a small cove located at the foot of the Castle where boats would come ashore to ply their trade.
From Honduras to the Yucatan Peninsular the Mayans controlled all maritime movements during its heyday
The Mayans honoured the Descending God or 'diving god'
The site served as the seaport for the large town of Coba close by.
You can't climb the ruins now
Can You Swim at Tulum?
Normally you can head down to the beach for a swim and a great photo opportunity as you look up at the ruins along the coast but it will depend on the tides when you visit. The beach opens at 10 am.
How long do you need to visit the Tulum Ruins
We spent 1.5 hours wandering through the ruins with iguanas crossing our paths and mosquitos hungry for our blood- please use some insect repellent
Is Tulum Touristy?
Tulum is definitely touristy.  The busiest tourist time is between January and March.
Is Tulum worth it?
Yes, Tulum is worth it! It is a unique Mayan site and a memorable one to visit.
When is the Best Time to Visit Tulum
The hurricane season is between June and October. The best time to visit is between October and January just before the busy tourist season.
How many days do you need to visit Tulum
You will need to allocate at least half a day to visit the Ruins and then a couple of more days to visit the cenotes and the beaches.
Is Tulum safe to visit?
Tulum is safe to visit. As in all locations around the world be careful with your personal belongings at all times.  We would recommend not walking the beaches alone in the evening.
Visiting Tulum Ruins:
Entrance costs to the ruins is  MXN 80 = USD 4. You can only purchase tickets with Mexican pesos. There are no ATMs on the site. If you have USD the locals will be keen to exchange for you at a rate that favours them.
There is a small fee charged for camera equipment
Opening hours 8 am to 5 pm
Address: KM230 Carretera Federal 307 Cancun Chetumal Tulum Quintana Roo
Purchase your skip the line ticket here for Tulum Ruins which includes Tequila Tasting
Travel To Tulum
Getting to Tulum Mexico has many options:
Round Trip Transfers from Cancun Airport
Making a day of it from Playa del Carmen with a visit to the ruins, swim in the Hilarios Cenote and see the sea turtles and reefs in the beaches. Click here for more details.
Travel by local bus from Cancun or Playa del Carmen – for schedules and ticket prices.
Taxis are also available from hotels and towns e.g. from Playa del Carmen USD30
If you are staying around Tulum hotels offer bicycle rentals.
From the carpark, at the ruins, you do need to walk around 500m to the entrance gates.  There is a small shuttle train that will take you for MXN 20 or USD1.
Flight Deals to Cancun – the closest airport to Tulum
Find the cheapest flights with Skyscanner.
We use Skyscanner for researching and booking our flights around the world.
Travel Insurance
We recommend taking out travel insurance as soon as you book your flights and pay deposits on any cruises, tours or hotels.
Tulum Mexico – Things To Do:
There are many reasons to visit Tulum.  More Tulum Mexico tours available are:
Best Tulum Hotels
There are two areas to stay in around Tulum – the beach area or the town itself.  We will cover both options for you here.
Tulum Beach Side
Posada Punta Piedra at Carretera KM 4 Av. Boca Paila, 77780 Tulum, Q.R., Mexico. A 10 room hotel with a private beach, swimming pool and restaurant. This tropical complex offers thatched cabins with breakfast, sea views, free WiFi and private bathrooms.
Latest Guest Review: After a long research for 3 days, The location is in the middle of everything directly on the beach with full beach access. The place is quite simple and very comfortable with perfect accessibility to all the party's areas. Recommendations to come and stay here for the best price if u want to stay in the zona hotelier area. Also make sure to rent a bike as a taxi here is very expensive. Gabriel in the reception was very friendly and helpful to the last moment.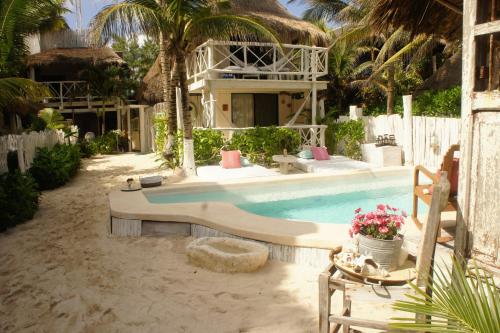 This is our favourite.

Coco Tulum is located on the road to Boca Paila Km 7. The hotel offers a private beach, car parking, a bar and a private beach area.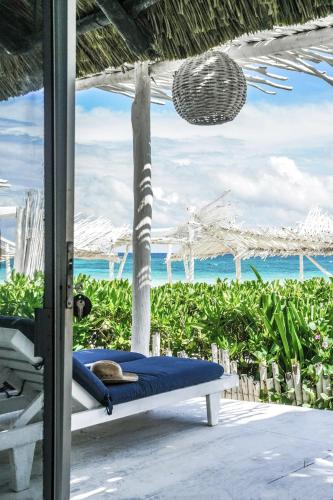 Latest guest review: "Great place right on the beach. The staff was friendly and helpful. The beach area is really nice and the tacos were excellent. We had the villa and it was perfect for 2 friends or 2 couples."

Diamante K  located at Km 2.5 Carretera Tulum Ruinas – the hotel offers a private terrace for all rooms and activities such as fishing and snorkelling. There is a restaurant and bar as well as a swimming pool.
An American breakfast is available daily.
Latest Guest review: "The location away from the mayhem that can Tulum. The atmosphere was perfect for us as an older couple not into loud party vibes. Live music added to our evenings. Dinner was good. Staff friendly and helpful. ."

Tulum City
Elements Tulum Boutique Hotel at Calle Sol Oriente Avenida Coba y Calle Escorpion. This 4 star 18 room hotel has an outdoor pool and free WiFi, restaurant, bar, garden and free parking.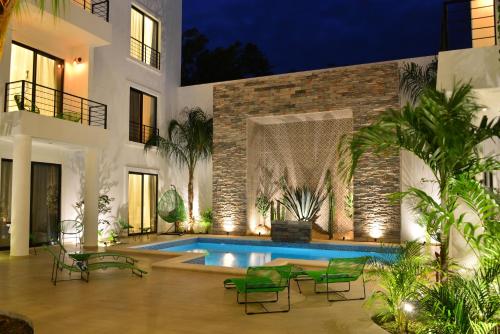 Latest Guest Review: "- new and modern hotel, spacious rooms – great location – many restaurants, ATMs, supermarkets within walking distance – bike rental – you can rent bicycles at the hotel for 100 Pesos for 24 hours per person. Great to get to the beach or the Tulum ruins"

Kaab Tulum at Calle Sol Oriente offers a restaurant, car parking, outdoor pool, bar and free WiFi. Each bedroom has pool views.
Latest Guest Review: Location is good. Receptionists are the BEST! Always super nice, helpful and professional. Outstanding! The hotel is beautiful, transmits a really cool vibe with the music and its style. Rooms and beds are huge and extremely comfortable. Breakfast is great. They've even prepared for us a "take away" one when we left early for an excursion. They were extremely helpful with transfer issues and everything! Highly recommended! Thank you guys!

Hotel Posada 06 Tulum located at Calle Andromeda Oriente entre Gemini sur e satelite sur. This 3 star 12 room hotel offers an outdoor pool and jacuzzi. It is located in the town between the Caribbean Sea and the Quintana Roo National Park. It offers stylish rooms with free WiFi and views of the pool. Adults only.

Latest Guest Review: "Very close to the busy Main Street but located in a quiet street so ideal for a good night's rest. beautiful and big room, good bed, nice pool and vibe. plenty of parking on the street. breakfast simple but good. Would definitely recommend!"

To Travel Too Travel Shop
Travel smarter and safer with products from our To Travel Too Travel Shop.  If you are looking for the latest luggage, guidebooks or travel accessories we have you covered with over 800 travel products to choose from.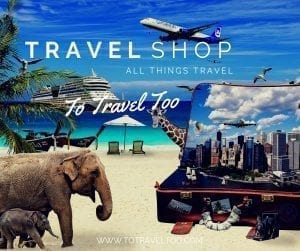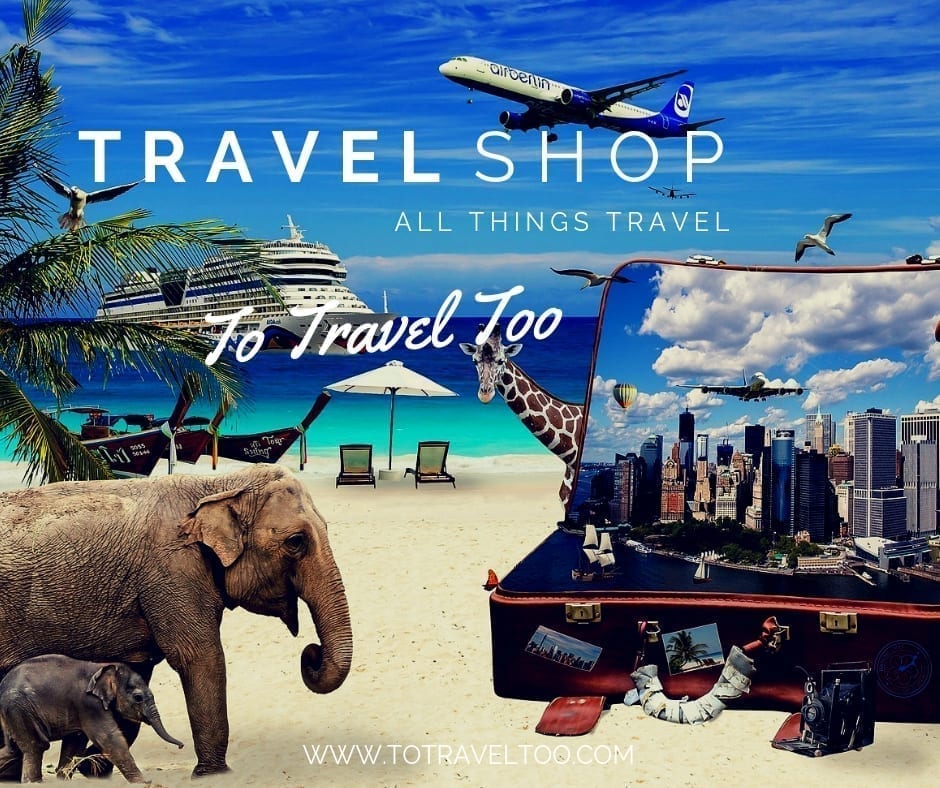 Planning your travels? Our article will help you save $$$ on your travel plans. Read more here.
Pinterest
Are you on Pinterest? We are at To Travel Too and we have many travel-related boards check us out at Pinterest.  If you enjoyed our article why not pin it to your board.