Are you a fan of hop on hop-off buses? If you are planning a visit to Porto we can highly recommend spending 48 hours on a Yellow Bus Tour Porto.
After travelling on Yellow Bus Madeira we were delighted to be able to travel on Yellow Bus Tours Porto Portugal.  The Yellow Buses are a great way to get to understand the layout of a city and to determine what places you want to see as well as learn interesting facts along the way. It is also great fun looking down at some of the sights and at other times being at the same height, it does give you a great perspective on a city, and of course, great photo opportunities.
Porto is hilly and spread out, the hop-on hop-off bus saved our legs from tackling the hills.
You can purchase your ticket in advance for the Yellow Bus Tours here which will save you from queuing. The ticket is valid for 24 or 48 hours.
Looking for where to stay in Porto? Porto has some hip hostels and boutique accommodation to suit all budgets.
Top Things To Do in Porto on the Yellow Bus Tour
There are two tours available:
The Historical Porto Tour
Porto Castles Tour
We always suggest getting the most out of a destination with some prior research and reading. Porto is one of those cities that because it is spread out you need to plan your visit accordingly.
This post may contain affiliate links. Please see our disclosure for more information. As an Amazon Associate, we earn from qualifying purchases (if applicable).
You may enjoy our article What to do and where to eat in Porto
Historical Porto Tour – Orange Route 
Historical Porto:
1 – Cathedral / S. Bento Station
2 – Sé Catedral / Cathedral
3 – Praça da Batalha
4 – Gaia Quay / Caves Cálem
5 – Porto viewpoint / Yeatman / Caves Cálem
6 – Lg. dos Aviadores / Boeira Garden
7 – El Corte Inglês
8 – City Hall
9 – Jardim do Morro
10 – Alfândega / Caves Cálem
11 – Cordoaria / Clérigos
12 – Carmo Church
13 – Ribeira / River Cruise / Palácio Bolsa / Caves Cálem
Stop 1 Cathedral of Porto/S. Bento Station
A must-see for the beautiful azulejos tiles inside the station.
Stop 2 Sé Catedral / Cathedral
Porto has some steep hills and one of them is the hill leading up to the 12th-century Cathedral. Another good reason to use the Yellow Bus Tour Porto.  There are some stunning views from the Cathedral, so it is well worth the visit.  It is the oldest neighbourhood in Porto and it is where King John 1 was married in 1387.
Stop 3 Praca Batalha
Praca Batalha is the next stop along the Orange Route by the tourist bus.  Batalha is Portuguese for 'battle', well named due to a 10th century battle between the Moors and the residents of Porto who lost the battle and which eventually led to the destruction of the city.  Today it is pedestrianized and has a range of cafes, restaurants, monuments and hotels to enjoy.
Porto's most famous shopping street Rua Santa Catarina is over a mile long and it is always busy with locals and tourists alike. Pay a visit to one of the world's top 10 most beautiful restaurants at #112 – Cafe Majestic.
Quite close to Rua Santa Catarina is Bolhao Central Market, closed in 2017 for renovations and in late 2021 final stages of the market building are being completed. A great local buzz, stop off at Bolhao Wine House for some wine, cheese, olive oils and sardines.
Address: Mercado do Bolhao Rua Fernandes Tomas 9
Stop 4 Gaia Quay / Caves Cálem
The Gaia Quay is located to the south of Porto on the other side of the river.  You can visit the famous port wine cellars, this is where the port wine is aged and stored as it is cooler on this side of the river.  As well, there was a 1% tax levied to bring wine to the north side.
There are some cafes and bars along the waterfront.
There is a small chairlift that takes you from Dom Luis I Bridge to the Porto Wine Cellars.
Stop 5 Porto viewpoint / Yeatman / Caves Cálem
One of the best views over Porto is from the Yeatman Hotel which was awarded one of the best wine hotels in 2015.  The hotel belongs to the Taylor Cellars which are located just across the street.
Stop 6  Lg. dos Aviadores / Boeira Garden
Stop 7 El Corte Inglês
Still on the other side of the Douro River, we passed by the large department store El Corte Ingles, the largest department store group in Europe and is ranking 4th in the world.
8 City Hall Porto
The impressive City Hall appears to our right at the top of the Avenida dos Aliados, the building dates back to the early 20th century.  Check out the 70m high tower, 180 steps up,  and the Carillon clock as you pass by. The building is 6 floors in height and the interior is made of marble and granite.
9 – Jardim do Morro
The cable car arrives at Jardim do Morro from where you have stunning views over Porto and the Gaia area.
10 – Alfândega / Caves Cálem
Learn everything you need to know about Port Wine, from the vineyard to the glass, in a unique format that includes an interactive museum tour, a guided tour, and a wine tasting.
Pre-book your tour here
11 – Cordoaria / Clérigos
Close to the Clerigos Tower is the Cordoaraia Garden.  The Garden is full of 100-year-old plantains set amidst modern and old sculptures.
For all of you who are fans of the Harry Potter London Wizard books and movies by J.K. Rowling Lello Bookshop is located just a few steps from the point. It is here that it is believed that J K Rowling got her inspiration for the 9 3/4 train platform.  The books were delivered to the bookshop through the front door on a trolley and into a hole in the wall inside.  The staircase in the series has been modelled on the staircase in the book shop and the gowns worn by the students are similar to the gowns worn by the students of Porto University.
Which was your favourite Harry Potter book?
The Clerigos Church and Tower are also in this location.  The Bell Tower is one of Porto's icons and can be seen from most parts of the city. You can climb 230 steps to the top for some of the best views.
Stop 12 Carmo Church
It is worth stopping at the Carmo Church.  When you first glance to your right you see only 1 church but if you look closely it is actually 2 churches side by side separated by the smallest narrowest house in Porto, actually probably Portugal with a width of only 1 meter.  The Carmo Church is on the right and the Carmelitas Church is on the left.  The churches were constructed at different times and the house was constructed so that there was no communication between the monks of the Carmo Church and the nuns from the Carmelitas.  There is also a regulation that no two churches should share the same wall, even though it is of the same religion.
Stop 13 Ribeira/River Cruise/Palacio Bolsa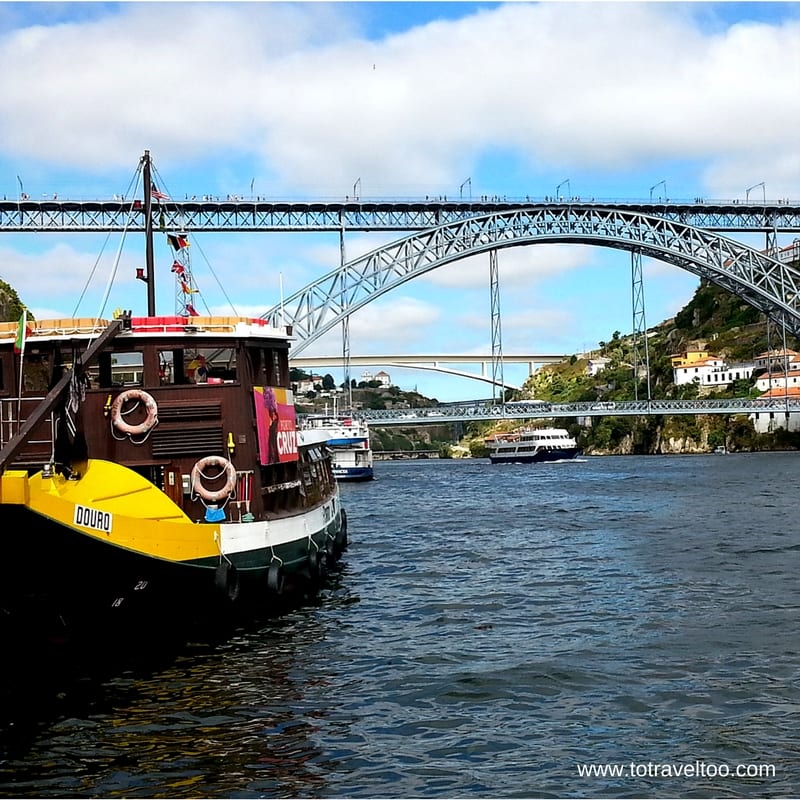 The Ribeira area of Porto was listed as a UNESCO World Heritage Site in 1996.  It is one of the best areas in Porto for restaurants and bars with views over the Douro River.  This is where you can pick up one of the tourist boats for the cruises up the river.
Book here for a 6 Bridges River Cruise
Prince Henry the Navigator was born in the Ribeira district in 1394.
If you want to visit Palacio Bolsa – the stunning Stock Exchange of Porto this is where you will need to get off. The Stock Exchange has 20kg of gold in decorations inside the 19th-century neo-classical palace.
The St Francis Church of Porto is located beside the Stock Exchange, it is also an impressive building and worth a visit.
Pre-book your 48 hour pass here
Porto Castles Tour:
1 – Cathedral / S. Bento Station
2 – Sé Catedral / Cathedral
3 – Praça da Batalha
4 – Praça da República
5 – Rosa Mota Pavillion – Suspended
6 – Casa da Música / Rot. Da Boavista
7 – Av. Boavista Hotéis
8 – Fundação de Serralves
9 – Parque da Cidade
10 – Castelo do Queijo / Sea Life Porto
11 -Anémona
12 – Matosinhos Restaurants
13 – Tourism Office / Cruises Terminal
14 – Matosinhos Beaches
15 – Anémona
16 – Castelo do Queijo / Sea Life
17 – Passeio Alegre
18 – Fluvial
19 – Tramcar Museum
20 – Ribeira / River Cruise / Palácio Bolsa / Caves Cálem
Stops 1 – 3 Cathedral/S. Bento Station/Se Cathedral/Cathedral/Praca Batalha – the same information as provided in the Historical Porto Route.
Stop 4 Praça da República
In the 19th century, many historical events occurred in the small square.
Stop 5 Rosa Mota Pavillion – Suspended
A large round Pavillion that is now used for sporting and musical events was opened in 1954 and holds 5, 400 people.
Stop 6 Casa da Música / Rot. Da Boavista
Casa de Musica (House of Music) houses the Fundacao Casa de Musica and 3 orchestras.  It was first opened to the public on the 14th of April 2005.
The Rotunda da Boavista is also known as the Praça de Mouzinho de Albuquerque. The statue is of Joaquim Augusto Mouzinho de Albuquerque and is dedicated to the heroes of the Peninsular War during 1808 – 1814.
The longest street in Porto – Boavista Avenue – runs off from this square and ends at the ocean.
7 – Av. Boavista Hotéis
A popular range of hotels are available in Boavista.
Check availability for hotels in the Boavista area of Porto here
Boavista Avenue runs for 5km and it has some incredible homes and hotels that line each side of the Avenue.  Some of the architecture dates back to XVIII and XIX century with parks and statues of contemporary art along the avenue, it reminds us of our visit to Merida in Mexico where one of the longest avenues there had stunning architecture and century-old mansions.
Stop 8 Fundacao de Serralves
The Fundacao de Serralves is a cultural institution that includes an Art Museum,  a Park and a Villa just off Boavista Avenue.  It is one of the most important institutions in Portugal.
Stop 9 Parque da Cidade
The biggest urban park in Portugal just perfect for a picnic, a walk or just relaxing.
Stop 10 Castelo de Queijo/Sea Life Porto
As the bus continues on its route we passed by Castelo de Queijo – sounds quite strange – Castle of Cheese.  Apparently, it was built on a rock that resembled a piece of cheese.
The biggest aquarium in Porto is the Sea Life Porto.  Here you have a chance to see turtles, sharks, clown fish and seahorses just to name a few.
Skip the queues and purchase your tickets to Sea Life Porto before you leave home or when you arrive at Porto.
Stop #11 Anemona
Anemona is a sculpture designed for Porto and the beach suburb of Matosinhos by Janet Echelman.
Stop 12 Matosinhos Restaurants
For the top 10 most popular restaurants in Matosinhos – click here
Our favourite is Casa Serrao – check their website out here
Stop 13 Tourism Office/Cruises Terminal
As the name of the stop suggests if you get off here you can visit the Tourism Office and the Cruise Terminal.
Stop 14  Matosinhos Beaches
Our favourite stop not only for the beach but for the famous Fish Restaurants of Matosinhos.  Walk 2 streets back from the beach and enjoy some of the best fish in Porto.  Our favourite restaurant here was Casa Serrao at Rua Herois de Franca #521. We had some of the best-grilled sardines and fish here whilst enjoying a chilled Vino Verde.
Stop 15  and Stop 16 Anemona and Castelo do Queijo are the same as Stops 10 and 11 in the Historical Tour
Stop 17 Passeio Alegre
The garden built at the end of the 19th Century is located in the suburb of Foz and is a great spot to get off and enjoy the old buildings, fountains and gardens.
Stop 18 Fluvial
Fluvial is Porto's sports and recreation centre.
Stop 19 Tramcar Museum
The Tramcar Museum is an old electricity station in Porto showcasing the history of the trams in Porto.
Stop 20  Ribeira / River Cruise / Palácio Bolsa / Caves Cálem – same as #13 in the Historical Tour
Pre-book your 48 hour pass here
General Information on Yellow Bus Tour Porto and Yellow Bus Timetables
Porto Travel Tip
Before joining the tour bus we recommend that you pay a visit to the McDonald's Restaurant on the Praca da Liberdade. You may not be a fan of McDonald's but this is the most beautiful McDonald's Restaurant in the world.  The restaurant itself is a national monument with stunning stained glass windows and chandeliers.
Schedules for the Yellow Bus Tours Porto
• Historical Porto – 9:30, 10:15, 11:00, 11:45, 12:30, 14:00, 15:30, 17:00;
• Porto Castles – 9:00, 10:00, 11:00, 12:00, 13:00, 14:00, 15:00, 16:00, 17:00;
Duration of the Yellow Bus Tours Porto
Historical Porto Tour: 1h45
Porto Castles Tour: 2h
Pro-Tip
Don't forget to collect your Yellow Bus Porto Discount Book with discounts available for:
24h Ticket includes guided visit and wine tasting at:
Boeira Garden Hotel, Curio Collection by Hilton: Monday – Saturday: 8h – 22h
Espaço Porto Cruz: Tuesday – Sunday
Store: 12h30 – 19h30 / 12h30-19h (Sunday). Terrace e restaurant: 12h30 – 23h / 12h30-18h (Sunday);
48h Ticket includes guided visit and wine tasting at:
Boeira Garden Hotel, Curio Collection by Hilton: Monday – Saturday – 8h – 22h
Poças Junior Wine Cellars: Tuesday – Saturday 10h-17h30 (last visit 16h30);Discounts on tickets to museums and leisure activities
25% Discount on other Yellow Bus tickets
Other Yellow Bus Tours in Portugal Cities:
Where To Stay in Porto
Porto has a range of accommodations to suit all budgets. We stayed at the Hotel Intercontinental in Porto.
Read our review for 5-star luxury right in the heart of Porto is the Intercontinental Hotel.
For more information on where to stay in Porto:

There are so many restaurants, cafes and bars in Porto check out Tripadvisor's top recommendations.
Getting Into Porto
Eurail: With a Eurail Pass it is easy to travel the length and breadth of Europe and in particular Portugal.
Flight Deals to Porto
Find the cheapest flights with Skyscanner our go-to when we research and book our flights.
Car Rental: Car Rental is available from the airport and downtown.
Bus Travel Around Portugal
For the latest bus schedules and ticket prices for Portugal click here.
Our Verdict
For your sightseeing Porto adventures, we highly recommend the Porto Hop on Hop off Yellow Bus Tours.
We thank Yellow Bus Tours for our complimentary tickets for the Porto Vintage Tour. As always, our opinions are our own.
More articles that will inspire you to visit Porto:
Porto Walking Tour with Porto Walkers
Do You Need a Visa for Portugal?
Pinterest
Are you on Pinterest? We are at To Travel Too and we have many travel-related boards check us out at Pinterest.  If you enjoyed our article why not pin it to your board.
We have recently put together a Travel Shop with over 800 travel-related products that we either use ourselves or they have been recommended by other travel bloggers and travellers.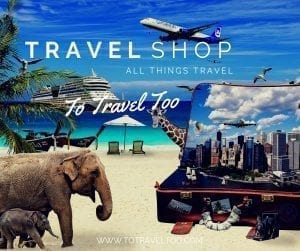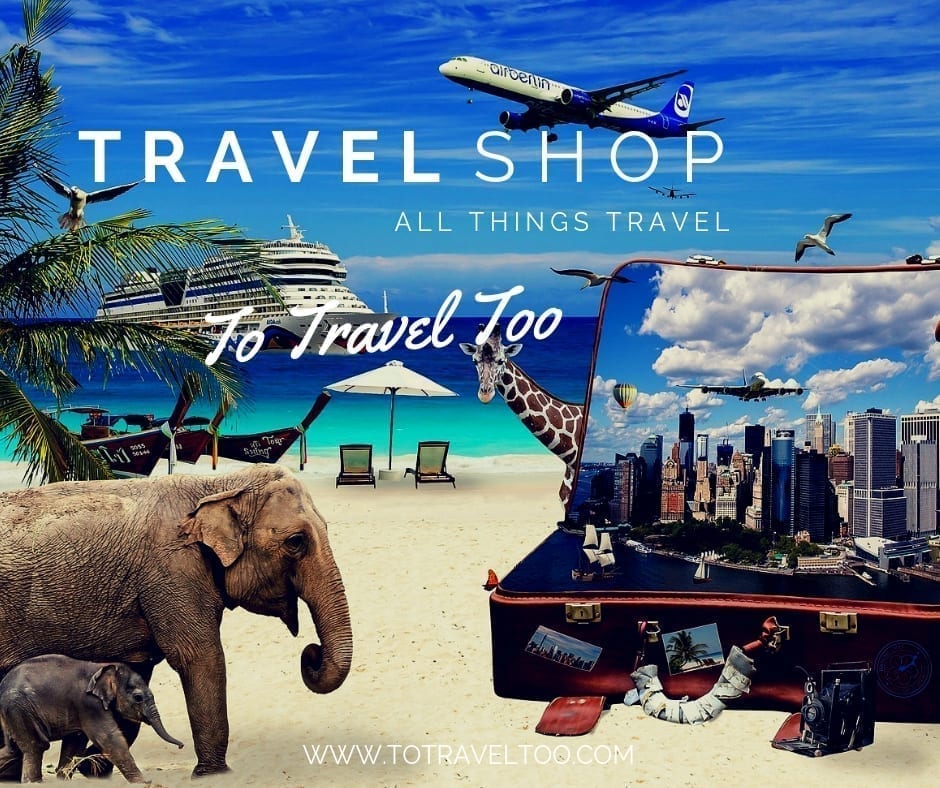 Have a Question on Porto?
If you have any questions or would like some advice we would love to hear from you. You can reach us via our Facebook page or email us here.
Before you visit Porto and Portugal you may want to do more research, here are our top picks from a range of Amazon Guide Books.
Travel Insurance
We highly recommend travel insurance when you travel and as you pay deposits on your tours etc.