Looking to explore the magical city of Prague but only have four days to spare? Fear not, as we have crafted the perfect itinerary for you! From historic landmarks to charming neighbourhoods, this enchanting capital of the Czech Republic offers a wealth of experiences that will leave you captivated.
In this article, we will guide you through an unforgettable four-day journey, highlighting the must-see attractions, hidden gems, and delectable culinary delights that Prague has to offer. So pack your bags and get ready to immerse yourself in the rich history and vibrant culture of this stunning European destination.
Wondering what to eat in Prague? Well, you will be spoilt for choice there is so much great food and great beer you will need a couple of weeks to enjoy them both.
If you are a Vegan in Prague, well, you are also well-catered for.
If you like to explore Prague by yourself or you are short on time why not take a half-day self-guided walking tour?
Europe is home to many iconic buildings and landmarks and we are glad to report that Prague has its own to equal or surpass other European cities e.g. Prague Town Hall and Astronomical Clock (Staroměstská radnice s orlojem), Charles Bridge (Karlův most) and the Prague Castle (Pražský hrad).
Did you know that Prague has one of the most beautiful cathedrals in Europe?
When you travel to Prague you will be amazed at the number of things to see and do.
There are no shortages of things to see in Prague and we are happy to share with you our 4 days in Prague itinerary – but, can we say, please consider heading out of Prague on day trips or a few nights to really get the feel of the Czech Republic?
Have you seen a Dancing Building before? Or a 42-layer sculpture of writer Franz Kafka's head by David Cerny?
This post may contain affiliate links. Please see our disclosure for more information. As an Amazon Associate, we earn from qualifying purchases (if applicable).
How To Plan a Trip To Prague
Our suggested 4-day Prague itinerary: (find more details on places to visit in Prague throughout the article)
Day One
Take the Hop on Hop off Bus for 24 hours to get a feel for the city. Take an afternoon cruise on the Vltava River.
Day Two
Up at sunrise to take a leisurely stroll across Charles Bridge, admiring its statues and panoramic views of Prague. View John Lennon Wall – it is recommended to do this early in the day before the tourist crowds arrive.
Explore Prague Castle: Spend a day exploring the largest ancient castle complex in the world, including St. Vitus Cathedral, Golden Lane, and the Royal Gardens.
Visit Old Town Square: Discover the heart of Prague's historic centre with its stunning architecture, visit the famous Astronomical Clock, and enjoy local street performers.
Explore Josefov (Jewish Quarter): Visit one of Europe's best-preserved Jewish quarters to learn about Prague's Jewish heritage through sites like the Old Jewish Cemetery or synagogues such as Staronová or Pinkas Synagogue.
In the evenings enjoy Czech cuisine: Sample traditional dishes like goulash or svíčková at local restaurants or try some delicious Czech pastries such as trdelník or kolache at charming cafes.
Day Three
Visit Letná Park: Escape from city life for a while by visiting this beautiful park offering stunning views of Prague's skyline, beer gardens, and even an outdoor Stalin Monument-turned-Metronome.
Explore Petřín Hill: Climb up to Petřín Tower for breathtaking panoramic views of Prague, wander through
Day Four
Day trip to Cesky Krumlov (tour recommendations later in the article)
Prague Attractions Map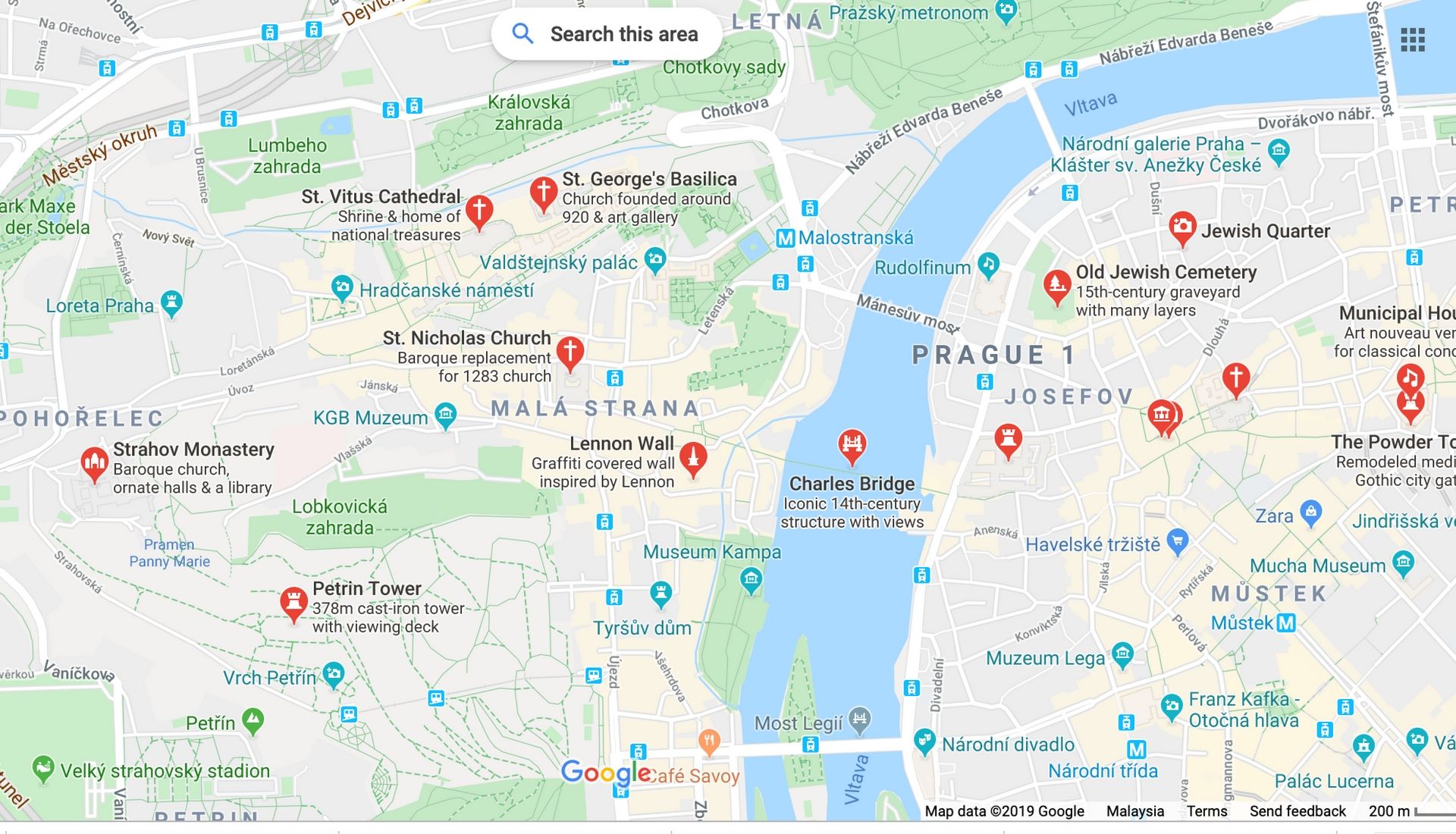 Where to Stay in Prague
To understand the city of Prague better we chose to stay in 4 different hotels in 4 different locations. The hotels we chose are all medium-priced and are in good locations around the city.  One of the hotels we stayed in was disappointing but other reviewers have been quite happy with the same property.  We have not left it out of the article but we have shared it with you based on our own opinions.
Prague can be expensive but if you are on a budget Prague has some of the best hostels in Europe that are suitable for couples, backpackers and solo female travellers.
A good hotel for families, couples or solos is the Hotel Caesar Prague. It is a 4-star hotel that included breakfast and is located in a historical building outside the main tourist area in Myslíkova 15, 110 00 Nové Město.
We would recommend booking in advance, we tried to book more dates after our arrival and it was fully booked during the height of summer. The location is good for sightseeing and there are small bars and restaurants close by. The WiFi was a bit slow but that is probably because we are heavy users. See what other travellers have said about Hotel Caesar Prague.

If you love funky decor we can recommend the Vintage Design Hotel Sax.  The 4-star hotel was located just a 5-minute walk from Prague Castle in Jansky Vrsek 328/3 Mala Strana. There were lots of bars and cafes around.  The hotel is suitable for families, couples and solo travellers. Breakfast is included as well as good WiFi. Out of the 4 hotels, this was our favourite. See what other travellers have said about Vintage Design Hotel Sax.

The Royal Plaza Hotel was our third accommodation and it was located 100 m from Wenceslas Square at Římská 71/4, 120 00 Praha-Vinohrady.  The National Museum and State Open House is located 200 m away. There are plenty of restaurants and cafes close by.  The Royal Plaza is recommended for all type of travellers. The rooms were comfortable, WiFi was strong and breakfast was included. See what other travellers have said about the Royal Plaza Hotel.

The hotel that was disappointing was our last – the Small Luxury Palace Residence.  With a name like that and the photos that were shown on Hotels Combined, we expected a bit more luxury than we had.  It was clean but very tired in decor and the photos did not represent the actual state of our room.  We felt that the owners were tired and it showed in the upkeep of the furniture which was old and dated. The hotel is in a 17th-century building close to Prague Castle and Charles Bridge at Nerudova 255/7, 118 00 Malá Strana. The reviews for the hotel have been mixed.  This is our review "
The property is tired. The photos do not represent the property. We had the room that is represented in the last photo selection on booking.com – there was no bottom sheet on the bed so we had to sleep in our own Turkish towels as there is no reception after 6 pm to obtain bed linen. The terrace was full of old broken furniture. The property benefits from having embassies close by and therefore runs at genuinely high occupancy. We have stayed in other properties in Prague which are better value for money, far better reception facilities and provide better bed linen and supplies in the room. We will not recommend this hotel to others travelling as tourists.

Related Reading:
Spa Resorts of the Czech Republic
Top Things To Do in Prague – 4 Days Itinerary Prague
What to do in Prague? There are two options in our 4 days in Prague itinerary.
Option #1 is to use the 4 days Prague City Card and visit the attractions that are listed at your own pace.
Option #2 is to purchase the 48-hour Hop On Hop off Bus and visit the sights that are further away from your hotel.  For the next 2 days, you can wander around the Old Town and visit the sights that you have not covered in the 48-hour pass.  When you visit Prague this way it can be more relaxed,  for 2 days your transport is covered and planned out for you, the walking tour and the boat tour are included.
Prague City Card
Free Public Transport and Free admission to over 50 top attractions plus discounts entry to another 50.  As well as detailed maps you have exclusive special offers at tours, excursions, cruises, shops, restaurants and entertainment. It is excellent value and well worth it.  You can pre-purchase your card here.
Just some of the free attractions are:
St Vitus Cathedral
Old Royal Palace
Old Town Hall and Tower
Jewish Museum (also visit the Old Jewish Cemetery)
Related Reading – Where to Travel in the Czech Republic
Things To See in Prague on the Hop on Hop off Bus
If you prefer to have transport organised for you the Hop on Hop off Bus is the best way to visit Prague. We purchased the 48-hour pass that included a cruise on the River Vltava and a walking tour of the Castle. It was certainly worth the price.  Traffic at times can be heavy in Prague so we would recommend the 48-hour pass.
There are 2 lines:
Explore the Red and Green line routes of the city.
Green line stops include:
• Na Františku (near Ministry of Industry and Trade),
• Old Town Square,
• Malostranské náměstí (next to Holy Trinity Column)
• Jiráskovo náměstí (beside the Dancing House),
• Václavské náměstí (at corner of Krakovská street)
• Hlavní nádraží (in front of Main Train Station)
Red line stops include:
• Prague Castle
• Dlabačov
• Náměstí Kinských
• Jiráskovo náměstí (beside the Dancing House),
• I.P. Pavlova (at corner of Sokolská street)
• Karlov (B. Němcové street)
• Hlavní nádraží (in front of Main Train Station)
Hop on Hop Off Bus River Cruise (if you take this option)
We would recommend taking the last departure for the river cruise to enjoy the sunset.  The River Vltava is the longest river in the Czech Republic.  In Prague, it flows under 19 bridges and around 8 islands. It joins the Elba River 29km north of Prague. The cruise is peaceful and scenic and runs for just under an hour. You can purchase drinks on board.
Places to Visit in Prague
Visit Vysehrad
When you visit Vysehrad you experience one of the most important cemeteries in Prague that houses the Slavin Mausoleum, Baroque ramparts and wonderful views of the Old and New Town. It is known to have been the oldest seat of Bohemian princes. The magical Palace of Vysehrad was constructed during the 10th century.  The Basilica of St Peter and Paul can be visited and you can spend time relaxing in the gardens.  For a small fee you can visit the underground cellars.
At the cemetery, you can visit the graves of composers Antonin Dvorak, Bedrich Smetana and the writer Karel Capek.
The Rotunda is one of the oldest buildings in Prague built in the 11th Century.
Prague Castle
The Castle complex was constructed during the 9th century and is the largest castle complex in the world – 70,000 m2. The Changing of the Guard occurs at noon daily. You can visit most parts of the UNESCO World Heritage Site.
The Prague Castle includes:
Gothic St Vitus Cathedral
Romanesque Basilica of St George
Gardens
Towers
Monastery
Palaces
Pro-tip
If you have purchased the Prague City Card it is included. If you want to visit the Tower you have to pay CZK 100 (USD$ 4.30).
If you want to visit Prague Castle on your own:
Experience Prague Castle with an entry ticket that offers an introductory overview of the complex and optional audio guide. Get recommendations from your local host to make the most of your visit.
More Options: What To Do in Prague
Prague Town Hall and Tower Tour
Located in the impressive centre of the Old Town you cannot miss this striking building.
We were working with Prague Tourism who hosted us with a guided tour of the Old Town Hall and the Cellars which included in a visit to the Tower. Our opinions as always are our own.
Legends – true or not
We soon learnt that Prague is full of legends. We love legends, and we have had them all from ghosts in castles, ghosts in underground cellars and headless riders galloping through dark wooded forests.
The most famous legend is the legend of Master Hanus who was chosen by the councillors of Prague to construct a device that measured not only time but other unique functions specifically for the city of Prague.  Master Hanus created his unique one-off piece. The Councillors were impressed but scared at the same time.  You see, they wanted Prague to have a unique timepiece that no other city could replicate.  They had to get rid of him, but how? One night, men broke into Master Hanus's house and with a piece of iron blinded him.  Master Hanus knew who was behind this deed and with one of his pupils he asked to be led to the clock where he asked his pupil to stop the clock from working.  Legend states that it took over 100 years for the clock to work again.
Another legend states that when the clock stops working the Czech land and its people will suffer bad times. There is one more legend that states whoever tries to work on the clock will go mad or die.
Which legend do you believe?
Pro-tip
We would recommend purchasing your ticket in advance and skipping the line.
Originally the Town Hall was one of the houses located in the stunning Old Town Square.  Throughout the years the Town Hall grew in size as they purchased other nearby houses total 5 in all.  It dates back to 1338 and it was one of the most beautiful monuments in Prague's Old Town.
Did you know…….
The King of Bohemia George of Prodebrady was elected in the Old Town Hall in 1458 and you can see one of the paintings in the Assembly Hall
The 14th century saw the construction of the Town Hall Tower at a height of 69.5m
1410 the astronomical clock was established
Jan Zelivsky a radical Hussite leader was executed in the courtyard
The Town Hall witnessed the mass execution of 27 noblemen in the Estates Uprising on June 21 1621.  You will see 27 white crosses set in the square's paving
Which is true? On the last day of WW2, 8th May 1945,  it was partially destroyed by an air raid by the US Army Air Forces who stated it was a 'navigational mistake'. (Some information we came across stated it was during the attack by the Nazis on that day).
Visit Charles Bridge at Sunrise
Charles Bridge is one of the major 'instagrammable' sights in Prague and as such can be extremely busy.  The best time to visit is at sunrise.  The light is better at that time for the perfect shot and it is before the busloads of tourists arrive. Since the 1960s it has been a pedestrian-only bridge. Construction of the bridge started in 1357 and finished early in the 15th century. It is constructed in sandstone bricks.  On either end of the Bridge are two towers – the Lesser Town Bridge Tower and the Old Town Bridge Tower. The Bridge has over 30 statues of Saints.
Discover Prague's Astronomical Clock, Old Town Square, Charles Bridge, Prague Castle, and the Church of St. Nicholas, among other sights on a guided walking tour with a passionate guide.
John Lennon Wall and Pub Prague
One of our favourite early morning adventures was to visit the John Lennon Wall at sunrise after walking across the Charles Bridge from the Old Town.  This is another popular 'Instagram' spot and can be very busy during the day.  It is quite hard to find at first but we have taken a video of how to get there. Click below for directions.  Later during the day you can return the same way, travel further down the road, cross over the bridge and head to the John Lennon Pub for a drink or a meal.
Free Walking Tour of Prague with Good Tours Prague
Good Tours Prague offer a free walking tour daily at 10.30 am and 14.00 hours which takes 3 hours.
During our tour, we visited:
Wenceslas Square – the heart of New Town which was constructed in the 1920s. The buildings have been built in the art nouveau style.
New Town is actually not that new it is over 4 centuries old.
Havelska Street – oldest market in Prague is Mourat Havelske Trziste built-in 1232. The city grew from the market, it was originally selling spices and fabrics. Today it is a big souvenir market that is open from 08.00 am to 18.00 pm.
Mylsbek Shopping Centre – a clean free toilet in Prague
Powder Tower built in 1475 for defence and customs.   People who were born in the New Town had to go through the Tower to enter the Old Town. Later it was used for the storage of gunpowder.
Municipal House, located next to the Powder Tower, was built during 1905 – 1911 in the art nouveau style. In 1918 the signing of the Independence of Czechoslovakia took place there. It houses the largest concert hall in Prague up to 8,000 people.
Jewish Quarter
We learnt:
that the National History Museum built-in 1891 has over 7 million objects
parts of the Mission Impossible movie was shot in and around Prague
Prague is the biggest beer-drinking nation in the world, followed by Poland and then Germany.
Pilsner Urquell is the 'mother of golden lagers'
The Czech region of Moravia has the best white wine
Absinthe is not Czech it has become a 'tourist' drink
One of the traditional dishes is the roasted pork knuckle and for vegetarians, it is the fried cheese with chips.
Trdelice – the Hungarian Icecream Dessert is not Czech.
Prague is a city of 100 spires – Church of St Nicholas is the biggest
Catholic is the official religion of the Czech Republic but 70% of the people are atheists
Visit The 42 Layer Rotating Sculpture by David Cerny in Prague
Weighing in at 45 tons is the 42-layer rotating sculpture of writer Franz Kafka.  This sculpture is nothing like you have ever seen before.
Location: Quadrio Business Centre, directly above the Národní třída metro station.
Our YouTube video shows the twisting reflective movement of this masterpiece.
Our Hidden Gem To Enjoy The Local Beer in Prague
After paying CZK140  (USD$ 6.00) for 2 small beers just off the main square near Prague Town Hall and Tower we decided to find a local establishment close to Hotel Caesar, our first location.
In the local park, we found Pivni Domecek Rodinny Bar S Terasou: Karlovo nám. 287/18, 120 00 Nové Město. Pilsner Urquell, the famous Czech beer, was half the price CZK70 for two. (USD$3.00)
A Beer Bath With Unlimited Beer in Prague
Did you know that you can take a bath in beer for 30 minutes then lay on a heated bed for another 30 minutes? You can drink as much beer as you can in this medieval practice and reap the benefits.
Enjoy a beer bath in Prague - click here for more details
Day Trips from Prague
A full-day tour to Karlovy Vary, one of the most beautiful towns outside Prague famous for its healing waters and spa. We spent 2 wonderful nights in Karlovy Vary but if you are short of time you can visit on a full-day tour.
Visit the Spa Town of Karlovy Vary in this Day Tour from Prague
Stunning Cesky Krumlov and its fairytale castle can also be visited on a day trip from Prague. Make sure you have your camera with you for this tour.
Visit the Cesky Krumlov on a day trip from Prague
Teplice, the Roya Spa City is also available on a day tour from Prague. It is the oldest Spa town in Europe.
Visit the Royal Spa Town of Teplice
A visit to the city of Kutna Hora.  Explore the historic UNESCO World Heritage Site of Kutná Hora on a tour from Prague. See the late Gothic St. Barbara's Church and stroll around the town centre. Then visit the chapel of human bones at the Roman Catholic Cemetery Church of All Saints.
City Guide Prague 
There are 2 terminals at Prague Airport – Terminal 1 and Terminal 2. Both airports have free WiFi.
Transport to and from the city
Public Bus 119 – metro A and 100 metro B
Airport Express Bus – from Terminal 1 to Main Railway Station departs Terminal 1 Bus stop
Taxi
During our time in Prague we used Lyft – similar to Uber.  You will need to download their App and also have access to WiFi.
For private shared transfers find out more here.
For private transfers find out more here.
Car Rental in Europe we use AutoEurope for the most competitive prices in each size and make of car. Compare prices here.
Need an International Drivers Licence?
You can now organise them online here.
Getting Around Prague
For inner-city Prague we walked everywhere.  There are cobblestoned streets so make sure you wear comfortable shoes.
Metro in Prague
from 05.00 to midnight
peak time every 2 to 3 minutes
off-peak every 4 – 10 minutes
Trams in Prague
from 5.00 am to 12.30 am
peak time every 4 – 8 minutes
off-peak every 5 – 10 minutes
Buses in Prague
from 04.30 am to 12.30 am
peak time every 6 – 10 minutes
off-peak every 15 – 30 minutes
Funicula to Petrin
Daytime 09.00 am  to 23.30 pm
Summer every 10 minutes
Winter every 15 mins
Trains in Prague
4.30 am to 12.15 am
Interval 15-60 minutes
Ticket Validation
Ticket Validation – trams and buses, ticket validators are located near the door
Metro stations and the Funicular – ticket validation on stands by the entrance to the transport area
Ferries – ticket validation onboard
PID train operation – ticket validation to the platform on the platform
Tickets are only valid once they are validated
For information on fares
For Travel Outside Prague
For bus and train services outside Prague, we used Regiojet. Both buses and trains were comfortable and reliable. You can purchase tickets online here.
Best time to visit Prague
The climate of Prague is mild and has 4 seasons.  The coldest month is January and the warmest is July.  December is busy due to the Christmas markets.
Currency in the Czech Republic
Czech Crown – CZK
1 USD = CZK 23.35
Useful Words to Learn:
Hello – Dobry den (doh bree den)
Thanks – dekuji (dyeh-koo-yi)
Travel Insurance
We recommend taking out travel insurance as soon as you book your flights and pay deposits on any cruises, tours or hotels.
Cheap Flights to the Czech Republic
Find the cheapest flights with Skyscanner who then directs you to the airline's website with no extra fees to pay.
Do You Need a Visa for the Czech Republic
How many days will you spend in Prague?
In conclusion, a 4-day itinerary in Prague offers a perfect blend of history, culture, and beauty. From exploring the grandeur of Prague Castle to wandering through the charming streets of Old Town Square, this city captivates visitors with its rich heritage and picturesque sights at every turn. Whether you are an art enthusiast, a history buff, or simply seeking a memorable European getaway, Prague has something to offer for everyone.
With careful planning and consideration of this itinerary's highlights, travellers can make the most out of their four days in this enchanting city. So pack your bags and get ready to immerse yourself in the magic that is Prague – it truly is a destination that will leave you with unforgettable memories.
Pinterest
Are you on Pinterest? We are at To Travel Too and we have many travel-related boards check us out at Pinterest.  If you enjoyed our article why not pin it to your board?
Travel Shop
Do you need new luggage, walking shoes, guidebooks, cameras or packing cubes for your visit to Prague? Visit our Travel Shop for the latest products.